Do you have lots of books? Or are you in the process of collecting more? If so, you may want to consider putting a bookshelf or bookcase. Whether you're looking to make a bookshelf on your own or buying one for your room, you may want to know the standard dimensions of a bookshelf.
There's no single answer to the question, "what are the standard dimensions of a bookshelf?" Bookshelves vary on the number of shelves.
There are bookshelves with two shelves; others have more than five. Continue reading to know more about the standard sizes of the various types of bookshelves.
Standard Bookshelf Dimensions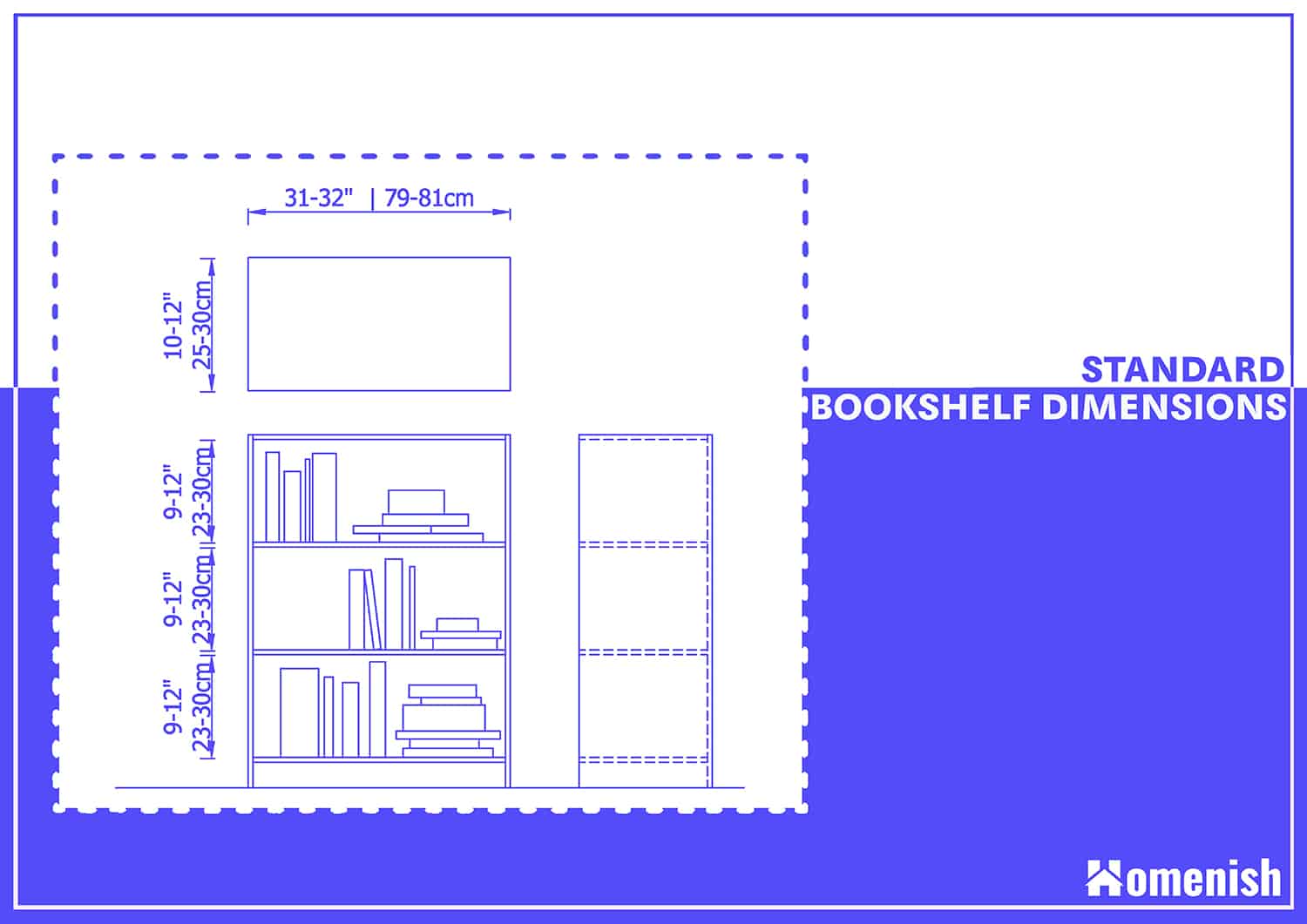 A typical bookshelf will have 9- 12 inches of spacing. Depending on the types of books stacked, standard bookshelf depth should be between 10 and 12 inches while the width is from 31 to 32 inches, though you can find other bookshelf widths of between 24 and 48 inches.
Average Shelf Spacing
The shelf spacing varies based on the kinds of books placed in the shelf. You can find on the market many kinds of book sizes ranging from 6.87 inches to 11 inches. So the average shelf spacing should be between 9 to 12 inches. If you need to stack oversized books, you can increase the height of the shelf to 15 inches.
Standard Bookshelf Depth
With most book widths of around 4.25 inches to 8 inches, the standard bookshelf depth is between 10 to 12 inches. But you can find bookshelves on the market with a depth ranging from 7 to 15 inches.
Standard Bookshelf Width
A typical bookshelf width is between 31 to 32 inches. You can also find other bookshelf widths from 24 inches to 48 inches.
Bookshelf Dimensions by Numbers of Shelves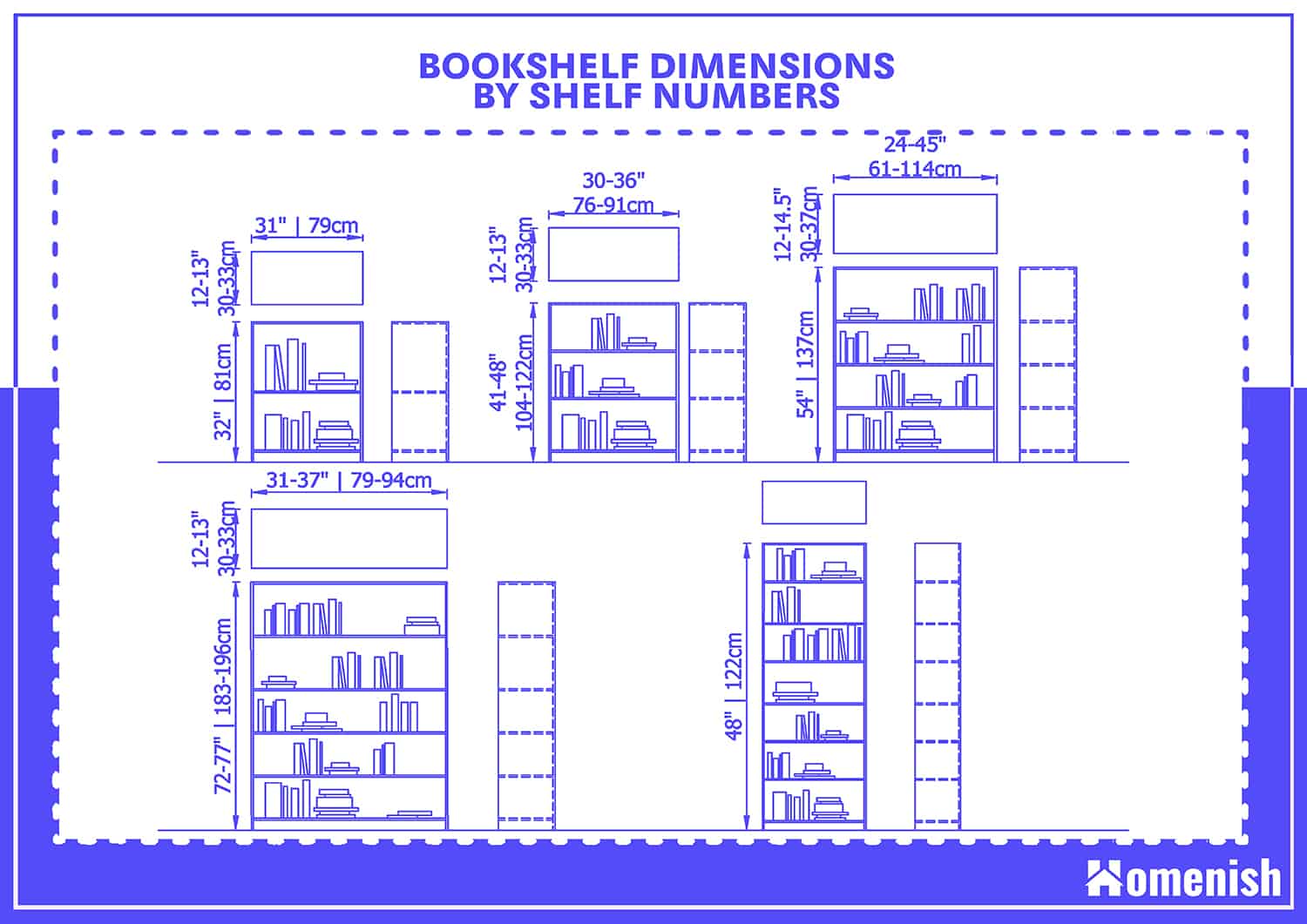 Two-Shelf Bookcase
If you have a collection of small books or you're just starting to appreciate reading and collecting books, then a two-shelf bookcase is the right type of bookshelf for you. This is also the bookshelf you'd want if you have limited space at home.
The standard height for this small bookshelf is 32 inches, although you may even find one that's 36 inches tall. Meanwhile, the standard width is 31 inches. The depth may vary from 12 to 13 inches.
Three-Shelf Bookcase
Like the two-shelf bookcase, the three-shelf bookcase has variations in terms of height. You may find one that's 41 inches tall and even come across one that's 48 inches in height. The width may also vary, from as narrow as 30 inches to as wide as 36 inches.
The depth is similar to the two-shelf bookcase as well, between 12 and 13 inches. If you're buying one, look for a three-shelf bookcase that would let you adjust the shelves to various heights so you can keep or store large books and hardcovers.
Four-Shelf Bookcase
You can make good use of underutilized vertical space by adding a four-shelf bookcase. This tall bookshelf has a standard height of 54 inches or about four and a half feet.
The standard width of a four-shelf bookcase is 24 inches, although you may come across wider models, up to 45 inches in width. The depth may also vary from 12 to 14.5 inches. You might want a deeper four-shelf bookcase if you are to store or keep square-shaped books.
Five-Shelf Bookcase
There is also no fixed height for a five-shelf bookcase, which may range from 72 to 77 inches tall. It is common to find taller five-shelf bookcases in European stores like Ikea. The width also varies, ranging from 31 to 37 inches.
Meanwhile, the depth is the standard 12 to 13 inches. But there are also specialty five-shelf bookcases that are just five inches deep, making them ideal for storing small paperback books. You can also come across five-shelf bookcases with an extra shelf, meaning you can upgrade them into six-shelf bookcases.
The five-shelf bookcase is preferred by many people because it is space-saving while at the same time accommodating a significant number of books. The width, which can be as narrow as 31 inches, means that this type of bookshelf can be placed in the corner of a room without taking a lot of space.
Seven-Shelf Bookcase
Also known as the 'tower' or 'baby' bookshelf, this type of bookcase has a standard height of 84 inches. It is narrower than bookcases with two to five shelves, hence the nickname of 'tower' bookshelf.
The seven-shelf bookcase brings certain pros and cons to the table. It can provide additional storage space for your room. Aside from your books, it can be a decorative item where you can place items such as some photo albums and clocks. It can also make your room or home aesthetically pleasing.
However, you would need a substantial vertical space for a tower bookshelf because of its height of 7 feet. Because of its large dimensions, moving it around would be a bit of a problem. This may become an issue if you have a home renovation in the near future.
Double-Wide Bookcases
This is a type of bookshelf that consists of two units joined together and a permanent border right in the middle. A double-wide bookshelf may come in three to ten-shelf styles.
As such, the dimensions of this bookcase will vary depending on the number of shelves from which it is made of.
Should You Buy or Make a Bookshelf?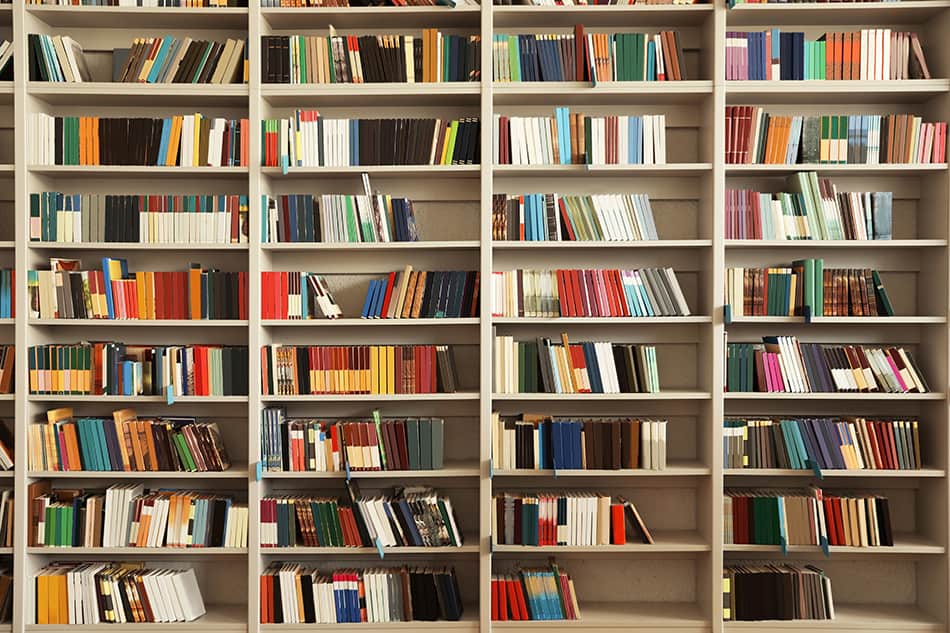 Now that you know the standard sizes of the different types of bookshelves, you may now be deciding on whether to buy or make one on your own.
If you're a handyman, the prospect of making a bookshelf may intrigue you. After all, creating a bookshelf is considered an easy starter project.
While it is true that a bookshelf is easy to make, you may be spending more if you are to create one on your own. The materials alone for creating a quality bookshelf would be more than the cost of buying one. These include cabinet-grade plywood, wood glue, construction adhesive, hinges, and high-grade latex paint or stain. You should also take into consideration the time you'd be spending on creating a bookshelf.
What to Look for in a Bookcase
Now, if you're convinced that it is more practical to buy a bookshelf instead of making one, you should also know what to look for in a bookcase.
First, you must choose a bookcase or bookshelf made of strong and durable materials. The best choice would be solid wood, but it can make the bookshelf itself expensive. Other affordable options are manufactured wood and metal.
You must also check the dimensions to ensure that the bookshelf you are interested in will fit comfortably in your room. The weight capacity is equally important as you don't want the bookshelf to collapse because of the combined load or weight of the books. Always check the weight capacity of the bookshelf before buying it. For reference, remember that a one-ruler row of books can weigh up to 20 pounds.
Now that you have learned about the standard sizes of a bookshelf, you can now start shopping for one that you can put in your room or home.