A dresser can be used as an alternative to a closet or wardrobe, or it can be used in addition to a closet if you need more storage in the bedroom.
A bedroom dresser provides ample storage space while helping you to keep your belongings organized and neatly stored out of view. Before you buy a bedroom dresser it's useful to know the standard dresser dimensions so you can plan where it will fit into your bedroom layout.
Here we explore the most common dresser dimensions and the different types of dressers and explain how to measure a dresser.
Dresser Dimensions
The average dimensions of a standard dresser are 30 to 50 inches in height, 30 to 70 inches across, and 18 to 24 inches deep. Dresser dimensions will vary according to the type and size you choose.
Standard Dresser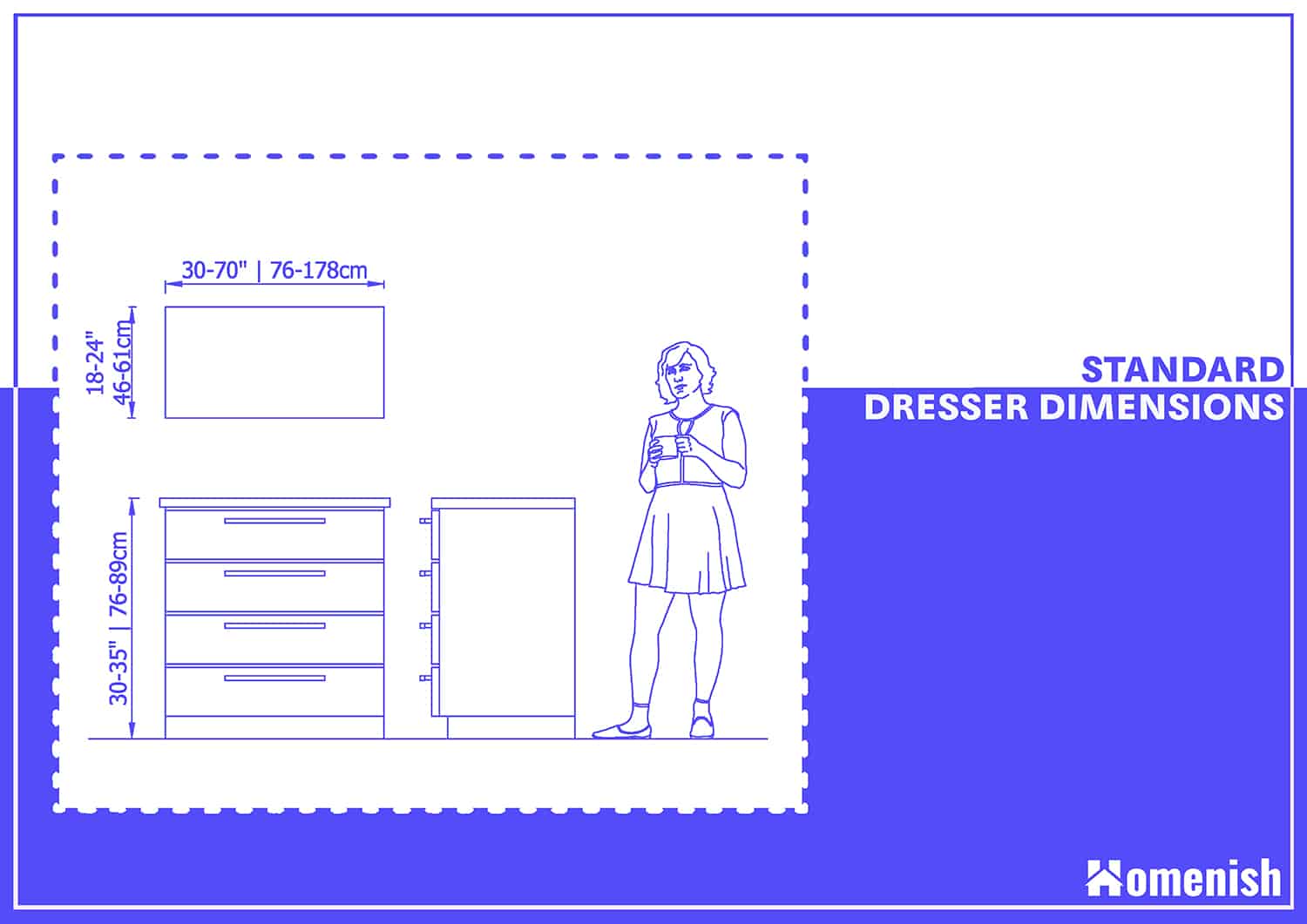 The horizontal dresser is generally acknowledged as the standard dresser. It is not only the most widely available but also the most popular. It consists of two to three rows of long and wide drawers. At times, it may have a top row consisting of multiple small drawers.
The standard dresser measures between 30 to 50 inches in height, 30 to 70 inches across, and 18 to 24 inches deep.
A standard bedroom dresser offers plenty of space for displaying decorative items such as photo frames and trinkets, aside from providing ample storage space for clothes. You could position a mirror on top of your dresser drawer to use while getting ready, or you might prefer to display plant pots on top of it.
Double Dresser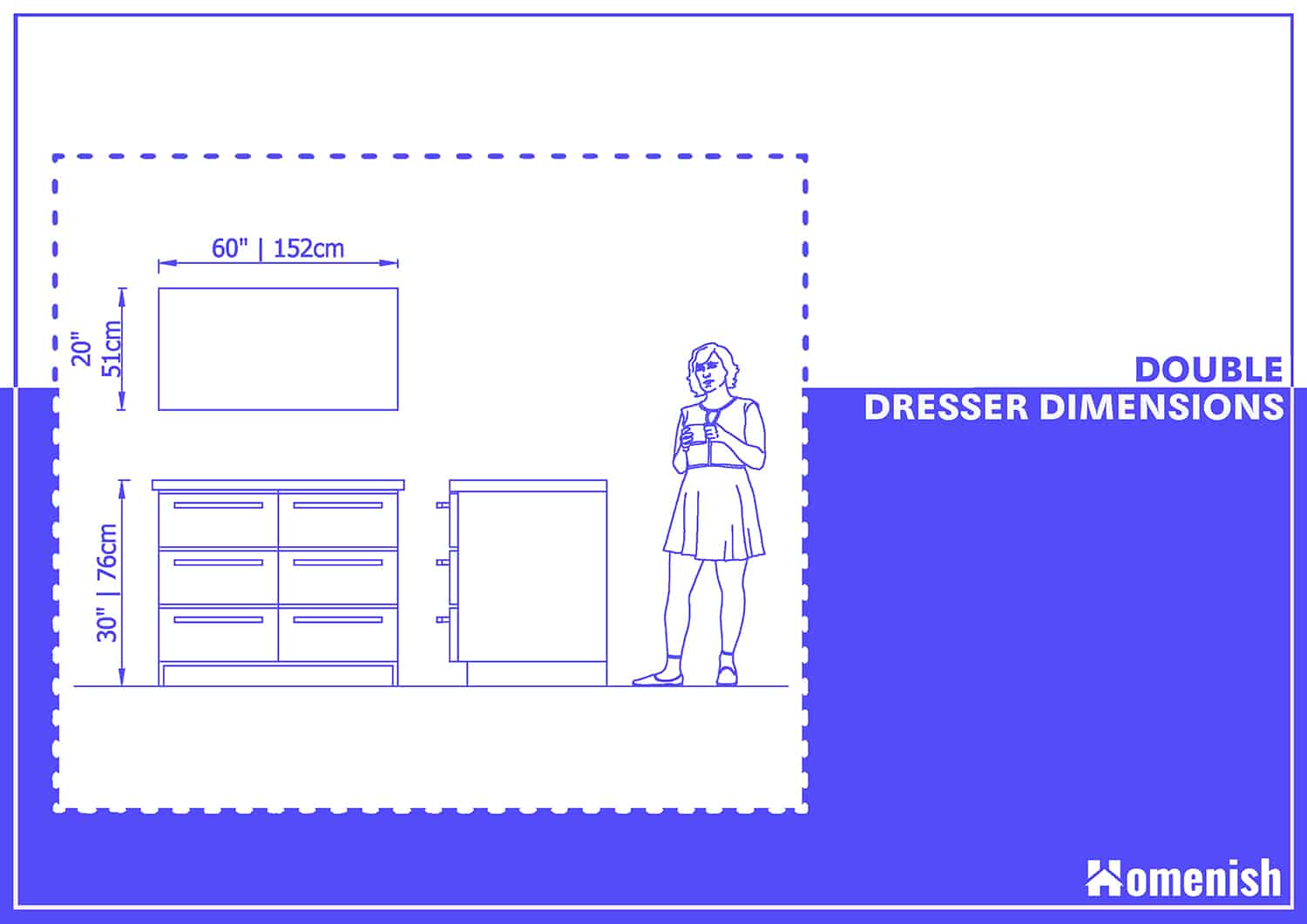 The double dresser is a wider type of dresser with double columns of spacious drawers. It's a good choice if you are part of a couple who share a bedroom because it's easy to equally split the ample storage space right down the middle.
The double dresser can also be a good alternative to a closet for children because it provides plenty of space to store their clothes and doesn't come with the difficulty of reaching up high to get the clothing off of hangers.
This can help give children a level of independence when it comes to getting dressed. A double drawer can be up to 60 inches wide, so they aren't well suited to small bedrooms.
Small Dresser Dimensions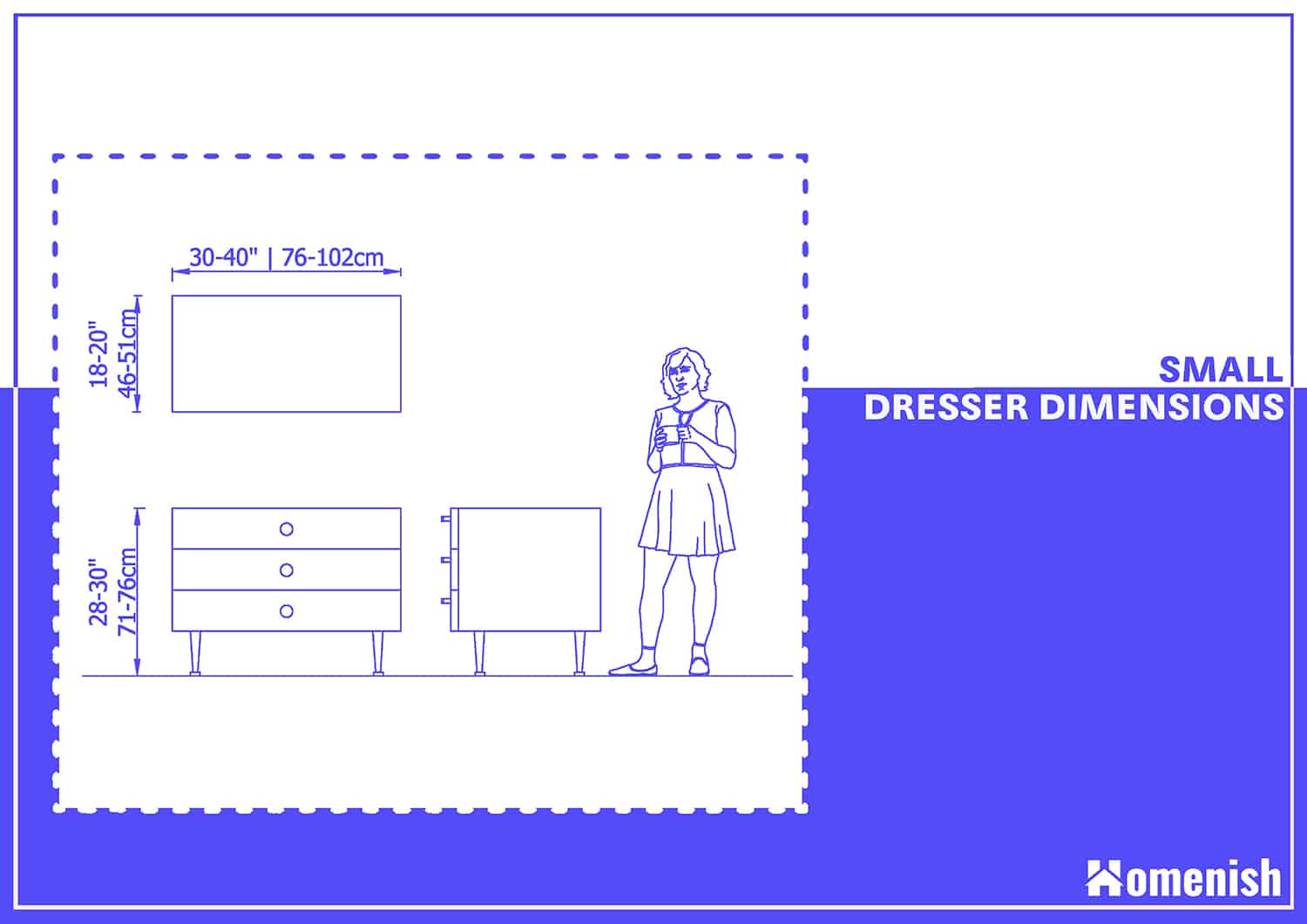 The small bedroom dresser is primarily used for storing the clothes of children or as a means of offering storage in a guest bedroom. Small dressers are usually short and squat, featuring three to four wide drawers at around 30″ to 40″.
Combo Dresser
A combo dresser is a combination of a cabinet and a dresser. It has one to two cabinets connected either to the side or right in the center of the dresser drawer. A combo dresser can be used for storing various clothes and accessories, such as hats, glasses, and belts.
IKEA Dresser Dimensions
IKEA dressers are enormously popular, especially if you're on a budget. The two most prominent dressers from IKEA are the MALM dresser and the HEMNES dresser.
The MALM dresser has a simpler, more modern look, while the HEMNES is designed to offer a more classic style. Both of these IKEA dressers offer ample storage space and come in a variety of colors.
IKEA MALM Dresser Dimensions
The MALM dresser dimensions are 31.5 inches in width, 48.5 inches in height, and 19 inches in depth. There are six dresser drawers, comprising four large full-width drawers and two smaller half-width drawers at the top. Each large dresser drawer measures 28.5 inches wide, 17 inches deep, and 6.5 inches high.
The smaller drawers measure 13 inches wide, 17 inches deep, and 6.5 inches high. There is a huge range of other MALM dressers available with varying numbers of drawers and different malm dresser dimensions.
IKEA HEMNES Dresser Dimensions
IKEA HEMNES dresser dimensions vary depending on the type of dresser you choose. The most popular option is the three-drawer dresser which has a height of 37.5 inches, a width of 42.5 inches, and a depth of 19.5 inches.
How to Measure a Dresser
You should always measure a dresser before purchasing it to ensure it will fit in your bedroom, which of course, also means you'll need to know the size of the spot in your bedroom where you want the dresser to live. The most important dresser measurements are the width and depth dimensions because these will dictate how much floor space the dresser occupies.
The width measurement is taken in a straight horizontal line from the widest point at the left of the dresser to the widest point at the right of the dresser. This will ordinarily mean measuring the top surface of the dresser, or it may mean measuring from one front leg to the other front leg if the legs stick out at an angle.
If you want to know how to measure the depth of a dresser, simply use a tape measure and move in a straight horizontal line from the front of the dresser to the back.
The height measurement will also be important if you need to fit the dresser beneath a slanted ceiling or if you want to hang a mirror on the wall above the dresser. The height is taken from the floor level to the uppermost point of the dresser. You can also measure drawer sizes if you want to get an idea of how much storage space a bedroom dresser has, but this won't affect how much room it takes up.
You will need a minimum of three feet of clearance space in front of your dresser to allow the drawers to fully open and also to give you enough space to stand or move around in front of the dresser. Clearance space at the side of a bedroom dresser isn't necessary, so you can fit it up against a corner wall or line it up alongside other pieces of furniture if you wish.
How to Choose A Dresser?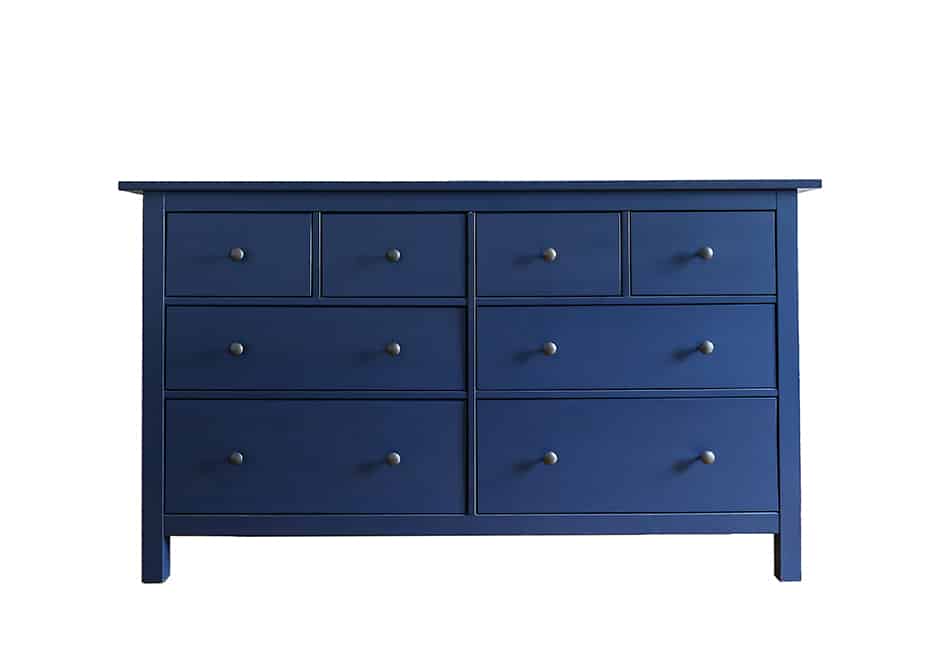 The paramount consideration when choosing a dresser is the size of the bedroom where you intend to place the dresser and the size of the dresser itself.
If it doesn't fit the space properly, it will look odd and also potentially not fit for purpose. Measure the depth, height, and width of the area where you want your dresser to go, and make sure there are no obstacles, like a door, that will get in the way of the dresser being used.
In terms of the design or style of the dresser, you can choose from modern, contemporary, or traditional dressers. Traditional dressers have carvings and ornate designs and are usually made of hardwood. Modern dressers usually feature straight lines and have simple styles, while contemporary dressers have minimalistic looks.
Before buying your dresser you should also determine your main purpose for it. If you are to store things like your clothes and towels, then you'll need a bigger dresser with deep dresser drawers. If your dresser is going to be for lingerie and accessories, then a smaller dresser will be more appropriate.
Finally, you must also consider your budget. This would guide you in choosing the right dresser for your needs. Set a budget, and from there, you can limit your options to a few dresser models.
Where to Put a Dresser?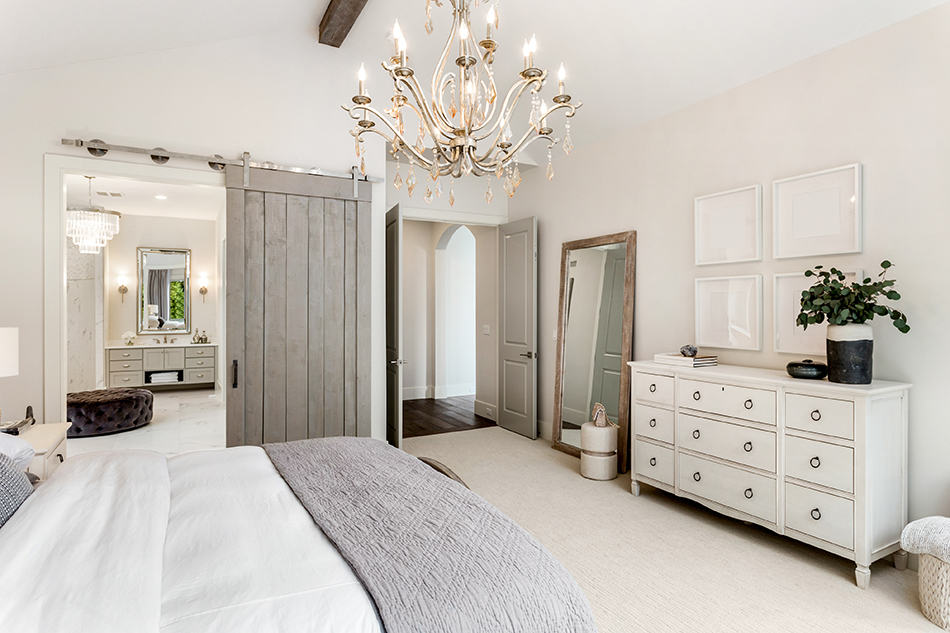 Dressers are most commonly kept as bedroom furniture, but this isn't the only place you can use them. Dressers can also double up as storage and surface space in a large bathroom, or you may wish to keep your dresser in a dressing room for ease of access.
If you are going to keep the dresser in your bedroom, whereabouts in the bedroom will be best? You could opt to place it opposite your bed so that you will be looking directly at your dresser when sitting up in bed. This way, the dresser can double up as a TV stand, with a TV positioned on the top surface of the dresser.
You could also place the dresser beneath a bedroom window, or you could buy two identical dressers and use them as oversized nightstands on either side of the bed.
Conclusion
Dressers will never go out of style. It's a good investment if you are starting a family or even if you're just living on your own.
The dimensions of a standard dresser are 30 to 50 inches in height, 30 to 70 inches across, and 18 to 24 inches deep. Keep these measurements in mind as you shop for a dresser that's right for your bedroom.