Sliding glass doors are a great way to open up your patio or balcony to the outside – and the sunlight- without having to give up any floor space. But there are also some downsides to these doors that can prompt homeowners to look for alternatives.
Recent years have brought more options for those looking to replace their patio or balcony doors. Since the choice can be quite confusing, how do you make the right decision?
To make this task easier, take a look at some reasons why a sliding glass door may not be such a great option. We've put together eight better alternatives for you to consider instead.
Disadvantages of Sliding Glass Doors
Susceptible to damage: if you reside in an area that's likely to face extreme climates, such as frosts and strong winds, a sliding glass door will not be a practical option as the glass can shatter in extremely hot or cold conditions.
Security issues: glass doors can be broken by intruders no matter how secure a door lock is.
Installation difficulty: there is more to the installation process of a sliding door than just nailing the door into hinges. You must ensure the door can slide easily on the track.
More maintenance: sliding glass doors are prone to dirt and stains more than other types of doors. What's more, the frame requires regular maintenance in order to slide without a hitch. The track is highly impacted by dirt and mold growth, so you'll need to clean it more often.
To save you the hassle of maintaining a sliding glass door, here are better alternatives to consider:
1. Shoji sliding screens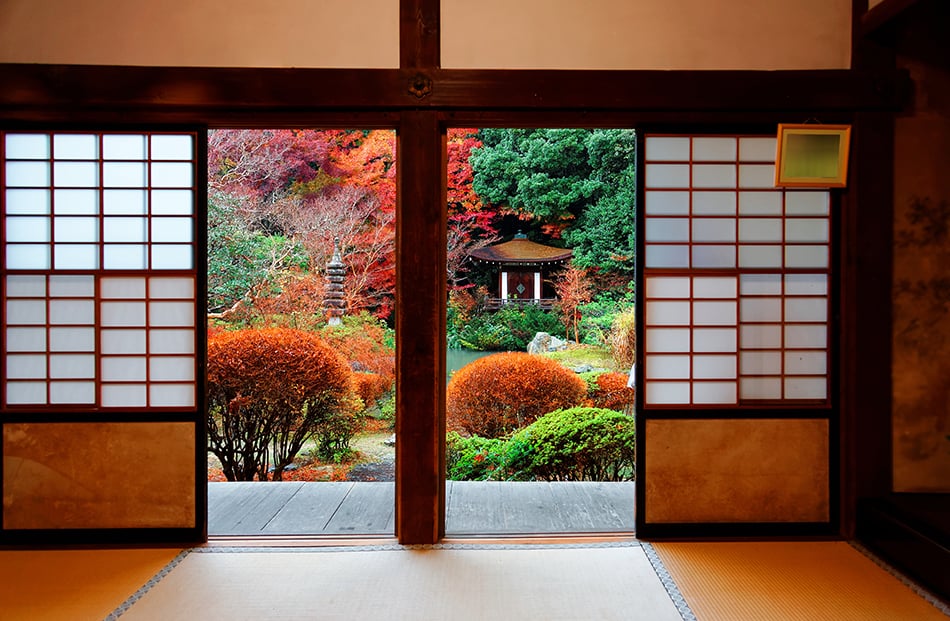 This Japanese-style patio door is also used as a divider inside the rooms. It's particularly useful in hot climates as the door provides shade (and privacy) without the need for blinds.
Shoji sliding doors absorb heat and minimize its inflow. They are ideal for homes that don't have air conditioning or fans. In fact, the energy-saving effects of Shoji doors are quite substantial since the heat accumulated in the room throughout the day will dissipate overnight.
Both the Western and Japanese Shoji screen doors are designed with wooden frames that are set between many layers of translucent rice paper. This is why Shoji screens are often referred to as rice paper door panels.
2. Pivot doors
Pivot doors are quite uncommon, but they are fast becoming the hottest home design items. These doors rotate in the middle at a fixed point and don't require much swing space to open. They make a great alternative for compact rooms, where a full swinging door isn't possible.
Another advantage of pivot doors is the options they provide in terms of minimizing the swing space. If you prefer not to install a single large pivot door, you can always opt for a series of smaller ones instead to further minimize the swing space. This is because pivot doors don't have hinges so they can quite literally pivot open.
To make a pivot glass door, just use the glass door pivot hinge to fix the glass to the door. Here is a good example.
3. French doors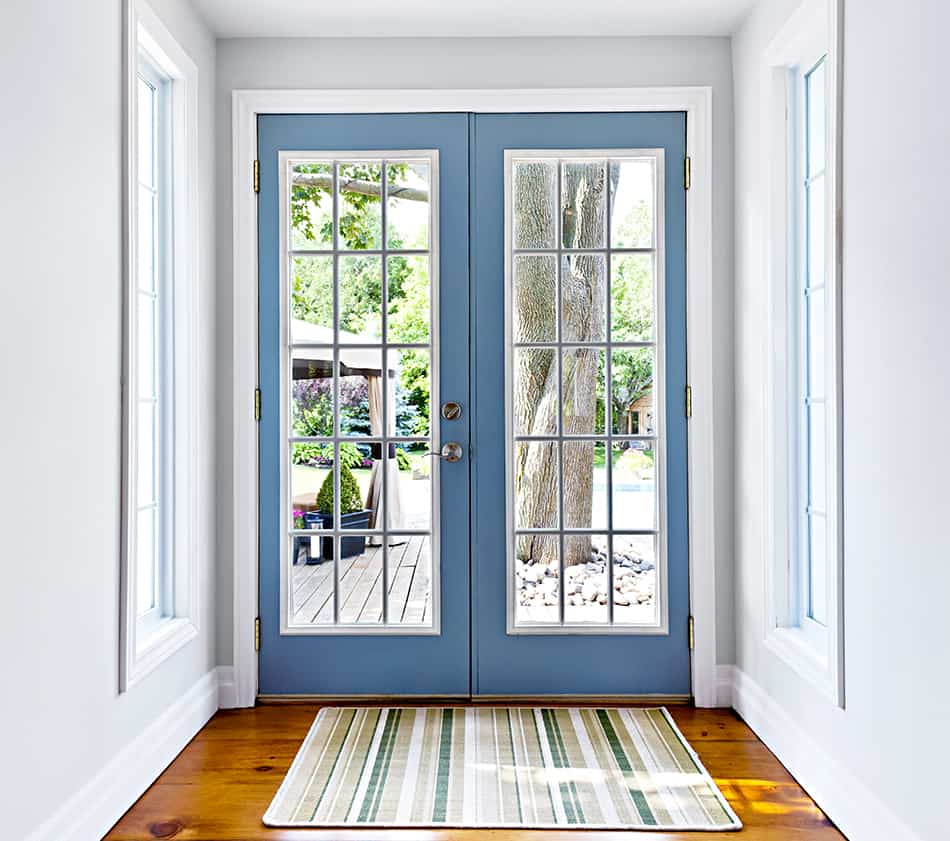 White French doors are ideal for a balcony or patio and are a great alternative to sliding glass doors. They make a statement with their traditional and distinctive design. French doors typically swing from the centerline and have a double-wide opening. Although french door dimensions are the same as those of sliding doors, they make a more beautiful alternative.
There are inswing and outswing versions, with each model having its own advantages. While the inswing French doors were more favored in the past because of their hinges being located inside (for security reasons) and away from the elements, the quality of the modern outswing French doors has now eliminated these concerns. Now you can find a wide range of outswing French patio doors that are both functional and stylish.
In addition to being functional, the outswing French doors are less likely to obstruct the furniture as they take up less space in compact places. These types of doors help create a beautiful and timeless appeal to any home.
4. Center swing doors
If you're not keen on the idea of replacing your sliding doors with French doors, you have other options for a patio door. The center swing doors are similar to French doors but less expensive. Unlike French doors, however, the center swing doors only open from one side. The other swing door is permanently fixed and doesn't open.
The advantage of center swing patio doors is the wall space they save as most come with a sliding screen. These doors are not only cheaper than French doors, but they are also ideal for compact rooms.
Swinging patio doors allow plenty of natural light to enter the room as well as provide easy access to the backyard or garden. These center-hinged doors allow you to choose which panel you wish to open, and which way you'd like to open the panel, in or out.
5. Dutch doors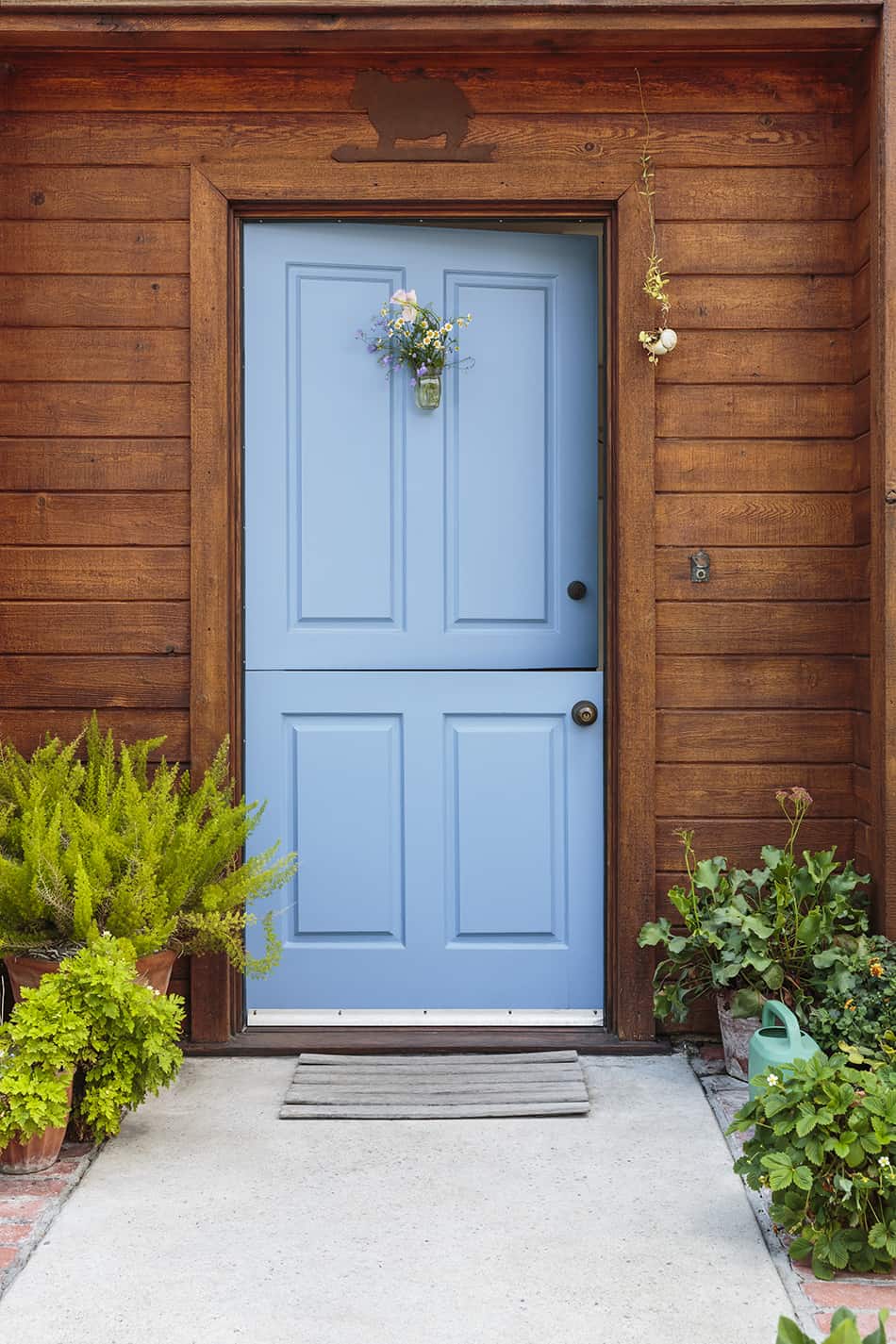 Dutch doors are simply two doors that are split in the middle, with the upper part opening separately from the bottom. The two doors are secured together using a latch. You can open the top or bottom door separately as needed.
These doors are a great alternative to sliding glass doors that lead out to the garden. But there are also French door style variations with the same Dutch door design.
Most Dutch doors feature a standard size door knob with a deadbolt on the lower half for added security. These doors are ideal for traditional-style homes and come in a variety of colors and designs.
The biggest advantages of Dutch doors are their versatility and customizability. When the weather is just right, you can open the top half and let the fresh air in. And the best thing is, you won't have to worry about your pets or toddler sneaking out as the bottom part of the door can remain closed.
6. Bi-fold doors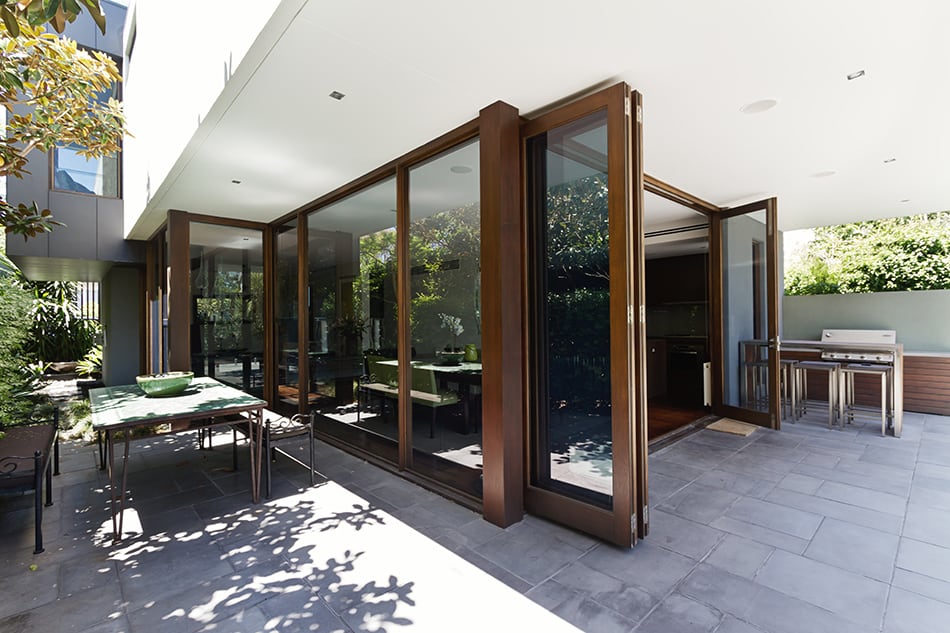 Bi-fold doors are currently one of the most popular and trendy alternatives to sliding glass doors. With these doors, you can have easy access to the outdoors for everyday use and the option of sliding the doors all the way back. Bi-fold doors are, therefore, ideal for opening up the space in the room.
If you want to maximize the practical aspects of your home, bi-fold doors will be the perfect alternative to sliding glass doors. These doors are the same width as the conventional doors, but the only difference is that their hinge is located in the middle part. Bi-fold doors have a track at the bottom that allows you to fold them completely out of the way.
Once you've folded the doors completely, they'll be barely noticeable, thus providing maximum visibility to make use of the outdoor space. Most bi-fold doors are usually made of UPVC or aluminum, which means they don't require any cleaning or maintenance.
The folds and hinges of bi-fold doors require multiple locking systems in order to make them even more secure. These types of doors are in fact a safer option as a patio door than sliding glass doors.
7. Glass roll-up doors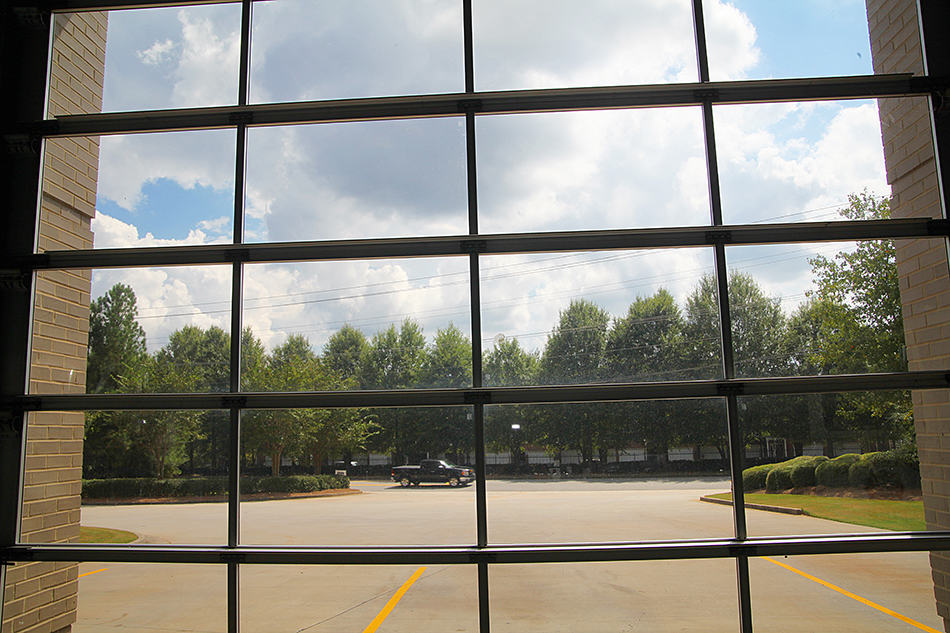 The perfect way to merge your indoor and outdoor space is by installing glass roll-up doors. This energy-efficient patio door alternative focuses on the aesthetic value of the property, which is something that's very important to the homeowners.
In fact, these glass doors are a modern twist to feeling closer to Mother Nature as well as increase a home's curb appeal.
Glass roll-up doors are especially a great option for homes with indoor swimming pools or gyms. You can easily replace the main window or wall of your room to integrate the indoor space with the outdoor space.
These doors offer panoramic views of the surroundings while fully protecting the indoor space from the elements.
8. Sliding barn doors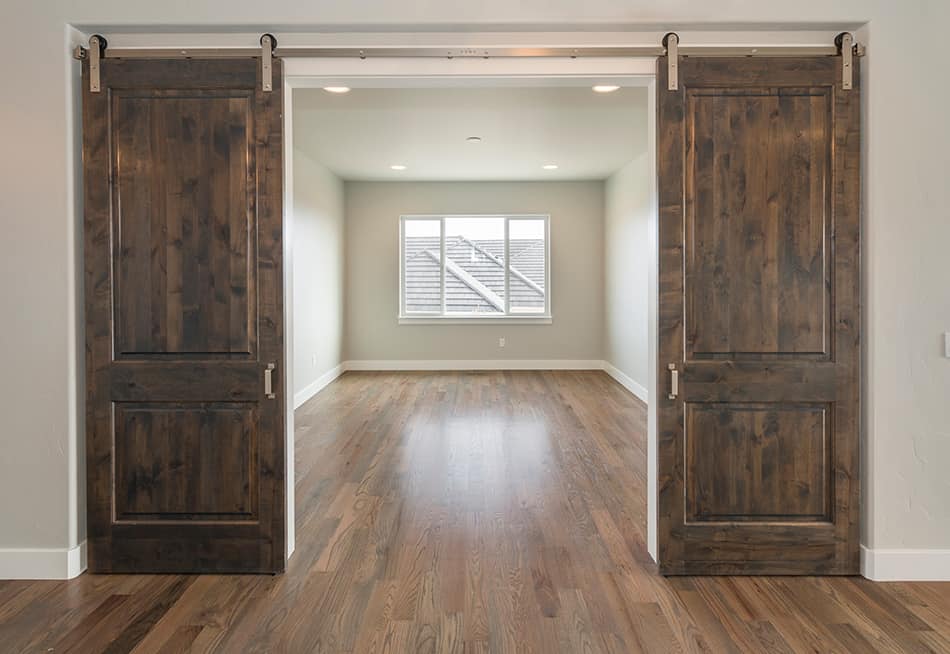 I bet the idea of sliding barn doors didn't even come to your mind as a sliding glass door alternative. But if you want to add character, style, and functionality to your home, why not have a customized barn door!
These traditional-looking doors can free up the floor space and are ideal for small spaces, such as hallways, patios, and even balconies. Sliding barn doors are also useful for open and large spaces as room dividers.
These doors are very stylish and can be customized to fit your home's aesthetic needs. They can be made from a combination of different materials, not just wood.
These unique doors add a sense of sophistication and character to any room of the house. They first became popular during the rise of the Shabby Chic interior style as rustic wooden decor and furniture can easily be combined with these doors. Another advantage of barn doors is that you can paint them any color you like to fit your interior decor and personal taste.
Before choosing a particular barn door for your home, consider where you'll be installing it for added style and function. As mentioned before, this type of door is ideal for hallways, pantry rooms, and even as a sliding patio door so with this in mind, you'll be able to decide where to install it.