Grey is a timeless, classic color with numerous shades that fit any interior decor style. When chosen as flooring, grey laminate, hardwood or tile floors have a shiny appearance to enhance natural light and make the room feel airy. Even scratches or stains blend in better on grey floors, hence the reason many homeowners prefer this color for their living room flooring.
When thinking of the best decorating ideas for living rooms with grey flooring, it's not a difficult task thanks to the versatility of grey. While grey floors don't make a statement on their own, the decor around them will highlight the neutral flooring and influence the brightness of the room.
But the question is, how do you create a modern interior when you have grey flooring in your living room? Keep reading to find out.
Living Room Design Ideas with Grey Flooring
Create Depth with Lots of Grey Tones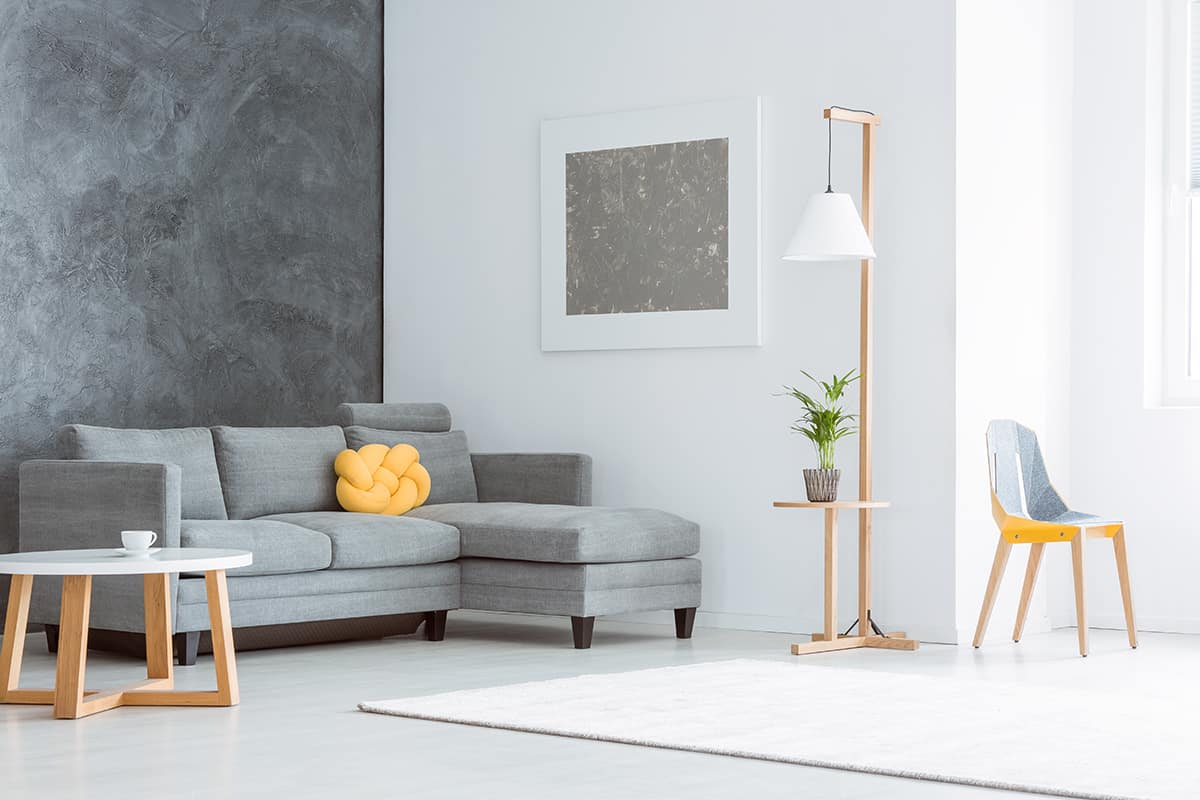 A single shade of grey in the living room may appear lifeless, but what if we told you to blend other shades of grey to create depth. If your grey flooring is in a light shade, for example, use that as a base to add other shades in the form of grey accessories and furniture.
After all, grey has so many depths that can easily be used to layer tones as a cohesive interior design. By using the same color but in different shades, your living room will look coordinated and well-balanced.
In this example, we can see three shades of grey used for the furniture, the wall and the flooring. The living room looks inviting and airy even though grey is sometimes seen as a dull or lifeless color. This example speaks for itself don't you think?
Combine Grey with Black and White
A mix of black and white decor can blend in nicely with neutral flooring. Grey is a cool hue that goes perfectly with black and white to make a dramatic statement. When you have a living room with grey flooring, why not add some black and white (as well as grey) furniture to create a hip interior.
You may paint your walls in white to pair with light grey flooring, with black as the dominating color for the rest of the room's decor.
Just like you can see in this example, the living room is far from dark and dingy with the black furnishings next to white walls and light grey flooring. This space is still light and airy, thus perfect for a modern style interior.
Go with Dark Grey Against Light Grey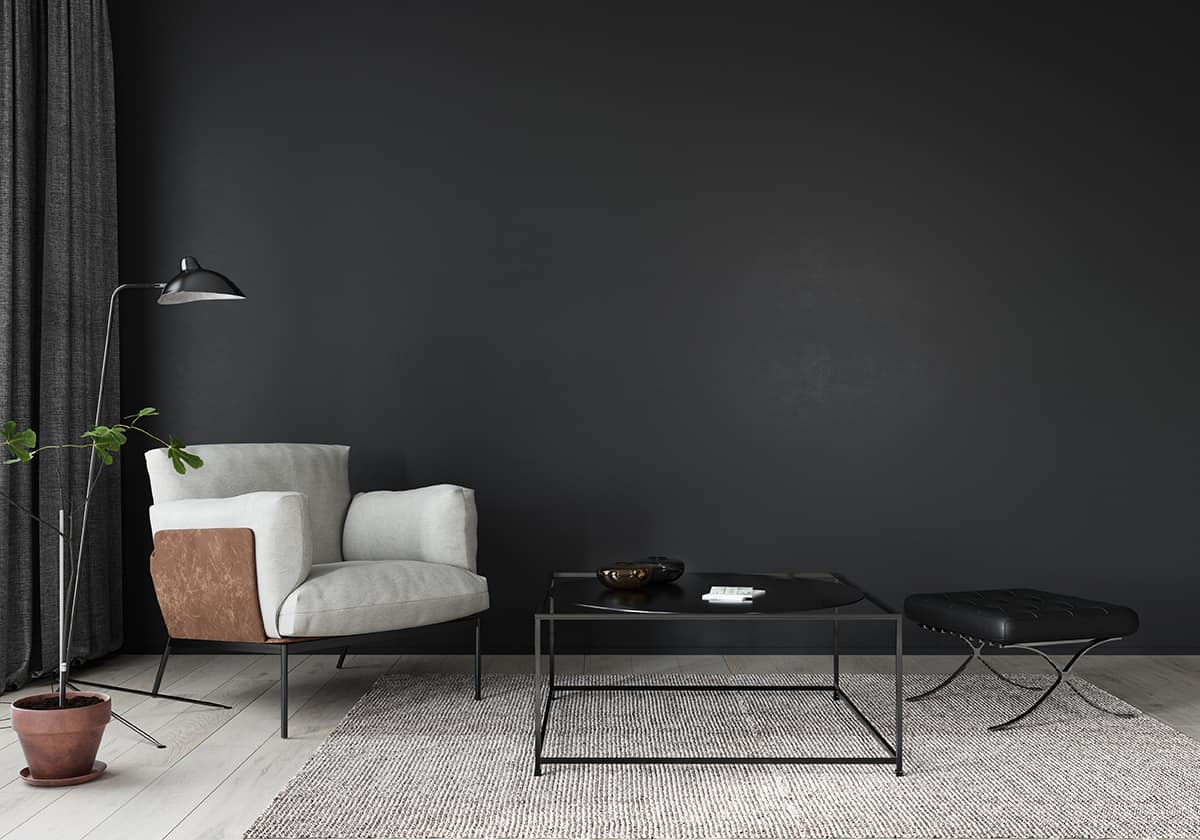 A rich grey wall color paired with light grey flooring makes any living room a cozy retreat. Darker shades of grey like charcoal can be used to add drama to a modern living room. Add white furniture and black coffee tables to complete the look.
By using a dark shade of grey with a light tone, you can create a strong and elegant living room just like the one shown in this example. We love the cozy and sophisticated feel of this living room, with its charcoal wall and light grey flooring. The black tables next to the white armchair look striking and atmospheric.
Add a Gentle Pop of Color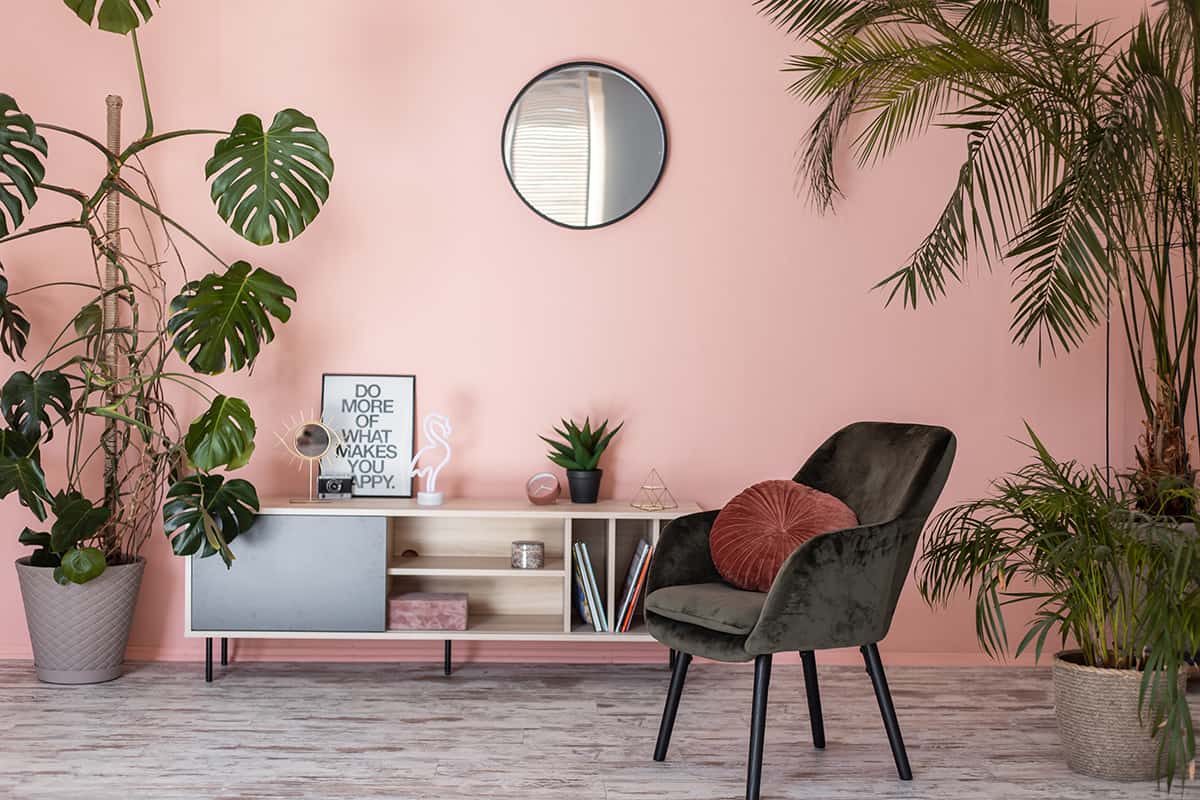 Light grey flooring can be spruced up by the living room's decor. Use the softest shade of pink to rub shoulders with a contemporary hue like grey. You may even paint the wall in pale pink with plum-colored velvet pillows. Pink and grey are a winning combination that is perfectly suited in a minimalist living room.
In this space, what stands out most is the pink wall as the beautiful backdrop to the light beige flooring. The wall color shifts the focus on the furniture and the surrounding greenery here. Alternatively, you can use soft pink throw blankets and wall decor to highlight your living room's grey flooring.
Intrduce Colorful Textures for Warmth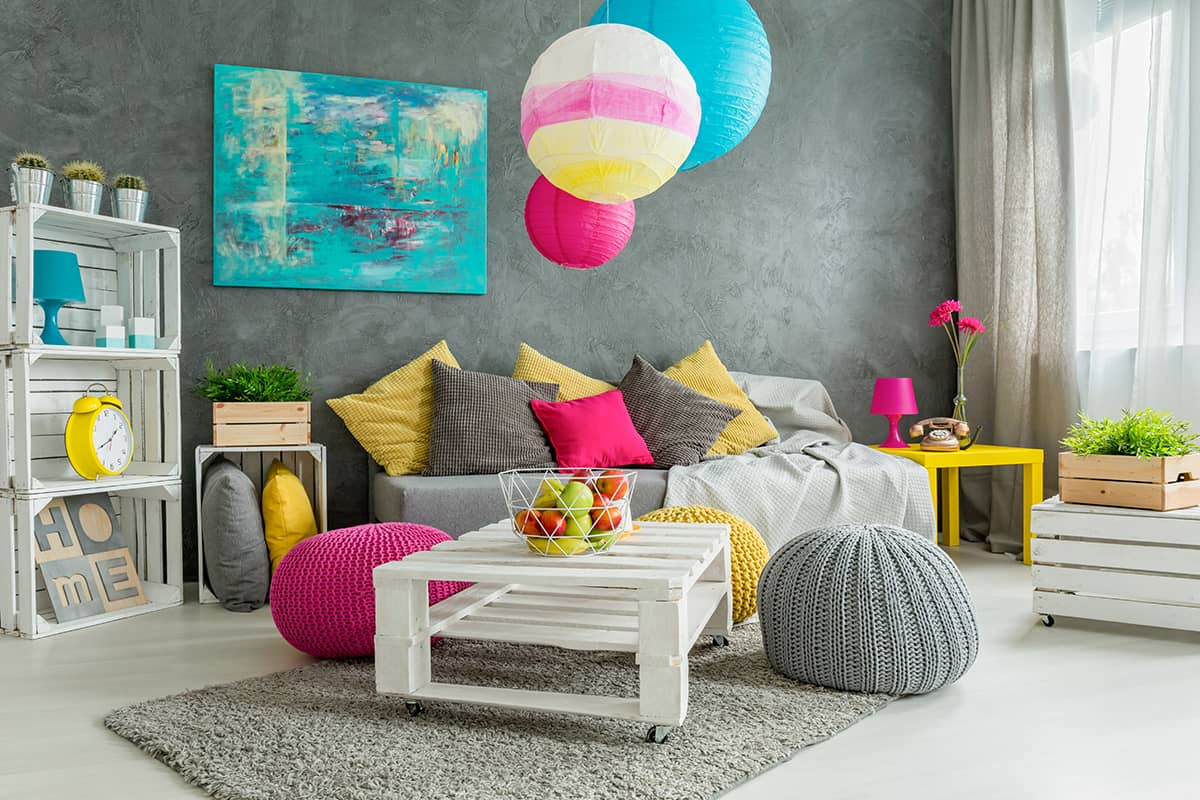 Adding colorful woolen furnishings to a living room with grey flooring is a great way of highlighting the understated grey and instantly transforming the neutral color from cold to calming. With the abundance of soft furnishing with textures and patterns, the grey living room will brighten up in an instant.
See how bright this living room example feels with all the colorful wooly details and accessories. The grey wall and flooring sit in the background, with the focus directly on the warm bursts of color.
Add Glamor with Metallics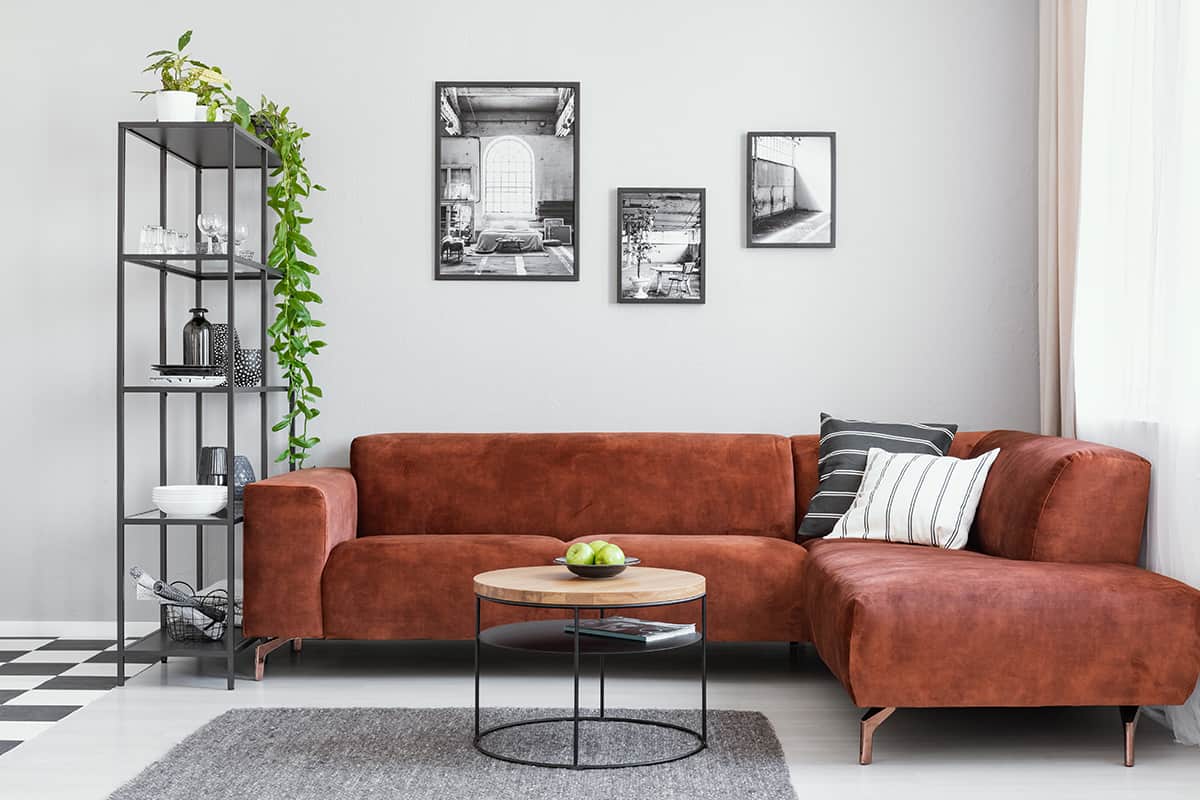 Using light grey flooring to create a harmonious look in a modern living room isn't always easy. To make a great impression, incorporate some black metal tones like the ones shown here. You can dress up your metallic furniture with white accessories and use natural colors for the seating furniture, such as brown.
This contemporary living room is simple yet elegant thanks to the black metallics and earthy textures.
Complement Grey with Blue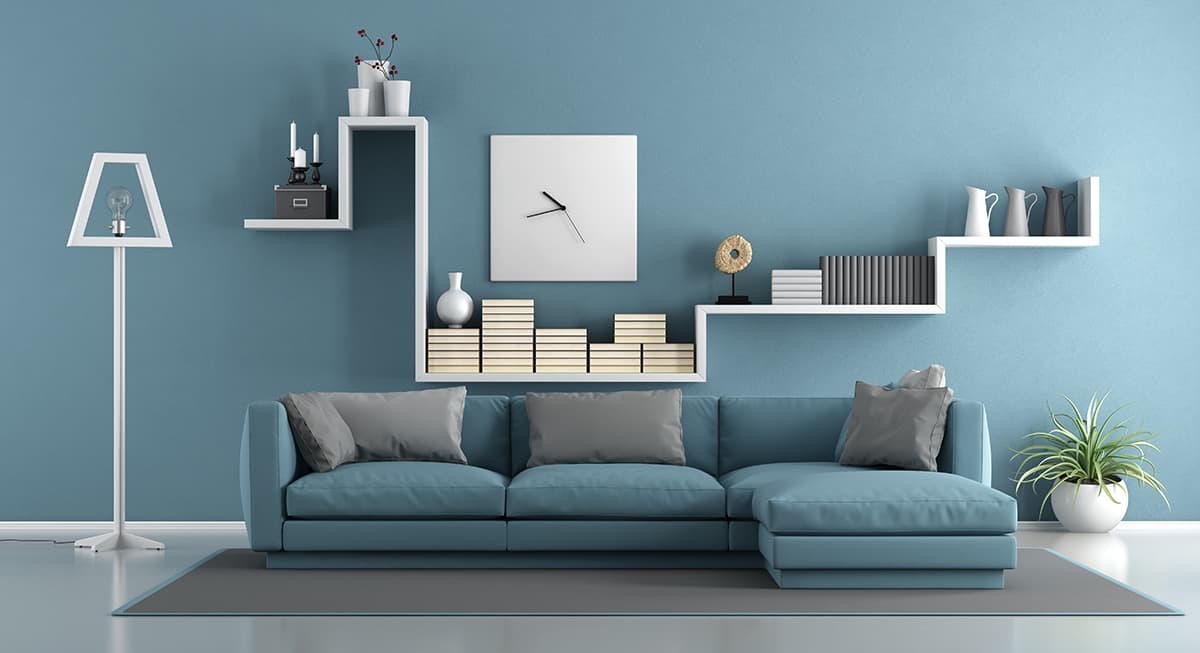 Blue and grey have to be the ultimate color combination as they are both cool shades with blue and grey undertones. This classic color palette is sure to work in any interior style thanks to its timeless and sophisticated appeal. In living rooms with grey flooring, opt for blue walls and matching furniture, with hints of white to keep the room cohesive.
Choose blue accents and experiment with in-between shades of grey and blue for a super sleek interior just like the one shown here.
We love this sophisticated blue living room with grey flooring. Grey is one of those colors that is so versatile it can blend with any other shade. When combined with light or dark blue, it creates a calming vibe that you can't help but feel relaxed.
Keep it Monochromatic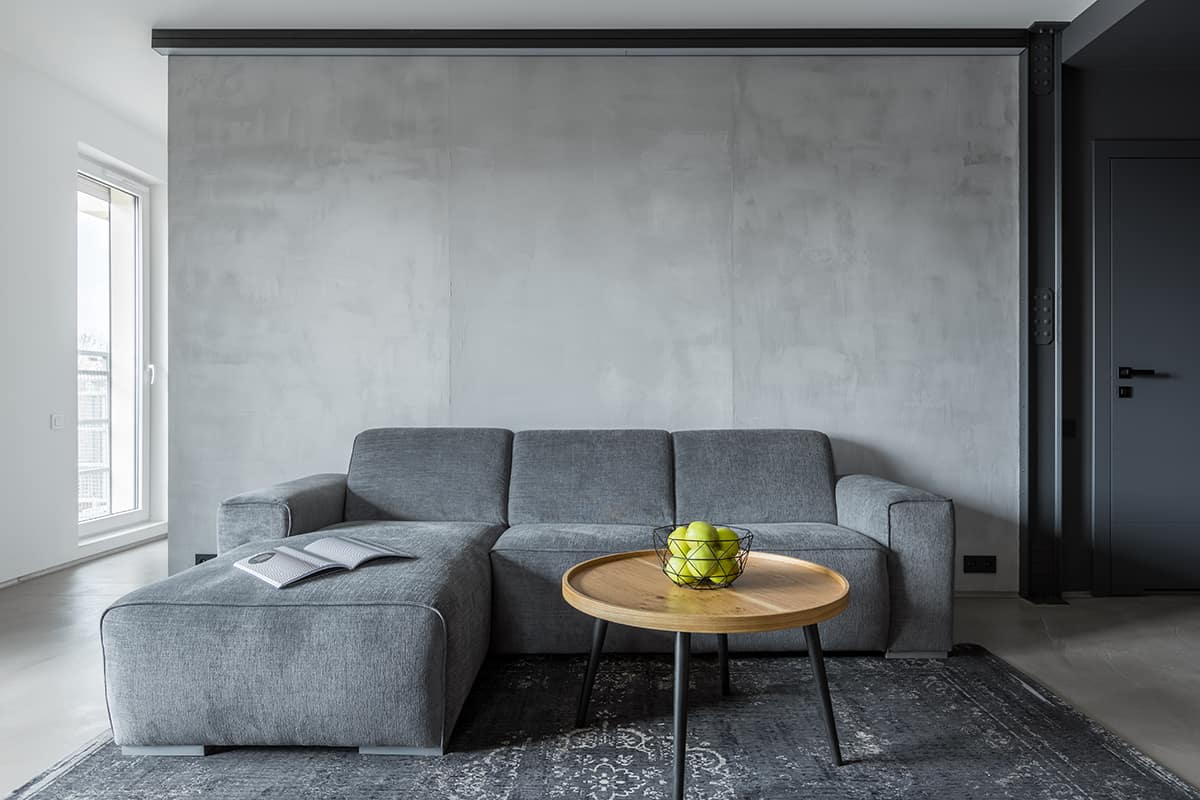 If you love grey floors, why not go monochromatic and design with all-grey? Like a charcoal grey living room? You can create an ultra-modern interior with grey walls, grey furniture, and grey floor covering just like the one here. And you don't even have to use different shades of grey to achieve the look.
Just one shade of grey is all that's needed to make a statement. Don't be afraid to go with the same grey tone as your flooring. You will often come across a monochromatic grey design in industrial-style living rooms.
Use a Solid Burst of Color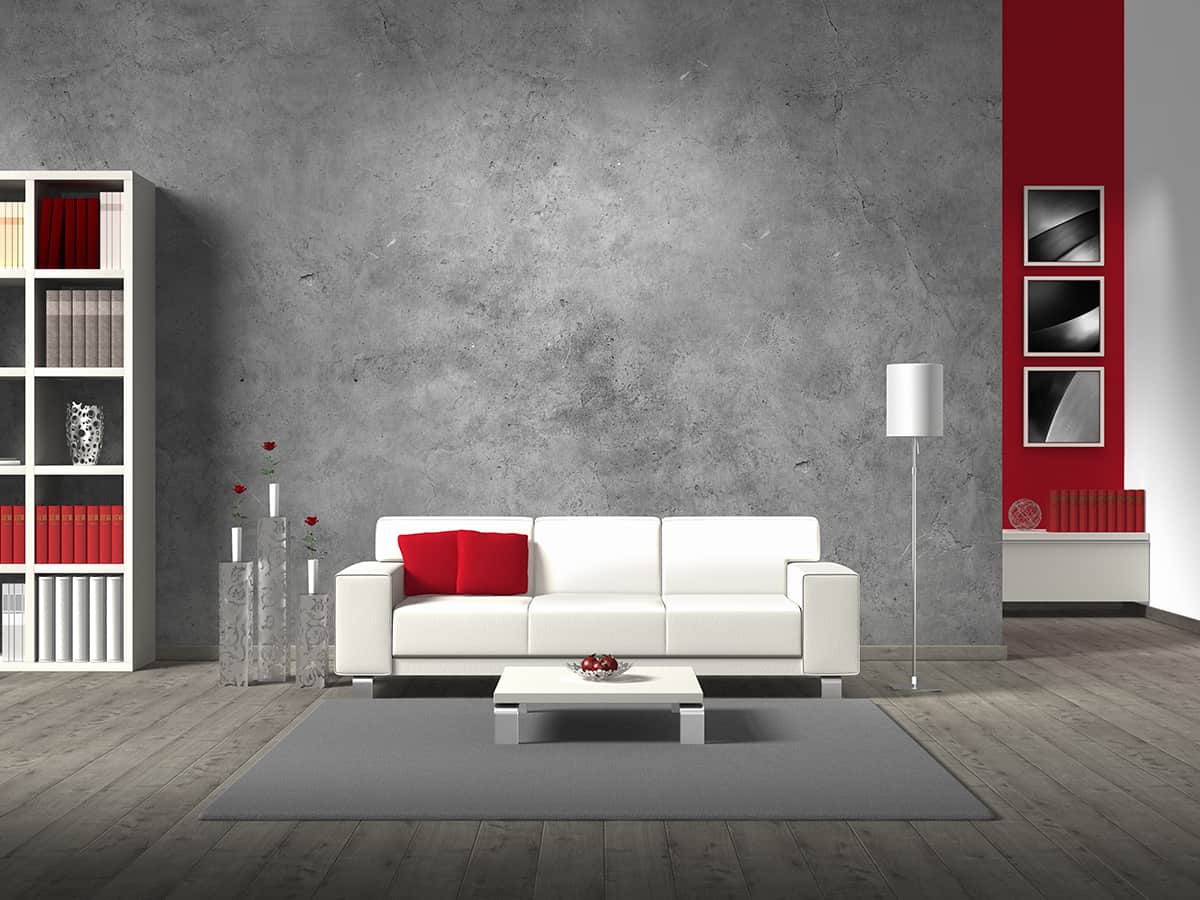 Not keen on an all-grey living room? Then how about adding a burst of bold color like burgundy to bring your grey interior to life. Since an all-grey living room isn't for everyone, we think burgundy and white are the perfect colors that can blend with grey and enhance its modern feel.
Red is a vibrant hue that matches practically any color. When paired with grey, the beauty of this bold hue comes out as the focal point of the living room.
Here, the white sofa and burgundy features of the room really stand out as striking colors next to dark grey walls and flooring.
Pair Plants with Light Grey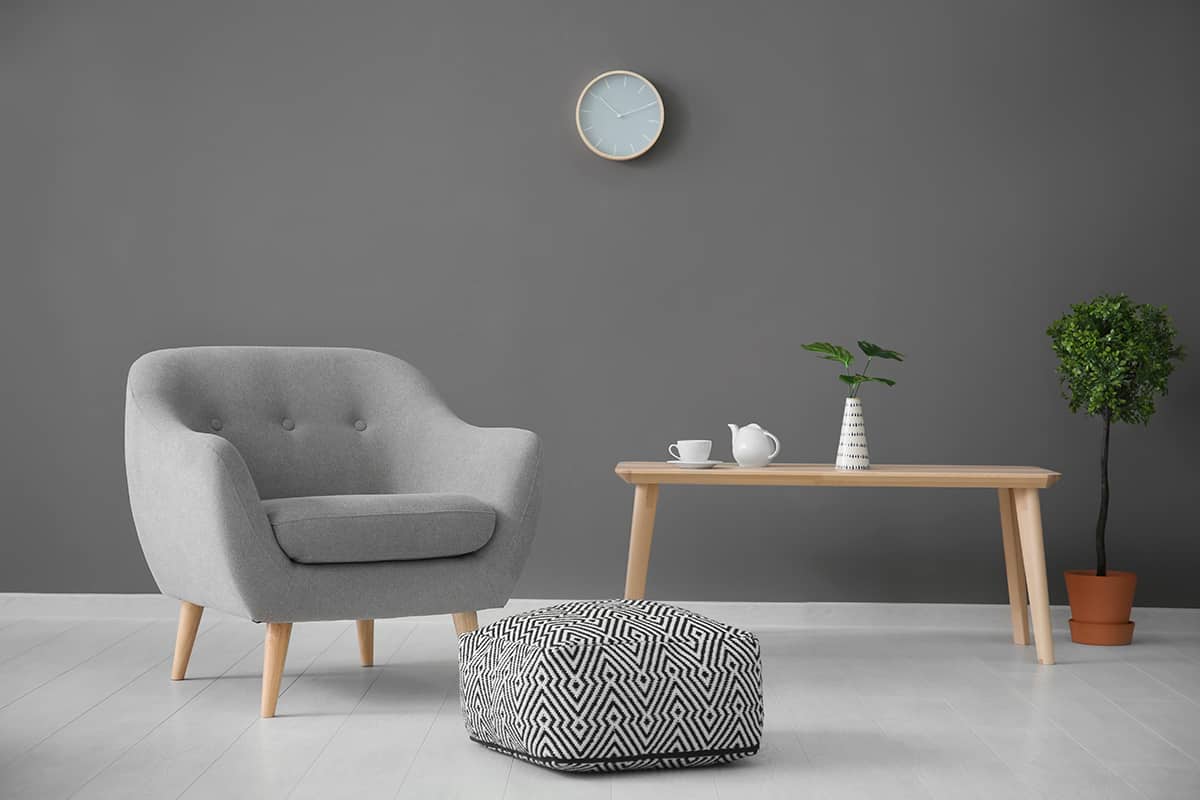 Floral patterns can instantly brighten up a grey interior. Whether you choose floral curtains or patterns, you can bring the outdoors inside. But even if you don't have any floral curtains or wallpaper to add to your living room with grey flooring, the easiest way to incorporate this idea is to buy some house plants and enrich your living space.
Indoor plants look very stylish next to a dark grey wall and light grey flooring. How many plants you choose to place around your living room depends on your own taste and the effect you're trying to achieve. Pick the furniture in grey and natural wood in order to keep harmony with nature.
A Patterned Rug to Enhance the Grey Floor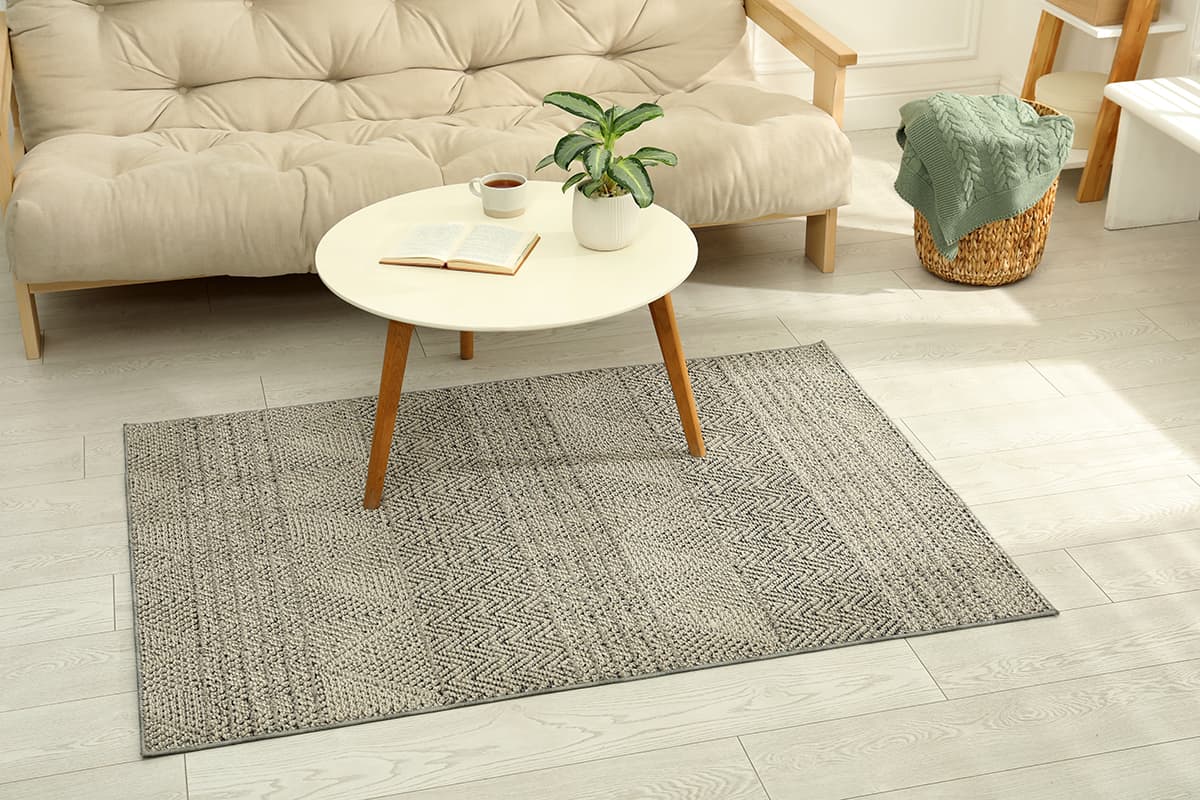 There are several easy rugs colors to match grey floors. You can use a simple patterned rug in the shade of grey to bring out the neutral beauty of your light grey flooring. An area rug is a perfect counterpoint to other neutral furniture like a beige sofa and wooden table. Just like in this example, each furniture item stands out individually, with the patterned rug making the room cohesive.
You could add more color if you want by introducing some geometric shapes, such as curtains or other patterned accent pieces, to catch your visitors' attention. A grey flooring is the ideal neutral base to blend with any pattern or color, as proven in this example and all the rest of the ideas we've shown you.