42 Wall Decor Ideas For Inspiration
Looking for unique wall decor ideas to spruce up your space? Here are 42 blank wall solutions & decor ideas that are sure to guide you in the right direction.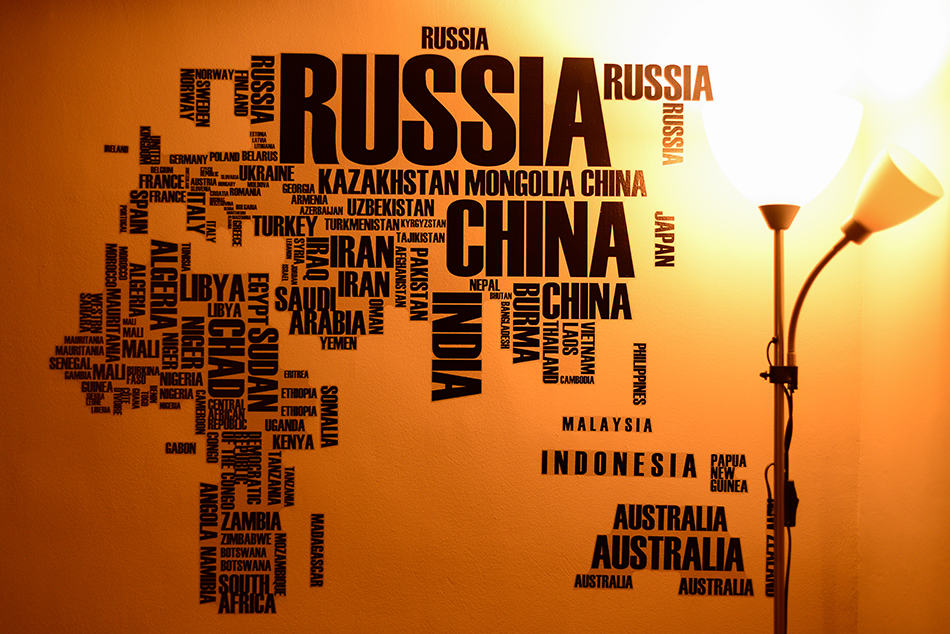 1. Create wall letters
All the places you have ever traveled to in the world can be typed up and printed
in small and large letters
to cover the entire wall space in an artsy order. You can be as creative as you want with your typography.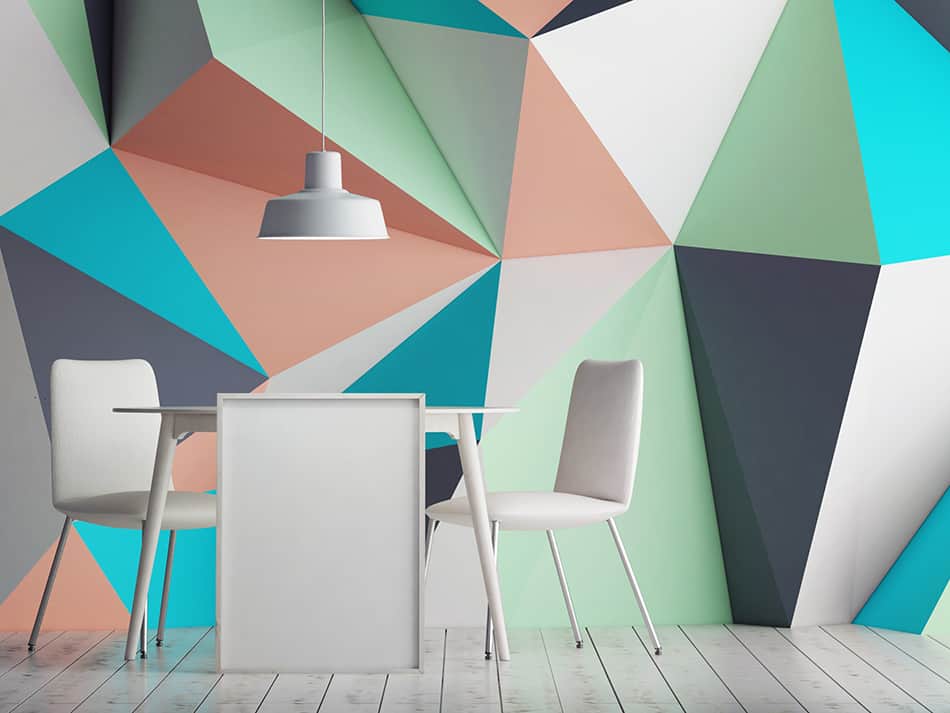 2. Geometric wallpaper for a custom look
The innovative and colorful
geometric wallpapers
are now very much
in
as you see in this image of a minimalist dining room with the brightly colored wallpaper as the focal point.
3. Display colored plates for a retro vibe
The retro vibe trend we're seeing at the moment is the
patterned plates
on brightly colored wallpaper. This is your chance to get in touch with your artistic side and paint some ceramic plates for your wall.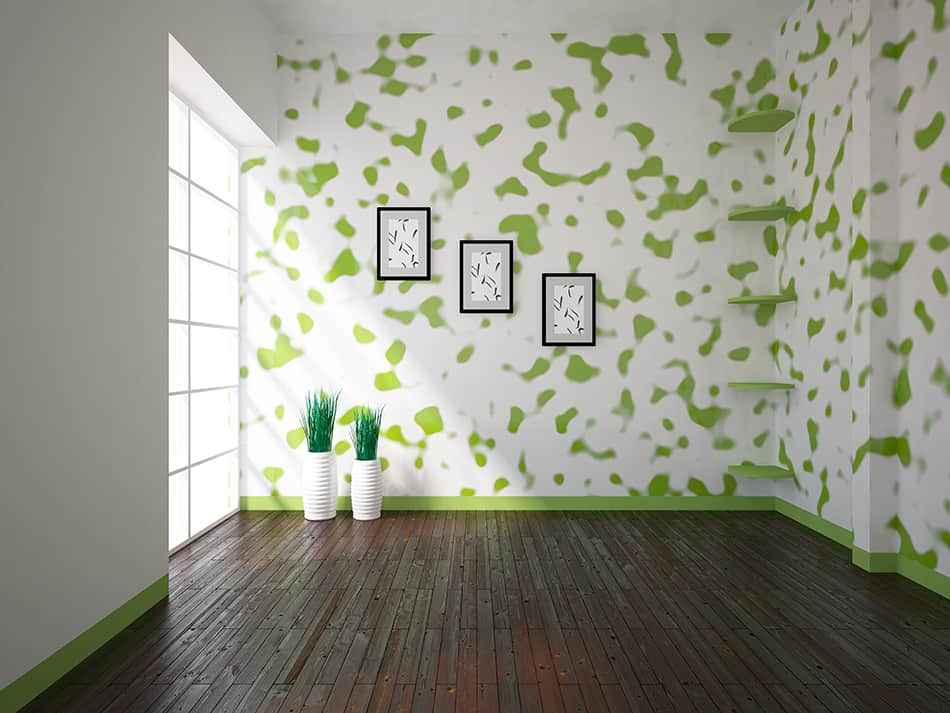 4. Add style with wall art
Green and white
patterned wallpaper
in a large and bright room will look great with small sized (and simple)
framed wall art
displayed in an orderly manner.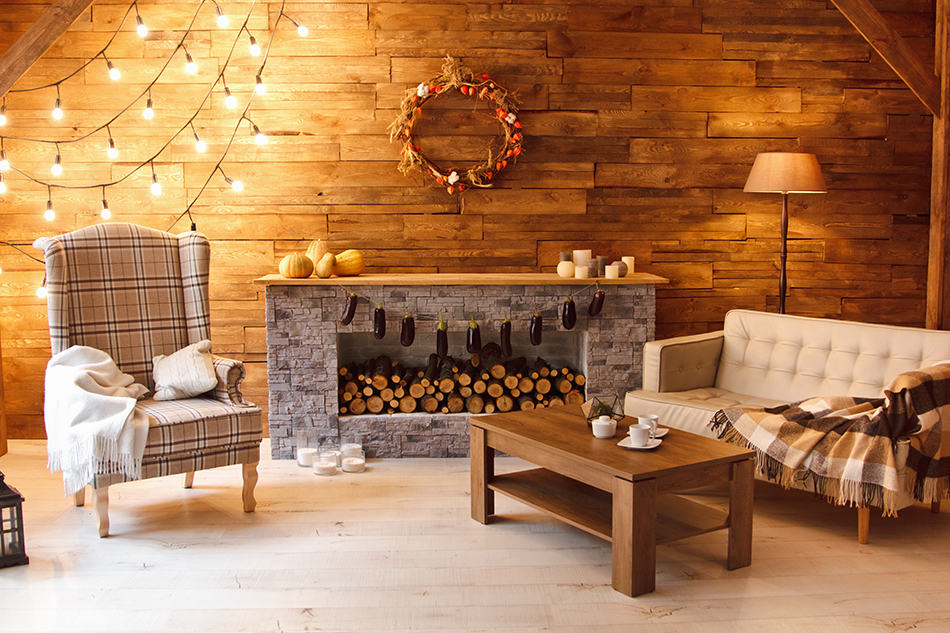 5. Put the fireplace in the spotlight
Make a bold statement with your fireplace by pointing several
bright lights
directly on this centerpiece, as shown here. The rest of the room should be a little darker for a cozier feel.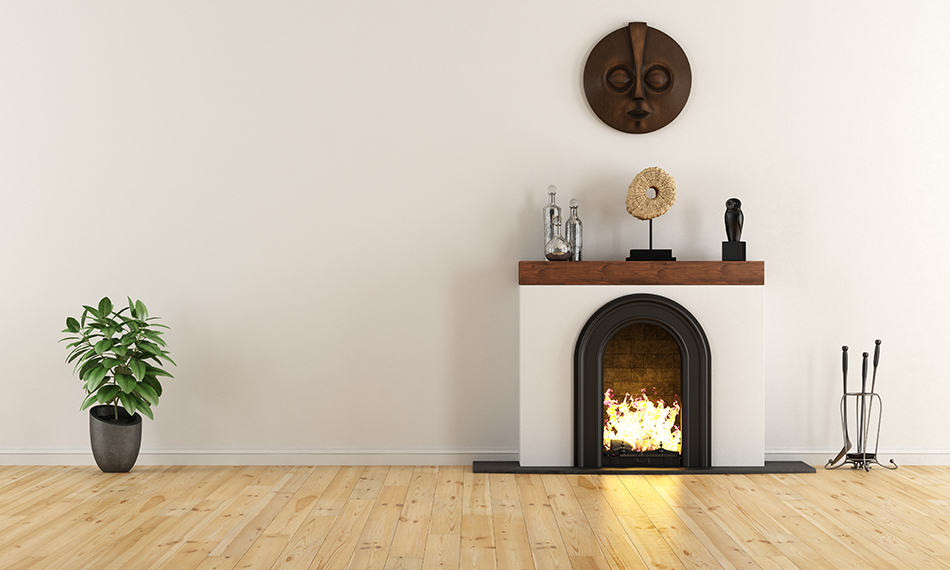 6. Add texture with a sculpture
This is an empty room with a
single sculpture
hanging directly above the fireplace to serve as a focal point.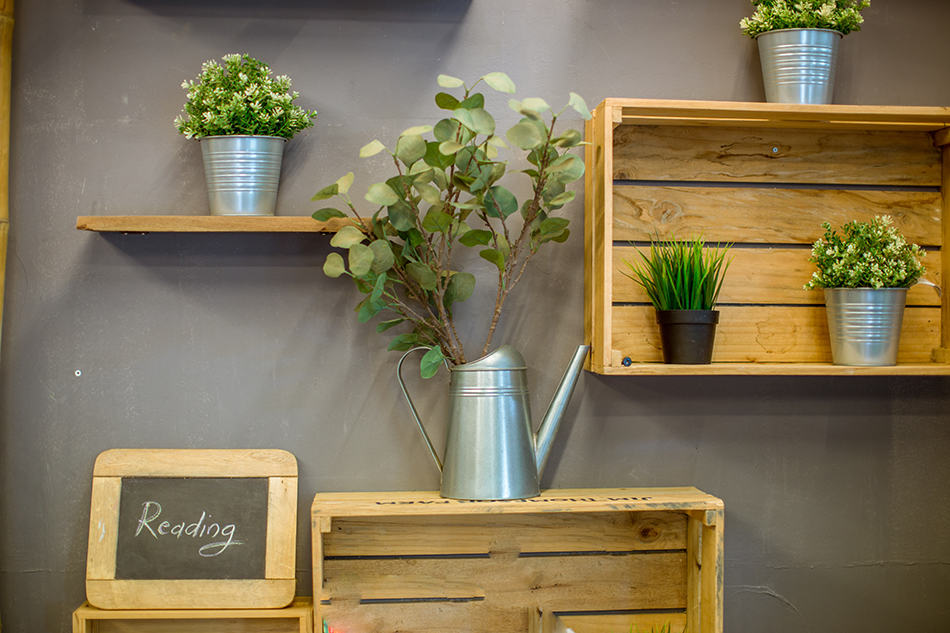 7. Enjoy the greenery indoors
Displaying plants on the walls is the perfect way to add
greenery
indoors. As part of an authentic decor element, use decorative pots and place the plants on
wooden shelves
.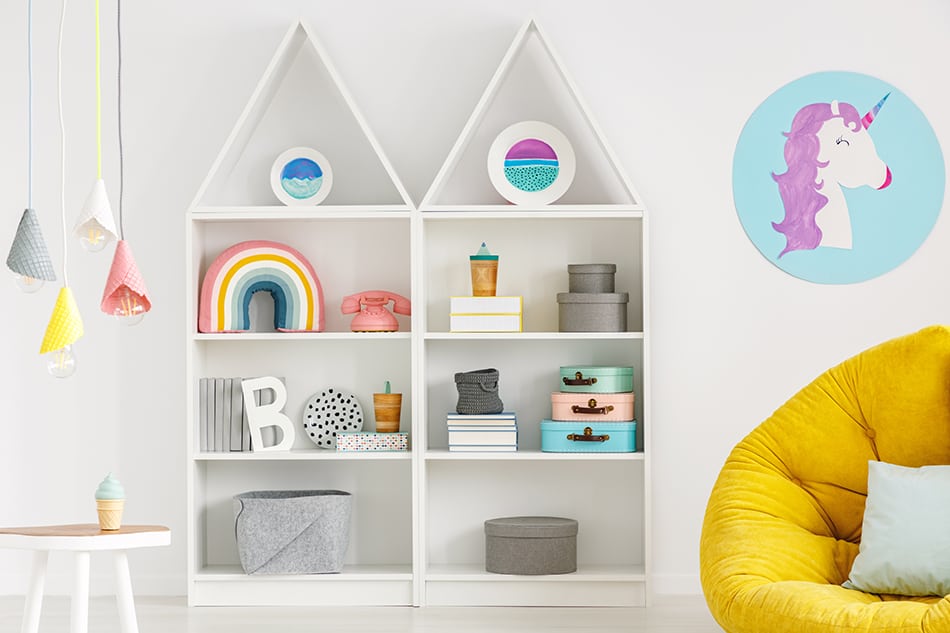 8. Create a rainbow-themed decor
Another clever way of showcasing your art is to create two
rainbow themed open shelves
in the shape of a house and place your collection on each shelf as shown in this image.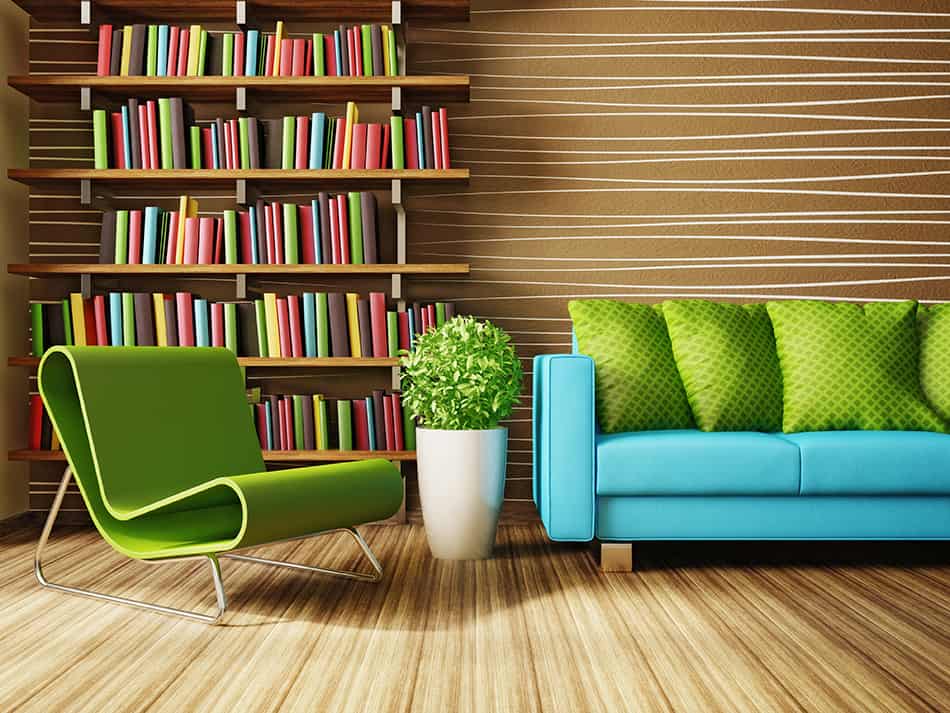 9. A bookshelf for display of color
A
bookshelf
that extends across half of the living room wall is a traditional way of displaying your colorful books as well as making the bold interior colors stand out.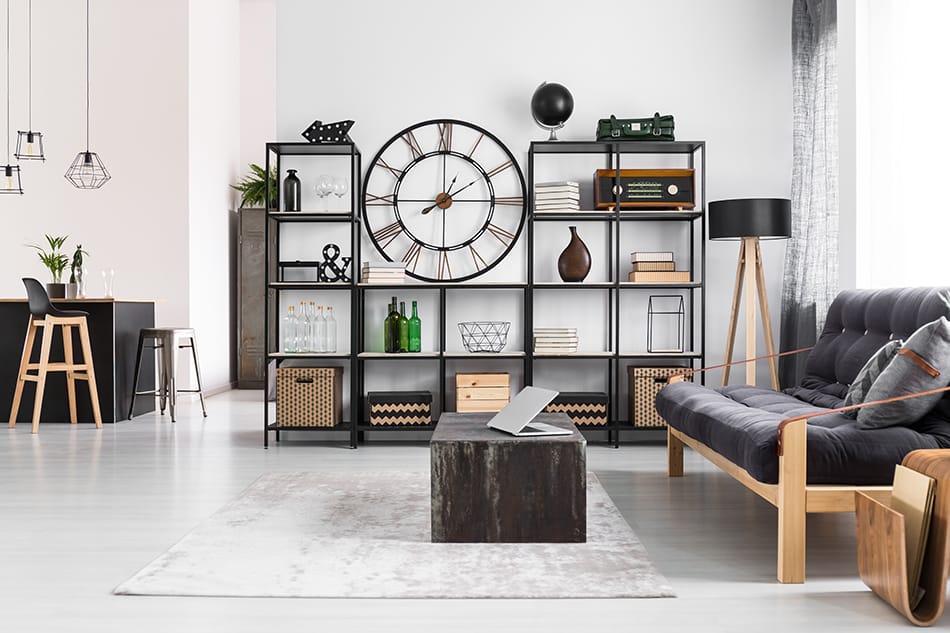 10. Use lots of shelves for storage
The shelves in this image are not just used for storage purposes but they also bring out the clock feature and complement the living room's neutral decor.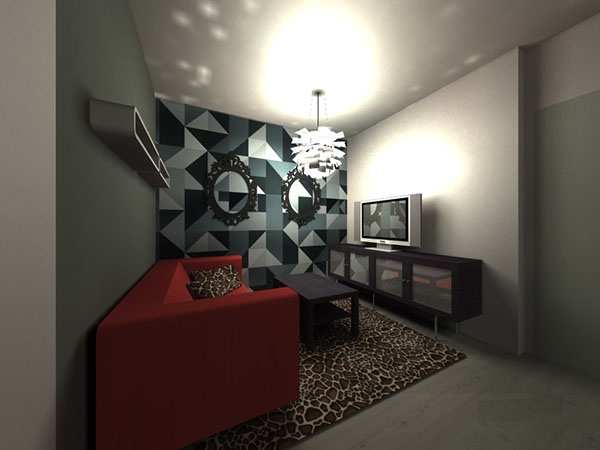 11. Follow the trend with contemporary wallpaper
Vibrant patterns on wallpape
r make a special statement, especially if it's matched with the bedroom's overall decor. It tends to have a lasting impact that adorns the wall in an ultra-indulgent way.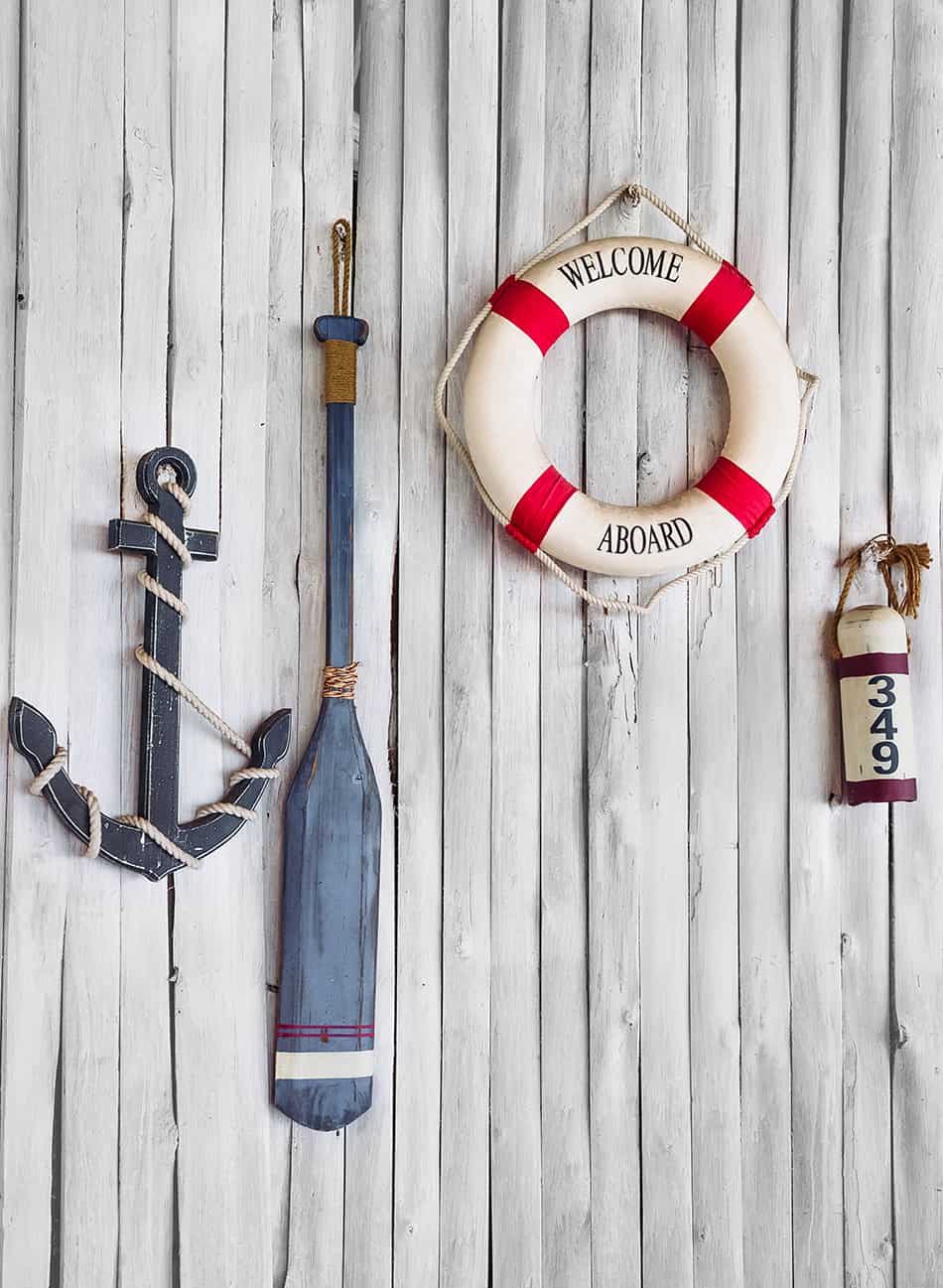 12. Stick to one theme
A collection of
maritime accessories
, such as an oar, an anchor, and a ship's wheel will draw attention to the room and tie the whole look together. The sailing theme was the inspiration behind this image.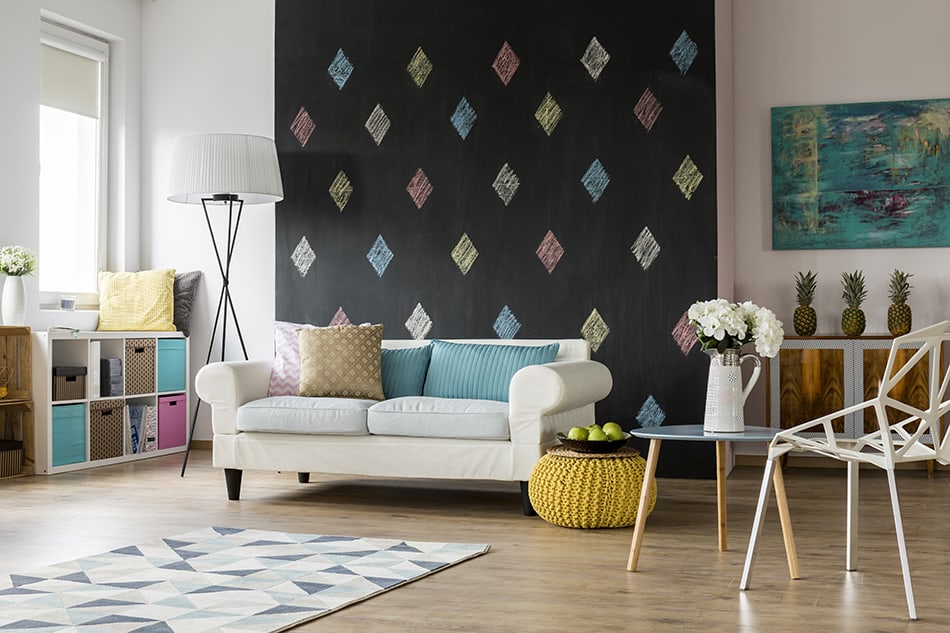 13. Add color with printed embroidery
Embroidered prints
on small fabrics are a great way of adding color to your walls. Here, the colorful patterns against a
black background with matching cushions and furnishings
provide a comforting approach to the living room.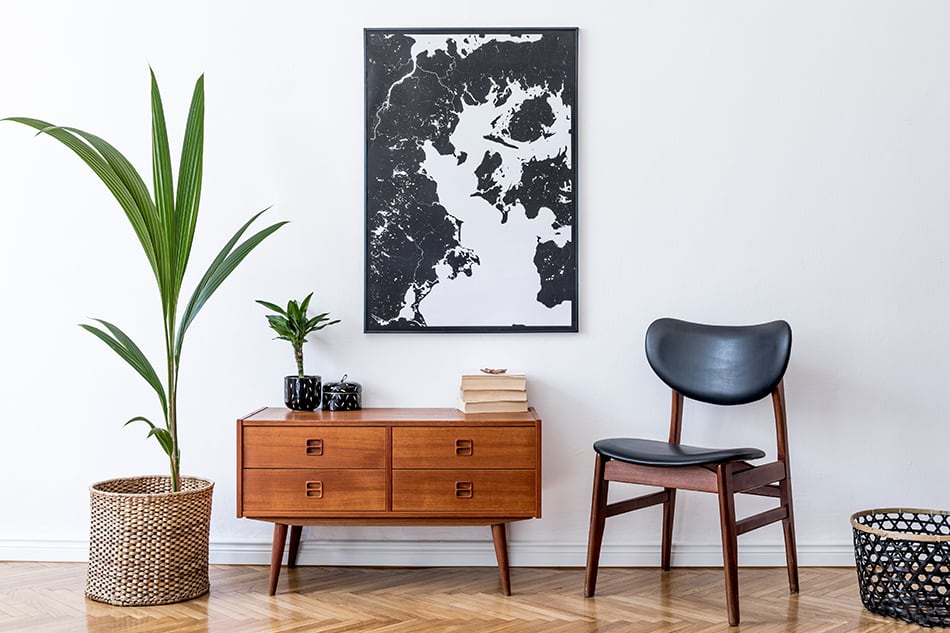 14. Display one single piece of art
A single and
unique piece of artwork
can add emphasis to the entire room, especially if it's a dramatic size and hanging right in the middle of the wall. Here is a black and white artwork that works as a centerpiece.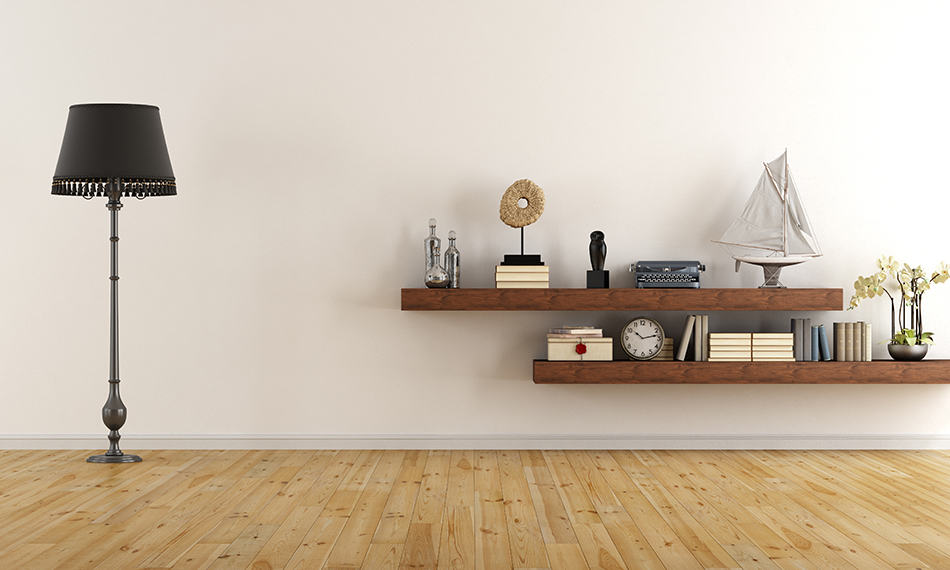 15. Floating shelves for added appeal
Two floating shelves
placed closely above each other at lower heights add character to a blank wall. Place your favorite items on these shelves for an added layer.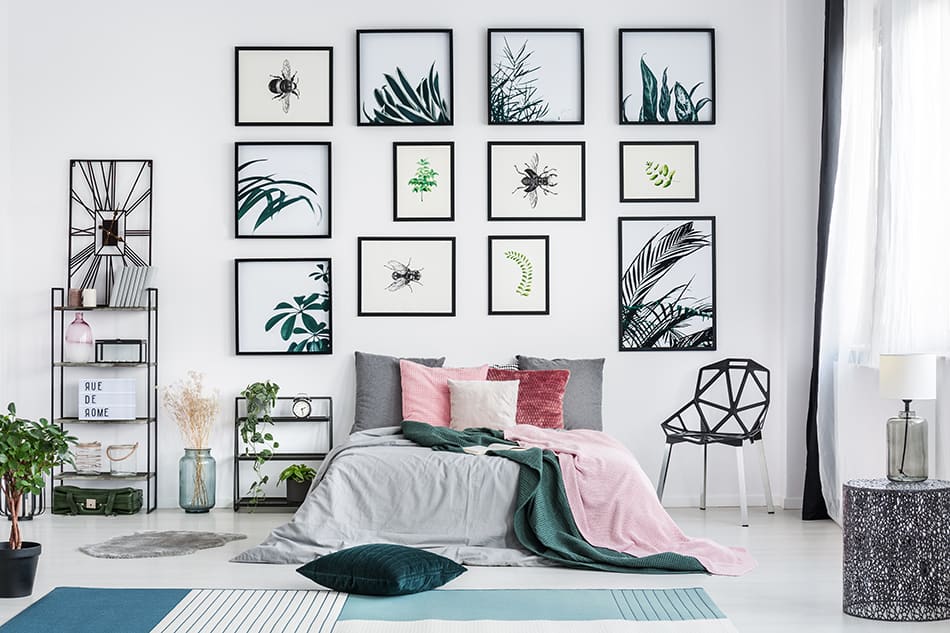 16. Opt for single-themed display of art
Nature
is the theme of this bedroom wall decor. The entire wall is covered with simple and artistic framed artwork that makes the room stand out.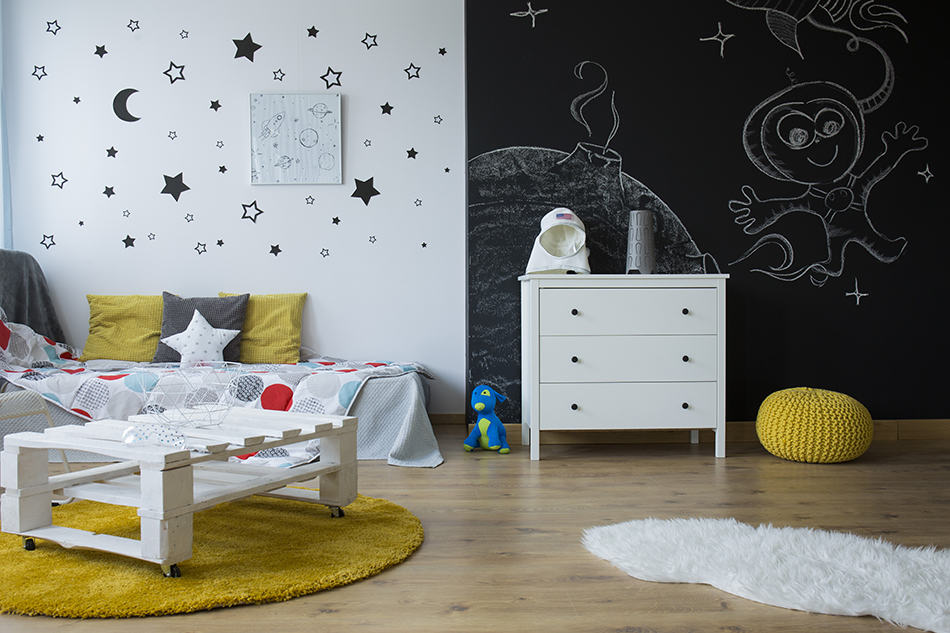 17. Draw on the entire wall space
Use your imagination and show off your artistic flair by
drawing on the entire wall
. This image shows how white furniture complements the black and white wall drawings.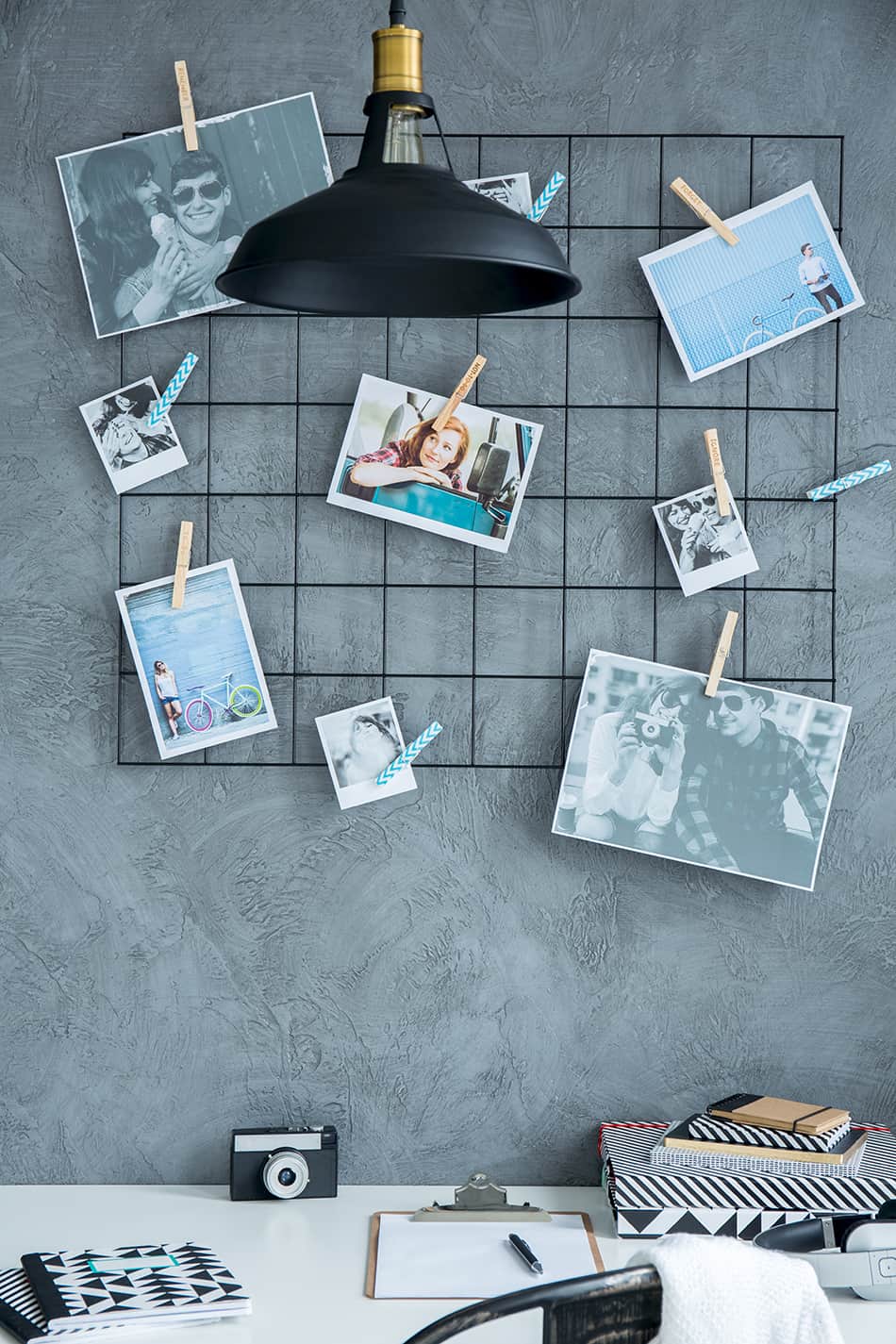 18. Peg a collection of printed photos
Don't let your blank wall look stark and bland. Fill it with your own collection of printed photos pegged to a black grid frame. You can always replace the photos with new ones by simply unpegging them.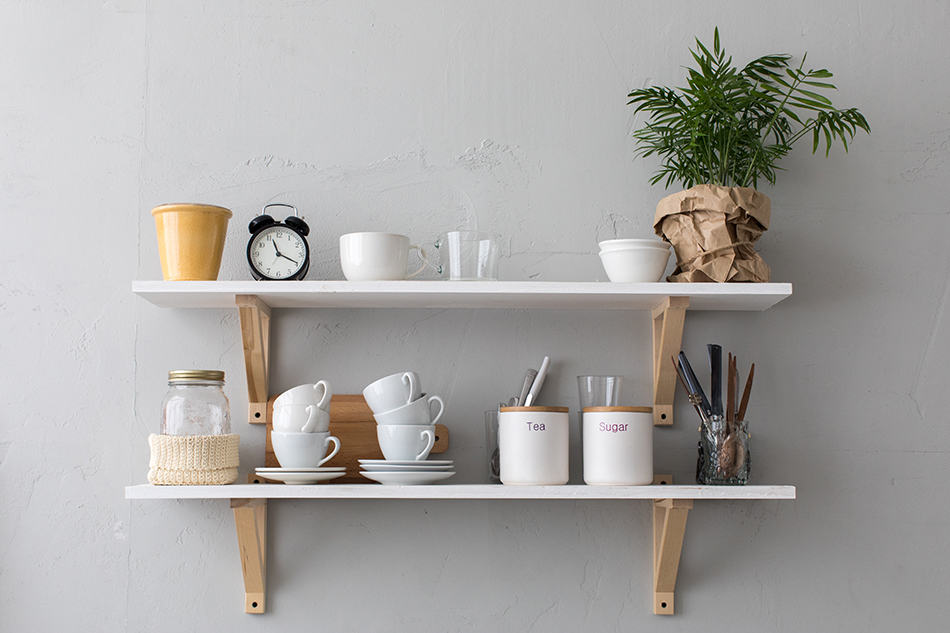 19. Fill up wall shelves with utensils
Spruce up your empty
kitchen wall
by placing all the utensils and crockery on two shelves above each other in an artsy arrangement. Don't forget the potted plant for added color. 
20. Use an oversize mirror
For a quick way to fill your empty wall, try hanging an
oversize mirror
in a gold frame right above the sofa. It will add style to the living room and make it look bigger.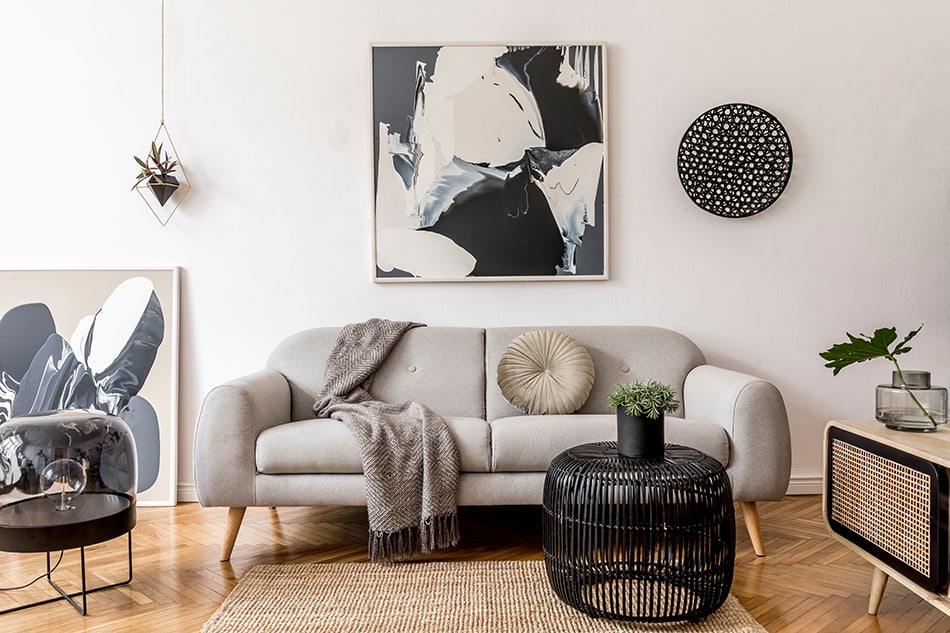 21. Abstract art for a classic look
An
abstract black and white artwork
with simple framing hanging in the middle of the living room wall is a simple technique to showcase your gray furniture as shown here. 
22. Display a world clock gallery
Oversize clocks
that show the different world time zones on a white brick wall will take the focus away from the minimalist furnishings of the room and draw the attention directly to the wall decor.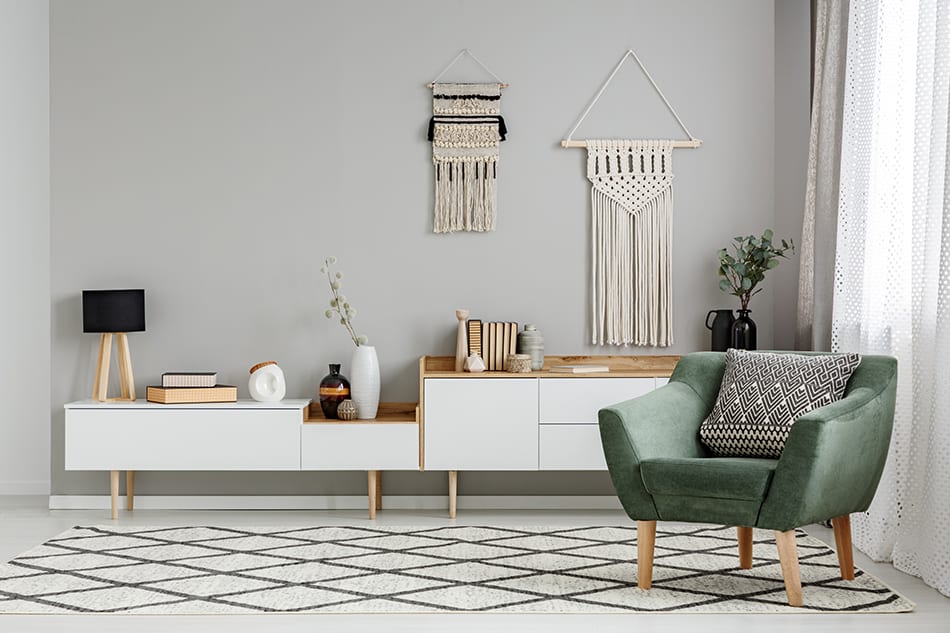 23. DIY custom wall furnishings
Showcase your best handicrafts by furnishing the wall with a couple of
custom macrame crafts.
Here is a perfect example of how these handmade accessories complement the
checkerboard floor
and the white drawers. 
24. Grab attention with your medallion
A white brick wall with a rare
black medallion with a famous quote underneath
is a sure way to impress your guests. You will without a doubt draw attention to this unique piece of wall decor.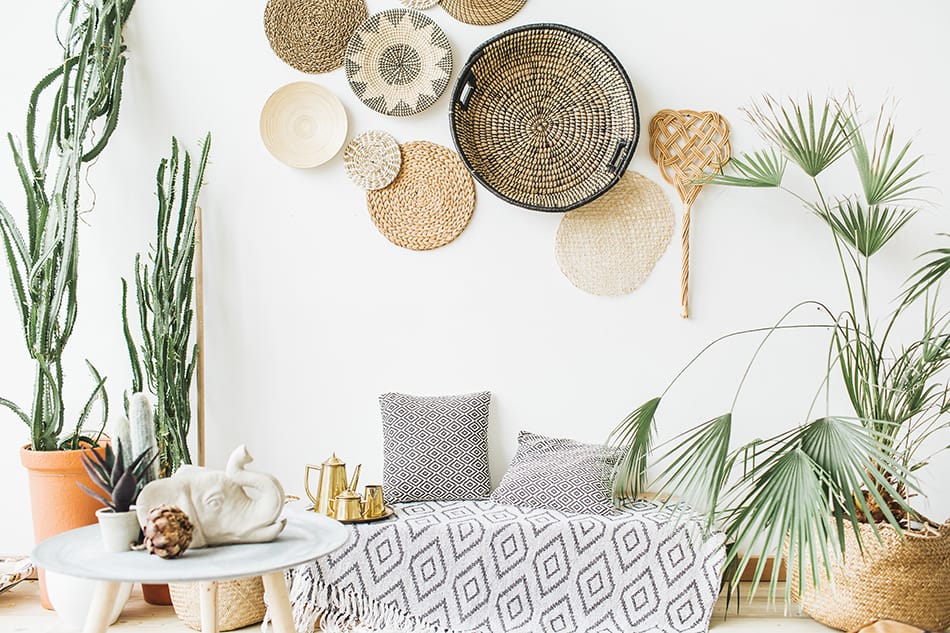 25. Basket art for a cottage look
Hanging
wicker baskets
as artwork adds texture to the wall. Here, the natural material complements the green interior with a neutral background. Using neutral colors keeps the focus on the wall art arrangement.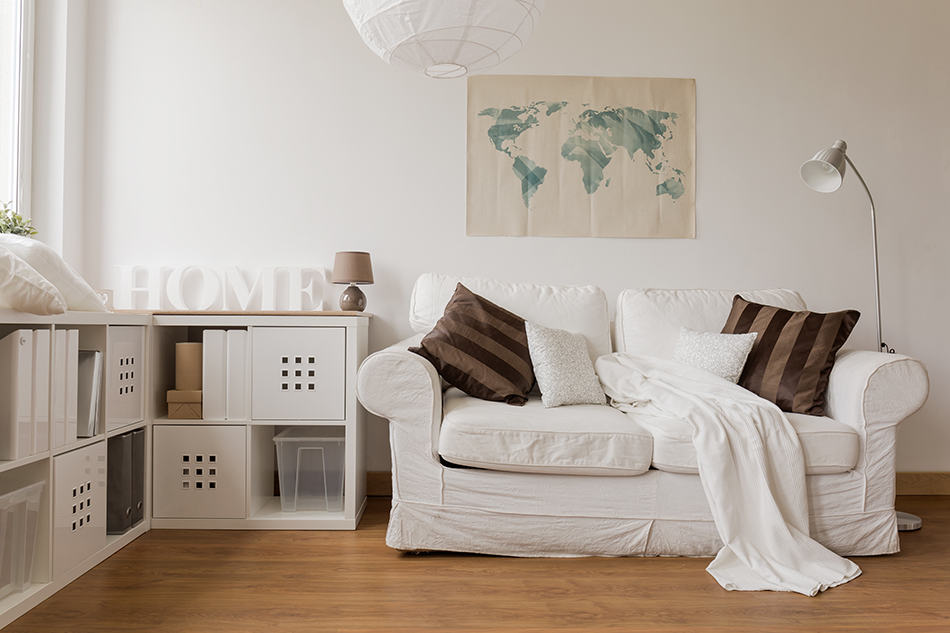 26. Hang a personalized map
Add a large
world map
to your living room's decor. You can even make it extra personal by adding pins or stickers to the countries you're planning to visit or have already visited.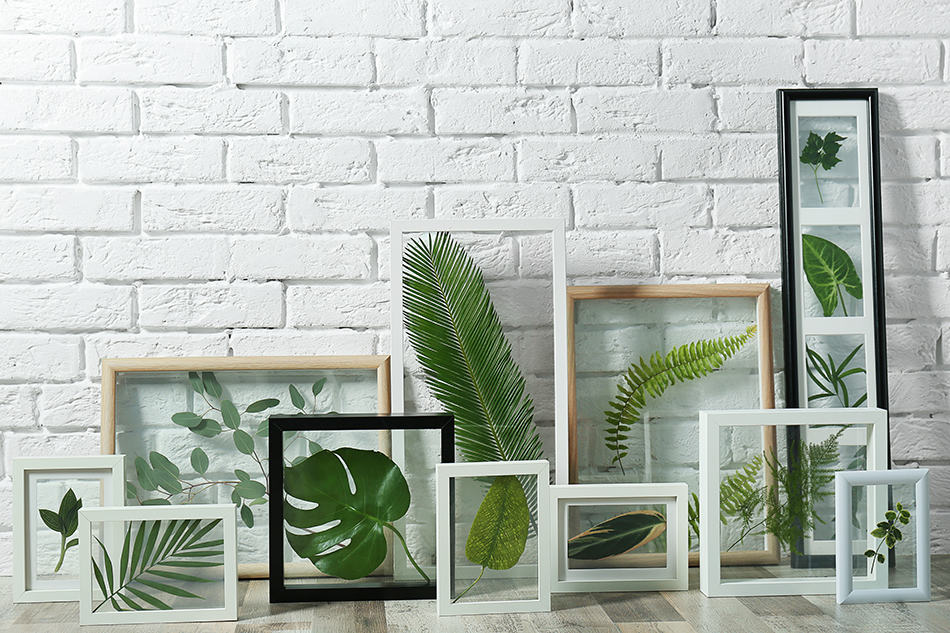 27. Bring your garden inside
Nature-inspired artwork
offers a stunning view of the greenery from the comfort of your own home. Framed plant leaves work great against a white brick wall.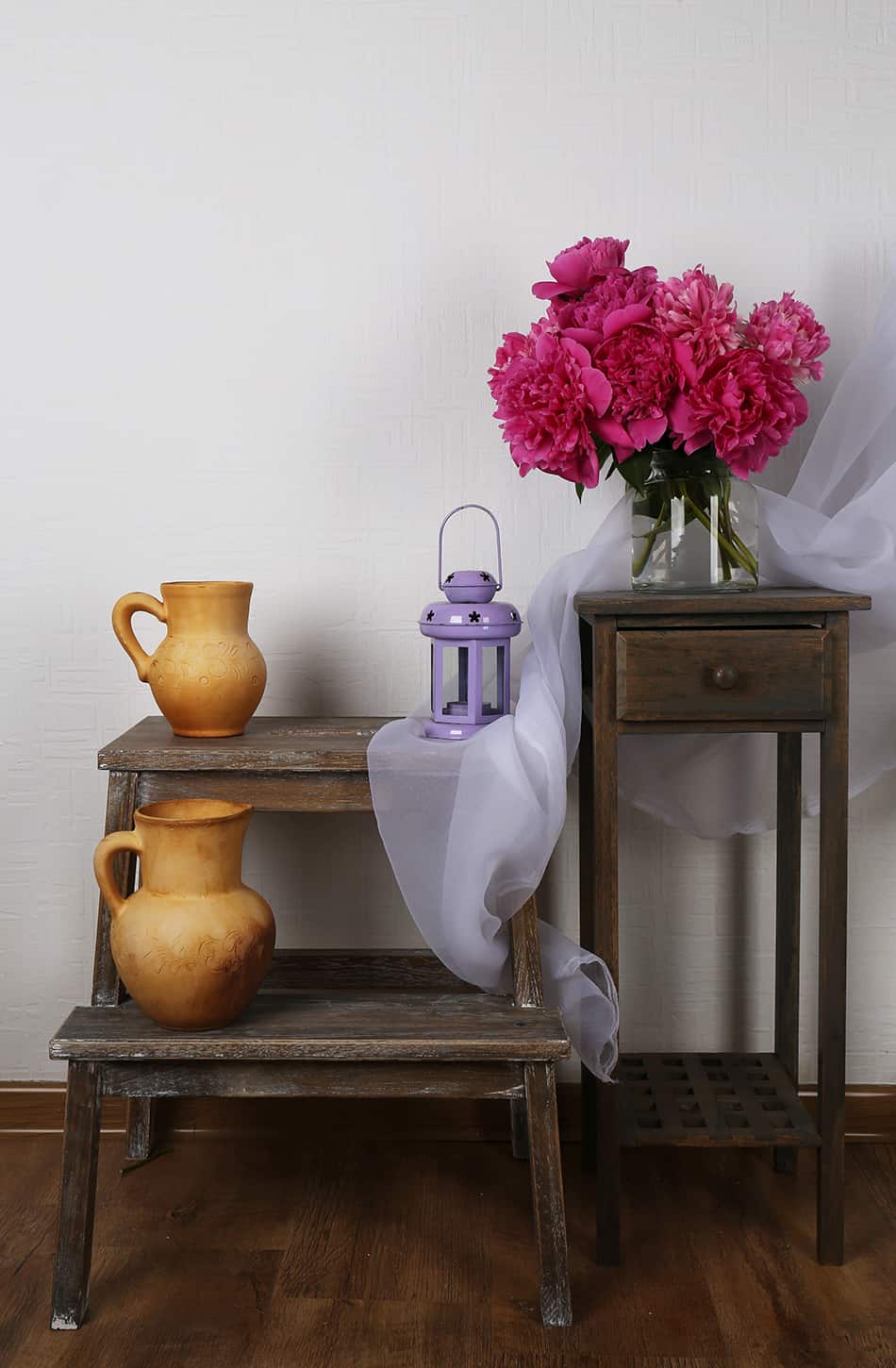 28. Create flow with experimental pieces
Experimental pieces
like rustic jugs on wooden surfaces feel classic and authentic. This image is a perfect example of how a balanced flow can be created using organic and warmer decoration accessories.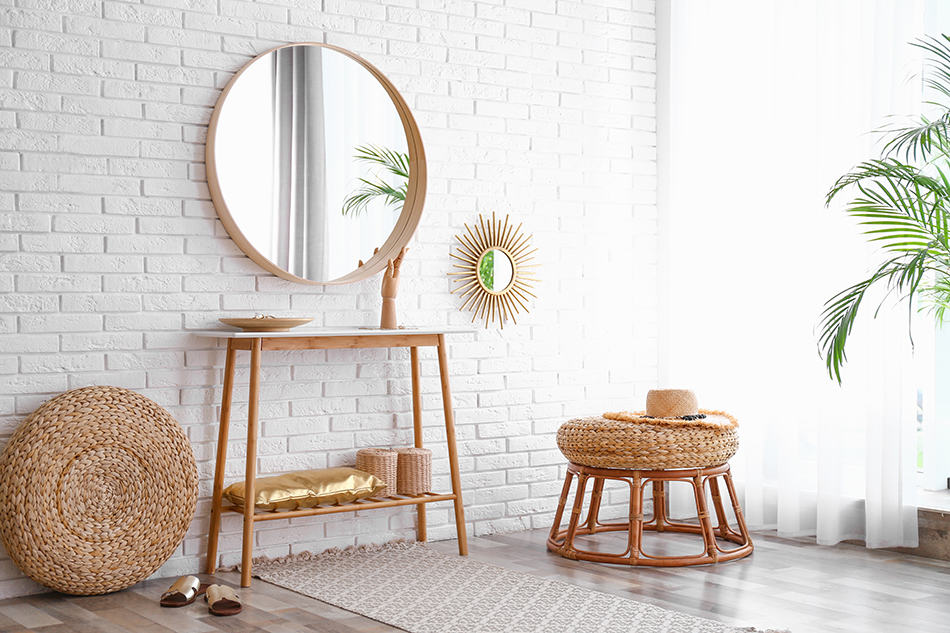 29. Spruce up the hallway wall
Hallways tend to be too narrow to furnish, but no matter how compact this space is, a
large mirror
on the white brick wall will make the hallway look bigger. Tip: furnish this space with minimalist furniture to make the mirror stand out.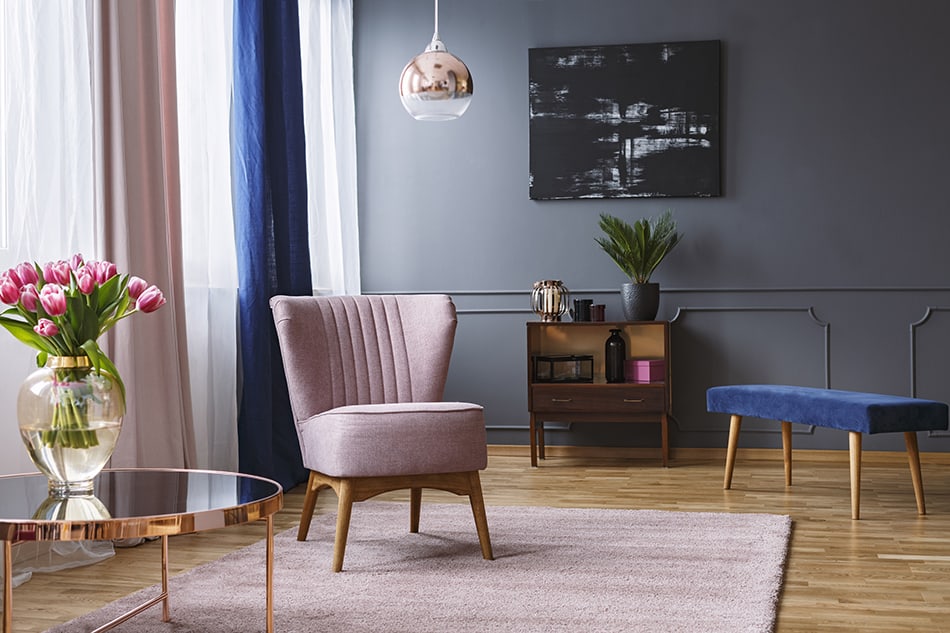 30. Contrast styles
In this image, the pink furniture and lighting contrast styles perfectly with the
dark wall decor
. All the pieces come together nicely against the cool wall color.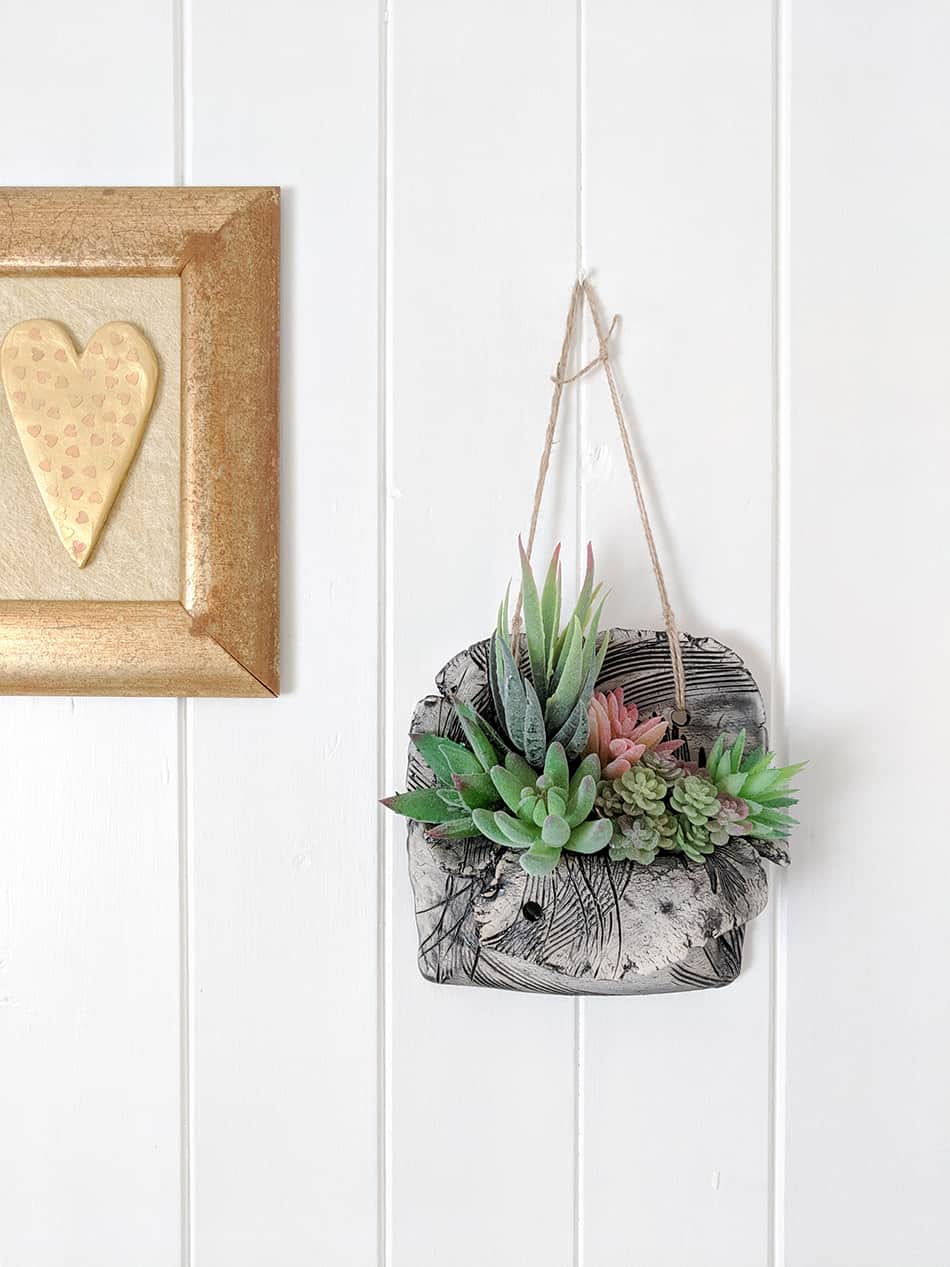 31. Create a gallery wall
Nothing adds more personality to a room like a
gallery wall
. This can be in the form of your favorite little art collection or ornate variations and other ephemera. Tip: go for colorful wall hangings for a neutral wall.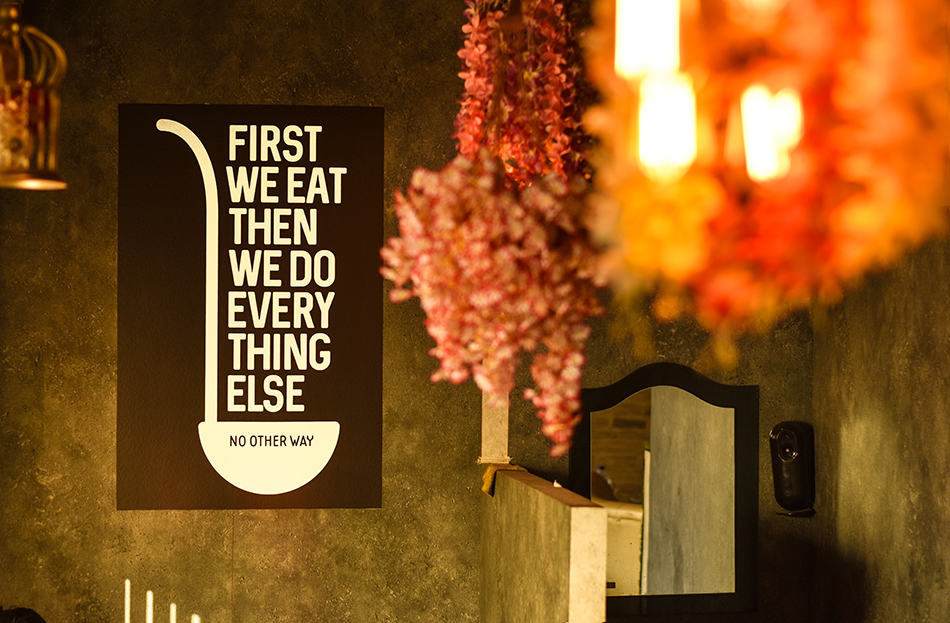 32. Inspiring wall quotes
Why not fill your entire wall space with
inspiring quotes
from your favorite icons? For example, if you're a Marilyn Monroe fan, show your love for the starlet with wall decals of her famous sayings.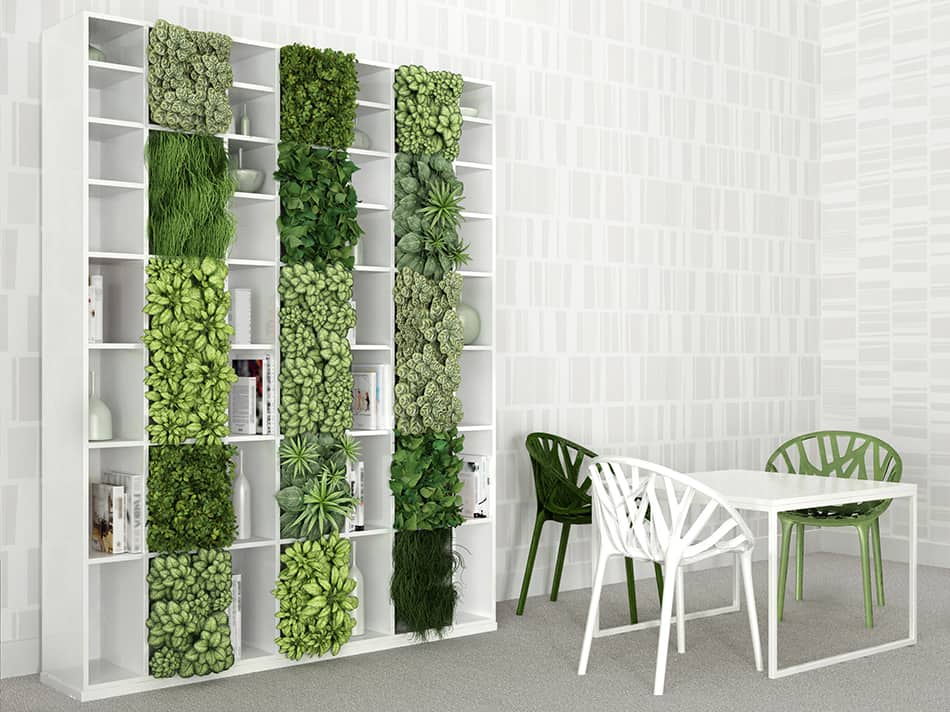 33. Botanicals from ceiling to floor
A large wall with
floor to ceiling botanicals
in shelves will let you relish in the beauty of nature. This neutral dining room with the green wall decor on white shelves is a great example of making good use of  a large space.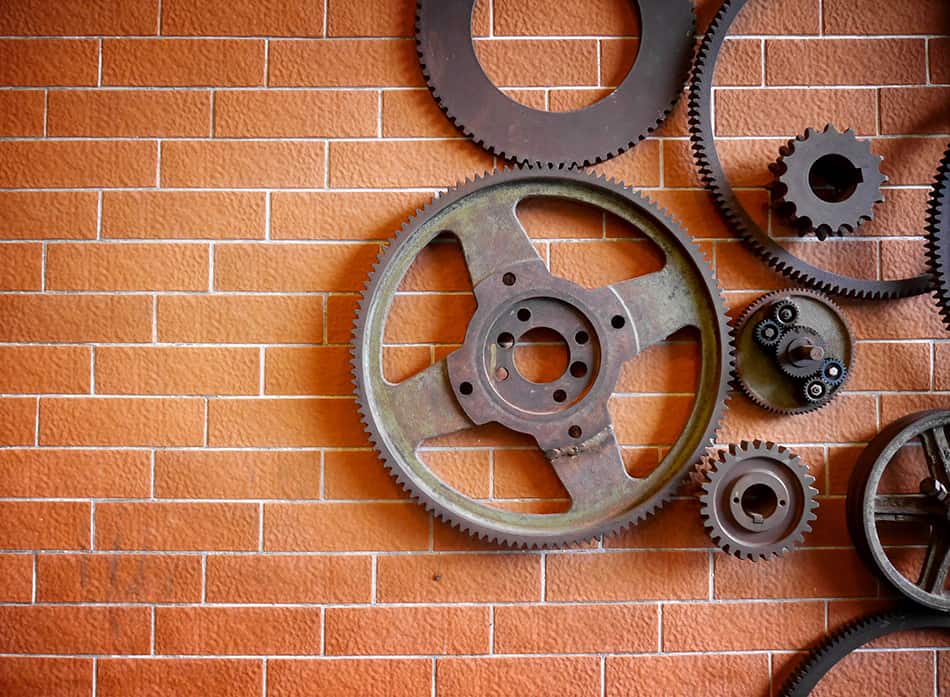 34. Embrace the industrial look
The striking
metal objects
make this room look inviting and elegant as well as bring out the red brick wall in the background. The industrial look is definitely
in
this season.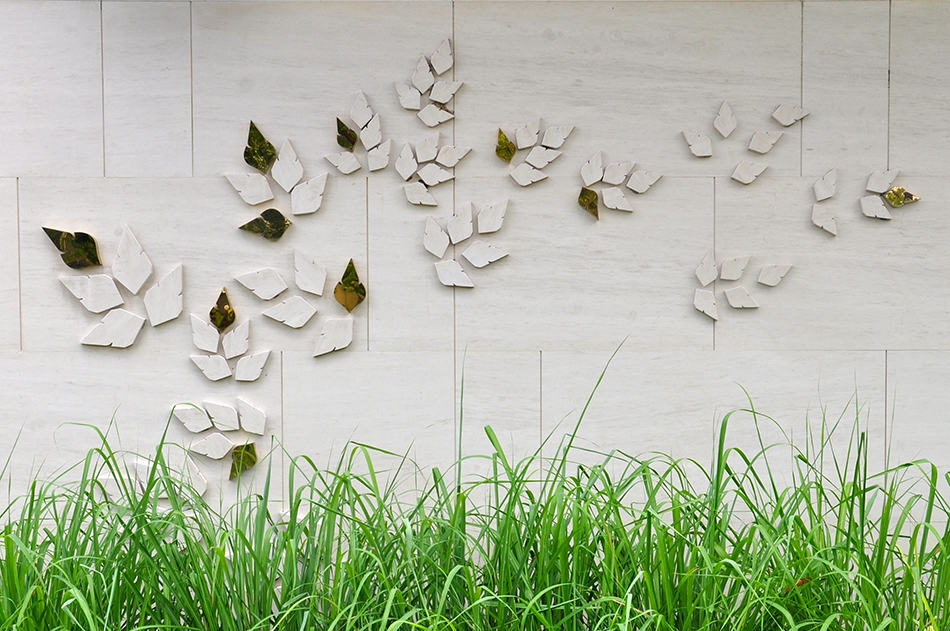 35. Accentuate the wall with tiled patterns
Tiled patterns on neutral walls
are an excellent way to accentuate the decor. You can color the shaped tiles or focus on the pattern you want to create.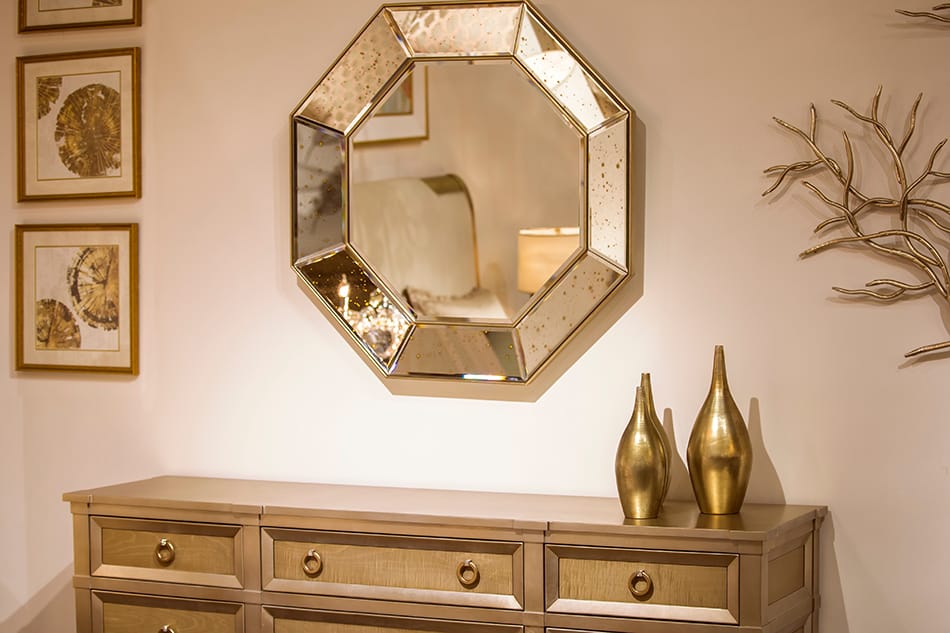 36. Maximize the space using hexagonal mirror
Mirrors make the room appear larger so to go one step further, add a
hexagonal mirror
to enhance your living room's space. Here is a good example of a gold hex mirror with matching decor.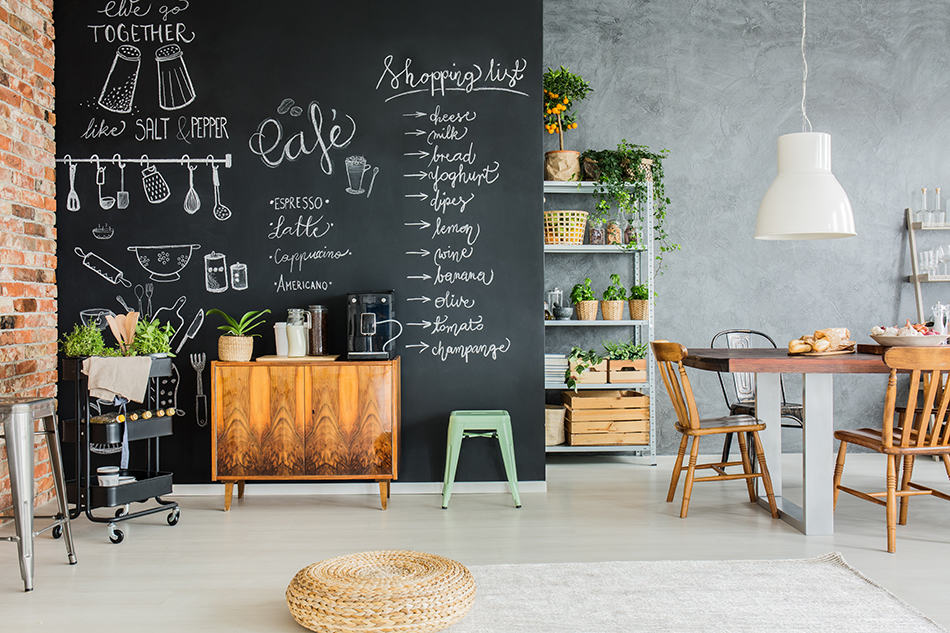 37. Add a giant black chalkboard
A
big black chalkboard
is an incredibly functional addition to any room of the house – not just the home office. Using a white chalk, feel free to show off your skills….there is plenty of chalkboard space!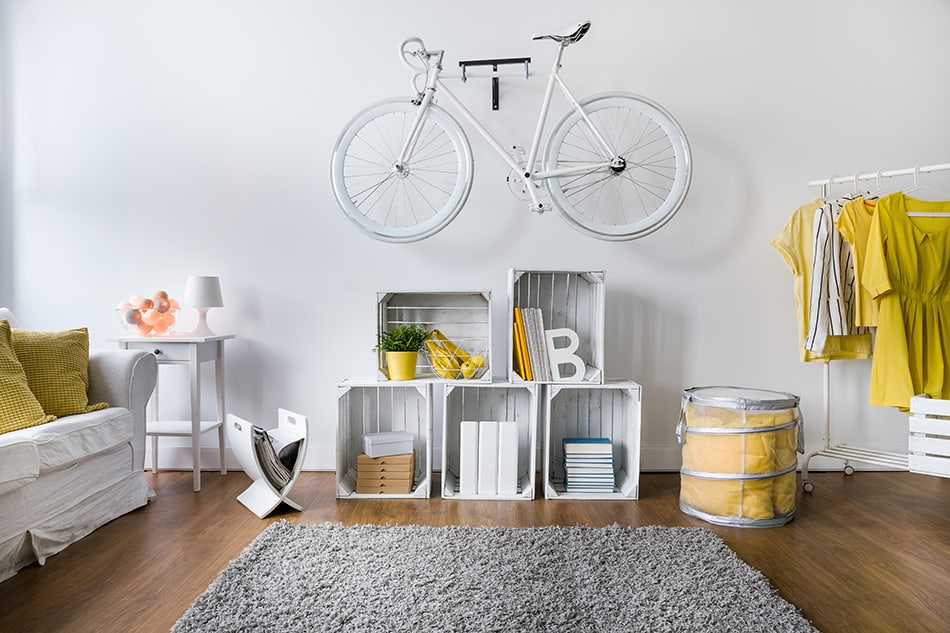 38. Mount your bike on the wall
Bikes are a work of art so what better way to display yours than on your wall. This image shows the very best in unique wall decor in the shape of a
white bicycle
as the highlight of the room.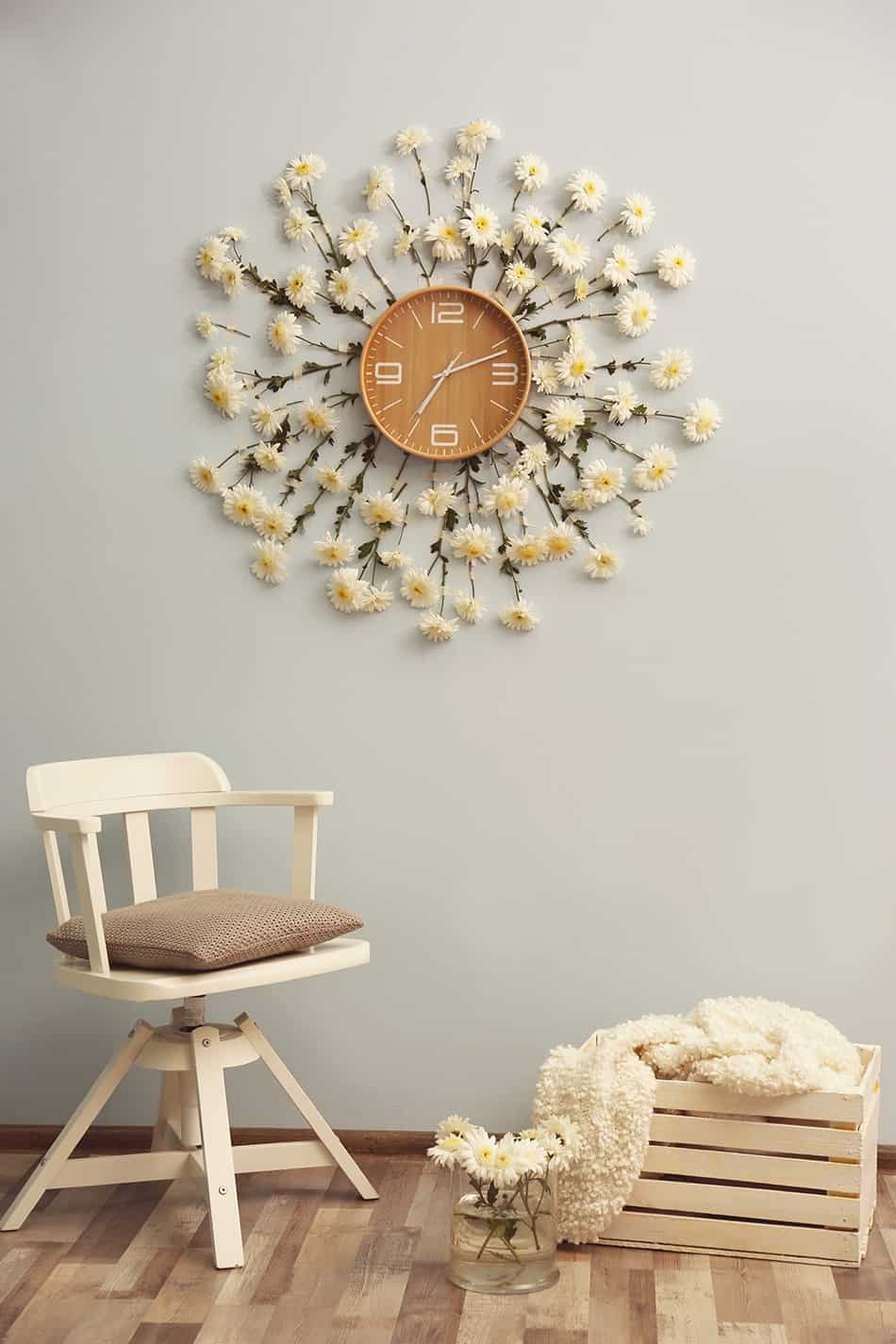 39. Add a decorative clock
For a timeless piece of art, especially if it's
handmade
, hang a
floral, decorative clock
as a unique wall decor.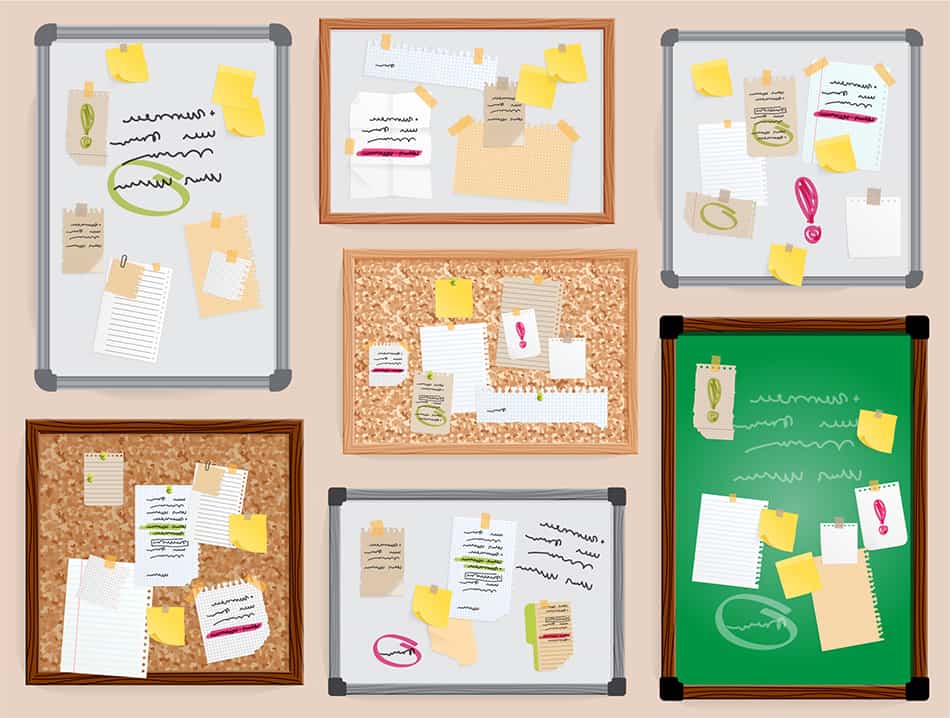 40. Create and recreate with bulletin boards
Bulletin boards or pin boards
with little memos pinned on them are used in almost every room. That's because they are very practical and blend well with the surrounding decor.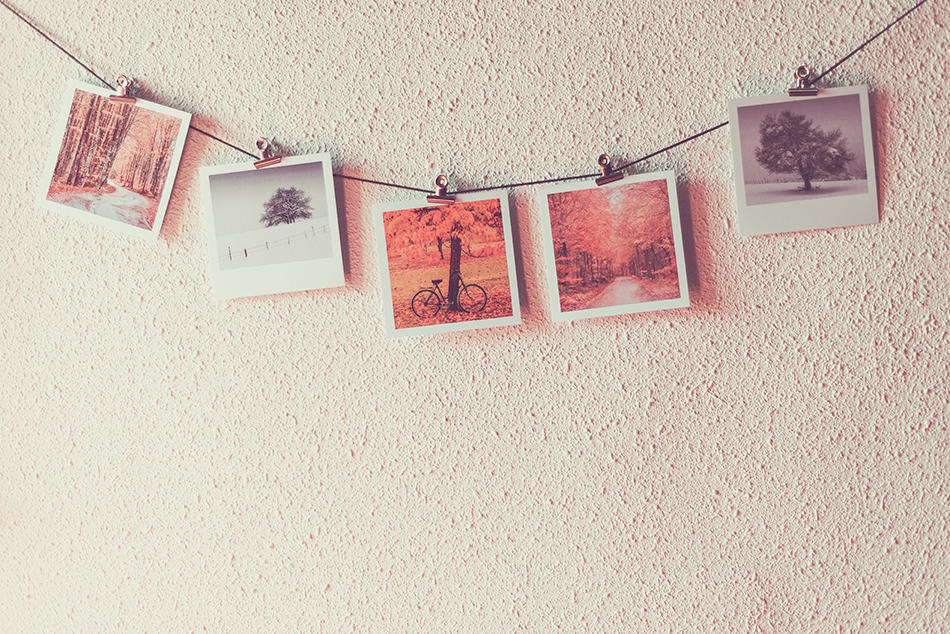 41. Hang your photos on a string
Make your house feel like a home by hanging your favorite
family photos on a string
instead of framing each one as shown here.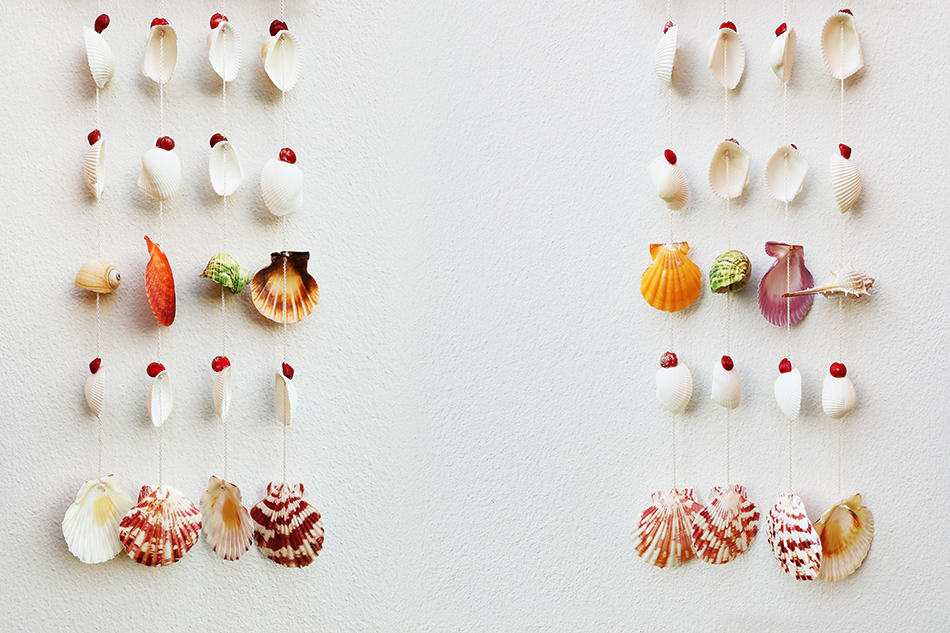 42. Nautical wall art on strings
Marine-themed decoration
, especially in the bathroom and bedroom featuring hanging
seashells
on a neutral wall will give a beach-like feel to your room.