Cabinets are arguably the most essential parts of a kitchen design. After all, they provide us with ample storage space! But aside from storage, cabinets play a key role in the aesthetics of the kitchen. Choosing the right cabinet material is one of the most important steps in remodeling your kitchen.
Here we will take a look at the most common kitchen cabinet material types as well as the pros and cons of each material.
8 Types of Kitchen Cabinet Materials
1. Hardwood
Solid wood comes in many different forms and is one of the most commonly used materials for kitchen cabinets. Hardwood is resistant to denting and scratching, but it does cost more than any other material because of its high durability and overall quality.
With solid wood, you have the option of choosing rich, warm colors and patterns to match your kitchen atmosphere.
Pros
Unique and beautiful 

Natural material

Highly durable with a very long lifespan

Wide variety of styles and colors
Cons
Wood is heavy

Expensive

Changes in temperature causes warping

 
Solid Wood Cabinet Types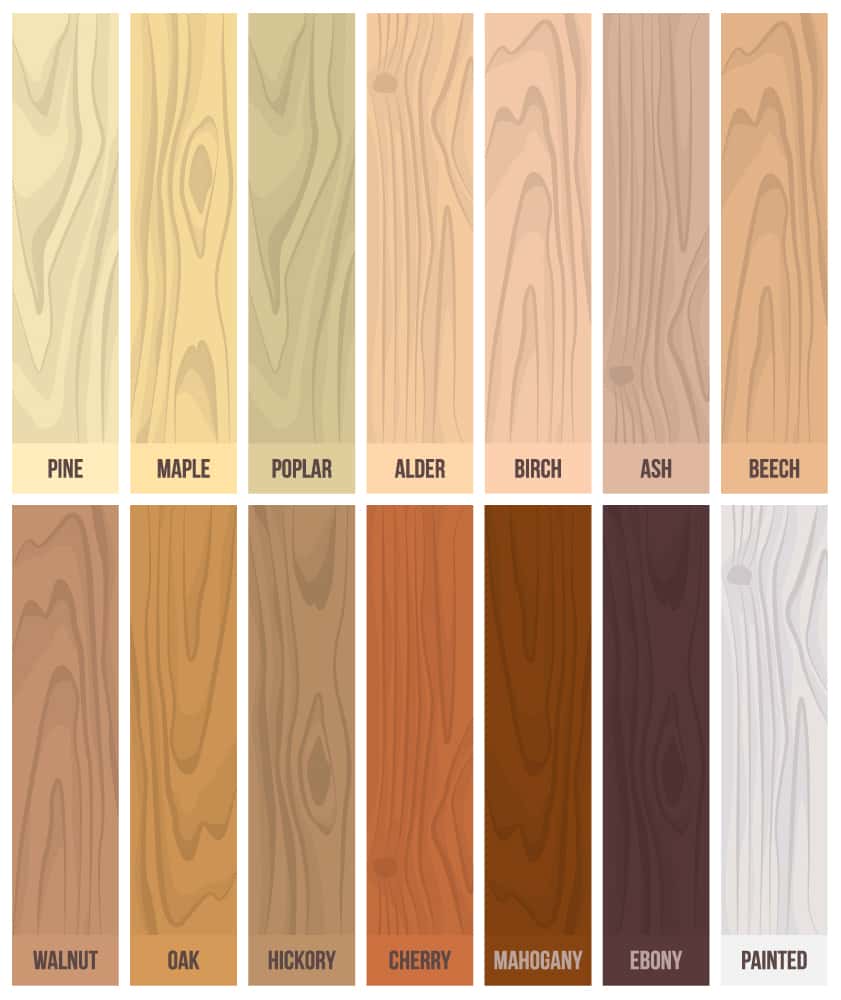 1a. White Oak Wood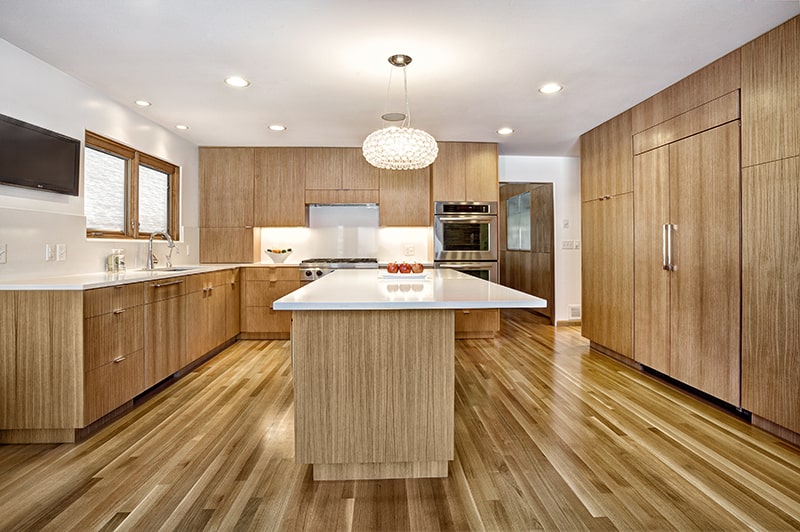 White oak is as strong as its other counterparts but with more of a golden tone and subtler grain. For anyone who likes the idea of custom cabinets, white oak is the perfect choice for a period look. 
1b. Red Oak Wood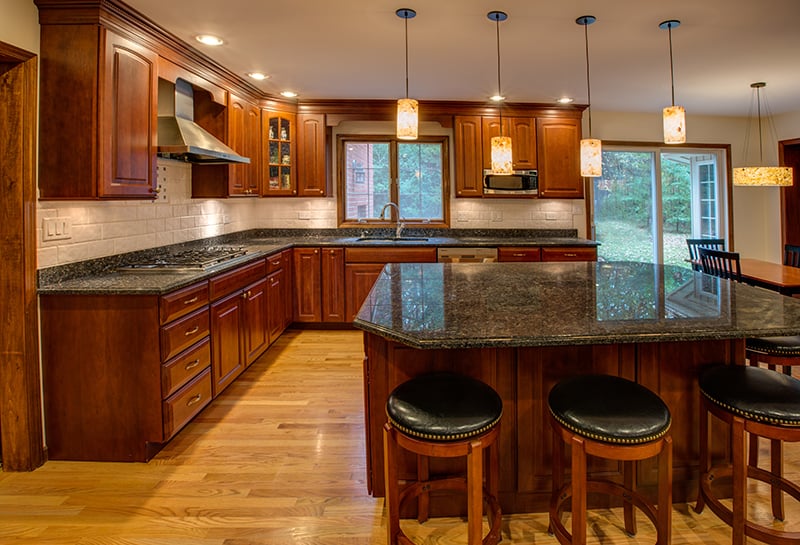 Just like white oak, red oak is durable, strong and available in a variety of styles and finishes. Red oak consists of pronounced grain patterns that are most often used for rustic style cabinets. Red oak is less expensive than white oak but it is more popular because of its aesthetic appeal. 
1c. Hard Maple
The light-colored and fine-grain hard maple wood is slightly more expensive than white oak, but with less dense quality. This solid wood material can be stained with a natural finish to achieve a modern look. 
1d. Hickory Wood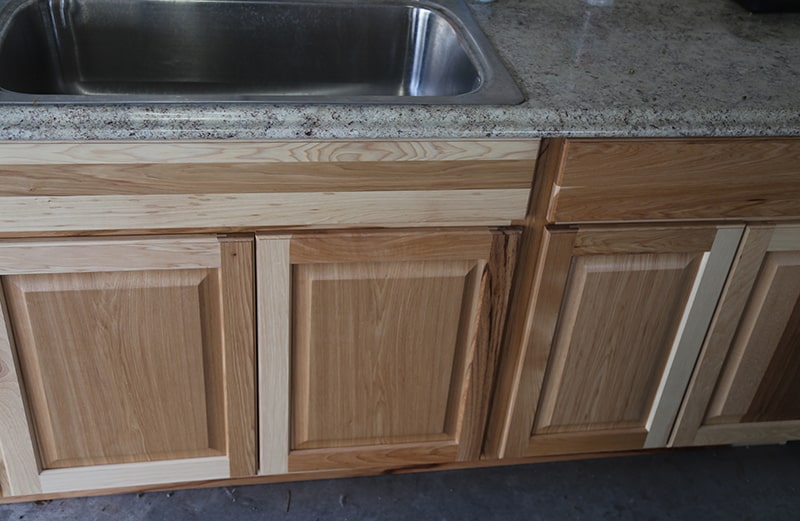 Usually seen on kitchen islands, hickory is similar to oak in terms of strength and pattern. This pale yellow solid wood is often complemented with a natural finish and ideal for rustic style kitchens. 
1e. Cherry Wood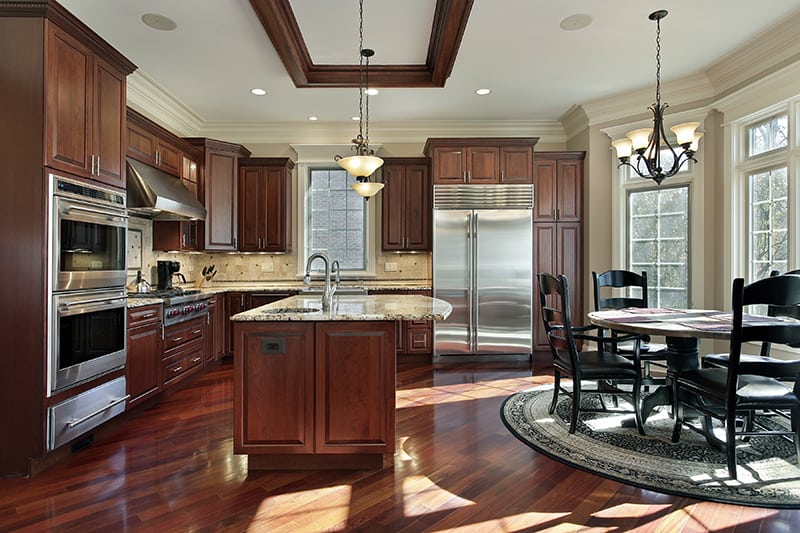 Cherry wood is durable enough to withstand impact. The smooth wood has a reddish-brown tint that darkens with age. The design versatility of cherry wood gives kitchens a contemporary character. This cabinet material is often stained with glossy lacquer for uniformity of color. 
1f. Birch Wood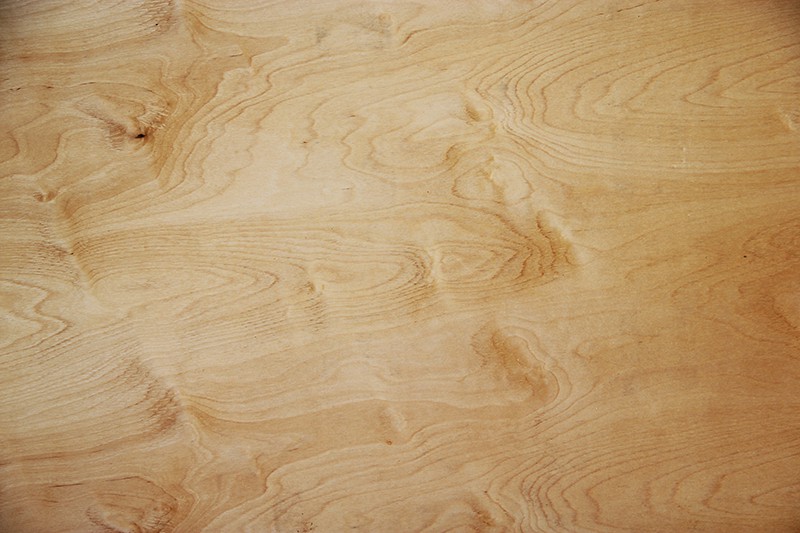 Birch is another fine-grain and durable wood that's slightly darker than cherry. It is more expensive than pine and when stained, it can achieve the same faux cherry look. However, birch is prone to discoloration so it requires regular staining.
1g. Pine Wood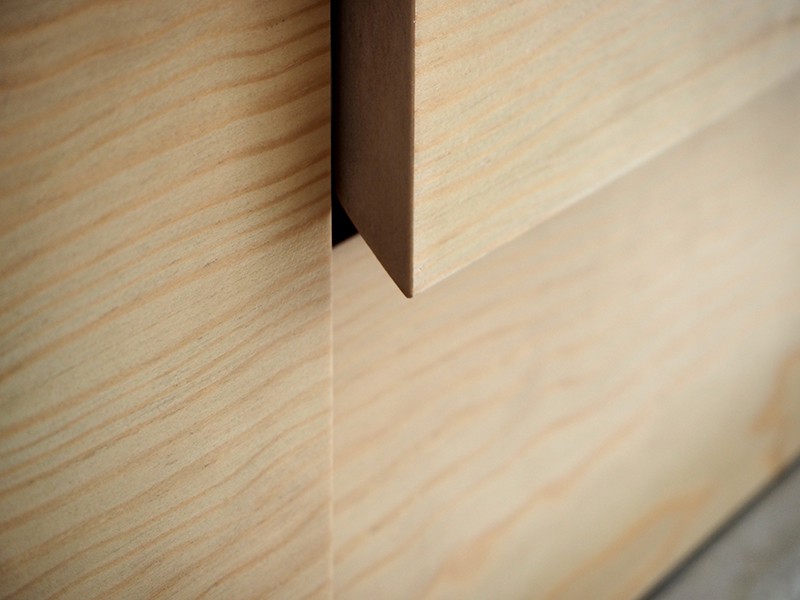 In the softwood species, pine is the most commonly used wood for kitchen cabinetry. This pale yellow wood dents more easily than hardwood, which is why it's usually seen on kitchen ceilings and islands. The best thing about pine is that it can easily be stained or painted as an underscore in traditional kitchens.
1h. Walnut Wood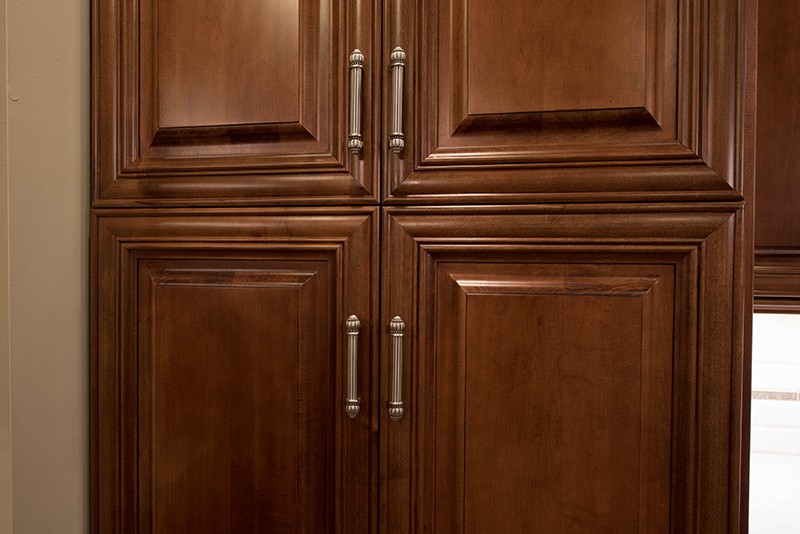 Walnut features a fine and smooth-grain that comes in many different colors from dark chocolate to reddish-brown and even light yellow. Walnut is a type of solid wood that can easily be finished with warm, rich colors as it's highly dense and durable. While walnut isn't as hard as oak, it is still resilient enough (and much stronger than softwood) to withstand dents and other common problems associated with solid wood. What's more, walnut is more water-resistant than birch and pine. 
1i. Pecan Wood
Pecan wood cabinets are smooth and close-grained with flowing patterns. This extremely strong wood kitchen cabinet material has a rugged appearance with coarser texture. It comes in light brown to dark reddish-brown colors, similar to hickory wood. Pecan wood is mainly found in North America.
1j. Beech Wood
This medium-density solid wood is ideal for kitchen cabinets that withstands frequent use. The grain consistency is tight with fine lines that resemble birch and maple wood. Beech is easy to stain, thus making it perfect for kitchen cabinets. The stained finish makes this solid wood the optimal choice. In addition, this high-quality hardwood is cheaper than softer wood alternatives, such as pine, plus it's more popular. So if you are looking for an affordable and attractive grain pattern, consider beech wood for your kitchen cabinets.
1k. Alder Wood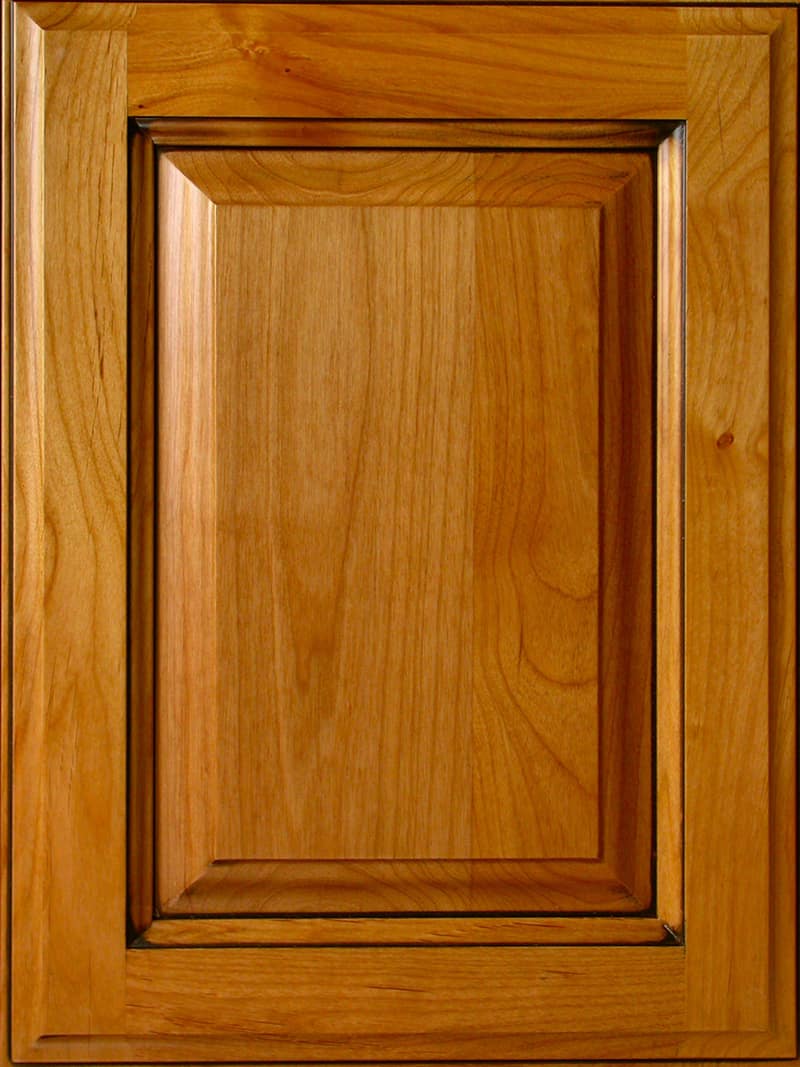 Alder is a type of light brown softwood featuring smooth and straight-grained texture. It is considered to be extremely durable for kitchen cabinets and as far as cost is concerned, alder falls in the mid-range when compared to pine and beech. The downside to alder wood is its susceptibility to scratches and dents. This is because alder is the softest of all woods and commonly known as a semi-hardwood. 
2. Plywood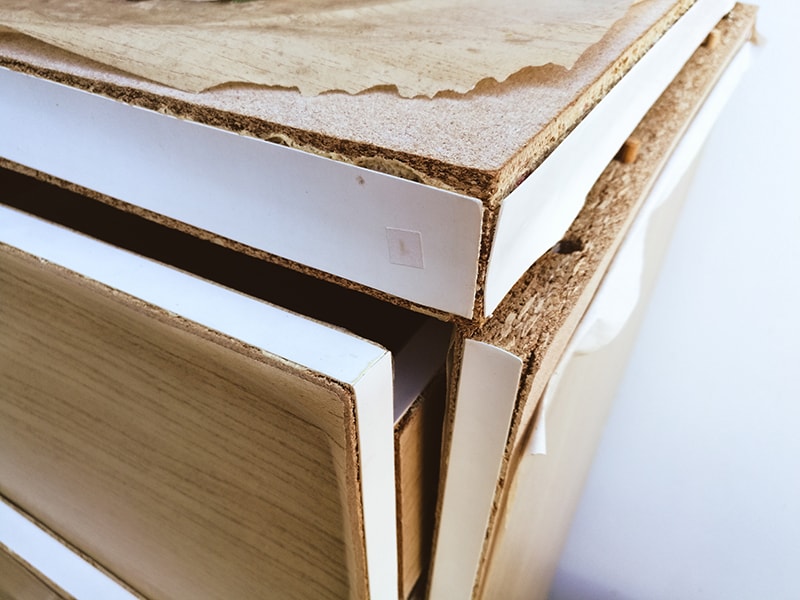 Plywood is another solid wood cabinet type that's glued and laminated with a hardwood veneer. It is available in many different grades, with grade AA being the most expensive option. Grades D and E have a lower-quality appearance but they are a good option for cabinets – provided you find a skilled carpenter to work around their defects.
Pros
Strong and resilient

Much less expensive than oak

Easily repairable
Cons
Thinner plywood can break

Lacks consistency 
3. Particleboard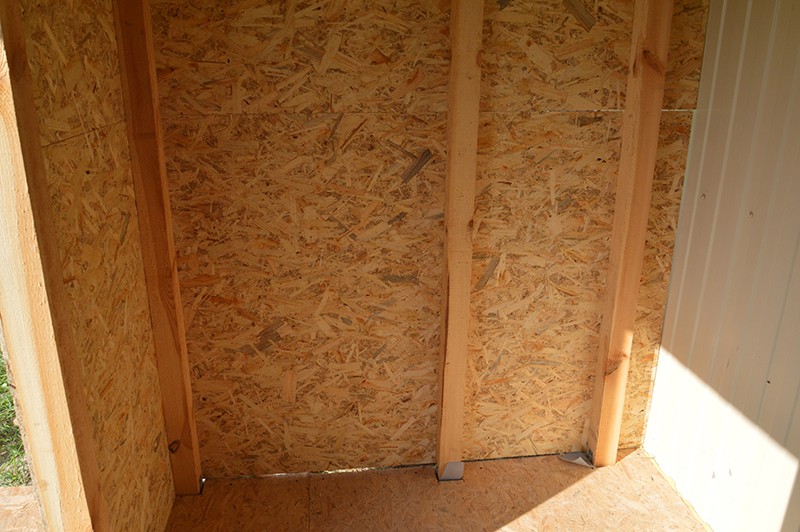 As a wood alternative, consider particleboard. It is made from larger and coarser wood fibers than MDF that are bound together and compressed to form boards. This inexpensive alternative to solid wood is commonly used for shelves and cabinet boxes. The downside to particleboard is that you can't stain or paint the board directly as it is typically covered with wood veneer or laminate. 
Pros
Affordable

Sturdy and durable

Lightweight and easy to fit
Cons
Lower quality particleboard isn't very durable

Can sag if overfilled

Not moisture resistant 

Can't be stained or painted
4. MDF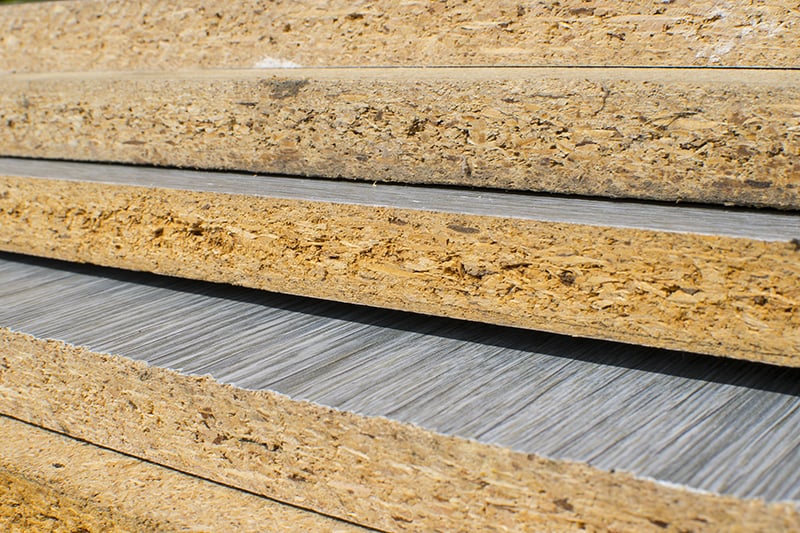 Medium-density fiberboard or MDF is another engineered wood composite that's just as popular as particleboard. The main difference between the two materials is the very small wood fibers in the MDF instead of the particles and chips, thus giving MDF a finer and heavier texture. These fine wood fibers are compressed into panels or boards. But just like particleboard, you can't paint or stain MDF surfaces since the board or panel has no grain. It is usually coated with a layer of wood veneer or laminate. 
Pros
More durable than particleboard 

Warp and moisture resistant

Easy to paint or stain
Cons
Not as strong as other materials

Susceptible to sagging 
5. Metal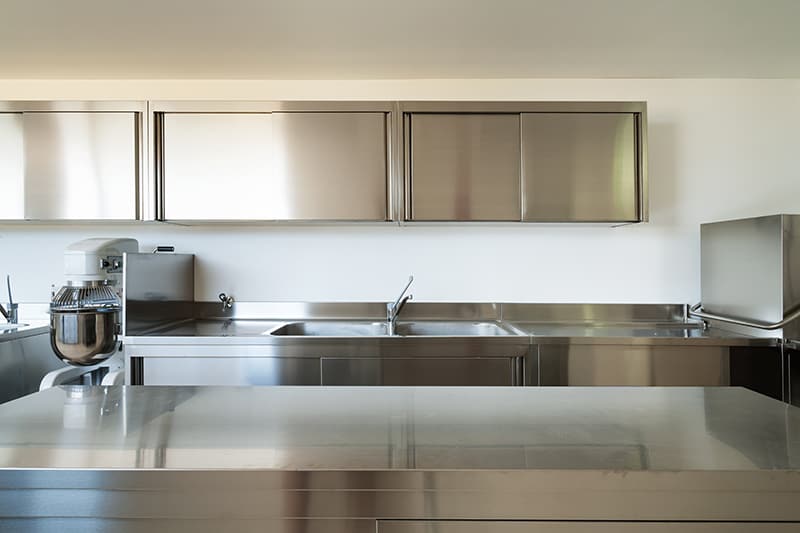 Metal is a less popular cabinet material than wood, but for modern and industrial style kitchens, stainless steel cabinets are installed as complete drawer and cabinet sets. This material is very durable and less expensive than many other materials, however, keeping it in tip top condition can be problematic. Some homeowners prefer to choose stainless steel cabinet doors with wooden frames for a more coveted contemporary feel. While such cabinets aren't as desirable as wood, it is worth mentioning that stainless steel doesn't contract or expand like wood, thus making it a good option for high-humid areas.  
Pros
Ideal for industrial style and modern kitchens

Won't warp in high heat or humidity

Durable

Stain-resistant 
Cons 
Prone to scratches and dent

Metal cabinet surfaces show fingerprints prominently

Not suitable for traditional style kitchens 
6. Laminate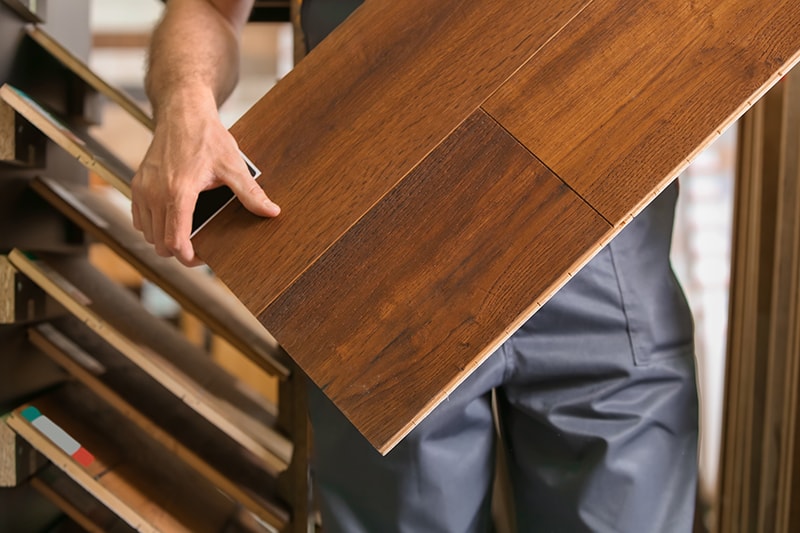 Laminate kitchen cabinets are typically wood-particle boards with a top coating of wood veneer over the wood base. The laminate material is a combination of compressed paper and resins that are heated into a solid piece. For those who have a small budget and are after cabinets that are easy to clean, laminate makes a great choice. 
Pros
Impact-resistant

Available in an assortment of finishes and colors

No need to stain 

Very easy to clean 

More cost-effective than solid wood 

Durable
Cons
7. Melamine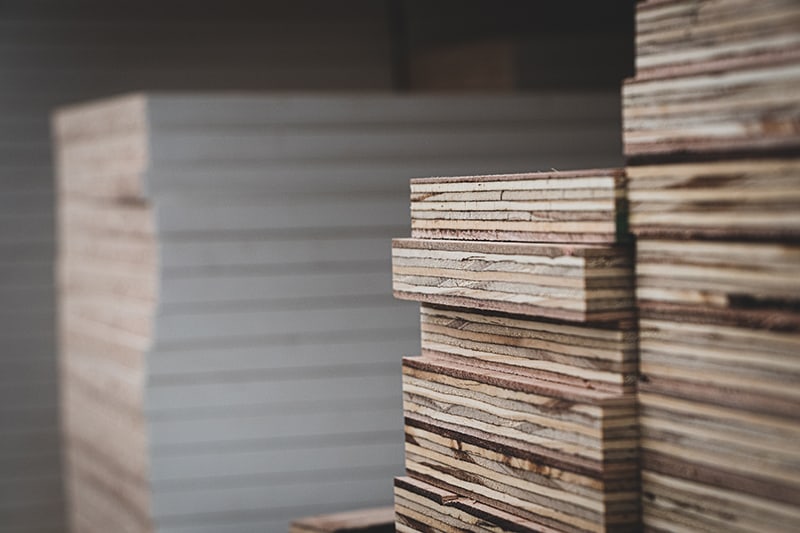 Some people may associate melamine with plates, but did you know this material is popularly used in kitchen cabinets. The chemical compound is applied to the engineered wood like laminate in order to make it waterproof. Melamine's composition is mainly paper with polymer resins that are rolled out into flat, thin layers. These thin sheets are then fitted over the particleboard. Most melamine kitchen cabinet surfaces are paired with wood veneers to make them more durable. Since melamine is made from pressed wood, it is one of the least expensive kitchen cabinet material options on the market. And with such a vast variety of patterns and colors, you'll certainly be spoilt for choice! 
Pros
Highly affordable

Comes in an assortment of patterns and colors

Very easy to clean

No need to re-stain or seal 
Cons
The cabinet shape of melamine is always square, thus limiting your kitchen design options

Susceptible to dents and scratches, which can be difficult to repair

May sag over time as the material is heavier than laminate

 
8. Thermofoil 
Another wood alternative for kitchen cabinets is thermofoil. This material is similar to laminate as it is made from vinyl film to create thermofoil. It is now common to find laminate kitchen cabinets that are applied with thermofoil on their surfaces. Most cabinet manufacturers offer MDF or particleboard kitchen cabinets that consist of thermofoil layers. The purpose of this material is to provide a cabinet with higher water resistance. 
Thermofoil closely resembles laminate plus it is much more affordable. This is why it is the preferred choice by many homeowners. Thermofoil finishes come in light gray or white color and create a refreshing look in a modern kitchen. This durable material is easy to maintain and less susceptible to damage. In fact, thermofoil cabinets are super easy to clean: just wipe off any marks using a damp and soft cloth. And if those advantages were not enough, you'll be pleased to know that thermofoil is fade and warp resistant unlike solid wood so you can enjoy this material for a long time without the need to replace the cabinet. 
But just like any other cabinet material that has its drawbacks, thermofoil also has its downsides. For one, it is vulnerable to high heat and moisture. In addition, it is not easy to change the color of the cabinet surface in the event of scratches. This material isn't the best option for households with small children as fingerprints and scratches easily show on the reflective surface of the cabinet.  
If you want to choose the highest-quality and aesthetically appealing type of thermofoil, go for high-gloss finishes. These light-reflecting cabinet materials have a glossy vinyl coating that will make your kitchen feel brighter and more spacious. 
Pros
Won't fade or warp

Easy to care for

Less prone to moisture damage

Affordable 

Water-resistant 

Durable

Attractive appearance 
Cons
Shows dirt and fingerprints easily

Difficult to paint or stain
Conclusion 
As you can see, all the listed kitchen cabinet materials have their pros and cons. But what they all have in common is their attractive appeal if you choose the right kitchen cabinet supplier. No matter which material you go for, your choice will no doubt depend on your budget and the material's durability. 
Generally, solid wood cabinets are the most durable and expensive, while stainless steel is the cheapest cabinet material. Laminate or composite wood will also last for a long time and is more readily available than solid wood. For those who have a tight budget, plywood or laminate cabinets make a wiser choice plus they come in many different colors and styles. Thanks to technological advances, it is very difficult to tell the difference between engineered wood and solid wood – unless you look very closely!
If, however, aesthetics and quality are your main factor, nothing beats solid wood cabinets like oak, maple or beech. The type of kitchen cabinet you choose will ultimately depend on your personal preference, budget, and overall kitchen design. We hope our list of cabinet materials with their pros and cons have helped you make the right choice for your kitchen.