Blue is a soothing color that brings out a lot of emotions, wherever you use it. A living room or bedroom with blue furniture, for example, can emit a beach or coastal vibe using this calming hue.
But when it comes to coordinating interior colors, what color walls work best with light or dark blue furniture? There are many wall paint colors that complement blue, from white tones to bold orange and greens, or even a fiery red.
Although these are contrasting hues, they can enhance the blue furniture and bring a splash of pop to the tranquil room. This is because blue is such a popular color that it works with literally any other paint color.
Moreover, blue furniture is so versatile that you can use as much or as little of this palette in your interior, and incorporate it with any other shade, especially for large walls.
In this article, we'll show you some of our best ideas on wall colors that go with blue furniture:
9 Wall Colors that Go with Blue Furniture
Off-White Walls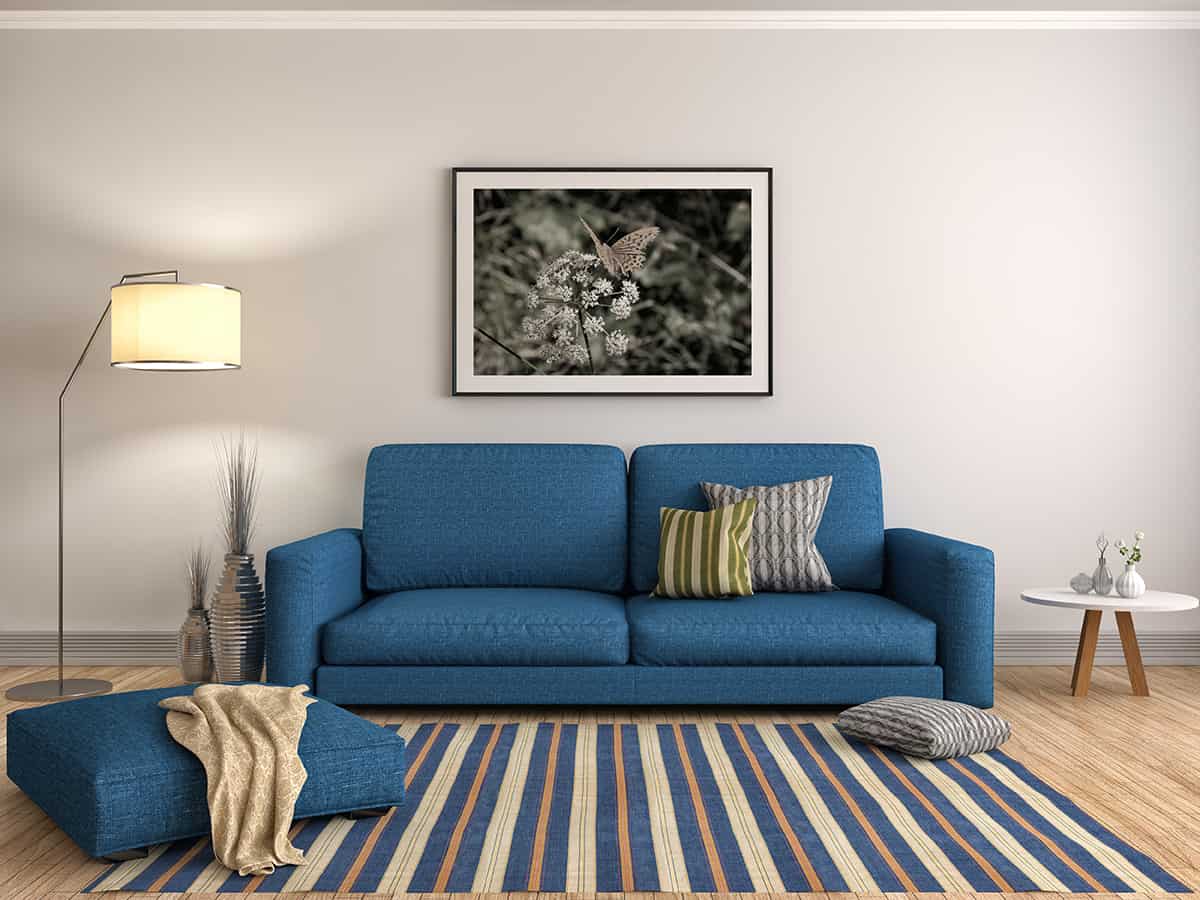 Since blue is a cool-toned color, it can be used as the primary shade in any room that lacks a warm ambiance. Blue furniture can easily be paired with other neutral wall paint colors to evoke a welcoming vibe. But rather than choosing a crisp, white color for your walls, you can opt for off-white instead.
Off-white walls create a stunning contrast to blue furniture as they help make the blue color stand out visually. Whatever shade of blue the furniture piece is, you can be sure that an off-white paint color for the walls is the perfect backdrop to the light or dark blue.
Grayish Blue Walls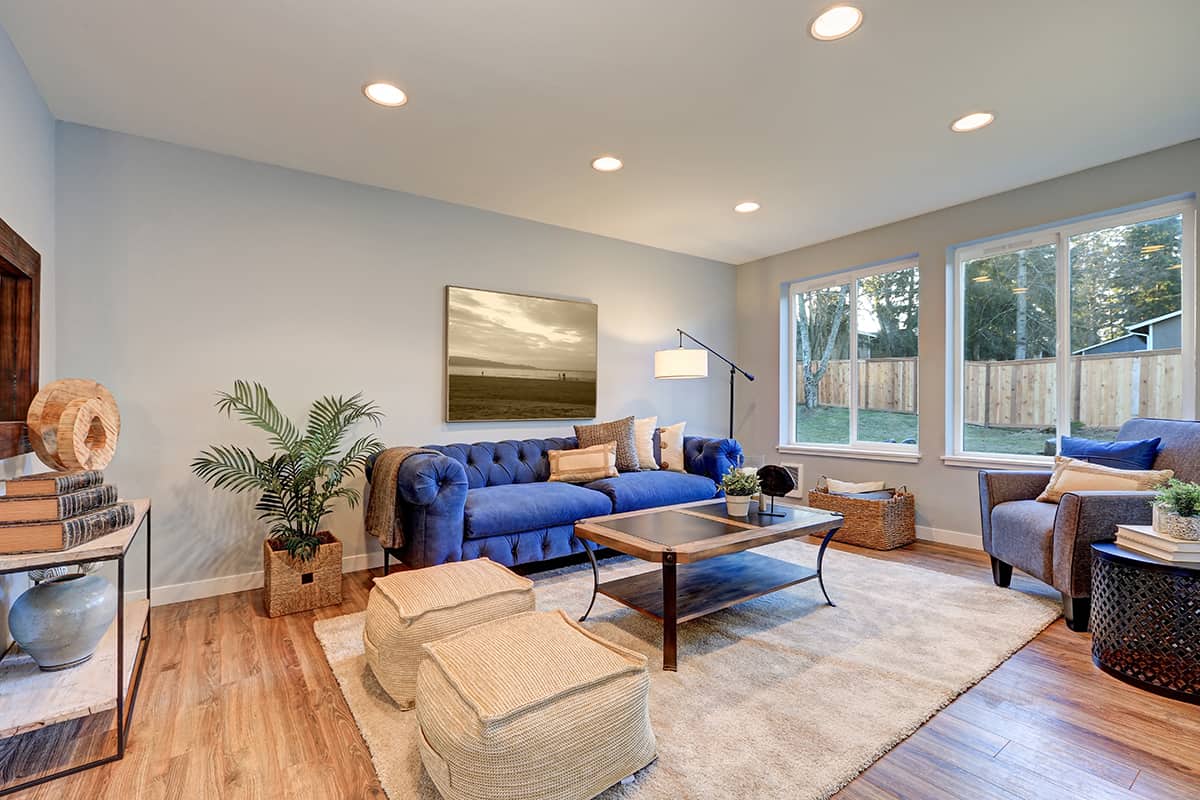 Another neutral wall paint color choice to boost your blue furniture's elegance is a gray-blue shade. This color pairing will look flawless as the grayish-blue wall provides a cozy backdrop to the vivid blue furniture.
While any gray shade can work with blue, we prefer a grayish-blue tone in order to keep it cohesive with the rest of the room's light and bright feel. Grayish blue is a soft hue that can make your blue furniture stand out as the focal piece of the space. Consider this smart-looking color combo idea to bring an elegant touch to your living spaces.
Beige Walls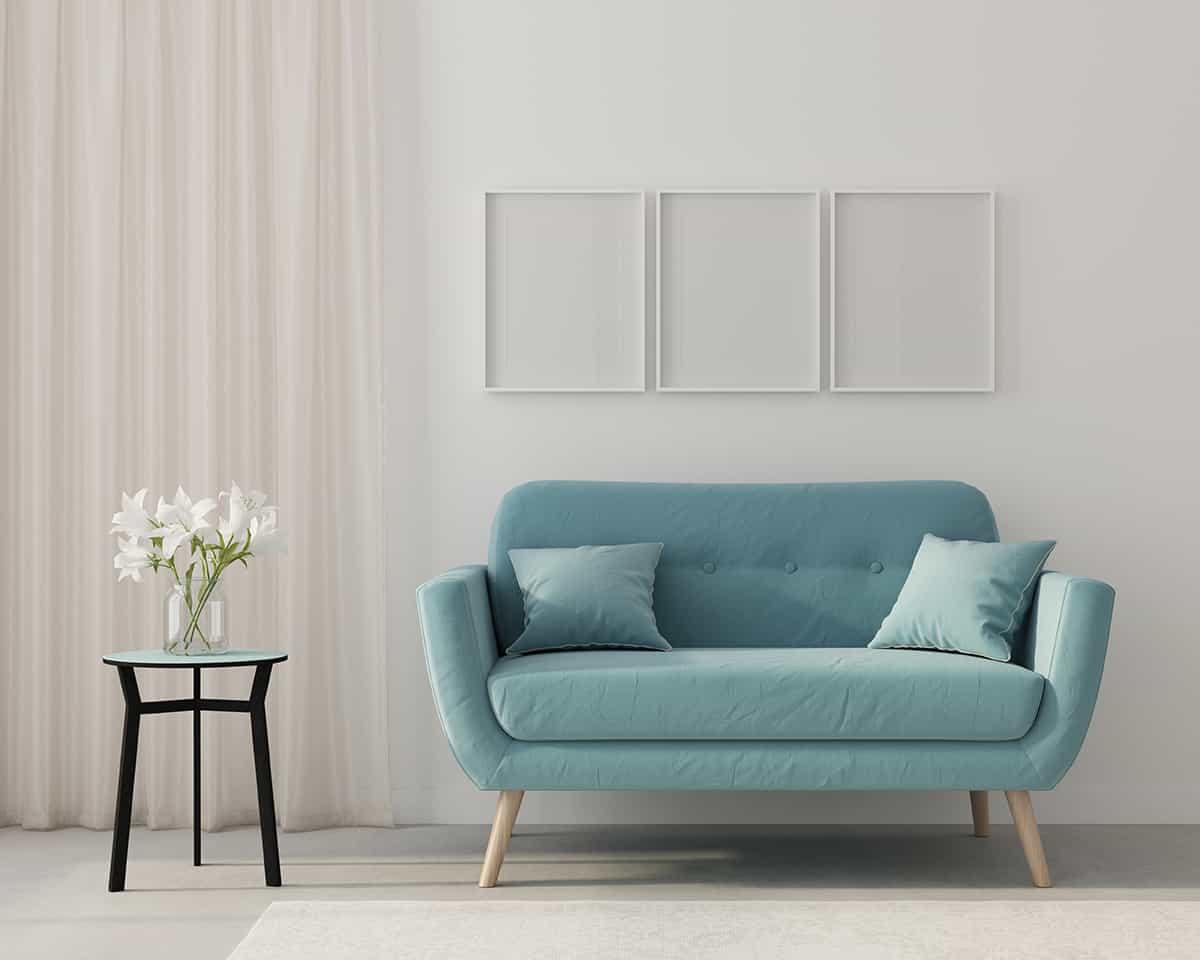 Whilst we're on the subject of neutral paint colors, our list wouldn't be complete without beige. This soft, neutral shade goes especially well with light blue furniture as it helps warm up the cool tone of blue. This color combo makes your living room appear softer and more inviting, whilst still making your blue furniture look more energetic.
But you might be wondering why we didn't recommend dark blue furniture instead? Although dark blue furniture paired with beige walls can stand out, it may look too cold or uninviting. We prefer a lighter shade of blue next to beige walls for added warmth. This results in a softer look as you can see in this example.
Yellow Walls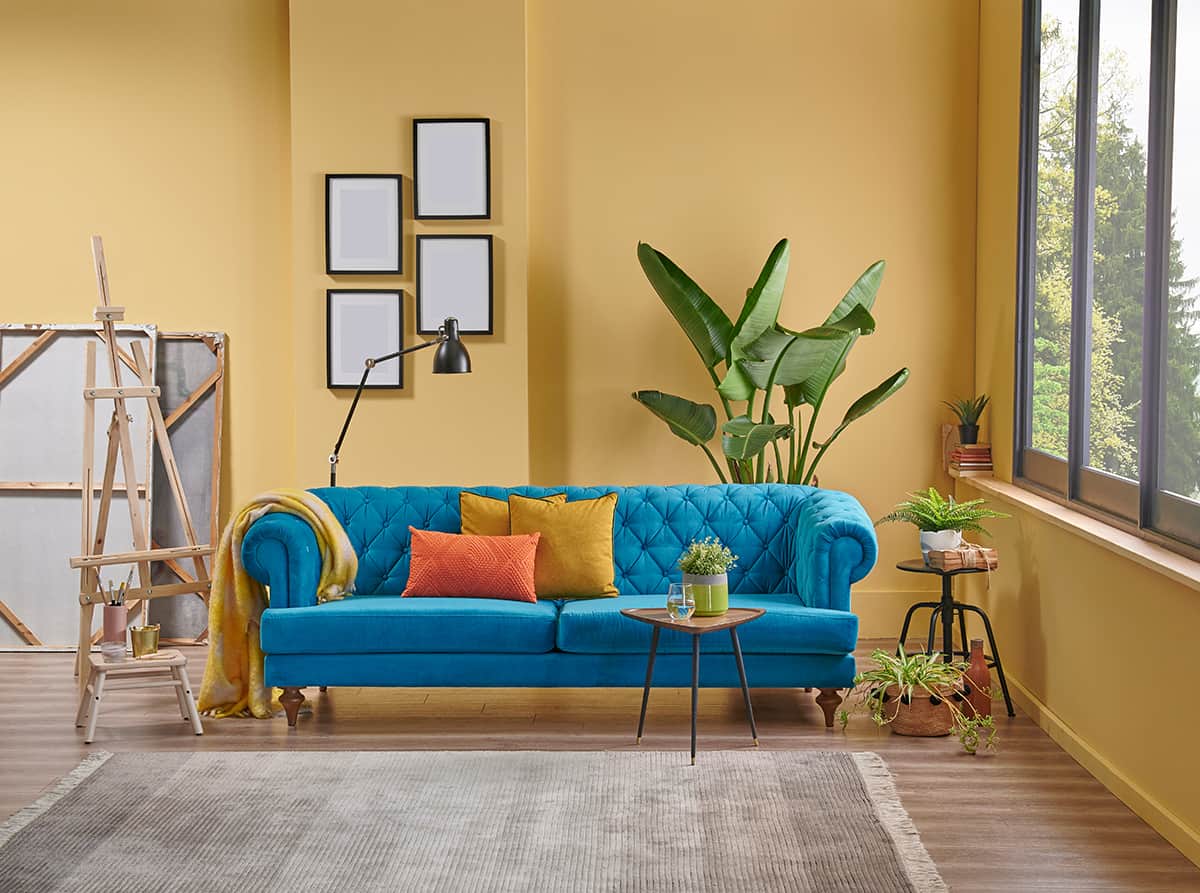 Aside from a warm beige tone as the backdrop to your blue furniture, consider going bolder with a warm yellow paint color for your walls. This is the best contrasting wall color for blue furniture as both are primary colors and tend to add pop to the room. Although yellow and blue are contrasting hues, sometimes opposites can still work and bring an energetic vibe to your room.
The high-contrast between the blue and warm works because yellow has a golden, warm tone while the uplifting blue has a cool tone that balances out the two.
As per the image here, the bright yellow wall is the dominant element of this room, while the turquoise sofa acts more as the accent. This color combo feels inviting and aesthetically pleasing to the eye. It will definitely attract your guests' attention the next time you invite them to your home!
Green Walls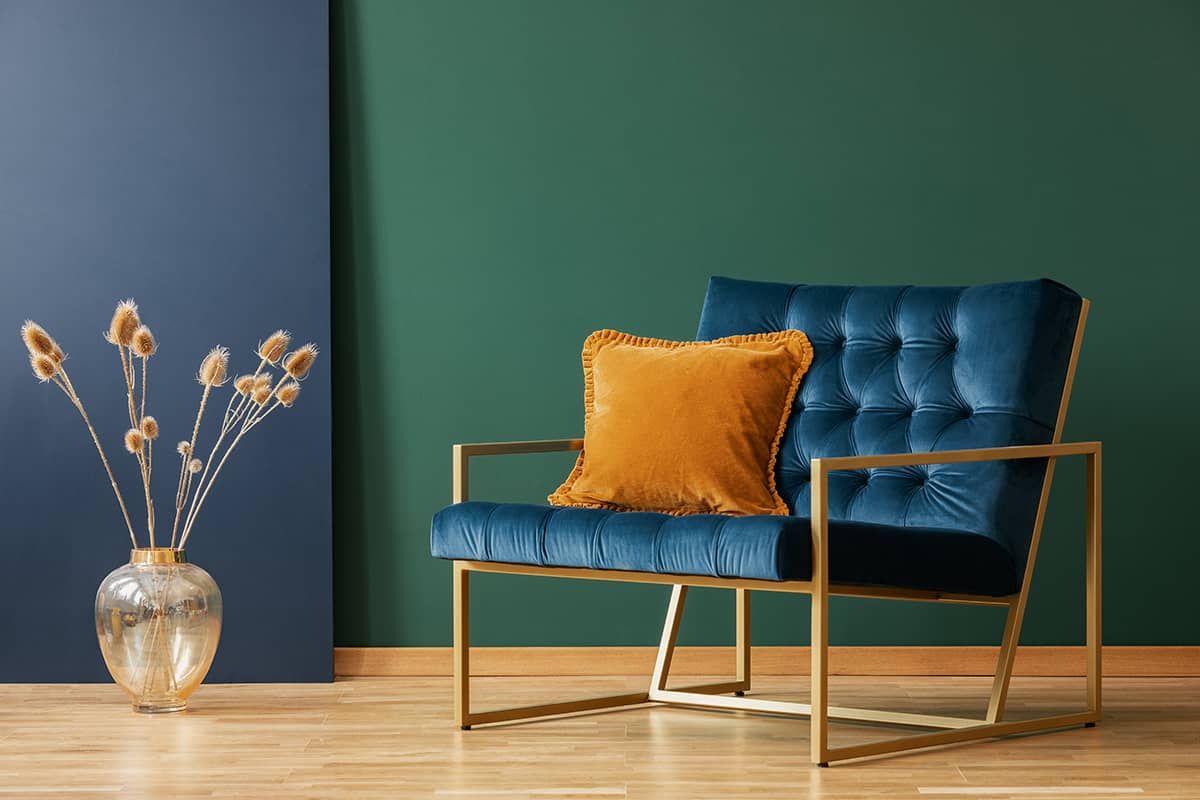 Now how about a warm color in the same color wheel as blue: green. The cool tone of blue and warm tone of dark green are highly compatible with each other and look great as a refreshing duo. These vibrant shades are referred to as analogous colors for the furniture and walls.
So if you are a fan of a bold color scheme for your interior, consider a vivid shade of green for the walls, such as mint green. This unique shade blends in beautifully with dark blue furniture, including a navy couch.
Orange Walls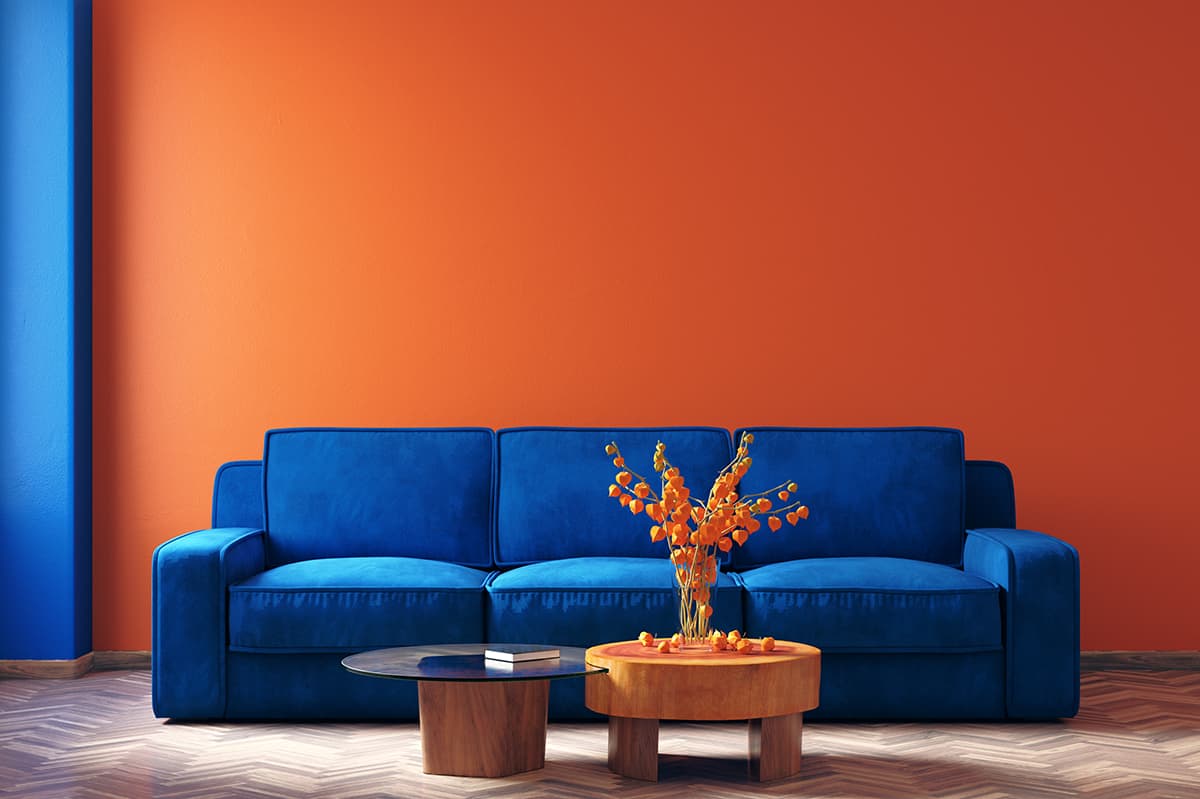 If you have a dark blue sofa or armchair, another warm, beautiful wall color to choose is orange. This is the perfect accent color that sits in the same color wheel as yellow, thus making it work with blue. In fact, any shade of blue goes with orange as the bright tone brings out the richness of the blue.
Aside from the wall color, you can incorporate orange tones into throw pillows or floor covering for visual interest. This is a great way to introduce a colorful accent to your living room with blue furniture. Remember to experiment with different tints of orange to get the right combination with your blue furniture.
For example, a navy sofa combined with pumpkin orange makes the room pop, but this only works in larger rooms. If your living room is on the small side, opt for burnt orange walls and light blue furniture.
Red Walls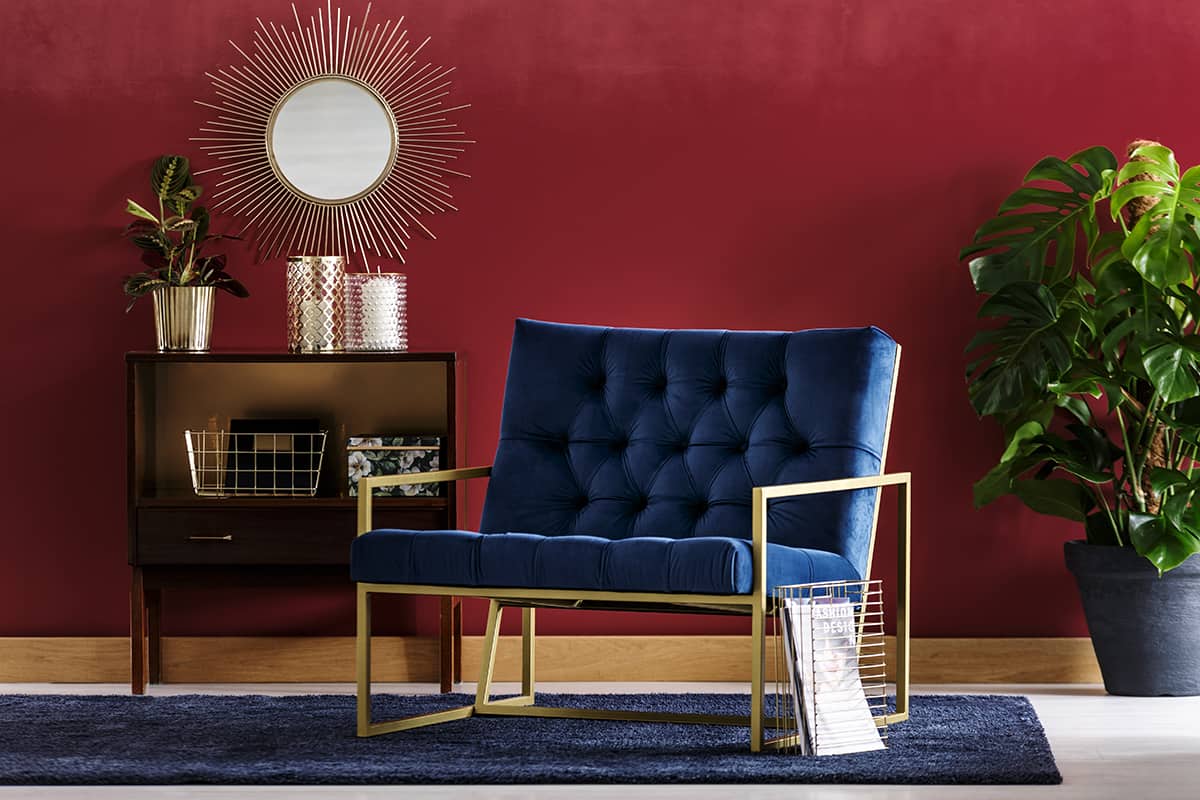 Red walls are the ultimate interior wall colors. With so many chic shades to choose from, red is a bold decoration color that balances out the calming blue. There are various ways you can play with this color combination. First, pair light blue furniture with a deep shade of red like burgundy or maroon. This combination is often found in classic living rooms or dining rooms.
Another idea is to combine deep navy furniture with light red walls. This is a timeless combination that still adds a touch of vibrance to your room. Dark blue is the leading color in this case, with red acting as the accent wall color.
Coral Pink Walls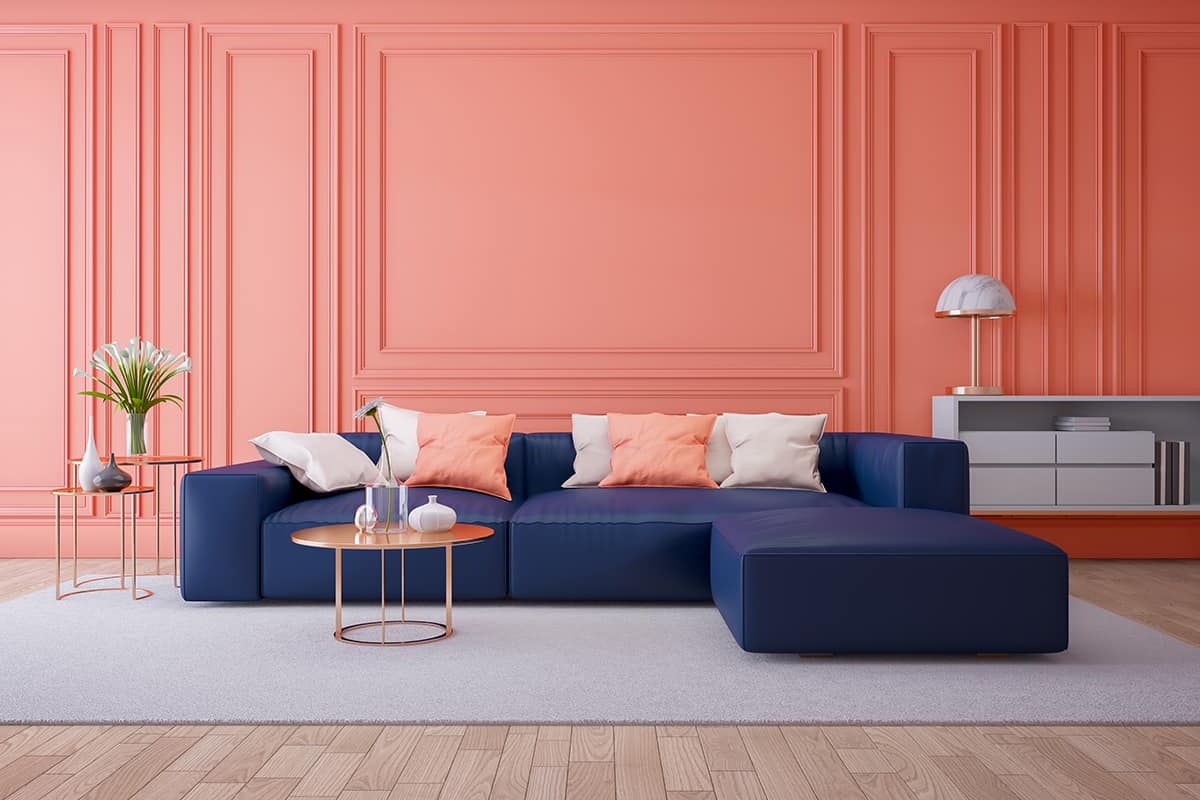 For a softer approach, consider coral pink walls with dark blue furniture. This is an entirely unique color combination that you won't see in many living rooms. Blush pink or coral are shades that pair well with ocean blue and turquoise shades.
We love the calming and serene feel of coral pink walls with blue furniture as shown here. The coral pink wall adds some punch to the room, while the blue furniture creates a perfect balance between these cool tones.
A Blue Shade Lighter or Darker Walls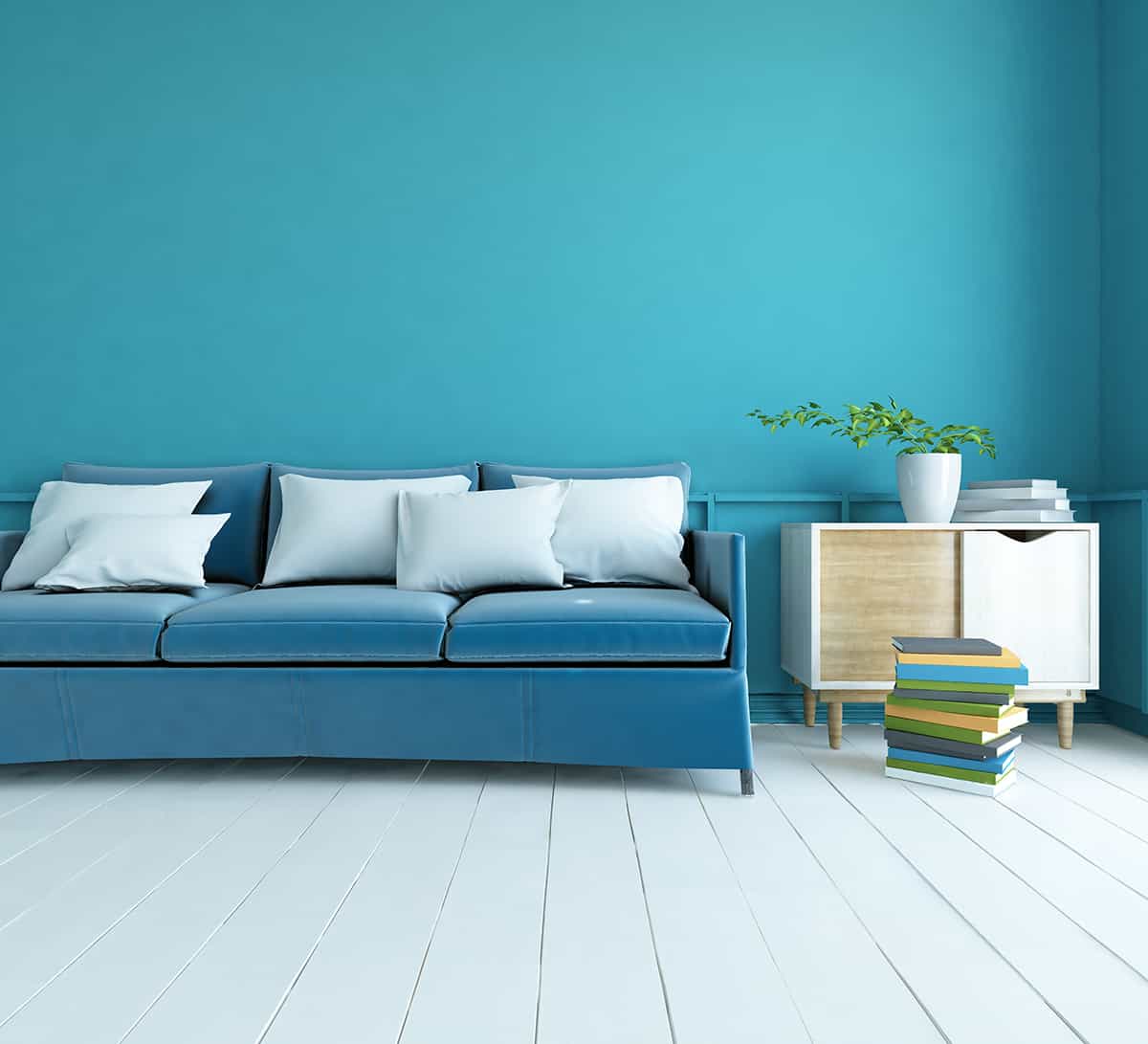 A monochromatic palette is the latest trend in interior design, and you can achieve this by coordinating your blue furniture with blue walls. However, to avoid a dull or monotonous look, choose one shade lighter or darker.
You can use any blue shade combination to create contrast. For example, if your blue furniture is a medium to dark-toned blue, then your walls can be one or two shades lighter.
To make sure your blue furniture goes with blue walls, look for greenish-blue undertones or even teal. You can add accessories in these colors for a layered look. In fact, a variety of blue textures will work to bring depth to your room.
Alternatively, you may try a strong shade of blue like indigo for the walls, with teal or turquoise furniture. Indigo has a deep amount of gray for its undertone to make it look subtle. This allows some contrast with any other blue shade, but still retain the deep blue's consistency.
Conclusion
As you can see from our examples above, blue furniture complements many different wall paint colors, including soft pink, mint green, rich red and neutral tones. When picking the best wall color, base your decision on the blue furniture's shade as well as other furnishings in the living room or bedroom.
For example, a blue couch goes very well with dark green walls, while blue beds or chairs can make a stylish statement next to red walls. A bold, vivid wall color will emphasize the aesthetic appeal of a room with blue furniture, but if you want a toned-down look, you can paint the walls a neutral tone, such as gray or off-white.
Alternatively, you may just use two shades of blue for the wall and furniture as explained in our last idea. Blue is such a versatile color that it can work with any other analogous or contrasting color.
If you have blue furniture in your living room, you might also consider ' What Color Throw Pillows For a Blue Couch? '