When we mention the word espresso, roasting coffee beans immediately comes to mind. But did you know espresso is also a captivating color with a blend of brown and black? This deep, rich brown shade is a classic furniture color that's constantly trending in modern homes.
If you love this shade of dark brown and are thinking of adding it to your home, you might be wondering what color goes with espresso furniture.
The complementing colors you choose depend on the style you're trying to portray in your living room. For instance, for a calming and inviting vibe, pairing warm greens and blues with espresso furniture is the best option. These are contrasting colors to dark brown and don't compete for attention nor do they stand out.
But if you're going to pair dark colors with your espresso furniture, you must make sure they don't detract attention. This can be done by choosing the shades carefully. Turquoise and olive green are deep shades that are ideal for formal living rooms with dark brown furniture. These are guaranteed to effortlessly make your room even more luxurious.
Here we will show you some great examples of the most compatible colors that go with espresso furniture so you can get a better idea of color combinations. Let's get started!
Best Colors that Complement Espresso Furniture
Navy Blue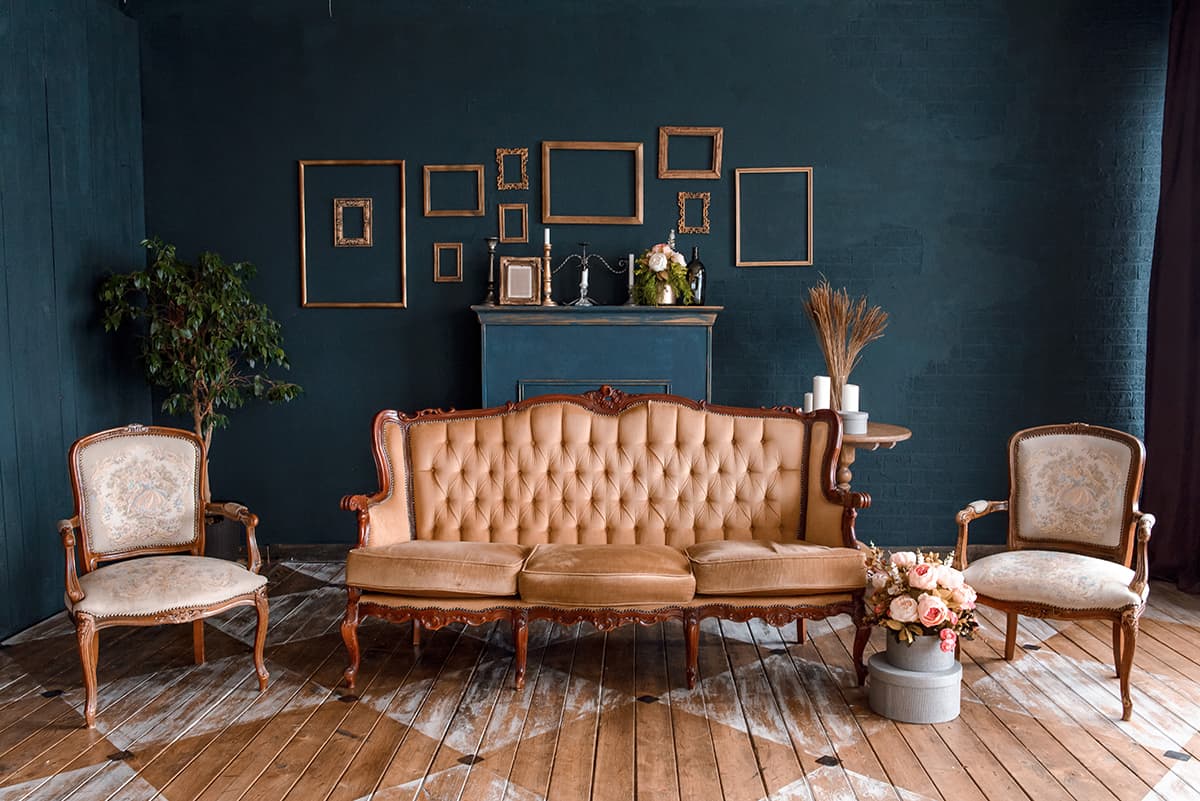 Navy blue is a gorgeous, contemporary color that suits a living room with espresso furniture. This rich, dark blue shade is the perfect contrast to the deep espresso as it allows your furniture to remain as the focal point of the room whilst still serving as a bright and bold backdrop.
This color combination is ideal for the daring homeowner who loves the bold look of navy. The dark-toned espresso furniture remains the dominant centerpiece of the room, with the navy adding an air of tranquility to the space.
As you can see in this example, the dark blue background in this modern living room has provided a cozy ambiance for the espresso-colored seating. There is no need to add any other color to this mix, but if you must, go for light wood for a cohesive design.
Turquoise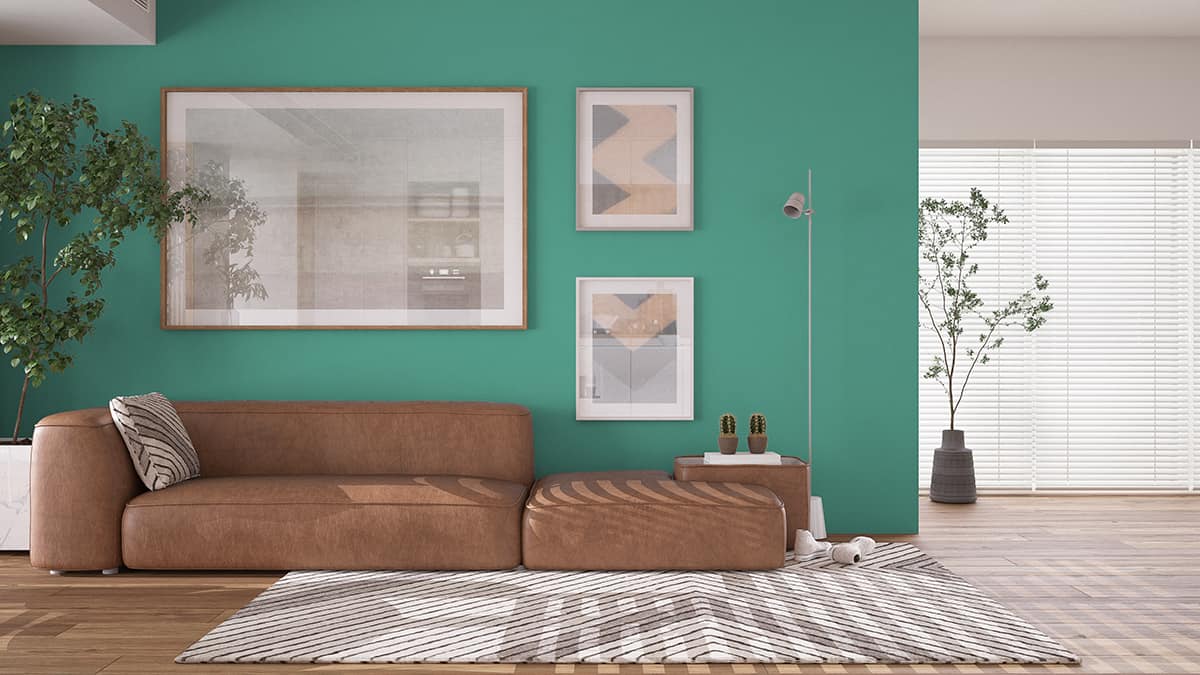 Another beautiful blue shade that brings contrast to espresso furniture is turquoise. This tranquil color as the wall paint provides a rich backdrop as shown in this image.
As a deep, vibrant blue shade, turquoise can make any room with espresso furniture feel bright and exotic. Add light wood accents and indoor plants to this dynamic color combination and what you'll have is a dramatic-looking interior.
If you prefer a lighter wall paint color than turquoise, try tiffany or powder blue instead. These are more subtle than turquoise and can be used as accent hues or backdrop to espresso furniture. Throw in some matching blankets or pillows for a calming and tranquil feel.
Dark Gray with Pops of Color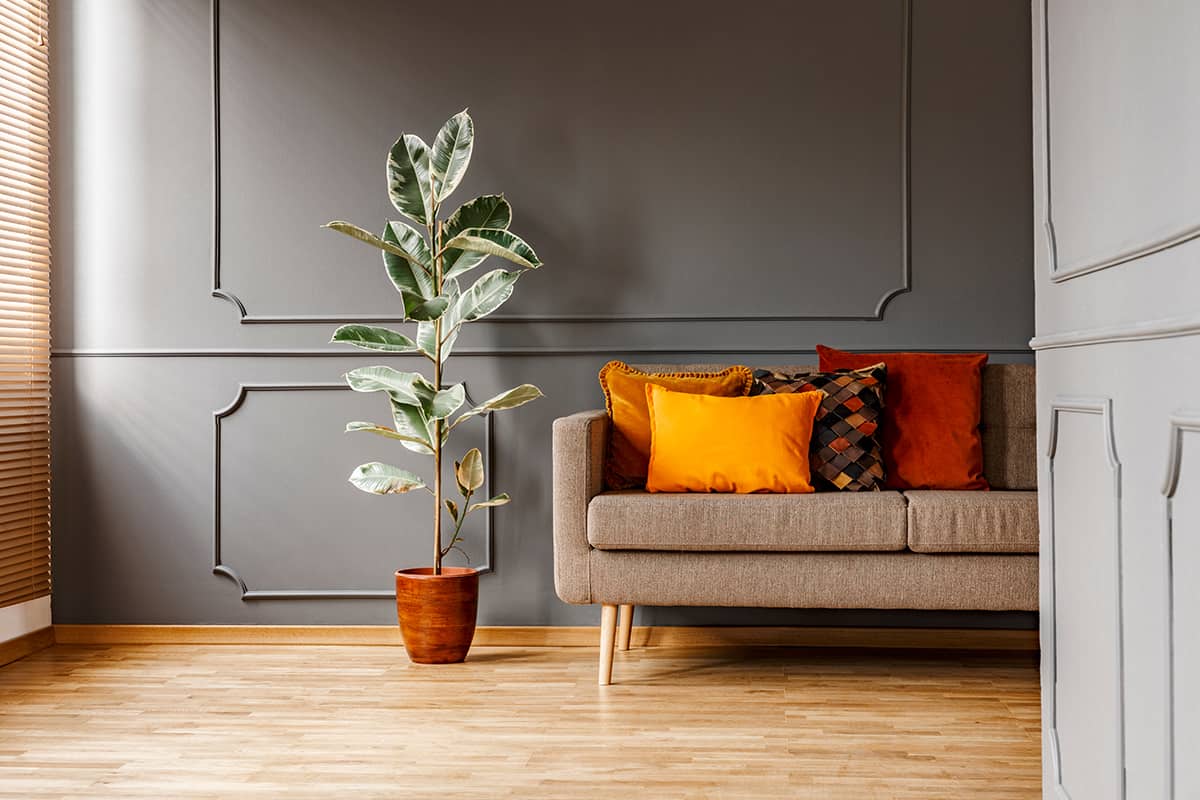 A warm palette of dark gray with bright pops of accent colors coordinates beautifully with your espresso sofa. Since warm gray walls have a red undertone, they work perfectly with espresso. Add some boho-style wall macrame to this color combination to create a unique and exotic interior design.
Here, the espresso sofa is highlighted by the yellow, blue and orange throw pillows, which have a similar undertone to espresso. The dark gray wall color serves as a warm-toned background in this cozy living room.
Light Gray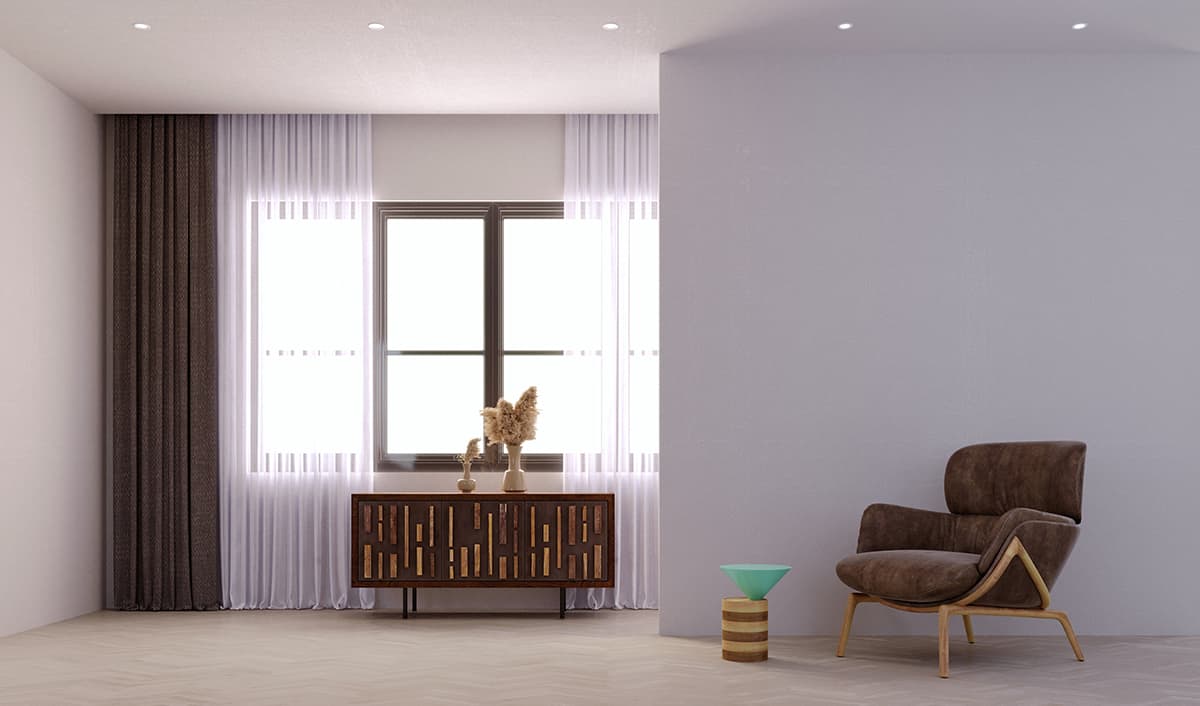 If you don't like dark gray, then we suggest painting your walls a light shade of gray instead. Although light gray shows dirt or stains easily, it requires less maintenance than white. As a neutral backdrop, it helps your espresso furniture take center stage in the living room.
In this neutral living room, the eye is directly drawn to the espresso furniture thanks to the light gray wall colors sitting in the background. Although light gray can appear colder than dark gray, when paired with dark brown furniture, it keeps the focus purely on the furniture as shown in this image.
Light Greens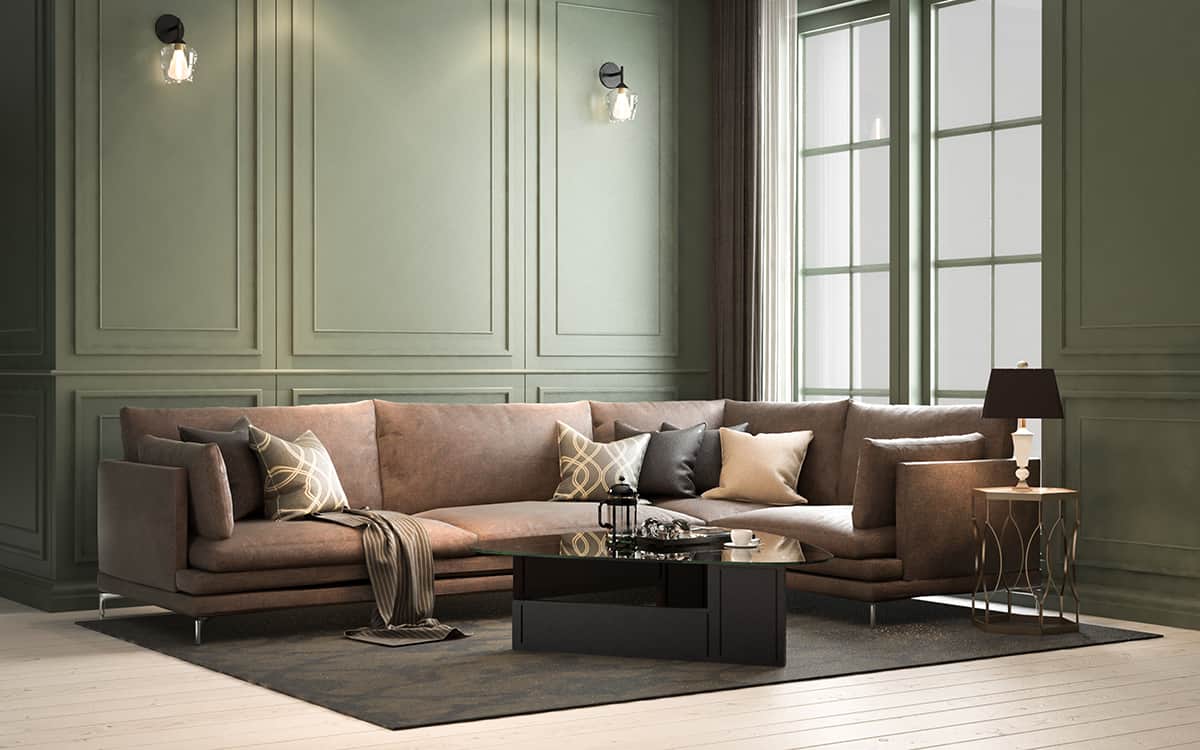 Light greens provide a warm contrast with reddish-orange espresso furniture. Whether you paint your walls a light green color or incorporate this earthy, warm color into the living room accessories, you can be sure of creating a crisp contrast with your espresso furniture.
The reason we recommend soft, light shades of greens over darker hues is to avoid making your living space appear dark. Just like in this image, the combination of black accessories and espresso couch works cohesively with the light green walls. This living room has an air of retro classic design that's hard not to adore.
Check our post ' What Colors Go with Light Green? (7 Nice Color Schemes)' for more color ideas to match with light green.
White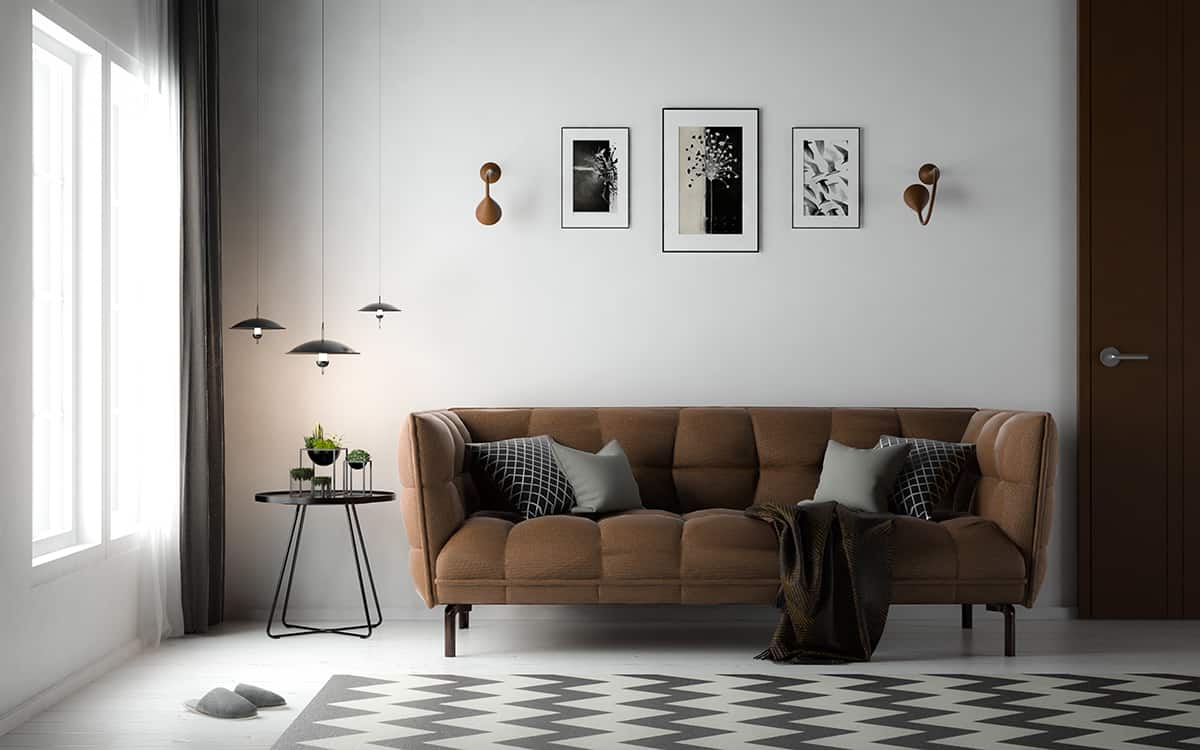 White is one of the safest color options to use with espresso furniture. This is because espresso has a black tone to it, which works as a contrast with white.
By pairing your espresso furniture with white walls and curtains, you can add a more neutral look to your living room. The use of white helps avoid a gloomy feel in a living room with espresso furniture as you can see in this image of a trendy, Scandinavian style living room.
Reddish-Orange Tones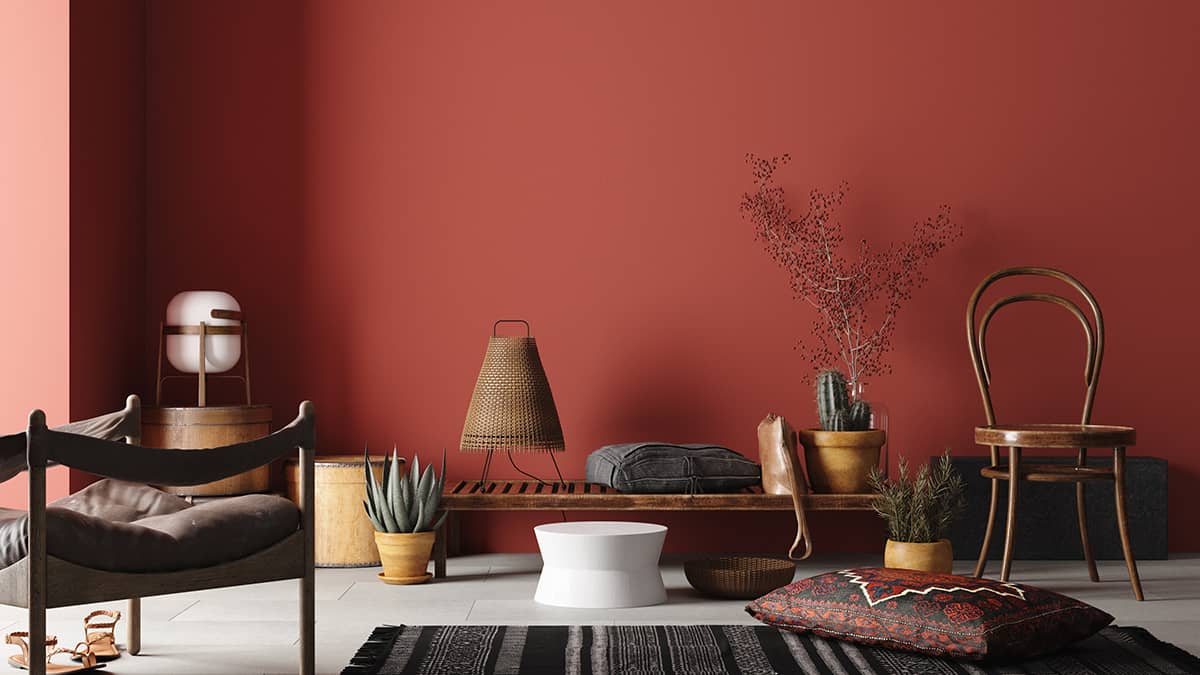 Espresso comprises red and orange undertones, so what better combination than an analogous color scheme like rich red walls with orange throw pillows to complement your furniture.
This is the one color scheme that helps balance out the interior of a rustic living room.
Black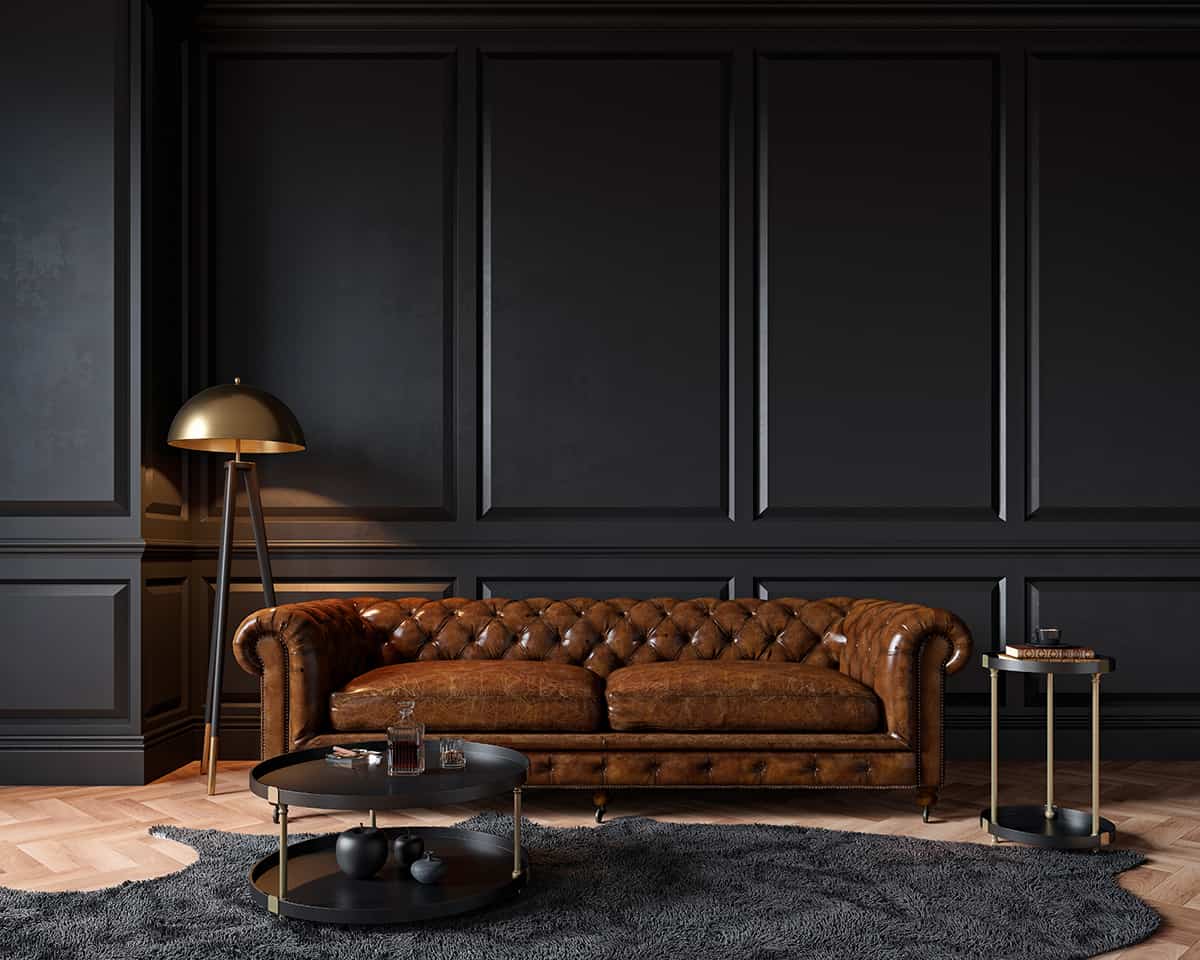 Black is a heavy color so you need to use it carefully. Since espresso is a mix of black and brown, it can be paired with black as a complementing color scheme. For example, in a modern classic living room, you can pair your espresso furniture with black walls and gold accessories for a balanced look.
Just like this sophisticated living room, the espresso leather sofa stands out beautifully amongst the black interior. This color scheme can also be used in industrial-style rooms. Keep in mind that pairing black with espresso isn't recommended for rooms with lack of natural lighting.
Yellow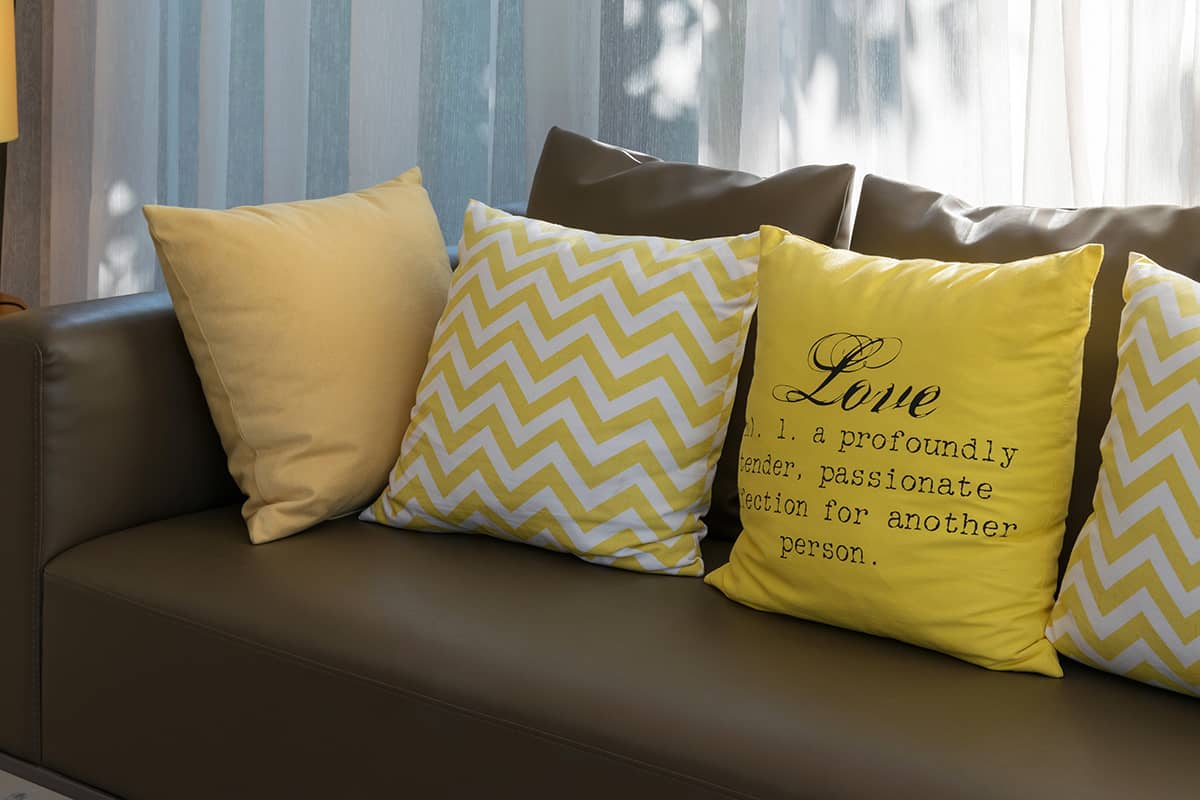 As a warm, bright accent color, yellow is the ultimate option to pair with espresso furniture. It is bright enough to stand out whilst still retaining a consistent and warm palette.
Some examples of how you can use yellow can be as throw pillows to decorate your espresso sofa. You may also add yellow wall decor to this mix to create a mid-century modern or Scandinavian setting.
Should All My Furniture Be in Espresso Color?
No. All your furniture items don't have to be in espresso color. You can mix different textures and colors in the same family as espresso for a cohesive design.
But if you want your espresso furniture to stand out, choose lighter decor or wall paint colors like white or gray. You may even add light wood planters or gold wall decor to complement your espresso furniture.
By mixing the espresso furniture with an accent color like light wood or warm gray, you can add a beautiful contrast that looks intentional rather than cluttered.
Do Gray Walls Go with Espresso Furniture?
Yes, gray paint for walls works fine with espresso furniture, but there are some shades of gray that work better than others. For example, warm grays with a beige or blue undertone highlight the red-orange hue of espresso furniture.
Since both gray and espresso are neutrals, they go hand in hand together; so by painting your walls a warm shade of gray, the neutral backdrop will highlight your espresso furniture.
Conclusion
When you're trying to determine the best colors that go with your espresso furniture, you may want to consider referring to the color wheel. Since espresso belongs to both red and orange colors, it means it has both of these colors as its undertones. That said, it also appears as a dark shade of brown in the color wheel.
Therefore, you can pair this versatile shade of brown and black with a wide variety of warm and cold colors like greens, blues and grays for the perfect contrast. Shades like olive green, lavender, and plum gray are options that work well with your espresso furniture.
Now that you have a better idea of what colors work with espresso furniture, you can start designing your dream interior. Any of the color ideas we've shown you in this article is sure to make your espresso furniture stand out as the focal piece of the living room.