Brown, rather unfairly, has a reputation for being a bland, stale color in interior design, but this warm and comforting color has steadily been climbing back up the ladder of popularity and is seeing a revival in home decor.
There are many shades of brown, from rich chocolate to soft camel, which can be used to transform a room and create a haven of relaxation. Brown does not always have to be dull, as we demonstrate below with stylish color pairings of furniture that goes with brown walls.
Blue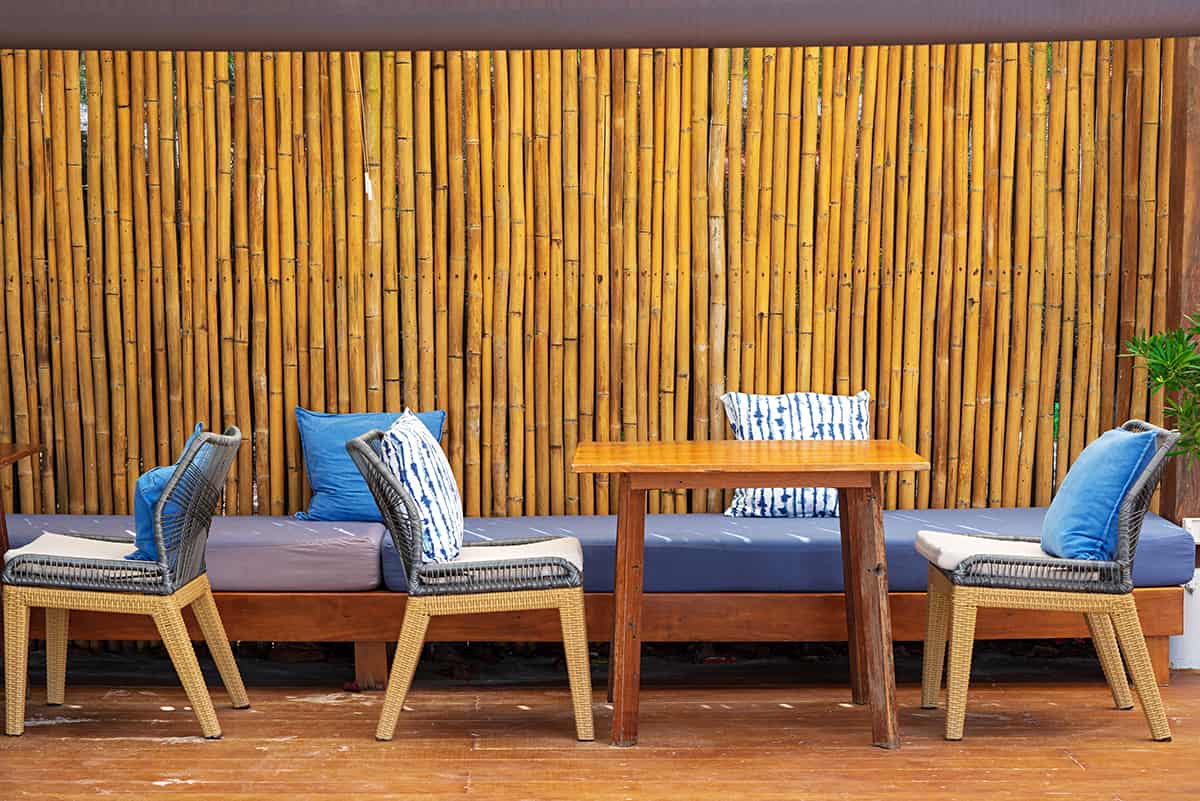 Blue is a cool color that helps to balance out the warmth of brown, resulting in a modern and relaxing space. Choose soft denim blue furniture for a casual contemporary look or navy blue velvet sofas for a richer, more elegant vibe.
Hazelnut brown walls look delicious behind deep and dark blue furniture, but to prevent the space from becoming gloomy, you can add touches of light in the form of white accessories such as white cushions and white lamp shades. For a majestic look, tie in the brown walls with brown wooden elements on your furniture, for example, brown wooden feet on a blue armchair or brown wood bookshelves.
Gray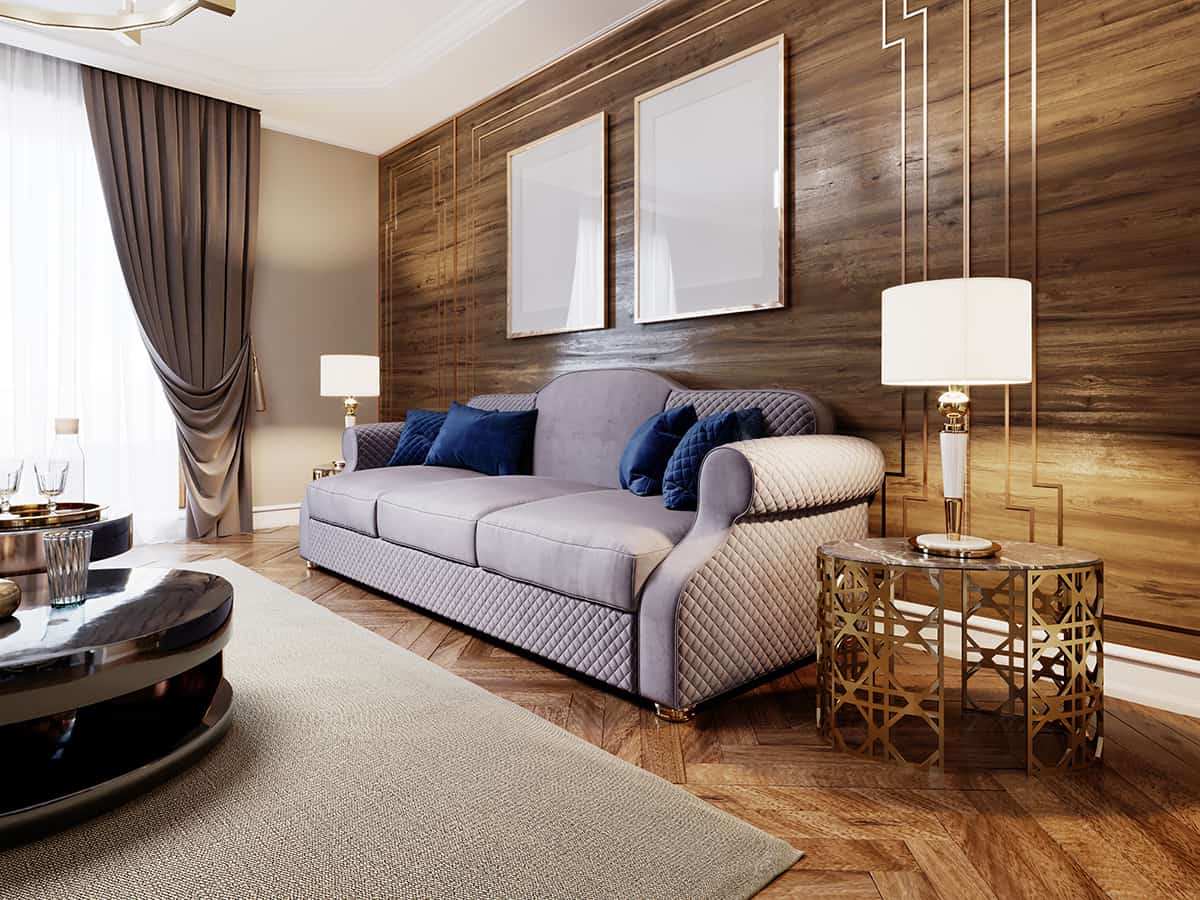 Gray and brown pair nicely together to create a spa-like serenity. Paint walls in a taupe shade of brown, and they will work with furniture in any shade of gray from pale silver right through to dark charcoal. Richer brown walls can also work nicely with gray furniture as long as you opt for gray shades which have warm undertones to keep the palette cohesive.
You can layer different tones of gray, for example, with dove gray couches and graphite gray painted trim or marble gray coffee tables. This helps to add dimension to the room with a layered look for a contemporary flair.
White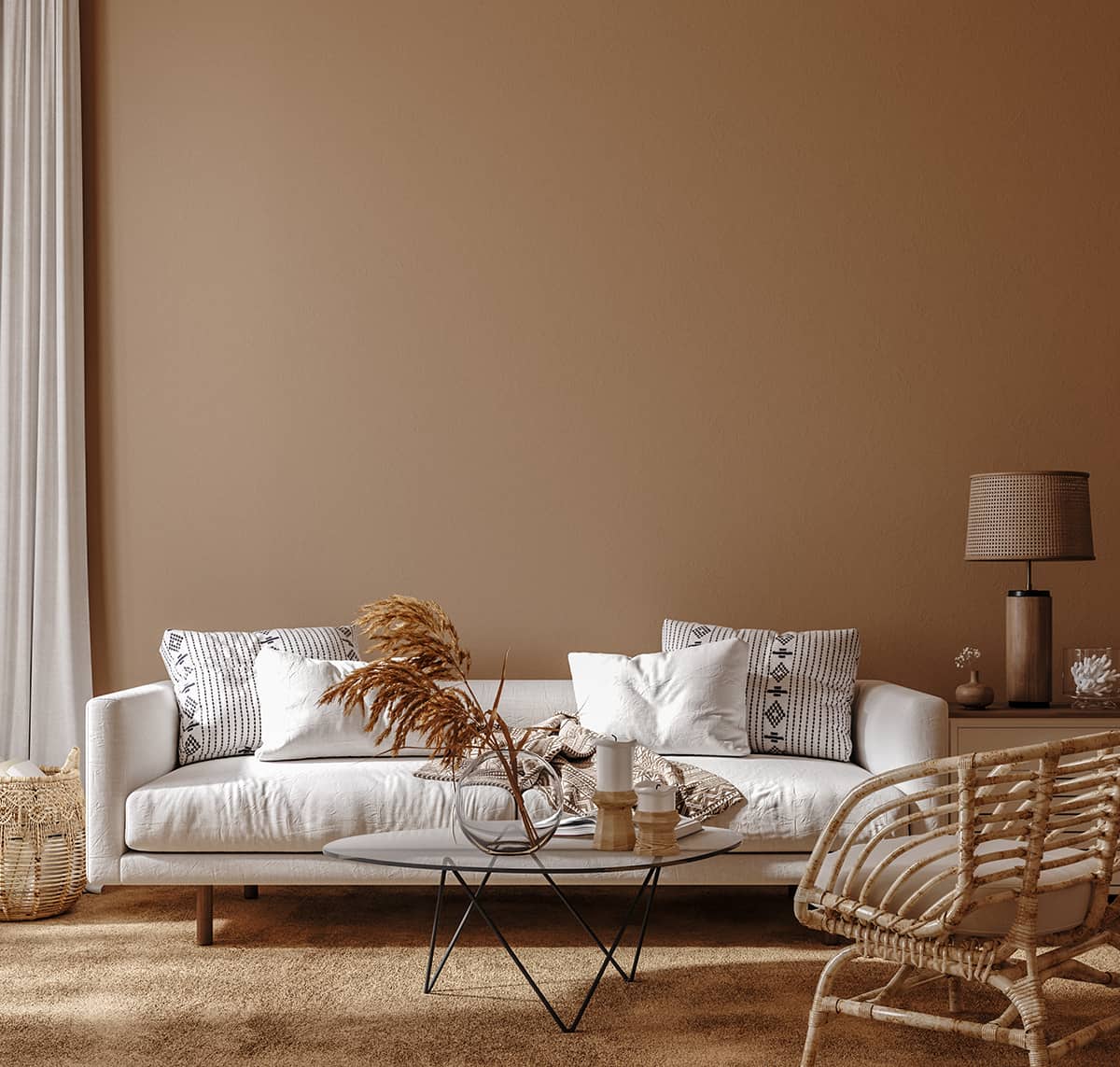 White looks dramatic next to brown and results in a clean and crisp feel that is comforting yet refreshing. Pure white chair options would look classy and elegant alongside brown walls, but maintaining the white color might be a bit optimistic if you plan to actually use them.
Instead, turn to wooden items for your fix of white furniture with brown walls. Upcycle old pieces of furniture by painting them white, or buy glossy white side tables with glass surfaces.
Beige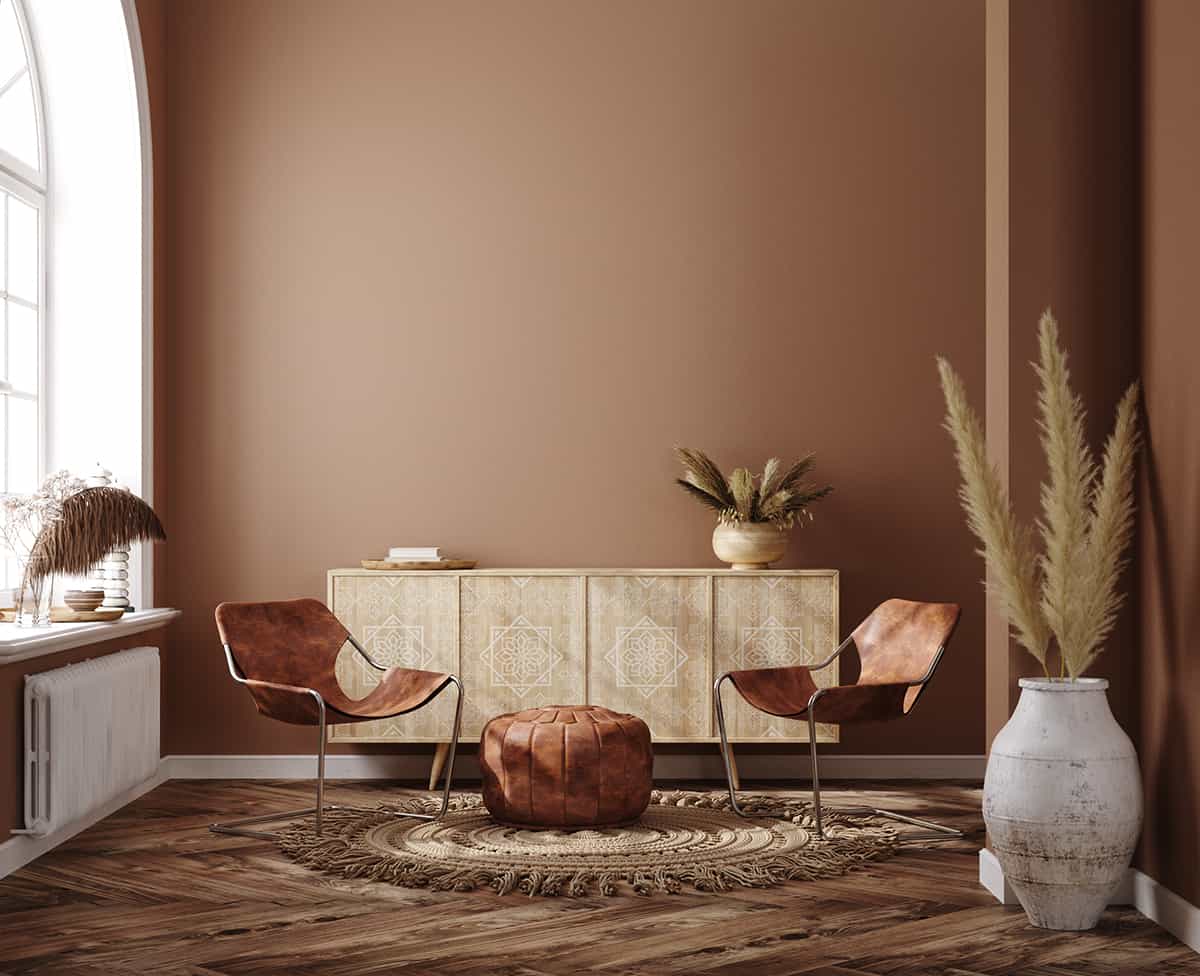 Beige tones work well with brown because they belong to the same color palette. You can look for beige furniture with gray undertones to add a modern touch to a brown room or choose beige furniture with red undertones to highlight the warmth in the brown walls and create a cozy and snug environment.
The type of texture you choose for beige furniture will be instrumental in defining the tone of the room. For example, a beige chenille sofa with large and plump cushions will result in a casual and relaxing atmosphere, while a beige linen sofa will look more formal and contemporary. Adding in other shades of beige around the room will help to achieve a layered look, for example, by using a darker beige rug or lighter beige curtains.
Brown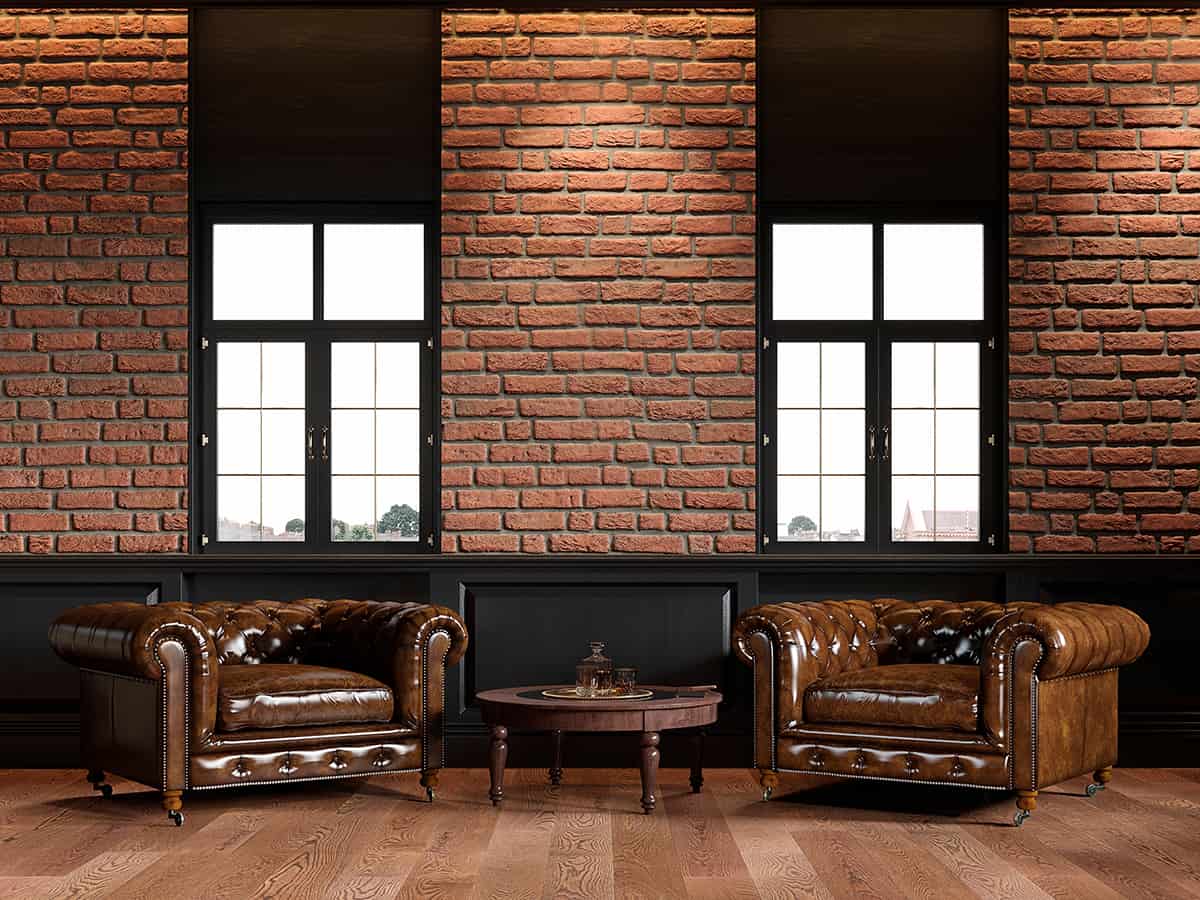 Brown on brown might sound flat and boring, but when done properly, it can look timeless and chic. Use a warm mocha brown on the walls and choose deep chocolate brown leather sofas and chairs.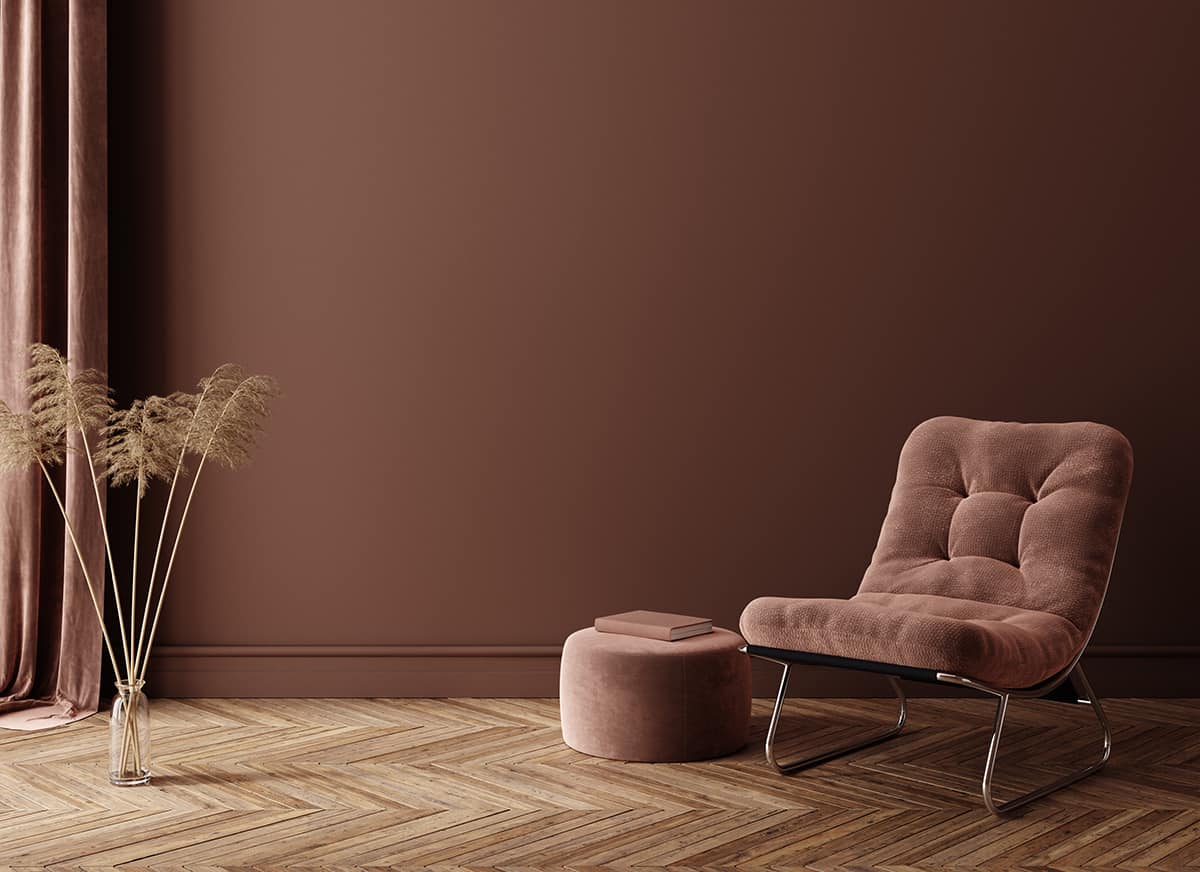 Create depth and avoid the room from becoming one-dimensional by using a variety of textures and several shades of brown, for example, a brown faux fur blanket draped over a sofa and wheat-colored wool cushions on the chairs. Stick to shades of brown, which have similar undertones but vary in their intensity for a classy, cohesive style.
Black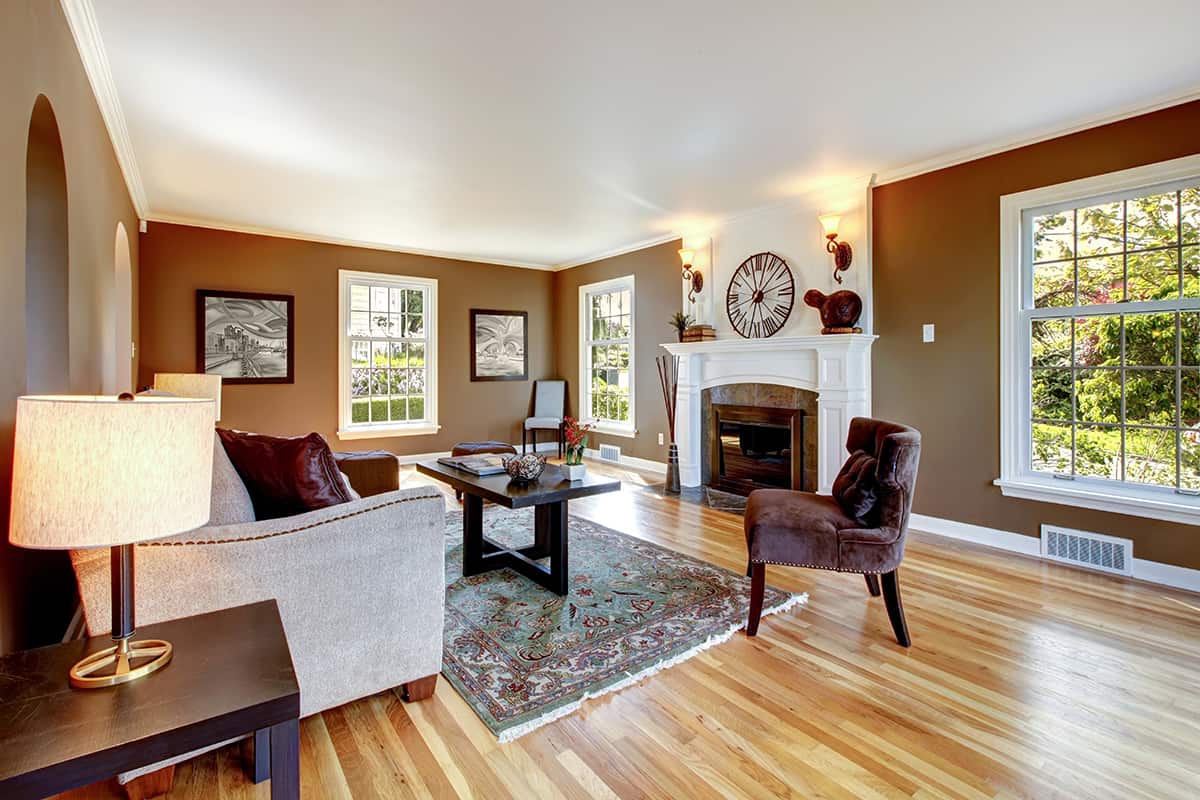 If you want a room that feels warm and intimate, then black furniture against brown walls can help to achieve this. In a bedroom, for example, you could paint the walls brown and have a black metal bed frame, or in a dining room, brown walls would look sleek alongside black painted wooden dining chairs.
Black furniture can look harsh in some scenarios, but the depth of brown prevents the contrast with black from being too intense and the warmth of brown tones down any cool hues in black.
Green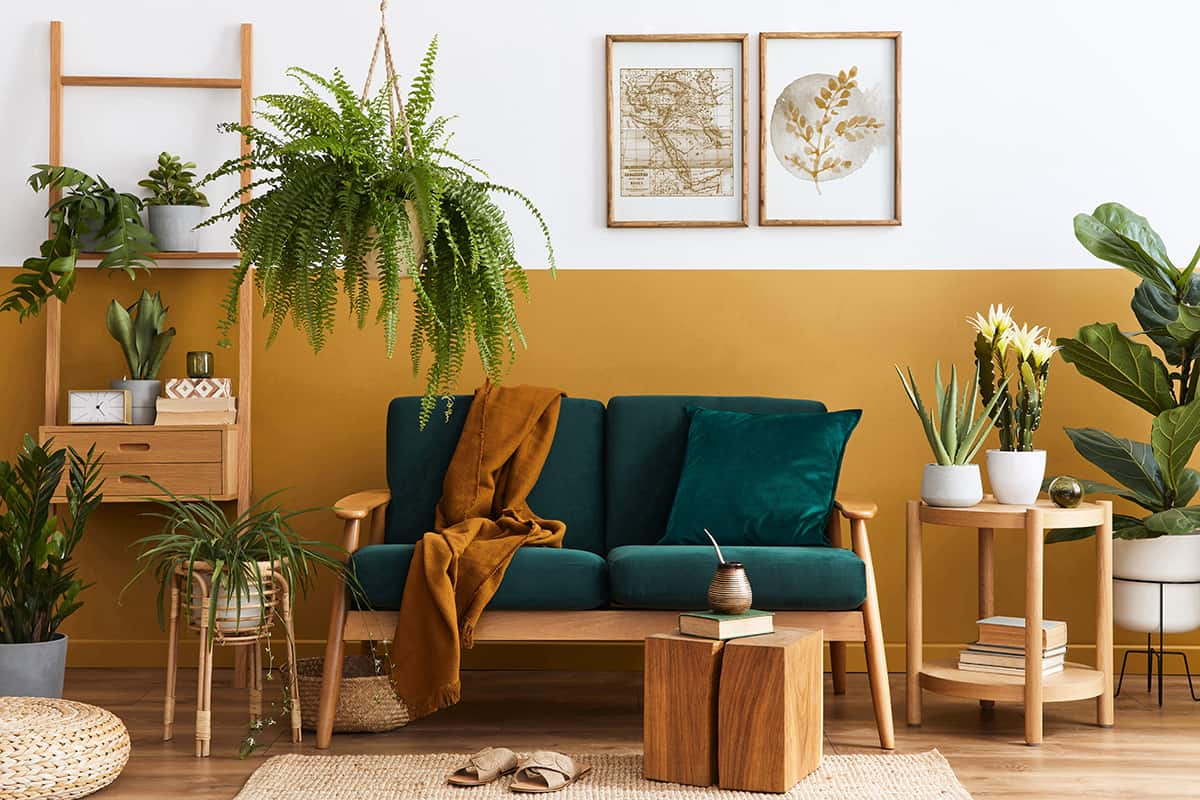 Green and brown are two colors that undeniably go hand in hand perfectly, probably due to the fact that we see these two colors together so often in nature. Think soil and grass or tree trunks and leaves. When used together in interior design, green and brown have the ability to bring the feeling of nature into the home, which in turn creates an atmosphere that is both energetic and calming simultaneously.
In nature, we draw both serenity and reflection, as well as refreshing and revitalizing qualities. To welcome these aspects into your home, you can use green furniture against the backdrop of brown walls. For a tranquil ambiance select olive green sofas, or for a more calming and comforting effect, choose sage green furniture. Emerald green furniture in a velvet finish also looks stunning against brown walls, adding a luxurious flavor to the space.
Orange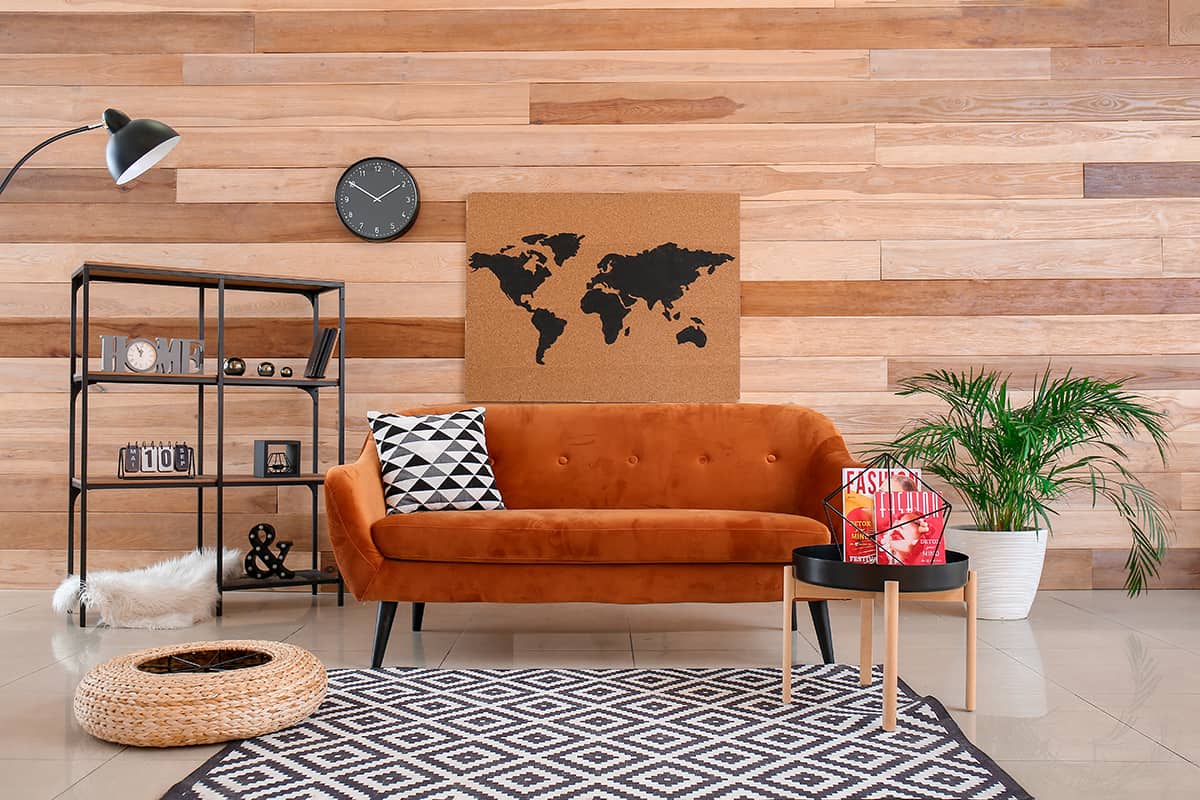 Brown and orange together have a warming effect, conjuring up memories of autumnal woodland walks and pumpkin-spiced desserts. This is a rich color palette that can be used to create a welcoming and comfortable room. Choose furniture in deep shades of burnt orange to use against a brown backdrop.
Other brown features such as a brown wooden floor or brown accessories will help to tie the color theme together, but the introduction of a third neutral color such as cream would be a good idea to help break up the strong colors.
Red
Red furniture such as a red accent chair or a red lacquered coffee table can work really nicely alongside brown walls as the red helps to bring out the warmth in the brown paint while also adding a splash of character. Dark mahogany reds can look great in traditional styles next to brown; think patterned woven rugs and heavy embroidered curtains.
Furniture in brighter shades of red, such as cherry, will add vibrancy to a brown room that could otherwise have felt flat. Too much red furniture could have the capacity to make a brown room feel overwhelming, so instead of choosing a whole set of red couches and chairs, just choose occasional items in red to inject character and fun without going overboard. For the remaining furniture, look for colors that are more subtle and neutral, such as ivory or pale gray.
Yellow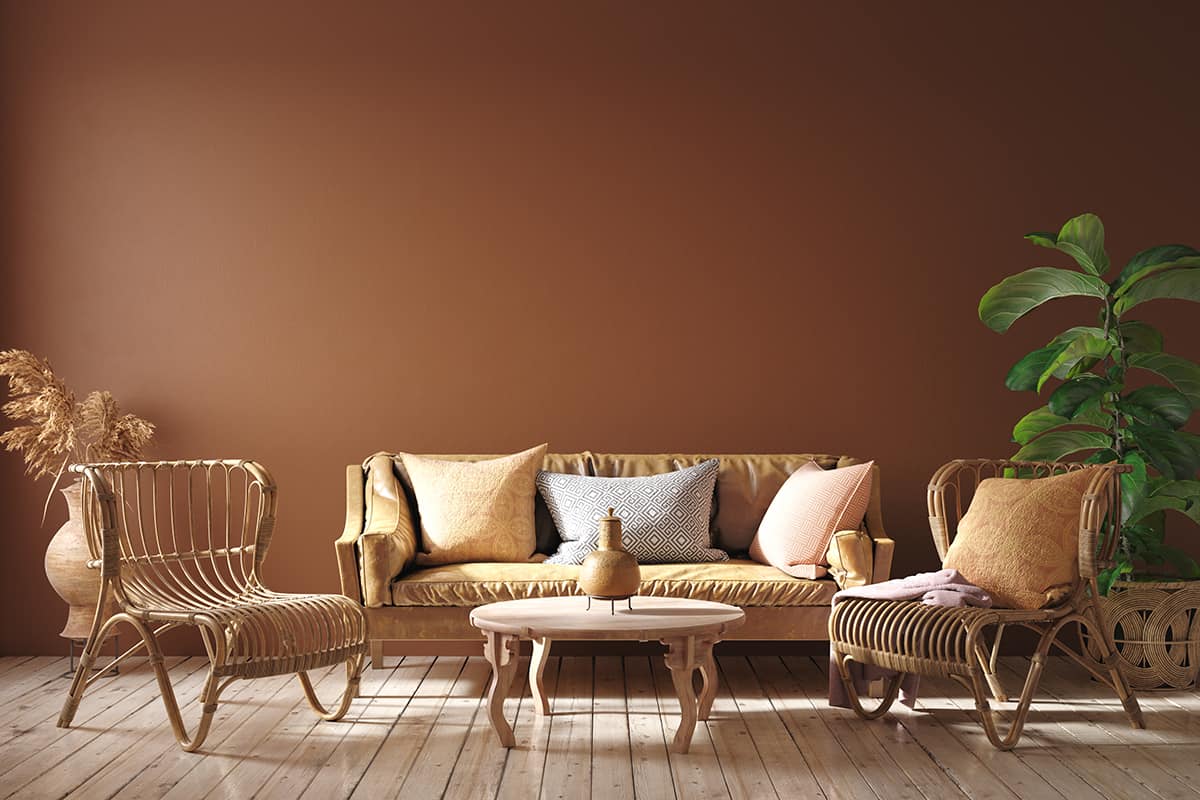 Yellow is a warm color that accents nicely against brown while also serving to add a sunny vibe. The combination of brown and yellow together can work to achieve a calming yet joyful space. The shade of yellow you choose for your furniture will help to define the style; bright primrose yellow will look modern and fun, while deep mustard yellow is more sophisticated and mature.
Yellow furniture can be used to create an appealing contrast against dark brown walls, but it also pairs nicely with pale brown. Like orange, yellow, and brown can become intense, so add in items in a neutral shade such as white trim, white cushions, and white curtains.