Gray floors are easy to coordinate with most colors. This neutral color has the advantage of being so versatile that it can be paired with pretty much any decor or furniture in any room of the house.
While gray can easily be combined with other neutral and bold colors, it is a different story when it comes to pairing it with wall colors.
Searching for the perfect wall colors to go with your gray floors? This can be a tricky task for different rooms of the house, but finding the right color combination is still possible.
To show you our best ideas with pictures, take a look at the following examples of wall colors that go with gray floors:
Best Wall Colors that Work with Gray Floors
White Wall with Dark Gray Floor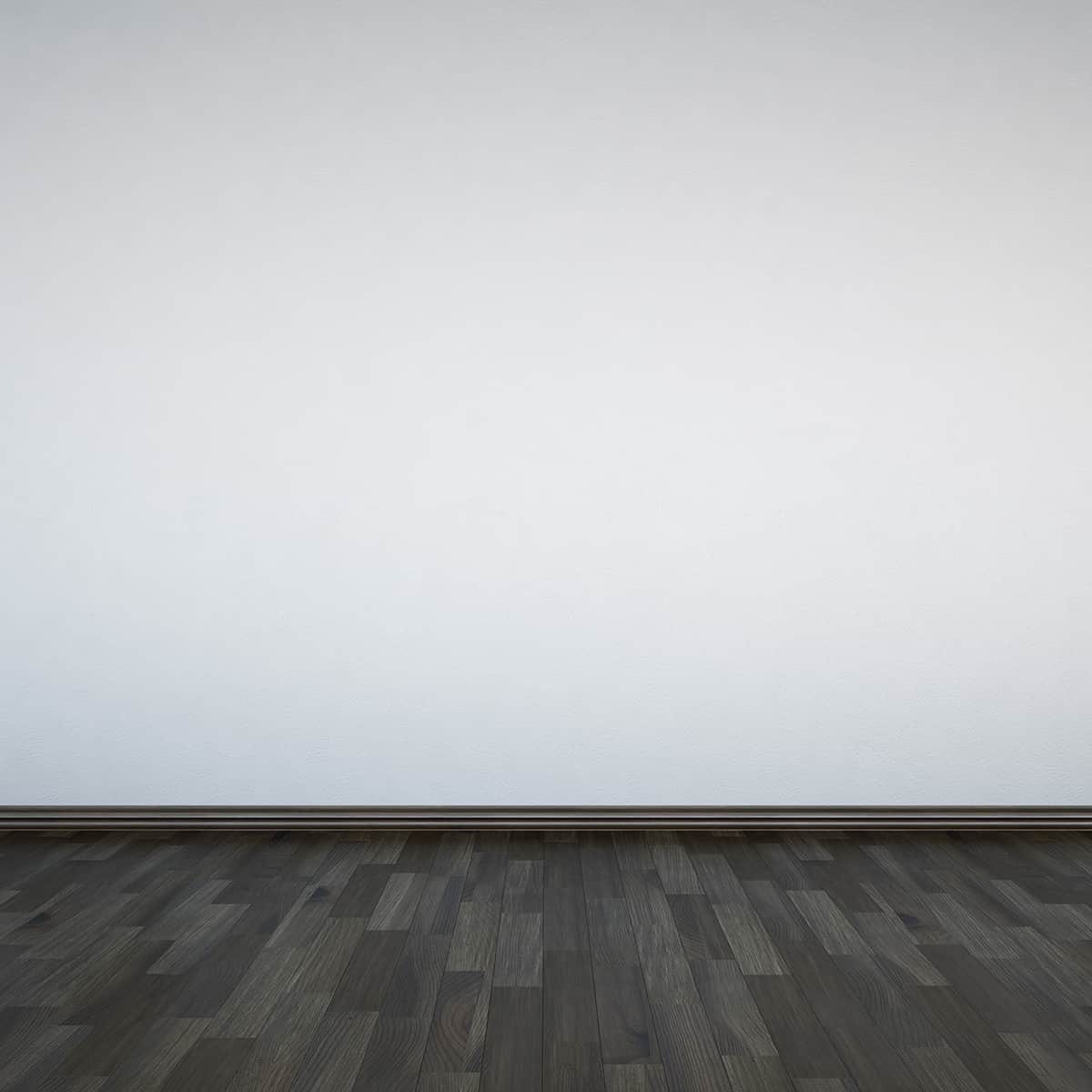 We all know white walls go with any floor color, including gray. But even though both white and gray are neutral colors, they still have the perfect contrast ratio to complement one another.
By painting your walls white, you can create a flawless look with your gray floors. Any shade of white can work with light or dark gray, but we recommend you pair white with dark gray floors as shown here. From soft and glossy white paint to matte, there are many options.
A white wall with dark gray floor suits both bedrooms and living rooms as this color pairing is highly preferred in contemporary and minimalist style interiors. In fact, every modern house can benefit from such a combination!
Light Gray Wall with Dark Gray Floor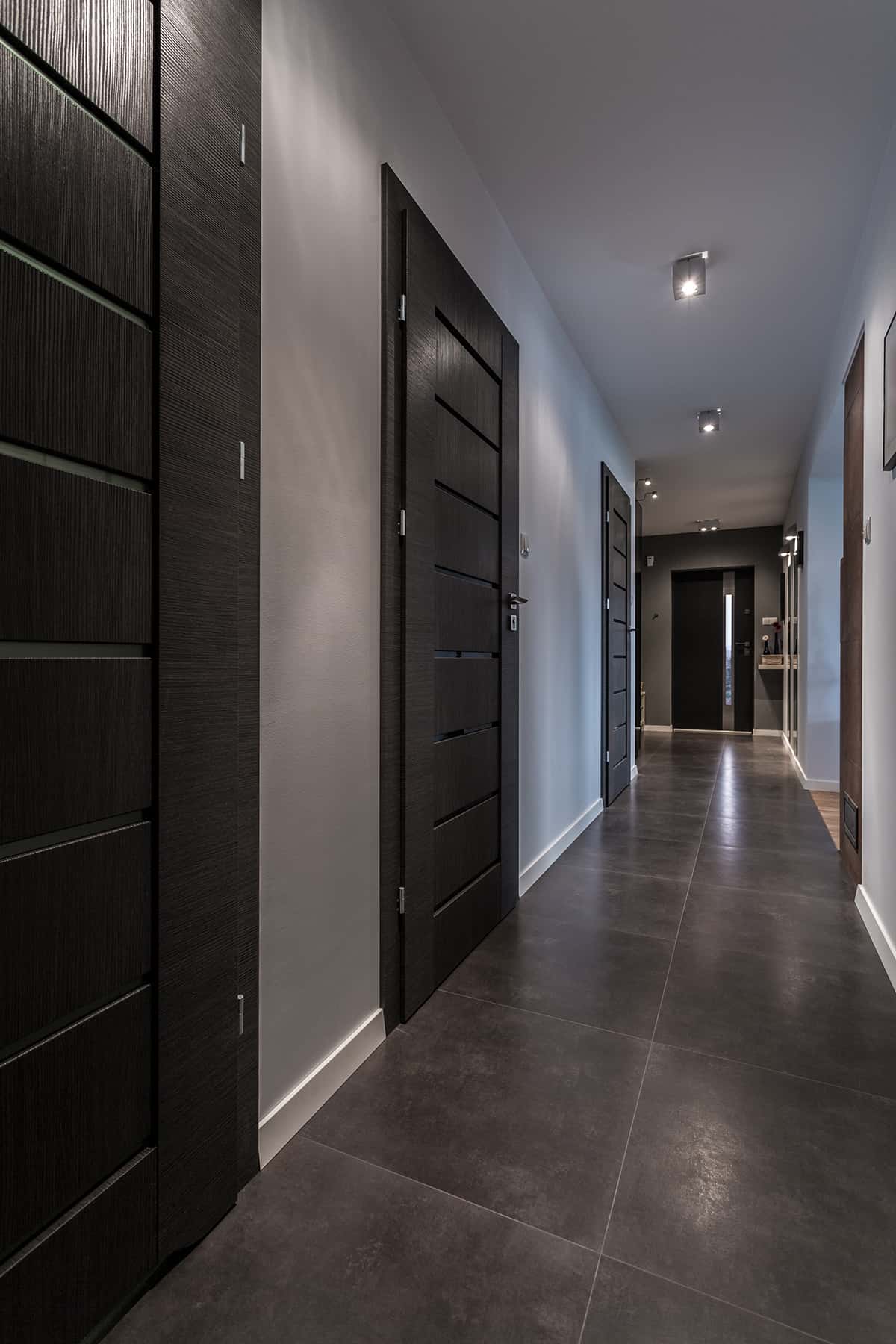 While many homeowners avoid this color combination, you can still achieve a modern, sophisticated design by opting for light gray walls and dark gray floors. This stylish monochromatic look gives a soft feel to the bedroom or living room.
Add light accessories to inject some character into your space. This idea will aesthetically please potential buyers as light neutrals provide a more serene, soft feel. By blending your dark gray floors with light gray walls, you can achieve a chic and stylish interior.
To spruce up your gray interior, consider adding some vibrant accent colors to your room. These can include yellow or blue furniture. See more furniture color ideas in our article ' What Color Furniture Goes with Gray Flooring?'
Dark Taupe Walls with Light Gray Floor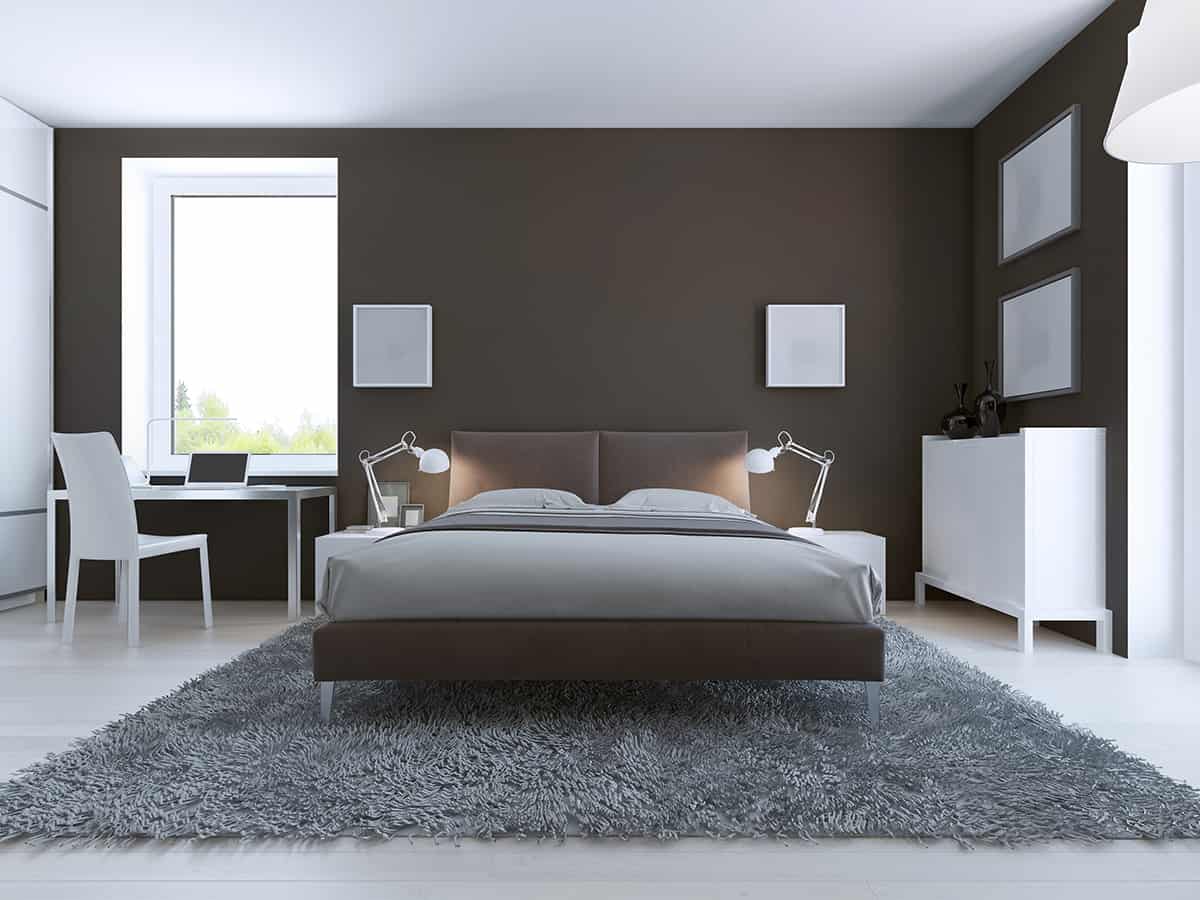 Similar to gray, but with a hint of brown, taupe is another neutral wall color that goes well with gray floors. This color blends well with any shade of gray, so if your floors are light gray, then you'll want to paint the walls dark taupe to make them stand out. The combination of dark taupe with light gray is sure to create an elegant retreat with an inviting atmosphere.
This dark taupe wall in the bedroom works beautifully with the light gray floors, brown bed frame, and white furniture. Perhaps more wooden decor will enhance the comfy nature of this bedroom?
Light Brown Wall with Light Gray Floor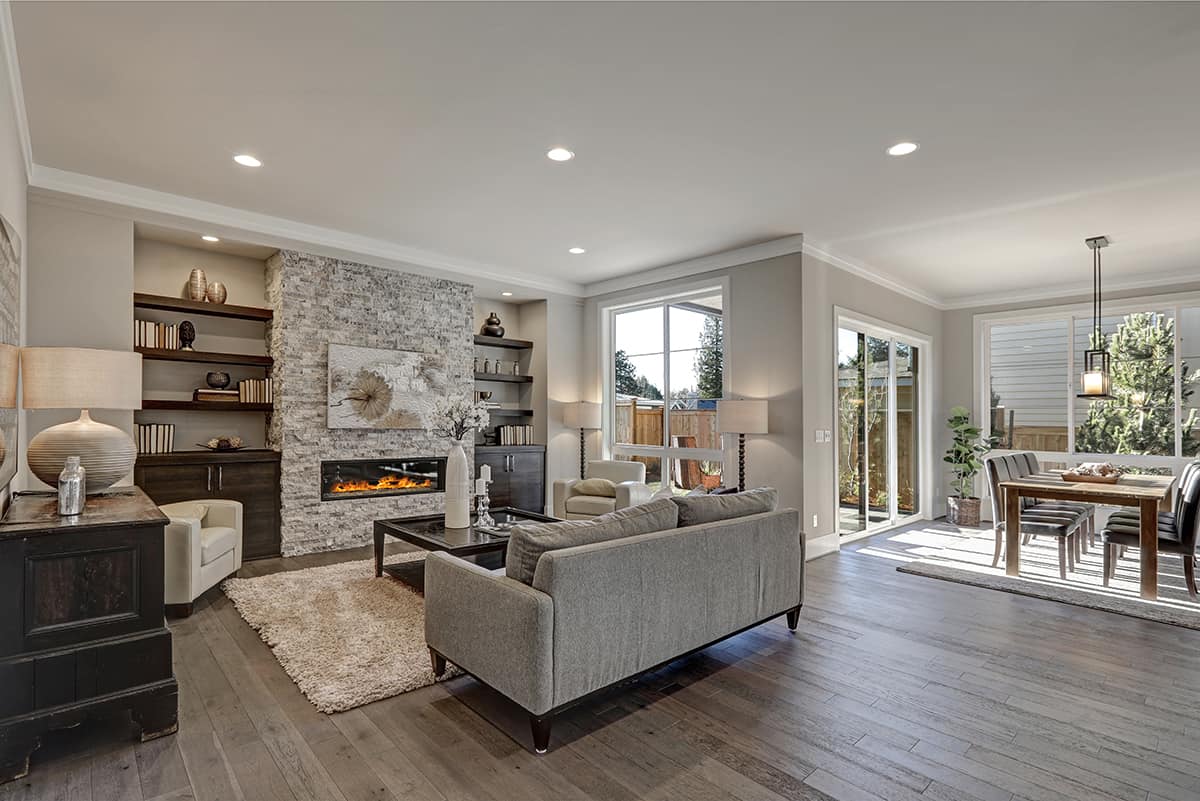 We've mentioned taupe, but how about brown as one of the most complementing wall colors to combine with gray floors. This earthy hue makes any space feel warm and luxurious while emitting a relaxing feel.
In a neutral furnished living room, light gray floors with light brown walls evoke a flawless look just like you can see here. Although some people may think the combination of brown with gray is a little dark or gloomy, it is important to pick the right shade of brown only in rooms that receive adequate natural lighting. Include white or cream furniture to this color combo for your living space to feel ultra-bright and airy.
Orange Wall with Light Gray Floor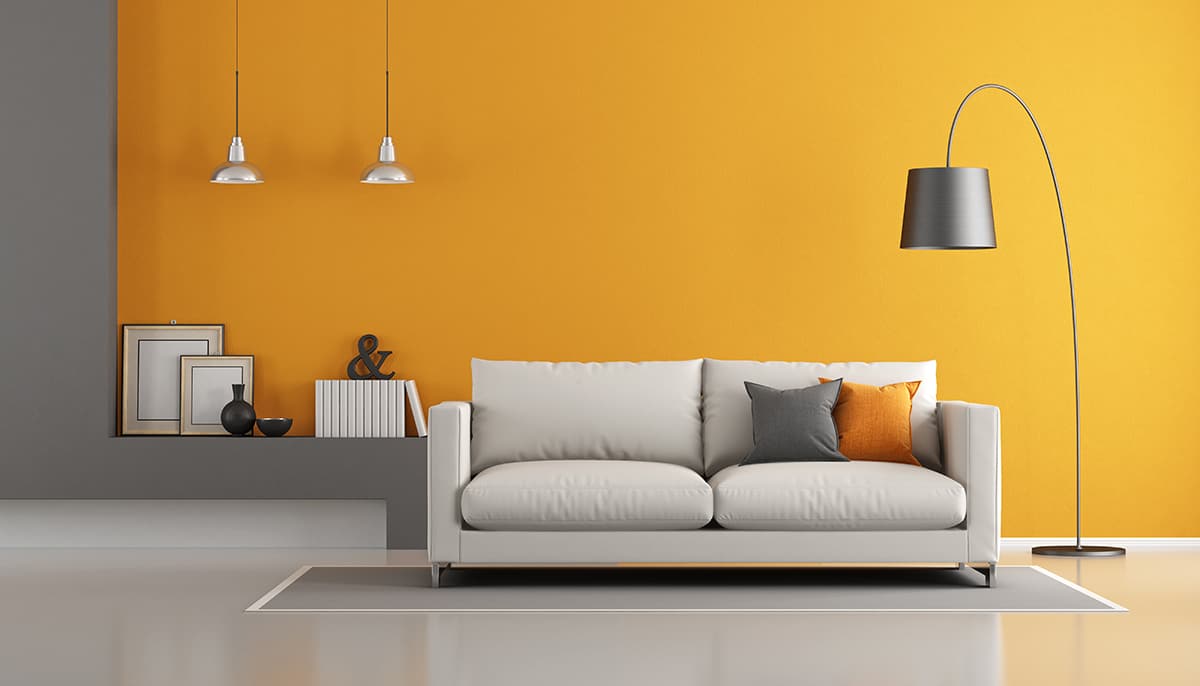 Orange is a warm color, which can be used with a light gray floor to create balance. This contrasting color for the walls is typically paired with muted warm accent tones in order to make the wall stand out.
A muted orange wall goes very well with natural wood furniture and fabric finishes. With a mix of warm oranges, woods, and light gray, your living room can feel vibrant and cozy just like the example here. We love the blend of white, orange, and grays, which emit an inviting vibe.
Turquoise Blue Wall with Light Gray Floor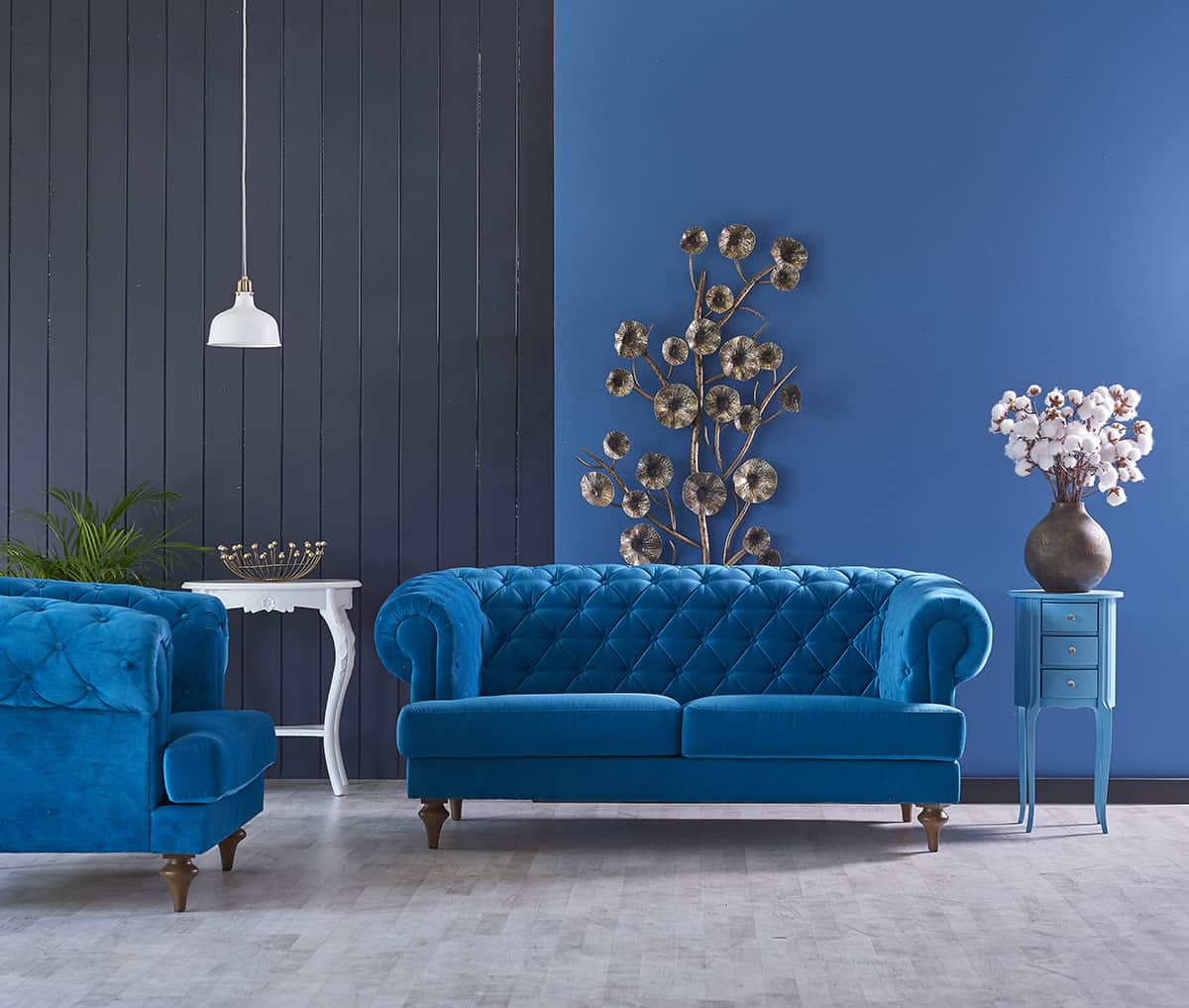 Now let's move on from a bright and lively orange wall to a blue one with a light gray floor. Having a blue wall with gray floors makes your living room feel more natural as blue is a shade associated with the sky, ocean, and nature. This soothing hue brings the much-needed vitality to a neutral setting.
But which shade of blue do you choose for the walls? Well, how about turquoise as shown in this photo? Blue is such a flexible color that it's easy to implement in a living room with gray floors.
A turquoise wall brightens the ambiance, plus it can be paired with matching furniture to set the tone of the room.
Green Wall with Light Gray Floor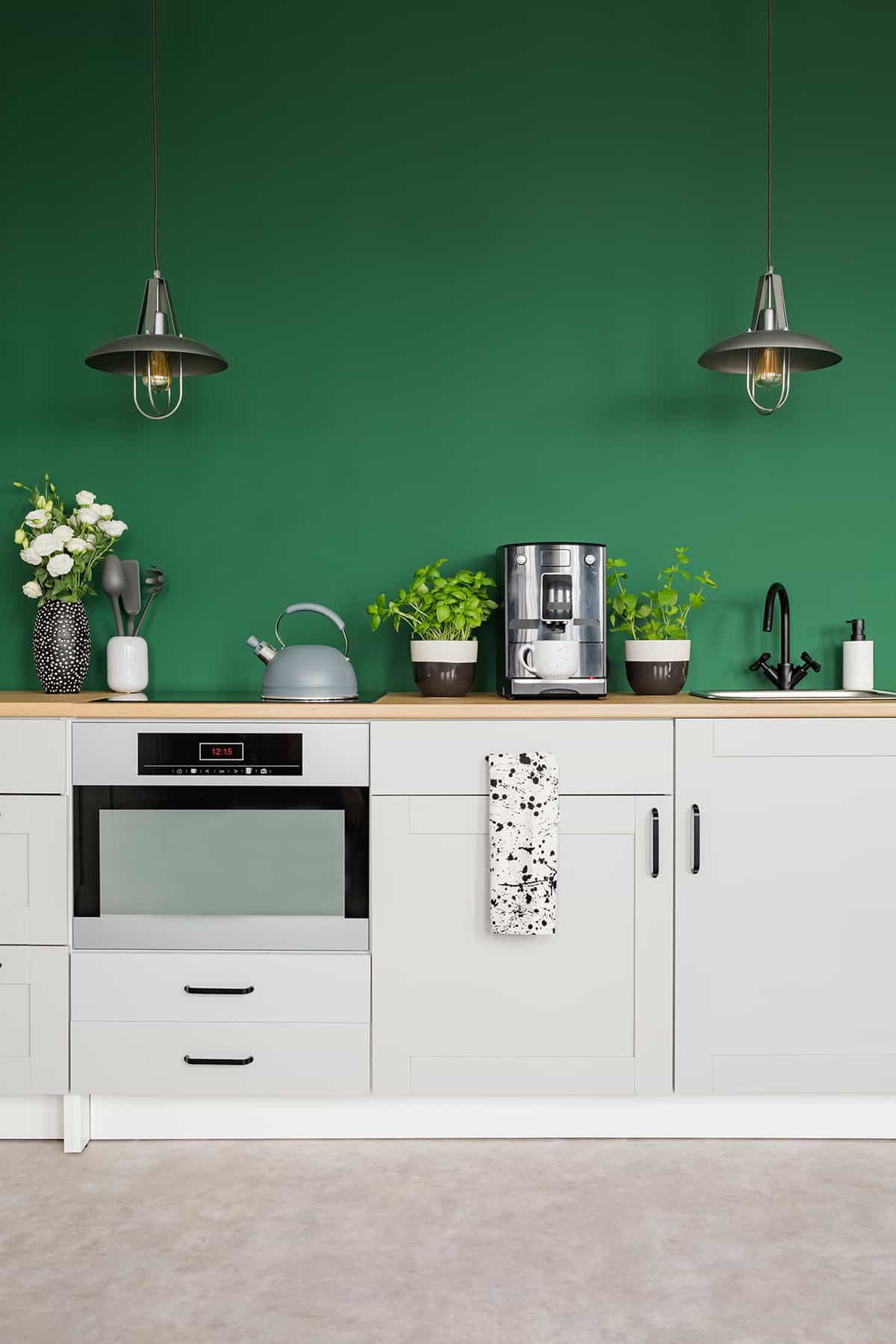 Green may not be the wall color that you have thought of, but when it comes to combining your gray floors with the bright and stylish wall color, consider a vivid shade of green. There are many tones you can select from, including mint, lime, grass, apple, and grayish-green. The latter works best with dark gray floors, while mint green has a trendy, futuristic look that brings a cozy feel to a room.
When you are ready to paint your kitchen or dining room wall, we recommend a bold shade of green as shown in this photo. In kitchens with bright white cabinetry, for example, a green wall as the stunning backdrop to the crisp white cabinetry and the light gray floors will accentuate the space and give it a nature-inspired look.
Other shades of greens that also work well with light and dark gray floors include sage and teal. Sage is a chic shade of green with a gray undertone. This is the perfect combination in a minimalist or contemporary styled interior.
The ultra-trendy teal is another vivid shade of green with a blue undertone. This shade is also a perfect match with light gray floors.
Bright Yellow Wall with Light Gray Floor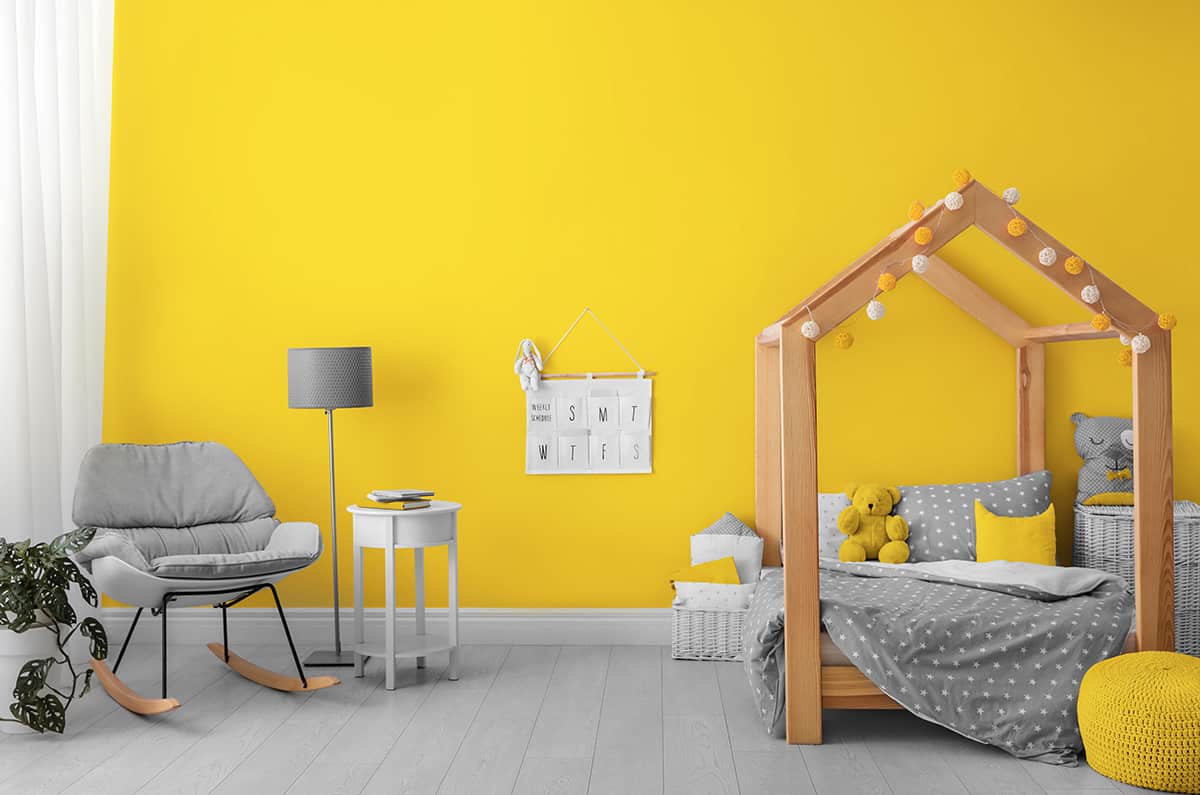 Another vividly bold option for the walls is a bright yellow shade. This warm color will pop with light gray floors as well as make your room feel brighter.
Yellow walls bring a softer look to a room with gray floors so they are especially worth considering for children's bedroom and laundry rooms.
Pastel Pink Wall with Light Gray Floor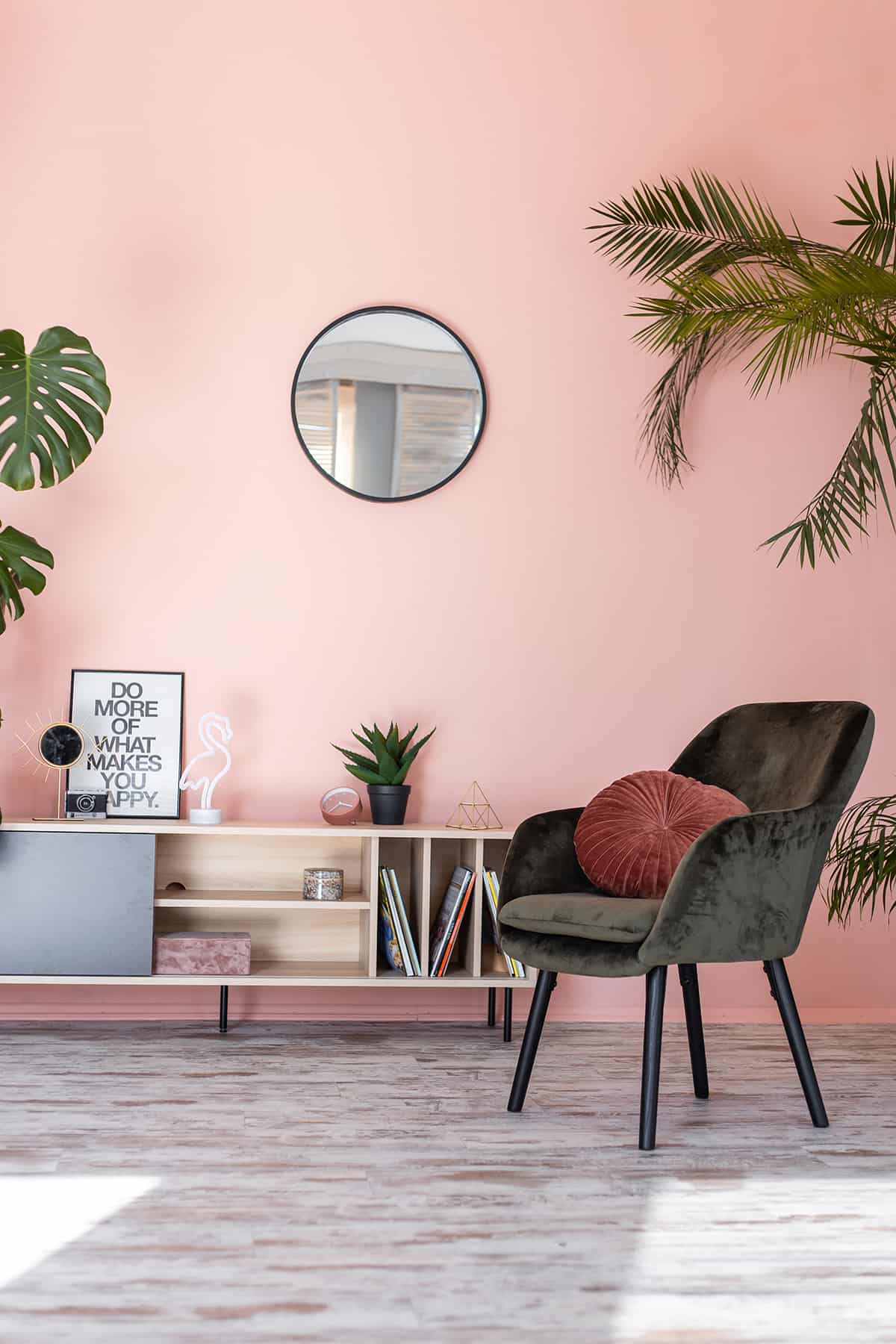 Creating contrast with gray floors is a great way to break the monotony in a neutral room. Aside from orange and yellow, pastel pinks are another beautiful wall colors that can bring style to the room. Pinks are a bold choice so they work with any shade of gray as shown in this photo.
This uplifting wall color goes with most furniture and decor styles. For example, you can add wooden fixtures to your living room with gray floors and pink walls in order to emit a down-to-earth and cozy feel. Even in boho-inspired interiors, pastel pink walls decorated with embroidery or tapestry look beautiful with light gray floors.
Should Walls Be Lighter or Darker than Gray Floor?
It is generally believed that matching wall color with gray floors will make your room feel monotonous and possibly smaller. As a rule of thumb, it is wiser to paint your walls a lighter tone than the floor color for practical reasons. However, painting the walls a darker shade of gray will make your room feel closed in.
When your floor is dark gray, consider pairing it with a bright ceiling color and a light wall color. This is a good tactic to draw the eye upwards rather than to the floor. So if you're wondering if your walls should be lighter or darker than your gray floor, it is best to choose a lighter tone in order to maximize space.
Summary
Walls are an important part of every home, so it's essential to choose the perfect paint color that goes well with gray floors. Gray is a neutral color, but it can often appear monotonous or bland if it's not combined with the bright wall color.
Our above ideas should help you pick the most suitable wall color that goes with the gray floor. And if you're still stuck for ideas, we recommend a bright and bold wall color, such as pink or green for light gray floors, and for dark gray floors, consider light gray or white.