Rain gutters do more than protect buildings' foundations from downpours. By channeling rainwater out and away from your home, gutters minimize the risk of floods in basements or damaged siding that can harm your landscaping. What's more, if you want to conserve water, gutters are the best solution as you can direct runoff into a rain barrel and use it as your garden's reservoir.
Rain gutters are basic structures that come in a variety of designs and materials. If you are thinking of replacing your old, worn-out gutters, or you want to install new gutters for the first time, you'll need to know about the different types of gutters available on the market and the gutter parts. Keep reading to learn more about gutter styles, shapes, and materials with their pros and cons.
Gutter Styles
When deciding on the most suitable gutters for your home, you should first determine which gutter style is the right one for you. Gutters come in two main styles with a range of colors and designs. Before choosing the style and material though, be sure to consider your roof's slope and how much rain your location gets. These important factors will help you decide which gutter system works best for your home.
With that in mind, you're now ready to take a look at the following gutter types to help you select the most appropriate downspouts for your home:
Seamed or Sectional Gutters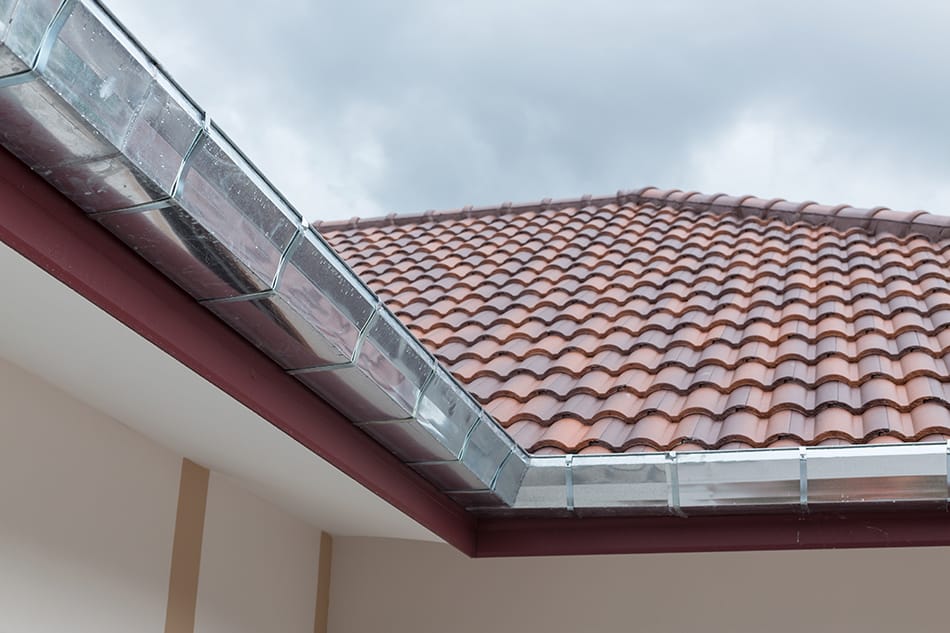 Seamed or sectional gutter systems are very popular among DIY fans as they are easy to connect together without the need for any special equipment. These gutter styles consist of small sections that are fitted together to form a larger gutter section. They are typically made from steel, aluminum, or vinyl. Seamed guttering systems are typically available in 10-foot long columns that attach to the building's fascia board with hangers.
The biggest downside to seamed gutters is their potential leaks and failure points, even if they are installed by experts. All it takes is one clogged section due to fallen tree leaves or debris before you see small or large leaks (depending on how heavy the rainfall is) from in between the seams of these gutters. In worst-case scenarios, you may even see an entire gutter section collapsing under the heavyweight of trapped rainwater. This is especially true if your gutters are made from lightweight vinyl. But since seamed gutters are the most economical option, if one part of the guttering fails, it can easily be removed and replaced without having to make any major changes to the rest of the gutter system.
Seamless Gutters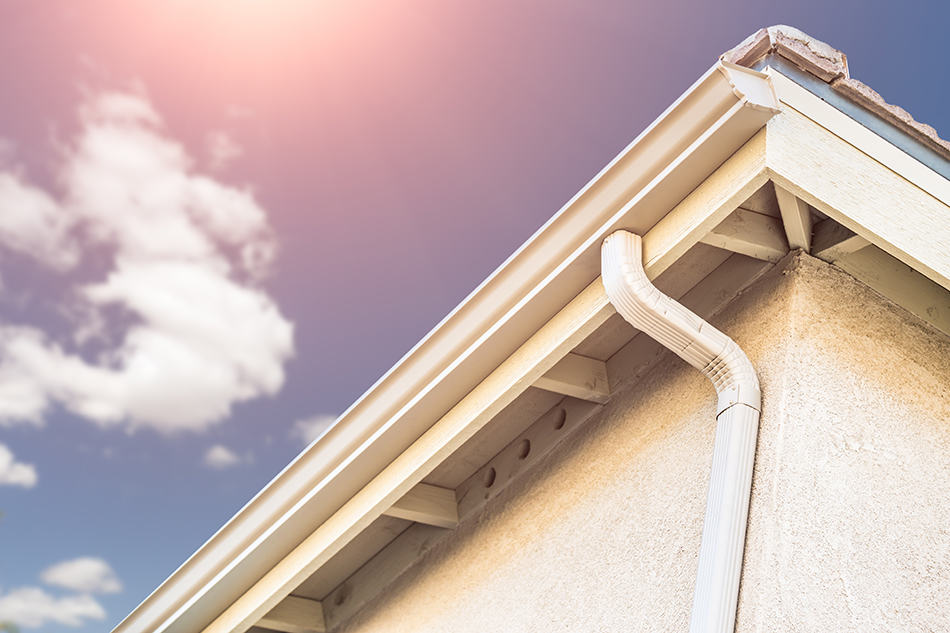 For a smoother look with minimum leakage, consider opting for seamless gutters. These gutter styles offer more color choices and have no length limit. And since there are no seams along the length of these gutters, they are less likely to leak – only the top corner joints may leak. These gutters are manufactured using single coils of aluminum, which has been coated with rot-resistant chemicals.
Seamless gutters look beautiful as they preserve the seamless horizontals of your roofline. They can easily be matched with your home's exterior and come in as many as 30 or more colors.
Unlike seamed gutters that are DIY friendly, seamless gutters can't be installed by DIYers. As a result, you should expect to pay more since their installation process is labor-intensive and time-consuming.
The one downside of seamless gutters is that when one area fails, the entire gutter length will need to be replaced or cut out independently.
But there are also major benefits to installing seamless gutters. They are usually of higher quality so you can be sure of getting a superior product that lasts longer than sectional guttering systems.
In addition, seamless gutters increase your home's resale value as well as minimize the risk of mold, dampness, and rot on your property.
Gutter Shapes
K-Shape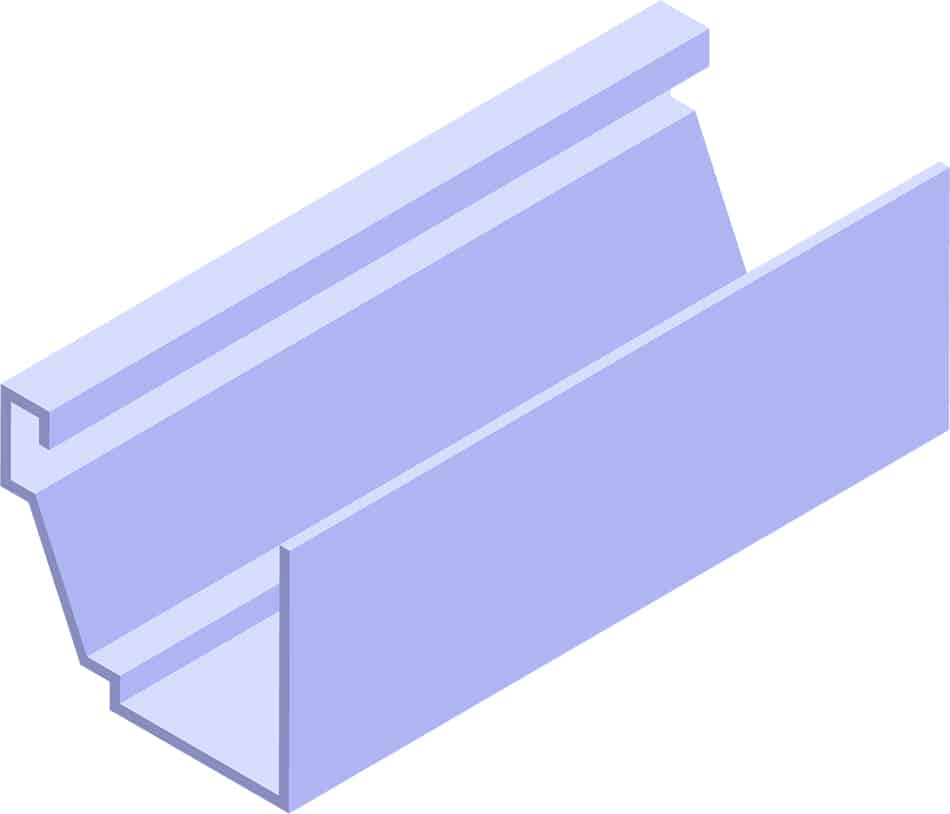 When viewed from the side, these gutters resemble the letter K and are the most common type of gutter shapes seen on older homes. Their flat back means you can easily nail them to the fascia board without the need for any brackets. But what makes these gutters stand out and so popular is their decorative front side, which looks identical to crown molding. Their flat bottoms and outward sides mean K-style gutters can carry more water than their half-round counterparts.
So if you live in a rainy climate, K-shaped guttering systems will be most suitable for your home. The one major downside to these gutters is their difficulty to clean as the inner angles can easily collect debris.
Pros
Cheapest option
Very easy to install
More durable than other gutter shapes
Attractive look
Better performance (can carry more water during heavy rainfall)
Cons
Difficult to clean
Clogs easier
Prone to corrosion
Half Round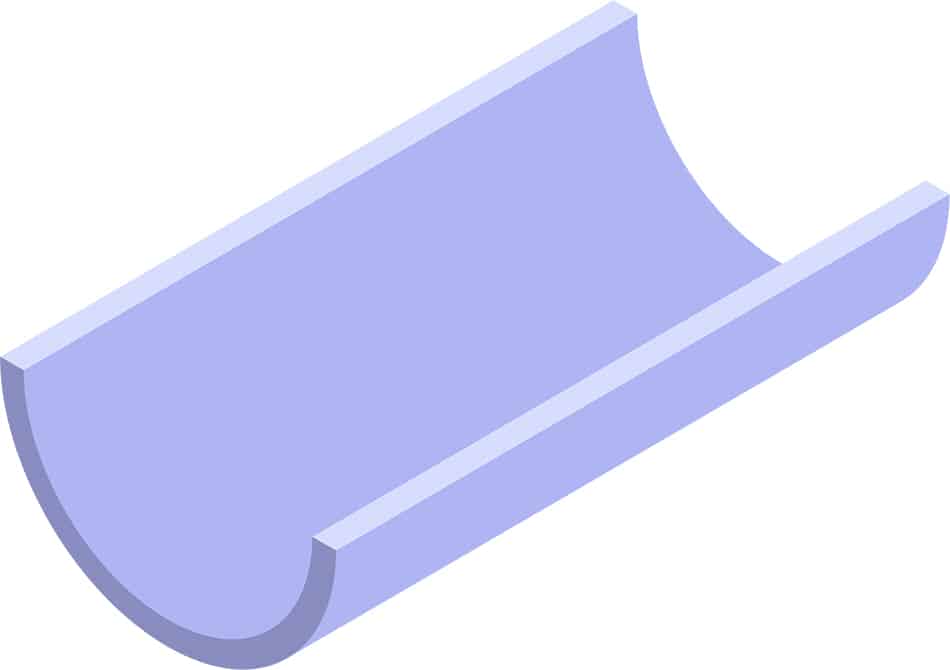 Shaped like a tube that's cut in half, half-round gutters are very effective in carrying water. The main downside to these gutter styles is their susceptibility to debris and leaf clogs because of their trough-like, open shape. To prevent these clogs, some homeowners install leaf guards for easier maintenance.
Another drawback to these gutter shapes is their curved sides, which means they don't sit completely flush against the fascia boards. This is why you'll need brackets to keep these gutters securely in place.
The installation process of half-round gutters is a little different from normal gutters. As mentioned before, you'll need to place brackets on your roof's edge. Once these brackets are in place, the gutter is then dropped into place and firmly secured. If you've chosen heavy gutters like copper, you'll require additional hardware to keep the brackets in place.
Half-round gutters aren't as decorative as K-shaped systems, thus they are mainly found on traditional style homes that were built before 1960. The more rustic looking half-round gutters, especially the ones made from copper or zinc are highly desirable and available in 5-inch and 6-inch sizes.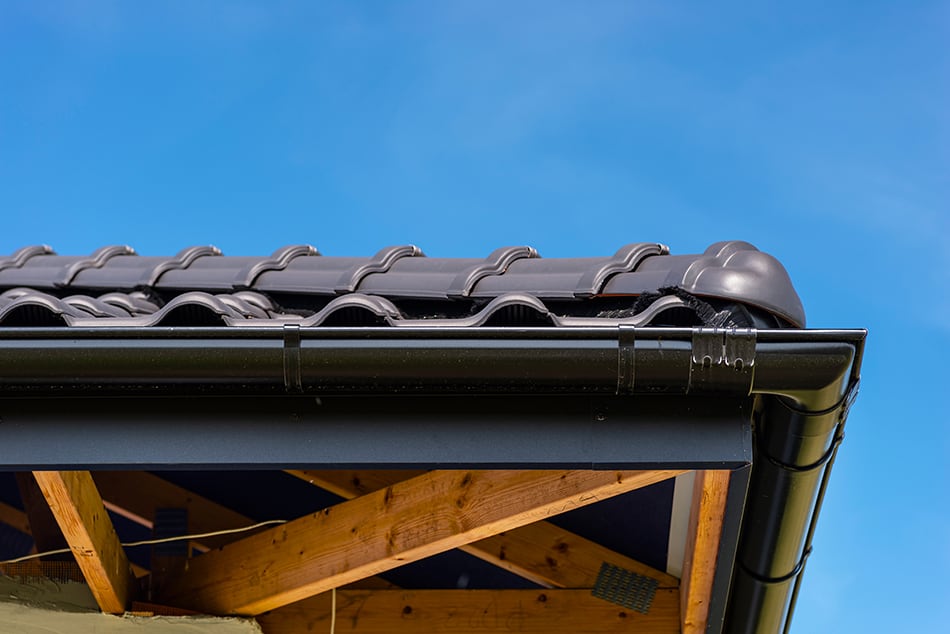 Pros
Look rustic
Easier to clean than K-shape gutters
Less likely to corrode or rust
Less likely to clog
Cons
More expensive than K-shape gutters
Labor intensive and time consuming to install
Not DIY friendly
Not as efficient during heavy rains
Heavier and less rigid than K-style gutters
Fascia Shape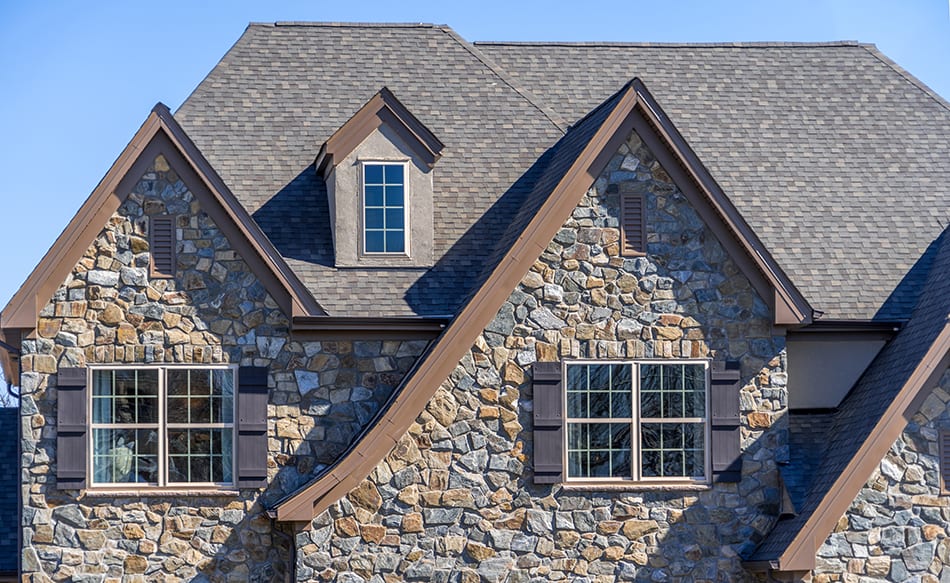 Now for a contemporary and sleek look, a custom-built fascia shape gutter is your best option. Unlike the previous gutters, fascia-shaped gutters are not sold in sections that connect together, with rust and leak-prone seams. On the contrary, these seamless, custom-built gutters are specially designed for modern homes and are usually made from aluminum.
Fascia-shaped gutters are the most expensive option and must be installed by professionals. When compared to the cost of installation for K-style and half-round gutters, you should expect to pay twice as much for fascia. The cost can add up significantly for larger homes so bear these in mind when considering the most suitable gutter shape for your home.
Pros
Contemporary look
Attractive design
Adds resale value
Cons
Not DIY friendly
Most expensive option
Box
The box-style gutters are larger in size (6 inches and higher) and mostly found on commercial buildings. These gutter styles are designed to handle more water than the standard gutters, which is why you'll normally see them on larger roofs.
High Back
All the above-mentioned gutter are available in high back shapes. This means the back part of the gutter has an additional section for tucking under the metal roofing. This prevents the water from entering the shingles. These gutter styles aren't very popular as they need to be installed prior to roof installation.
Gutter Materials
In addition to deciding on the best gutter styles and shapes, you must also pick the right gutter material. Your decision will depend on how durable you want the gutters to be and the amount of rainfall your location gets. The material you choose must be able to withstand the elements and durable enough to last for several years.
Now let's take a look at all your gutter material options:
Aluminum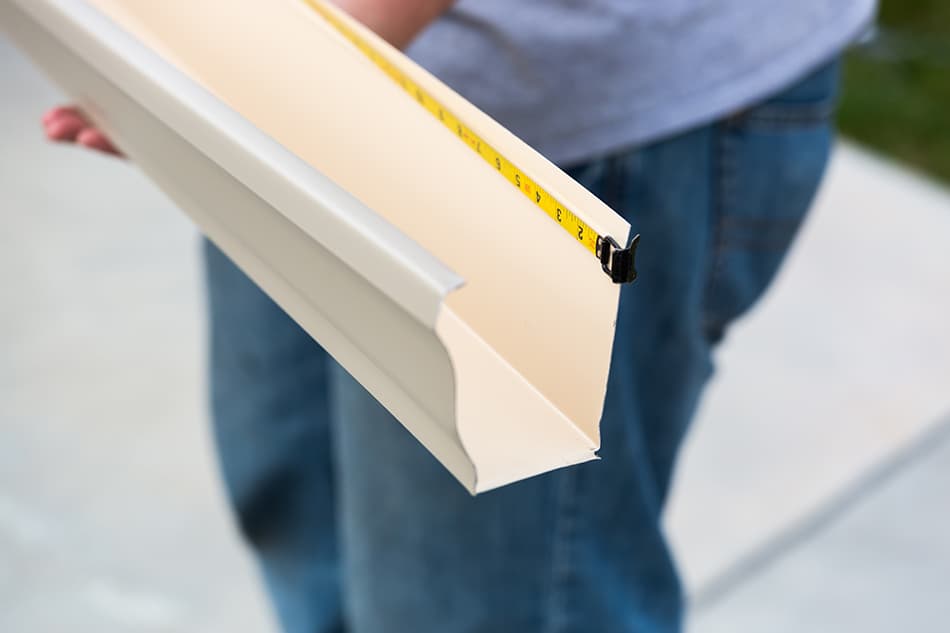 Aluminum is one of the most common gutter materials for residential homes. These gutters are available in 0.25, 0.27, and 0.32-inch thicknesses. The thinnest aluminum is the cheapest option, but it is more likely to bend or dent. The thicker versions are slightly pricier and well worth the investment, particularly if you live in a region with heavy rain and snowfall.
Most home improvement stores sell 10-foot length aluminum gutters for DIY installation. However, because of the weight of these gutters, you may want to leave the installation to the professionals!
If you don't like the grey look of your aluminum gutters, you can always paint them to match your home's existing color. Just be aware that aluminum is more prone to bending under heavy use so it will require some maintenance.
Pros
Rustproof
Easy to install
Can be painted
Weatherproof
Can last up to 30 years
Cons
Noisy during rainfall
Can bend or get dented
Stainless Steel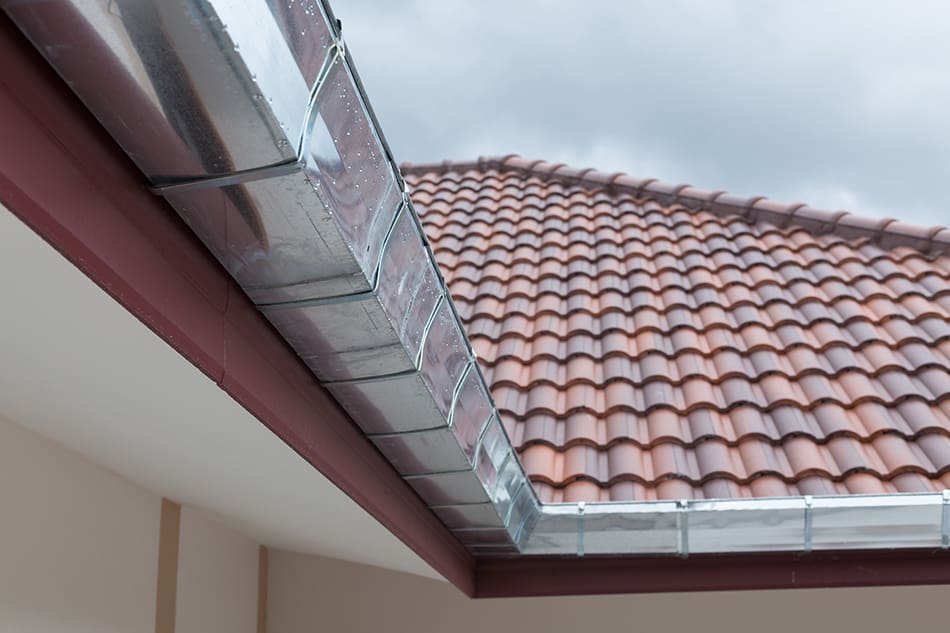 Stainless steel gutters are more durable than aluminum and they hold particularly well in severe weather conditions. These gutters can be galvanized or galvalume steel as well as the usual stainless steel. Each material consists of its own mix of metals that are rust-resistant and weather-proof.
If you are looking for the most rust-resistant type of steel gutters, opt for galvanized as this is the most durable material. Just be sure to install some leaf guards in order to extend the life of the rain gutter.
The best thing about stainless steel gutters is that they won't rust, but are considerably more expensive than galvanized steel. Since these gutters are heavier than aluminum, it's best not to install them yourself.
Pros
Very strong and durable
Holds up well to all weather conditions
Can be painted
Cons
Not DIY friendly
Very heavy
Noisy during rainfall
More expensive than aluminum
Zinc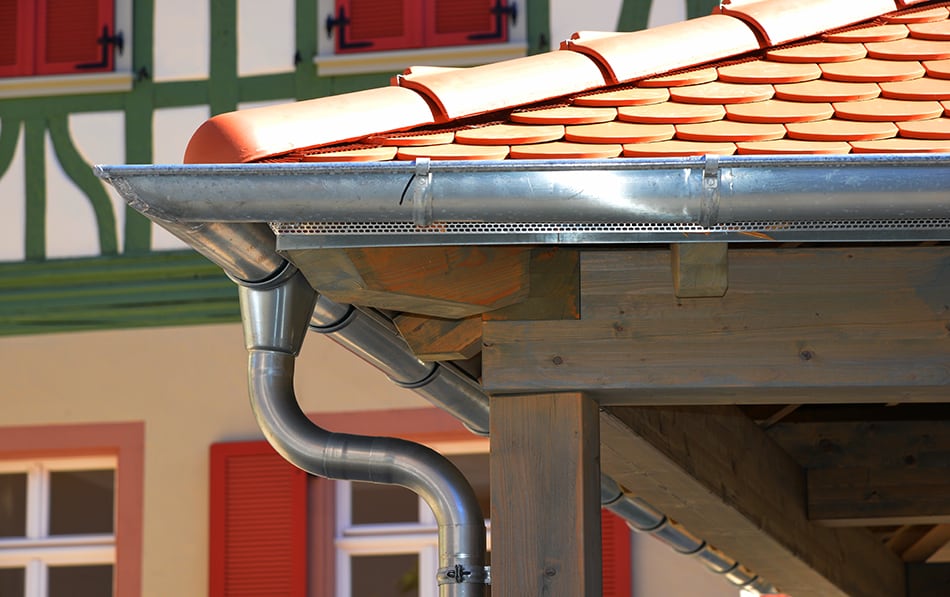 Zinc rain gutters are more expensive than the previous gutter materials we've mentioned, but they are highly durable, warp-resistant, and corrosion-resistant. In fact, these gutter materials are so durable that you can expect up to 50 years of service from them. Although zinc gutters may look dull, you can easily paint them to enhance their look.
Just like stainless steel, zinc gutters also require expert installation as the ends and joints need to be welded. These gutters are mainly seen in high-end homes or period properties.
Pros
Extremely durable and long-lasting
Won't fade, warp, or rust
Cons
Expensive
Not DIY friendly
Vinyl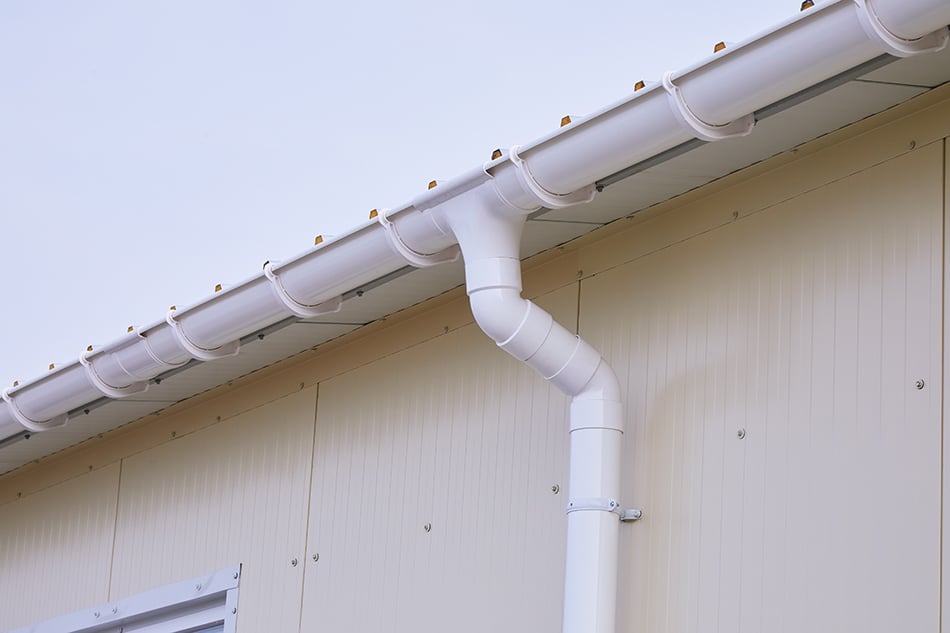 If you live in a region with heavy storms, consider a cheaper and effective option in the form of vinyl gutters. Since the modern style vinyl gutters are more resistant to denting and bending, they make a better option for DIY installation. These lightweight and inexpensive gutters are very easy to install and will never rust. However, vinyl gutters are less durable than other materials and prone to cracking. In fact, you may only get 5-10 years of service out of these gutters if they are exposed to extreme weather conditions.
Pros
Lightweight
Inexpensive
Easy DIY installation
Rust and corrosion-proof
Easy to replace broken parts
Cons
May crack when exposed to freezing weather and extreme heat
Color can fade with intense sun exposure
If you are in consideration of Vinyl or Aluminum gutters, here is our guide – Aluminum Vs. Vinyl Gutters- Which Material is Better?
Copper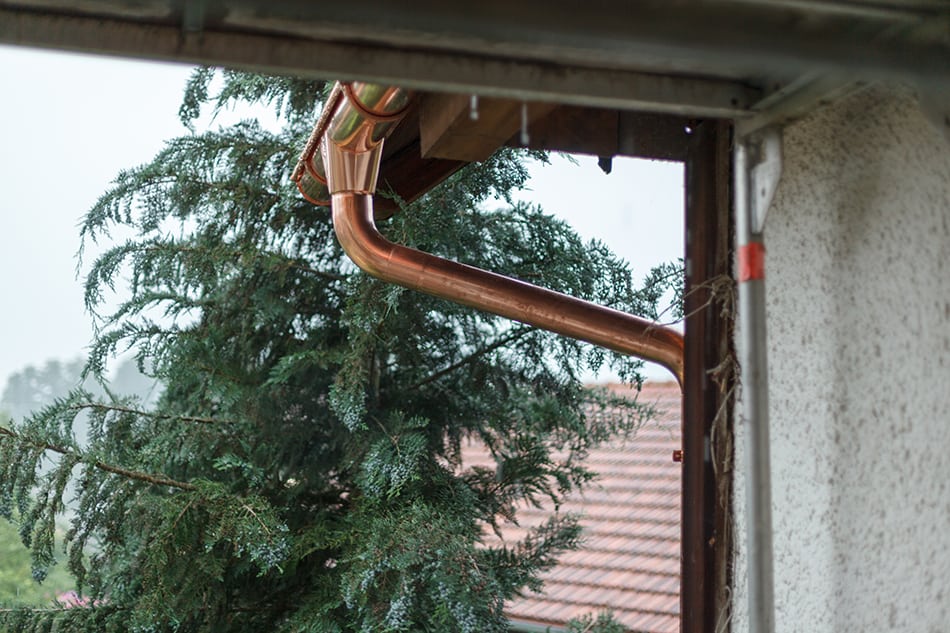 There is no denying the unique beauty of copper gutters. And aside from adding to your home's resale value, these beautifully designed gutters are resistant to rust, mold and mildew growth. This makes copper gutters a maintenance-free option that becomes even more desirable as they age. Just keep in mind that copper gutters tend to cost significantly more than other gutter materials and require professional installation. They do, nevertheless make a worthwhile investment.
Many traditional homes feature copper gutters because of their old-world appearance. Copper is extremely durable and doesn't get affected by any type of weather condition, from the coldest temperatures to the highest heat, but since it is the priciest option, not everyone has the budget to choose this gutter material for their homes.
Pros
Attractive
No need to paint
Extremely durable
Cons
Very expensive
Not DIY friendly
Conclusion
All the mentioned types of gutters in this article provide the same basic function; to protect your home from rainwater damage. The size of your roof is an important factor to consider when deciding on the gutter size. By finding the most suitable style and material that best fits your needs, your home's foundation can be protected for many decades. And even if you are a DIY expert, to get the best results, it's important to have your gutters installed by professionals.