Gutters play an essential role in keeping your home's foundation safe from rainwater damage. Without them, melting snow and rainwater will cause soil erosion and even damage your roof and windows. This is why it's very important to choose the best quality gutters.
While you can find gutters in all kinds of materials, some are better than others. The two most common gutter materials are aluminum and PVC or vinyl. Each has its own pros and cons with some similarities between the two. At the same time, they both have different weaknesses and strengths that you need to be aware of before selecting the right material for your home.
To help you make an informed decision, we will take a closer look at aluminum vs. vinyl gutters and compare these two materials to see which one best suits your home.
What is an Aluminum Gutter?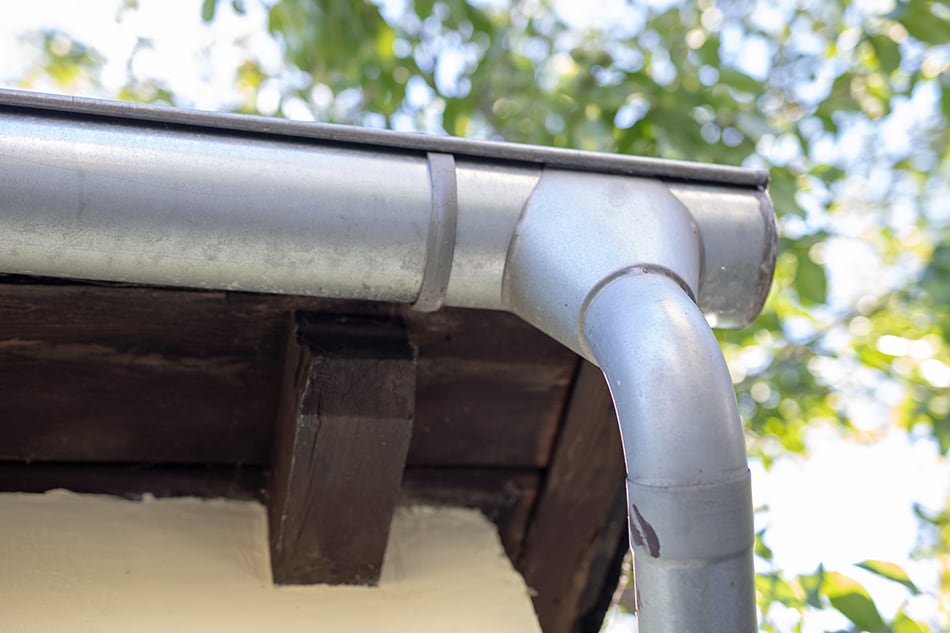 Aluminum gutters are known for their high strength and durability in adverse weather. Good quality aluminum gutters with more than 0.25 inches of thickness are rust-resistant and can last for decades. These gutters come in various styles, shapes, and sizes, plus you can even paint them any color you want. But just as with everything else, there are strengths and weaknesses in this material.
By knowing the advantages and drawbacks of aluminum gutters, you can decide whether it makes a suitable option for your home or not.
Pros
The material doesn't wear away in harsh weather conditions
Just like vinyl, aluminum is rust and rot-resistant
Comes in over 20 different colors so you can easily find the best matching color for your home
Aluminum gutters are suitable for almost any climate
Unlike vinyl that can crack or bend, aluminum isn't as easily bendable
Lightweight but heavier than vinyl
Cons
Aluminum can dent under heavy snow or hail storms
Not suitable for DIY installation
Rapid temperature fluctuations can cause the gutter to expand and contract, thus splitting or tearing the material
The coated enamel that protects against rust can chip every year so repainting will be necessary in order to maintain the initial appearance of the gutter
Aluminum can be loud when redirecting the rainwater through the downspouts
What is PVC or Vinyl Gutter?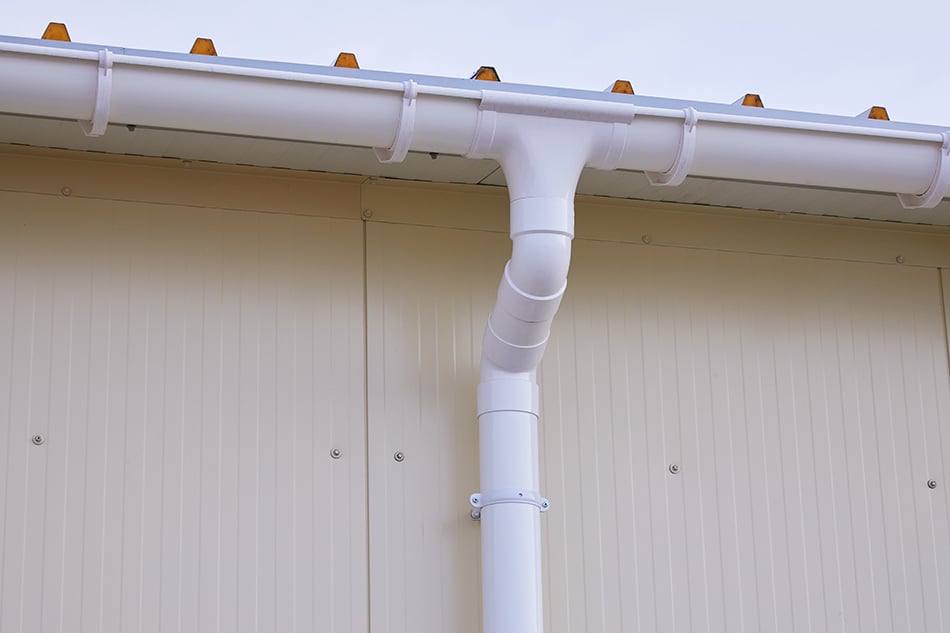 Vinyl gutters are made from PVC, which is a durable plastic material. These highly affordable gutters are super easy to install and lighter than any other gutter material. In fact, even if you are not a DIYer, you will easily be able to put them up yourself without any tools. All you'll need is a ladder!
The simple snap-together installation technique of these gutters is what makes them so popular in the DIY market. And since vinyl gutters are made from plastic, they are highly corrosion resistant and scratch proof. What's more, these gutters don't come in a variety of colors so you won't be confused when making your selection. 
Pros
Vinyl is the easiest material to install. This is mainly due to its flexibility and lightweight, hence being a popular choice for DIY projects
Vinyl gutters are the most inexpensive material available on the market. But the initial savings you make are somewhat diminished due to their short lifespan
When redirecting the rainwater, you'll barely hear it through your vinyl gutters
Best suited for mild climates
Vinyl gutters are almost maintenance-free and in case one section malfunctions, you can easily replace it yourself
Cons
Due to their relatively short lifespan, vinyl gutters won't hold up against harsh weather conditions
These gutters can break or crack in heavy snow or direct exposure to the sun
Some lower-quality vinyl gutters only last 10 years
Prone to sagging
Uses for Aluminum and Vinyl Gutters
People on tight budgets will find vinyl gutters the most affordable option. Since vinyl is made of PVC plastic, it doesn't corrode or rust. But before choosing this gutter material, make sure the area you live in is suitable for vinyl. This gutter material can't withstand harsh weather conditions as it can warp in extreme heat and cold temperatures.
Low-quality vinyl gutters tend to weaken quickly and are more prone to sagging under the heavyweight of snow or even a ladder.
If you prefer vinyl gutters, make sure you choose the thickest plastic as it'll be less susceptible to breaking in extreme colds. The installation of these gutters is still easy plus they can't get as easily dented as their thin plastic counterparts.
Aluminum gutters, on the other hand, make a better option if you live in a harsh climate. These gutters don't get thin over time as they can withstand heavy hail storms and snow.
Just like vinyl, aluminum gutters are also easy to install and because they are made of aluminum metal, they're not as heavy as stainless steel.  What's more, their appearance is perfect for both traditional and contemporary homes.
Another advantage that aluminum gutters have over vinyl is their resistance to cracking. Their layer is covered with polyester powder coating that makes them rust-resistant.
Now that you have a better idea of the different uses of these gutters, it is time to compare the two gutter materials. Read on to learn more about which gutter material is most suitable for your location.
Aluminum Vs. Vinyl Gutters, A Detailed Comparison
Ease of Installation
As you know by now, PVC gutters are extremely easy to install. Simply snap each section together and secure it using brackets. But did you know that it is actually easier to install aluminum gutters than vinyl? This is because vinyl gutters aren't seamless so installing each section is time consuming even for the most enthusiastic DIYer. This is why most people prefer hiring professionals to do the installation for them.
Aluminum gutters are just as lightweight as PVC gutters but much easier to install as they have fewer seams. In fact, some are completely seamless. Even if you don't want to install these gutters yourself, you will easily be able to find someone who can handle this project.
Durability
When comparing the performance of both gutters, we must take durability into account. Aluminum gutters offer much greater durability as they don't rust nor bend.
In the case of vinyl gutters, however, they may be corrosion resistant, but they have low durability as plastic can crack or become brittle.
Since aluminum gutters can withstand all weather conditions, they make a better option than vinyl – unless you live in a mild or dry climate. So as far as durability goes, aluminum wins again over vinyl gutters.
Material Cost Difference
It is completely viable for homeowners to look for cost-effective gutter materials for their homes. While both vinyl and aluminum are affordable compared to stainless steel or copper, vinyl tends to wear out quicker so you will end up paying more for vinyl in the long run.
For a slightly higher price though, aluminum proves to offer better performance. This is thanks to the gutter's low weight and fewer seams.
Color Options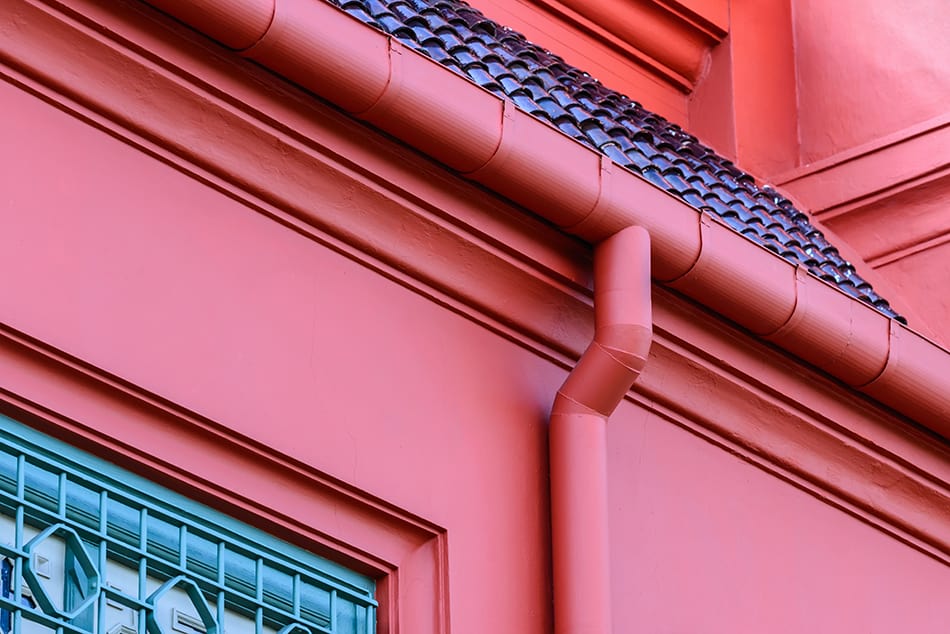 If you want to have the option of choosing a particular color or design, then you should go for aluminum gutters. These gutters are available in more than 20 styles and colors.
Vinyl gutters, on the other hand, are readily available in just brown and white colors. You don't get any other color option. If you choose brown, it will fade away with time, especially if it is exposed to direct sunlight. If you choose white, it can rust easier so the viable option would be to choose aluminum gutters.
Should You Choose Aluminum or Vinyl?
– Which is more popular? Aluminum gutters have long been popular among DIYers. These durable gutter materials help preserve the value of your home, thus making them a better option for homeowners.
– Look for a seamless design: unlike vinyl gutters that consist of several sections, aluminum gutters are seamless. Their seamless design prevents leakage and looks more attractive on a home's exterior.
– How long does the material last? Since aluminum gutters offer a greater lifespan, they make a better choice. The estimated lifespan of these gutters is anything from 20 to 50 years as long as you maintain them by staining them and applying anti-rust coating every few years. Aluminum gutters are also better able to hold more water than vinyl gutters. The average lifespan of vinyl gutters is only 10 to 20 years. These gutters require ongoing replacement every time they fail in heavy downpours so the clear winner here is aluminum gutter.
Conclusion
If you want durability and don't want all the grief that comes with maintaining vinyl gutters, then you should opt for aluminum gutters. Keep in mind that if you live in a mild climate, vinyl gutters will be a perfect choice and can last up to 20 years. Other than that, it is your budget that will be the final determinant. After all, you will have to spend more money on repairing and replacing vinyl gutters in the long run.
By taking all the comparisons we have made here into consideration, you'll be able to get a clear idea of which gutter material is best for your home based on its performance and your requirements.