Attics are far from being the first things we remember when the topic of parts of a house is brought up. We tend to identify the more obvious parts, such as the living room, bedroom, and kitchen. And let's face it: it's hard to remember an attic because of its location. How can you expect someone to remember it when his trips to the attic can be counted with one hand?
Yet the attic's quite important if you have one in your house. This dark, open area at the top of the house practically plays an important role in the comfort and energy efficiency of your place.
It can also serve as a place for storage. And it is not uncommon for families to convert the attic as an extra room, especially for older kids and teenagers. Some adults even find the attic a relaxing space to retreat in.
That said, you might be wondering if there are different types of attics. Perhaps you're building a house and considering adding an attic. Or maybe you'd want to maximize the extra space above your ceiling. Whatever the case may be, continue reading to know more about the different types of attics.
Unfinished Attic

An unfinished attic, as its name suggests, is one that's not yet livable. It has no use to the homeowner and, thus, isn't decorated at all.
It has exposed ceiling rafters as well as wall studs. It may have poor ventilation, too. The joists of the floor, meanwhile, are covered with plywood. There may also be hazards such as exposed insulation, attic ventilators, exposed wires, and electrical boxes. Usually, a ladder or a pull-down staircase serves as the only entryway to an unfinished attic.
Because of these limitations, an unfinished attic needs to be renovated and prepared for it to become livable. But once you do so, you can use this type of attic as a storage room, office room, and even a bedroom.
However, you must meet certain building codes in order to convert an unfinished attic into a living space. For example, it should have a minimum vertical clearance of 7 feet, a width of 7 feet, and an available space of at least 70 square feet. In certain instances, like adding electrical wires or planning to change the structure of the house, you may need to get a building permit to work on an unfinished attic.
Scuttle Attic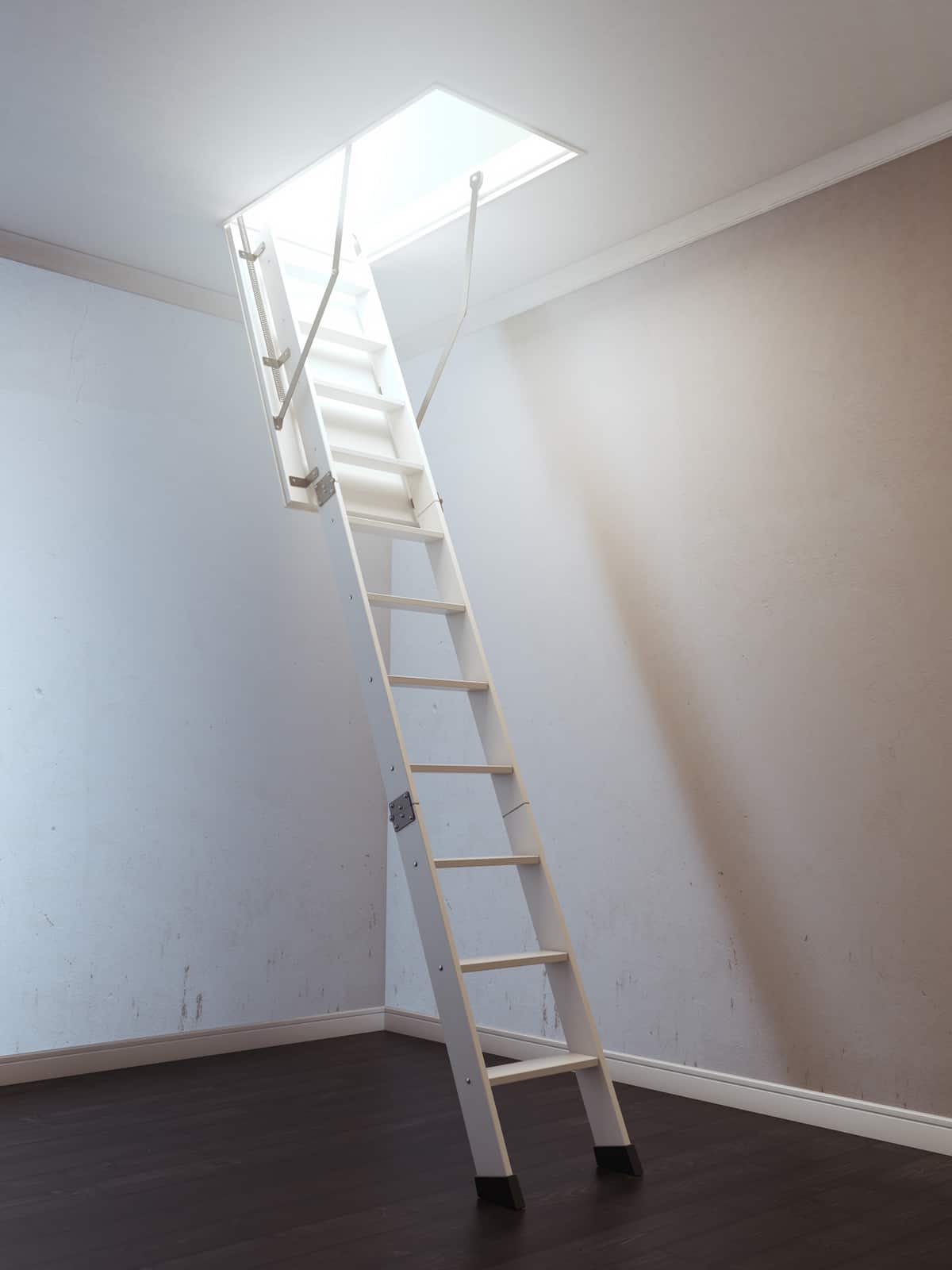 Like an unfinished attic, a scuttle attic is empty and not yet ready to serve as a living space.
Technically speaking, the term scuttle attic refers to a small hole in the ceiling that provides access to the attic. This hole may be covered with a hatch or panel. It is also often called a scuttle hole or attic hatch. But eventually, it has also been used to describe an attic that can't be used for living space.
But you may wonder—what's the difference between an unfinished attic and a scuttle attic? The primary difference is the access to the attic. In an unfinished attic, there is usually a permanent staircase.
Meanwhile, in a scuttle attic, there is no permanent staircase. Instead, there's a ladder or a pull-down stair set that can be used in accessing the top part of the house. The ladder or stair set is retractable. It can be brought down when someone needs to check the ceiling frame. It can then be folded up when it is not needed. In short, the ladder provides a safe, fast, and convenient way to access the scuttle attic.
Just like an unfinished attic, a scuttle attic is used for storage. Most homeowners also go to the scuttle attic to perform maintenance or repairs of the roof.
Partially Finished Attic
As you may deduce from its name, a partially finished attic is not completely ready to be occupied as a living space. It may provide enough headroom for storage or even for a bedroom, but a partially finished attic is less than 40 percent of the square footage of the home's ground area.
A partially finished attic is often found inside an A-frame housed with abruptly sloped rooms. The space offered by a partially finished attic can be used for storage. But it's not uncommon to find partially finished attics that are also intended to become study rooms, playrooms, and bedrooms.
Fully Finished Attic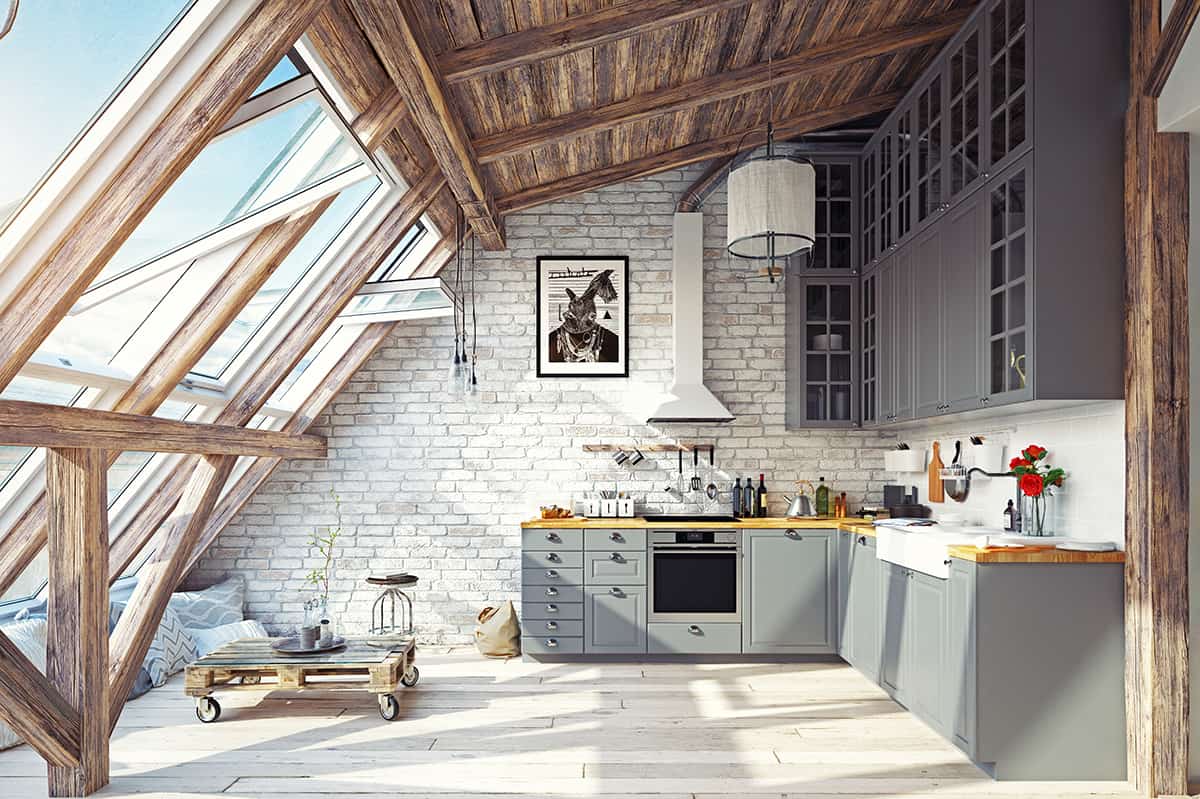 If a partially finished attic is less than 40 percent of the square footage of the ground floor of a house, then a fully finished attic is around 40 to 54 percent of the main floor's square footage. And as earlier mentioned, a livable attic should also be at least seven feet high and seven feet wide after all the finishes have been installed.
Aside from the size, there are other traits or qualities that separate a finished attic from the other types of attics. Take, for instance, the stairs. It should be larger and wider than the staircase of a scuttle attic and partially finished attic. This is important if you would be bringing large pieces of furniture, such as a dresser or a sofa to the attic.
Furthermore, a finished attic is strong enough to support the weight of furniture and people. Because it is intended to serve as a living space, a finished attic is structurally stronger than a scuttle attic which is primarily used in storing stuff.
Full Fin Wall HGT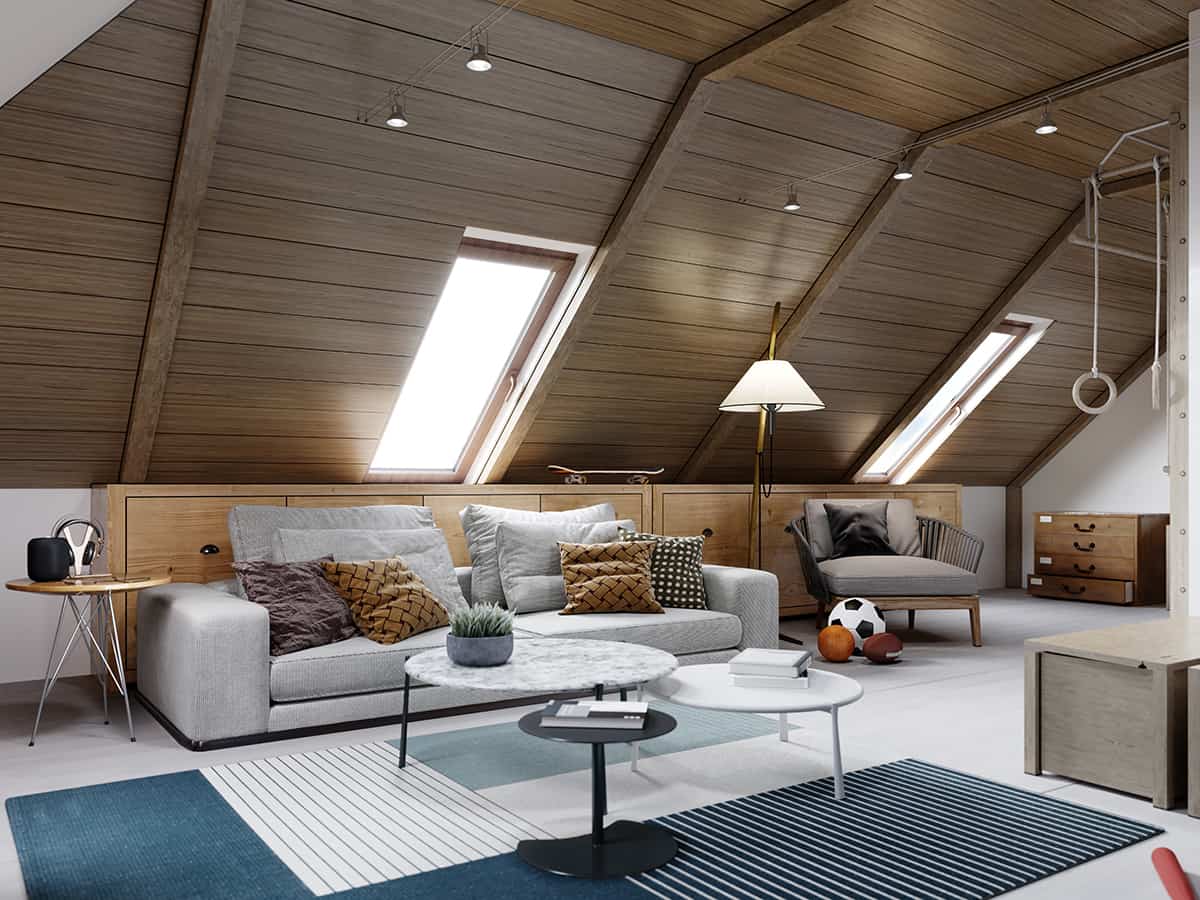 Now, what if the livable attic area is 55% of the main floor's square footage? It's called fully finished wall height or full fin wall HGT. A full fin wall HGT is almost always completely finished. However, there are instances when this type of attic has unfinished storage areas, which should not be much of a concern because these areas are primarily for storing boxes and other stuff in the house.
Most full-fin HGT attics are equipped with plumbing, electricity, and HVAC systems. It is also usual for the wall of full fin HGT attics to be decorated for storage and other requirements.
How to Make Your Attic More Livable
Now that you have a better understanding and appreciation of the various types of attics, you may want to know more about the features you can add to your attic. This may come in handy when you are planning to convert your attic into a livable space.
Insulation is important in an attic. Insulating this part of the house would prevent it from getting cold in the winter season and too hot in the summer. Insulation stops the air from passing and out. It is a critical function in the
As mentioned earlier, the stair is a vital part of the attic. After all, this provides access to the attic. Attic stairs are usually situated on the low roof side of the house. This allows the stairs to occupy less space in the attic and give homeowners more space for storage as well as their furniture.
The attic also needs to have windows, especially if it is to be converted into a bedroom, playroom, or office space. The lack of windows is the primary reason why attics are notoriously dark and scary for most homeowners. Therefore, adding windows can lighten up the room for daily use. Moreover, adding windows can enhance the ventilation in this part of the house.
Most attics also have less headroom. If that's the case in your attic, then you can add low furniture to make it appear that the area is more spacious than it really is. You can place a low-rise bed, floor cushion, and small coffee table to make the attic more visually appealing.
You can also explore adding built-in beds. A built-in bed can maximize small spaces with its slim bedside shelf. Underneath the bed can also serve as an additional storage unit. You may also convert the entire wall into a customized cabinet and storage to save space if you're planning to convert the attic into a bedroom.
Because of the layout of the attics, it can be hard to decorate this part of the house. But you can get the most out of the look of the attic by adding colors to the space. This will give the attic a more inviting look.
It is advisable to paint the walls of the attic with light colors such as white. Keep in mind that the natural lighting in an attic is low, and painting the walls with light colors can lighten the mood. Avoid painting dark colors, as this would make the attic look dull.
You can then add accessories, artwork, rugs, and pillows in bolder colors to contrast the light color of the walls. Keep in mind these tips to make your attic look more inviting.
Conclusion
The attic is an often-overlooked part of the house that can add a livable space for you and your family members. Now that you are familiar with the various types of attics, you can start planning how to get the most out of the attic in your place.