The exterior of a coastal property should complement the natural surroundings, which is why so many beach houses have blue siding. However, there is a wide range of color options that can be stunning in a seaside environment, whether you want to stand out from the crowd or blend into the background.
When choosing your main beach house exterior color, you should also think about trim colors and an accent color that will work with your choice. Ideally, you should have a palette of two or three colors for your home's exterior, which can be used in various ways to achieve continuity and ensure pleasing aesthetics. This might include matching trim and front door colors or deck and post box colors.
Here we look at the best color options for beach house exteriors.
White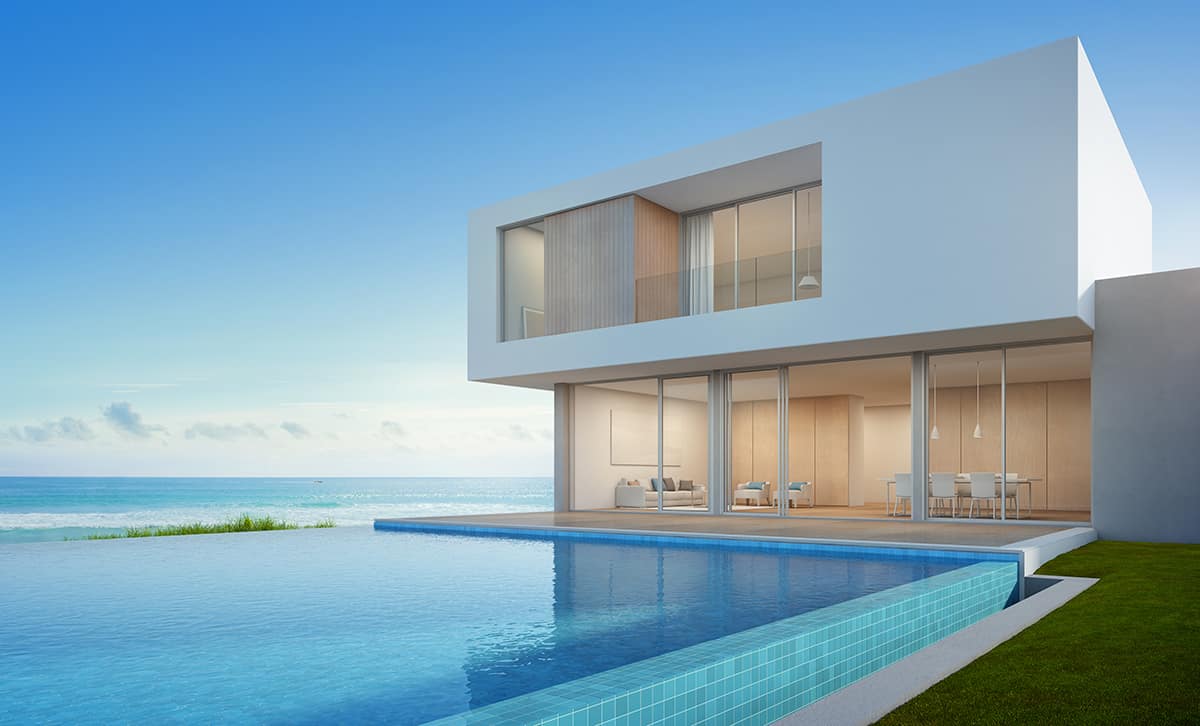 White is a classic color for siding on beach houses, and it is one that will never go out of style. Beach houses look bright and clean when the exterior is white, and the sunlight reflects this neutral color so that the house appears to be almost glowing.
If your beach house is on the small side, then white is a great color choice because it performs the visual trick of making the house look bigger than it is and creating the look of a larger property.
White is also a very practical option for the exterior of homes because it is a color that does not fade in rain or UV light. This can help to extend the life of exterior siding because it will look newer for longer and won't need to be replaced as frequently as siding with a more saturated color, therefore saving the homeowner money. White also tends to be among the more affordable options for siding and for exterior paint.
However, if you feel like a white beach house is too predictable and you want to bring more personality to the exterior of your home, then you may want to move away from white because it is quite a popular color for coastal homes. However, even if you use a different color for the main parts of your home's exterior, white is still a great color option for an accent shade.
White is an ideal color to use for exterior trim or smaller parts of a home's exterior, such as doors, window frames, shutters, or railings. White blends perfectly into a coastal-themed decor which makes it a popular choice for beach houses.
Pale Blue
Another exterior house color that is synonymous with beach properties is pale blue. This is a widely used color that has a distinctly coastal feel, especially when paired with white for trim. Pale blue is a calming color that works well with the relaxed and laid-back vibe of beach houses.
It is also a playful color that brings more personality to a beach house than a neutral color would. Pale blue and white are a classic color combination in coastal decor, but they look even more stylish when a third accent color is added.
For an elevated nautical look, choose navy with pale blue and white, or for a more rustic feel, use accents of natural wood with pale blue and white. If you want to set off the pale blue and make it appear more vibrant, choose a contrasting shade to use alongside it, such as apricot or salmon. For contrasting shades, less is more on the exterior of homes.
If the majority of a home's exterior is pale blue, use white for trim, window frames, and decking, and your contrasting color in small splashes. For example, paint your front door and plant pots in apricot. On a practical level, pale blue is a strong choice. Pale-colored siding tends to fade more gradually than dark colors, which means it should last longer before it starts looking dull and needs replacing.
Gray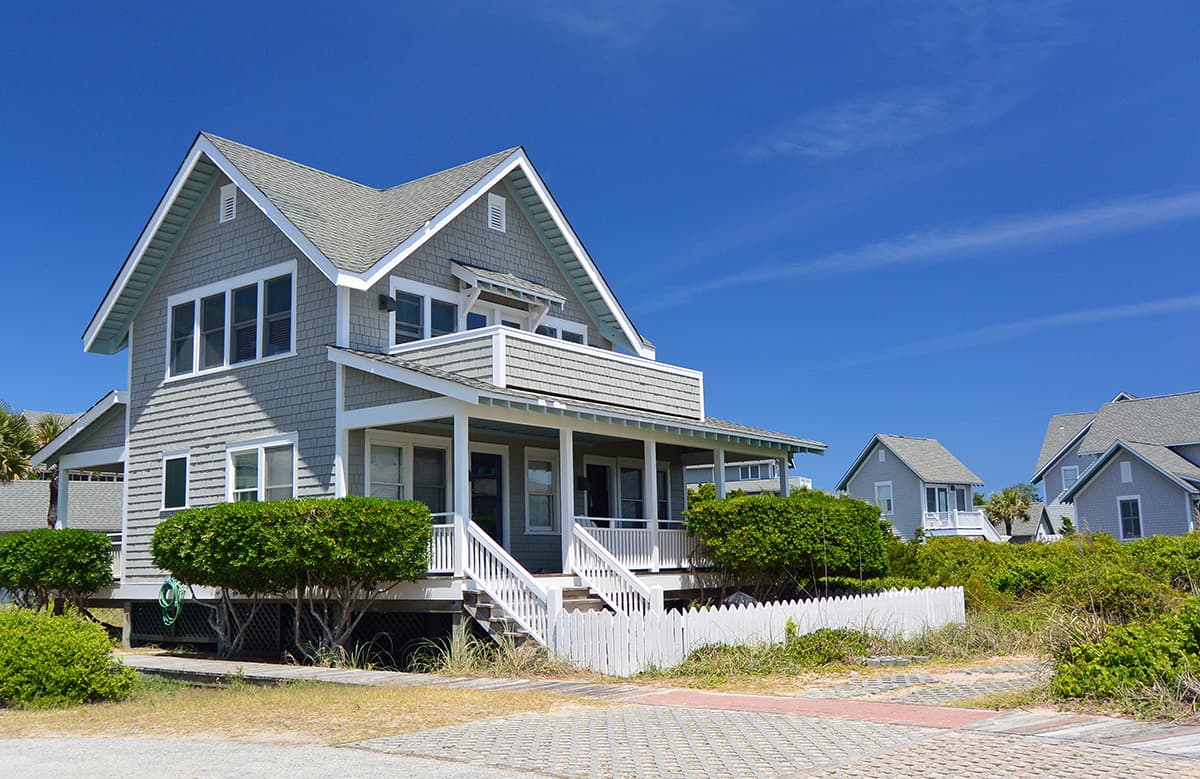 Gray is a really beautiful color choice for a beach house because it fits seamlessly into the landscape throughout the seasons. While bright colors such as yellow or blue can look a little out of character in the depth of winter, gray changes with the light to look appropriate at any time of year.
Soft gray is the best choice for a beach house because it is a more subtle color that blends better with the environment and will not fade as quickly as darker shades of gray. In the summer, the bright light will allow a gray exterior to look sleek and modern, while in colder and darker months, the lack of bright light can make a beach house look atmospheric.
For a tonal exterior, use a light shade of gray for the sides of the house and a dark gray for trim and accents. Or, for a more relaxed feel, use white trim with a gray exterior.
Gray is very on-trend right now for both interior and exterior decor and instantly makes a home feel contemporary and stylish. You can use gray to your advantage if you want to bring a more modern look to an old beach house, just by painting trim in gray.
Turquoise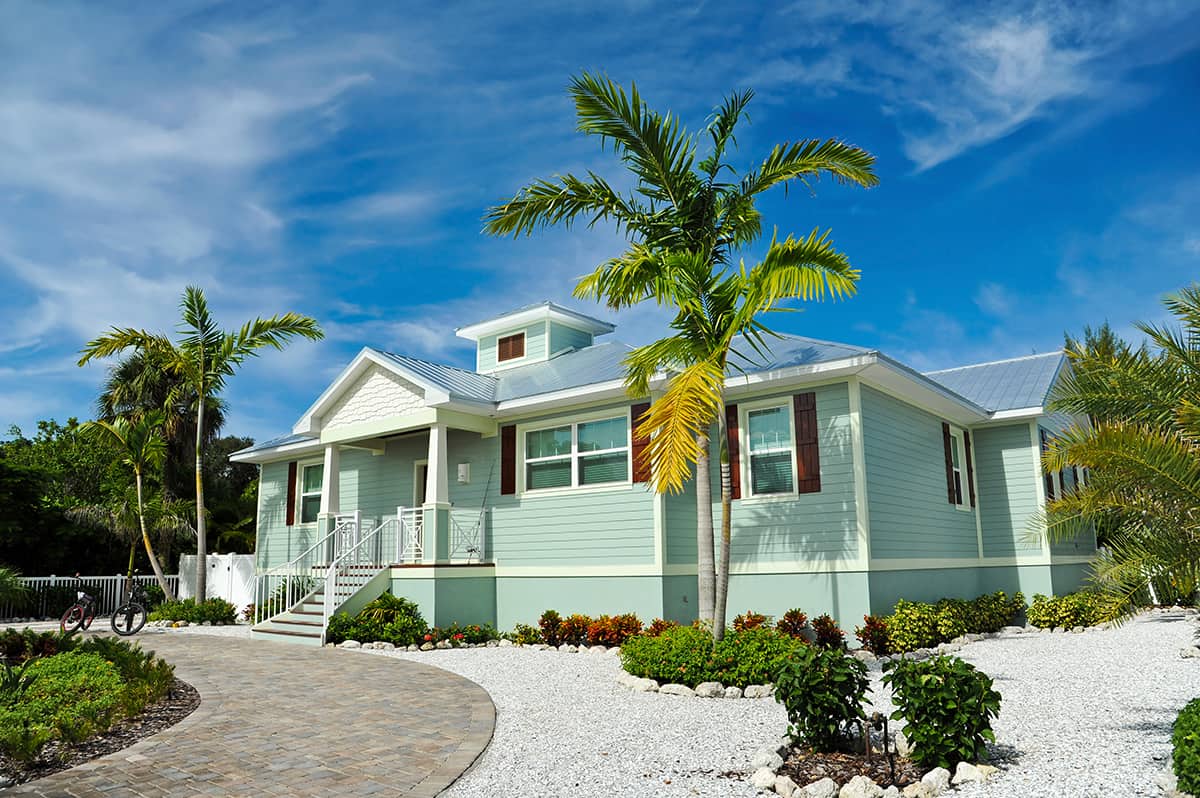 This is a color that reflects the depth of the ocean. It is an energizing and optimistic color, and despite its vibrancy, it works well on the exterior of beach homes, especially if you want a coastal look that will stand out from the crowd. Turquoise properties look great alongside palm trees and other tropical leafy plants, as this brings out the green elements of the color.
If you are keen to incorporate turquoise into your exterior color palette but don't want it to be the main color, turquoise can look great when used on the trim on gray or white houses, or you could use it as your accent color and paint your front door in a bright shade of turquoise for a splash of bold personality.
If you do decide to use turquoise as your main exterior shade, you can make it stand out with white trim or tone it down with a pale gray trim.
Sage Green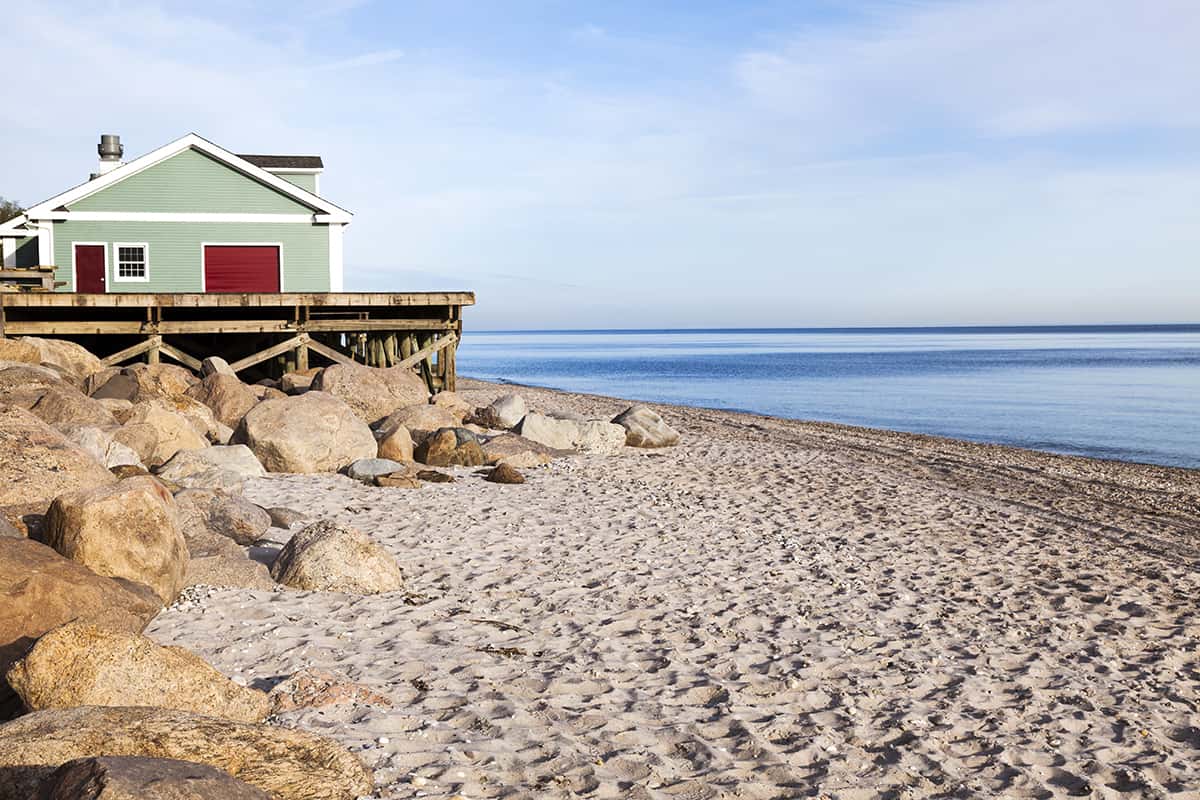 Sage green is a subtle and soothing color that works well on coastal properties because it blends in with various green shades found in the local landscape, for example, plants, lawns, seaweed, and blue-green ocean water. Green works as a neutral shade outside because it is so frequently seen in nature, so a green exterior helps a home to fit in with the environment around it.
The green siding looks fresh and clean with white trim, or you can help it to blend more seamlessly with the surroundings by using beige or gray trim. Orange and red are contrasting shades of green, so for a striking accent color, consider toned down varieties of these colors, such as burgundy or coral on front doors or exterior accessories.
Coral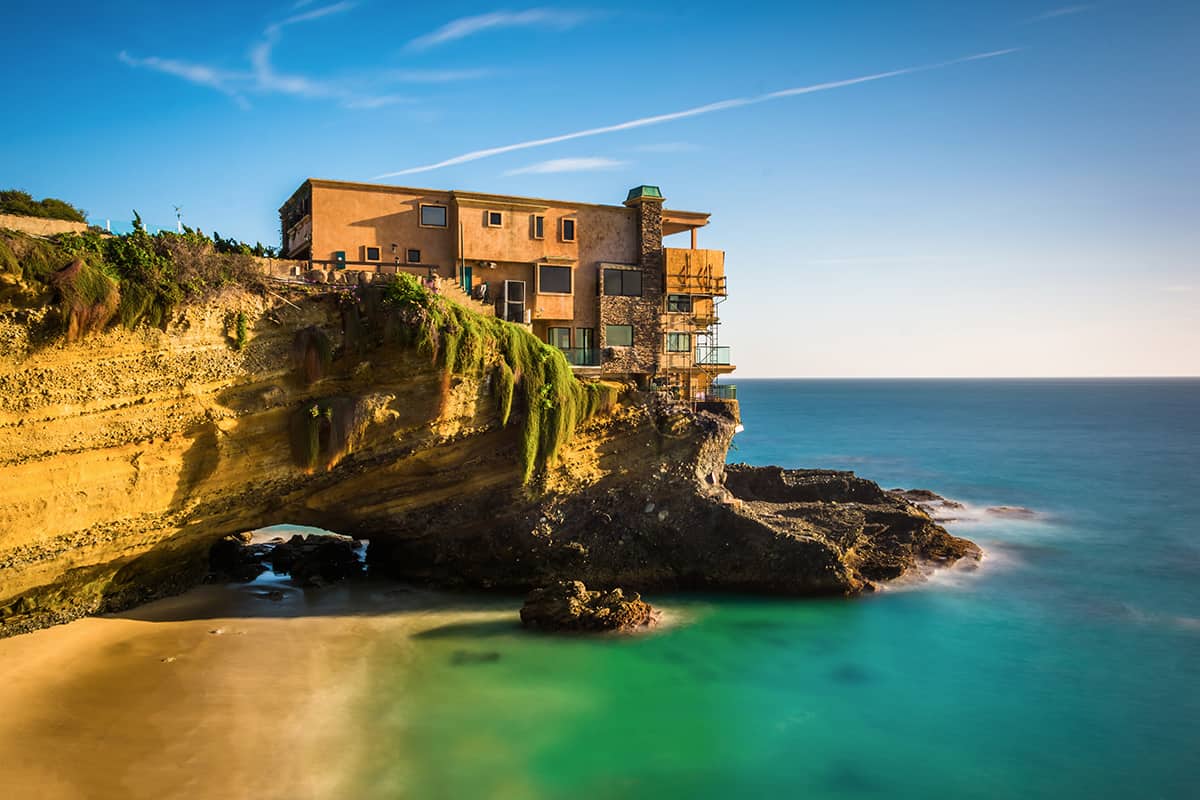 Despite being a naturally occurring color within the depths of the ocean, this is a shade not commonly seen around the coast. However, as a bright and cheerful shade that contrasts against the natural colors of coastal environments, it makes for a striking choice on the exterior of beach houses.
When considering the color of your home's siding, you should also take note of the surrounding homes and opt for a color that will compliment your neighbors. Some quaint coastal towns have a plethora of colored homes in pastel and bright shades, while other coastal towns have homes that are more neutral or subdued.
If your beach house is surrounded by traditional blue and white houses, you might feel too bold choosing coral as your exterior siding color, whereas in some areas, this is a color that would work perfectly well.
Golden Yellow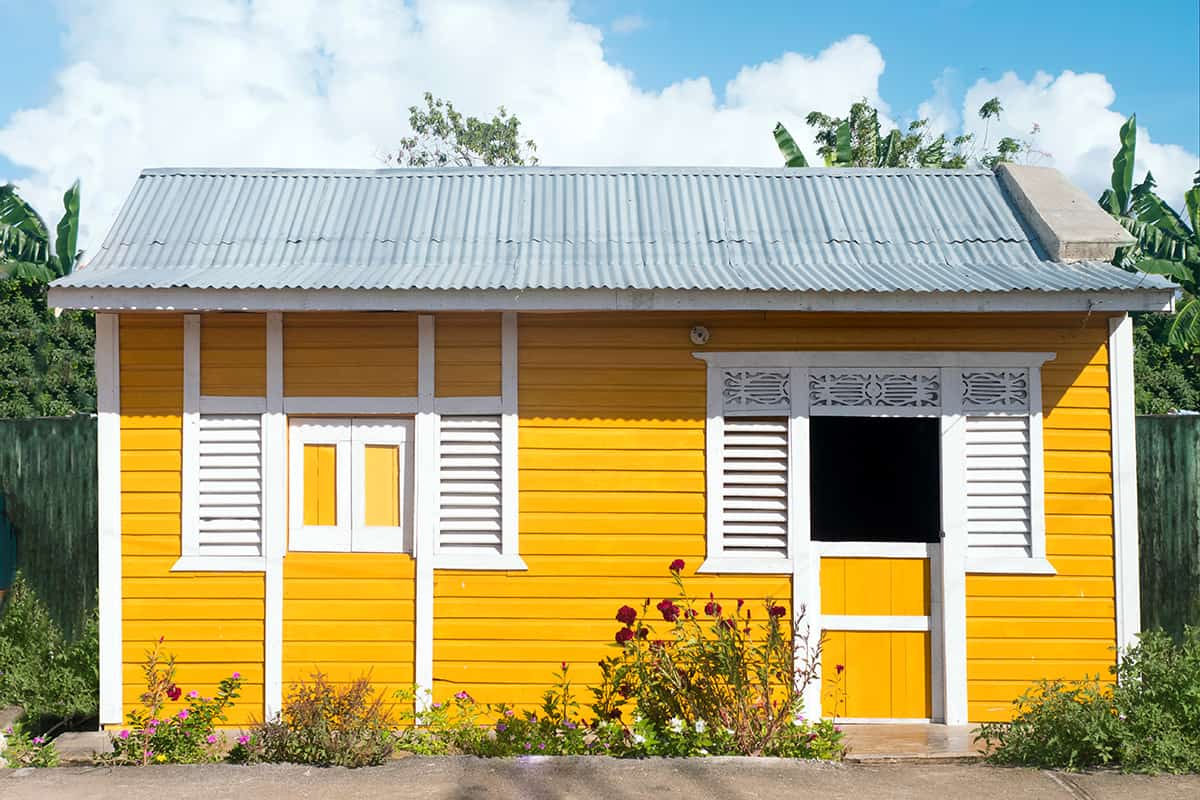 Yellow is a summery color that we often associate with the beach due to golden sand and sunny skies, so it makes sense that this would be a suitable color for the exterior of a beach house. Yellow is an uplifting and cheerful color, which can be used to make your home look welcoming.
If you are a vibrant and positive person, you can also choose yellow to help your home reflect your personality. Yellow looks vivid alongside white trim, while gray trim would help to tone down and neutralize the warmth of yellow.
Navy Blue
Navy blue is a stunning nautical color that looks sleek and design-inspired on the exterior of houses while fitting in with the beach theme. This is a color best used for more sizable properties because, as a dark shade, it does make buildings look smaller. This color can be paired beautifully with so many different shades of trim, including white, beige, gray, brown, and natural wood.
For a relaxed beach look, choose gray or white trim, or use beige, light brown, or natural wood for a more formal style. Beige or brown shades work well to bring warmth to the cool shade of navy, while natural wood adds texture and personality to a beach house's exterior.