The television or TV remains one of the more popular appliances today, even with the advent of other electronic devices. You would be hard-pressed to find a home or office without it.
If you've purchased a TV or just shopped for one, then getting a TV stand should not be too far behind and fits well with the TV. In this article, we'll go into the detailed dimensions of a tv stand.
What Is a TV Stand?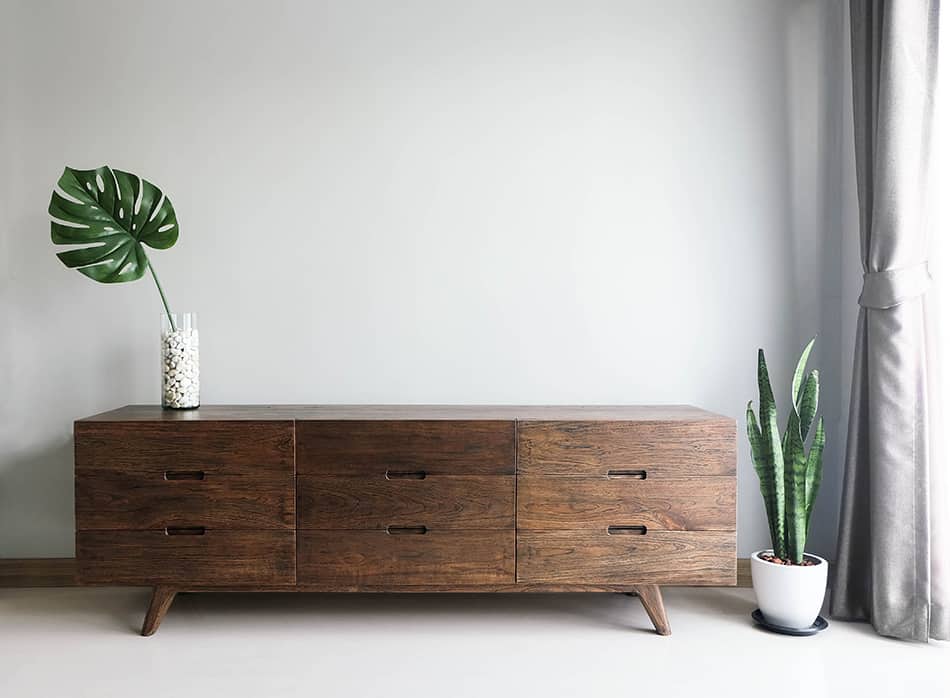 The TV stand is also known as a TV console. It is a piece of furniture designed to hold the TV above the floor at a viewing height that is comfortable for the viewers. It is typically used in living rooms but can also be used in an office setting.
A TV stand is more than a piece of furniture for holding the TV – it can also serve other uses or purposes. For example, it can provide additional storage space as it normally has shelves and drawers. You can store items like the TV remote control in these storage options.
TV stands can also serve as a platform to showcase small decorative items ranging from photo frames to figurines. Moreover, most TV stands can hide those ugly and distracting wires of the TV and other devices.
TV Stand Dimensions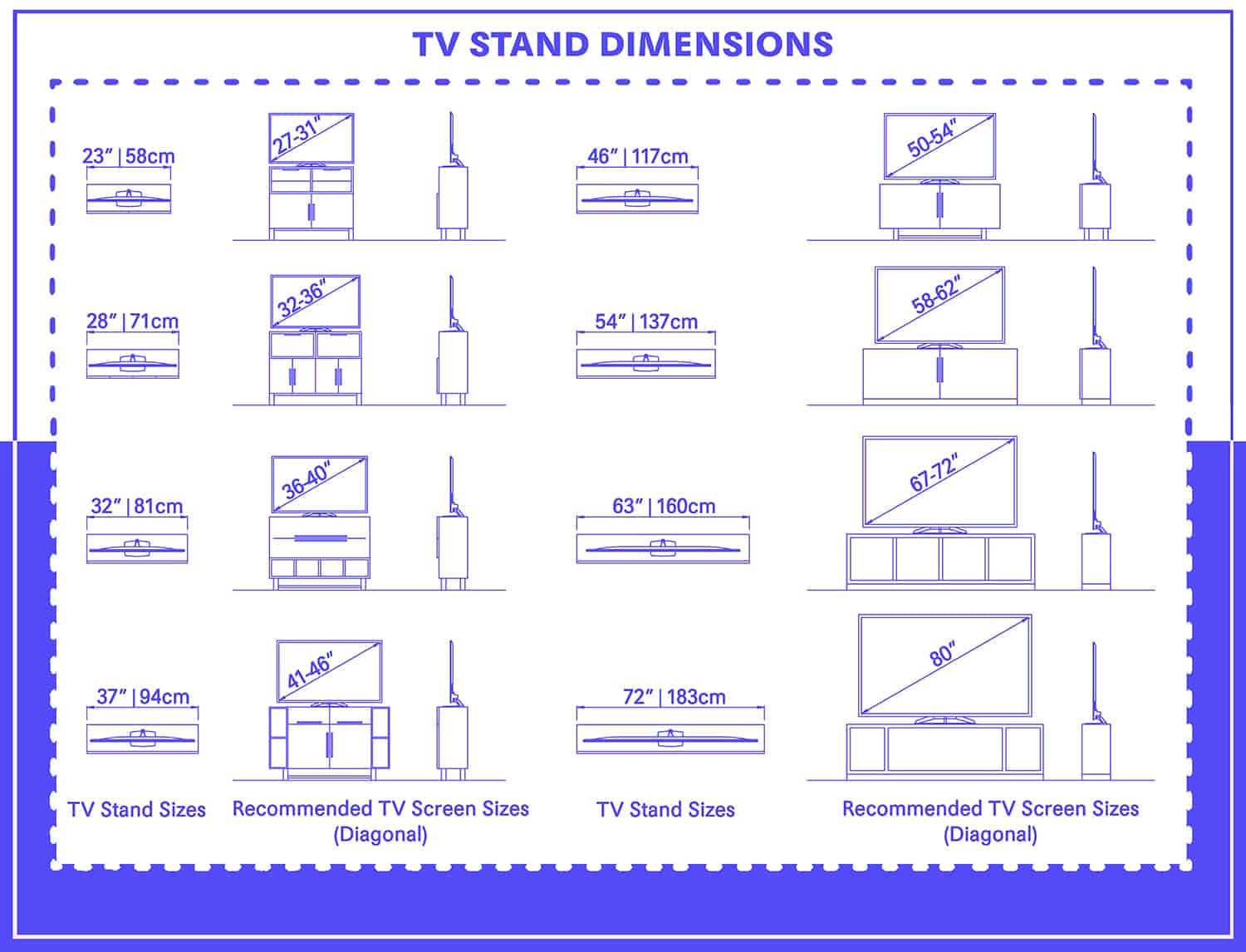 TV Stand Dimensions – Size Chart

There are many different types of TVs on the market with screen sizes ranging from 28 inches to more than 80 inches. This is the screen size, not the TV width. It's important to measure the TV width before getting a stand. If you don't, it's easy to make some guesses though. Basically, a TV width is 7 to 10 inches less than the TV screen size. For example, a 60-inch TV might have a width of 52 inches.
A good rule of thumb for the best looks and viewing is placing the TV in the center of the TV stand, and have each edge several inches fewer than the TV stand's edges.
Here is a good TV stand table size chart for some common TV screen sizes.
| TV Stand Sizes | Recommended TV Screen Sizes (Diagonal) |
| --- | --- |
| 23″ | 27″ – 31″ |
| 28″ | 32″ – 36″ |
| 32″ | 36″ – 40″ |
| 37″ | 41 – 46″ |
| 46″ | 50 – 54″ |
| 54″ | 58″ – 62″ |
| 63″ | 67 – 72″ |
| 72″+ | 80″+ |
For ease of getting the right TV stand for your room, there are commonly 3 sizes of TV stands found on the market: small, medium, and large.
Large TV Stand Dimensions
A large TV stand typically has sleek integrated drawers, shelves, and compartments. Due to its size, a large TV stand is intended to be a showcase piece of furniture. It can also hide wires and cords while supporting a large TV. This size of the TV stand is best used in the living room. Its sizes might range from 74, 76, and 85 inches. The large TV stand is also called by other names like media consoles, TV consoles, and entertainment centers.
Medium TV Stand Dimensions
Medium TV stands, meanwhile, might be sized between 64 and 70 inches wide. This is the type of TV stand more appropriate for use in the bedroom and living room. Offering the right amount of storage and surface area, a medium TV stand makes it easy to elevate the height of the TV regardless of the space. This type of TV stand is also known as a TV credenza.
Small TV Stand Dimensions
Small TV stands are between 43 and 60 inches wide. Compact and sleek, it still offers superior and sturdy support for smaller TVs. It can elevate the height of your TV without taking up significant space in your home. This is best used or placed in the bedroom.
How to Choose a TV Stand
Now that you have an idea of the different dimensions of TV stands, let's discuss how you can choose a stand that's right for your TV.
Viewing Height
First, you must pick a TV stand that can offer you the most comfortable viewing height. The TV stand should place or position the TV at the right eye level. Keep in mind that the ideal TV height is 42 inches. Moreover, you must also take into consideration the height of the sofa or chairs. The best way to determine the ideal viewing height for the TV is to take a seat on the sofa and measure your eye level. Make sure that the central region of the screen is not far above the line of sight. You may also buy a TV stand with a mount so that you can adjust the display level when needed.
Naturally, the TV stand should match the size and width of the TV. You don't want to place a 54-inch TV on a small TV stand as there is the risk of the latter being bumped or worse, toppled. The TV stand should be able to hold or support your flat-screen TV.
Styles
Another factor to consider in shopping for TV stands is style. TV stands come in a wide variety of decorative elements. Some have asymmetrical shapes, while others have staggered shelves and rounded bases. As much as possible, get a TV stand that would blend well with the current aesthetic or look and feel of your room.
Choose a TV stand with pale neutrals or white colors to make your look more spacious. A TV stand with dark solids and clean lines, meanwhile, can make your space look more elegant.
Materials
The material from which the TV stand is made may also affect your buying decision. TV stands are made from five common materials- glass, wood, metal, medium-density fibreboard, and particleboard.
If you want a TV stand that will last for many years, choose one that's made from either metal or wood. But if your budget is a bit limited, then you might want to settle for one made of particle board or medium-density fibreboard. Glass TV stands aren't necessarily cheap nor long-lasting, but these can make your room more inviting and elegant.
Storage
You should also buy a TV stand that can help you organize and remove clutter in your home. Shop for a TV stand with enough storage to keep your magazine, CDs, and other media devices. You should also get one that would help you keep cable and cords out of sight. Fortunately, most TV stands available in the market these days have cut-outs for efficient cord management to conceal cords and keep your family safe, especially kids, from electrical hazards.
Conclusion
TVs have traditionally been a focal point in the living rooms of many households across the globe. Because of the importance of this electronic device, it only makes sense to invest in a sturdy and elegant TV stand.
There are different sizes of TV stands. Some are small enough to fit in the corner of a room, while others are large enough to be the focal point of your living room. In shopping for a TV stand, consider your needs, the size of your TV, and the spot in your home where you intend to place this piece of furniture.