Most adults will need to have a file cabinet at some time in their life. This can be for storing business files or at home as a safe and organized place for keeping important documents, such as bank statements, insurance papers, and financial information.
There are three main types of file cabinets, and each has standard dimensions. Here we'll help you figure out what will fit in your space and the size of the cabinet you'll need to accommodate your paperwork.
Open Shelf File Cabinets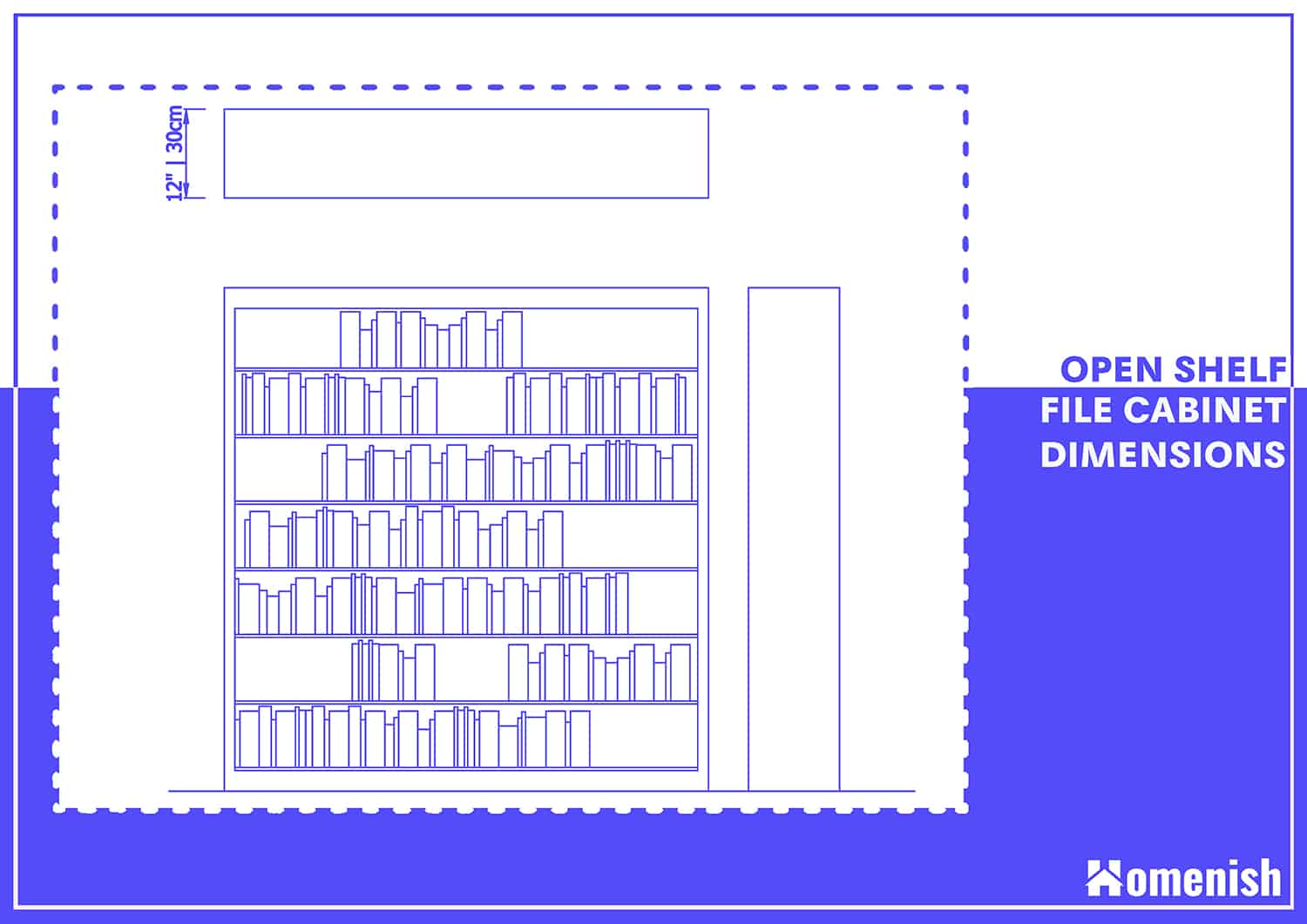 The dimensions of open shelf file cabinets vary, but the height of each shelf tends to be a standard 12 inches to accommodate letter-sized paper. You can find open shelf file cabinets with just two shelves, which can work well under a desk or on top of another unit. The largest standard size of open shelf unit will have seven shelves, and these will take up almost the whole height of a wall. The width of these units can vary enormously, from narrow to very wide pieces of furniture.
Open shelf cabinets look just like standard shelving units, but with the addition of vertical supports at intervals across each shelf to keep files and folders in place. The main advantage of these types of file cabinets is that the files are constantly visible. This is useful in a situation where you need to be constantly accessing files throughout the day, as they will be color-coded so that you can see at a glance the file you need.
The main disadvantage of these types of cabinets is the exact same thing; that the files are always visible. This can look messy and distract you from getting work done. If you become frustrated with clutter and like things to be kept out of view, then a file cabinet with drawers will work better for you. However, if you need somewhere to store files on a budget, then an open shelf file cabinet might be a good solution because they tend to be much more cost-effective than vertical and lateral file cabinets with drawers.
Vertical File Cabinets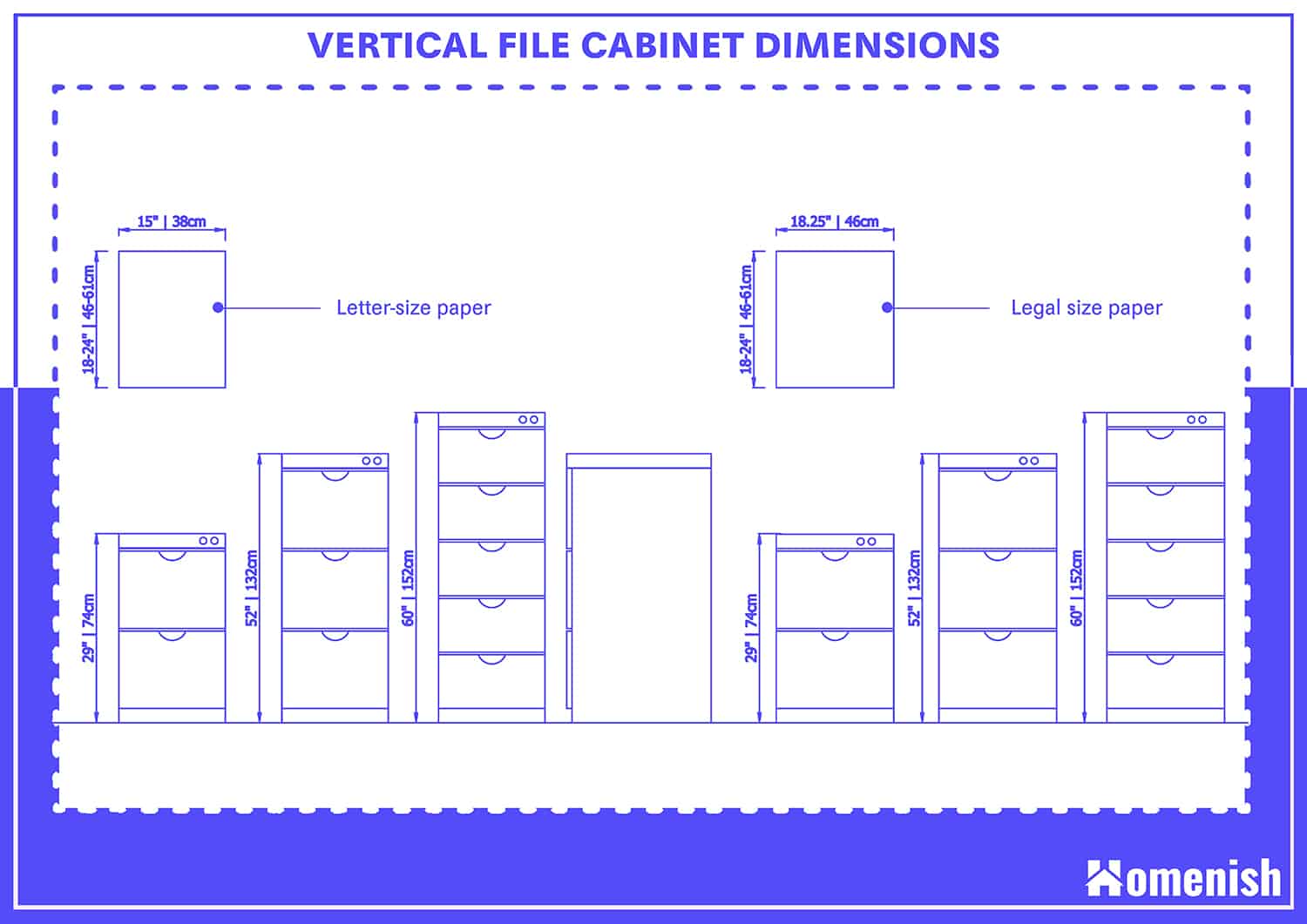 These types of filing cabinets are taller than they are wide. Vertical file cabinets are intentionally designed to fit the legal-size paper or letter-sized paper, allowing them to utilize the space effectively.
Vertical file cabinets that are compatible with legal-sized paper will have a width of 18 ¼ inches, while a vertical file cabinet intended for use with letter-sized paper will have a width of 15 inches. They are ideal if you have large amounts of standard-size paper to store; however, they don't accommodate unusual paper sizes well and can become quite messy if you attempt to do so.
Vertical file cabinets come in a range of sizes with a different number of drawers, but each size will have standard dimensions that are fairly typical no matter where you buy your file cabinet from. A vertical file cabinet with two drawers will have a standard height of 29 inches. These cabinets are short and narrow and can offer a good level of storage for a home-based business or for keeping important documents safe. The short and narrow size lends itself well to being kept inside a closet or in a small home office.
Vertical file cabinets with three drawers have a standard height of 40 inches, and those with four drawers will have a standard height of 52 inches. The tallest standard size of vertical file cabinet features five drawers and has a height of 60 inches. The standard depth of vertical filing cabinets ranges from 18 to 24 inches, allowing 17 inches to 23 inches for the storage of files.
Lateral File Cabinets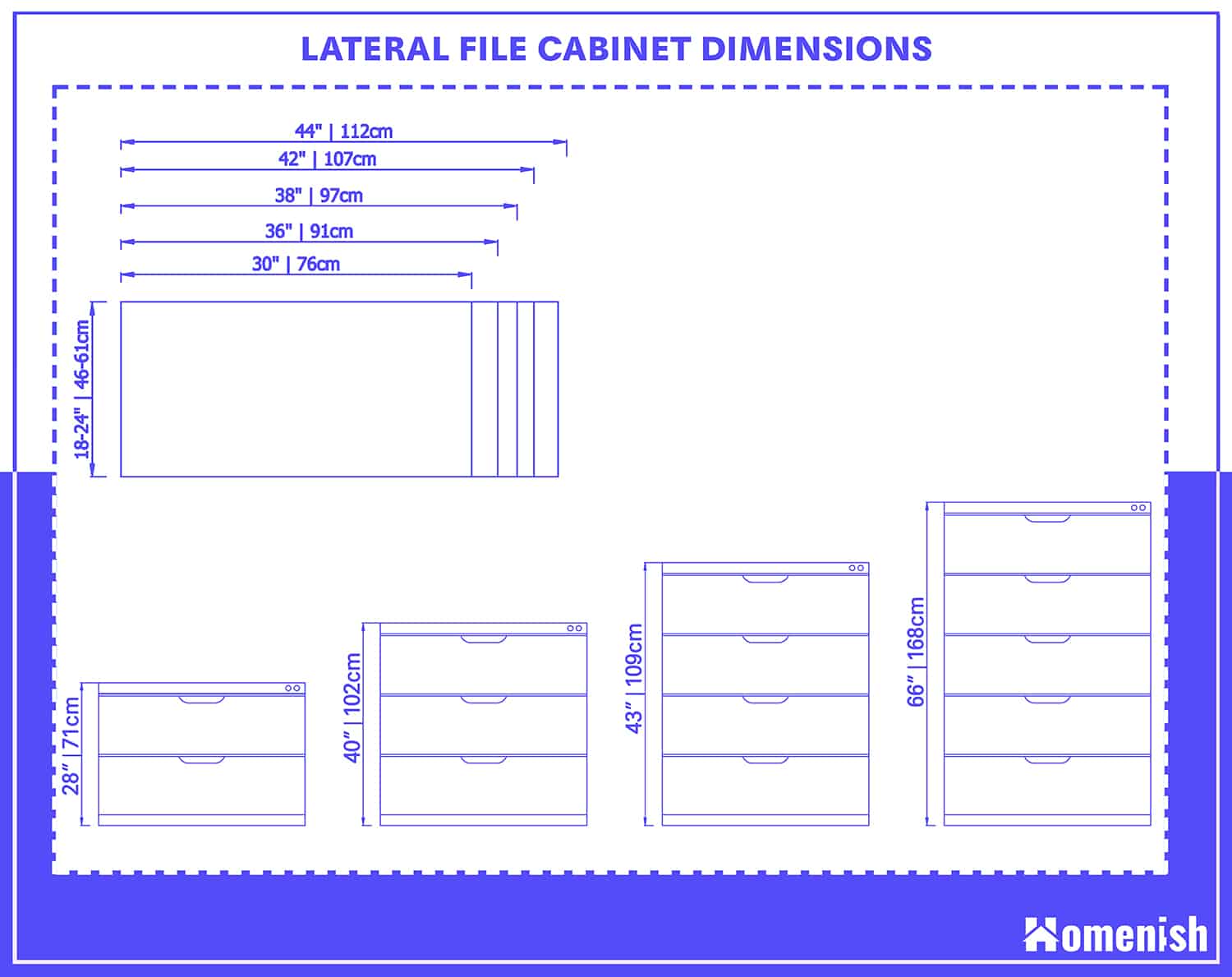 In a lateral filing cabinet, the drawers will be wider than they are deep. These types of cabinets come in a range of sizes, depending on how many drawers you want. The smallest lateral filing cabinet will have two drawers, which is ideal for a home office as somewhere to keep important personal documents for the family.
A lateral file cabinet with two drawers will have a standard height of 28 inches. This makes it a good height for keeping it tucked away underneath a desk if you are short on space or don't want it to visually dominate the room.
You can also get lateral file cabinets with three drawers, which will have a standard height of 40 inches. Lateral file cabinets with four drawers range in height, typically between 50 and 53 inches, while a lateral file cabinet with five drawers will range between 64 and 66 inches in height. The width of lateral filing cabinets will usually be 30, 36, 38, 42 or 44 inches.
These standard sizes offer enough variation that you should be able to find a lateral filing cabinet that works well in your space. Bear in mind that the width of the cabinet is not the width of the usable space within the draws. To find this, you should take around two inches off the total width. For example, a lateral file cabinet with a width of 30 inches will actually have 28 inches of usable width within the drawers.
Lateral file cabinets are designed in a way that accommodates many filing layouts. One popular way to organize files in a lateral filing cabinet is to have files hanging in a row from the front to the back of the draw. Another popular way is having two rows of files running side by side. The benefit of lateral file cabinets being so versatile is that you can customize the drawers to suit the type of documents you are storing, and you can also use the space to fit unconventional paper sizes or folders.