A shoe rack is a storage unit that keeps your shoes organized. Aside from that, it can also prevent dirt from going into the house; thus, It is often found in the entry foyer. When installed in a closet, the shoe rack can be placed as built-in shelves. However, to ensure that the storage unit will fit in your closet, you need to know the average shoe rack dimension. That way, you'll have an idea of how much space you're going to need. So, what is the standard shoe rack dimension?
Average Size of Shoes
As much as possible, you should pick a shoe rack based on the type and size of shoes that you have. In general, the average size of a shoe rack is based on the average size of shoes.
Worldwide, the average size of shoes for men is between 9 to 12. For women, the average shoe size will range from seven to nine. In the US, the average shoe size for men is 10.5, while the average size for women is 8.5.
Aside from the length, the heel of the shoes should also be considered, especially for women's shoes. Remember, the heel height of women's shoes can vary from a high heel (over 3.5 inches), mid-heel (2.5 to 3.5 inches), and a low heel (one to two inches).
Average Shoe Rack Dimensions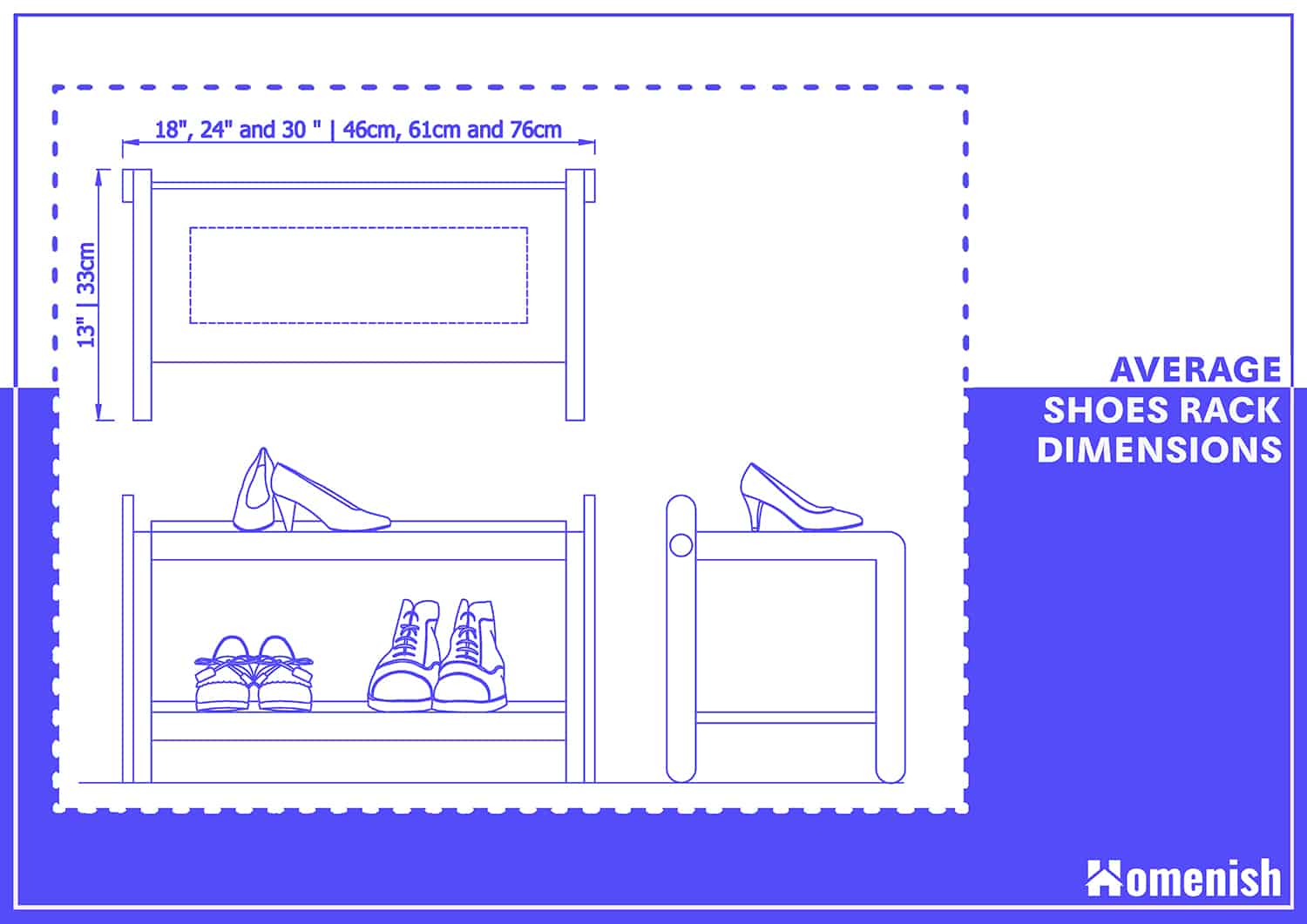 Because shoe racks come in various styles, this piece of furniture doesn't have an average size. As a general rule, the shoe rack must have a depth of at least 13 inches so that it can store most types of shoes. Typically, most shoes can fit in spaces with a dimension of 18, 24, and 30 inches. Height will vary based on how many shelves you want to stack.
Choosing the Right Shoes Rack
When buying a shoe rack, you have to consider several factors, such as style and size. Additionally, you should also have enough space for this storage unit. Thus, here are some steps you can follow when choosing the best shoe rack.
Determine the Location
Before buying a shoe rack, you have to determine a location for this piece of furniture. Typically, most homeowners place shoe racks beside their front doors to prevent the dirt from going further into their homes. Aside from that, a shoe rack can also be placed in your bedroom or closet.
Measure the Space or Wall
After determining the location, the next step is to measure the space where you're going to place the shoe rack. In doing this, you to measure the width and height of the space near the wall. Aside from that, you should also pay attention to any objects near the wall that may affect the depth.
Consider Your Shoes
As you know, there are several types of shoe racks; thus, you have to pick one that suits your need. Additionally, you should also consider the number of shoes that you own. As a general rule, you should allow at least 12 inches of space for each pair of shoes.