Scaffolding is used in construction, as well as in the maintenance and repair of buildings. It provides a stable and elevated structure upon which a work crew can stand to carry out their jobs.
Scaffolding can also support construction supplies during the construction of buildings. Scaffolding is made up of a frame, which acts as the support, and boards, which act as the surface upon which workers will stand. The frame of scaffolding is made from strong but lightweight metal, while the boards are solid wood.
Scaffolding comes in standard sizes, making it easier for project managers to plan around it and allow for enough space. Here we will look at the various sizes of standard scaffolding in more detail.
Scaffolding Width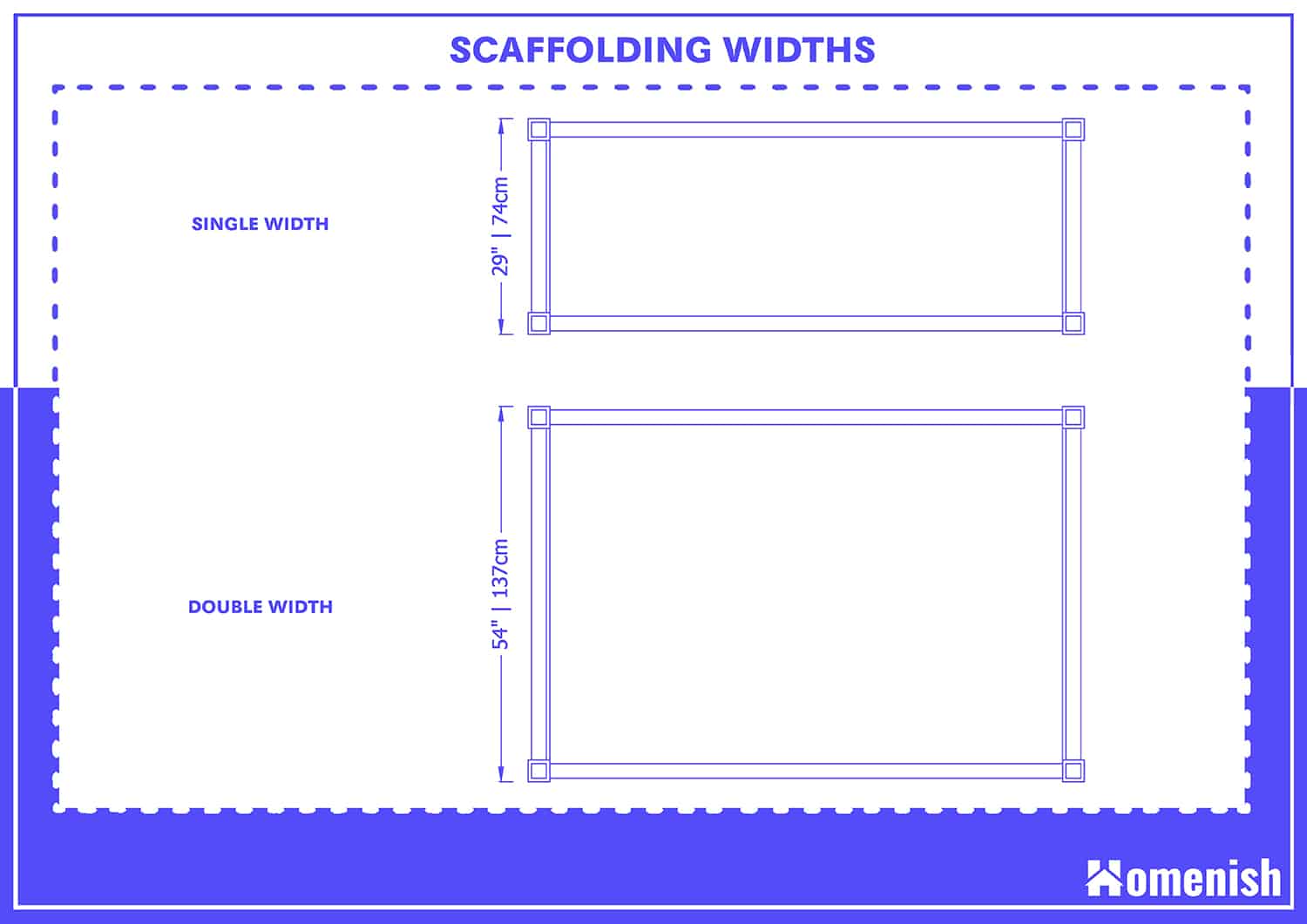 Single Wide
This type of scaffolding measures around 29 inches across. This allows it to be wheeled through standard-sized doorways, making it suitable for working inside buildings, for example, for maintenance or repairs inside a hospital or office building. This narrow width of scaffolding also makes it ideal for use in narrow areas, for example, in alleyways to access the side of residential properties or on larger historical buildings which are very close to other nearby buildings.
Single-width scaffolding has the added benefit of being smaller and therefore more portable. This might be important if you have a small team working together or a small vehicle for transporting the scaffolding.
Single-width frames are also easier and quicker to erect compared with the larger double-width frames. They can take a maximum weight load of 500lb per platform, making them incredibly strong and supported.
Double Wide
A double-wide scaffolding unit will have a width measurement of approximately 54 inches. They obviously take up significantly more space than single-wide scaffolding, but they have the added benefit of being able to offer a more spacious working area and an increased weight capacity. This will allow more workers to fit onto the scaffolding at one time.
These types of scaffolding usually take longer to erect. You can expect a double-width tower measuring 25 feet in height to take around 20 minutes for two people to construct.
Each platform will have a weight capacity of 500lbs, therefore doubling the weight capacity of single-width scaffolding. If you have several people working on one project, then double-width scaffolding is safer as it allows workers to maneuver past each other more easily.
Scaffolding Length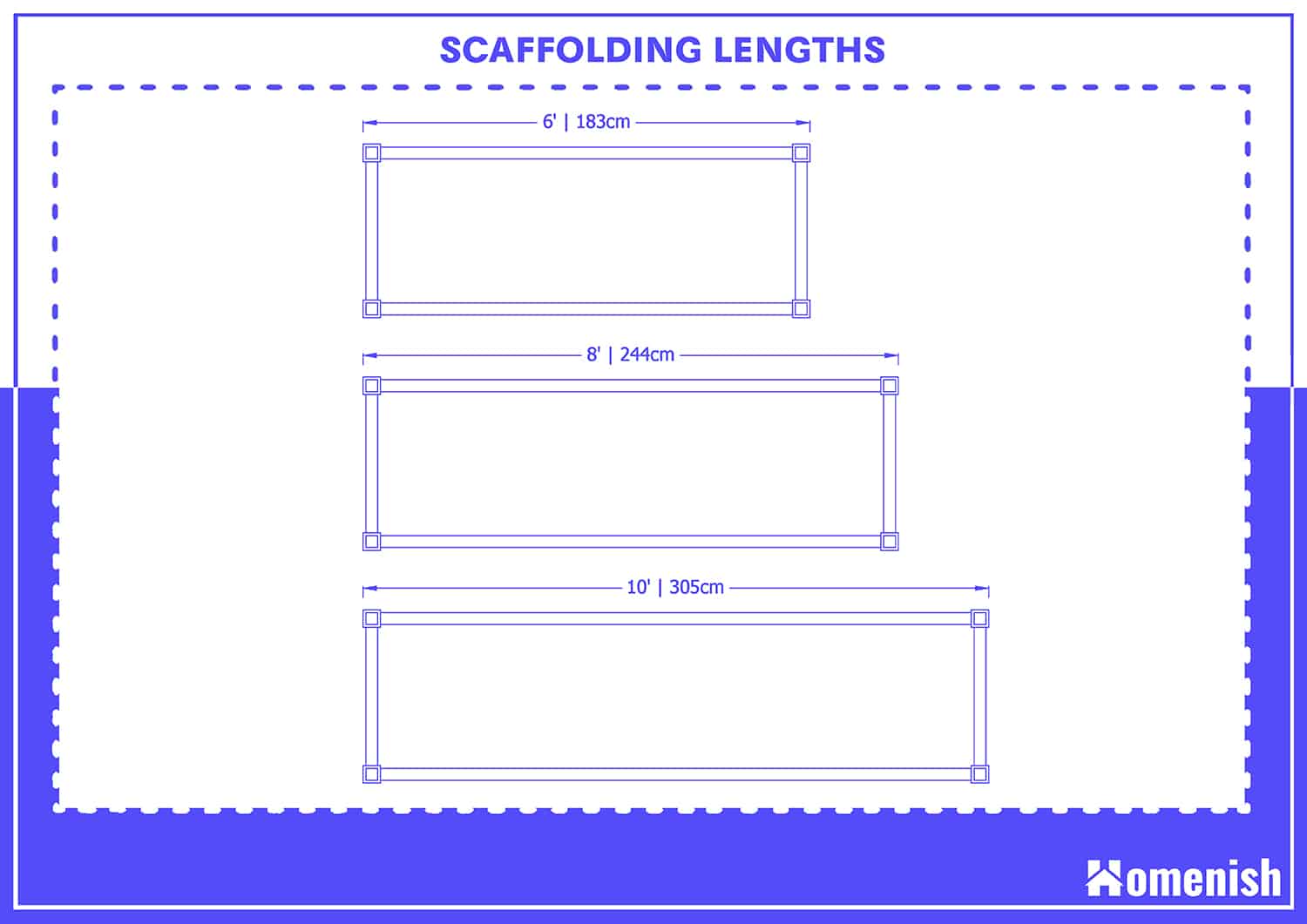 Scaffolding is available in standard lengths of 6ft, 8ft, and 10ft. This provides enough variation that makes scaffolding able to be configured to a wide variety of sizes to suit the need of almost any construction project.
Extension Sets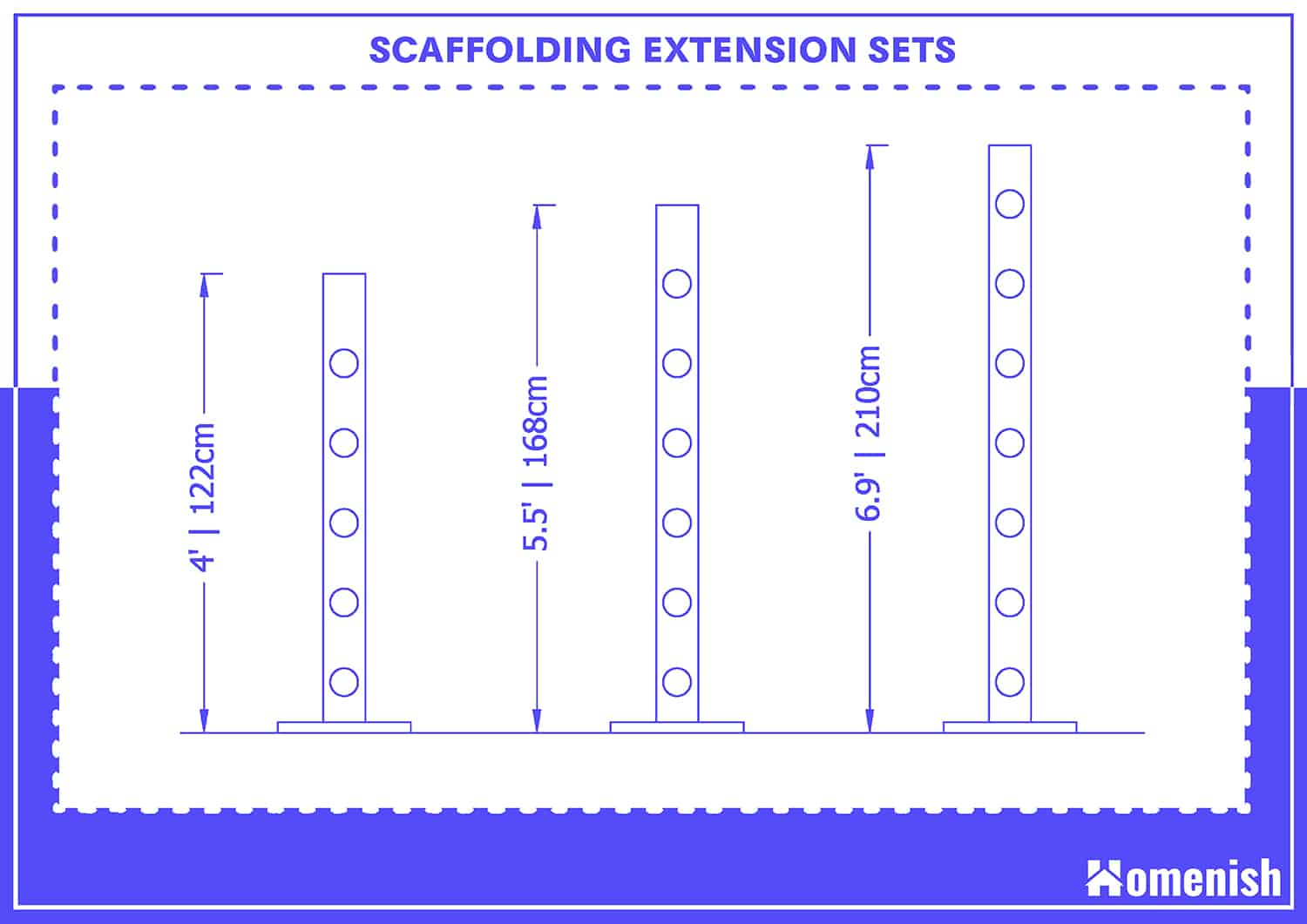 Extension sets are available if you need to increase the size of your scaffolding. These come in standard lengths of 4ft, 5.5ft, and 6.9ft. Extension sets can be used on both single-width and double-width scaffolding as long as they have been securely constructed with proper bracing.
Scaffolding Board Sizes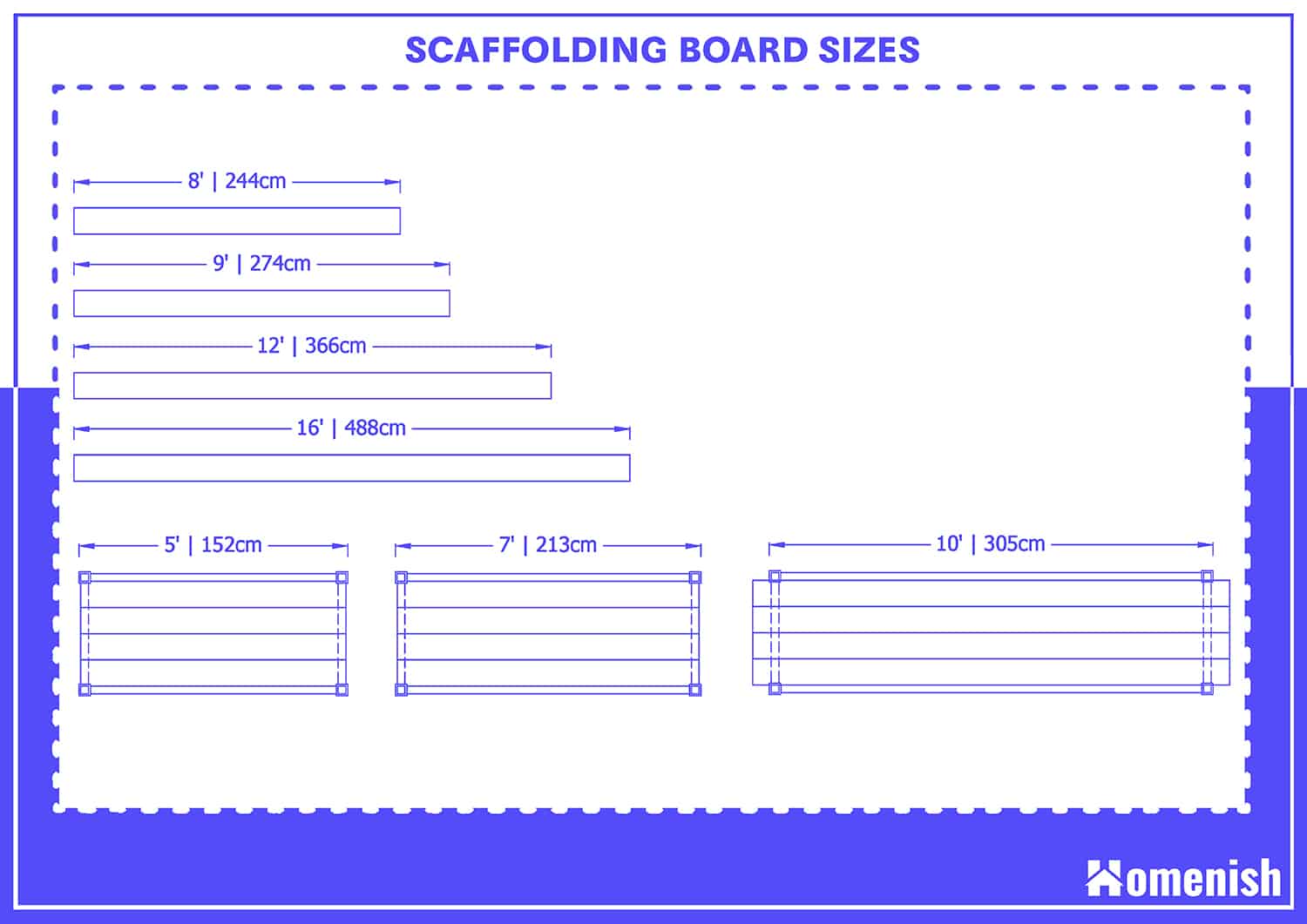 Scaffolding boards are an important component of scaffolding. They need to be used with a scaffolding frame because they have been designed specifically for this use, and therefore are the perfect size to fit the framework.
They are also made to a certain thickness and strength, which makes them a safe and reliable option for your work crew. You cannot buy general planks from the lumber yard as these may not be the exact correct size, and they also won't have been safety tested for use with scaffolding.
Scaffolding boards must meet or exceed the standards set by the Occupational Safety and Health Administration in order to be sold as such, and general lumber only has two-thirds of the strength required by the OSHA. There are various sizes of scaffolding board available to work with the size of standard scaffolding. These are most commonly 8ft, 9ft, 12ft, and 16ft in length. One 8ft board will work with a single 5ft span or a single 7ft span. If you feel more comfortable with a greater overhang, the 9ft boards will be a better choice for you with 7ft spans.
The OSHA requires that there is an overlap of at least 6 inches at either end of a span, but many users like to increase this to 12 inches on either side for a feeling of greater stability and more workspace.
For a 10ft span, you would need the 12ft boards, which will give a 1ft lap at each end. The 16ft boards are designed to be used with two 7ft spans, allowing for a foot lap at either end. Using one 16ft board makes the construction of the scaffolding quicker and easier compared to using two 8ft boards on a long platform, and it also increases stability as it stays in place better.