A shower niche is also known as a shower cubby or a shower recess. It is a hollowed-out area of the shower wall which is waterproofed and typically tiled over, creating a perfect shelf and storage nook for you to house your soap, shampoo, and razor.
Despite the name, these are also popularly used on the outer housing of bathtubs, creating a neat storage space where no storage previously existed. Learn below the specific sizes of a shower niche.
Shower Niche Size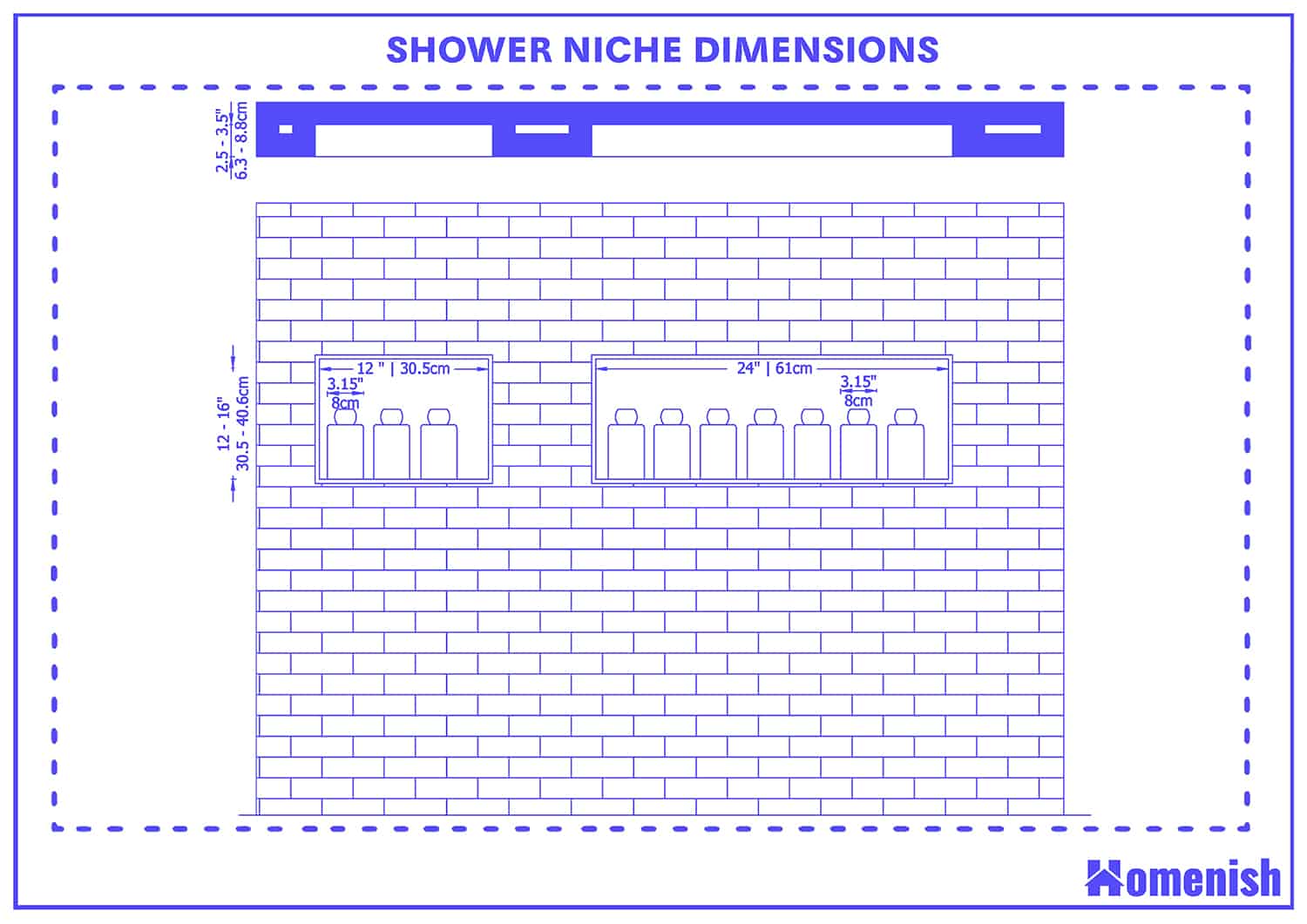 Shower niches vary in size depending on the owner of the bathroom. If you have a large collection of lotions and potions you like to use in the shower, then you could opt for a wide shower niche, or you might want to keep it simple and avoid overcrowding with a smaller shower niche.
You can buy prefabricated shower niches which can be installed and then tiled over with your chosen tiles, or you can create a custom-sized DIY shower niche. For prefab options, shower niches usually have a size ranging from 12 to 24 inches in width.
The width measurement is the most important in terms of thinking about the types of items you are going to be able to store in the niche since this is the measurement that will dictate how many bottles you can line up in a row.
A large-sized bottle of shampoo or conditioner that contains 33.8 fluid ounces (1000 ml) will typically have a width of 3.15 inches, so you could fit 3 of these lined up in a 12-inch width shower niche or 7 in a 24-inch width shower niche.
More typically, average bottles of shower gel will have a base diameter measurement of 2 inches, so you could fit plenty of these in a 12-inch shower niche. The typical height of a prefabricated shower niche is between 12 and 16.
A height any larger than this would be unnecessary since it is unlikely you are going to find any shampoo or shower gel bottles that have a height greater than 16 inches.
For the depth, a measurement of between 2.5 and 3.5 inches is ideal. If you are making your own DIY shower niche, then you can choose a custom size that works best for you; just remember that the dimensions of any shower niche should be in proportion with the rest of the shower.
If you have a large bathroom with a double shower, then a huge shower niche will look right at home; however, in a compact bathroom, it might look odd that your shower niche occupies most of the bathroom wall.
Shower Niche Height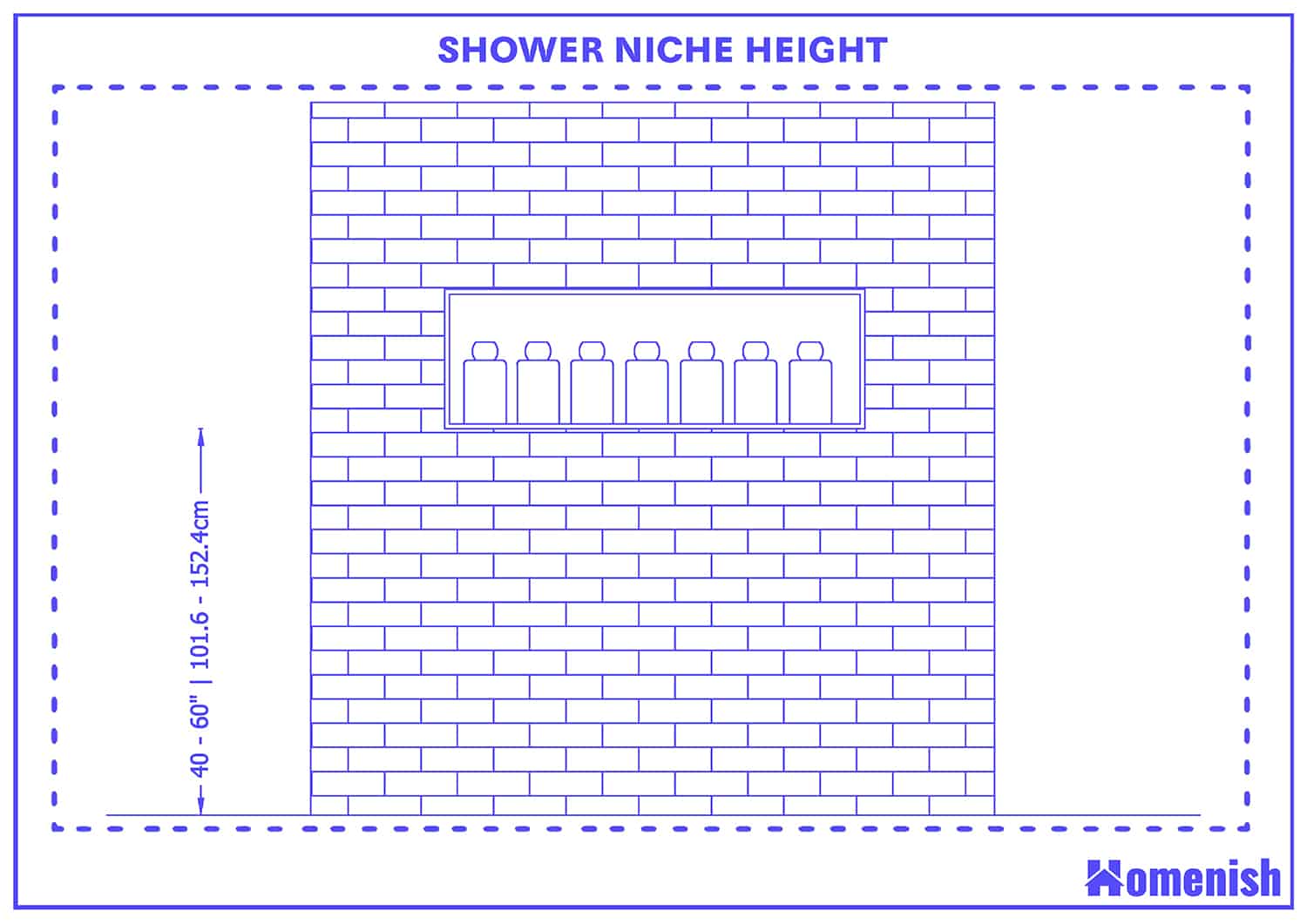 The height of a shower niche should be convenient for anyone who uses the shower, so the bottle of shampoo or shower gel can be easily grabbed without having to reach up high or bend down low.
In most shower cubicles, the area between the showerhead and the shower taps is going to be taken up by pipes, so this isn't an ideal area for a shower niche.
You could choose the space to the right or left of the shower pipes or install a shower niche on the alternate wall. A shower niche is best positioned around chest height, though, of course, chest height is going to be different for different members of the family.
In an adult bathroom, installing a shower niche anywhere between 40 and 60 inches off of the ground should work, but if you want children to be able to reach the items in the shower niche, then you may need to lower this a little.
Benefits of a Shower Niche
Declutter
A shower niche is an alternative to traditional storage methods you will find in a bathroom, like a shower caddy that hooks onto the shower fittings or a shower caddy with suction cups that fix onto the tiles of the shower.
One of the problems with shower caddies is that they can look a bit messy, whereas a shower niche gives a neat and simple style that looks more at home in a high-end hotel bathroom.
If you are someone who stores your shampoos and body washes on the floor in the corner of the shower, then a shower niche is a perfect solution that gives you somewhere to keep your shower items that is simple and easy and also looks neat.
Won't rust
Shower caddies are typically made from metal, and no matter how often you clean them or how anti-rust they purport to be, the heavy level of moisture present in any bathroom means that at some point, the caddy is going to rust.
Shower niches are made from the same material as the rest of the shower walls, so they won't show signs of age or wear and tear like a shower caddy does.
Inexpensive
A shower niche is very inexpensive to create, especially if you have it installed during a bathroom renovation rather than having it retrofitted at a later date.
This comes as quite a surprise to many because typically, to have a new and modern style idea installed in your home, you expect to pay a lot of money. In this instance, the better option is actually the cheaper option.
Easy cleaning
Shower caddies and other external storage items can be difficult to clean, and they somehow never look as good as the day you bought them. A shower niche is super easy to clean because you just need to wipe it over with a bathroom spray cleaner the same as you would the rest of the tiles in the bathroom.
Takes up no space
If you have a compact bathroom, then a shower niche is a genius way to create storage space without taking up any room at all. Since a shower niche is created by essentially hollowing out a piece of wall, you don't lose anything by having one installed. It creates more space in your shower, as opposed to a caddy which takes up space.