What should you make your shower floor out of? You have lots of floor covering products to select from, though the very best shower flooring alternatives satisfy 3 needs of a restroom:
Withstands water
Has grip
Looks stunning
Shower Floor Options & Materials
It's not something you think about until it's time to install a new shower. You may not have even noticed what shower floors are typically made of. So, what are your options? Following are the common materials to choose from, though you might have thought of some of them.
More than simply a location to stand while you're showering, the flooring in your shower affects the total feel and look of your restroom. The product you select needs to not just be durable, comfy, and slip-resistant; it must likewise match the aesthetic of your restroom. No matter what your choices and requirements, there's a shower flooring that fits.
Advantageously, each of these options are classic choices that won't go out of style any time soon, so they're sure to impress future homeowners should you decide to sell. They'll also stay in good shape and look nice for as long as you want to remain in your home.
1. Porcelain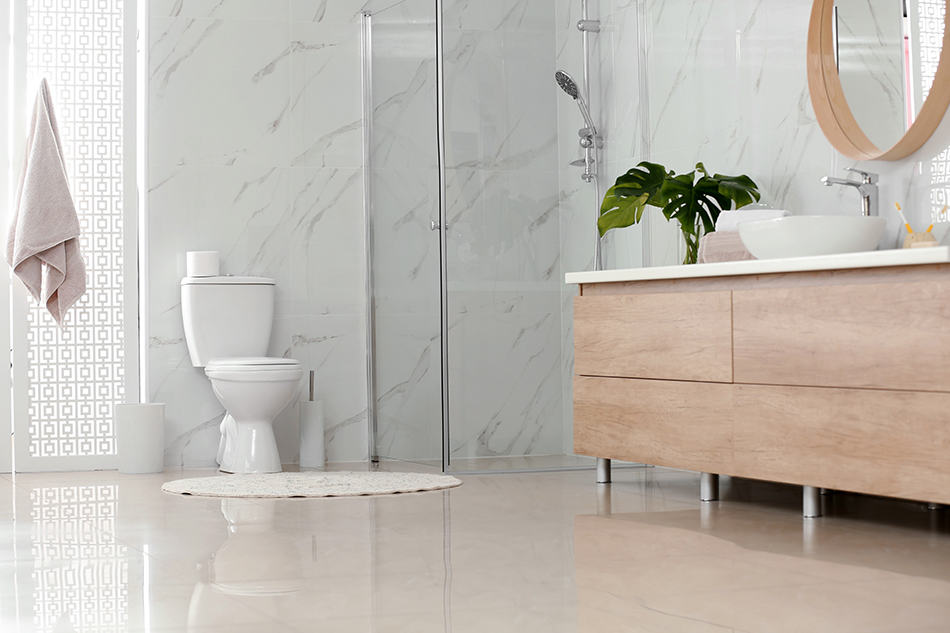 This is a common shower flooring option that may have everything you need. It's strong and durable and very water-resistant. It's also highly customizable. You can order porcelain in any color and can even have it be patterned. Your porcelain could look like many of the other flooring options, such as marble, stone, or even wood.
Porcelain is relatively low-cost, though there's more upkeep than with other options. You'll need to keep the grout clean and may need to reseal it every few years. Porcelain floors can also be slippery if you don't include some sort of texture on them.
2. Marble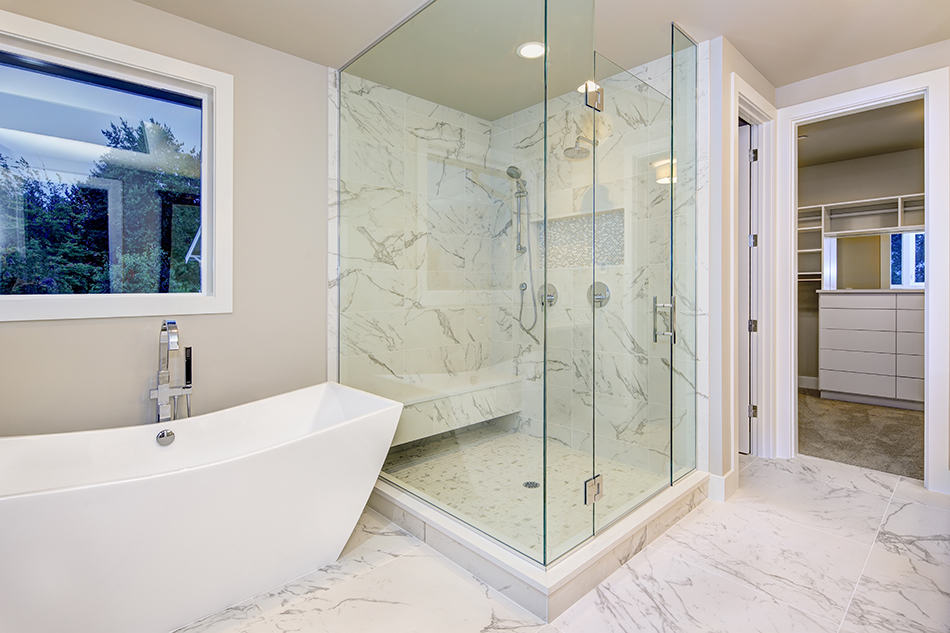 Marble is a classic choice for any bathroom furnishing. It is higher priced than porcelain, but it requires less upkeep. You can order marble in a variety of colors and patterns and also in glossy or matte finishes. Marble works well in combination with other types of surfaces too, so don't worry if your shower floor is different from your wall and different from your other bathroom furnishings.
On the downside, marble is fairly expensive. In fact, it's the costliest option on our list. It also gets cloudy from soap scum, though this is easy to clean, especially if you use a daily shower spray. Finally, it is very slippery, so you'll want to make sure you put some sort of textured mat down for safety sake.
3. Travertine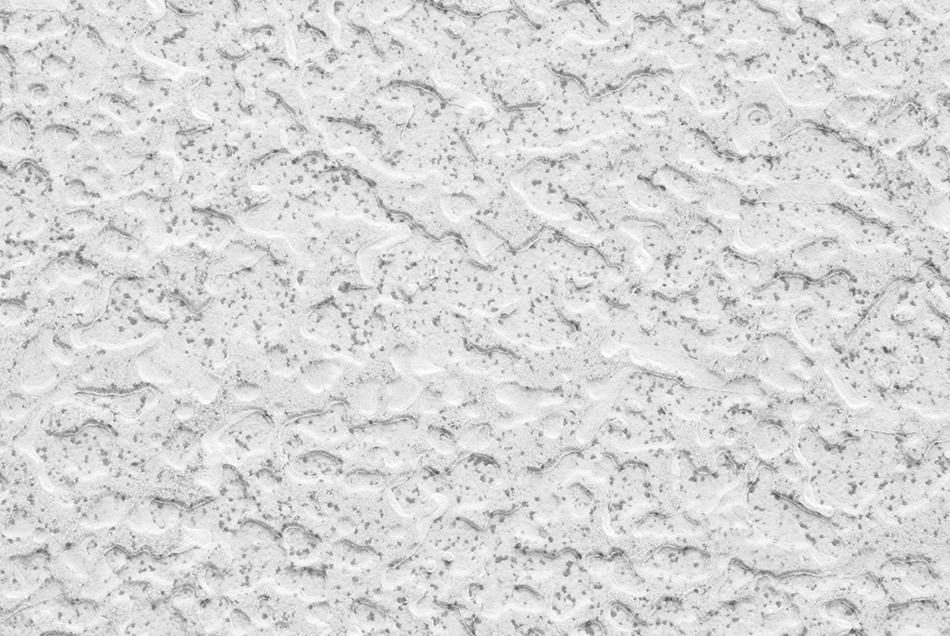 Travertine tiles comes in a lot of variety, including textured for that added safety feature. It takes on earthy tones that look soothing in a shower while still holding interest with its swirls and veins. Depending on your preference, you can choose large square tiles or small, or mosaic tiles. Of course, being tile, it will have grout to care for. Using larger tiles will mean fewer grout lines, so that may sway your decision.
Be careful when cleaning travertine. You don't want to use strong cleaners or else you can damage the stone surface. In fact, you also need to watch the personal hygiene products you use. Anything with too strong of an acid is a no-go for travertine.
4. Pebbles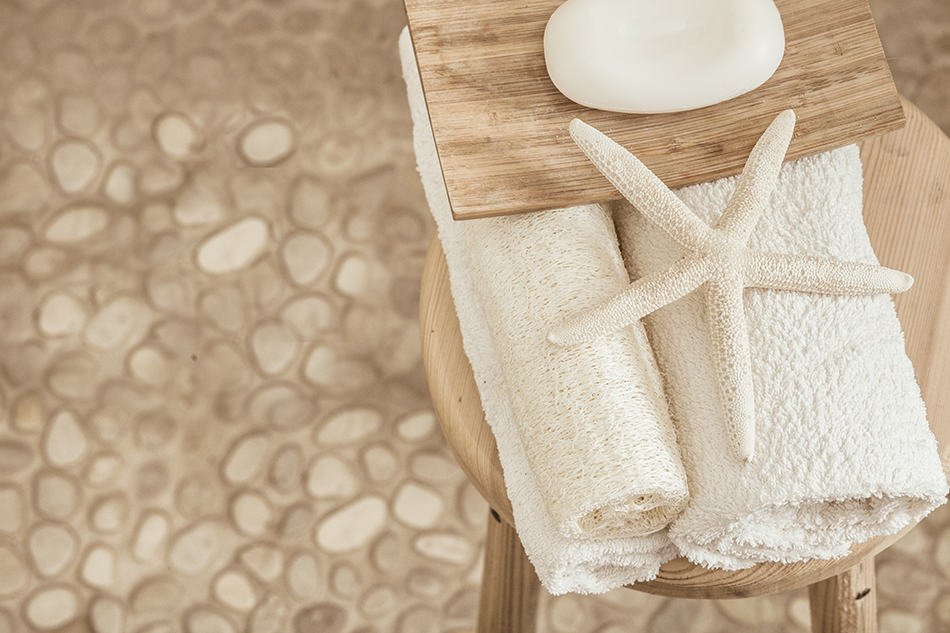 Go Zen with a pebble shower floor. Not only is the look of pebble flooring relaxing and mesmerizing at the same time, it's also sufficiently textured while still being comfortable to walk on. Like most other options, it's highly customizable. Pebbles come in a variety of colors, and you can choose one color or have an assortment.
The one drawback is, once again, grout. Anytime you have anything other than one flat surface, you'll need grout to stick it all together. And because pebbles are so small, you'll have a lot of grout to clean. Luckily, shower bases are usually small, so it's not as burdensome as cleaning a whole bathroom floor.
5. Glass
You've seen glass shower walls, but have you seen a glass shower floor?
Cool, modern and tidy, glass can be quite striking as a flooring option. It keeps your shower area light and open. It generally looks high-end but doesn't cost as much as the stone and tile options mentioned above.
Of course, you know how slick glass is. So, while it's easy to keep clean, you will need to use a rubber mat if you're at all unsteady on your feet.
6. Wood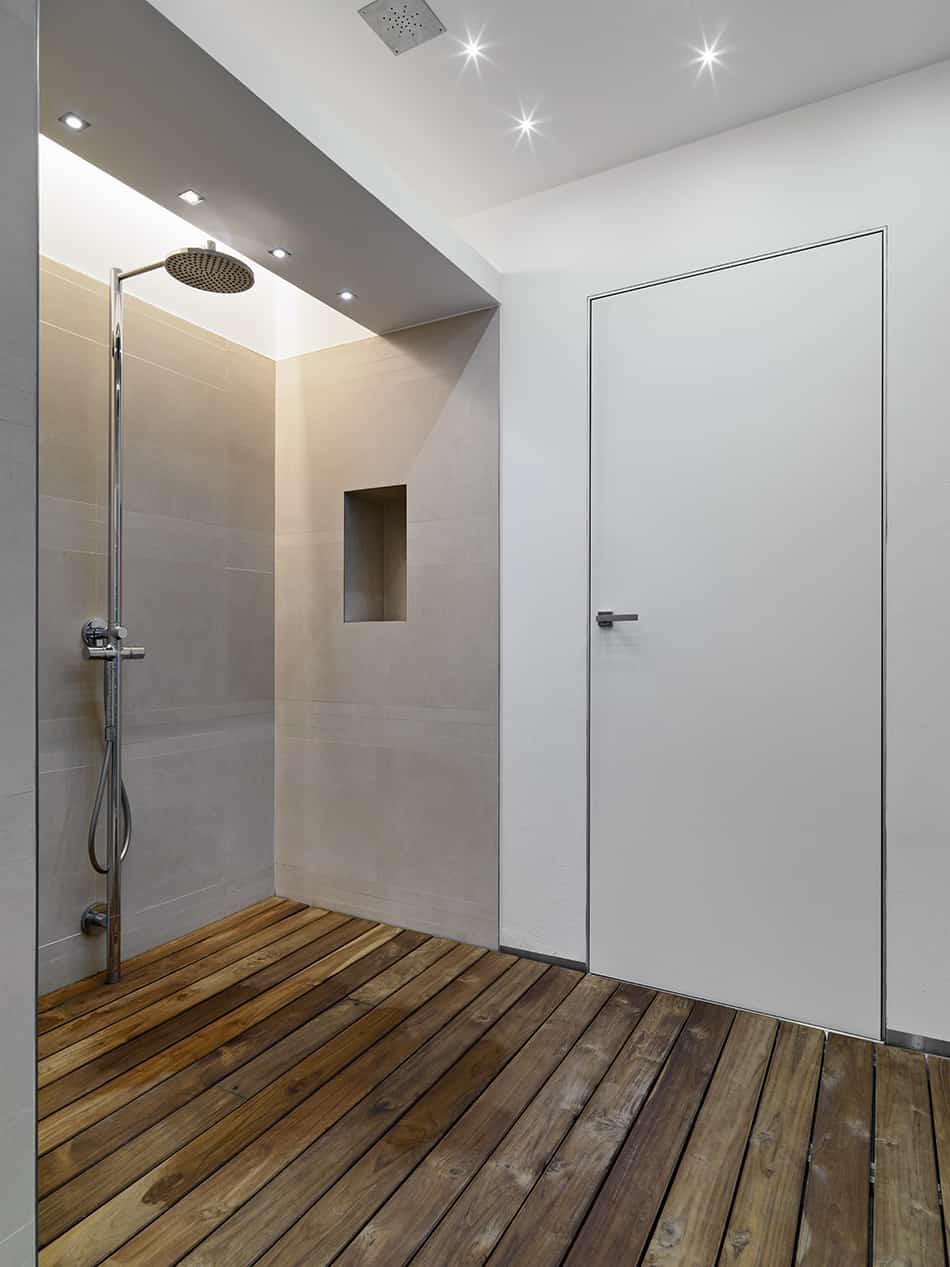 Isn't wood the opposite of what you want in a wet environment?
Not when it's been sufficiently treated and finished! Wood is warm and inviting and can take on a lot of differing looks. Think distressed, planks, logs, oak, birch, light or dark stains, etc. Wood is minimal yet modern at the same time. While wood slats aren't as resilient as other shower flooring surface areas, they're simple to fix.
When you choose wood, the slates will sit somewhat above your shower base to allow for drainage. Unfortunately, won't have direct access to your shower drain and may need to remove the wood temporarily to solve any drainage issues. The texture, however, is not an issue, as wood is naturally slip-resistant.
The woods to utilize in the shower come from wet, tropical environments. On the more expensive end, you can select from ipe, massaranduba, and teak, though redwood, cedar, and mahogany are great, affordable choices.
7. Artificial Materials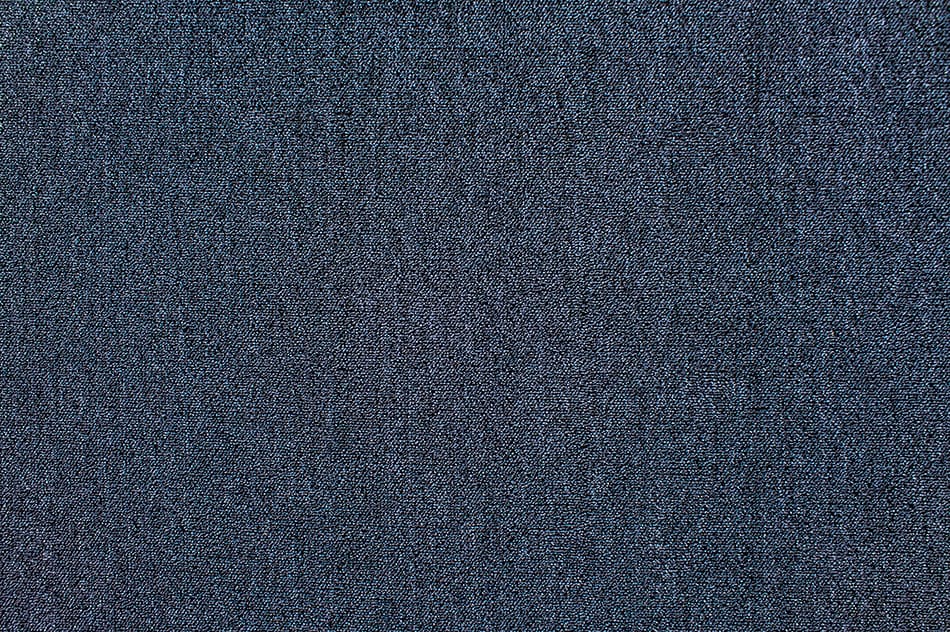 Among the easiest and most inexpensive shower flooring alternatives is a fabricated shower base that is made from artificial products. These include one strong piece that's set into location as-is. With no grout seams that might break and leak, they're simple to maintain.
On the drawback side, they're produced in a minimal variety of basic sizes and shapes, and you can't alter the location of the drain. Chips and fractures can be fixed by an expert, though if this kind of flooring starts to leak, it can't be fixed like tile flooring and will need to be changed.
The two most typical products utilized in these floorings are:
Fiberglass shower bases are typically the least expensive, so they're a typical sight in restrooms around the nation. They're not especially resilient and prone to yellowing and fracturing.
When brand-new, acrylic shower floorings do not look very different compared to fiberglass designs. The distinction is that acrylic designs are safeguarded by an acrylic covering, which makes the flooring much easier to clean up and assists it in withstanding yellowing, breaking, and mildew development.
These floorings keep heat much better than the fiberglass type and remain warm, so you will not need to step into a cold shower. Like fiberglass, they're fairly light, making them simple to set up.
8. Cast Iron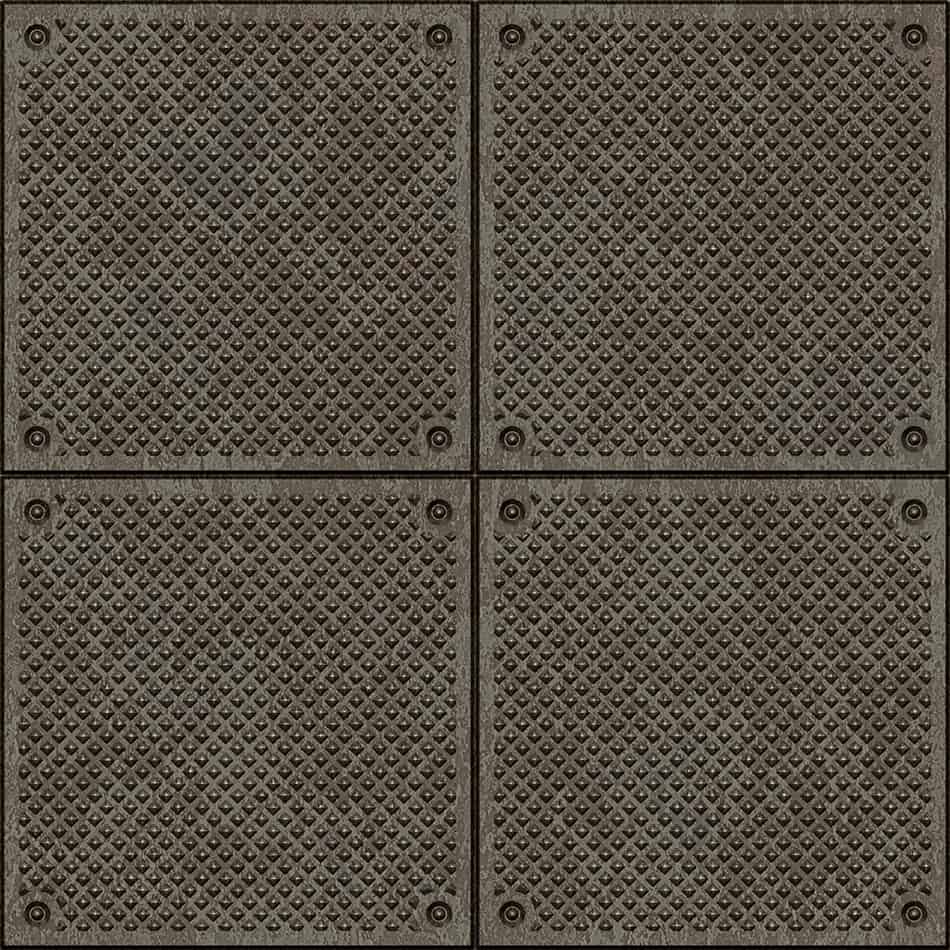 A veteran of style, shower flooring made of cast iron will provide your restroom a classic appearance, so it's completely fit to rustic or nation farmhouse designs. Cast iron expenses are less than tile, and it's so long-lasting that you'll most likely choose to renovate your restroom prior to the shower flooring wearing.
While it's simple to keep, care is required due to the fact that the enamel surface area of the porcelain can end up being scratched if you clean up too strongly. The cast iron below can start to rust if the surface area is harmed. The primary downside of these floorings is that they're cold and cause an unpleasant shock to your system when you initially step in.
More Considerations for Tile and Stone
Readily available in an array of colors, surfaces, sizes, and shapes, tile and stone allow your imagination unlimited freedom. Utilize the very same product for your shower flooring as you did in the rest of your restroom flooring if you choose, or rather give it a contrasting appearance.
Your choices consist of:
Stone resin
Natural stone
Tile
Stone Resin
Following acrylic and fiberglass, stone resin is the next most popular product for a shower floor. Shower bases made from stone resin consist of a mix of resin adhesive and crushed stone. This mix is formed, then covered with granite, marble, another stone, or acrylic.
As with acrylic, your stone resin flooring will remain warm. While these floorings are more resilient than acrylic designs, they're likewise much heavier and, for that reason, rather harder to set up.
Natural Stone
Stone in its more natural state constantly emits a sense of high-end style and, similar to tile, lets you develop a special appearance. Practically any natural stone is suitable for shower flooring as long as the stonework is effectively sealed. Excellent options consist of marble, granite, sandstone, onyx, and travertine.
Big, flat stones aren't your only choice. Pebbles, consisting of glass pebbles and river stones, bring a splash of color and range to your shower. Simply know that pebble floorings include a great deal of grout, so if the surface area is irregular, they can be rather unpleasant to walk on.
Tile
If you choose the appearance of tile, porcelain and ceramic are your best alternatives. The only issue is that it does not keep heat well, which makes it cold underfoot.
Big tiles need fewer grout seams, which makes it simpler to maintain the cleanliness of the shower. Mosaic tiles can be a little more difficult to preserve thanks to the numerous seams in between these small tiles, though they offer you much higher versatility in regards to design and color. They're likewise simpler to set up along the shower pan's slope.
This kind of handmade shower flooring includes a touch of uniqueness in your restroom. Conserve time by setting up a shower base consisting of one piece that's waterproofed, pre-sloped, and all set for tile.
Shower & Floor Costs
Setting up a shower's overall expense is $1,500 to $6,000. We've broken these expenses down below.
Shower Installation & Repair Costs
Porcelain tile: $900-$2,700
Stone tile: $1,000-$5,000+
Slate: $1,000-$2,500
Train tile: $500-$1,500
Restroom shower retiling: $500-$10,000
Cultured marble: $700-$2,500
Repair tile and grout: $300-$600
With numerous shower flooring choices readily available, it might take a while to narrow your options to the one that finest satisfies your requirements in regards to toughness, upkeep level, and visual appeals. Rather than heading right to a big box store, stop into a couple of specialized shops. The sales personnel in these shops should be well informed regarding the subtle distinctions between the various floor covering products and can assist you in making an informed decision.
DIY vs. Hiring a Pro
Doing the work yourself can save money but may not be worth the trouble. If you don't know to lay your chosen type of flooring, employing professional may cost a little bit more at the outset, but it's worth the long-lasting cost savings of a job done right.
Frequently Asked Questions
Can you utilize cement board for shower flooring?
No, you can't utilize cement board for floorings. Choose weight-bearing products, like cement, for floorings.
Are acrylic showers any good?
Acrylic showers, while not the most visually pleasing with an inexpensive appearance, are simple and water-resistant. For budget-conscious setups, it's an excellent option.
Are pebble shower floorings slippery?
When they're cleaned up frequently, pebbles aren't typically slippery. Due to the texture and high quantity of grout, you'll have a lot of grip.
Should I tile my shower ceiling?
It depends on you whether you wish to tile your shower ceiling. It's not essential, though it typically finishes the shower style visually.
What sort of concrete do you utilize for shower flooring?
You should choose a mortar blended with Portland cement, which naturally withstands water. Search for items developed for shower pans or flooring mud.
Is porcelain tile good for shower floorings?
Porcelain make
s exceptional shower flooring, although you should choose little tiles for much better grip. Larger tiles mean less grout.
Can you utilize ceramic tile for shower floor covering?
Since it has a greater water absorption rate than porcelain, porcelain is better than for a shower floor covering.