If you ask this question, the answer is it doesn't have to. However, matching bedroom furniture is a style that plenty of people appreciate, and your nightstands and dresser don't always have to be from the same collection.
In fact, mismatching furniture is a look that many interior designers use to create a more casual or hand-curated look. Read on to learn more about how to pair nightstands and dressers.
What does a matching nightstand and dresser look like?
When we talk about matching furniture, what we really mean is furniture that comes from the same collection and is therefore identical except for the size.
For example, a dresser might be made from oak and have black metal pull handles and a painted gray tabletop. The matching nightstand choice would also be made from oak and have black metal pull handles and a gray painted tabletop, but it would simply be in a smaller version to be used as a nightstand.
Matching or Coordinating?
Furniture which matches is not the same as furniture that coordinates. Matching furniture will be exactly the same in terms of style, materials, and color, while coordinating furniture could just have a few of the same elements. An example of coordinating furniture could be a rustic style oak dresser with black metal handles and a rustic style black nightstand.
What makes these two pieces coordinating is the fact that they both have some black parts, and they are both in the rustic design theme. When selecting your bedroom furniture, you don't need it to be matching (although it certainly can be if this is your preference), but it should coordinate if you want the room to look stylish.
Matching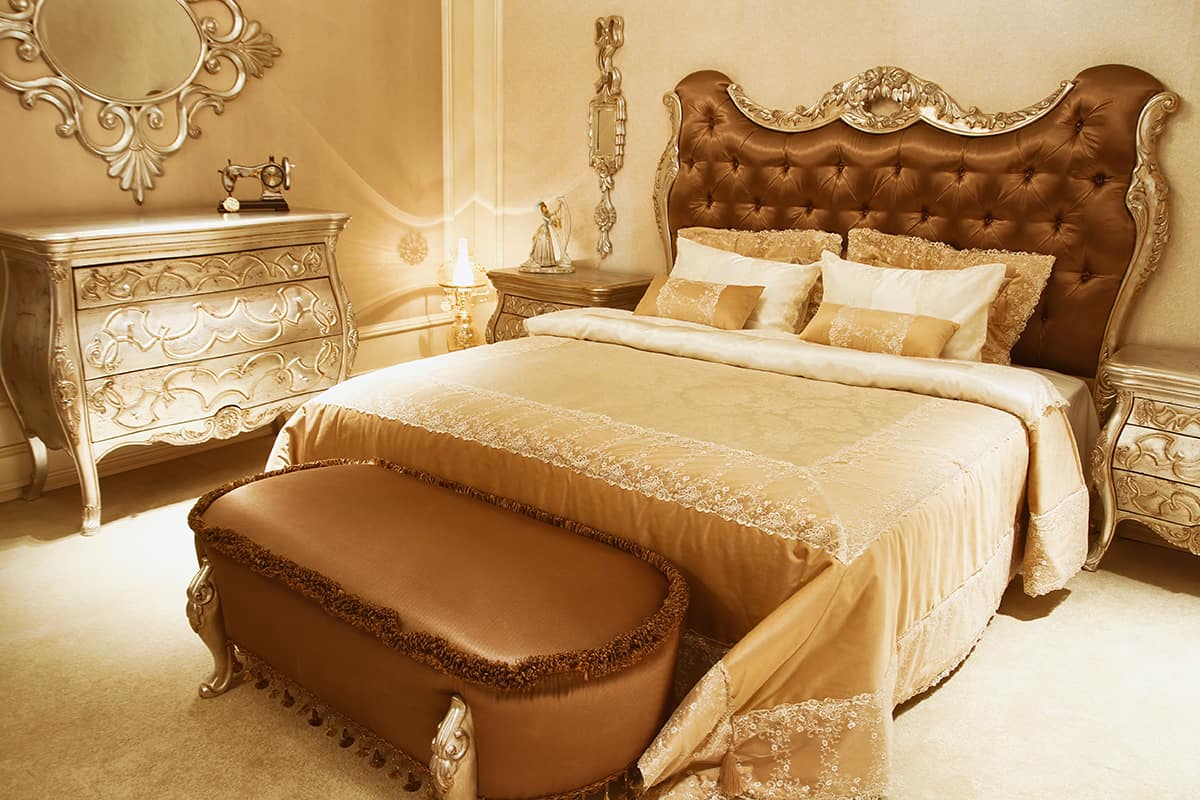 Matching your bedroom furniture is an easy way to ensure the design of your room looks cohesive. This is a great option if you don't feel confident creating your own style in your bedroom and would prefer the ease of choosing a set of furniture which is guaranteed to all look good together.
Some people find matching furniture to look a little dated, while others appreciate the consistent look. If you want to achieve a more modern style, then coordinated furniture as opposed to matching furniture will be a better choice.
Coordinating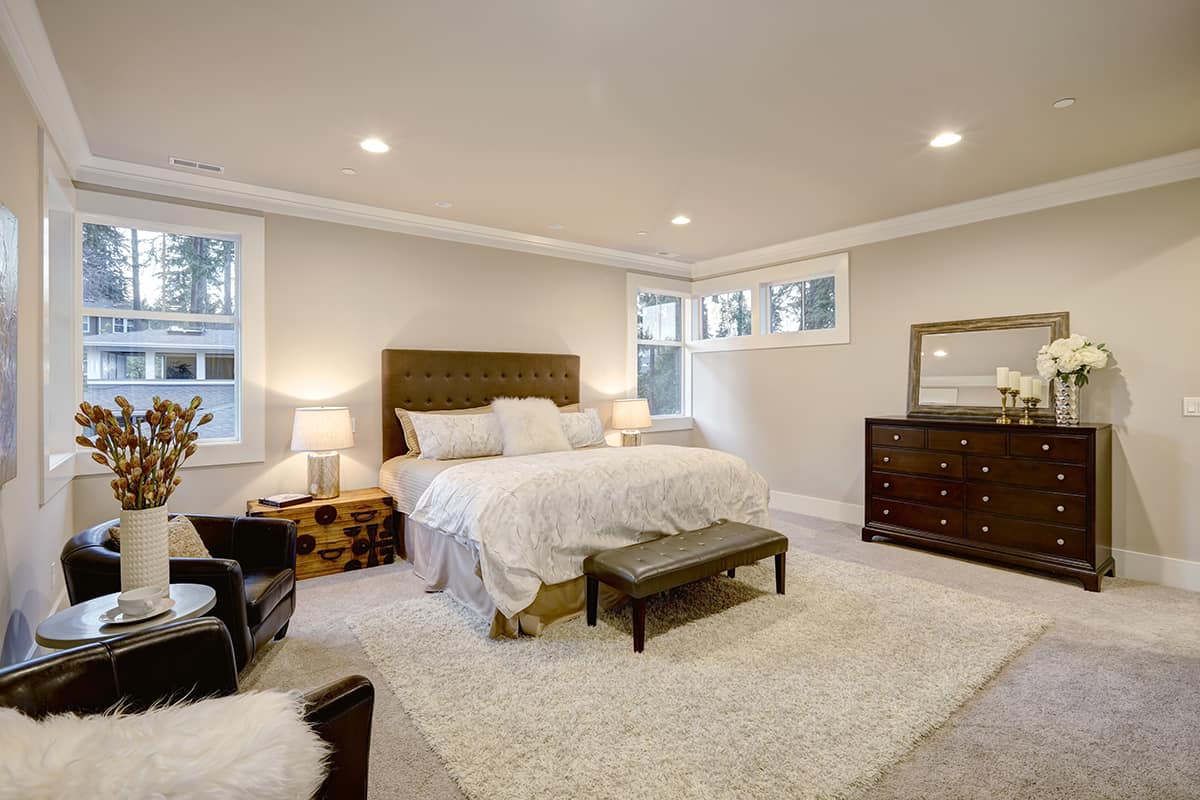 Coordinating furniture has many advantages. If you are on a tight budget, then coordinating furniture can save you money because you can pick up random pieces at yard sales or in-store clearances, which you can mix and match for a coordinated look.
If you enjoy upcycling furniture, then this can be a great way to get non-matching pieces to coordinate. For example, you could replace the handles on a mismatched nightstand and dresser so that they are all the same and therefore are coordinated.
Or you could consider painting a number of pieces of bedroom furniture so that they are all the same color, despite not necessarily being made from the same material.
Coordinating bedroom furniture can create a high-end look, and it feeds into certain styles. For example, an industrial look will be best achieved when the furniture items are all different, but all fall into the industrial theme.
How to Coordinate Nightstands with a Dresser
If you want to coordinate your nightstand and dresser, you can do so by ensuring some of the elements are the same or similar. These tips will help you understand how to coordinate your furniture.
Color
If your nightstand and dresser are the same color, they can work well together even if they do not match. For example, you might have a wooden dresser that has been painted black and a black metal nightstand. Despite being made from different materials, these items will look good together in a bedroom because the color ties them both together.
Choosing furniture in a matching color is an easy way to ensure they will work in the same room. Another option is to choose furniture in colors that complement each other.
For example, in a nautical-style bedroom, you might have a white dresser and navy blue nightstands. These will look coordinated despite being different colors because the colors complement each other, and both belong to the same color palette as the rest of the room. To tie in this furniture, you could have a navy blue and white striped set of curtains or white bed sheets with navy blue throw cushions.
If you have mismatched furniture that you want to use together in your bedroom, then a really easy way to make them coordinate is to paint them the same color.
An old pine dresser and a mahogany nightstand can be sanded down and then painted with furniture paint in the same color. This will make them look as though they were designed to be used in the same space, and it allows you to upcycle old furniture and save money.
If you don't want the two pieces of furniture to look too matchy-matchy, you could instead coordinate the colors of the paint. For example, paint the nightstand in black furniture paint with yellow handles, and paint the dresser in yellow furniture paint with black handles.
Another popular upcycling method is to paint the drawers in varying shades of the same color. For example, start the first drawer in pale blue and work gradually up to dark blue on the last drawer.
Theme/Style
The style or theme of the furniture is one of the most important ways to ensure a nightstand matches a dresser. Decide on a style for your bedroom and stick to it. In doing this, your furniture will look coordinated, even if it is completely different colors or made from different materials.
For example, if your bedroom is designed in an art deco style, you could have a turquoise art decor nightstand made from wood and a mirrored art deco dresser. These pieces will clearly belong to the same era, and the same theme and, therefore will look coordinated in a bedroom.
Material
Matching the material of a nightstand and dresser is one of the easiest ways to ensure coordination between furniture from different places.
A mahogany dresser is going to coordinate well with a mahogany nightstand, even if the two pieces of furniture have different handles and different silhouettes. The material of the furniture is what ties them together and ensures that they don't look at odds with each other when used in the same room.
If the material of two pieces of furniture is the same, they can be a different color and still work well together. The exception to this is different types of wood. You have to be careful with wood finishes because the colors can clash if they do not match. For example, a red-toned wood such as cherry can look awkward next to an orange-toned wood-like honey oak.
Texture
The texture is an interesting way to make furniture coordinate with each other, and it doesn't always refer to the type of material used. For example, if you are creating a minimalist style bedroom, then one of the key textures in the space will be a high-gloss finish, as this is synonymous with minimalism.
You could have a metal dresser that has been shined to a glossy finish and a glass nightstand which is also glossy.