When buying furniture for your home, you may be wondering to what level your furniture needs to match. Many retailers sell collections or ranges of furniture which are all designed in the same style, so it is possible to find furniture for different rooms in your home which all match each other.
But is this something that you should aim for? Here we will look at when furniture and dining room furniture should match and when it doesn't need to.
Open Plan Living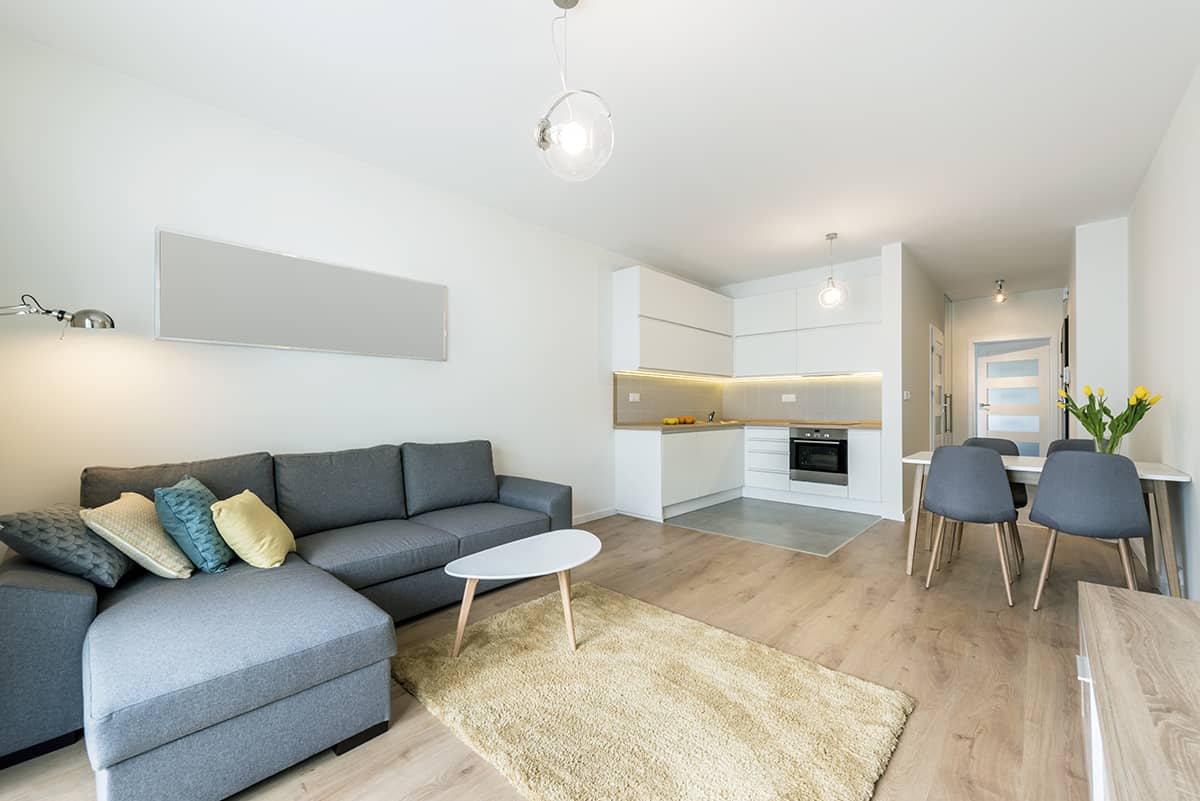 If your living room and dining room are open-plan, then you will be able to see one area from the other. For example, your living room sofas and coffee tables might be in your line of sight while you are sitting at your dining table, or vice versa.
If your entire downstairs area is open plan, then you could be in the kitchen looking out at both the dining room and living room simultaneously. If this is the case, then it is highly recommended that your living room and dining room furniture match each other.
However, this does not by any means suggest that they need to be from the exact same product line, and it depends on how you interpret the word 'match.'
Matching furniture doesn't necessarily need to share the same material or color; instead, it should coordinate or accent. This is important to achieve a cohesive design style throughout a home, but it is most important in an open plan living space where you can see both of the rooms at the same time.
Although an open plan living area could be composed of three separate areas (such as a kitchen, living room, and dining room), you essentially need to treat it as if it is just one room and furnish it accordingly.
Follow the same guidelines as you would when furnishing and decorating an individual room. For example, in a living room, not every single side table needs to be exactly the same; however, it will look most stylish if the side tables are all of a similar style, for example, a rustic style.
This ensures that the look and feel of the room are unified. When choosing furniture for your open plan living room and dining room, you'll want to make sure that the styles are coherent and that the colors are complimentary.
For example, choose an industrial-style dining table with black metal legs, and opt for an industrial style coffee table in the living room, which also has a black metal frame or legs. You could match the color of your dinnerware on the dining table, such as plates and placemats, with the color of your living room sofa to help tie the themes together.
Don't try to match all of your furniture by buying an entire set from the same range at a furniture store, as this can look too 'matchy' and artificial. For a more stylish result, handpick pieces that are different but fall within the same decor theme.
When choosing furniture, you might also be thinking about colors and fabrics along with the design style. Although your open plan living room and dining room furniture should be in the same style, it doesn't necessarily have to be within the same color scheme.
In fact, opting for a different color scheme in each area of an open plan space could be one of the factors that help to define the different areas.
For example, you could opt for a soft gray theme in the living room area with velvet gray sofas on a plush gray rug, and then choose a more natural theme for the dining room, with a rustic wooden dining table and tan leather dining chairs. The color themes do not need to overlap, and they can be completely different as long as they don't clash.
Separate Living Room and Dining Room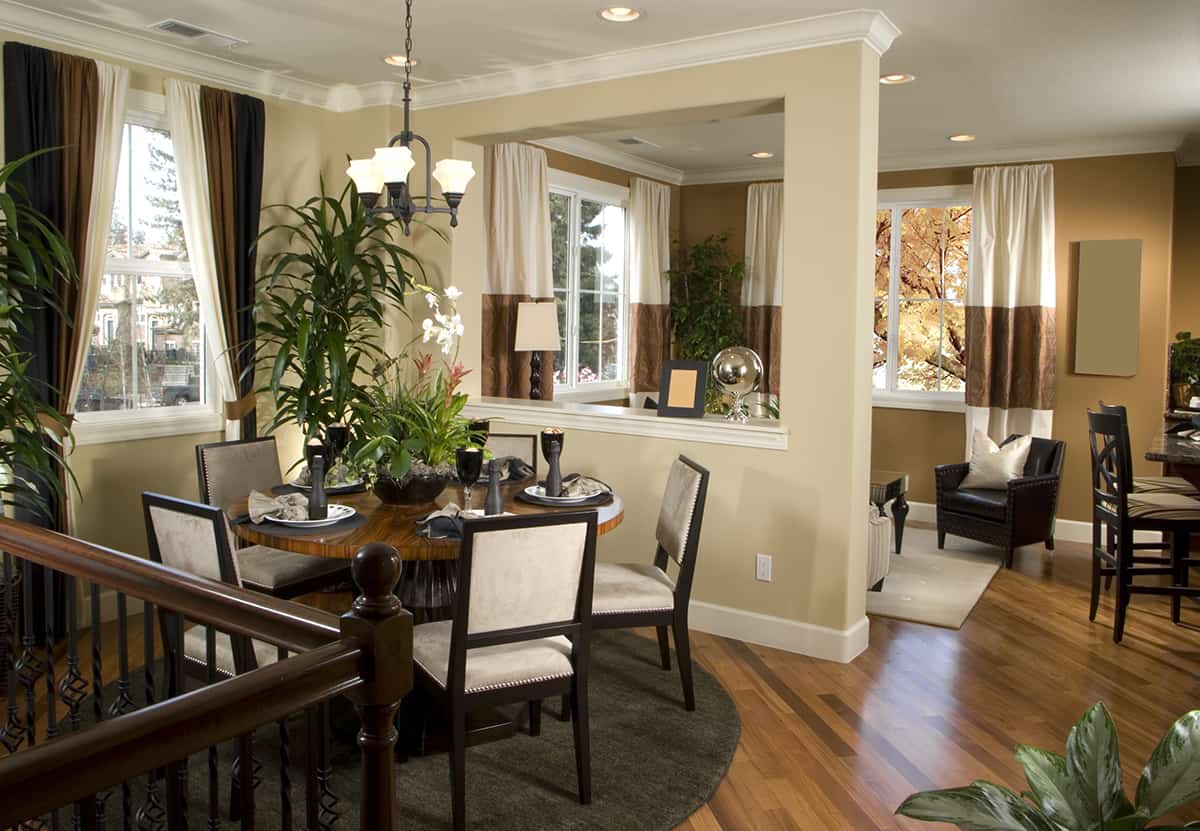 If your living room and dining room are separated, then you have more room for different styles between the two spaces.
A separate living room and dining room could be simply divided by a door but be positioned next to each other, or you may have a dining room that's on the other side of the house to the living room. Either way, as long as you can close a door between the two rooms, then you can decorate them entirely differently.
Stepping from one room to another can be like stepping from one world into another. That being said, many people prefer having a cohesive look throughout their home, which ties all of the rooms together.
This could mean sticking to a modern theme of decor throughout the home but creating this with the use of different colors in each room. Some people prefer to keep even the color scheme consistent throughout the home, and this can be very stylish too.
To avoid confusion when people visit your home, it is best to choose one or two styles you like that compliment each other and stick to them in every room throughout your home. This doesn't mean that every room needs to be a carbon copy of the one before, but just that it isn't a culture shock stepping from one room to the next.
You could, for example, opt for a glamorous theme. In the living room, this could look like sumptuous dusky pink velvet sofas and gold-framed mirrors, while in the dining room, you could take a more intimate and mature approach, painting the walls in a dark gray and choosing a glass dining table with gold metal legs.
Each room would have its own distinct personality, but they would both fit into the glamorous style. When trying to choose furniture for two different rooms, try to imagine your home as a hotel.
Although a hotel will not necessarily have the exact same furniture in the lobby, the breakfast room, and the bedrooms, it will have furniture which all falls under the same design style so that the entire hotel has one definitive look.
Creating Cohesion with Different Furniture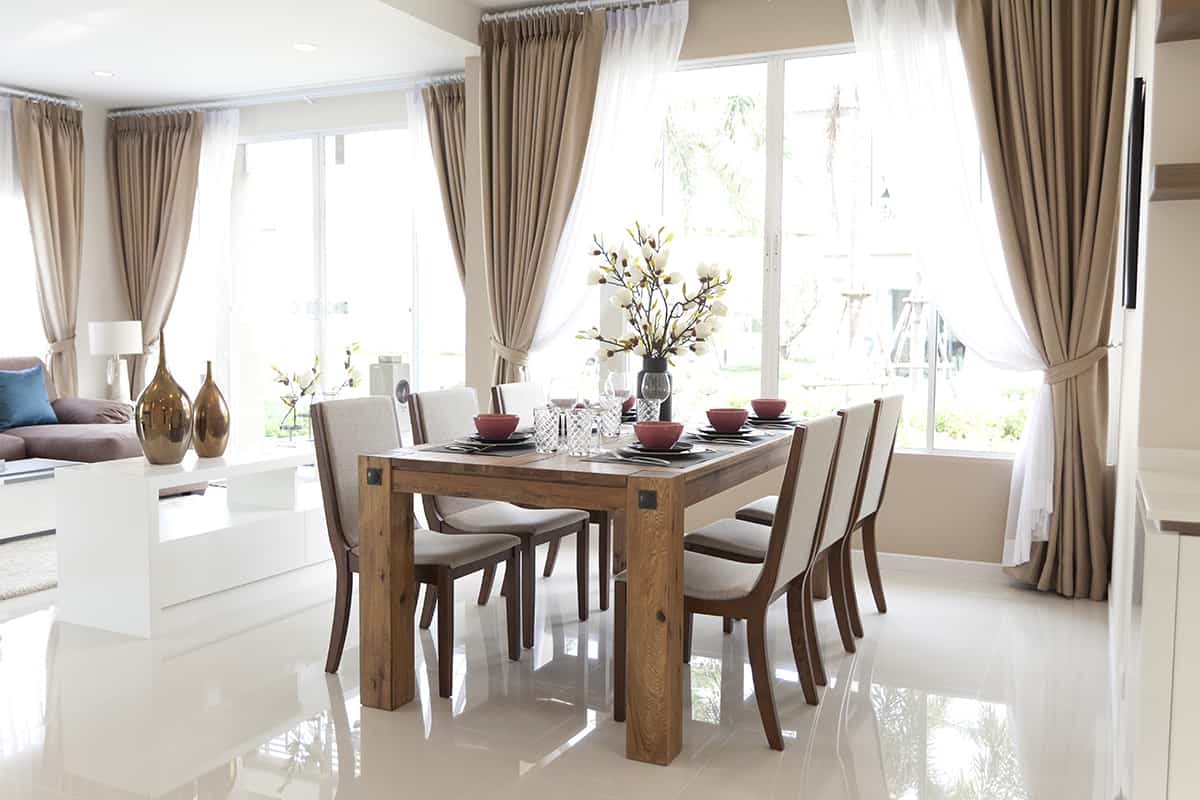 If you have used non-matching furniture in your living room and dining room, you can still create a feeling of cohesion between the two areas, whether these are separate rooms or not. Lighting is a good way to keep a theme consistent by choosing light fixtures and fittings that match throughout each room.
Trim and molding is another way you can ensure continuity of design between rooms, simply by ensuring that all of the trim and molding in your home is painted the same color. Internal doors can also be included in this as an additional way of carrying on one design element all the way through the house.
There are small details you can pay attention to which will also help ensure unity across the space, for example, match door handles in every room and light switch plates and electrical socket plates.
If you have a penchant for one particular metallic color, such as copper or brass, try to use this wherever metal is seen in the home to create continuity of style, for example, brass curtain poles, brass kitchen cabinet handles, and brass planters.