Napkins can be used for a variety of purposes when consuming food and drink, and they also serve a more aesthetic purpose in homes and restaurants as they can be used to help decorate a dining table and make place settings look more appealing. The type of napkin you need, and the size required, will be dictated by your event.
Here we look at the most popular types of napkins and standard napkin sizes.
Some common napkin types and their sizes include: beverage napkins of 10″ x 10″ when fully laid out flat, 5″ x 5″ when quarter-folded; luncheon napkins of 13″ x 13″ when fully laid out flat, 6.5″ x 6.5″ when quarter-folded; dinner napkins of between 16 inches by 16 inches and 22 inches by 22 inches when fully laid out; and dispenser napkins of 6.5″ x 5″.
You can also check out the diagram below to get the size chart for some popular types of napkins.
Beverage Napkins
A beverage or cocktail napkin is the paper napkin you will often receive if you order a drink or cocktail from the bar. The napkin is commonly placed on the table or bar beneath the drinks glass to soak up any drips or condensation.
These types of napkins may also be used to dab the side of your mouth and wipe away the drink residue, or some wait staff may use these napkins to carry plates and other serving dishes out to customers. This can prevent the transfer of any germs, and it is also useful if the plate has been warmed and the server doesn't want to burn their fingers.
The size of a beverage napkin will be 10 inches by 10 inches when laid out flat, but they come pre-folded in a quarter fold, so the final dimensions are 5 inches by 5 inches.
Luncheon Napkins
These napkins are also usually made from paper and are single-use napkins. They are a little larger than beverage napkins and are popularly used for children's birthday parties. They are great for serving small slices of cake and for wiping children's hands after they have eaten a light meal.
These napkins, when folded out, fully measure 13 inches by 13 inches; however, when you buy a pack of luncheon napkins, they will already be folded in a quarter fold, resulting in final dimensions of 6.5 inches by 6.5 inches.
Dinner Napkins
Dinner napkins tend to be a less standard size than other types of napkins, as these are usually reusable napkins made from fabric. The store you buy your napkins from will dictate the size, though you can usually expect them to be somewhere between 16 inches by 16 inches and 22 inches by 22 inches when fully laid out. As these napkins are fabric instead of paper, they don't come pre-folded, so you can fold them yourself or try out an elaborate folding design.
The smaller size of dinner napkins is usually 16 inches by 16 inches, 17 inches by 17 inches, or 18 inches by 18 inches. These are sufficient to encase cutlery in or to fold underneath cutlery at a place setting. The more formal the dinner event is, the bigger the napkins should be. A large napkin of up to 22 inches by 22 inches is a sign that you are attending a very fancy restaurant.
These napkins can be used for intricate folds and then displayed on top of a plate at the place setting, and they are also large enough to completely cover a person's lap while they are eating their meal. This will be especially important at a formal event, as the people are more likely to be wearing expensive clothing which they won't want to ruin.
Dinner napkins will be made from fabric in settings where it is more economical to launder and re-use napkins rather than throw away single-use napkins. Dinner napkins made from fabric are popular in homes, as they work well to indicate a level of class and elegance to dinner guests. Dinner napkins can also come in rectangular shapes, where they will be folded in half instead of into quarters, though these are less common.
Dispenser Napkins
Dispenser napkins are widely found in diners or fast-food restaurants. They are held in metal tabletop dispensers which allow people to easily grab one with one hand. They are useful because the staff will routinely refill the dispensers rather than have to dish out individual napkins for each customer.
It also means that customers have the freedom to grab just one napkin or several napkins depending on their needs, rather than having to approach staff and ask for additional napkins. These napkins have an industry-wide standard size so that any dispenser napkin will be compatible with any dispenser. They will be made from paper and can be printed with the restaurant's logo on or bought in any color. These have a slightly rectangular shape and dimensions of 6.5 inches by 5 inches when folded.
Using Napkins for Decoration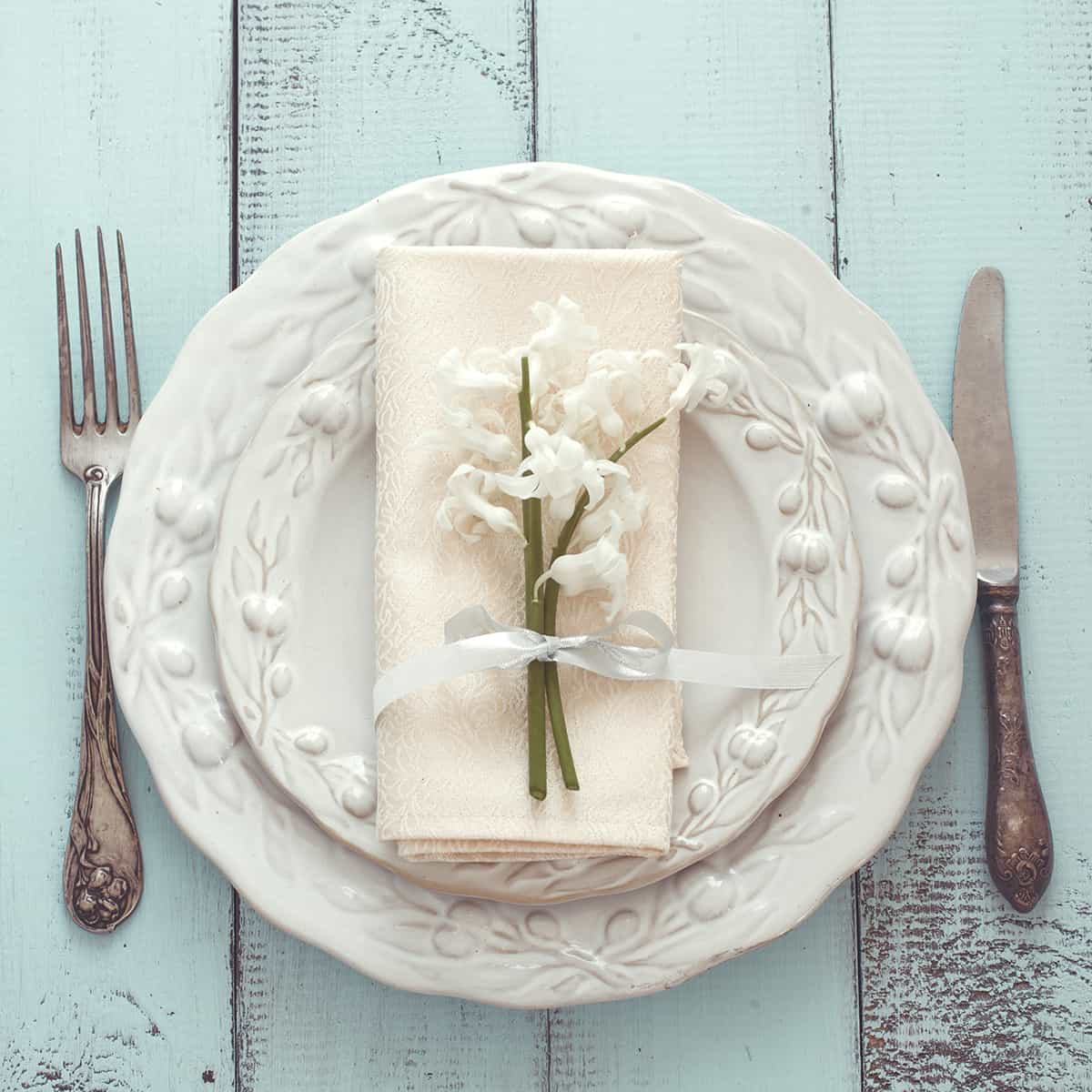 If you are having friends or family over for dinner, then using napkins is a nice touch that will help them protect their clothes from spillages and give them something to wipe the corners of their mouths with. Napkins also make a great addition to the dining table as a means of decorating it.
Purchase fabric napkins that match the color scheme of your dining room to help the table feel like a continuation of the interior decor. For example, if your walls are blue and your accessories are pink, then opt for napkins in one of these colors, or seek out napkins in a patterned fabric that uses both colors.
If you aren't a skilled napkin folder, then you can fold napkins in half and half again to give you a quarter fold. This can then be placed on top of a plate at a place setting to give it a finished look. You can also use napkins folded in a specific way to make a pouch for cutlery or just wrap cutlery inside the napkin.
If this doesn't work out, you can just fold the napkin and put cutlery on top of it. If you want to really make a good impression and you have some spare time on your hands, search on youtube for different types of napkins folds and follow along with the tutorials to create some impressive napkins placeholders for your dining table decoration.