If you are renovating your kitchen or want to replace an old sink, you'll need to understand kitchen sink dimensions. While there are some standard sizes, these can vary among the kitchen sink anatomy, design, and manufacturer. The most important thing to consider when buying a sink is that the dimensions correlate with the dimensions of your kitchen sink base unit.
To do this, you should measure your current base unit and find a sink that is a few inches smaller to allow space around it, or check the measurements of your new base unit.
Standard Kitchen Sink Sizes
Kitchen Sink Width
The width of a kitchen sink (the measurement from the front of the sink where you would stand to wash up to the back where it is closest to the kitchen wall) is a standard size of 22 inches.
This is because kitchen base units have a standard depth of 24 inches, allowing the sink to comfortably fit within the unit frame. You can also find kitchen sinks with a width of 20 inches, but this is less common
Kitchen Sink Depth
A kitchen sink should have a minimum of 7.25 inches of bowl depth.
Shallower than that, and your kitchen sink will run out of space for dishes fast. The standard depth is around 8 – 10 inches with 10 inches giving you plenty of room to wash larger dishes without being splashed with water over the countertops.
Kitchen Sink Length
The standard length is 33 inches. However, the length of a kitchen sink varies depending on whether you have one bowl or several and the design you opt for.
Common Kitchen Sink Types & Their Dimensions
You can find below the diagram that illustrates the kitchen sink dimensions, including standard kitchen sink sizes, average single-bowl sin dimensions, and average double-bowl sink dimensions.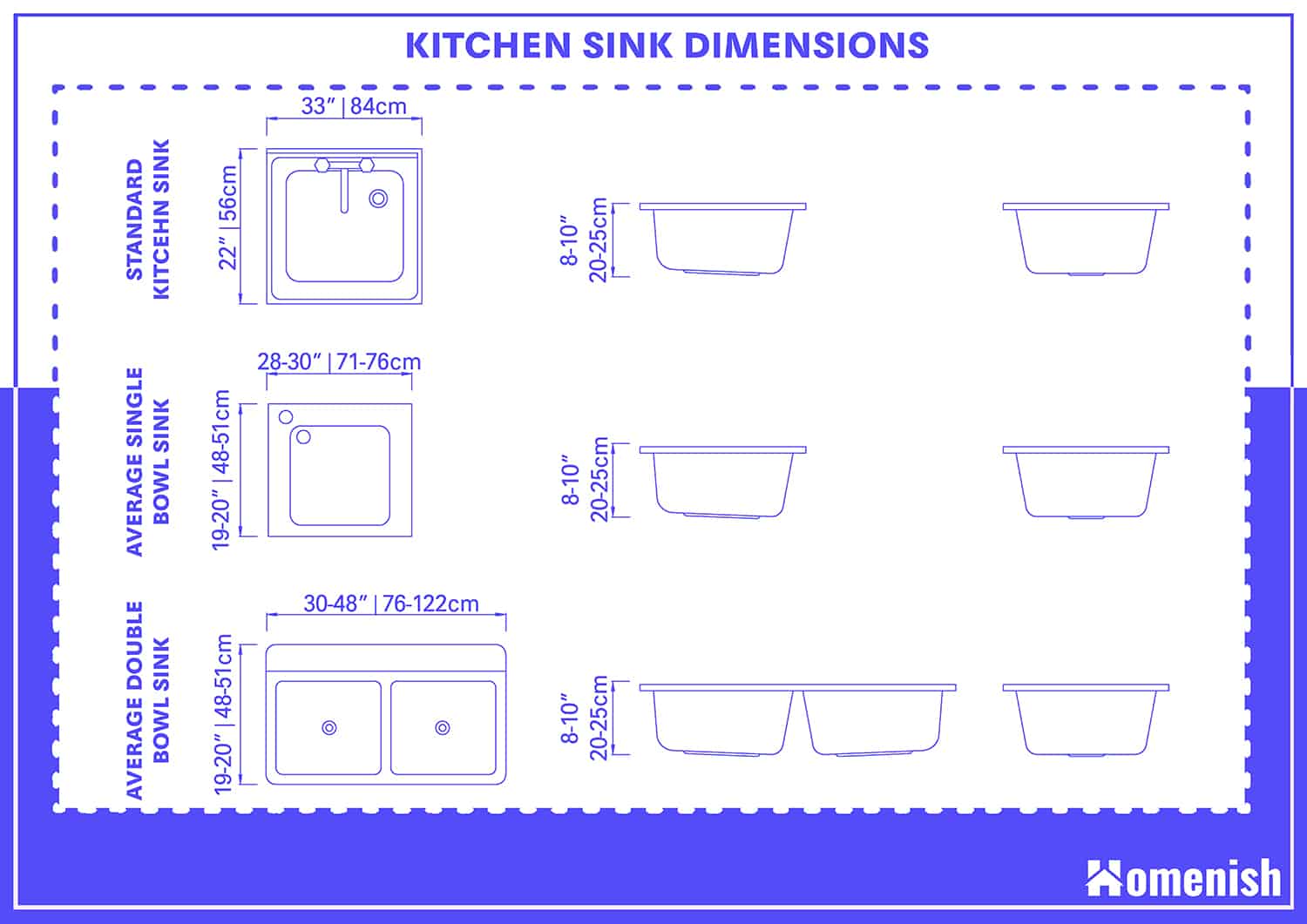 Standard Sink
Most commercial kitchen sinks with a single bowl will be one of two standard sizes; these are 33 inches in length and 36 inches in length. These are the standard lengths of kitchen sinks because they need to fit into the kitchen sink base unit, which also tends to be of a standard size.
The 33-inch length sink will allow you to have some countertop framing your sink and there is the standard size of 22 by 33 sinks (with one or two bowls) you can easily find on the market, while a 36-inch length sink will take up the entire work surface area over the top of the base unit.
Average Single Sink Dimensions
In reality, not everyone has a large enough kitchen; and many prefer a one bowl kitchen with shorter dimensions, typically at 28 – 30 inches long, 19 – 20 inches wide, and 7.25 – 8 inches deep.
Average Double Sink Dimensions
Commercial sinks with a double bowl can reach up to 48 inches, and these will need to be fitted into a double sink kitchen unit. However, typically you can also find most models with double bowls on the market with lengths ranging from 30 inches to 48 inches.
The sink size you choose between these two options will depend on the design of your kitchens and your preferences for both style and functionality. There are several other sizes of kitchen sink available to suit more bespoke needs, but these tend to be considered as non-standard sizes.
Undermount Kitchen Sink Dimensions
The average size of an under-mount kitchen sink is 22 inches in length and 30 inches in width. When a sink is under-mounted, it will be fitted beneath the surface of the countertop so you can't see any of the sink's edges. However, when an undermount sink is measured, you need to take into account the measurement from the edges of the rim, rather than the edges of the inner basin.
Farmhouse Sink Dimensions
Farmhouse sinks give a rustic aesthetic to a kitchen, and they also work well in traditional style decor. Farmhouse sinks can vary enormously in size, from small farmhouse sinks measuring around 20 inches in length up to larger farmhouse sinks with as much as 60 inches in length.
The height of a farmhouse sink is an important measurement to consider because your kitchen cabinets need to be specifically designed to accommodate the height of the sink. With a farmhouse sink, the front wall of the sink will be on display, and it needs to drop down to where your under-sink cabinet door starts. The average height of a farmhouse sink is 10 inches.
Corner Sink Dimensions
Corner sinks are quite common as a space-saving measure in a bathroom. However, kitchen corner sinks are not widely available. A corner kitchen sink can work well for some kitchen designs, especially in compact kitchens where the workspace is limited.
The common size of a kitchen corner sink is 31.5 inches. This means that it will take up 31.5 inches of counter space, but the sink itself will be smaller to account for the corner edge being flattened off.
Oversized and Compact Sinks
The sink size you choose between these two options will depend on the design of your kitchen and your preferences for both style and functionality. There are several other sizes of kitchen sinks available to suit more bespoke needs, but these tend to be considered as non-standard sizes.
Oversized Sinks
Single sinks with a length measurement of 36 inches or more are considered to be oversized sinks. These can work well in large kitchens where a standard-sized sink might look out of proportion with the rest of the space, but predominantly oversized sinks are found in commercial kitchens where a greater amount of washing up will be done compared with a home kitchen.
Compact Sinks
Small sinks are available for use in kitchens, which can be useful in scenarios where you have a sink specifically for food prep, or maybe if you have a small kitchen in an apartment and don't require a larger sink. Kitchen sinks can be bought with a length measurement as short as 9 inches, though more commonly, a compact sink will measure 24 inches across.
Most people find that this gives them enough space to carry out practical jobs without the sink impacting the amount of countertop space left over. Compact sinks are great for fitting into a kitchen island as a designated space to wash fresh produce so you can keep them separate from the main sink where you wash dirty dishes.
Kitchen Sink Bowl Types
Single Bowl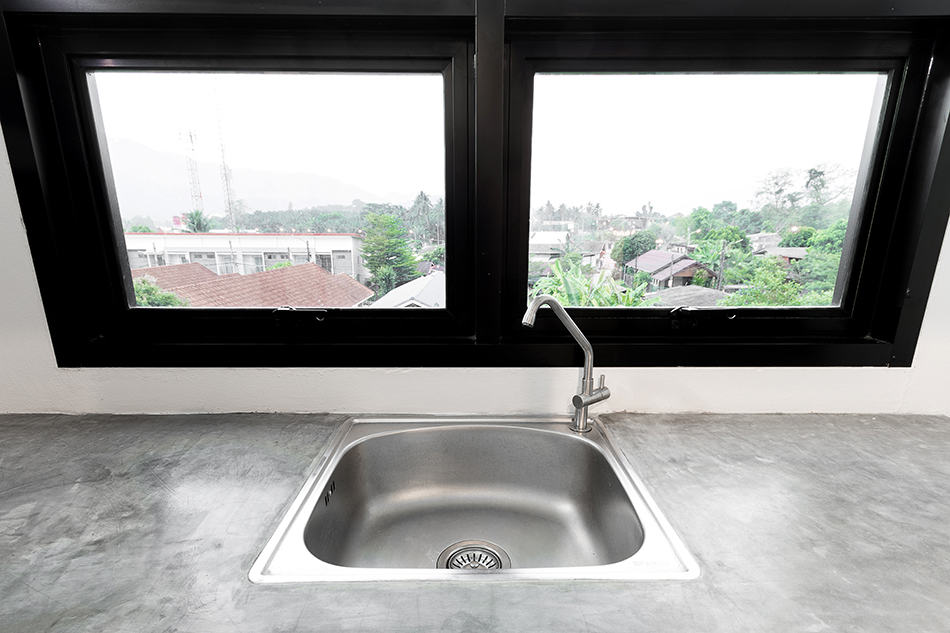 A single bowl sink will have one basin. These types of sinks work well for people who wash large items in the sink, such as pots and pans and baking trays, because the large sink space provides enough room for them to soak.
Single Bowl and Drainer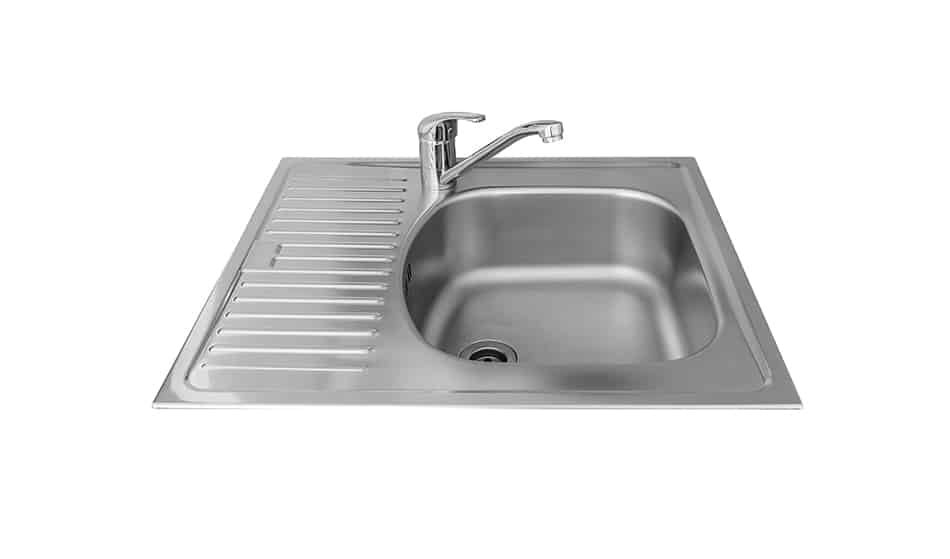 A single bowl sink with a drainer will have one basin on one side and will be joined to a grooved surface area on the opposite side. These types of sinks usually measure the same as a double sink with a standard size of 46 inches in length, though they can be fitted on either a single or double kitchen base unit because the dryer area of the sink does not need any space beneath it in the way that a sink basin does.
These are great if you do a lot of washing up in the sink because they provide you with a space to soak and wash items and a convenient area for the items to dry. The drying area of the sink will be very slightly slanted towards the sink so that any water dripping off the drying items will drain down towards the sink, preventing puddles from forming on the surface.
Double Bowl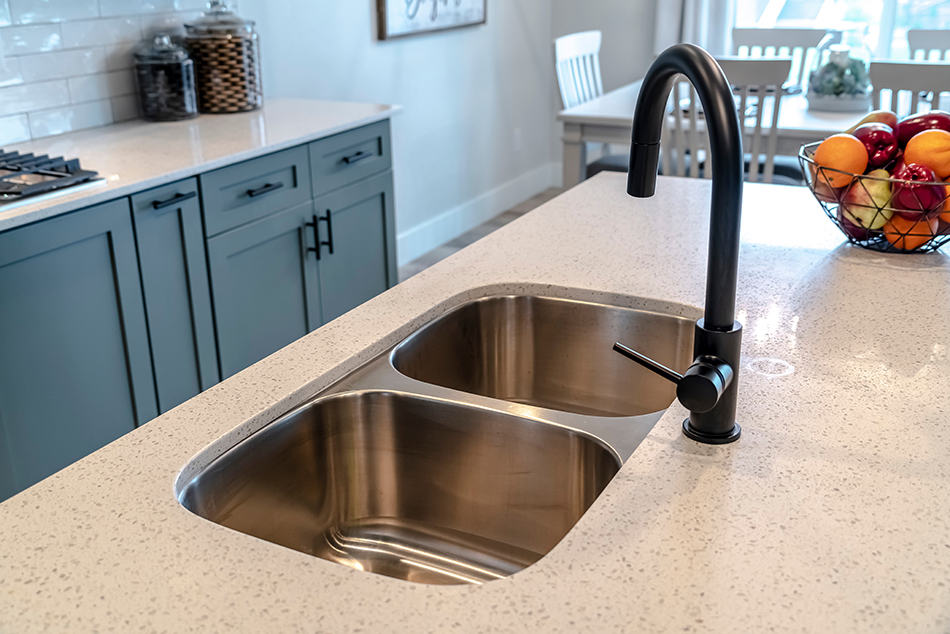 A double bowl has two bowls side by side and is good for separating your washing up. For example, you could have items that require a long soak in one bowl, such as casserole pans, while easier items like plates and cutlery can be washed and dried in the other bowl. They also allow more versatility and options for accessing water.
In some instances, you might have washed up soaking in a single bowl sink, which makes it difficult if you want to fill up a large vase of water because the washing up will be in the way. A double sink prevents these sorts of issues from arising because you can use one bowl for dirty dishes and the opposite bowl for other tasks.
Triple Bowl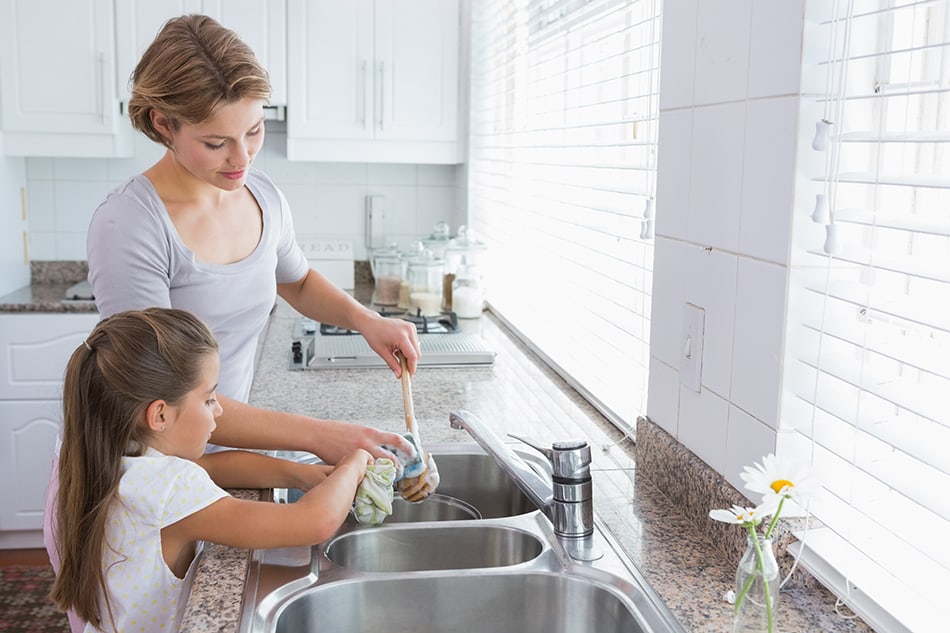 Triple bowl sinks have three bowls in a row. They may not all be the same size. Often there is one bowl larger than the remaining two, or two moderately sized bowls, with a smaller one joining them in the middle.
These types of sinks are not uncommon, but they also aren't the most popular type because they use up a fair amount of counter space. Triple bowl sinks can be found in 46-inch lengths to work in a double kitchen base unit, but they also come in larger sizes, which would require custom kitchen cabinets.