Throw pillows not only make sofas and beds more comfortable, but they also add texture and color to a room. Over time though, these decorative pillows tend to accumulate dust, dander, debris or grime.
To keep their colors and materials fresh, you need to wash your throw pillows regularly. So rather than throwing out your decorative pillows with the first sign of dirt or stain appearing on them, there are some easy methods you can try to clean them.
In this article, we will explain the step-by-step process of how to wash your throw pillows including their covers so they'll look as good as new again.
How Often Should You Wash Throw Pillows?
Washing your decorative pillows regularly should be part of your routine cleaning. After all, these accent pillows are integral parts of any interior design and look beautiful in living rooms and bedrooms.
As a rule of thumb, wash your throw pillows including their cover at least once a month. The filling inside the pillow must also be cleaned every other month. However, if you have pets who sit on your throw pillows, you should wash them every two weeks to keep them in top condition.
Prerequisite Tips for Washing Throw Pillows
Always read the care label before you proceed to wash your decorative throw pillows. This is the easiest way to determine how to wash these pillows. Some pillows can only be dry cleaned, hand-washed with a mild cleaning solution, or spot cleaned. If there is no care label, determine the type of fabric your pillow is made of.
The easiest cleaning method is by using a sponge. If your throw pillows are not machine washable, they will benefit from a light sponge cleaning. All you'll need is a good quality furniture shampoo and sponge.
Start by working your way through the stained area using a circular hand motion. Be sure to be extra gentle when cleaning the trims or decorations of the pillow. When done, blot the wet spots with a white, clean towel until it is dry.
Many throw pillows are made of solid foam. Always remove the foam inserts as they can't be washed in the machine. Once you've removed the cover, place the foam insert in a bathtub or basin and add warm water mixed with a small amount of mild detergent. Submerge the foam in the water and rinse thoroughly. Gently twist the foam insert until all the excess water is squeezed out before hanging it outside to dry.
For throw pillows that are dry-clean only, you can simply dip a clean sponge in a cleaning solution and rub on the fabric. Use circular motion and once done, blot the area with a clean towel to soak up the moisture. Remember that decorative pillows made from suede, leather, silk or wool can't be washed in water. You can only dry clean them.
How to Wash Throw Pillows by Hand
Before we show you how to wash your throw pillows, you must first identify what type of material your pillows are made of. Some pillows can be washed in the washing machine while the more decorative ones such as handicraft boho throw pillows are hand-wash only.
Silk and wool, for example, are delicate fabrics that can only be dry cleaned. Those made with washable materials will retain their original shape and style when washed by hand. For maximum longevity, always remove their covers and wash them separately, (we will show you how to wash your pillow's cover a little later).
To wash your decorative throw pillows by hand, you'll need the following:
Hot water
Vacuum cleaner
A tub or large basin
Rubber gloves
An old toothbrush or a scrubbing brush
Clean sheet
Mild soap or detergent
Cloth towels
Step 1. Once you have gathered all your cleaning tools, remove the covers from your throw pillows and vacuum them in order to remove any surface debris, dust or hair from the pillow.
Step 2. Now fill the bathtub or basin with hot water and add the mild soap or detergent. Make sure you mix the cleaning solution thoroughly in the water to create bubbles. Warning: protect your hands from hot soapy water by wearing rubber gloves. Push the pillows into the tub until they are fully submerged in the soap water.
Step 3. Keep submerging the pillows in the water up to 6 times until they are fully soaked.
Step 4. Take an old toothbrush or scrub brush and gently scrub the entire surface of the pillow using a circular motion. Focus on the areas with visible stains by adding a little force.
Step 5. After scrubbing the pillow surface, submerge it in soapy water once again.
Step 6. Repeat steps 4 and 5 for all the other pillows.
Step 7. Now remove the pillows from the soapy water. Place them on a clean sheet and drain the tub water.
Step 8. Refill the tub with hot water and give the pillows a full rinse until all the cleaning solution is washed out of them. You can do this by pushing the pillows in and out of the clean water but remember to keep your rubber gloves on.
Step 9. To squeeze all the water out of your pillows, wrap a cloth towel around them and twist them over the sink.
Step 10. Use a dry cloth towel for each pillow. Once this step has been completed, you can dry your pillows by either hanging them outside or putting them in the tumble dryer, depending on their care instructions.
Step 11. Whilst you're waiting for your pillows to dry, it's time to wash their covers. The next section will explain how to do this based on the particular fabric type of your pillow cover.
How to Wash the Throw Pillow Cover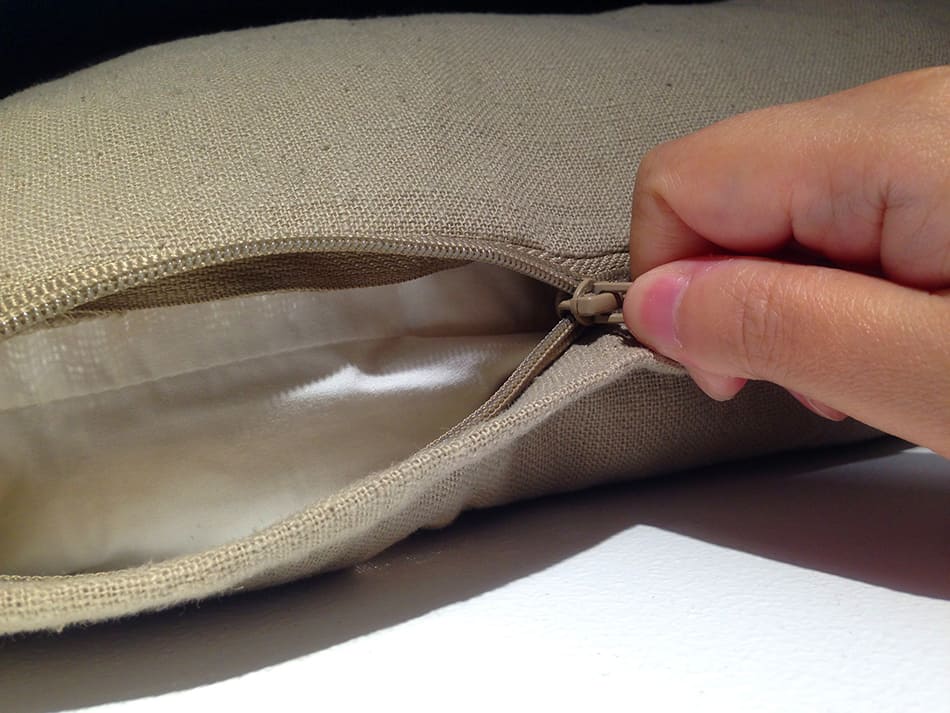 Most throw pillows have zippers or flaps for easy removal of their cover. However, if the cover is sewn in, use a seam ripper and gently open each seam one at a time.
In case you're not able to safely remove the cover, you must identify the pillow's fabric cover and test it for dye stability. If the material is washable, you can simply wash the entire pillow. On the other hand, if the fabric is delicate, it will lose its color so avoid washing it.
Simply vacuum the pillow to remove the dust and sprinkle some baking soda to neutralize odors. Let the baking soda sit on the pillow for a few minutes before vacuuming it again. For down feathers or foam pillows, you can freshen them up in the dryer or air dry them outside. Another option is to dry clean them professionally.
To clean the pillow's cover, follow the instructions on the label. It will have details of the material and the fill. Most fabrics, including polyester, cotton and nylon can be washed in the machine. Silk, linen, wool, or velvet, however, must only be washed by hand or dry-cleaned. Suede and leather covers must not be washed. They can be cleaned using a damp cloth.
If there is no care label on the cover, you must identify the fabric yourself. If in doubt, wet a small area of the cover with mild, soapy water to see how the material copes. Blot with a white, clean towel and let it dry. If the color runs or the fabric shrinks, take the cover to a dry cleaner.
If your throw pillow covers have decorative trims, dry clean or hand wash them in order to protect their embellishments.
For spot cleaning, you can simply use a soapy, damp cloth and blot the stain by working around it. Remove the soapy water by blotting it again using a damp, clean cloth before air drying outside.
If your throw pillow covers are suitable for machine wash, use the delicate cycle on cold water. Add a mild detergent that's made for delicate fabrics.
After washing the cover in the machine, dry the fabric using a clean, white towel. If you want to use a dryer, set the temperature on low heat to prevent shrinking. After taking out the cover from the dryer, iron the fabric before placing it back on the throw pillow.
For throw pillow covers that aren't suitable for machine wash, fill a basin or tub with cold water and add some mild detergent to the water. Gently submerge the cover in the soapy water before rinsing it with clean, cold water. You may need to rinse the cover several times until all the soap is removed. Dry outside or in the dryer.
Conclusion
With a little time and some elbow grease on your part, you can have fresh-smelling throw pillows on your bed or couch for the next time you come home.
To keep your decorative accent pillows in tip-top condition, make sure to wash them at least once a month, or more frequently if you have pets.
Washing your throw pillows often will prevent them from accumulating pet dander, dust, and debris, thus prolonging their longevity. Remember to read the care instructions on your pillow's label to prevent material damage.
If you want to pair a throw pillow with your living room furniture, check out our guide 'How to Choose Throw Pillows for Your Brown Couch'.