Your porch doesn't have to be a bare place to stand as you open the door. It can even be more than a covered area for the delivery person to leave your packages. Your front or back porch can be a relaxing place to sit and enjoy the weather and the view outside.
In this post, we're highlighting the range of furniture you can place on your porch. We've taken both small and large porch areas into consideration, so you're sure to find an idea that will work for your space.
Ideas for Benches
The bench is a simple type of furniture to place on your porch. It can also be quite decorative and comfortable. Check out these examples.
Log Benches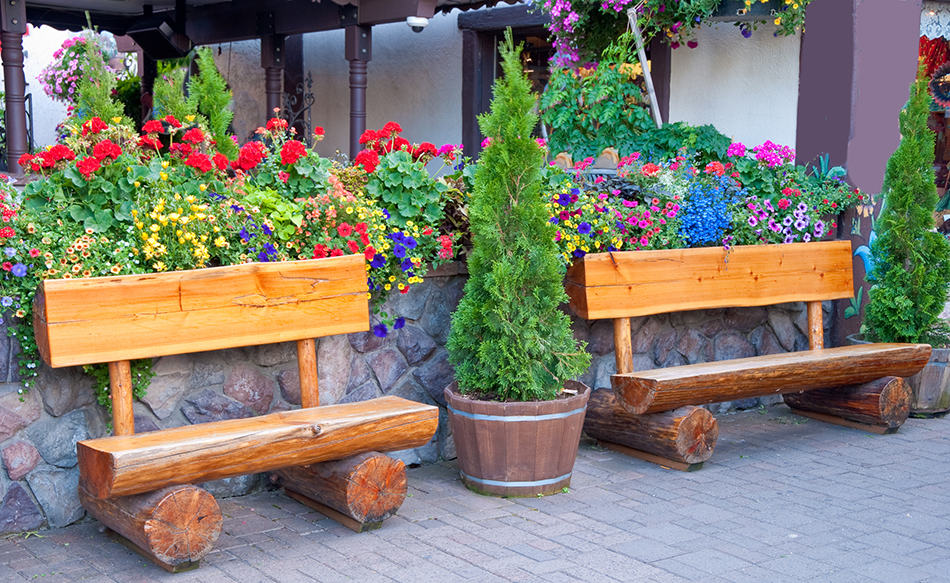 These benches are made entirely of sawn logs. If you have a felled tree in your yard, you can do the same. Simply cut some of the wood to the length you want for your bench, sand it down, and apply polyurethane to make it waterproof. You could also stain the wood to darken the color to what you want. It's a great way to keep part of a beloved tree!
Artisan Log Bench with Wood Slat Back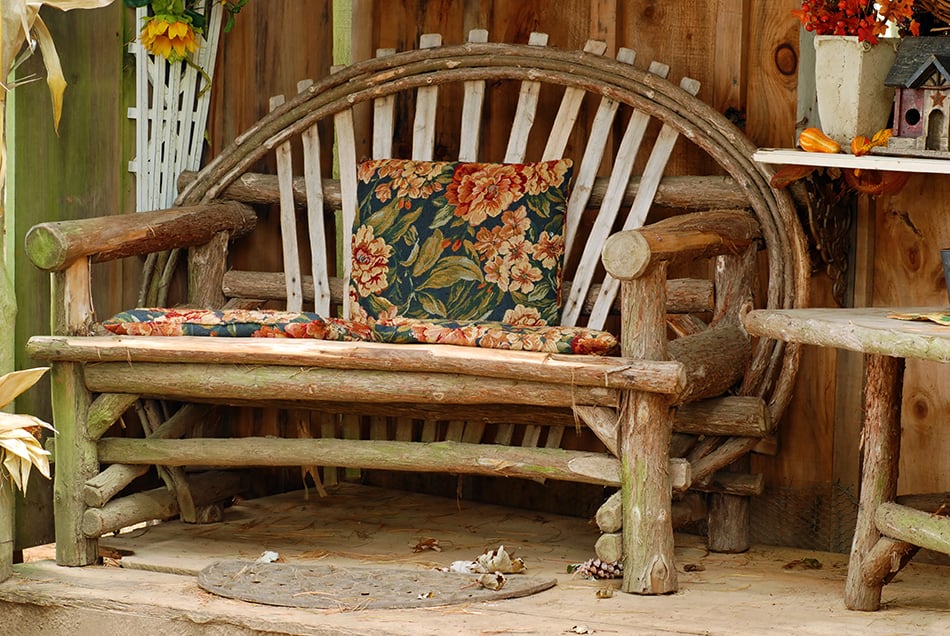 Here's a more intricate log bench you might like the look of better. It also has a cushion on the seat to provided a softer surface to sit on. Notice that in both styles, though, the back is flat. This gives you a comfortable surface to lean against. Because this style is so much more intricate, expect to pay quite a bit more for something like this. This is a craftsman's piece, not something you could make by sawing a few logs.
Wood Bench with Landscaping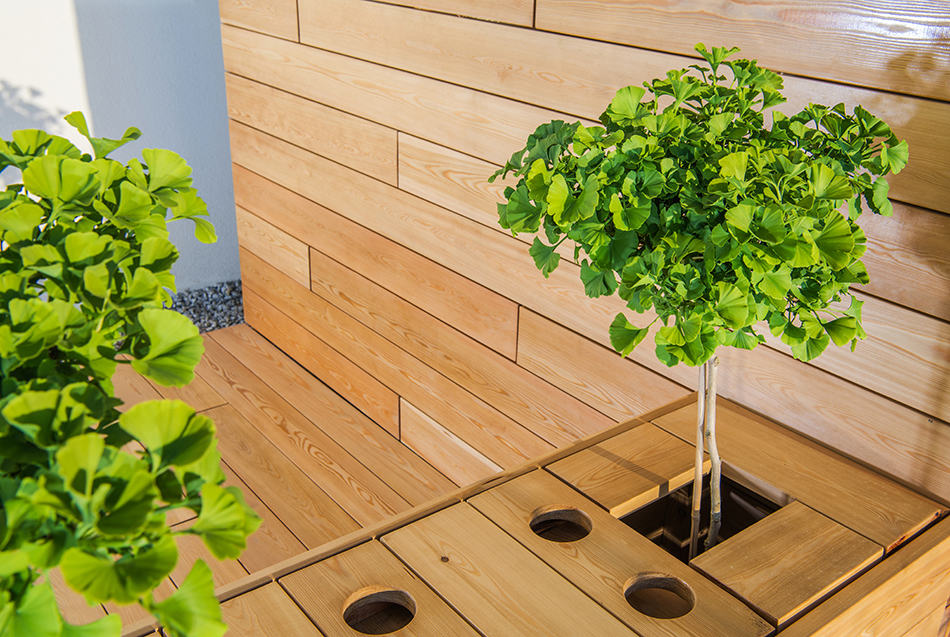 There's no reason your porch furniture can't serve multiple functions. This wood bench is hollow, so you could plant flowers, bonsai trees, or herbs in one section and leave room to cover and sit on the section next to it. If you don't want to plant something in your bench, think about what else you might store in a hollow bench like this. Maybe the kids' toys or outdoor balls? Maybe gardening tools?
Built-In Seating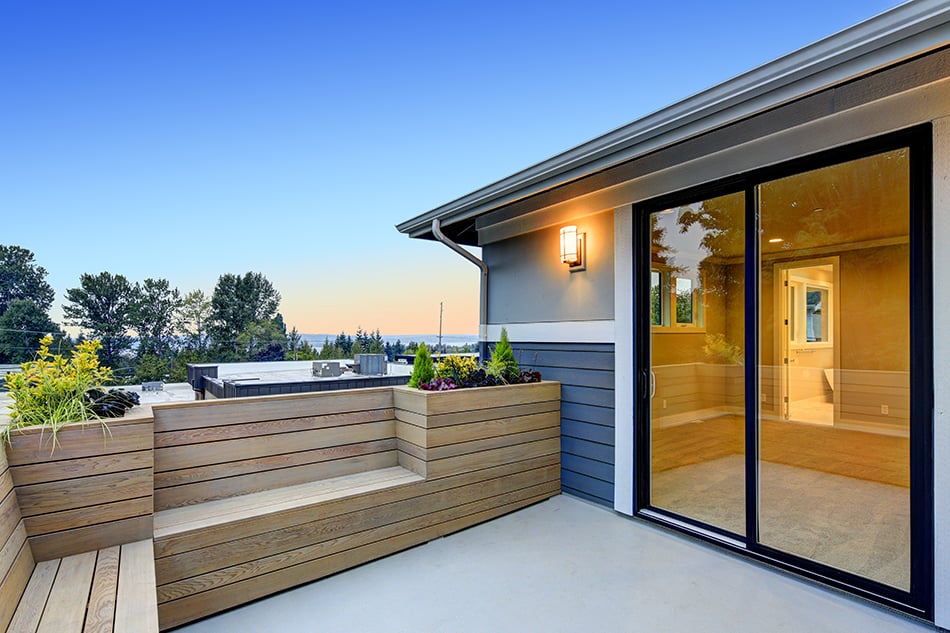 This bench also integrates flower planting space. But instead of being a standalone bench, the seating is built into the body of the porch. If you're building a new porch or adding onto it in any way, think about how you can use the structure itself to double as furniture. Doing so makes the design of the entire porch seem more intentional and saves you space as well. You don't need to buy separate furniture if it's built into the design of your porch.
Adirondack Benches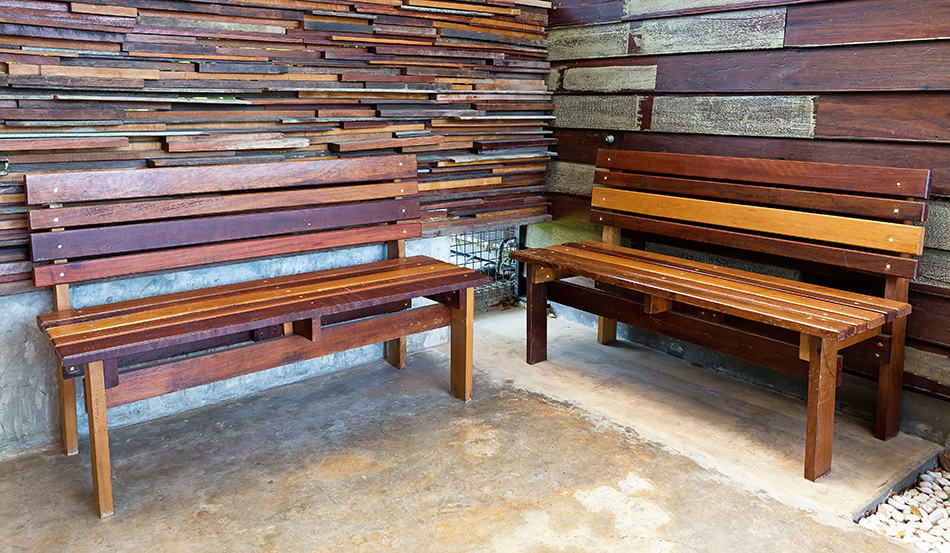 These wood plank benches are simple but go well on almost any porch. Whatever the style of your house exterior or decorating style, these plain wood benches will fit right in. They're also more comfortable to sit on than they look.
Porch Swing Ideas
There's just something about sitting outside and feeling a little breeze as you rock back and forth. Here are some examples of the different types of porch swings you can make or buy.
Decorative Metal Porch Swing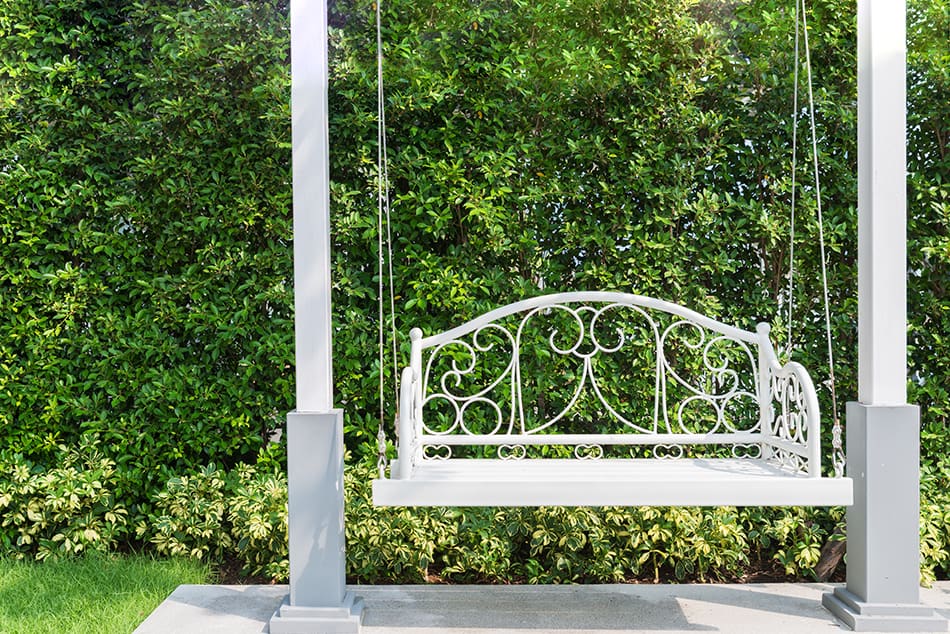 This porch swing is hanging between two pillars with a connecting covering to provide shade. Of course, you could screw the hooks for the chain into the studs of your overhang without erecting new pillars. The coated metal is safe from rain and deterioration. It's also quite decorative. If you tried to have something so fine and detailed in wood, it would be too weak to lean up against.
Matching Swings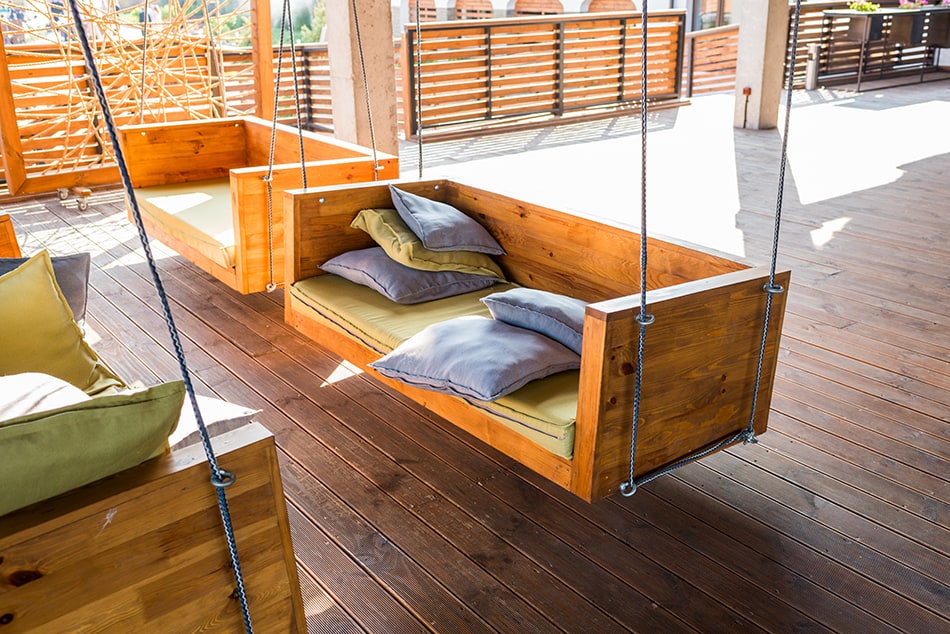 If you have room, why not add two swings? Or swings facing each other? These porch swings were easy to build out of wood planks, eye hooks, and steel cables. Put a cushion on them and add some pillows for ultra comfort.
Framed Wood Swing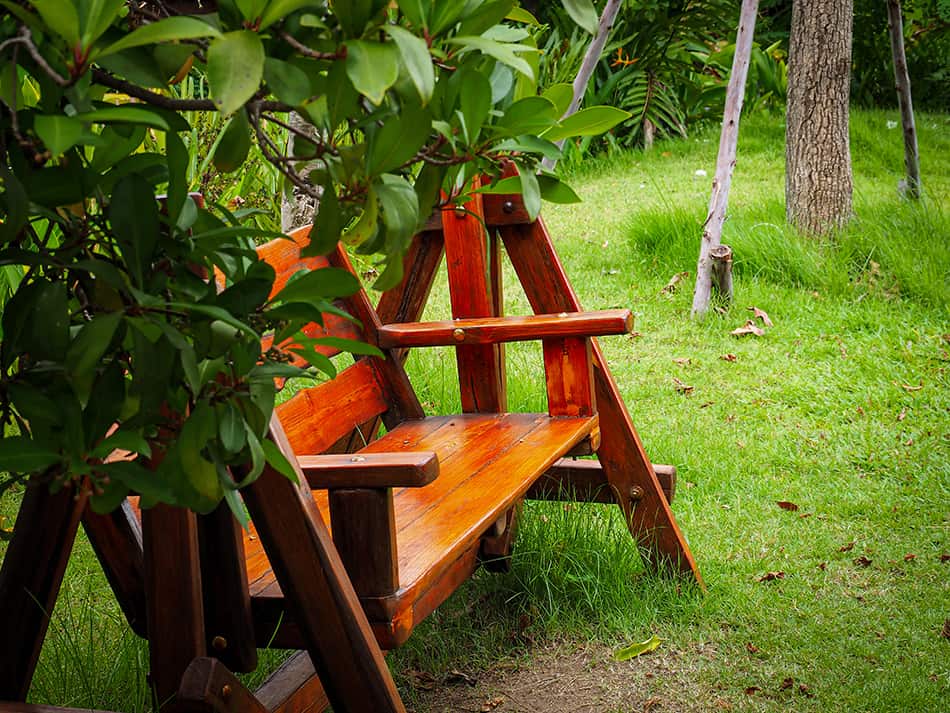 You don't need an overhang or pillars to attach this swing. The frame provides all the stability and movement it needs. You could call it a freestanding swing or an A-frame swing. Fairly simple in design, you could make one of these yourself if you wanted to. The advantage would be you could make the bench seat as long as you want and stain it the perfect color to match your porch décor. You could also paint a bench like this.
Hanging Captain's Chair Bench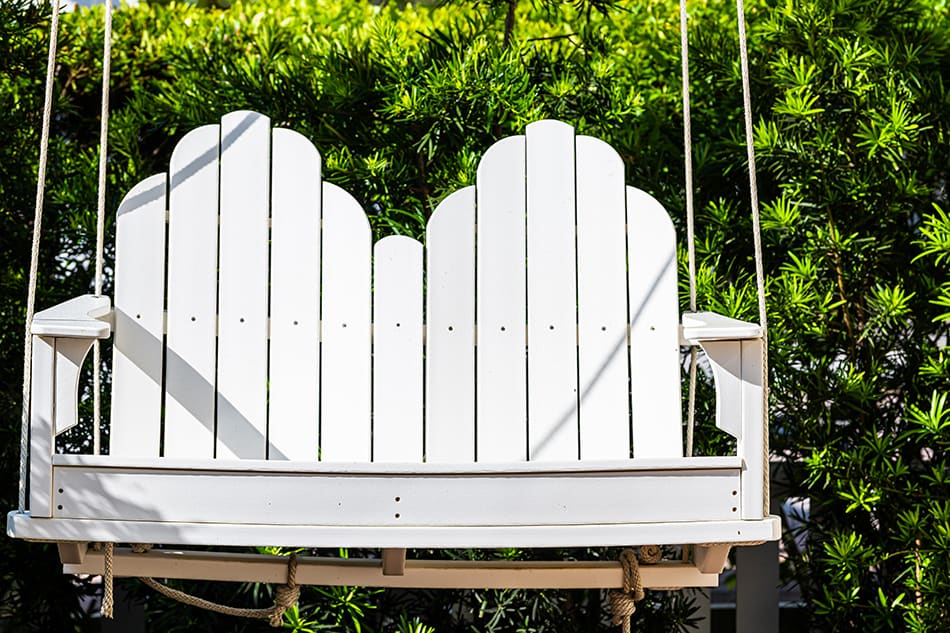 You can immediately see why I chose to show you this porch swing. It's a cross between two chairs and a swinging bench. I love that it has individually shaped full backs. This makes it so much more comfortable to sit back against. And the overall design is not so complicated that you couldn't build this yourself.
Cushioned Porch Swing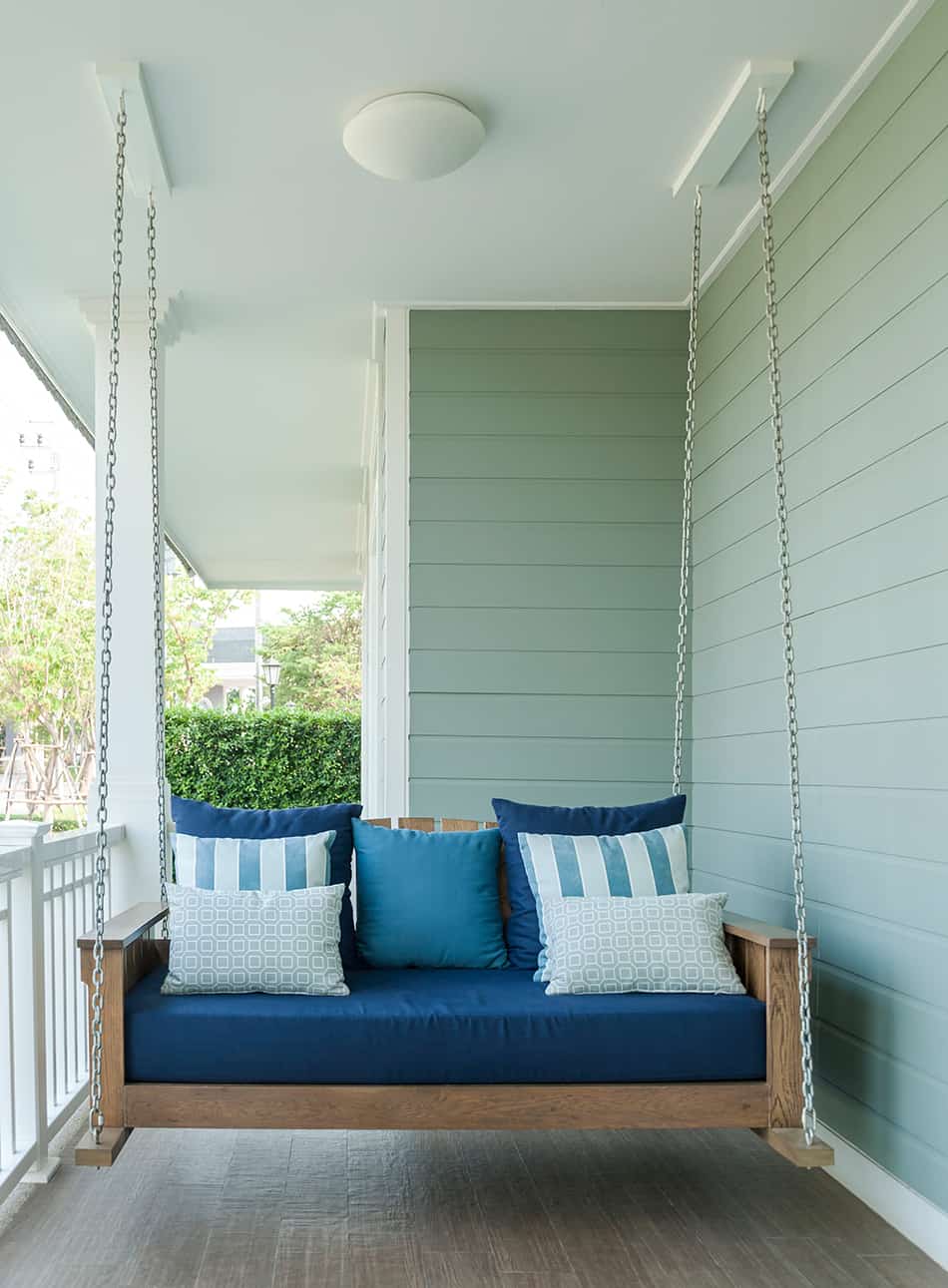 This is a very plush bench swing. You can see how thick that cushion is. It's a good example of making your outdoor furniture as comfortable as your indoor. If you plan on spending time sitting outside, make sure you'll enjoy the experience.
Porch Chair Ideas
What's more common on a porch, a bench or a chair? It probably depends on the size of the porch. Chairs are a good idea when you don't have space for a bench or when you want to be able to reposition each chair to face different directions.
Wood Slat Chairs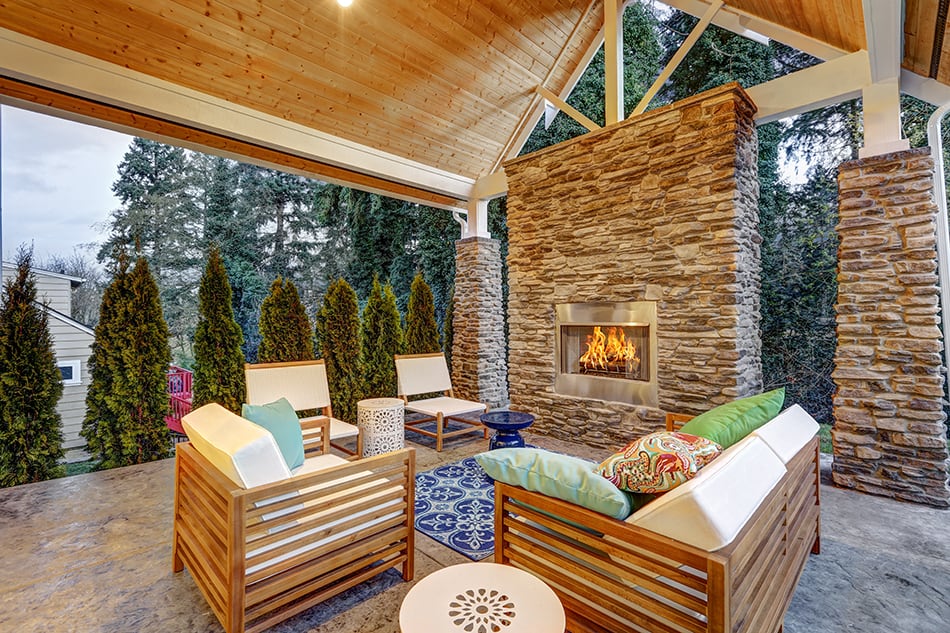 An oversized wood slat chair like this is super comfy and durable. And because it's not solid wood, it's also much lighter in weight, so you can pick it up or slide it around without a problem.
Acapulco Chairs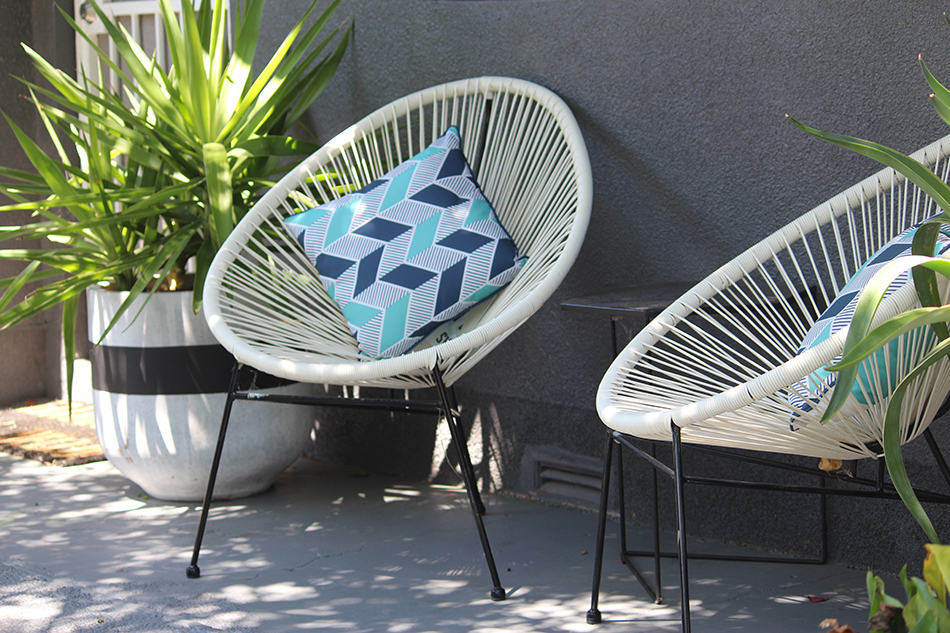 Nothing says hanging out in the sun like these comfy Acapulco chairs. Even the name makes you feel like you're on vacation – right on your front porch. The fabric on these chairs is a little more susceptible to wear, though, so I'd take them in during the off-season. The nice thing is they're lightweight enough to move easily and are stylish enough they may find a place inside your home when you don't want to sit outside.
Wrought-Iron Chairs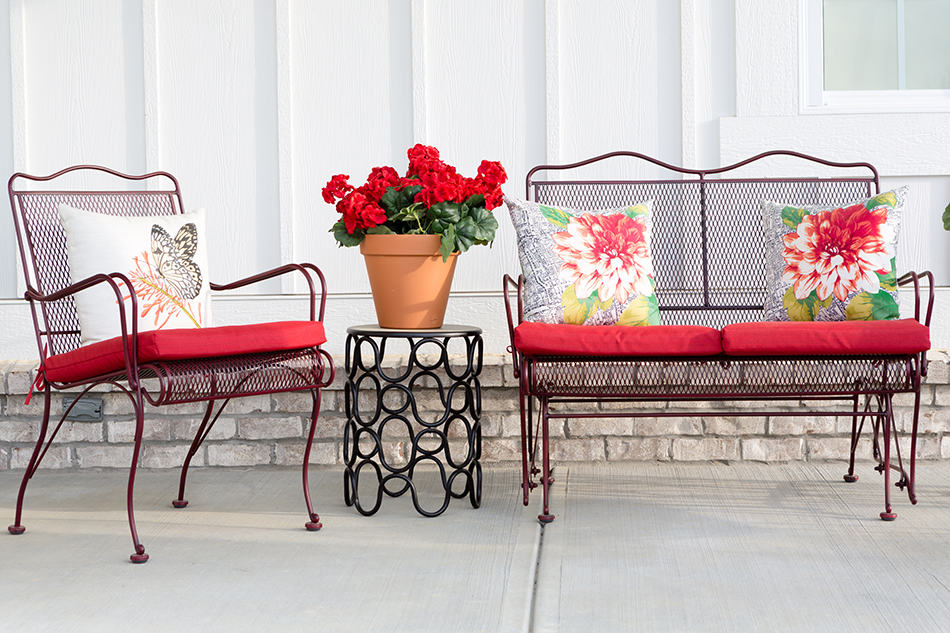 Wood, wicker, and wrought-iron. All three materials are incredibly durable for outdoor furnishings. Wrought-iron has the advantage of being more stylized. You can form it into a lot of shapely designs. Since the metal isn't the most comfortable to sit on, they'll come with weather-resistant and washable cushions.
Wicker Surround Seating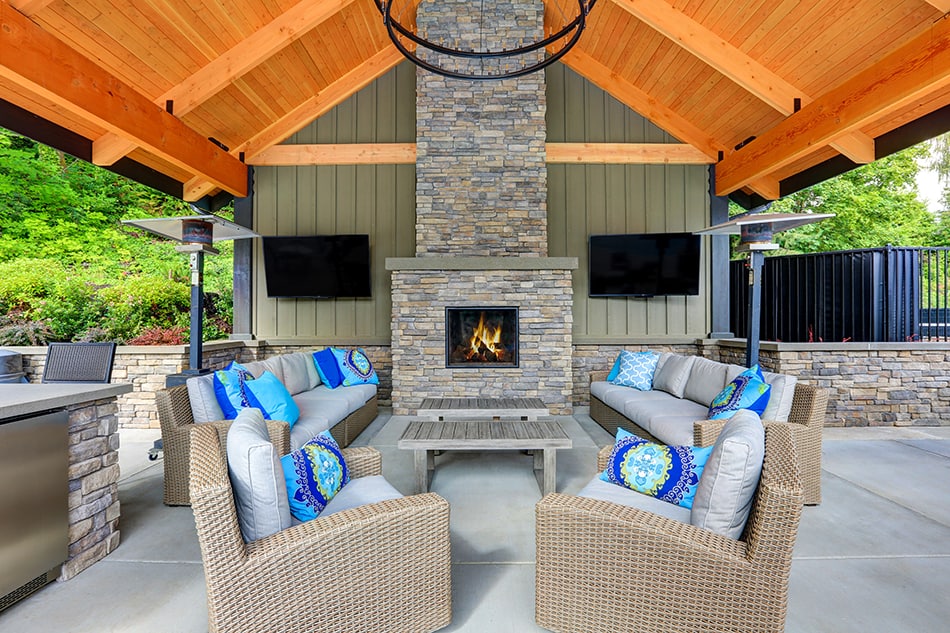 Wicker is a popular choice for outdoor chairs because it's durable and lightweight. Wash the cushions and pillows periodically or take them in during inclement weather.
Painted Table and Chairs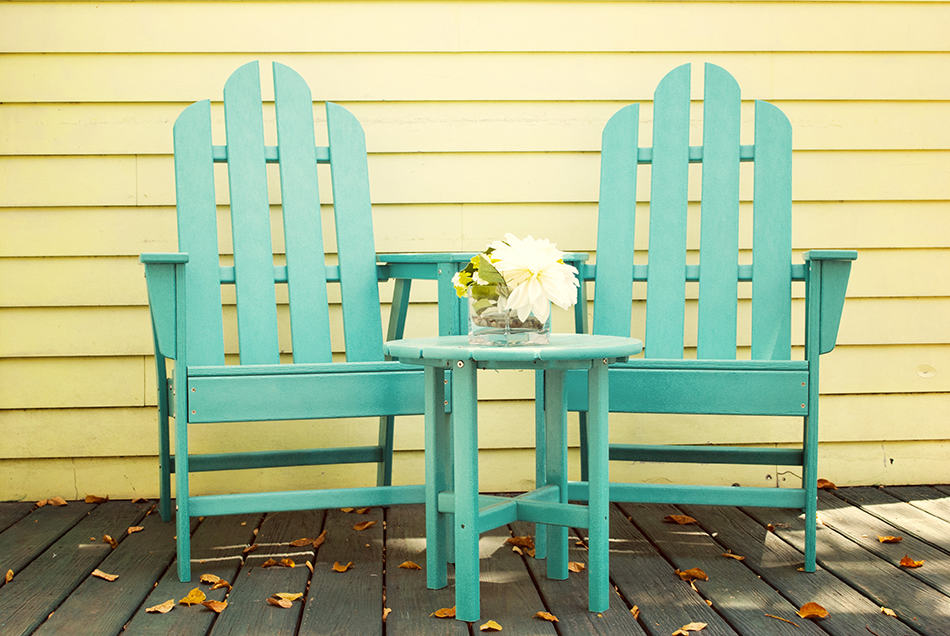 These Adirondack chairs and table make a colorful setting on this front porch. If you all need is a comfortable place to sit outside, you can do so in style without getting too fancy.
Recliner Chairs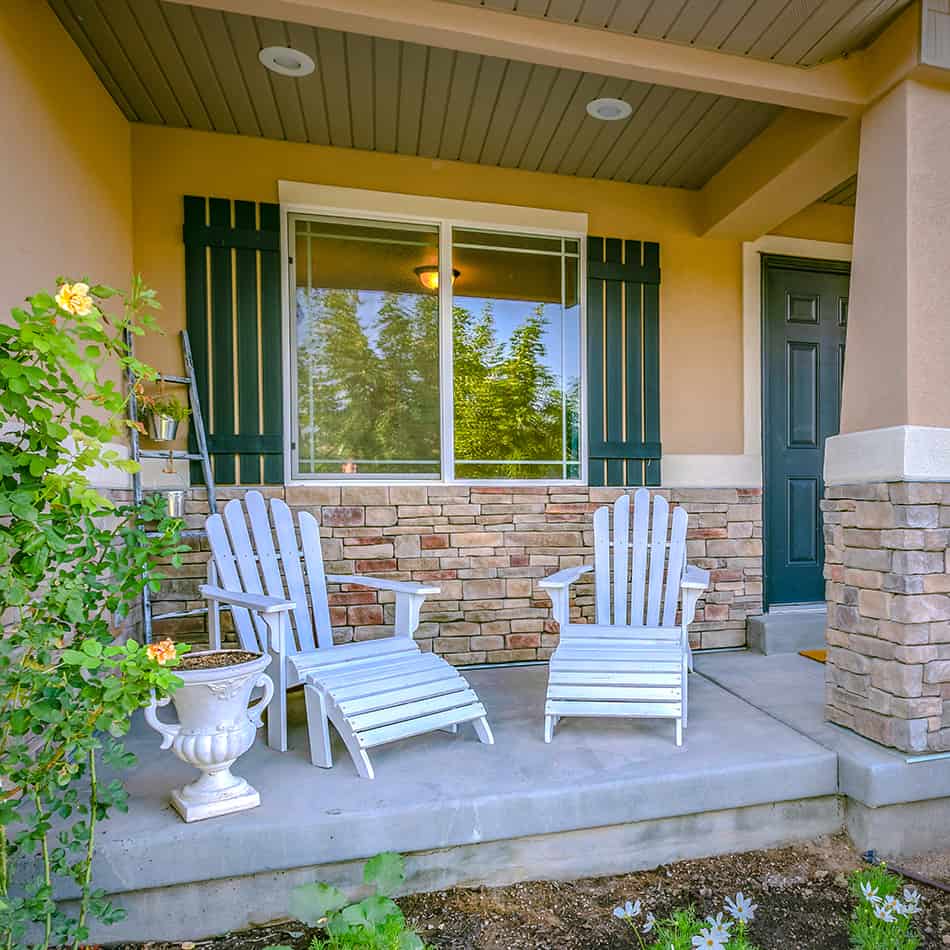 You can get a little more laid back with a recliner chair. They do take up a little more room than a normal chair, though, so make sure you measure your porch area before one of these. You don't want the chair to extend so far that it blocks the walking path to the door or prevents people from easily getting to another chair.
Rocking Chairs and Table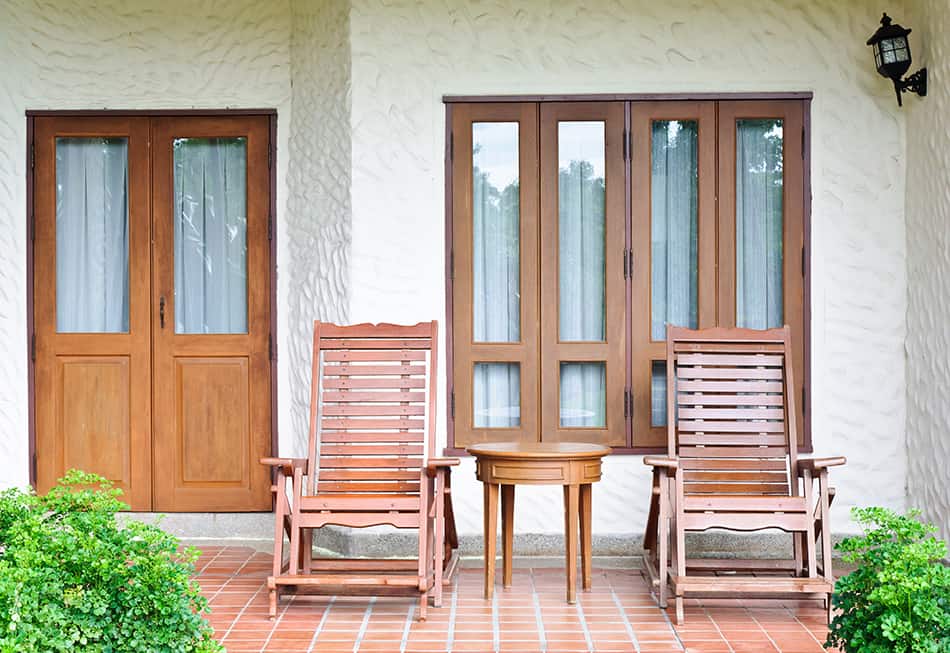 A good compromise between a chair and a swing is the rocking chair. You can still get a little movement, but it doesn't take up as much room as a swing. It's also more compact than a recliner chair and, in some ways, just as relaxing.
Mix and Match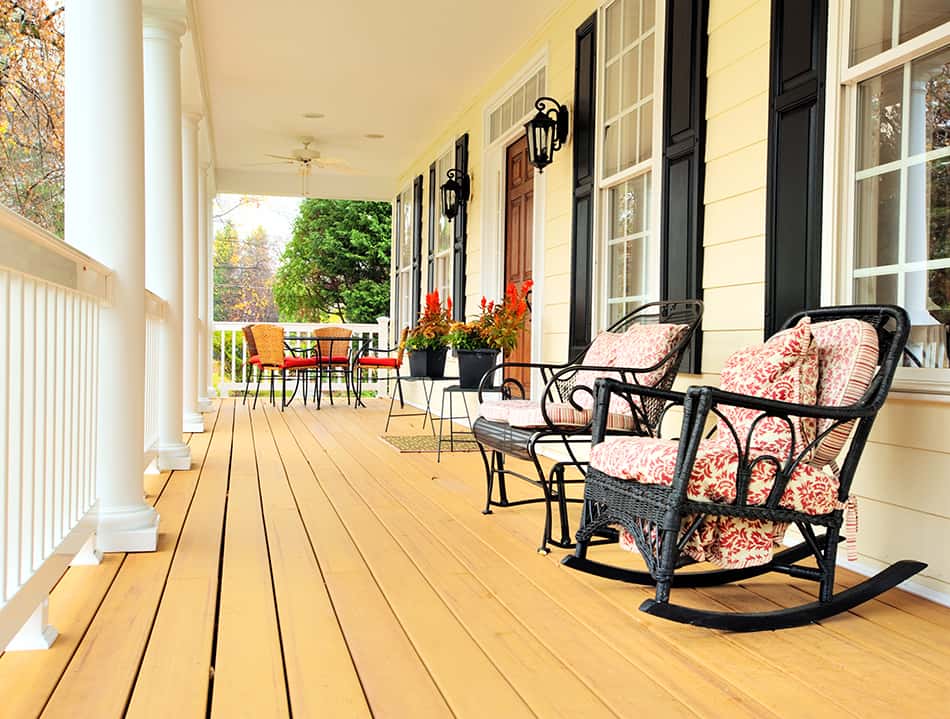 It's your porch, so don't feel tied to one style of chair. This porch looks nice with a mix of different chair options. It has a wicker rocker and a wrought-iron chair in the foreground and a table and chairs in the background.
Wicker Furniture Set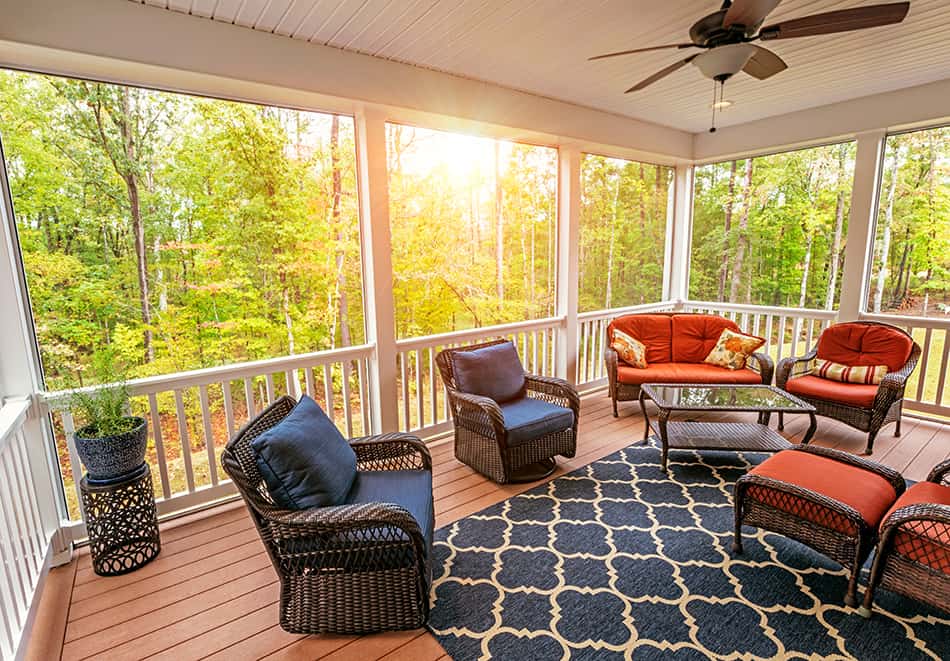 I like this set because not only is it very stylish in the weave of the wicker, but it also comes in multiple pieces, including a sofa and lounge chair. There are also different colored cushions. Color is one way to add style to your porch, and there's no reason your furniture can't fulfill that function.
Hanging Chairs
These types of chairs are so stylish and popular that I decided to give them their own section. They're a hit because they're so comfortable and are great for saving space. They're the perfect cross between a bench swing and a chair. You get the best of both. Plus, there are a lot of styles to choose from.
Hanging Wicker Chairs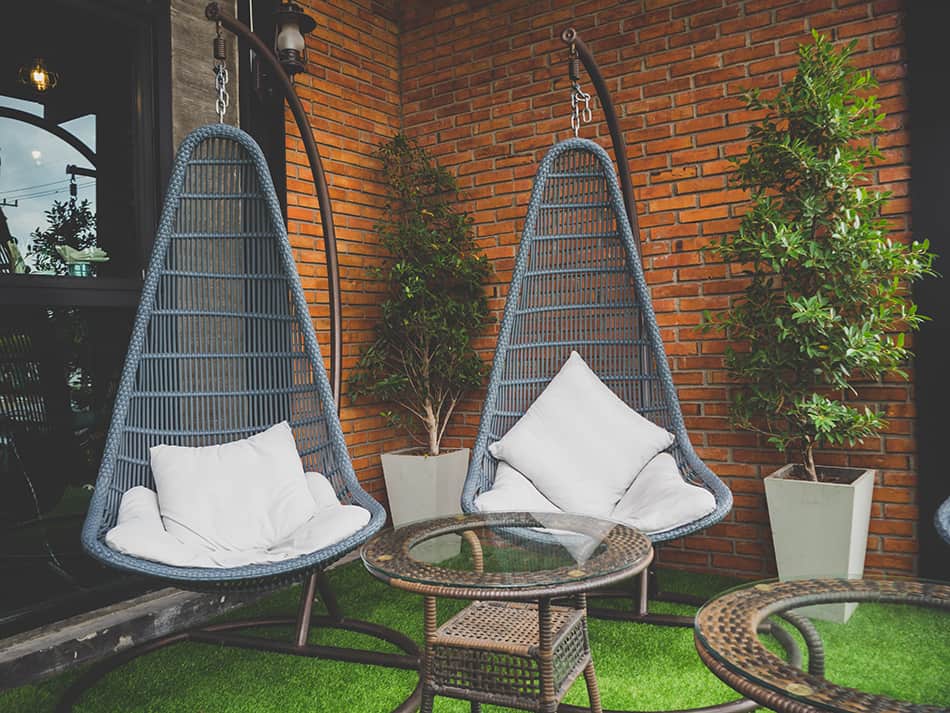 In this picture, two hanging wicker chairs go great with a couple of wicker and glass tables. Sit cross-legged, in a normal chair position with your legs dangling, or prop your feet up on the table. Gently swing as you enjoy a novel and sip some lemonade. The wicker chairs and steel base are durable to last for years without showing any significant signs of wear. Wash the pillow and cushion covers once a season to keep them looking fresh.
Hanging Chair and Couch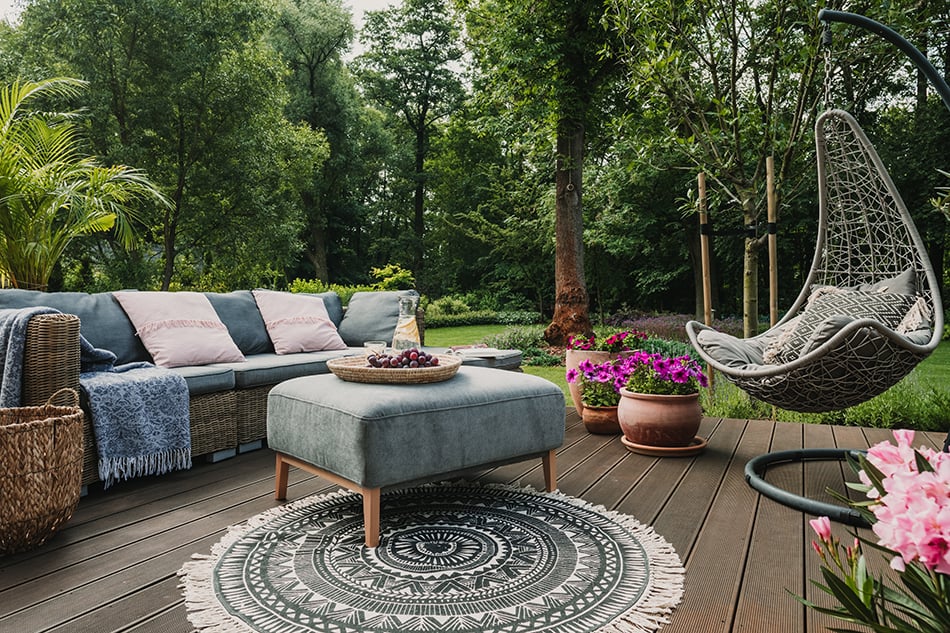 Here's a single hanging chair in conjunction with a wicker couch and footrest. The wicker weave of the chair isn't as tight as the couch, but it coordinates well, being of the same style.
Circular Hanging Chair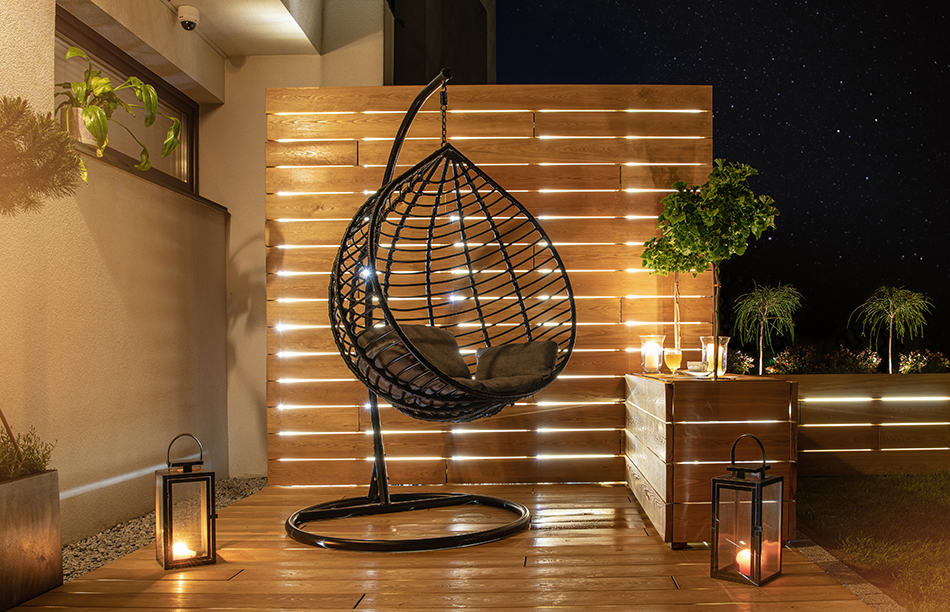 Here's yet another hanging chair option. I like this one because it's more circular, so you could turn to the side in the chair and tuck your feet in for a more comfortable position. It'd be a great place to curl up with a book or take a nap.
Ideas for Putting Couches and Sofas on Your Porch
If you can put cushioned chairs and benches on your porch, why not a sofa or full couch? Just make sure your furniture is rated to be weather-resistant! Even if you have an overhang on your porch, the rain can blow in at an angle and soak your cushions.
Marble Furniture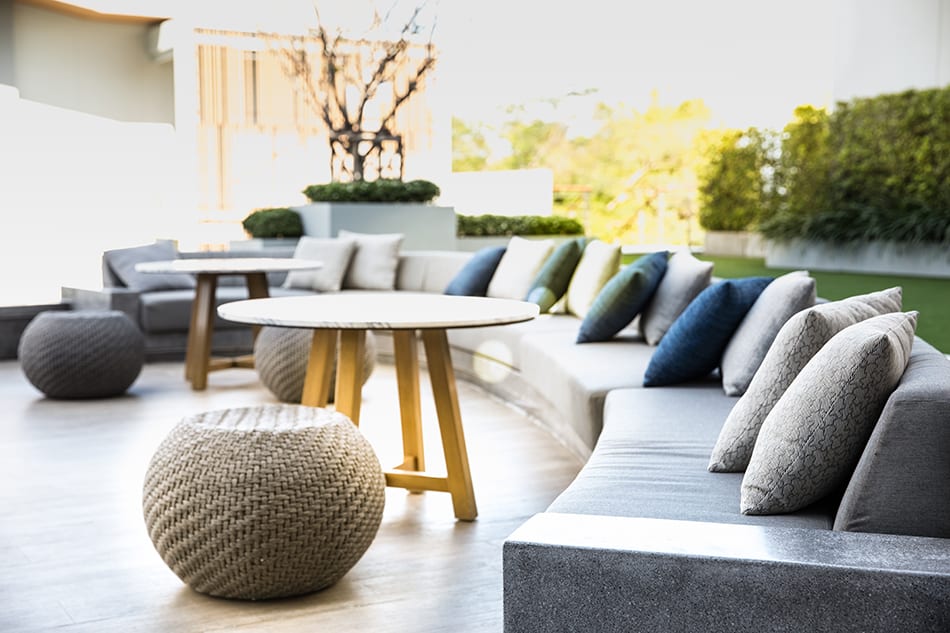 This curved couch provides plenty of space for your friends to gather on the back patio. While you may not have room for something so large, you can still take advantage of the materials. The marble frame of this couch will never be affected by the weather, and while the cushions and pillows look soft enough, they're also weather-resistant and can be removed for easy cleaning. If you want, you can remove the pillows and cushions in the winter and get them back out for your next warm-weather gathering.
Porch Swing and Wicker Couch

The wicker couch to the right of this picture is lightweight and durable. It's great for lounging on or making room for two or three people at an evening gathering of friends.
Wicker Sectional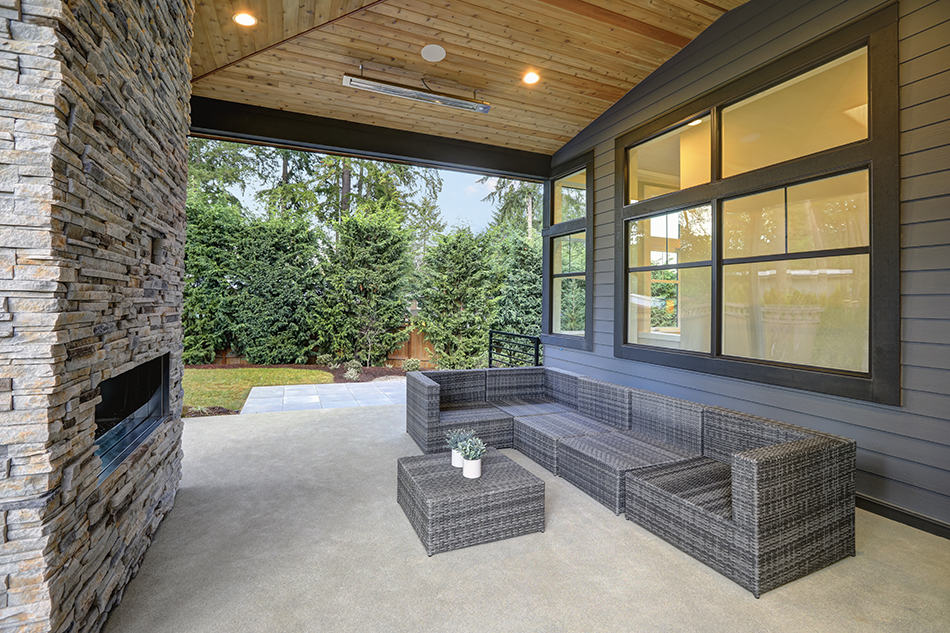 If you have the room, you can go for a wicker sectional sofa. Separate the pieces to face each other for a group gathering or keep it together to face one direction. This sofa is facing the outdoor fireplace. It also has the added bonus of a central footstool. You could use it just as well as a coffee table for your drinks.
Wicker Couch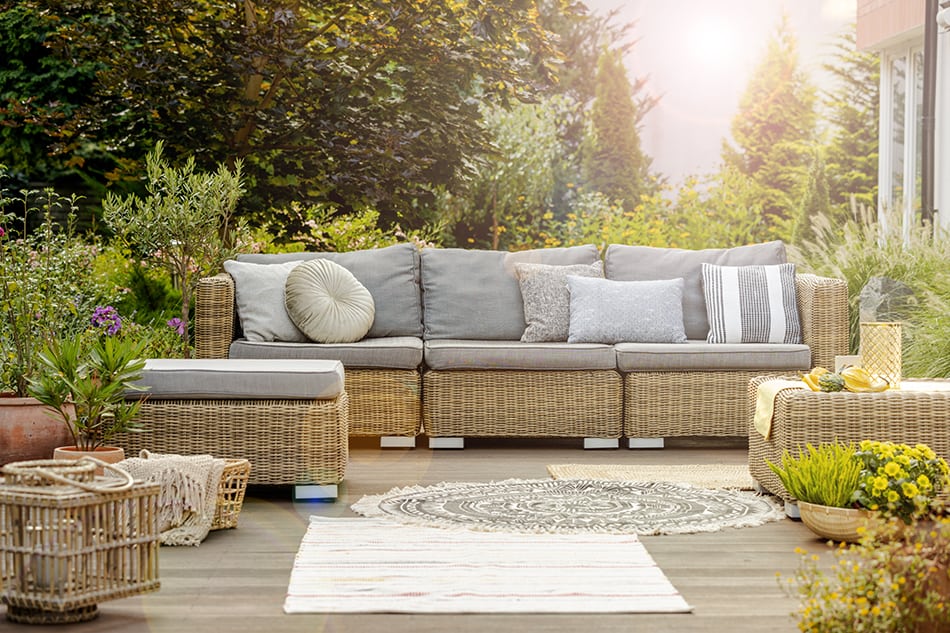 Here's another wicker couch that comes with its own footstool and coffee table.
Ultra-Relaxing Porch Furniture Ideas
If you're looking to lounge on your front or back porch, check out these furniture options. These pictures show some of the most relaxing types of furniture you can buy for your outdoor space.
Reclining Sofa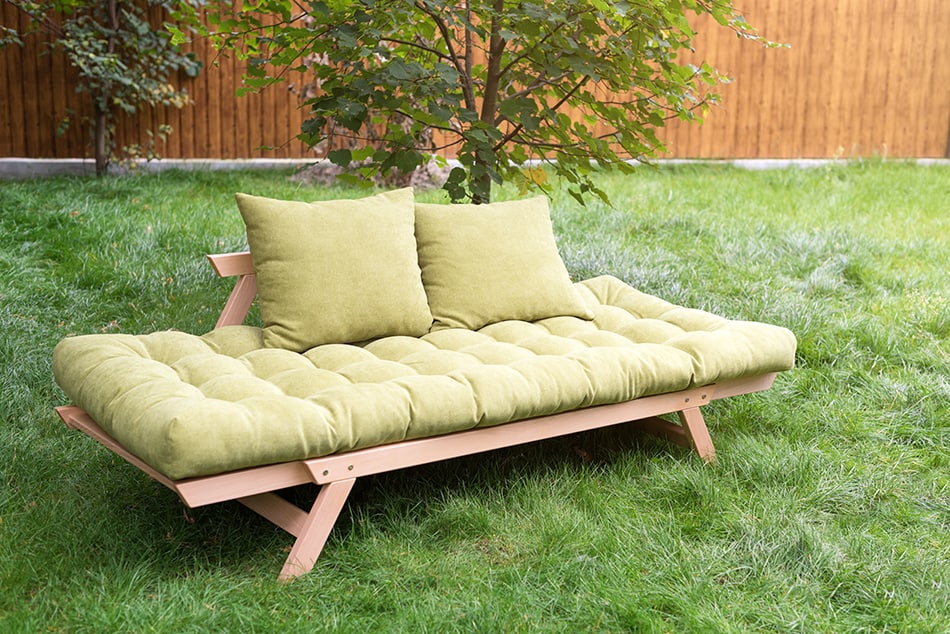 If you have room for one piece of furniture on your porch, make it one of these reclining sofas. You can use it in any position – from a chair to a sofa to a bed. The treated wood makes it durable for outdoor use, and the cushion and pillows it comes with will be water-resistant and easy to scrub clean. Just imagine laying out on the porch with a good book in your hand a warm breeze on your face.
Bean Bag Chairs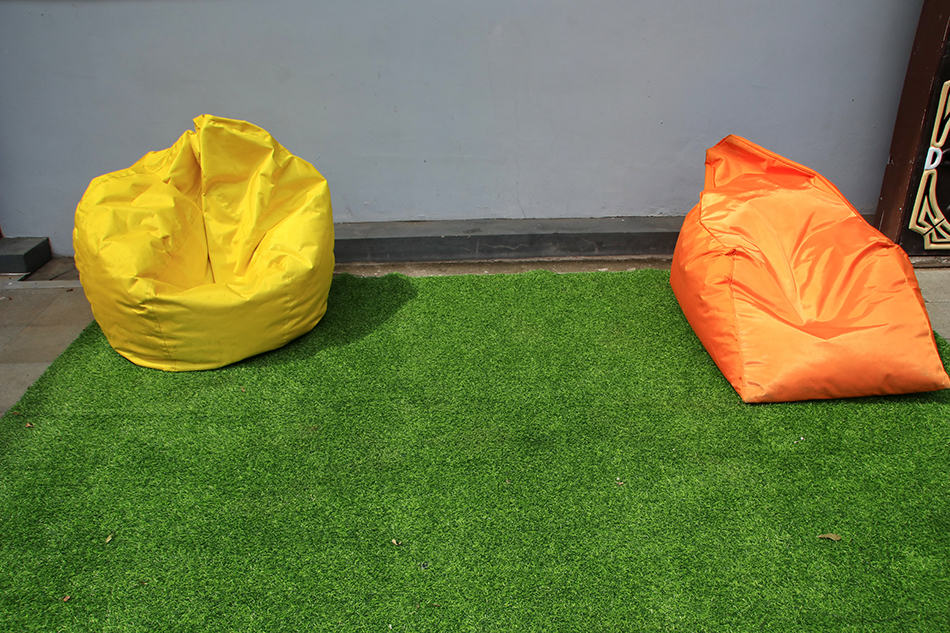 You might not want to put these on your front porch just for their lack of formal appearance, but imagine having these on your back porch. You could just plop down on a sunny day and hang out with friends or read a good book as the chair conforms to your body and gives you a nice hug. The material is super easy to clean. Just spray them off and let them dry in the sun whenever they get a little grungy.
Mini Sauna Box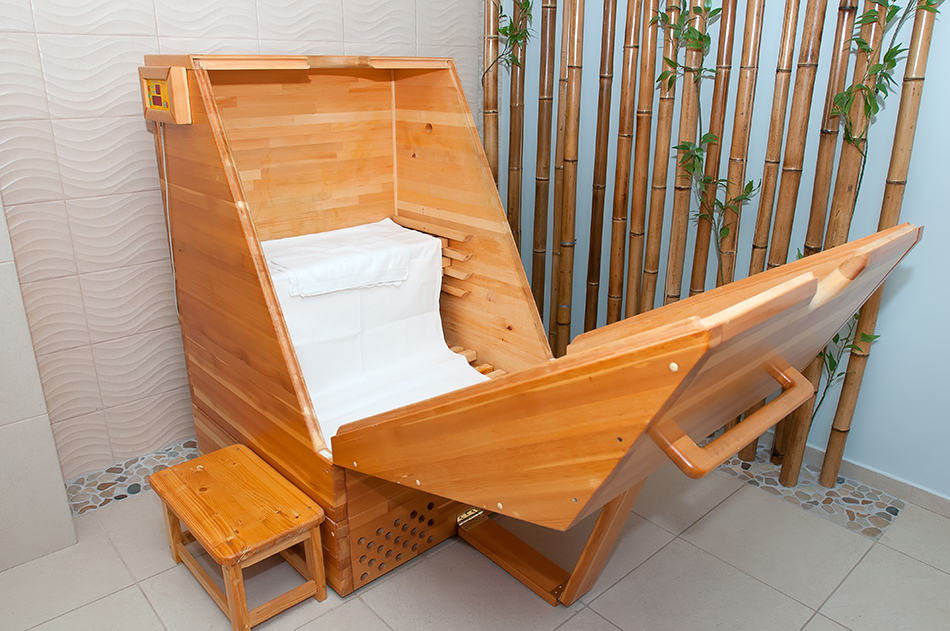 What's better than having a sauna in your bathroom? Having a sauna on your back porch where you can feel the breeze on your face! All you need is an exterior outlet to power this and enough privacy to use it comfortably out of the view of your neighbors. A mini-sauna like this isn't any bigger than a chair, so it'll fit on any porch area you have. You'll be sweating off those extra pounds and cleansing your body pores in comfort!
Wooden Lounge Bed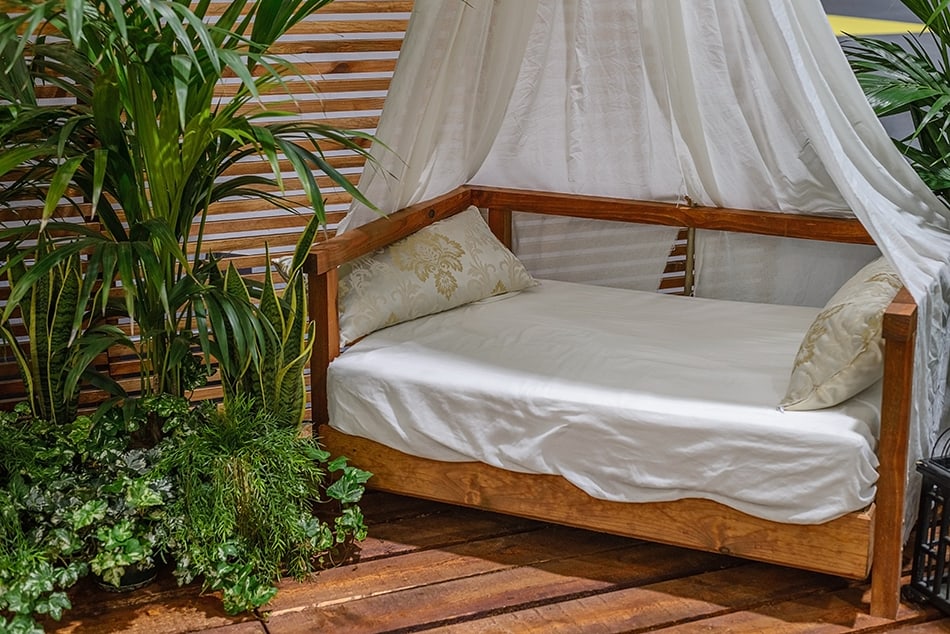 If you like reading and falling asleep in the open air, why not plan to do it on a lounge sofa? Just make sure it's out of the way of the rain.
Table and Chair Porch Furniture Ideas
You may have comfortable seating on your porch, but do you have a table? These ideas are for larger porches that can double as a small or large dining area.
Dining Table and Chairs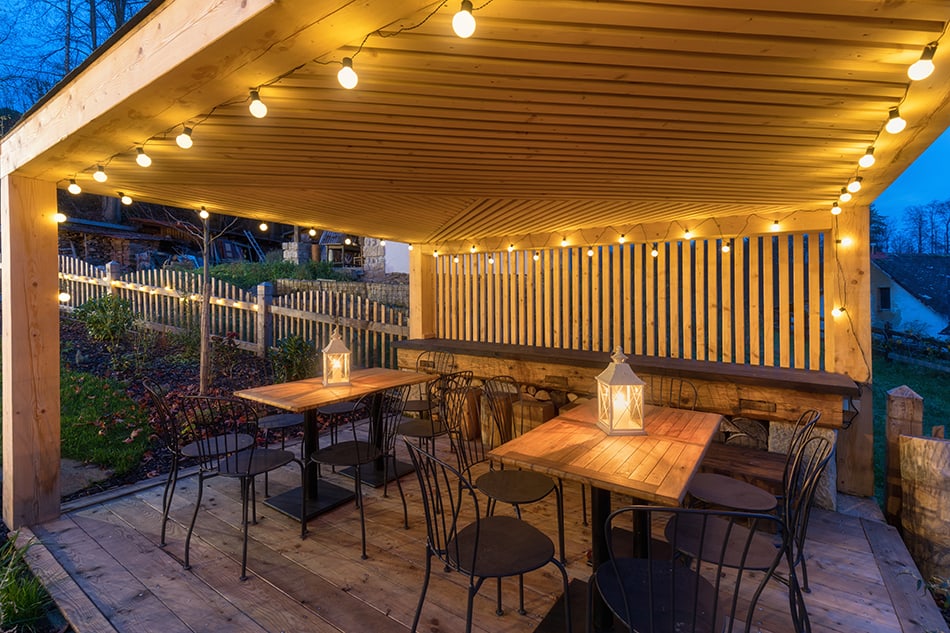 You wouldn't need two tables as this covered porch has. Even putting one table with four or six chairs would give you and your family or a group of friends space to enjoy an evening meal outdoors. Of course, the lights need to be part of your décor if you want to use the porch when the sun goes down.
Covered Picnic Area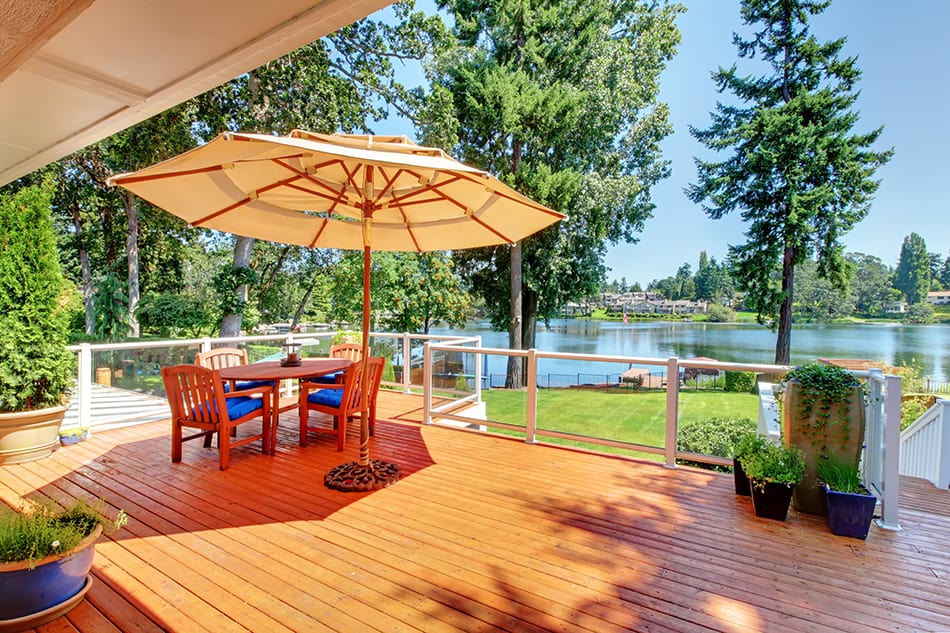 You don't need a porch overhang when you bring your own shade like this umbrella. Setting a table and chairs like this on your porch gives you a central place to gather, whether you're eating together or not.
Small Table and Chairs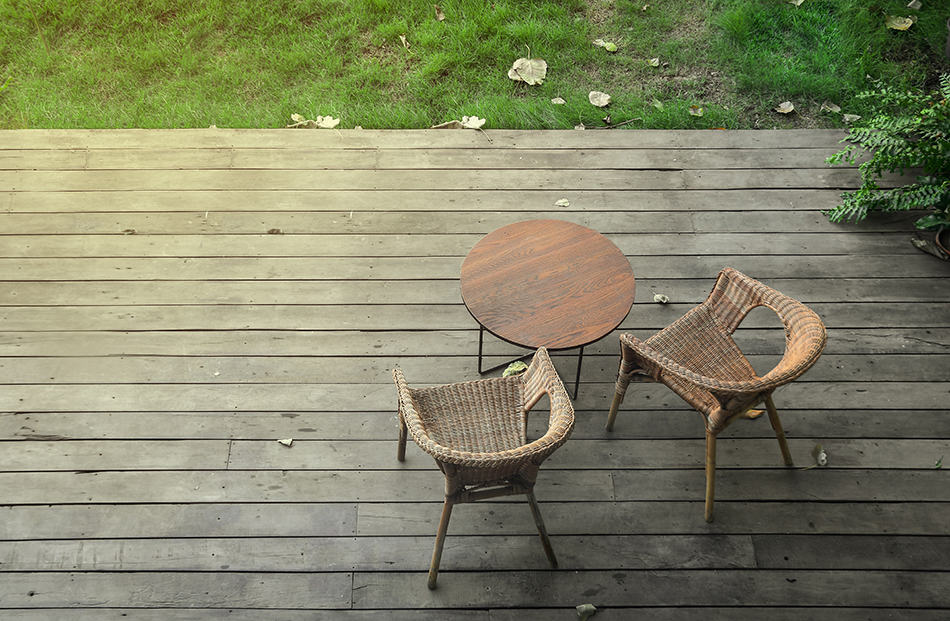 You don't need a large table to serve its purpose. This table is perfect for a couple of people to rest their wine glasses on while watching the sunset.
Round Table and Chairs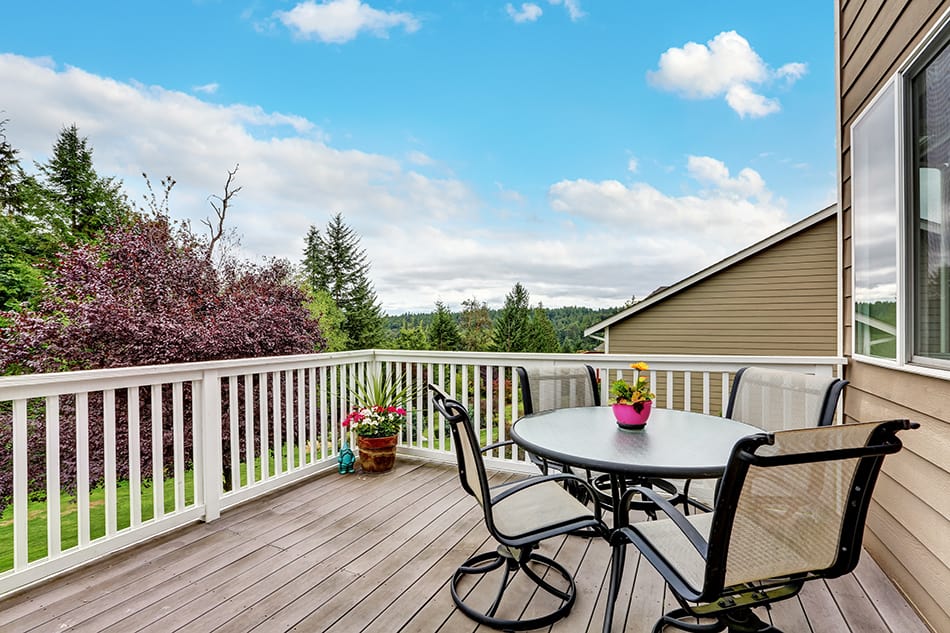 This table and chair set doesn't take up the whole porch. It's just big enough to give four people a comfortable place to sit and eat or chat. The canvas backing of the chairs is a nice touch. It's comfortable to lean on but breathable for staying cool on warm days.
Tree Trunk Table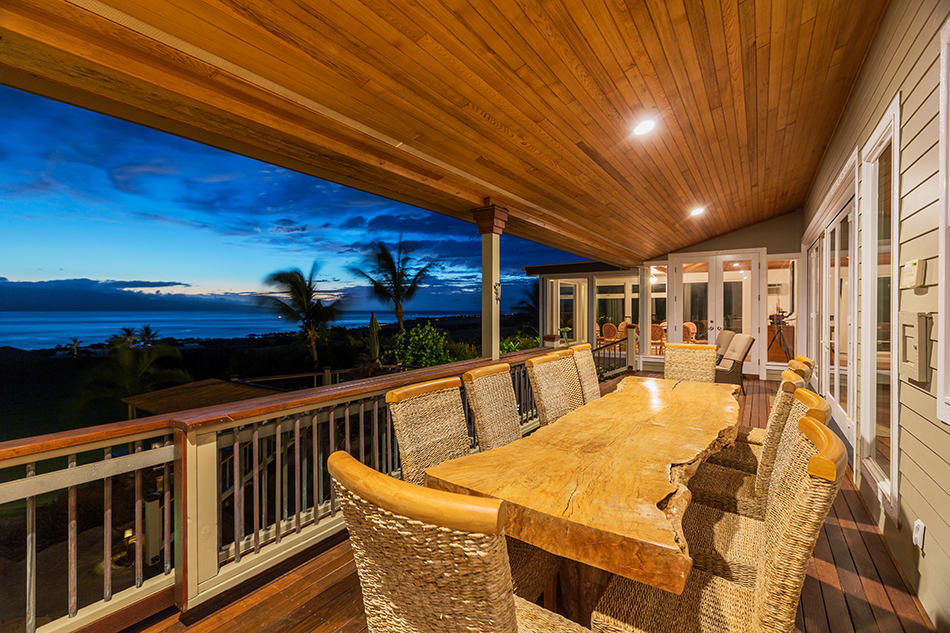 This table cut from a cross-section of a tree trunk is long enough for a banquet. You don't need to have such a long table if you don't have enough room for it, but you can take the same idea and use natural wood for your outdoor furniture.
Everything Goes in an Enclosed Porch!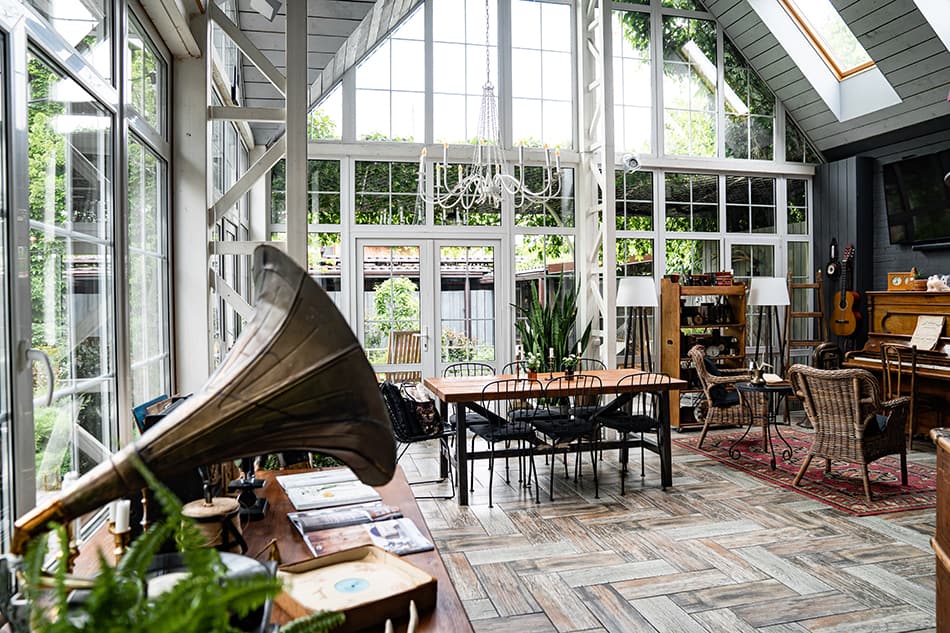 We've mostly been looking at open-air porches, so I just wanted to show you the variety of possibilities with a fully enclosed porch. This room has full windows to keep everything inside protected from the rain. You could literally put anything on an enclosed porch, especially if you heat it. This porch has electric lamps, antiques, and even a piano! The porch really has become a fully livable room in the house.