Matching furniture sets are a thing of the past, and in modern home decor, you will achieve a much more designer-inspired look by incorporating furniture in different colors into the same room.
There is a particular skill to mixing furniture colors so that you don't end up with a chaotic interior space, but this can be easily achieved by following some foolproof tips.
Here we share the best ways to mix furniture colors for a room that looks professionally styled.
Mixing Wooden Furniture Colors
Wooden furniture remains popular in interior design because it has an earthy feel that links us to our natural surroundings, and from a practical point of view it is hard-wearing, long-lasting, and easy to clean and maintain.
Previously, matching wooden furniture sets were in fashion, where you could buy a coffee table, TV stand, side tables, and a bookcase, all made from the same type of wood. This gave a consistent, coordinated look, but it also resulted in a style that could feel too contrived and void of any soul or personality.
The furniture trend we are now seeing embodies more character and individuality by creating a personalized look in a room which has been achieved by mixing a range of curated furniture, in different tones or shades of wood. Mixing different pieces of furniture in different colors can be daunting, but by following these simple steps, you can make it easy and even enjoyable.
Consistent undertones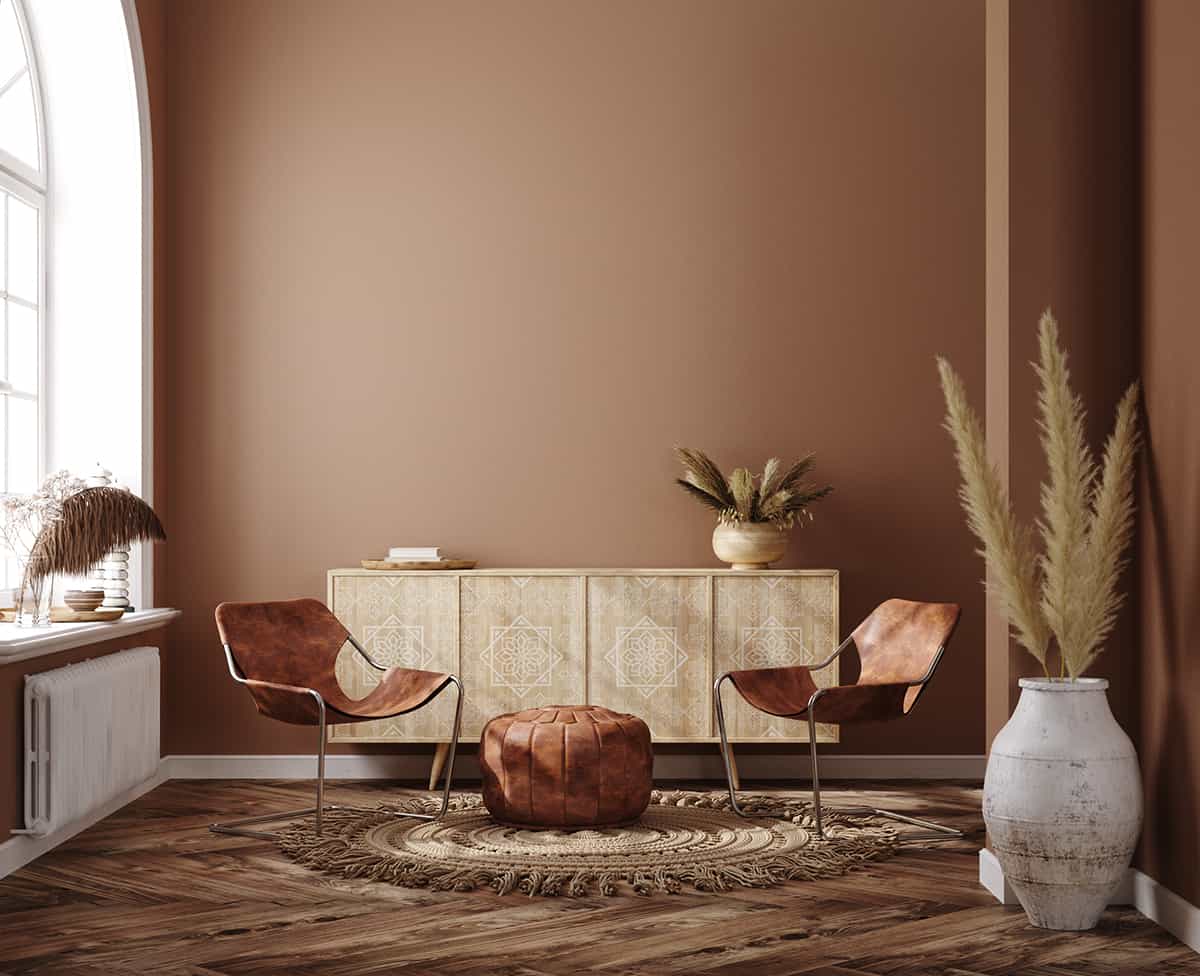 One way to ensure your different colors of furniture look good in a room together is by matching the undertones in each piece to create consistency. For example, if you have wooden flooring in a warm farmhouse oak color, then you should choose furniture which follows suit.
The type of wooden furniture you choose, or the color, does not need to be the same as long as the undertones are consistent. This could look like a warm beech dining table in a room with pale, warm-toned oak floors and darker warm-toned wooden chairs.
If you want wooden furniture which has a cooler, sleeker look, opt for different colors of wooden furniture, which all have cool undertones. This will create a stylized look that has depth and personality while ensuring that the overall feel of the room is not mismatched or conflicting.
Contrasting shades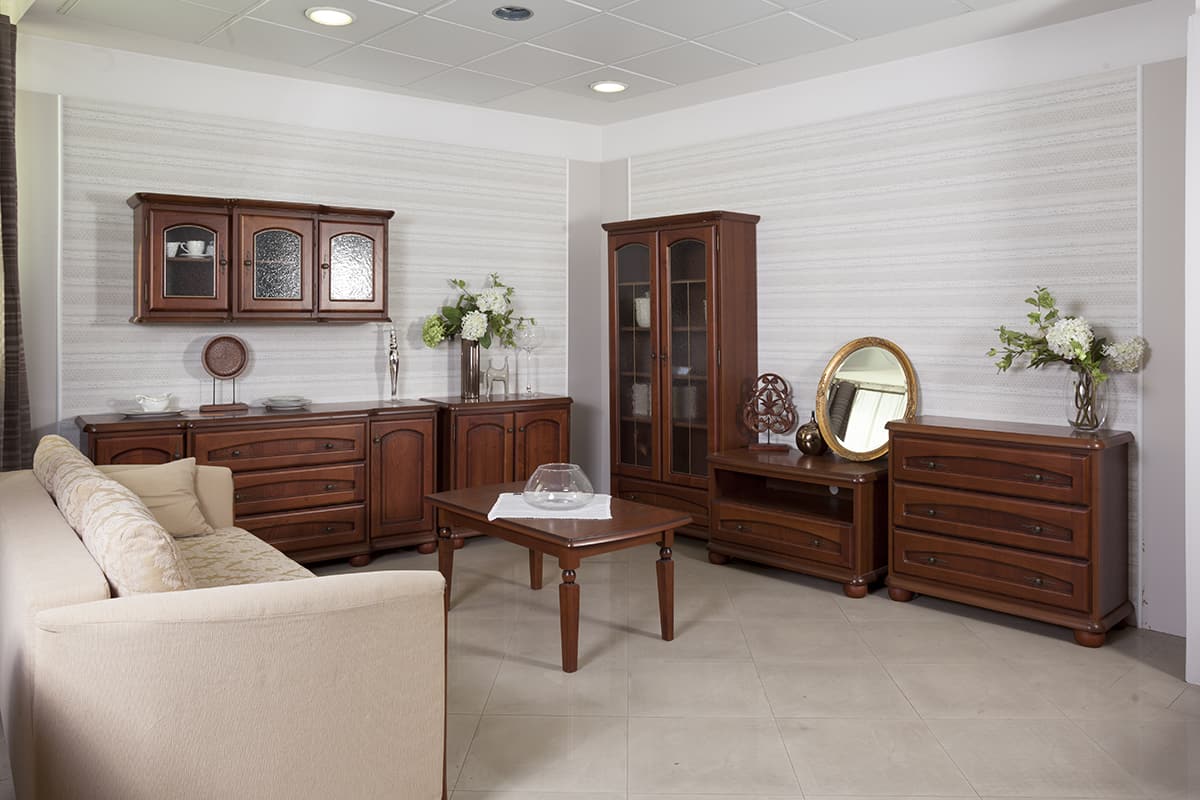 Choosing furniture in different colors that will work well together is much like choosing any interior color palette. For a bolder look, contrasting shades can be a really classy option, especially if they are the main feature in a room.
For example, a room with neutrally painted beige walls creates contrast and energy with furniture in opposing colors. This could be a light ash dining table with some deep ebony dining chairs or a dark wooden bed frame set beside two pale wood nightstands.
Matching finishes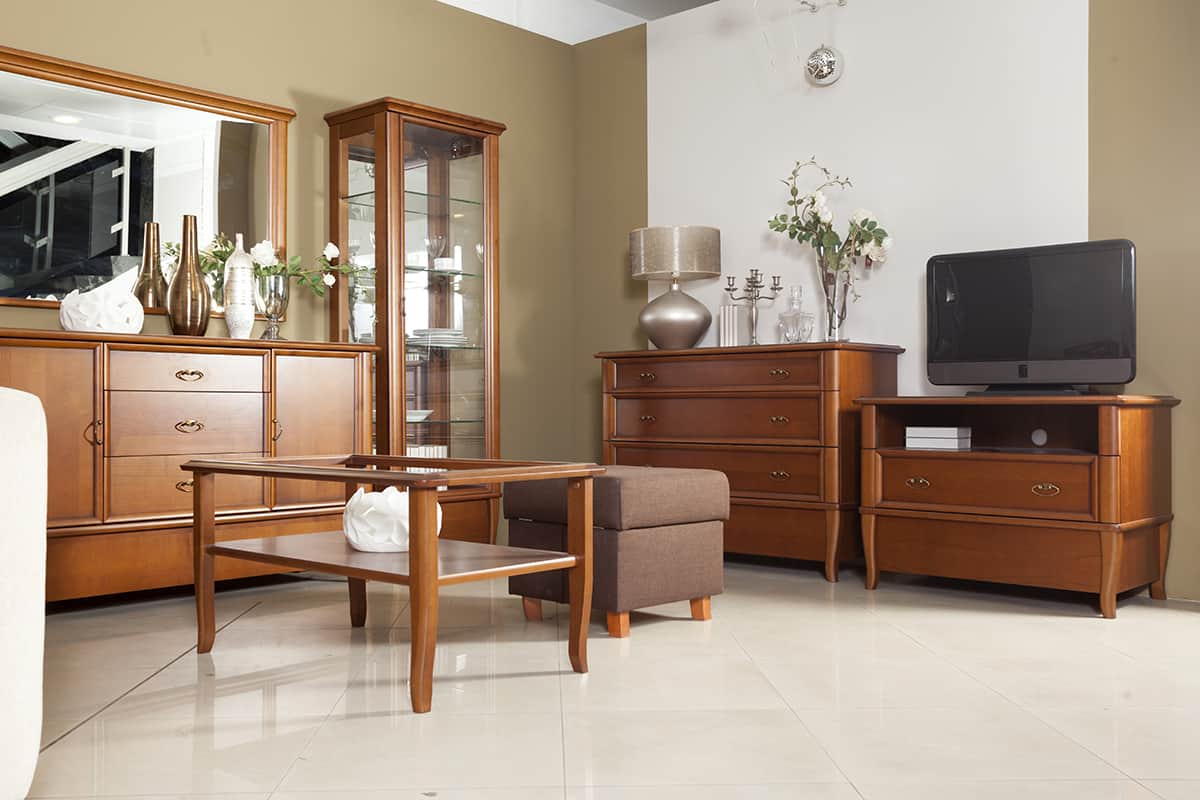 To create a look that feels high-end and complementary, consistency is key. If you are selecting furniture in different types of wood, then obviously, the color of the furniture is not going to provide consistency, but you can still maintain consistency in other ways.
One way to do this is with texture and finish. For example, if you have a rugged, unfinished coffee table in your living room, then you can complement this with rustic side tables in a different color of wood.
In a bedroom, you could create consistency with a wooden closet finished in a high-gloss varnish alongside a dressing table in a different color, which also has a glossy finish.
Coordinated colors
Pairing different colors of furniture is much like pairing accessories and soft furnishings in a room. If you have chosen a color palette of green and pink, then you will likely have a number of items in each color across the space, such as green curtains, pink cushions, green candles, and a pink vase.
Coordinating colors of different furniture pieces work in the same way. Once you have a color palette of wooden furniture colors that you like together, then take this and run with it.
For example, if you have a dark chestnut wooden chest that looks beautiful with a pale oak shelving unit, take these two wood tones and use them across the space, perhaps with dark chestnut side tables and a pale oak TV unit.
Mixing Painted Furniture Colors
If you have furniture which has been painted or finished in a color that is not wood-toned, it can actually be easier to mix furniture in a room. White and black furniture is popular right now, and you can also paint your own furniture in any color you can think of to transform the look of a piece and make it work better in your space.
Here we look at the best ways to mix different colors of furniture which are not wood-toned.
Cohesive theme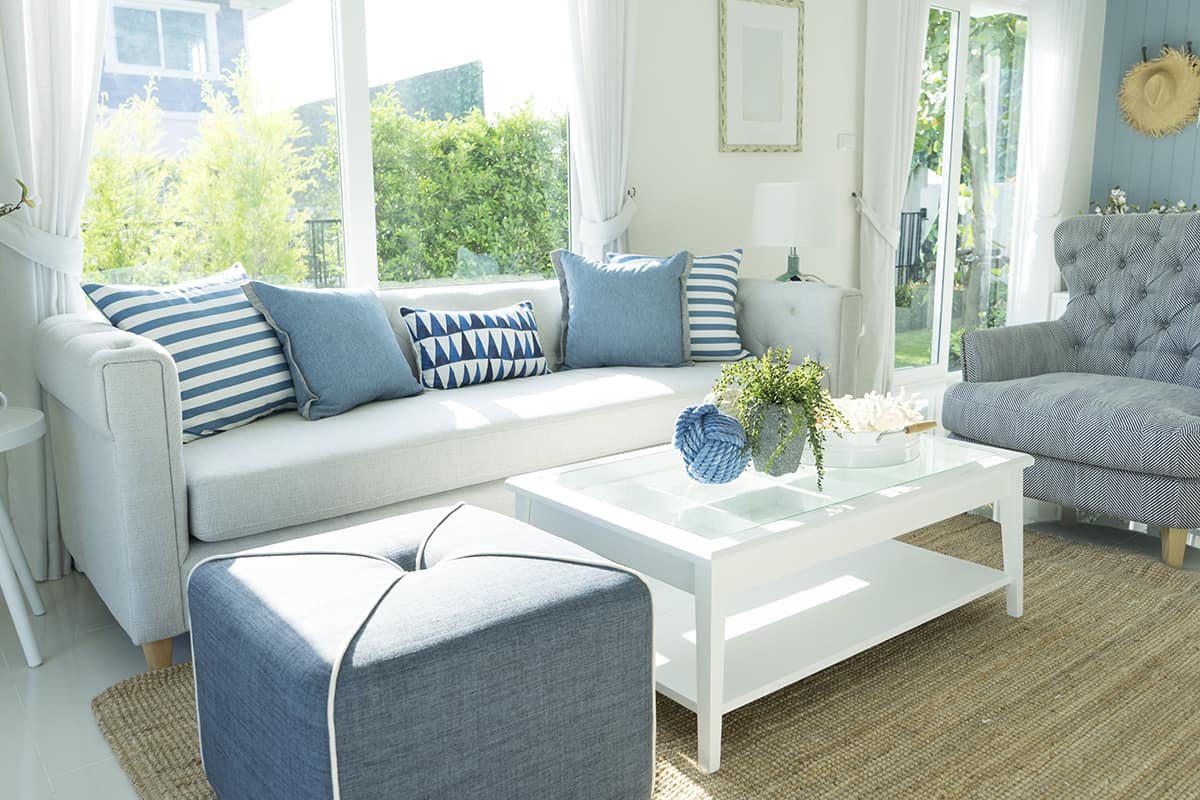 In any interior decor, you want to choose a theme that is going to hold the look together, ensuring a cohesive and consistent style. Your theme might be 'rustic', or 'coastal', or 'minimalist', for example. Once you have identified your theme, choosing furniture in a suitable color should be relatively easy.
In a coastal-themed room, you could mix a number of furniture items that all fit this look, such as a white coffee table, with side tables painted in navy blue and a TV unit painted in gray.
Mix and match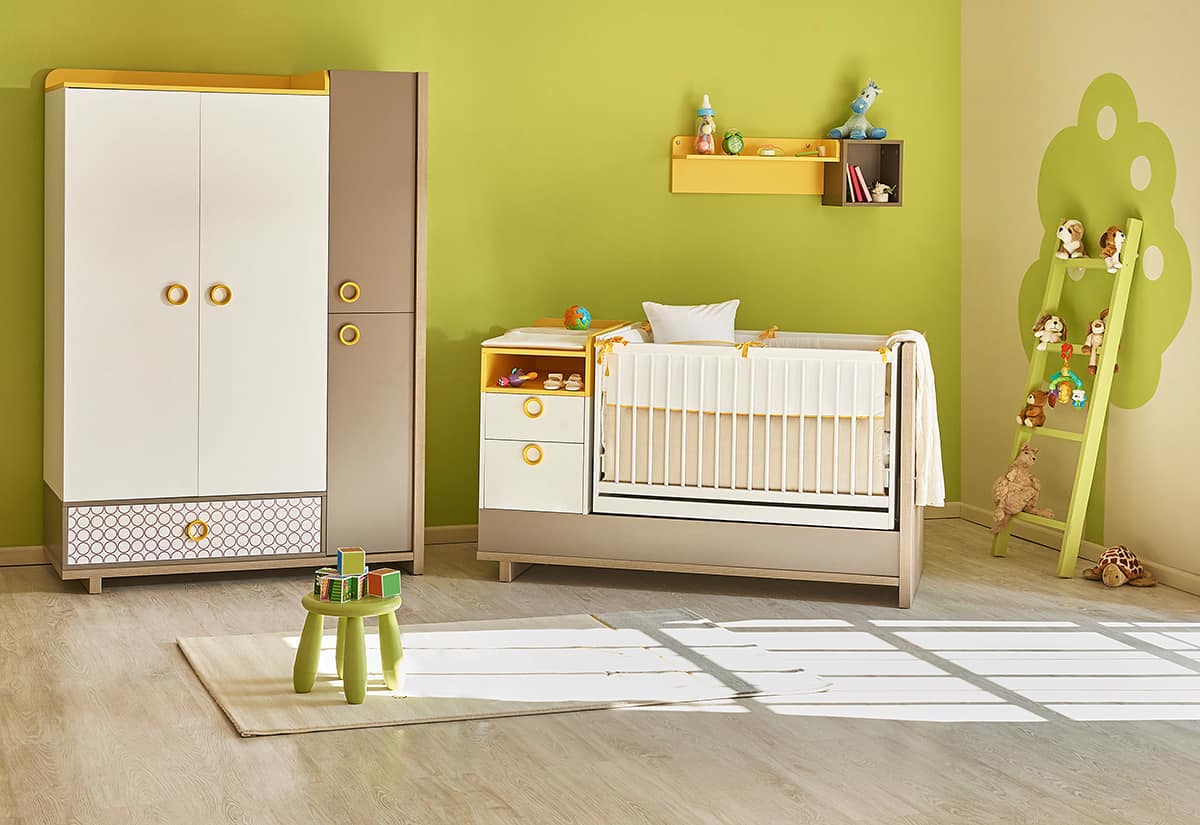 Mixing furniture in different colors works best when the colors all align with your overall chosen color palette. For example, if you are going for a botanical theme with a natural color palette, then your furniture should be painted in colors that reflect this.
You might choose a dining table that has been painted dark green, with some tan leather dining chairs, and a shelving unit painted pale beige.
For a more vibrant look, for example, in a child's bedroom, your theme might be the jungle. In this instance, paint the wardrobe yellow to reflect the color of a lion or giraffe, and paint the bed frame the gray of an elephant.
Dominant color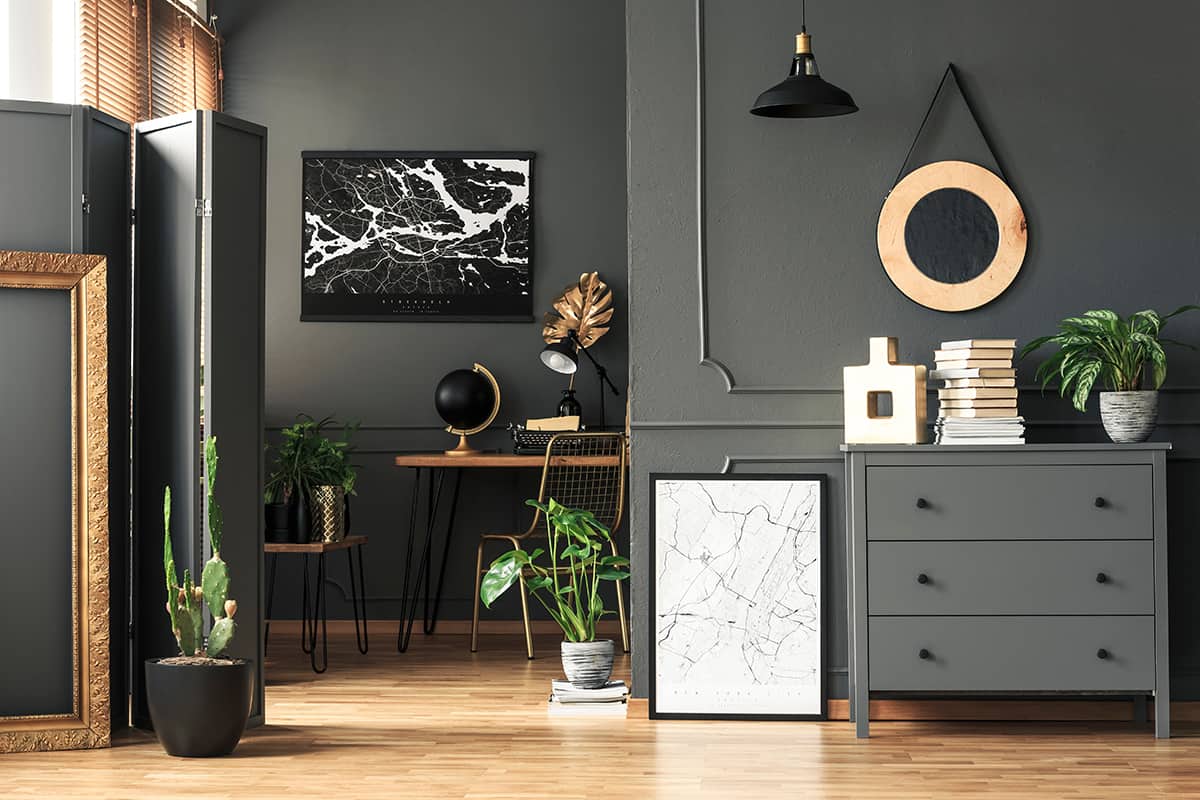 In any color scheme, there should be a dominant color. This is the color that is used across more of the space than any other color. When choosing a color palette for a room, the 60-30-10 principle works well. This is where your dominant color is used across 60% of the space, the secondary color is used across 30% of the space, and the accent color is used across 10% of the space.
The reason this is so successful is that it creates a feeling of balance. When choosing furniture in different colors, you can follow the same guidelines. You may have pieces of furniture in a room that are finished in black, white, and blue.
To ensure balance, select one of these colors as your dominant color, and then use this color for most of your furniture. For example, in a living room, you might have a black coffee table, a black TV unit, and a black shelving unit, along with a few white side tables and one or two small floating blue shelves fixed to the walls.
Mixing Furniture Colors and Finishes
Using a combination of colors, finishes, and textures for furniture in a room can really elevate the style, resulting in a space that feels like it has been professionally designed by an interior decorator. You can use different finishes on a single item; for example, paint the legs of a dining table black, but leave the surface of the table in its natural wooden state.
You can also consider adding furniture made from other materials to a space. For example, metal side tables or a dressing table with a glass top.
Whatever materials or finishes you use, they will all work well together if you maintain a single story or theme. When selecting items of furniture for a room, always keep in mind the final look you want to achieve, and ask yourself if that particular piece fits into your theme.
You can also try to maintain some element of consistency across all of your pieces of furniture, helping them link together.
For example, you could have one green sofa and one blue sofa, but they both have matching gold metal legs which tie them together. You could also have a gray TV unit and a white chest of drawers, which are linked together by the fact that they both have black knobs and handles.
Mixing furniture colors becomes easier the more you do it, and you'll be surprised at how much it can alter the look and feel of a room compared with matching furniture sets which typically make a space feel lifeless.
Maintaining a cohesive style or theme is key, and as long as you are able to do this, then mixing furniture in a range of colors, finishes, and materials can look stylish and effortless.