Bathroom flooring can make a big impact, regardless of whether it's the guest bathroom or the master bathroom. The right flooring color provides the foundation for the room so naturally, you'll want it to be practical as well as stylish.
When remodeling your bathroom, choosing the best colors for bathroom floors is an important factor as they must complement the rest of the space, including the walls and sanitary units. With so many color options available, we've picked our top favorite to help you style your bathroom.
Bathroom Floor Color Ideas
Soft Gray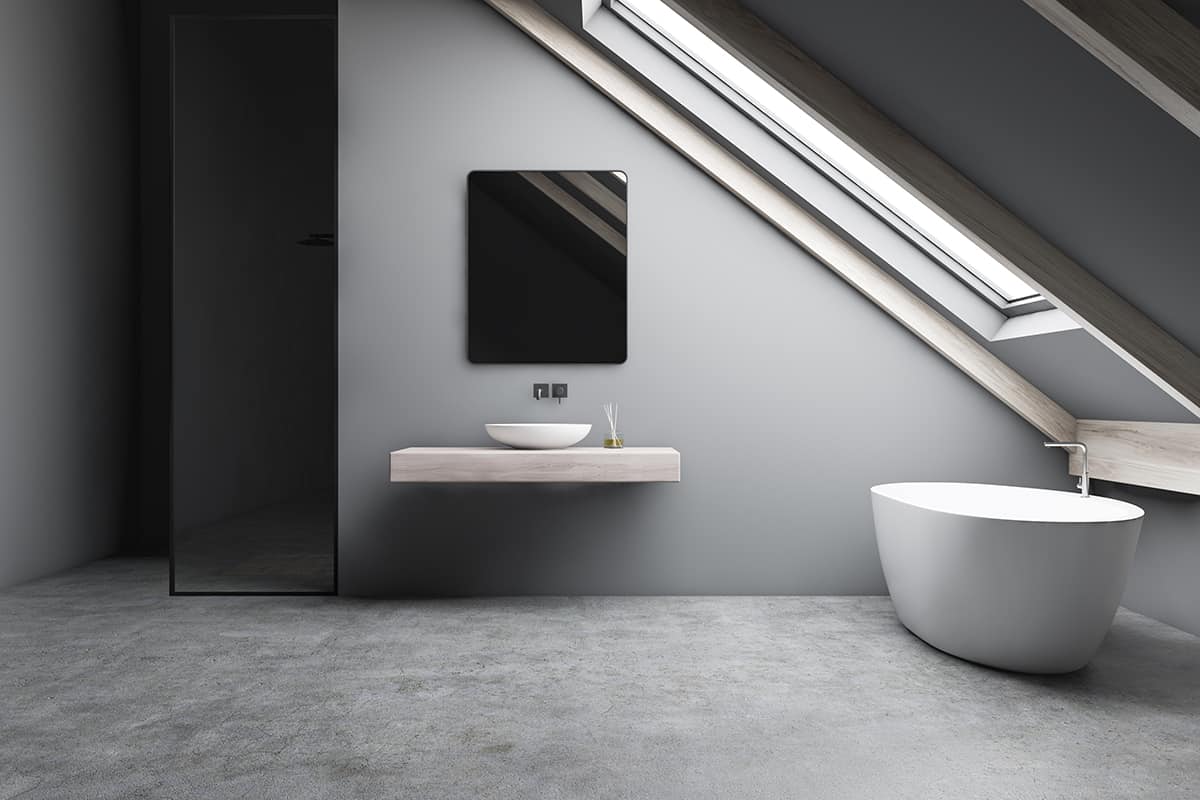 A soft shade of grey is an excellent way to keep your bathroom neutral. This cool hue goes perfectly with granite or concrete, which gives an edgy feel to a modern bathroom.
To balance out the grey tone, mix it with black and white elements as shown here. Light grey bathroom floors are the ideal option in open spaces with ample lighting. Whether you add pops of color as accessories or prefer keeping the space neutral throughout, light grey is the top choice of color for bathroom floors.
Dark Grey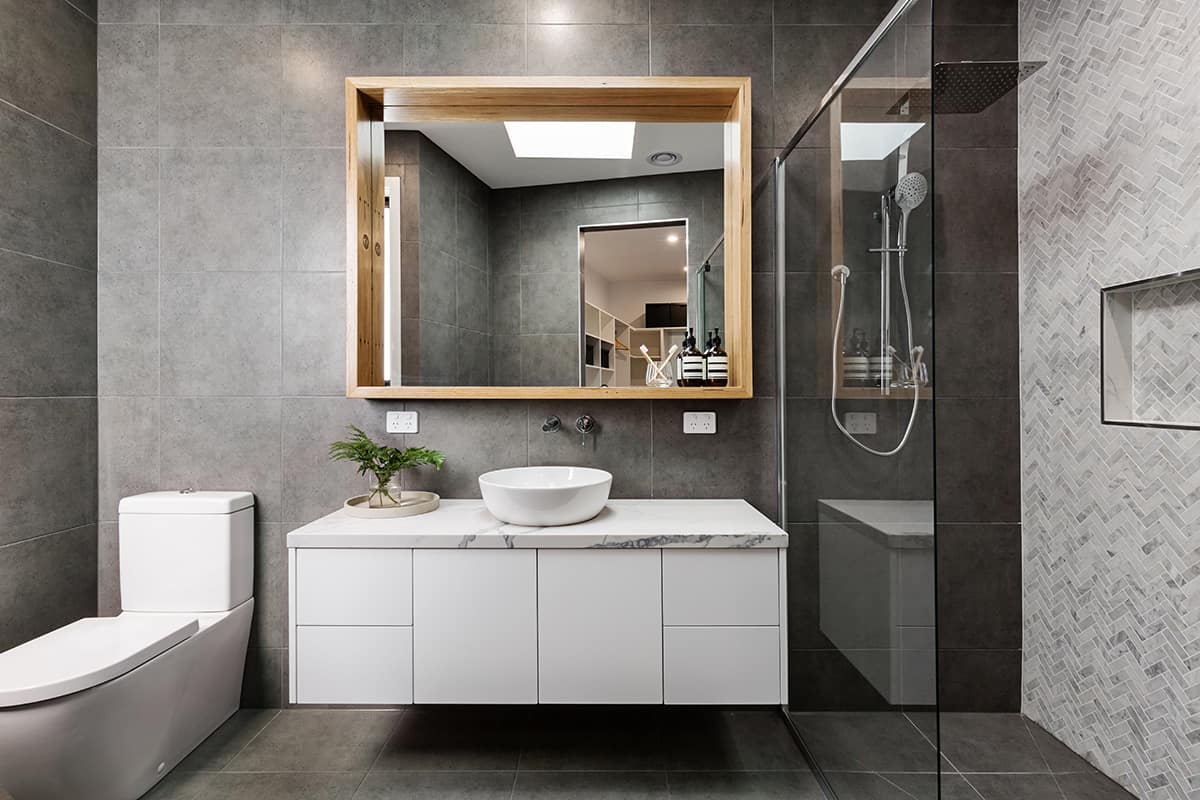 If you are looking to make a more powerful impact, try a dark shade of grey like charcoal. This is a more sophisticated and dramatic alternative to light grey floors. Although charcoal is on the darker side and may make the bathroom appear smaller, it works best in modern bathrooms with neutral accessories.
This color gives your bathroom a warm and cozy feel with a contemporary vibe. Add white sanitary units with a blend of light and dark grey wall tiles as shown here to complement the charcoal floor color.
Bright White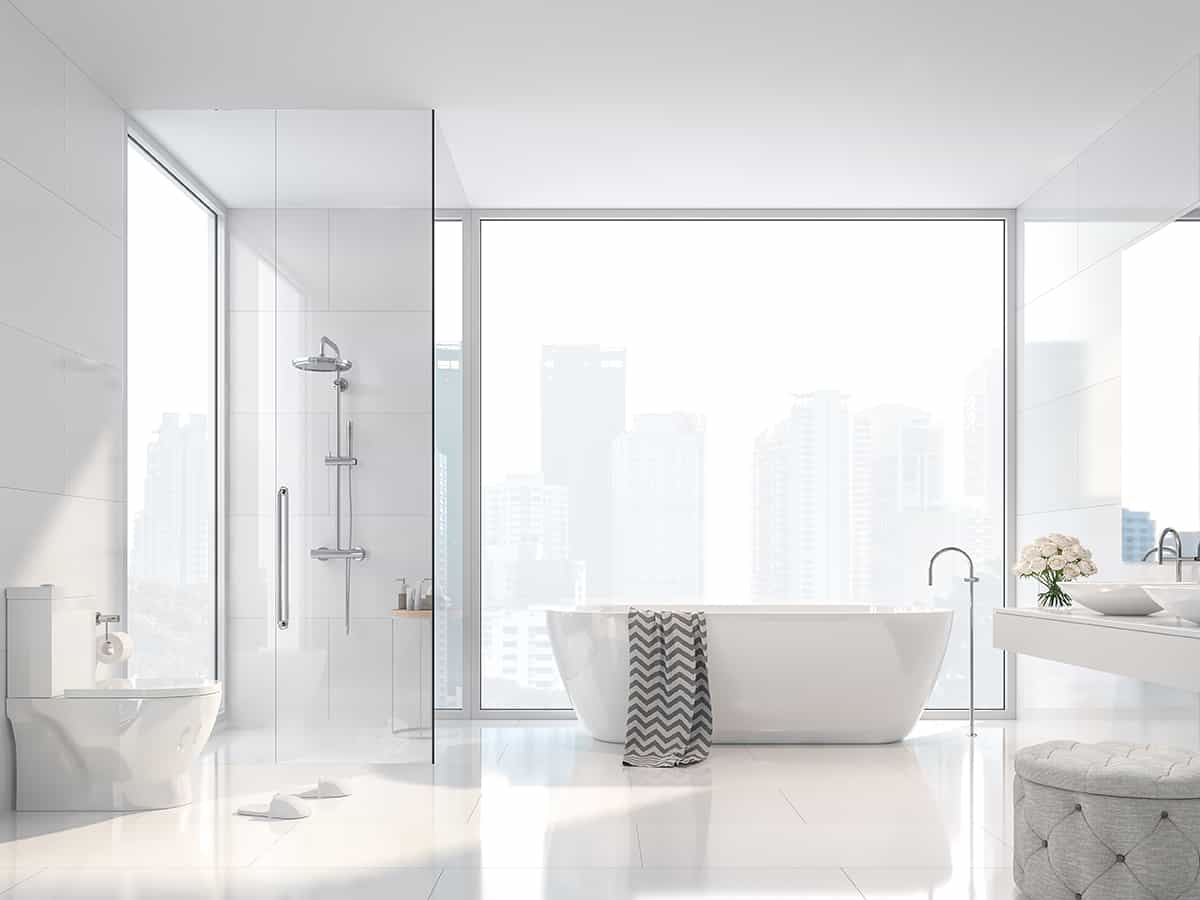 A crisp, bright white bathroom floor is the ultimate color for a classic design. White marble floors, for example, are striking and sophisticated, but the idea is to add textures to spruce up the look with visually interesting shapes on the walls and accents. If you love the idea of an all-white bathroom, go with the same color for the flooring to keep the design cohesive.
In this example, the bright white floor paired with all-white walls and units have created a light and airy feel in this modern bathroom.
Light Green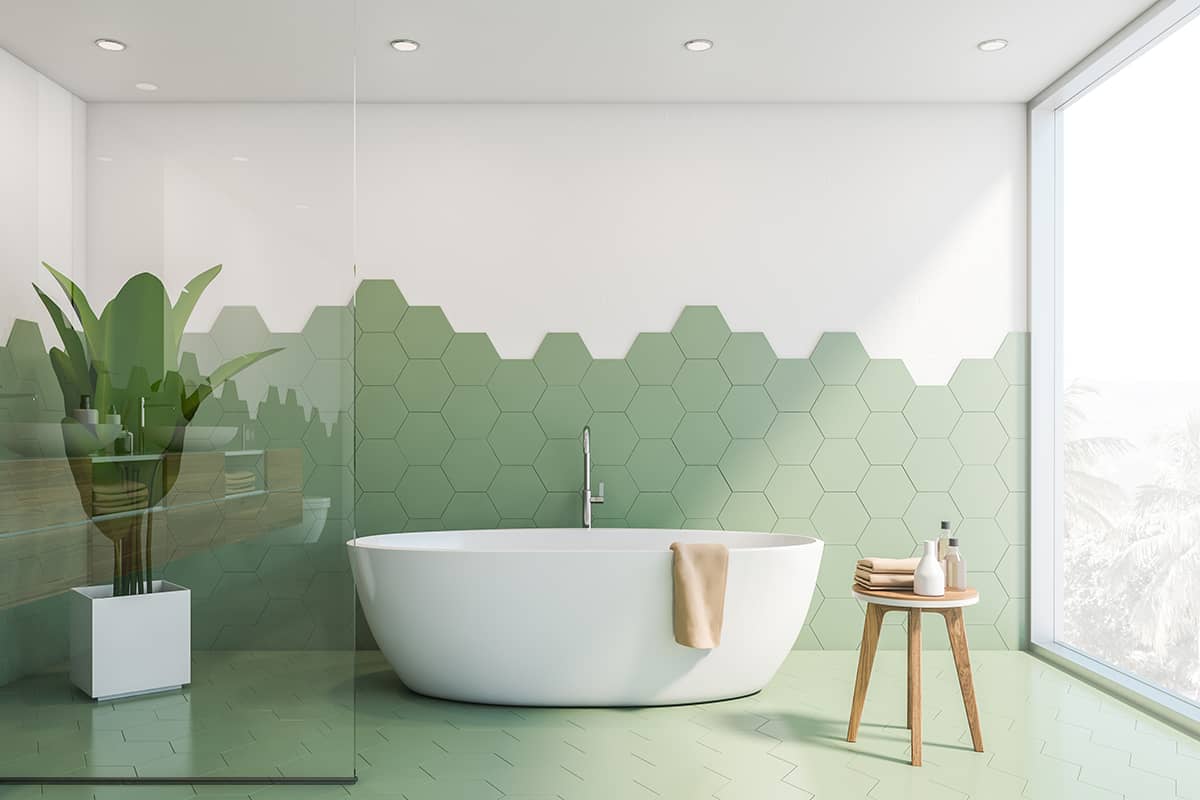 Light green is a nature-inspired color that gives us the feeling of the outdoors. This soothing and calming color creates a bright effect in a large and open bathroom. Light green generally mixes well with white or earthy tones, including wood. Sage or apple green shades for the bathroom floor add a little more brightness and fun to a modern bathroom.
Here, the green floor works in harmony with the green and white patterned wall. Other pops of color have been added to this bright and open bathroom to make a stylish statement.
Brown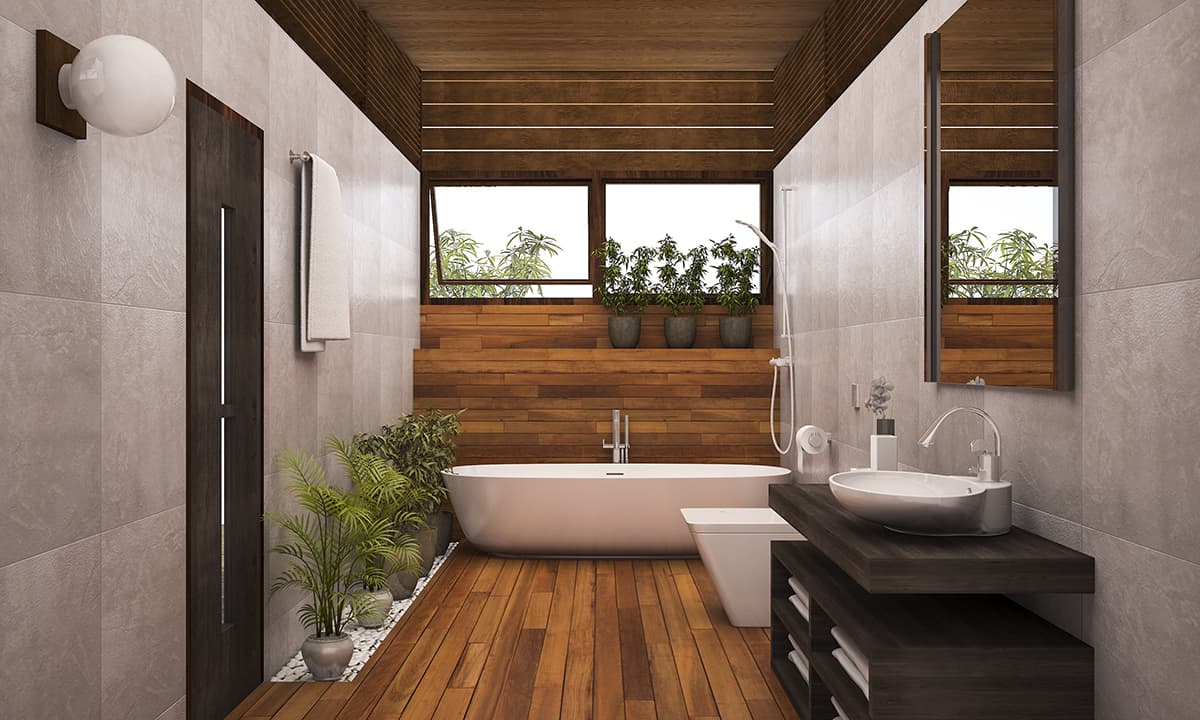 To create a calming and earthy look, opt for brown floors. This relaxing color can transform a bathroom into a contemporary spa-like space. Paired with dark brown ceiling panels, this bathroom's laminate flooring in brown looks sleek and dramatic. The brown floor is well coordinated with the cool grey walls and white sanitary units. The brown wall paneling works great as a neutral backdrop or feature wall.
Taupe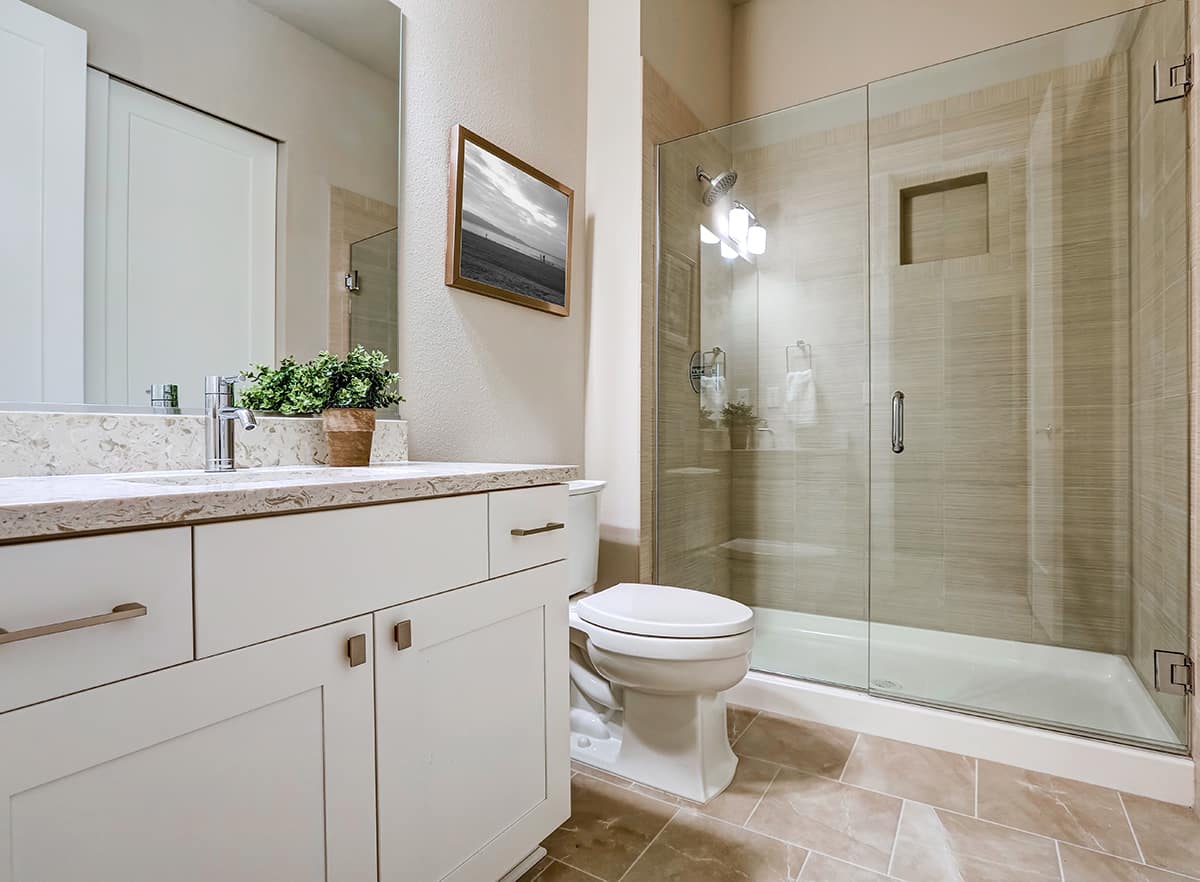 Taupe is the perfect neutral floor color for those who love beige or cream but want a darker hue. This warm shade is a mix of grey and brown with a modern twist.
You can coordinate your light taupe floors with a darker taupe shade for the walls in order to create an earthy look. Pair taupe floor with white sanitary units for a bright and airy feel.
Light Blue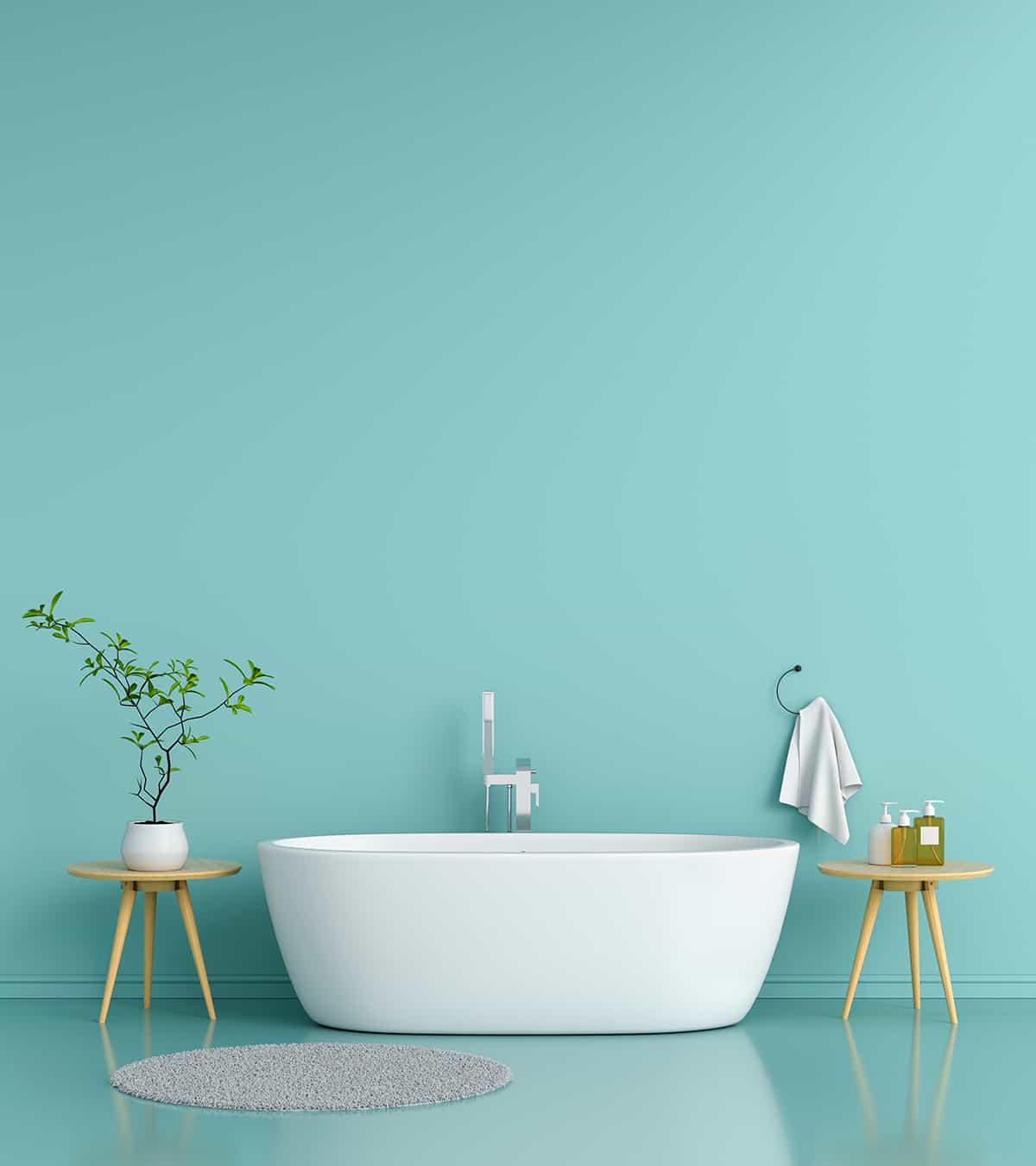 When we suggest light blue floor color for the bathroom, we're talking about a gorgeous shade like sky blue. There is nothing more relaxing than looking down at a light blue floor whilst soaking in the bathtub. Blue is the perfect color to pair with white details as sky blue goes with white clouds, doesn't it!
This blue bathroom emits a truly tranquil feeling with its light blue floor and matching wall.
Orange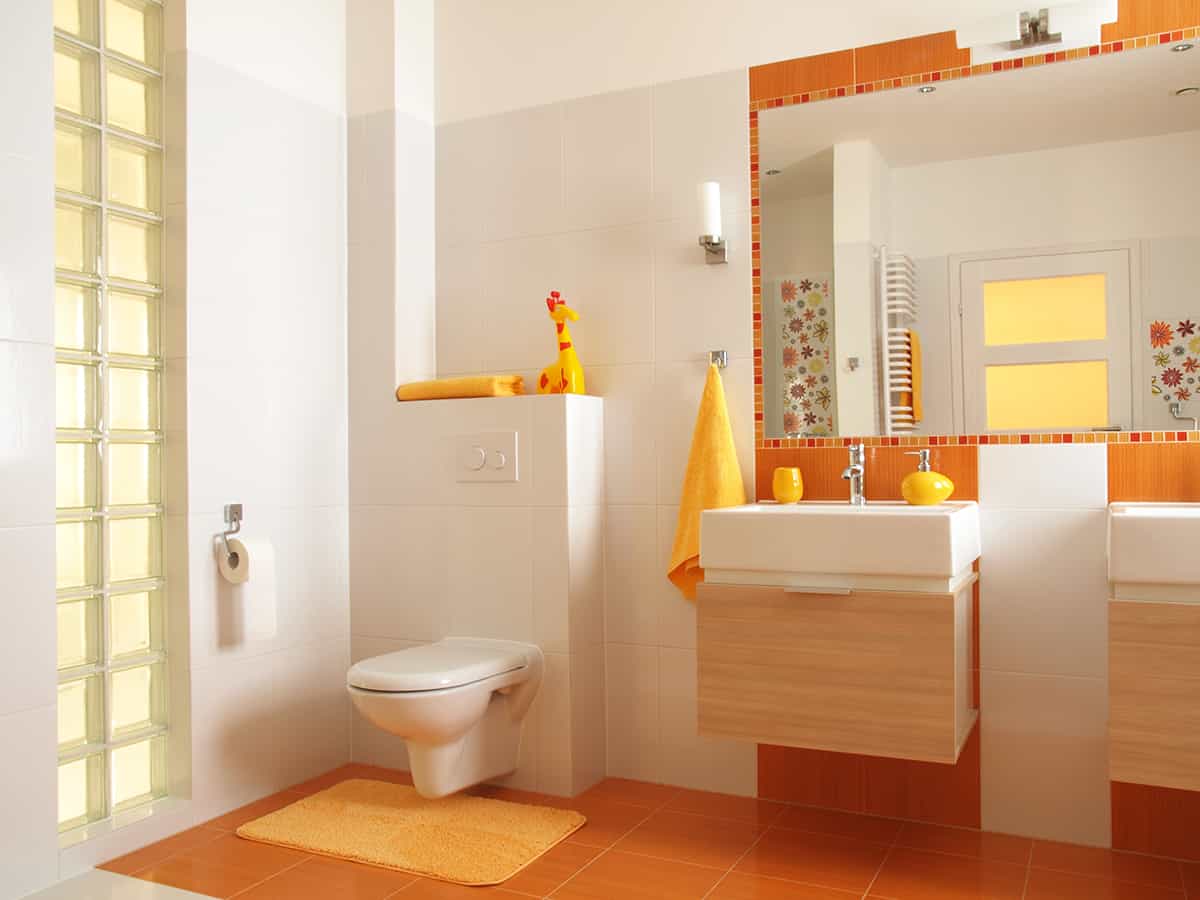 As a bright and cheery color, orange promotes energy in any bathroom. This playful color is perfect for the floor, even in a traditional bathroom. Orange is a color that helps you wake up in the morning so where better to use it than on the bathroom floor.
A combination of yellow accessories with the orange floor, white units, and laminate fixtures work beautifully together as you can see here. Whether you prefer a traditional or modern bathroom design, a tiled orange floor is sure to work perfectly with other warm hues.
Pink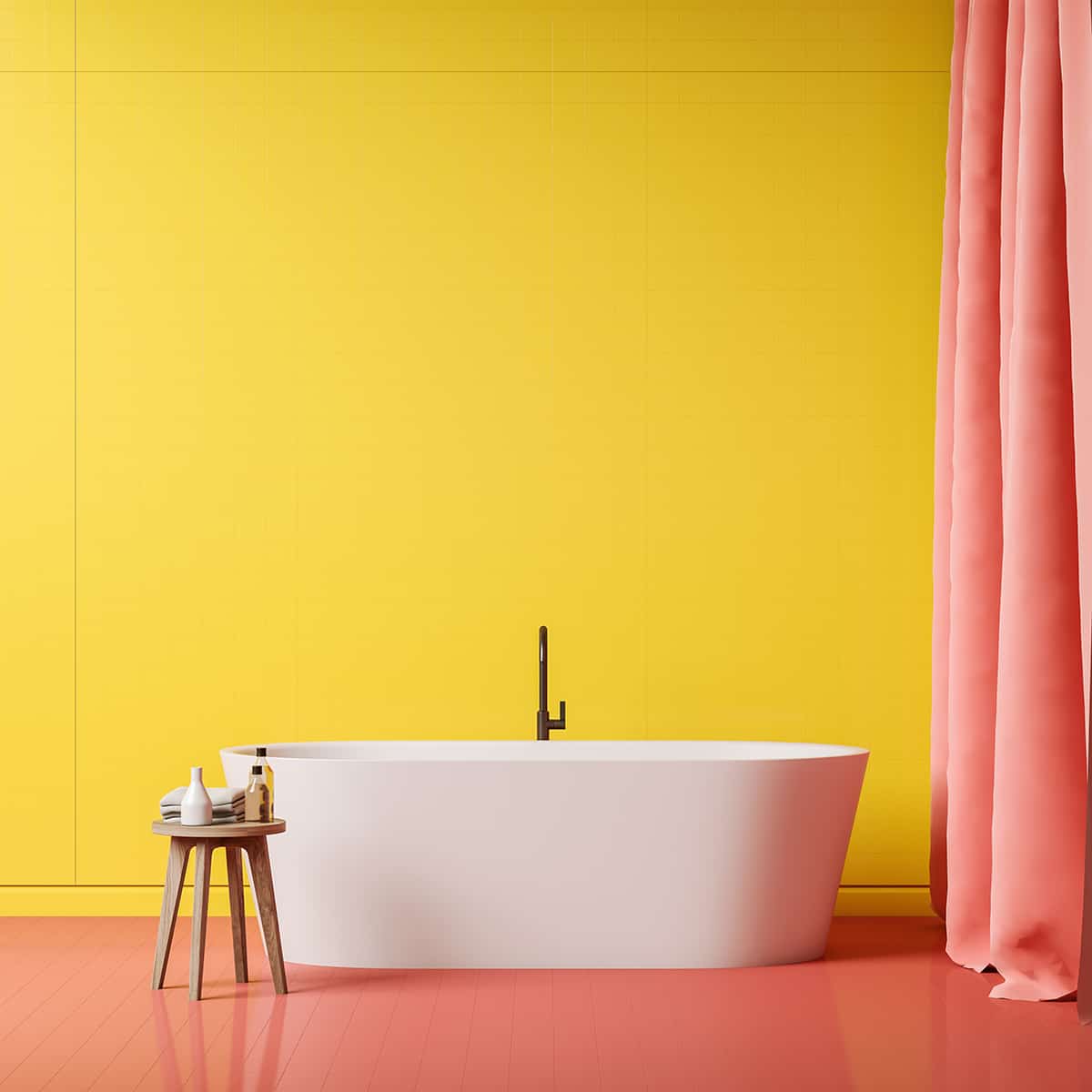 Another similar color that's just as fun and vibrant as orange is a bright pink floor. While some people might associate pink with femininity, this color is warm and cheerful, which makes the bathroom look sophisticated and warm. Pairing it with a yellow wall and white sanitary units like the example here creates a flattering glow in both a girly or modern style bathroom.
Monochromatic Colors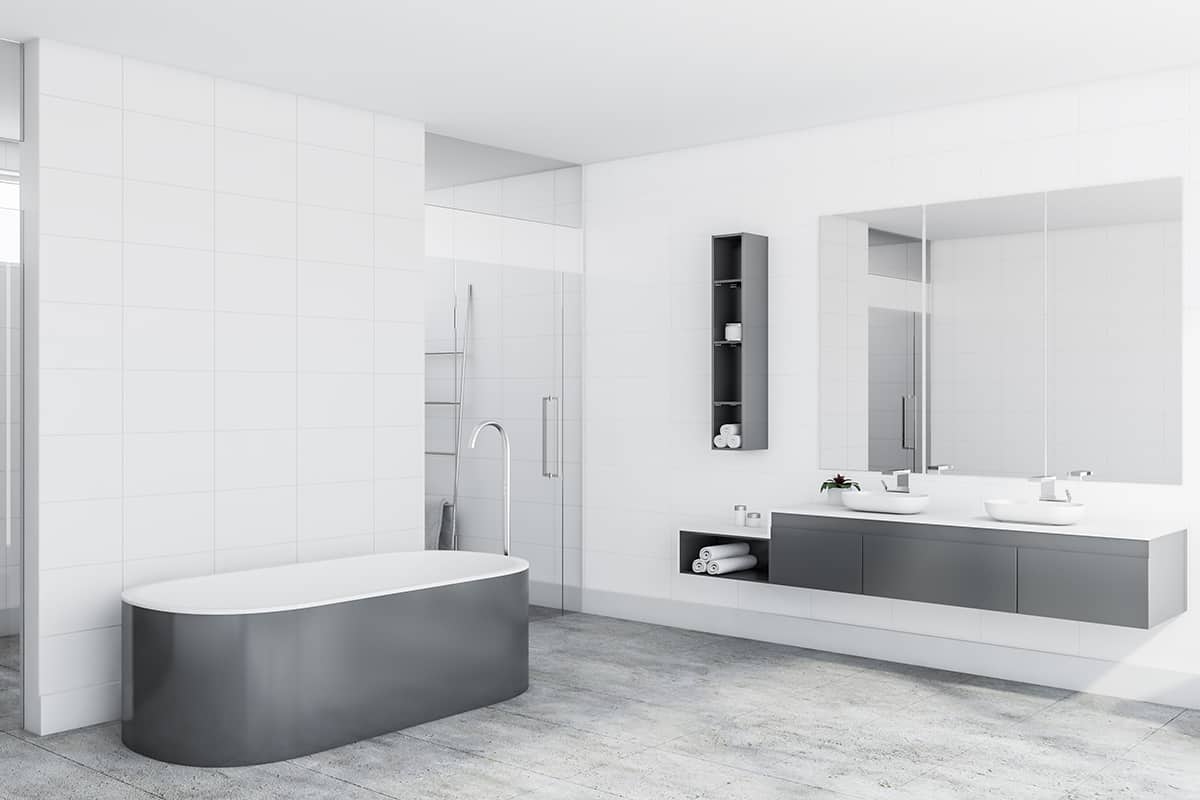 A monochromatic color scheme for the bathroom floor means you stick to one single color for your flooring and the walls in order to make the bathroom feel more spacious. However, in a monochromatic design, it is possible to choose two similar toned colors for the walls and floor. Some homeowners prefer variety rather than using one single color for the walls and floor.
When creating a monochromatic color scheme, pair neutral colors like white and grey for a modern look. White walls with light gray floors work very well together as the grey floor downplays the brightness of the white units and walls. To enhance the color pairing, consider incorporating darker shades of blue or grey in order to keep the bathroom appearing spacious and airy.
Choosing the Right Bathroom Flooring
Once you've decided on the right bathroom floor color based on our above ideas, you're ready to pick the right flooring material. It is important to center your bathroom flooring around warm or cool tones by experimenting with various flooring materials. For example, it is possible to pair vinyl or tile flooring with wood panel walls for a warmer feel.
When thinking about the type of flooring for your bathroom, consider the longevity of the material, how much maintenance it requires, the cost, and ease of installation.
Mosaic glass tiles boast extravagant patterns and are easy to install, but for an even stylish option, natural stone tile flooring in dark brown or grey colors will go beautifully with lighter wall colors.
For those on a tight budget, laminate flooring makes a cheaper option for bathroom floors. This elegant material is easy to clean and install, plus it's stain resistant. Dark brown laminate is the most popular bathroom flooring color, which works well with any light wall color.
Ceramic or porcelain tiles are the other popular bathroom flooring option. They are waterproof, cost-effective, and stylish. Just like natural stone flooring, ceramic tiles provide a rich and textured look to a large or small bathroom.
Should Bathroom Floor Color be Darker or Lighter Than the Walls?
Most people believe their bathroom floor color should be darker than their walls. However, you can break away from this rule and install light-colored flooring with brightly colored wall tiles as a more adventurous option.
After all, your bathroom needs to reflect your personality and taste, so why follow the rules? But before deciding on the right bathroom floor color, think about what you're trying to achieve.
Do you want an energetic and lively bathroom design, or are you keener on neutral colors for a modern feel? Go with refreshing and comfortable colors for the walls and floors without the flooring color overpowering the rest of the bathroom.
For long-lasting impact, you may either match the floor color to the walls or choose one shade darker than the walls using the same color scheme. For example, pick a dark shade of green for the floors with a lighter shade for the walls or a monochromatic color scheme using the same shade for both the walls and the floor.
In Closing
Whether you favor ceramic tiles over vinyl or laminate, your bathroom flooring color must complement the rest of your bathroom fittings and fixtures.
Depending on the size of your bathroom and the layout, picking the best floor color will no doubt add value to your home. We hope our above ideas have inspired you to redecorate your master or guest bathroom with the best floor color.
Before you go, you might like these posts.