If you're interested in renovating your kitchen or remodeling a kitchen in a new home you are buying, then finding a good free kitchen design software will be invaluable to you.
With an online kitchen planner, you can experiment with different layouts, different design styles, and different color schemes. In some software, you can even view your design in panorama, photo-style visualizations, or 'walk' around your plan to get a real feel for it.
Benefits of Using Free Kitchen Design Software
Creativity
If you're unsure about exactly how you want your new kitchen to look, then kitchen planning software is a great place to start. You can see all of the options available and try them out to see what you like and what you don't like. You can get creative and try out ideas you may never have thought of before.
Inspiration
Many kitchen design software planners will come with templates that you can use as inspiration and then customize them to suit your own tastes, while others have community forums where you can browse kitchen plans designed by other people for inspiration.
Save Money
Using a free kitchen design software will save you money on hiring a professional designer. There are also many kitchen design software planners you can pay for, but if saving money is important to you, then look for a free one because many of them are just as good as the paid-for options.
Save Time
Rather than spend hours in a store trying to decide that kitchen you want, you can make the decisions from the comfort of your own home at a time that suits you. On some websites, you can even plan out your kitchen and then add all of the components to a shopping cart for hassle-free purchasing.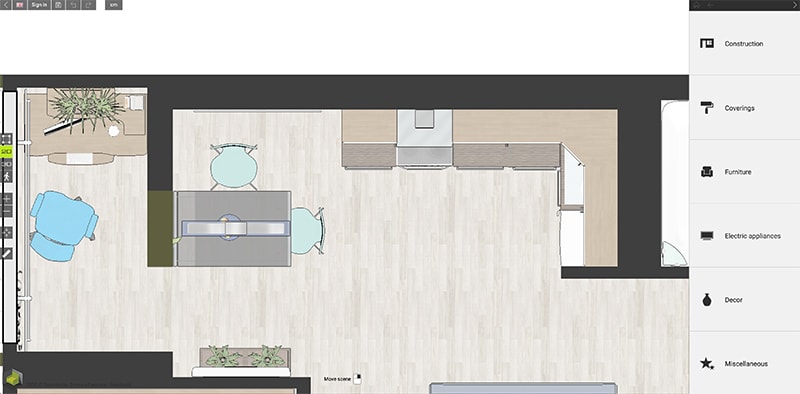 This is a completely free online tool that is designed for both professionals and individuals wanting to plan their own interiors. It is capable of designing any room within a building, including kitchens, and comes with a range of simple but impressive options.
To begin your design, you'll need to draw the 2D floorplan of your room, complete with measurements. You can create any room shape or size you wish with no limitations, and even design rooms with unusual angles or wall thicknesses. To this, you can add windows and doors, and from that point, you can transform your 2D floor plan into a 3D room ready for designing the interior of your kitchen. There is a specific kitchen portal on this software that you can select from the drop-down menu at the beginning, and this will ensure you have all of the options available to add a huge variety of cupboards, cabinets, shelves, appliances, and accessories.
You can experiment with a huge range of surface choices, such as different colored walls, various floor materials, and even wallpapers. After deciding on the interior decor of your kitchen, you can add furniture or other items such as plants or plates to get a real idea of what your kitchen will look like once complete with your own home furnishings added to it. You can switch between the 2D or 3D viewing modes at any time, depending on the element of the space you are designing.
You can also walk around your 3D design, giving you the ability to see the room from various different angles. Once complete, you can save your design and even share it with friends by printing it, emailing it, or posting it on Facebook.
Conclusion
This software is incredibly impressive, especially given the fact that it is entirely free and easily accessible to anyone. It is very easy to navigate with intuitive menus and layouts that can quickly be figured out and mastered by anyone with basic computer experience. This software also has a mobile-friendly version, which is great if you want to experiment with kitchen designs using the more convenient smartphone or tablet device. This software has everything you could want or need when designing a kitchen, as well as plenty of other options you don't need, but make the planning experience more enjoyable.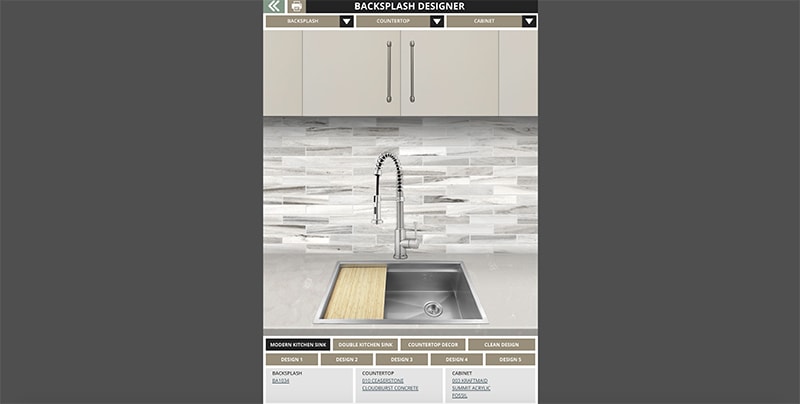 This design software will not enable you to plan out your entire kitchen, but it's great for seeing how combinations of backsplashes, cabinets, and countertops look together. It's almost like a mood board, putting swatches of items you like next to each other to see how well they go together.
This is a free software that is provided by a backsplash store, but you're under no obligation to purchase your kitchen items from them and can experiment as much as you like. This is quite a basic website, and it doesn't feel as sleek as some of the other kitchen design platforms, but it does serve a useful purpose and is among the easiest to use (probably because there is a very limited amount you can actually do with the software).
Conclusion
If you're looking to design the layout of your kitchen, then this is not the software for you. However, it works well to help you narrow down color options and see that countertops, for example, will go well with the cabinets you like. It is basic in its premise and basic in its execution but will be well suited to anyone who feels intimidated by more complex programs.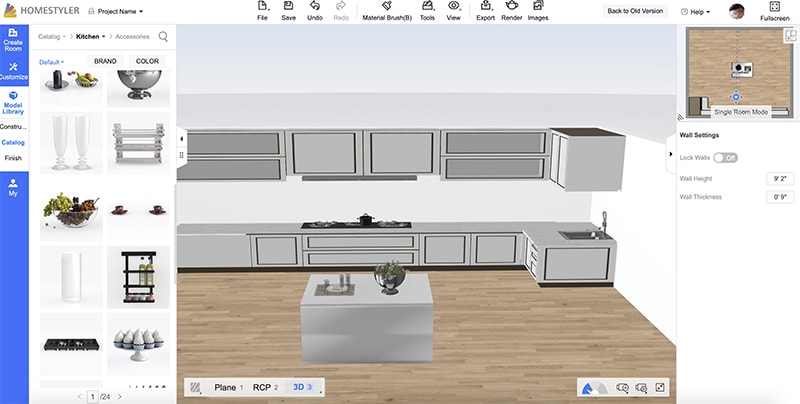 This interior design software is very versatile – it can help you design kitchen cabinets, flooring, and major parts of the kitchen. It can also allow you to design any room, building it from the ground up.
To begin with, create your layout using a 2D floor plan, and from there, switch the design into 3D mode where you can begin adding kitchen cabinets and other kitchen items. This software allows you to add specific pieces of furniture from well-known furniture brands around the world, giving you a really clear image of what your room will look like once complete and furnished.
After you have finished designing your kitchen, you can walk around it, using a panorama view with realistic photo technology. This is an intuitive and easy-to-navigate software that most people will be able to learn quickly as they go along, but there are many extra features on the website to help if you do find any problems. There are video tutorials showing you how to operate the program and also an FAQ section detailing answers to common questions.
Conclusion
This software is incredibly popular, and it's not hard to see why. It has a very premium, high-end feel, which makes it enjoyable to use. It is easy to navigate and can be switched from 2D to 3D to panorama at the switch of a button. It's great for getting a clear vision of what you want your kitchen to look like, and it also has a mobile version for those wanting to design their kitchen on the go.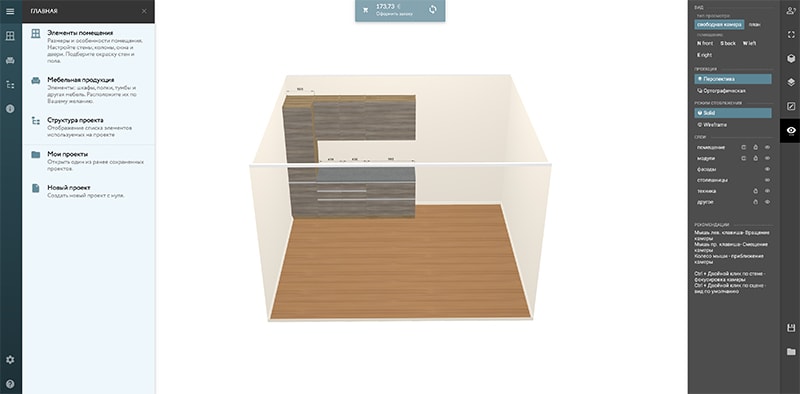 This is an online kitchen design planner by a Russian company. It sells its software to companies but is available to individuals to try for free. The owners of this website sell kitchen products, and so the aim is that you design your kitchen using their planner and then order the kitchen from them, but you are able to use the planner with no obligation to buy.
To start your design, you will need to create a floorplan, and once this is complete, you can drag and drop cabinets and other items into your space to see what fits and what looks good. Anything can be rearranged using the mouse or pointer, and hardware can be changed and experimented with. Once complete, you can view the final kitchen in 3D mode and send the plan via email or share it on social media platforms. The planner updates the cost of your kitchen as you go along, but obviously, this is with the prices that are available if you were to buy your kitchen directly from them.
Conclusion
This is an easy to use kitchen planner with realistic 3D imaging to give you a good sense of how your kitchen will look. It lacks the ability to 'walk' through the design and isn't as premium feeling as some other kitchen design software.
This kitchen planner from Home Hardware is one of the best free choices out there. You have the option of starting your design entirely from scratch, or you can choose from several pre-designed templates and adjust them to your own space. This is especially helpful if you are lacking inspiration, as you can use the template for a base and then customize it to your preferences.
The software is available on the website, and it does not require any downloading to use it. There is a section for helpful tips and pointers if you find you need some guidance in designing your kitchen or are struggling to understand certain features of the planner.
Once complete, you can save the design and return to it later, or print it, email it, or share it to Facebook. If you are considering buying your new kitchen from Home Hardware, then this is a great tool to use because it provides you with a shopping list of everything you have used in your design. This will be useful to ensure you don't forget anything when it comes to purchasing the kitchen, and also enables you to keep on top of your budget.
Conclusion
This is a very user-friendly platform for designing a kitchen, and the addition of pre-designed templates will be very helpful for a lot of homeowners. This tool can be used by anybody who wants to design their kitchen in the comfort of their own home, but it is especially useful for anyone who might purchase their kitchen from Home Hardware as they can see how all of the available options would look in their kitchen.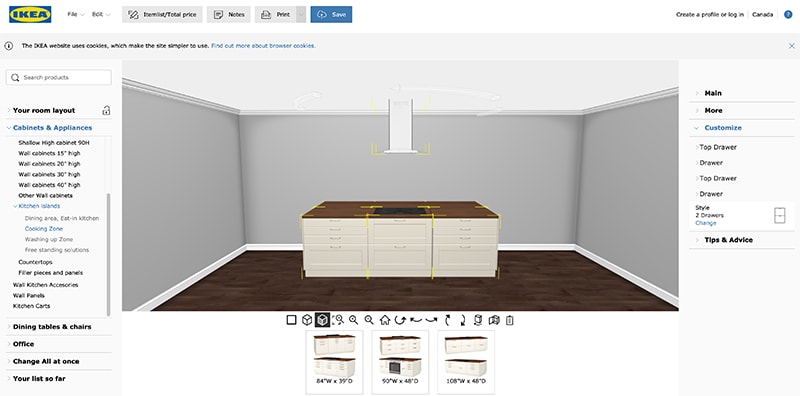 This is a free kitchen planner from IKEA that is especially useful if you want to buy your kitchen from IKEA, but it is also helpful in helping you to plan your kitchen even if you plan to purchase it elsewhere. This planner works on an online platform, so you don't have to download any software, though unfortunately, it is not compatible with mobile devices. The planner operates in 3D mode, starting with a square room that can be adjusted to match the size and shape of your own kitchen.
Once the room shape is correct, you can add doors, windows, additional structures, and fixtures, and select flooring and wall coverings. Once this base is complete, you can begin experimenting with different cabinets, countertops, appliances, and other kitchen items. You can even accessorize the space with IKEA furniture and other IKEA products. Like other IKEA planners, this is easy to use but can be a little clunky. It updates the total price of all of the items you have selected in real time, giving you an accurate cost so you can budget accordingly.
If you are happy with your design and want to order it once you have finished, then you can easily add all of the items you have used in your design to your shopping basket for simple purchasing. Alternatively, you can save the design and return to it later.
Conclusion
This is an ideal planner to use if you want to purchase an IKEA kitchen, as you can play around with all of the different options available, ensuring your budget criteria are met as you go. The ability to add all of the items to your shopping cart makes for a really smooth design and purchase process. This software isn't the slickest compared to competing kitchen planners, and the final 3D image isn't as lifelike as some others, but it is easy to use and very functional. The lack of a mobile-friendly planner might be inconvenient to some people who no longer use laptop or desktop computers.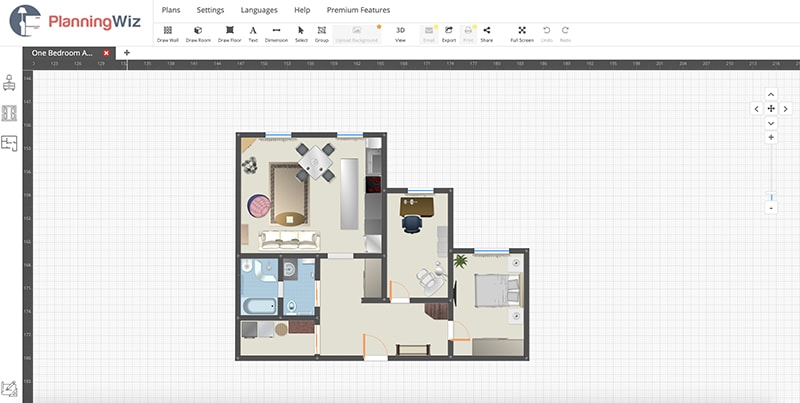 This planning tool can be tried for free, but if you want to use it on a regular basis, you'll need to sign up for the business edition. It lets you redesign or remodel any room of your home, as well as outside spaces.
You can start your plan from scratch, designing the floor plan and layout, including the size of your kitchen, or alternatively, you can upload photos of your current kitchen, and from this, this designer will create a blueprint and a floor plan that you can customize and update. From there, you can explore the different options for floor coverings and wall colors and try out different layouts for kitchen cabinets.
You can choose from a huge array of styles and also add extra accessories to the design, such as tables and chairs or plant pots. All of the items can be scaled up or down to make them fit perfectly into your design. There is a handy knowledge base on the website to help with any issues you might encounter, including step by step guidelines for carrying out specific actions on the software. Once complete, you can save your design, print it, or email it.
Conclusion
This is an enjoyable and easy-to-use tool, but there are limitations to the free demo, so if you want a free kitchen planner to use on a regular basis, then this may not be the one for you. There are numerous options available when it comes to interior choices, so you can experiment with different looks to your heart's content.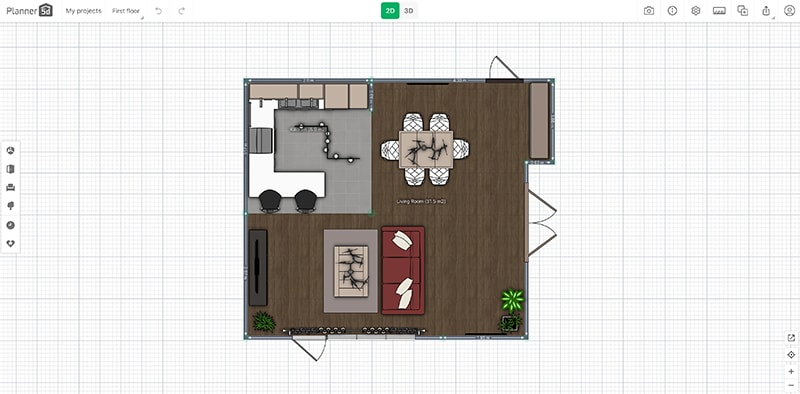 This online planner is more than just design software; it is an entire amateur interior design community. It is intended for those who have a love of interior design but who are not professionals. You can create a plan for any room of the home, and this platform has a good kitchen module.
You can work in 2D or 3D, creating plans that can then be transformed into high definition visualizations to make your kitchen plan look like a real photo. The interface is intuitive and easy to use, with obvious navigation that does not require any instructions or tutorials. The editing options for your kitchen plan are endless, with a huge array of flooring and wall coverings to choose from, as well as a catalog of over 5000 items to install into your design.
Once complete, you can upload your design to the community forums for advice or opinions from like-minded people. You can also browse the forums for inspiration. There is even an interior design battle ongoing on the website, where you can submit your own plans into a competition against other users of the software. Though this is a free planner, there are some premium features that require payment or subscription.
Conclusion
If designing interiors is your hobby, then this is the home planner for you. It is sleek and easy to operate, with a huge array of options and choices. The online community is a great touch if you're keen to learn from others or hear what they have to say about your ideas. If you prefer working on a phone or tablet, there is also an app you can download instead of using the desktop version.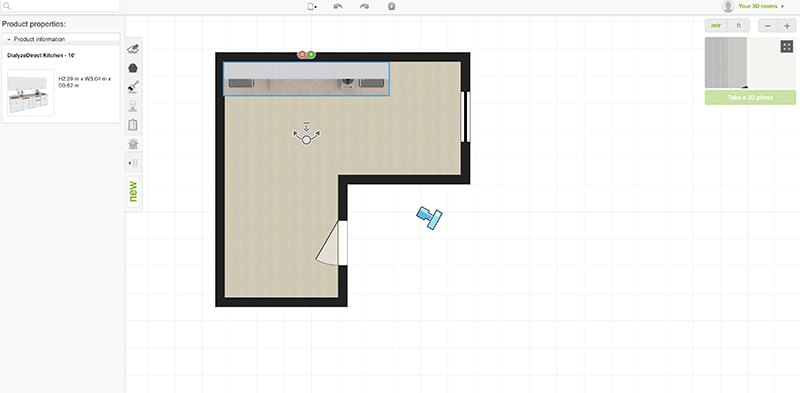 This is a popular online design software where you can create interior plans for any room in your home. To create a kitchen plan, you would select the kitchen module and first make your room shape and layout before adding in the key components of the kitchen, such as cabinets and appliances.
This is one of the only kitchen planners where you can design everything down to the minute details, including putting plates in your cabinets and utensils in your drawers. Though this isn't by any means an essential aspect of designing a kitchen, it brings an element of fun. You can view your designers in panorama, as well as in photo-style to get a lifelike visualization of what your final kitchen could look like.
There is also a community forum on this website where you can upload your own design for approval from others, or you can browse other designs for inspiration. As well as having a 3D planner, room styler also has a mood board feature where you can pull together lots of different design styles and individual items you like to help brainstorm and decide what goes well together.
Conclusion
This is a user-friendly home planner with a sleek interface, which is easy to navigate. If you enjoy planning kitchens or other interior rooms as a hobby, then this is a great forum for it, but it also works well if you want to plan a new kitchen for your home that you plan to actually build. The attention to detail is great, as well as the many different aspects from that you can view your design. If seeing a realistic representation of what your kitchen will look like is important to you, then this would be a good software to use.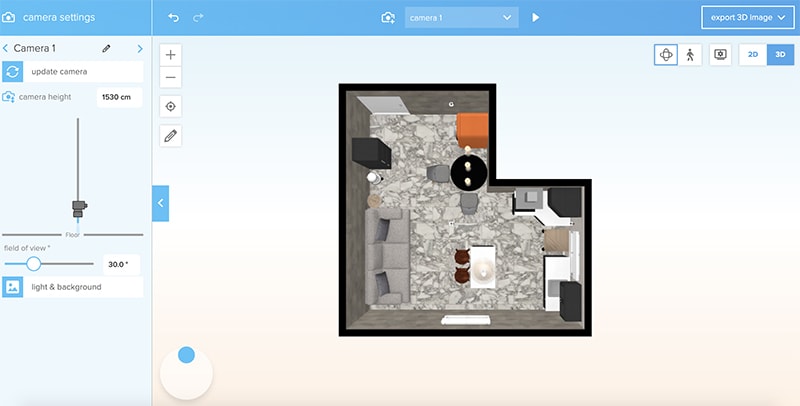 This is a good planner for creating blueprints, floor plans, and room layouts, and it can work for any room in your home, including kitchens. The software works within the website, so there's no need to download any applications. By signing up, you get to create one free plan, but if you want to create more than this, you will need to pay. There are subscription options, as well as pay as you go options.
Conclusion
This design software is excellent at trying out different layouts, for example, configuring different types of kitchen cabinets in various arrangements. Where it falls down is in its ability to create realistic looking plans. It also isn't as sleek or as high-end feeling as some of the other kitchen planners, which are entirely free, compared to Floorplanner, which needs payment for more than one design.