An organized closet makes for an organized mind. For so many of us, getting our cupboard space in order makes us feel calmer and more relaxed and enables us to better focus on the more important things in life. If you're somebody who spends ages trying to find the right shirt in the morning, or you can't remember where you left a specific belt, then you're probably in need of a closet overhaul.
Getting your clothes and accessories organized will save you time and stress when you're getting dressed, and it also just looks great! Nobody likes having their clothing strewn over a nearby chair or drawers that are so full of garments that it feels like a gym workout just to get it to close!
A well-arranged closet space gives you set areas for different items, so everything has its place, and you never need to wonder about where you put something. A professional-looking closet used to be the thing of dreams for everyone except celebrities or the super rich, as you would require an expensive designer to custom plan your space, but now more and more of us are getting our closets in order thanks to free closet design software you can use online.
If you're on the hunt for the best closet design software to help transform your closet dreams into a reality, then we've got the lowdown of the best of the best.
Benefits of Closet Design Software
Save Time
Many furniture stores will work with you to create a custom closet, but to do this, you will typically need to make an appointment and visit their store or have a designer come out to your home and work with you to create a design. While this may present a good option to many people, using an online closet design software essentially cuts out the middleman and can save you a huge amount of time. By designing your closet on your computer, you can choose to do it at any time that is convenient for you, even from the comfort of your own bed. You won't have to wait for a professional designer to work on your design and get back to you with a plan, which can take days or even weeks, depending on how busy they are. With closet design software, you can create your plan in real-time and have a complete design in a matter of minutes.
Save Money
Many designers will charge you a fee for designing your closet. By using free closet design software, you could save yourself a fortune. You can also investigate using different closet design websites to see that one offers the best price for what you are looking for. Many types of closet design software allow you to see the total price change accordingly with each update you make to your design, so you have a very clear idea of what each component of the closet will cost you.
Create a Shopping List
If you use a closet design software that works in conjunction with a furniture store, then once you are happy with the design you have created, you can simply click a button to add everything included in your design into your online shopping basket, ready to purchase. This makes for an incredibly easy and smooth closet-buying process, again saving you time and stress walking around a store trying to find the pieces you need to build a closet.
Prevent Errors
By designing your closet online with closet design software, you will have a much smaller chance of making errors. This is because you typically put in the dimensions of your space before you begin, so the software simply won't let you order furniture that is too big for the space. When you add your completed design to your shopping basket, you will automatically have a list of everything you need. Alternatively, if you were browsing in a store trying to purchase items to create a closet, you would be much more likely to accidentally buy something in the wrong size or forget to pick up a vital component. By using closet design software and preventing the likelihood of errors occurring, you will enjoy a smoother and more stress-free experience. You will also have a completed real-life custom closet in a shorter time, as you won't be running back and forth from the store to exchange pieces or buy hinges you initially forgot.
Without further ado, here is a list of our recommended closet design tools you can use for your next closet project.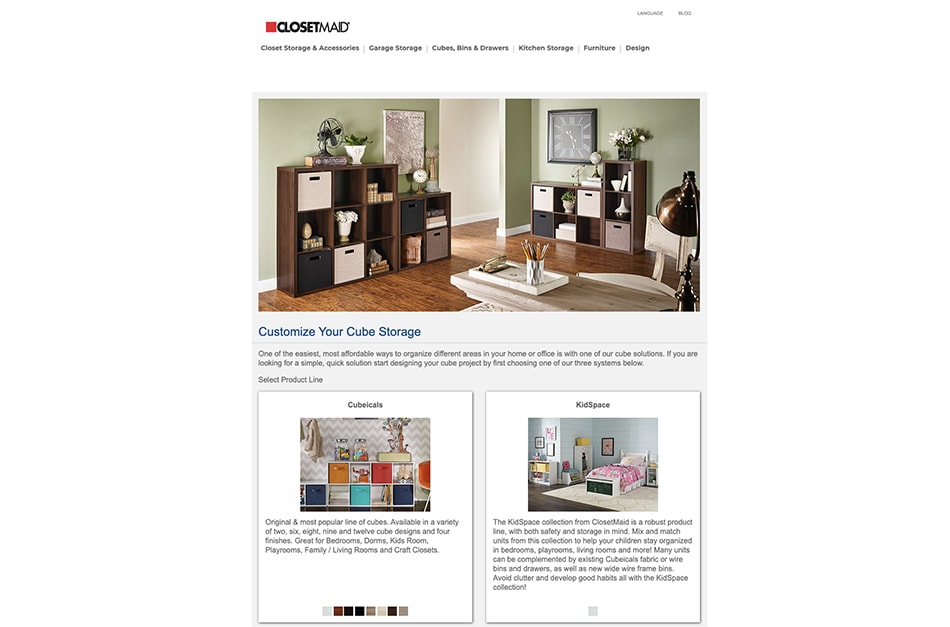 This is an online tool that is accessed via the ClosetMaid website, and it doesn't require any downloading of the software, which is great if you're worried about accidentally downloading viruses or using up too much space on your device. What's great about this tool is the huge variety of types of closets you can create. When using this software, the first thing it will ask you to do is select that room you are designing a closet for and that type you want.
The options are bedroom walk-in, bedroom reach-in, family room single wall, laundry room single wall, pantry reach-in, and pantry walk-in. From here, you'll then be asked to enter the total dimensions of the closet you want to create, which with the click of a button, can be changed between inches and cm. After this, you'll then need to select if you want your design to incorporate wire solutions or 'suitesymphony,' which is the premium option if you decide to buy the materials from ClosetMaid, and it switches up basic wire shelving for more visually appealing laminate options.
Depending on the options you have selected so far, you'll then move onto the fun part of designing your closet, with some standard design models to start with that can then be customized. You are able to change the color, size, materials, and configuration of all elements of the closet's design, giving you complete creative control. Once you have finished, the software details a list of all the elements you will need to build your closet, making a shopping trip super easy. Of course, there is no obligation to buy your closet through ClosetMaid, and you can use your design as a basis for creating your closet and purchase your materials from elsewhere.
If you prefer to let a more experienced eye design your closet, ClosetMaid also offers a great bespoke service, where you input the size of your closet space and answer a few basic questions regarding what you want from your closet, and for a very affordable $5 fee, you will receive two professionally designed closet options in just a few days. These will also include lists of the components you would need to build the closet and where you can buy them.
Conclusion
Overall this is a great piece of design software that is easy and intuitive to use. It does lack the design features of some other closet design tools, but this is what makes it so simple to navigate. It would be ideal for anyone who considers themself to not be technically minded but may just be too basic for design enthusiasts. The final design is only viewable in 2D that might make it difficult to truly visualize your closet.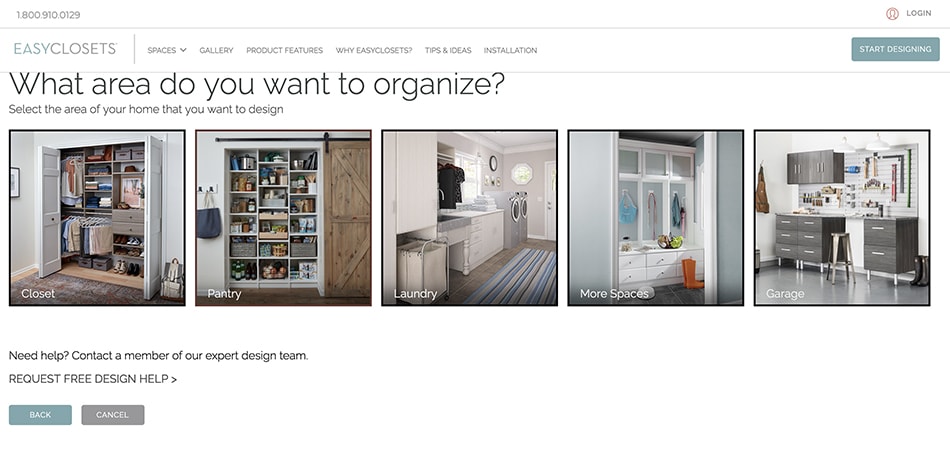 This is another free closet design tool that can be used online. To get started, you simply need to choose the type of closet you are designing, whether that be a standard bedroom closet, a pantry, laundry room, entertainment set up, or entryway storage. You can also choose whether the closet will be reach-in or walk-in. From here, you'll then need to enter the dimensions of your closet, and there's a handy guide to ensure you're measuring the space correctly. You'll then be asked the type of doors you have on your current closet to ensure the design options you have are compatible.
You can then go ahead and design the interior of your new closet, choosing drawers, shelving, clothing rails, and so on. You can easily play around with the sizes, as well as material, color, and finishes. There is a range of hardware options to choose from, and the final price of your closet gets updated in real-time, so you can see the dollar difference that will be made from each option you select. This is great if you're on a budget, as you'll be able to clearly see that options keep you within your spending limit.
Once you are happy with your design, you can order all of the required components directly from the website. This is a really easy and streamlined process that will appeal to people who like to get things done quickly and with little effort or hassle. You can even request a free professional review of your design to make double sure that everything will work smoothly. Alternatively, you can use the design you have created as a basis and go shopping elsewhere for your closet materials.
Conclusion
This is a really user-friendly piece of software that anyone could use. It has a slightly more enjoyable interface than some other free closet design software tools, which makes it more fun to use. It also has a really good selection of customizable options, and if you want to order your design directly from the website, then this is a smooth and simple process. The drawback of this software is that you cannot see your design in 3D, and you cannot print it, but this is fairly typical of free design software.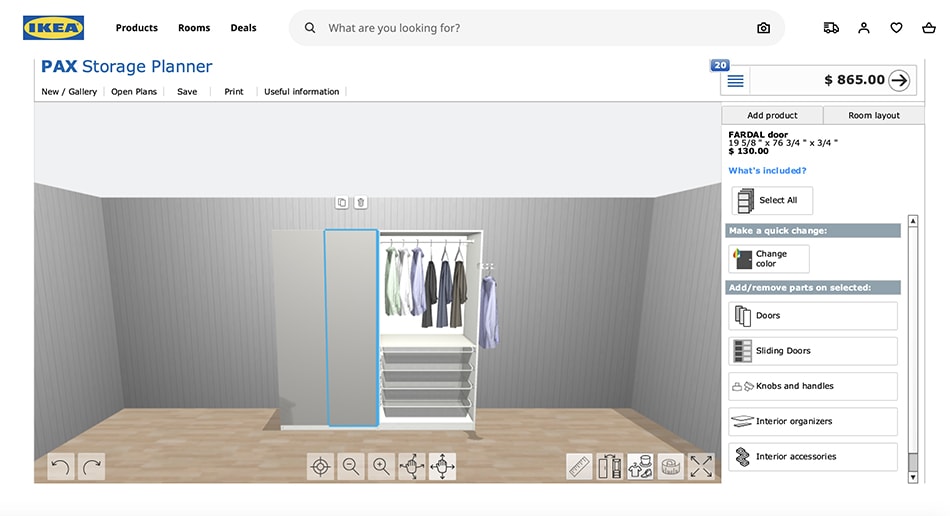 If you want a pax closet system, then you can use IKEA's PAX Planner. This is completely free to use, but your computer will need to have the latest version of Adobe Flash Player in order to operate the software. There are many different variations you can try out on this planner. You can start with one of the many pre-designed combinations, or you can start from scratch and build your design from the ground up.
As you would expect from IKEA, there are numerous different options available when it comes to the color of the wood veneer, the hardware, and the interior storage solutions. In fact, the many different types of ways you can organize the interior of your closet are where the PAX system really stands out from its competition. You can choose from shelving, rails, slide-out wire drawers, standard drawers, underwear compartments, pull out trays with shoe dividers, pull out trouser hangers, glass shelving, shoe shelves, jewelry inserts, belt hangers, and many different compartment dividers to organize underwear and accessories.
PAX wardrobe systems come in two different heights, so you can have a free-standing closet or create a built-in look depending on the height of your room. As you go through the process of adding shelves or additional compartments to your design, the total price will reflect your choices in real-time, so you can keep track of what your closet is costing you. Once you are happy with your design, you can simply move on to the shopping basket, where all of the components you need to build your closet will be listed, including parts you might not have previously considered, such as hinges.
Using the PAX planner is especially useful because it ensures you won't have accidentally left anything vital off your shopping list. When you're ready to proceed, the purchasing experience is very smooth and easy to navigate. You can have the order delivered right to your door.
Conclusion
This is an easy-to-use planner that will be able to be navigated by anyone who is used to using a computer. It isn't the most seamless user experience, and it can be a little clunky in places, which is a disappointment considering IKEA is one of the biggest furniture suppliers in the world. The drawback of this software is that obviously, it is only for PAX products, which only include reach-in storage and not walk-in.
If you want to design a walk-in closet, then this software will not be the most useful. It could be achievable, but you would have to plan each closet wall individually. Where this software works well is that it makes for a very smooth and easy purchasing experience. As with most IKEA products, the PAX closets themselves are very intuitive to build and simple enough for the average person to construct.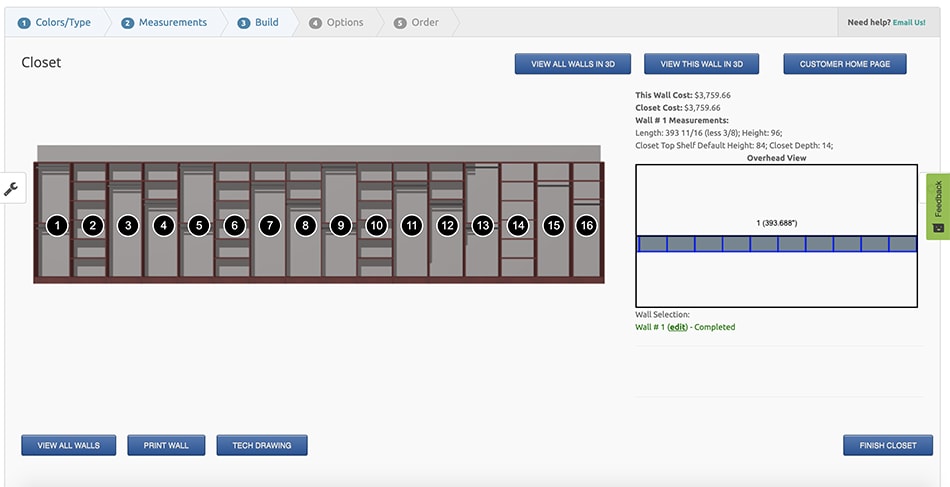 This free closet planning software proclaims itself as being the best available online, and they may well be right. This planning tool has a much smoother and more seamless feel to use compared to most of the other free online options, which makes it truly a joy to work with. The company has clearly spent a lot of time and money, making this tool as good as it is, and that is reflected in the user experience. When creating your closet plan, you can choose from a wall-hung closet system or floor standing. You can also design a reach-in closet or a walk-in closet with up to five walls. Even the most unusual room sizes and shapes can be accommodated.
This tool is incredibly advanced, considering that it is free, and allows you to create a truly custom closet. The depth of the closets as standard is set to 14 inches as this is the standard depth of closets, but if you want to change this, you can adapt the depth anywhere from 10 to 24 inches. There are numerous options for the exterior color and look of the closets and even more options when it comes to the interior organization. One of the best things about this closet planner is its 3D visualization tool, which shows you exactly how your closet will look in a more life-like style.
Once you have finished your design, you can order it directly on the website, and all the required components will be delivered to your home via free shipping. The prices of these closets are very reasonable, and though they come at a slightly higher cost than some of their competitors, they do provide a higher quality finish that is expected to last longer than more budget-friendly versions.
This website also offers a free design service, so if you are struggling with your design or you simply want a professional opinion, you can fill out an online form detailing your measurements and other requirements, and a custom design will be emailed to you within 24 hours. The design will be sent in the form of a PDF, complete with prices and 3D drawings so you can visualize the final look of the closet in your home.
Conclusion
This software offers a really good balance in terms of options and ease of use. It has numerous customizable options for closets without being too confusing and difficult to navigate. The 3D viewing button is also a great feature that many other free closet design planners lack. It is enjoyable to operate and offers a streamline purchasing experience. The website's own professional design service is also an added benefit, with a surprisingly quick turnaround. The only downside to this software is that purchasing the closet you have designed may cost a little more than comparable companies, but the end result will likely be of superior quality.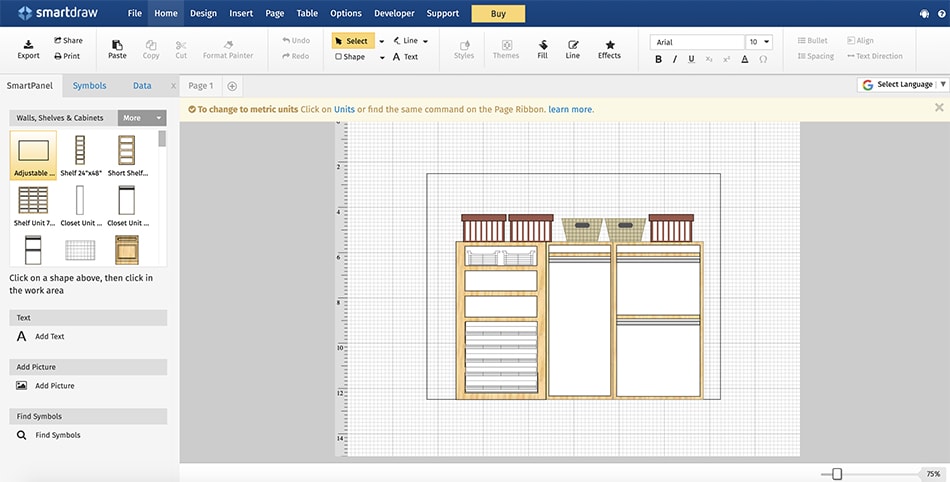 This is a really great online design tool where you can create plans for a wide range of interior and exterior buildings and rooms. With SmartDraw, you can make a floor plan for a kitchen, a bathroom, a restaurant, or even a garden. You can create plans, diagrams, charts, floorplans, and almost anything you can think of, design-wise. This software is free to use, and you have the option of using the online website-based version of the planner, or you can also download the software so that you're free to use it on the go, even when you're not connected to the internet. The benefits of this planner are numerous. It has so many options that you can create almost any closet you can imagine.
To get started on designing your closet, search 'closet' in the search bar and then select 'cabinets.' From here, you can create any type of closet you like. While the biggest advantage of this planner is that it has so many design options, this is probably also its biggest drawback. The unlimited number of things this planner can do might make it a bit tricky to use if you aren't accustomed to working with design tools. It is fairly easy to navigate, and those who are proficient in using these types of computer programs should be able to figure it out fairly quickly, but if you are not a frequent user of computer software, then this may be too advanced for designing your closet, and sticking to a more basic planner would be preferable.
To create your design, you can opt to start with a completely blank page or choose a template to use as a base to build on. With SmartDraw, it is simply a design tool and is not linked to any closet furniture supplier. This means when you have finished designing your closet, you will need to take your plan to a custom closet maker to get the furniture ordered and built. Alternatively, you could take the measurements from your design and try to source the components you will need yourself, but this is much more likely to result in mistakes compared to closet design planners that will add everything you need to your shopping basket for you.
Conclusion
This is an excellent planner for creating your closet with lots of great features, though if you are not used to navigating computer software, then these features might be too difficult to access. The software uses a drag and drop system that is enjoyable to use and offers a wide range of customizable options. If you want a planner that will create a list of what you need to build your closet, then this is not the one for you.