Are you a novice in cooking but wanting to get started in it? Or are you someone who's looking to boost the quality of your kitchen tools? Whatever the case may be, it's always a good idea to brush up on your knowledge of essential kitchen tools.
Preparation Tools
As you would deduce from the name, these are kitchen tools for use in food preparation. These are the tools you should have at your disposal when preparing ingredients for your dishes. Most food preparation tools are handheld, meaning these are easy to use and store.
Chef's Knife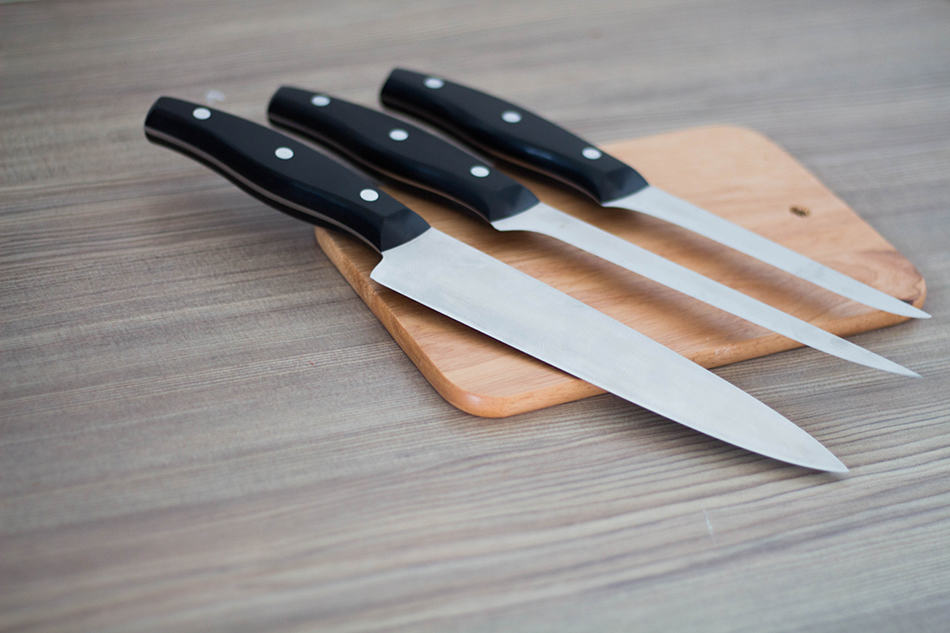 Without a doubt, this is the foremost preparation tool and kitchen utensil for most people. In fact, one can argue that if you can only use one preparation tool, then the chef's knife among all types of kitchen knives has to be it.
Also known as the cook's knife, this food preparation tool was first designed for slicing beef. These days, it is the main knife for western cooks.
It has a blade that's about 8 inches long and 1.5 inches wide. However, you may find other models that are up to 15 inches long. There are two kinds of blade shape: French and German. The former has a straight edge with a curved tip. The latter is more continuously curved along its edge.
In buying a chef's knife, consider the weight, balance, and size of the tool. The most popular size among home cooks is the 8-inch knife because it's versatile. You may opt for a 10-inch knife and cut more volume, although it can feel intimidating. A knife that's 6 inches long may be more agile and less intimidating but may not be able to slice foods like a watermelon.
Cutting Board
Also known as a chopping board, this is where you place foods for cutting.
A cutting board not only provides you a flat and sturdy surface for prepping food. It also protects your plates and counters from scratches. It may also serve as a trivet when dealing with hot pans and pots.
Cutting boards vary in size. Some are large enough for carving a turkey, while others are small enough that you can only cut lime and similarly-sized foods.
It is commonly made of wood and plastic. But you can also find chopping boards made of steel, glass, and even marble. Given a choice between plastic and wood, the former is more practical because of sanitation. When washed properly, a plastic chopping board can be used for fresh vegetables and meat. But since wood is porous, a wooden board is harder to clean. There's also the risk of cross-contamination with bacteria from meat, resulting in sickness.
Measuring Cups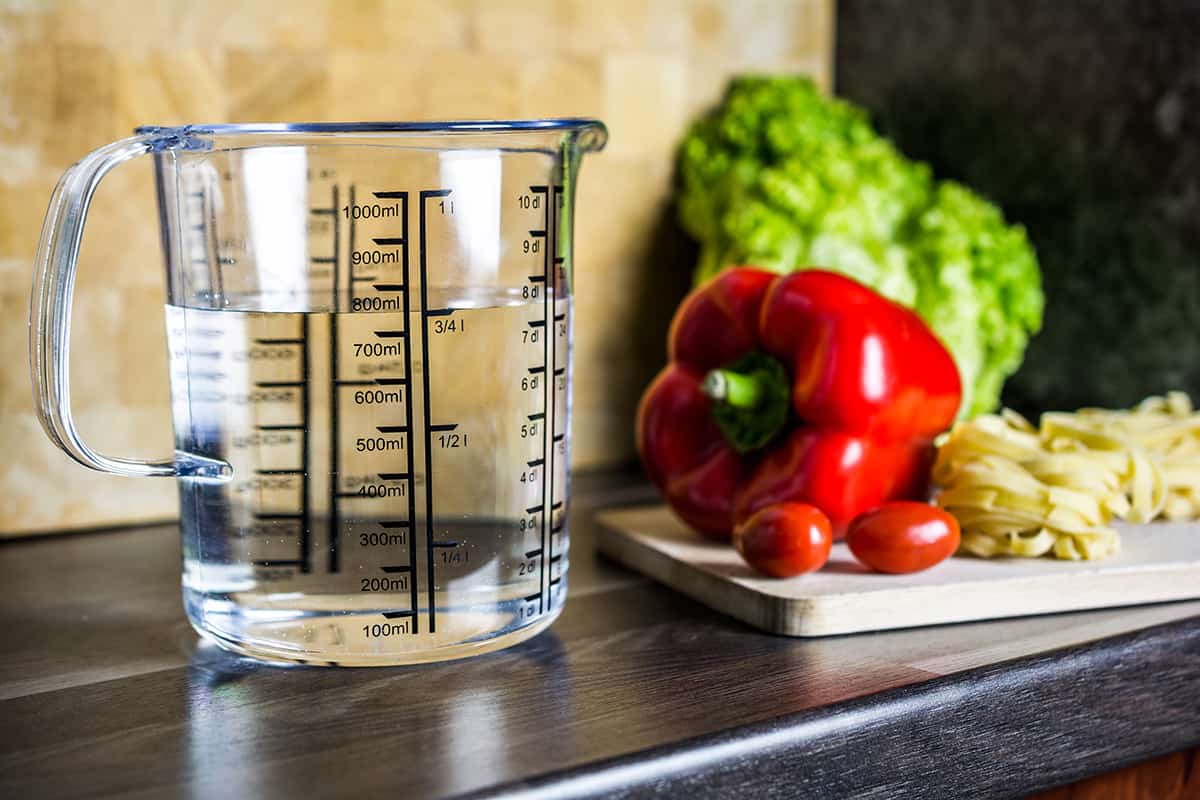 Even the best chefs would vouch for the importance of measuring cups. With a measuring cup, you can accurately measure the volume of cooking ingredients.
Measuring cups are classified into two types: dry and liquid.
Dry measuring cups are for measuring dry ingredients such as berries, nuts, and flour. When you use a dry measuring cup, you must have the exact amount of dry ingredient and leveled off with a flat edge.
On the other hand, a liquid measuring cup is for measuring liquids such as oil and water. It is often made with a handle. It may be made of glass or plastic.
Measuring Spoon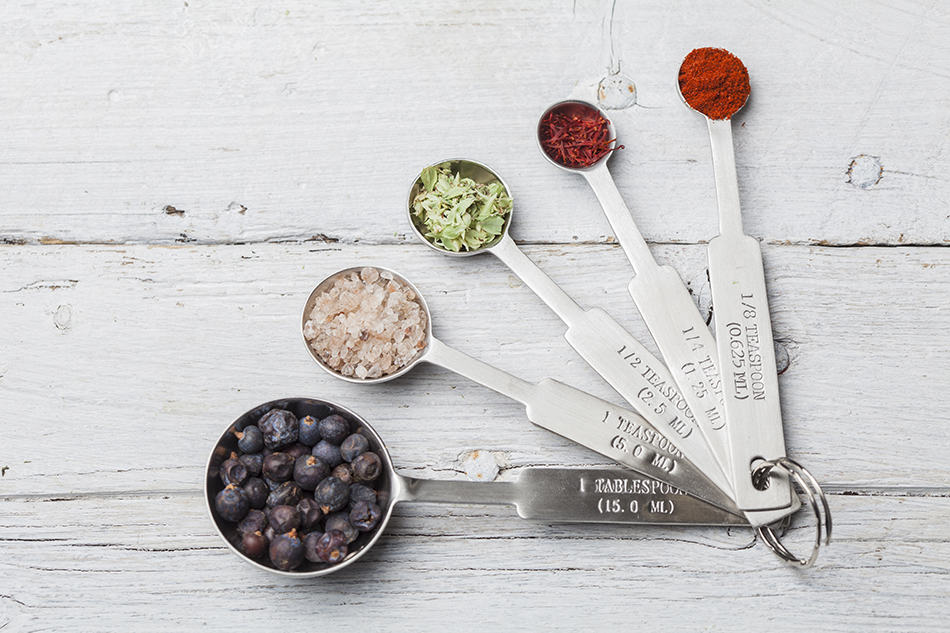 When measuring smaller amounts of ingredients, regardless of their state, the measuring spoon is your best bet. This kitchen tool is shaped like a spoon and can hold both dry and liquid ingredients.
While it's a simple tool, a measuring spoon comes in numerous shapes. Measuring spoon sizes vary, with the smallest sets designed to measure a pinch while bigger ones can measure up to a tablespoon. This essential kitchen tool is often made of metal or plastic.
Discover more types of kitchen measuring tools and gadgets here.
Can Opener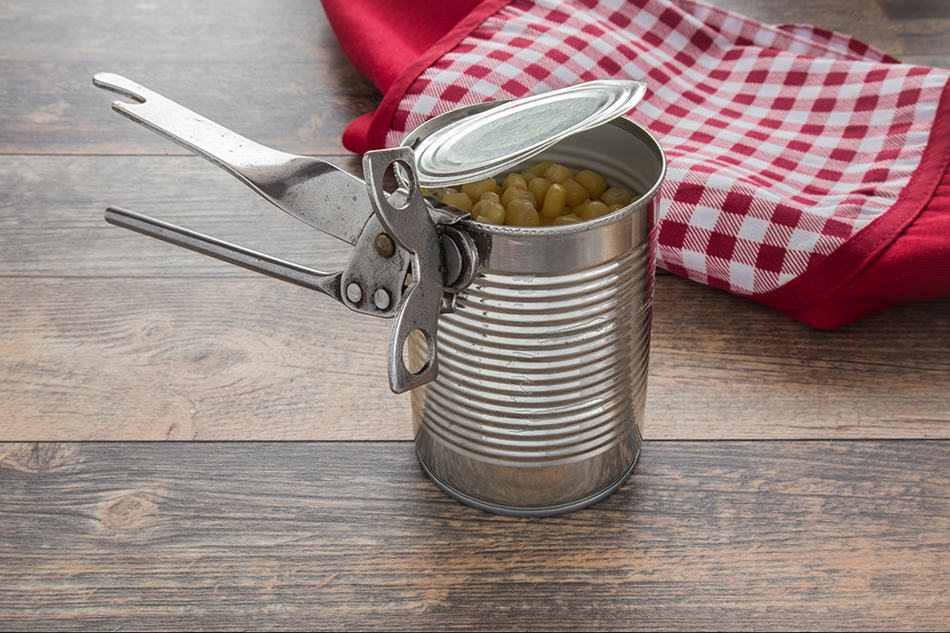 This essential kitchen workhorse may seem less important than a knife, but can you imagine opening a can with your bare hands? That's why you should have a can opener in your kitchen.
There are two types of can openers: manual and electric. Manual can openers are undoubtedly the most common, often found and kept in kitchen drawers. These don't require electricity to work, but you'll have to attach it to the can and turn its blade to start the can opening process.
On the other hand, an electric can opener does most of the work for you. All you need is to attach the can and operate the machine. This type of can opener must thus be placed near an electrical outlet. The problem, though, is that it can take up space in the kitchen.
Aside from the type of can opener, you must consider the ease of use, safety, and cleanliness of the tool when shopping for one.
Click here for more types of can openers
Mixing Bowls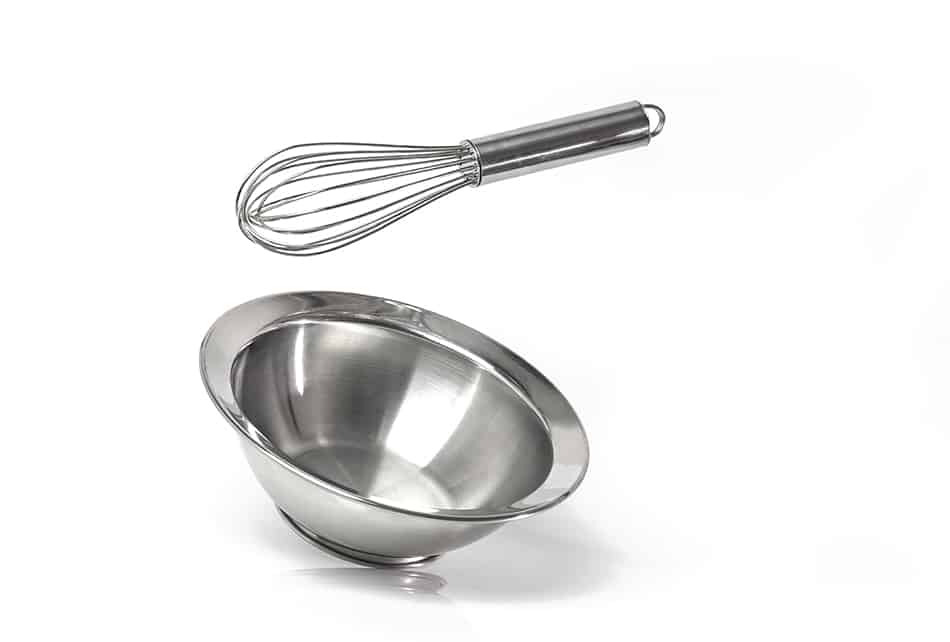 This may seem like something you can pass up, but a mixing bowl is important regardless of your experience level in the kitchen. This deep bowl designed for mixing ingredients is as important as knives and cutting boards. With a mixing board, you can mix together marinades, spice rubs, and sauces. It also comes in handy for tossing and whisking. And you can use a mixing bowl for storing leftovers!
Mixing bowls are made from an assortment of materials. You can buy glass mixing bowls. Others are made of plastic and glass. Many veteran cooks, however, prefer stainless steel mixing bowls because these are durable, stain, and odor-proof.
In buying mixing bowls, you'd want one that's versatile. It should not only be safe for use in a microwave but also for storage in the freezer. It must also be dishwasher-safe. The presence of features like pouring lip and handle may also affect your buying decision.
Learn More Types of Bowls Here
Colander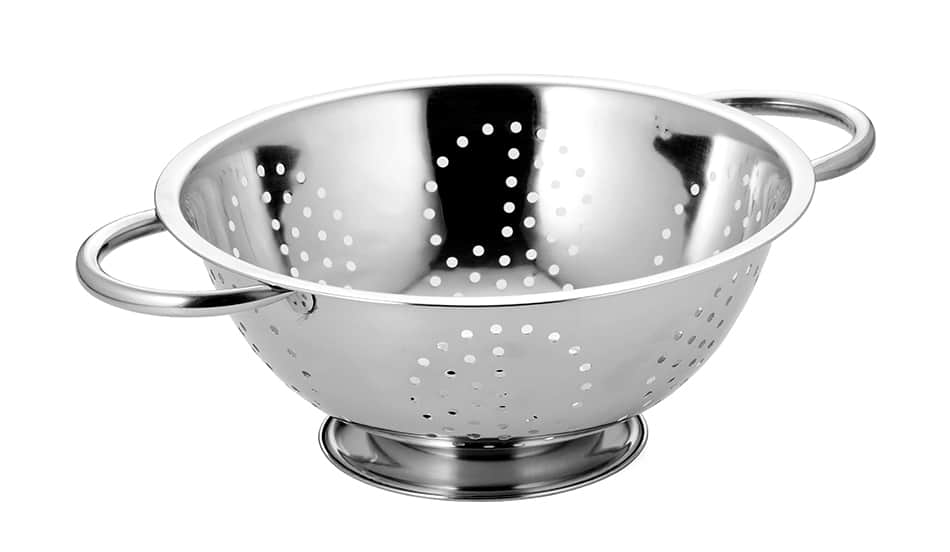 The colander can lay a claim to being one of the most versatile kitchen tools. It simply can be used in a lot of ways. You can wash greens, rinse rice, drain pasta noodles, and steam vegetables on it.
Just like measuring bowls, colanders come in various sizes. There's also a wide variety of draining holes to choose from. Those with large holes are best for draining water quickly, like when draining pasta. You can also use a colander with large holes when rinsing vegetables. But this kind of colander won't be suited for rinsing uncooked rice.
Colanders can be made of plastic and metal. Plastic colanders are cheap and lightweight. The problem, though, is that a plastic colander can melt when it comes in contact with a hot pan. Metal colanders won't melt but can be prone to rust. There are also mesh colanders that work best for draining rice or quinoa. However, they are smaller in diameter compared to plastic and metal colanders.
Vegetable Peeler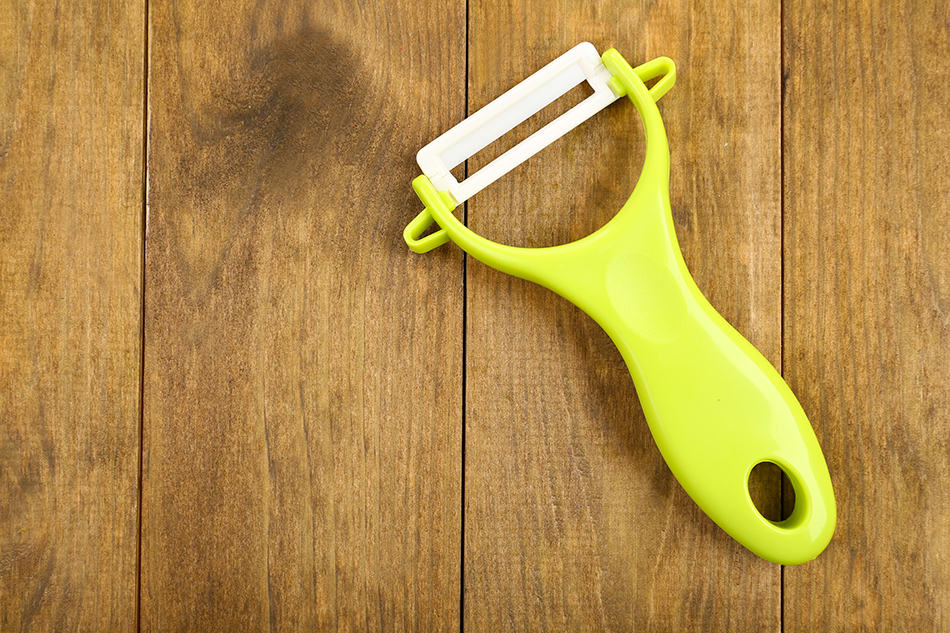 With a vegetable peeler, you can fast track preparation time regardless of the vegetable that you're planning to cook. From peeling potatoes to carrots, a vegetable peeler can make the task a lot easier and safer.
A vegetable peeler is also called a vegetable scraper. It consists of a metal blade attached to a handle. Designed to remove the outer layer of veggies like carrots, broccoli stalks, and potatoes, it can also be used in peeling fruits like apples.
There are two styles of vegetable peelers. The first is the swivel type, which has a vertical blade used by moving the hands back and forth on the vegetable or fruit. It's widely considered as the more popular vegetable peeler style among house cooks.
The second style is the Y-peeler with a flat blade. To use it, you begin at the base of the produce and peel it towards your face. Using it is quite confusing at first, but it's something that many professional chefs prefer to utilize.
Whisk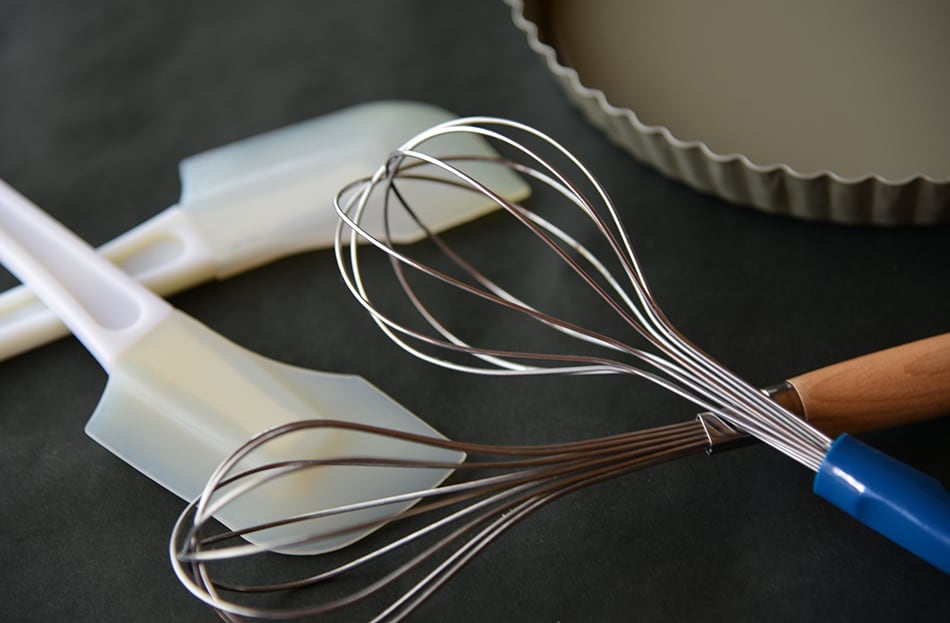 Also called a cooking whisk, this kitchen tool is for blending ingredients together or adding air into a mixture. On one end of it is a narrow handle, while conjoined wire loops are situated at the other. The earliest written mention of this kitchen tool was in 1765 by author Susannah Carter.
There are numerous variations or types of whisks, including ball, balloon, birch, and chasen whisks. Other types of whisks are coil, coiled, Danish bread, and sauce whisks.
Whisks can be made from various materials. Wooden whisks maybe green and eco-friendly, but these can easily break. Nylon whisks are cheap but don't provide much whisking power. Whisks made of wire and coated with silicone are lightweight and sturdy.
You can find electronic and mechanical whisks, although many chefs and home cooks still prefer using the traditional, handheld, and hand-powered whisks.
Graters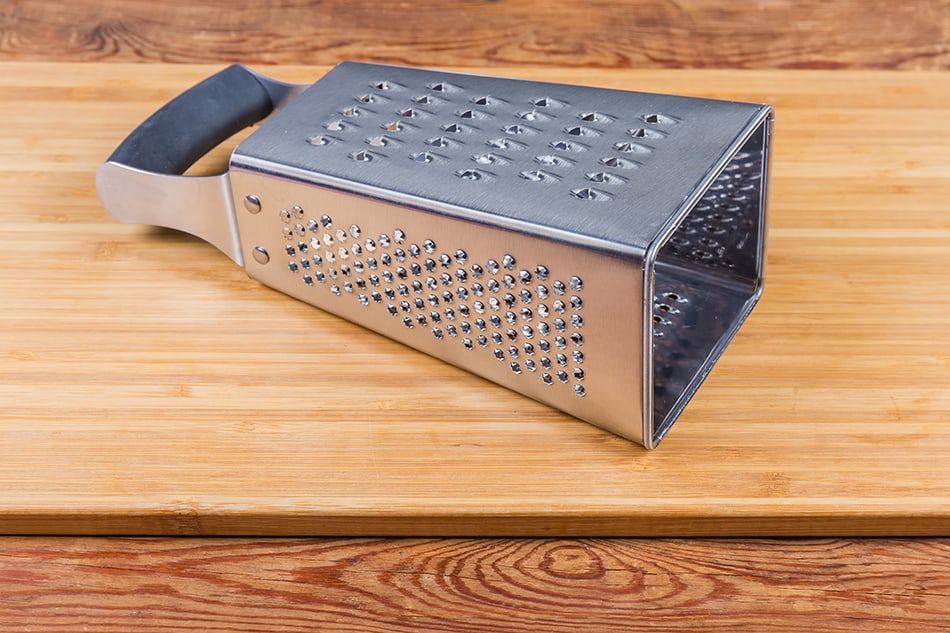 Most people think that graters are just for cheese, but the truth is there are lots of uses for this kitchen essential. While grating cheese is the most common use of a grater, you can also use it for shredding or grating vegetables like carrots, zucchini, and potatoes. You can also use it for grating onions, garlic, and ginger, especially when you're not in the mood to chop them.
Like most of the tools in this list, graters come in a wide variety of styles. The multi-sided grater, for example, has different blade surfaces. It often comes with coarse, fine, and ribbon graters. It's arguably the most versatile type of grater. On the other hand, a flat grater is easy to store and handle. It is best for grating a few pieces of food. The rotary table grater works like a mini processor. It is designed for grating cheese at the dining table. Finally, the microplane grater is preferred by pros because of its super sharp teeth. It often produces the finest textures.
Kitchen Shears
For many chefs, the kitchen shears can be likened to a Swiss knife. It's proof of how versatile this kitchen tool is.
While some may argue that a knife can do the things that a Swiss knife is designed for, such as cutting joints of a chicken. However, it's hard to remove the backbone of chicken and turkey with a knife. You'd rather have a good pair of kitchen shears when faced with this scenario.
From breaking down poultry to cutting food packaging and snipping herbs, there are many uses of kitchen shears. And you'll be surprised, too, that you can use it outside of the kitchen. Capitalizing on the grippers of its handles, you may use a kitchen shear in opening jar lids and bottle screw caps. Those grippers are also strong enough to crush nuts and shells.
Bread Knife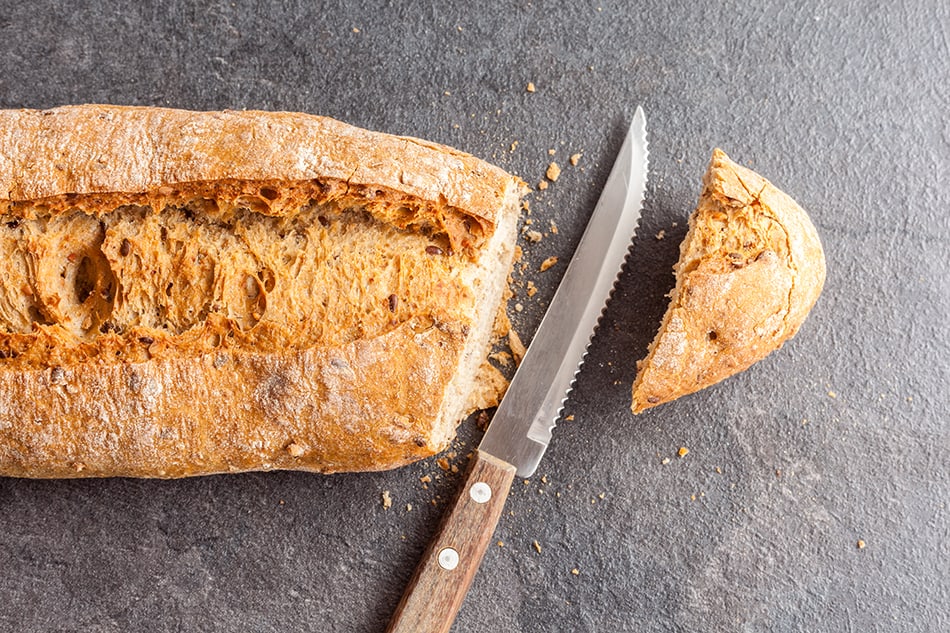 As you would likely know, a bread knife works best for slicing bread. But it also has other uses that make it such an essential kitchen tool.
A bread knife is a type of serrated knife or one which has a tooth-like edge. As such, it can cut through food without putting downward pressure. This makes the bread knife ideal for slicing delicate foods such as soft fruits and veggies. For example, you can use a bread knife in slicing tomatoes without causing its juice to cover your entire cutting board. You can also use it in getting rid of the bark from a pineapple.
Cookware and Bakeware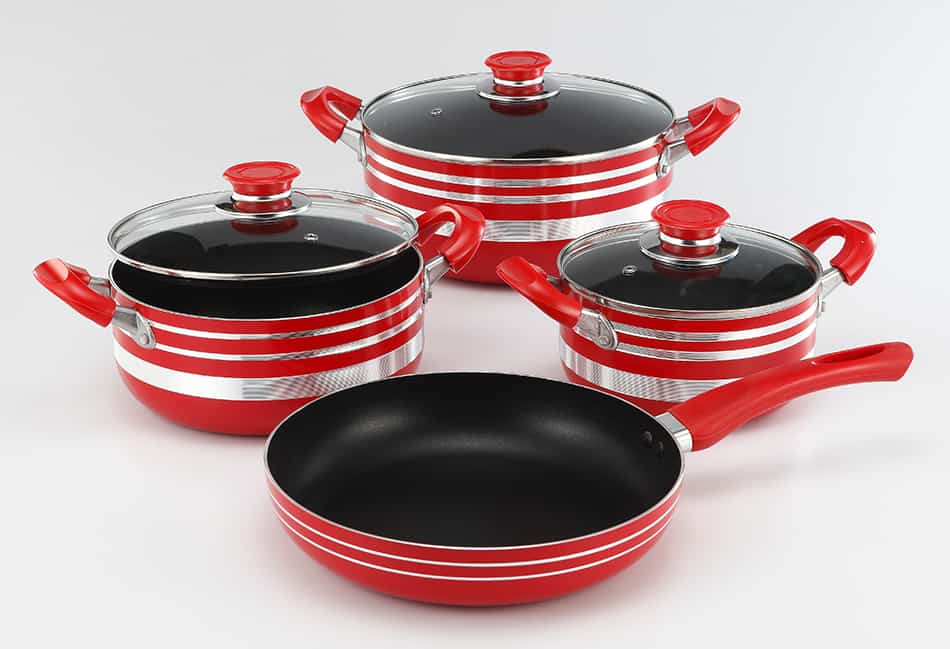 Cookware and bakeware are kitchen preparation containers. Cookware includes cooking vessels like frying pans and saucepans designed for use on a cooktop or stove. Bakeware, meanwhile, involves cooking vessels designed for use in an oven.
Stainless Steel Skillet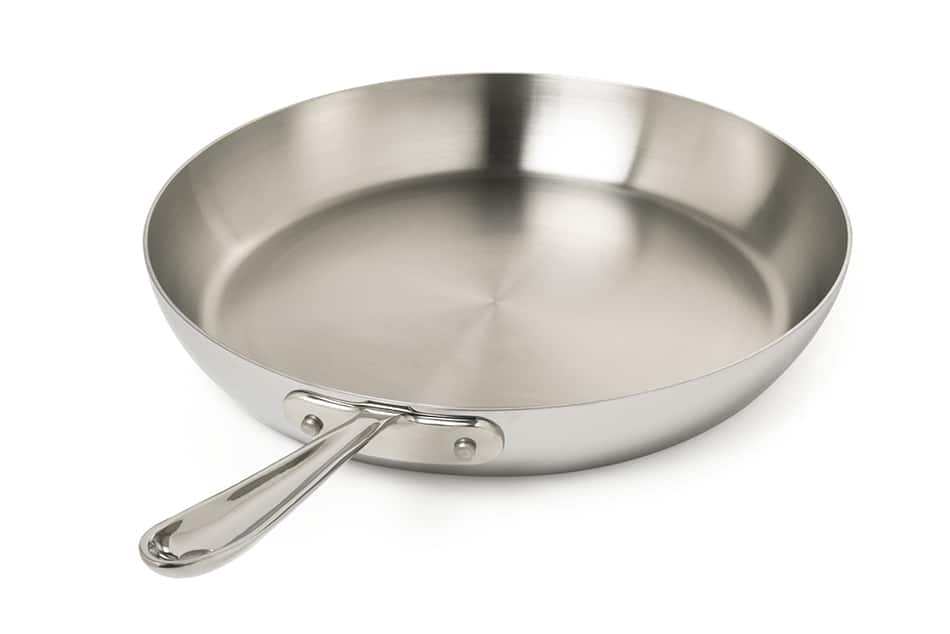 This cookware is useful for many functions, from searing to sauteing to frying. It's for this reason that many chefs consider this the true workhorse of a kitchen.
Skillets are commonly available in three sizes. The 8-inch variation presents the only way to cook an omelet. It's also the best skillet size for cooking one kind of food. And being the smallest, it is also the easiest to handle and clean. The 10-inch skillet is ideal for frying and scrambling eggs. It's also useful in cooking delicate fish fillets. Finally, the 12-inch skillet has enough room for roasting a chicken, sauteing pork chops, browning sausage, and searing steaks.
Saute Pan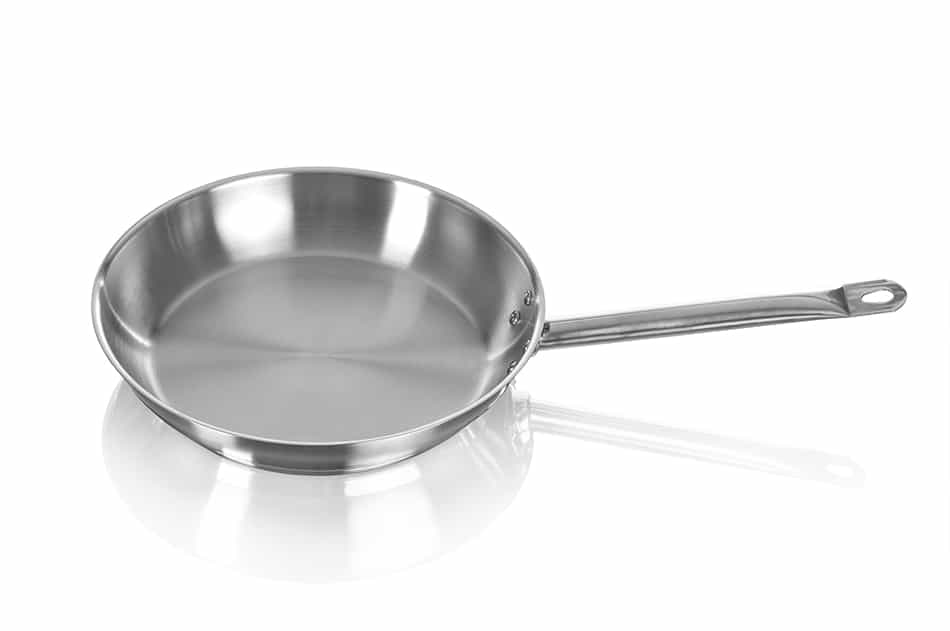 From searing meat to caramelizing onions, the saute pan can perform a lot of cooking functions. It's no question that it is a versatile kitchen tool.
A saute pan features a wide flat bottom with a long handle and a lid. Some models, though, have short handles serving as a 'helper' of sorts in carrying or lifting the pan.
Many people commit the mistake of thinking that a skillet can serve as a saute pan. But in fact, a saute pan should never be replaced by any other cookware.
One important feature of a saute pan is its wide and flat bottom, making it ideal for cooking sauces and sear compared to a skillet. The sides of the saute pan are also taller compared to that of a skillet, allowing users to hold more water and preventing spillovers in the process.
As mentioned earlier, there are plenty of cooking techniques that you can do with a saute pan. You can use it for sauteing, stir-frying, and pan-frying. You can also use it for oven cooking.
Sizes of saute pans vary, with the most popular being the 8, 10, and 12-inch diameters. Most home stoves can accommodate a 12-inch saute pan. Smaller saute pans are enough for cooking meals for one to two individuals, while larger ones are for cooking family-sized portions.
Saute pans are available in a variety of materials ranging from cast iron, ceramic, and stainless steel. Aside from the material it is made from, you should choose a saute pan with a sturdy handle.
Small Saucepan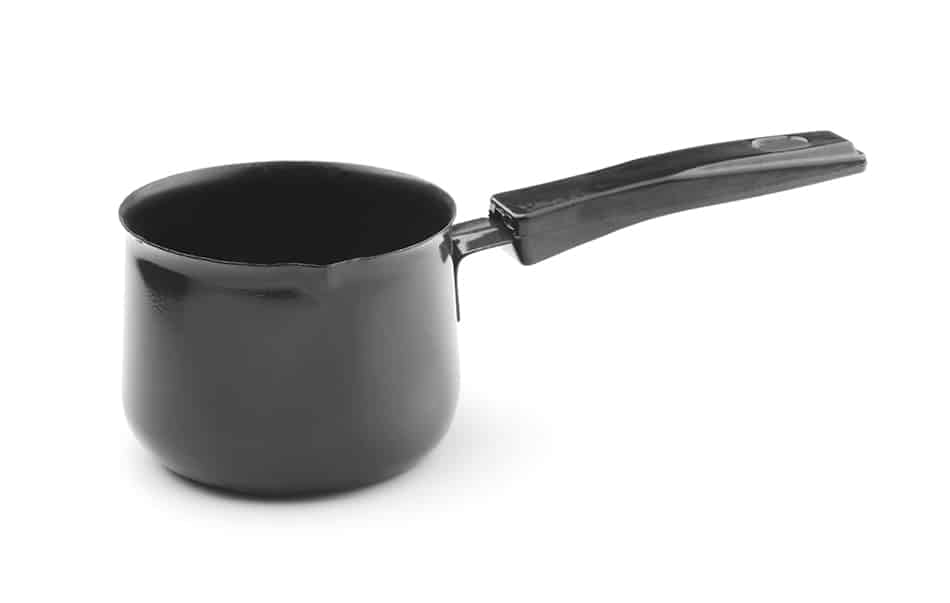 Round with a long handle and high straight sides, the saucepan comes with a tight-fitting cover. It is often made of stainless steel, although some models are manufactured from other materials like glass, copper, aluminum, and cast iron. Like the saute pan, it can come in a wide range of sizes, like one pint and four quarts.
You'd want to have a saucepan in your kitchen when cooking liquid dishes. It's something that comes in handy when making soups and sauces, as well as stewing and simmering. But it's not big enough for making large quantities of soups and stew because its size is around four quarts only. You'd want a larger stockpot for that purpose. Also, because of its size, a saucepan requires to be stirred frequently unless you'd want the food to burn and stick. This goes even for non-stick saucepans. This is attributable to the generally straight corners at the bottom of the cookware, which at times are close to a 90-degree angle.
Still, a saucepan is a perfect tool for making small quantities of soup and stew. You can also use it for boiling water when preparing pasta. You can also utilize it for boiling foods like risotto, potatoes, and lentils. Oven-safe saucepans can be harnessed for braising in a pinch.
Since a saucepan is commonly subjected to high heat and cooked with foods like tomato or soup, the best ones are made of stainless steel. Saucepans made of stainless steel can handle the heat aside from being non-reactive. Further, a stainless steel saucepan is dishwasher-safe and can be washed rather easily.
Stockpot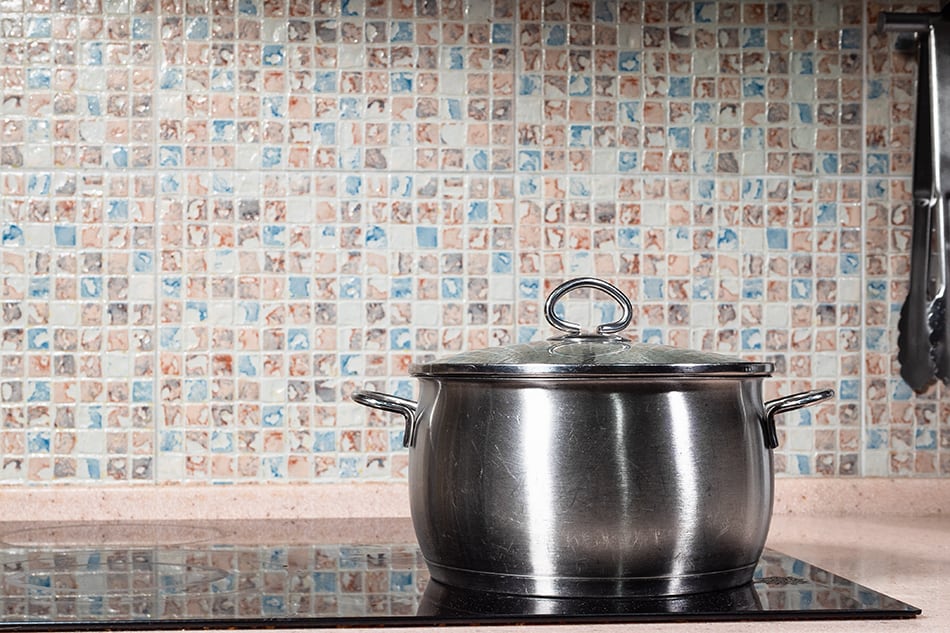 The largest pot in the kitchen, a stockpot comes in handy when making stock and soup. You can also use them in boiling pasta, corn, and noodles.
Sure, a stockpot isn't a tool that you'd always be using in the kitchen. But this does not take away or erode the importance of this pot. After all, you'd likely be needing it when the colder months come, and you need to cook chicken stock to combat the cold.
Stockpots come in various sizes, with the smallest one at around 8 quarts, good enough for cooking pasta. But if you are to boil lobster or cook whole ears of corn, then you'd need a bigger one like a 12-quart stockpot.
Many chefs agree that stainless steel is the best material for a stockpot. Stainless steel stockpot is tough and long-lasting. They can also be used in cooking almost all sorts of foods because they don't react to acidic foods like tomatoes. High-end stainless steel stockpots are also integrated with aluminum or copper in their inner core for better heat conductivity. This makes up for the poor heat conduction of stainless steel. Also, stainless steel pots are commonly coated in enamel to prevent food from sticking during the cooking process.
A good stockpot also has a tight-fitting lid, which helps in cutting down the cooking time while locking in the moisture and enhancing the flavor of the food.
Grill Pan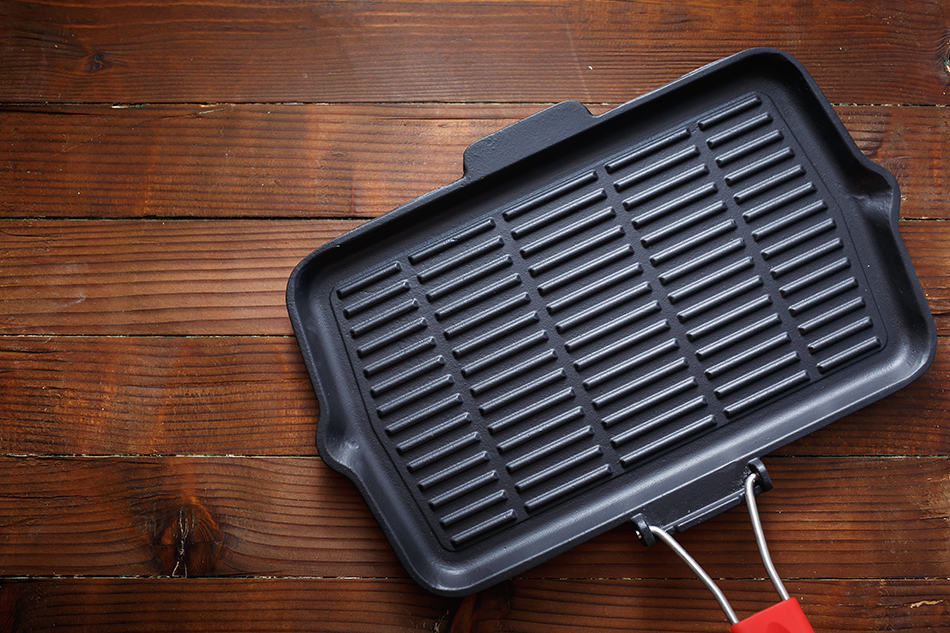 Also known as the riffle pan or broiler pan, the grill pan is a type of frying pan with raised edges and grill lines. The latter are spaced about a centimeter or two apart and around 0.5 centimeters high. This design makes it possible for the juices from the food being cooked to drip down.
A grill pan is a must-have if you are into indoor grilling or when you want to enjoy grilled foods regardless of the weather. It is used in grilling foods like fish, seafood, meats, and poultry. It is designed to slowly cook food so that its juices will be sealed in. It can also be used in steam cooking foods. It does so by building up moisture in the open spaces between its raised ridges. Fat from some foods is also collected in the ridges.
You can use a grill pan in induction cooktops, electric stoves, and glass top stoves. In shopping for a grill pan, consider factors such as weight, heat conduction, heat retention, and non-stick ability.
Baking Sheet Pan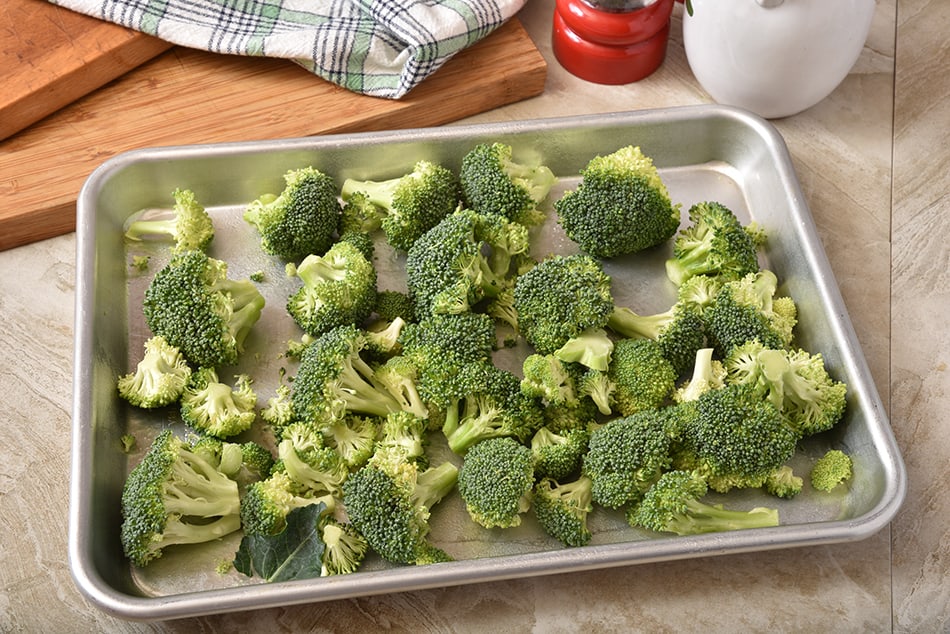 You don't need to be a baker to appreciate the baking sheet pan. It's a kitchen tool you'd want to have around, especially roasting vegetables and cooking burgers. You can also make frittatas with a baking sheet pan. In short, a baking sheet pan is incredibly useful whether you're cooking dinner, preparing a side dish, or baking a dessert.
Many homeowners love having a baking sheet pan because it's versatile. It combines aluminum's excellent heat conduction with the strength of steel. It is easy to clean, too. It also helps that a baking sheet pan is cheap and long-lasting.
Casserole Dish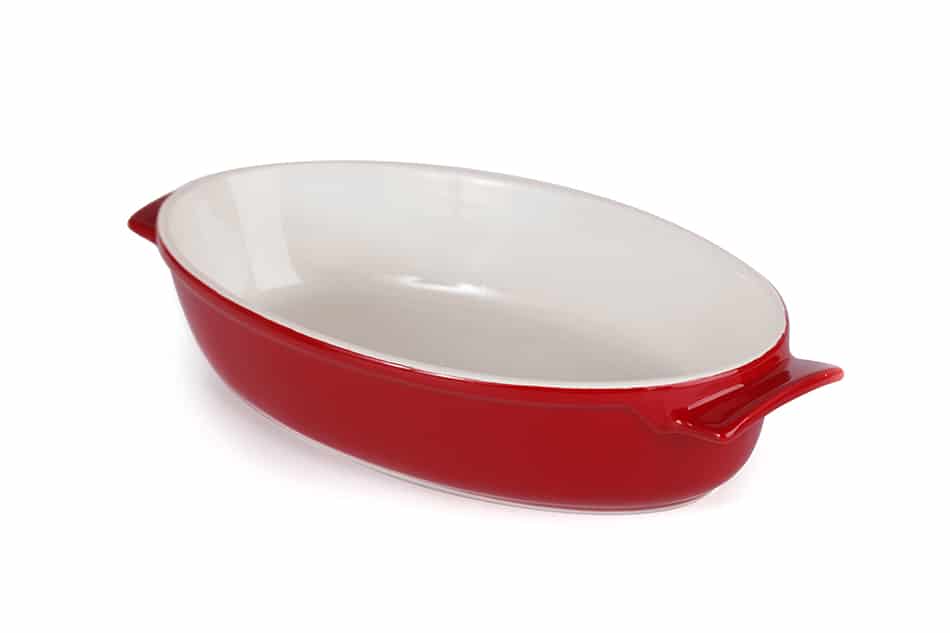 The name 'casserole' comes from the French word casse, which means pan. The casserole is a large and deep dish used for baking or serving. It typically has a glass lid, handles, and high edges.
Many people often associated a casserole dish with creating lasagna. But it's not the only food you can create with this essential kitchen tool. You can bake vegetarian Moussaka, chicken Alfredo, and a macaroni casserole with it.
Broiler Pan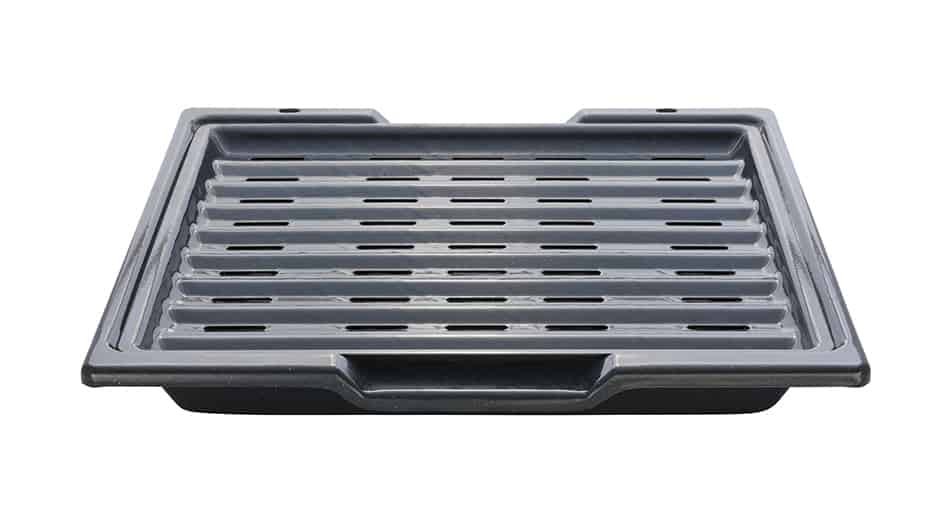 Also called the broiler roaster, a broiler pan is a piece of cookware designed for broiling foods in the oven. You can use this in roasting various meats, poultry, and even vegetables. It is commonly made of stainless steel with porcelain enamel.
This type of pan is made of two sections. The upper cooking surface has the plate lid, while the pan section is low and walled. The plate lid is the cooking surface and contains open slits and tiny holds. It holds the food while broiling. The pan section, meanwhile, catches the dripping.
Like other types of pans, the broiler pan is available in different sizes. You can find broiler pans about 6 to 12 inches wide and 10 to 18 inches long.
Cooking Tools and Utensils
As you may deduce from its name, cooking tools and utensils are what you'll need during the actual cooking. Whether it is mixing, turning, stirring, or flipping food, these cooking tools and utensils can help you get the job done.
Spatula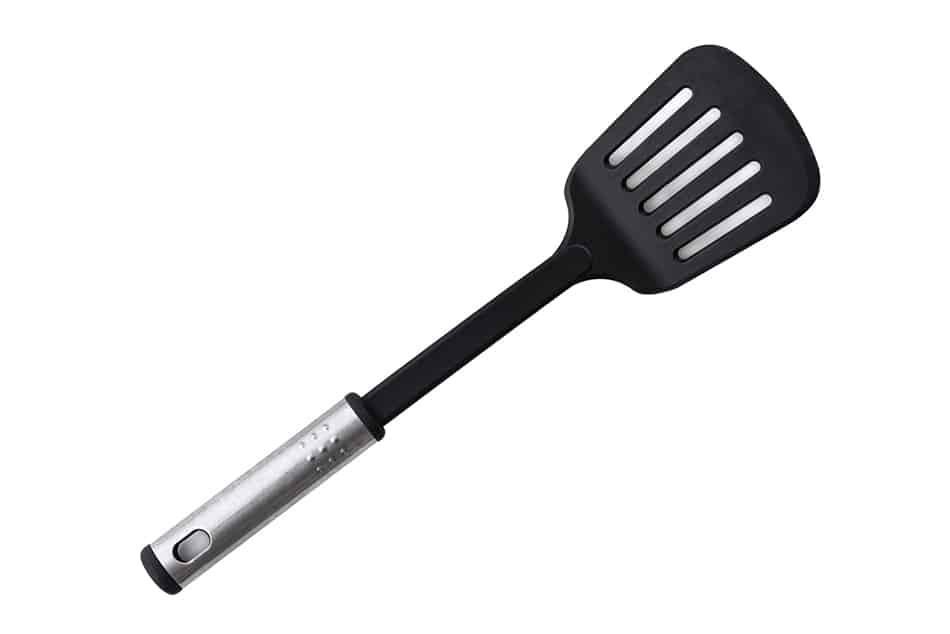 This popular cooking implement featuring a wide and flat blade can do it all. It can mix, spread, and turn food that you're cooking. It's no wonder that it is one of the more popular cooking utensils ever.
There are different variations of the spatula. One of these is the fish spatula, which– you guessed it right– is designed for turning over fish. It has a long and angular shape that gets the job done without flaking off any part of the food. However, you can also use it in turning over other foods like pancakes and grilled cheese.
The scraper spatula, meanwhile, is shaped like a flipper. It's not the best for flipping solid and heavy foods. But it's best for turning over softer foods such as scrambled eggs because its head allows it to get into tight corners.
Then there's the wooden turner made of solid, one-piece wood. It has a unique straight-sided shape enabling it to reach along the walls of the cookware.
Kitchen Tongs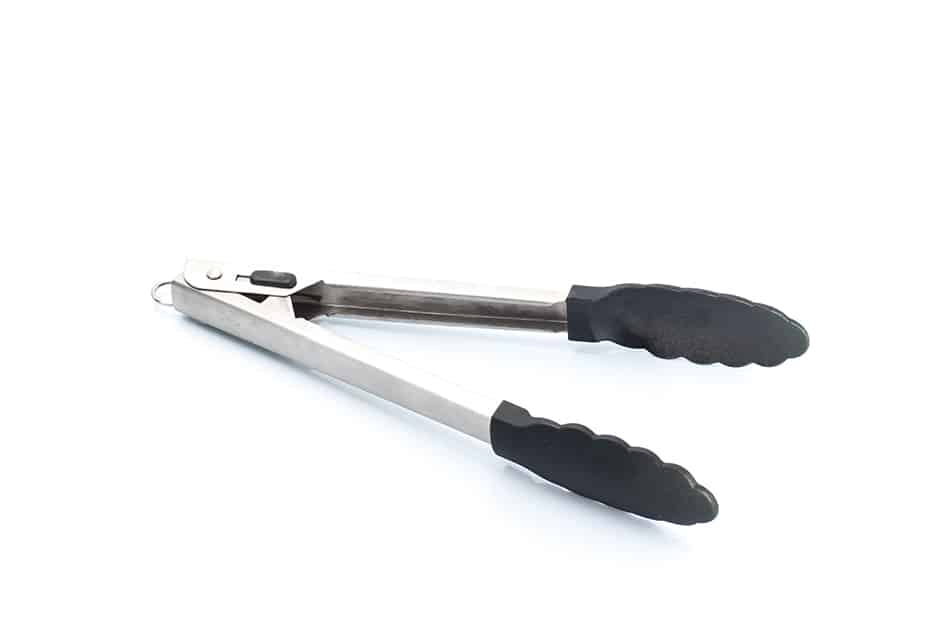 This may look like a simple kitchen utensil, but you can't underestimate the use of kitchen tongs. They're like an extra pair of invincible hands that you can use in flipping meat or stirring pasta. And surprisingly, you can use them for other purposes like opening wine bottles!
Kitchen tongs come in various styles. The stainless steel tongs are fixtures in many homes and restaurants. It's widely used in stirring pasta, grabbing hot pans, and lifting food out of hot pots. Covered locking tons are similar to stainless steel tongs, although the main difference is a silicone or nylon material covering the pincers. The main benefit of it is that you can use it on practically any surface.
Pasta tongs are designed for serving pasta and grabbing noodles from boiling water. Ice tongs have little, sharp teeth for grabbing ice. Finally, scissored tongs are best for getting hot dogs from boiling water.
Oven Mitts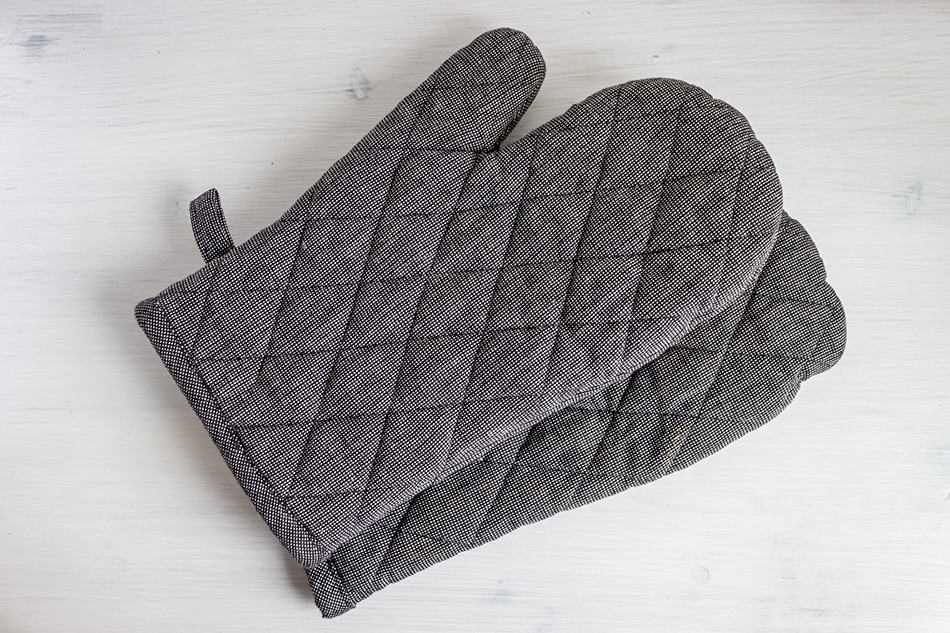 Like other similar products such as potholders and gloves, oven mitts are designed to protect your hands and keep them free from burns.
Clothes and towels should never be considered appropriate or sufficient replacements for oven mitts. After all, these won't give adequate protection to your wrists and forearms. You should always have oven mitts around when dealing with hot pots and pans.
Trivet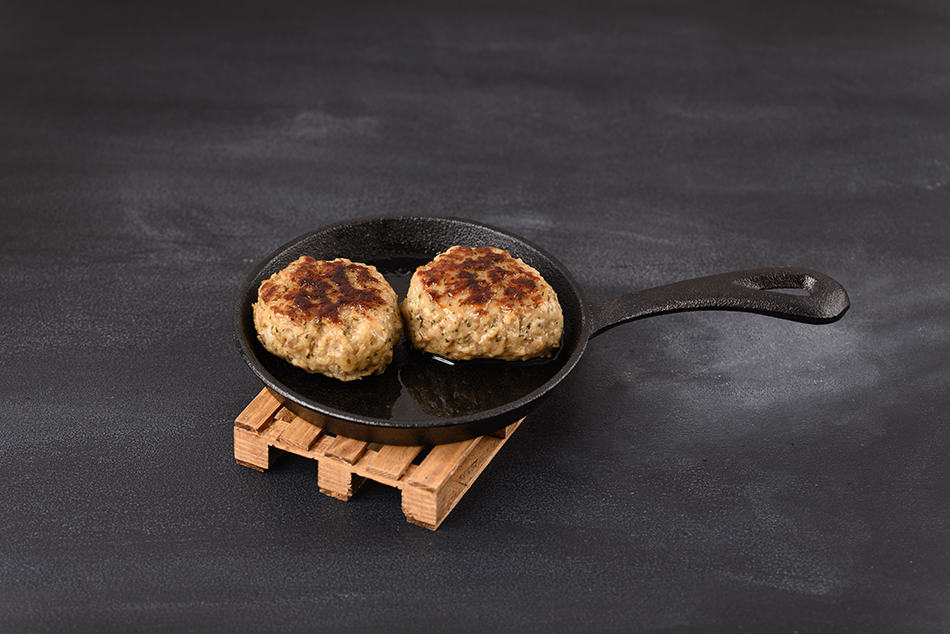 Never make the mistake of using oven mitts in place of a trivet. This heat-resistant pad is where you put your hot dishes on to protect your countertop and not your oven mitts. A trivet can also prevent burning your table or causing stains on it. Aside from those uses, it can also provide your kitchen with a unique look as most trivets come in various colors and styles.
Splatter Guard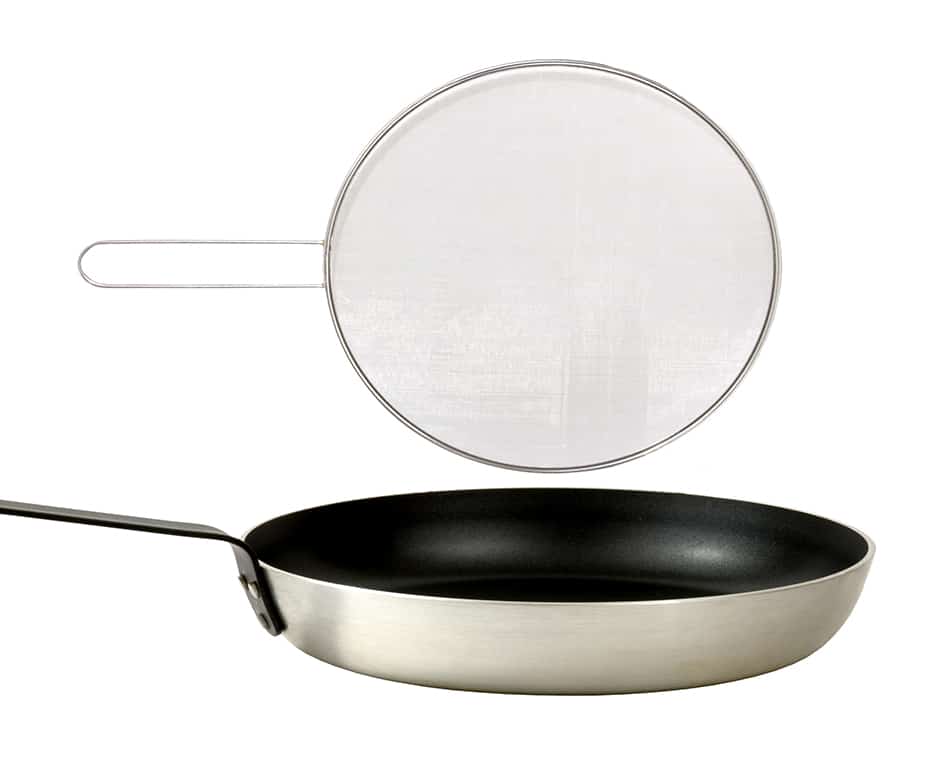 This is a device commonly placed on top of a frying pan during cooking. It stops hot oil from coating and staining the stovetop.
Splatter guards are usually circular, so they can fit the shape of a frying pan. These kitchen tools have a handle for easy removal from a pan. Made of a metal sheet or fine metal mesh, a splatter guard also lets the steam escape the pan.
Thermometer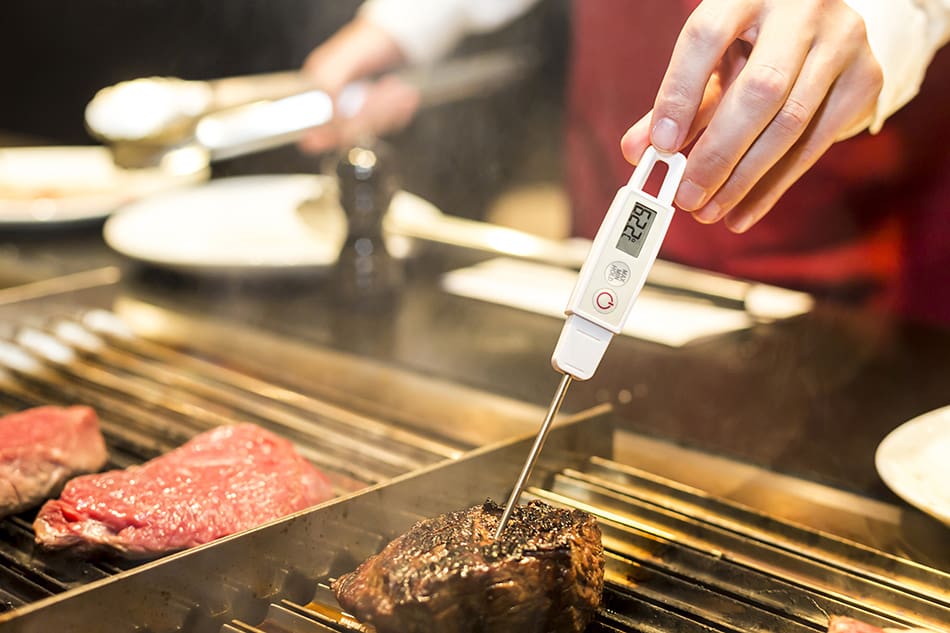 Are you the type of cook who often guesses when you're done with your meals? Then you ought to give yourself a favor and invest in a quality thermometer.
Food thermometers can vary in display types. Some thermometers have digital displays, which show the temperature reading on a tiny digital screen. While these are labeled instant-read, do note that some models can take up to 30 seconds to provide an accurate reading. Another disadvantage of a digital type thermometer is that you can't use it in an oven. Then there are the analog thermometers, which are ovenproof, meaning you can leave them in the food being cooked. It's something that comes in handy when preparing, say, a Thanksgiving turkey.
Food thermometers can also be categorized according to food type. Meat thermometers can read from 140 degrees to 220 degrees Fahrenheit. Deep-frying food thermometers, meanwhile, can measure up to 600 degrees Fahrenheit.
Kitchen Appliances
Kitchen appliances are electrical devices or machines designed for kitchen functions like food preparation and cooking.
Immersion Blender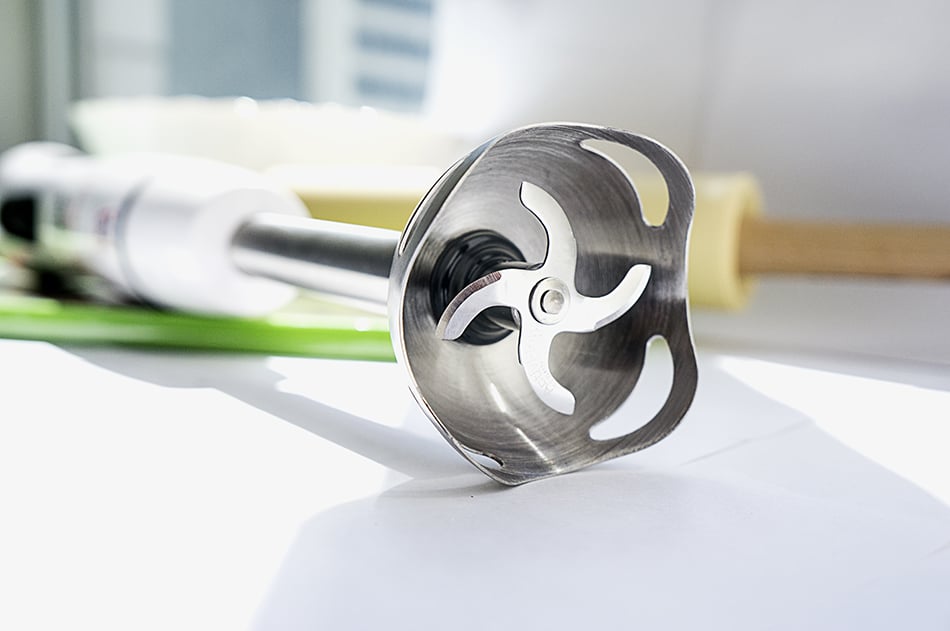 This is a power tool that you'll find handy in preparing almost every dish, whether it's an appetizer or a dessert. Also known as a hand blender or whisk blender, it is intended for blending liquids like soups and sauces. With it, you can make creamy soups, frothy milkshakes, and whipped cream, among others.
Kitchen Scale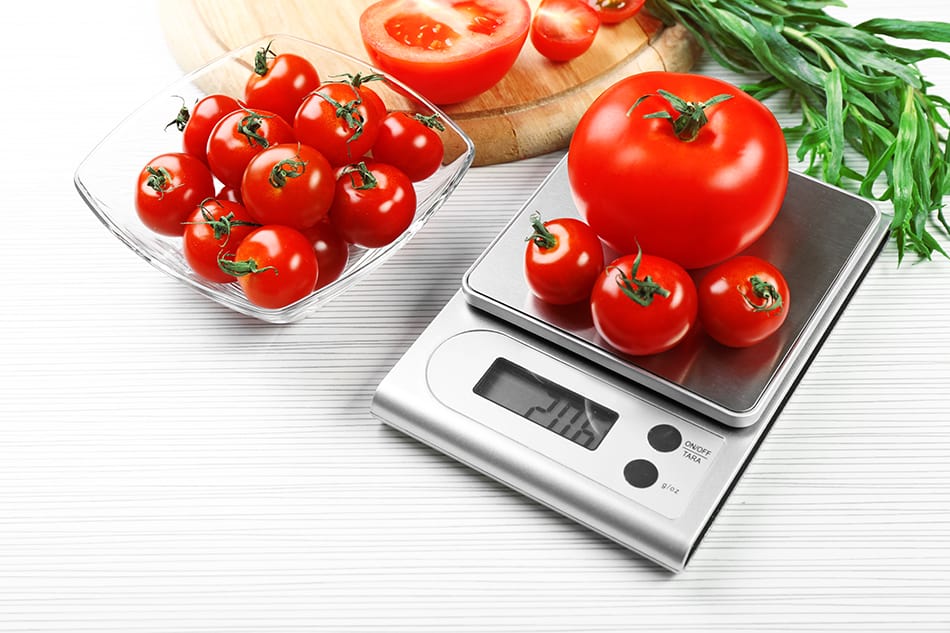 The kitchen scale lets you accurately determine the weight of the ingredients. This inexpensive kitchen appliance can tell you the exact weight of your food item within seconds. It comes in two types: balance scale and spring scale, although the former is considered the more accurate type.
A kitchen scale can easily switch from imperial to metric systems of measurements. And aside from being cheap, you'd love that it takes minimal space in the kitchen.
You can learn about the types of scales here.
Juicer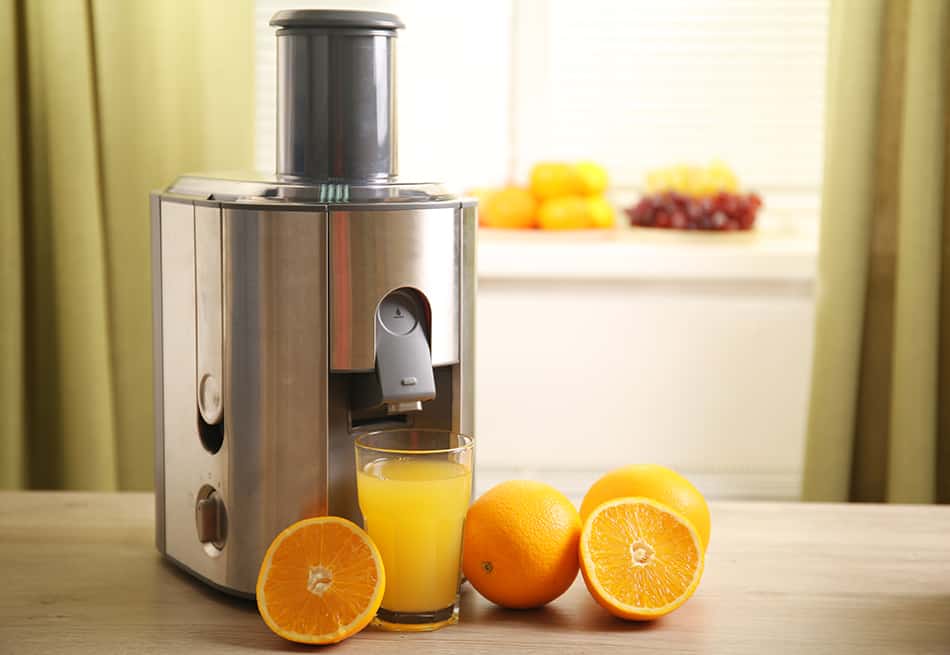 With a juicer, you can extract juice from foods, vegetables, fruits, and herbs. It is designed to grind, crush, and squeeze the juice out of the pulp. Some juicers serve as a food processor.
Centrifugal is the most common type of juicer. It's also the cheapest. Capable of extracting a juice in less than a minute, it usually comes with a cutting disk and sharp blades to shred vegetables and fruits.
Masticating juicers are more expensive. Also referred to as cold press juicers, this type of juicer crushes and grinds the fruit or vegetable to produce a fine pulp. It then presses the produce against a straining screen to squeeze out the juice.
The most expensive types are the twin-gear juicers. However, you can expect to get more out of this kind of juicer. It can handle not only fruits and vegetables but also herbs, nuts, and seeds.
Other Kitchen Essentials
These are the other kitchen essentials that can make food preparation and cooking easier, safer, and mess-free.
Food Storage Containers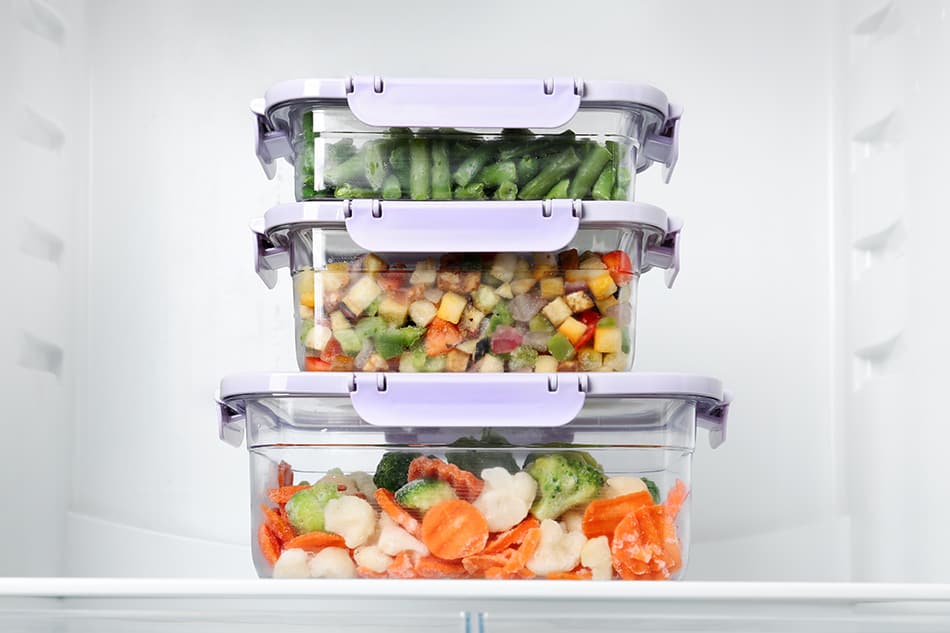 Food storage containers can keep your ingredients, and Cooked meals stay fresh in the ref for several days. Like most of the kitchen essentials in this list, food storage containers come in various shapes and sizes. Most are dishwasher and microwave safe. Recently, most food storage containers are constructed out of glass instead of plastic due to environmental considerations.
Aluminum Foil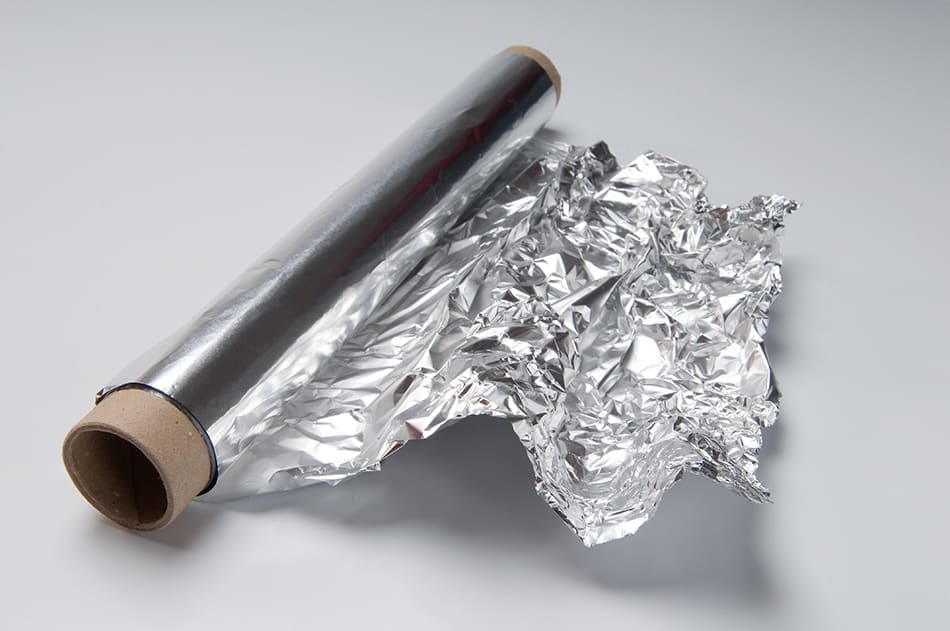 Aluminum foil is a fixture in many kitchens across the world. It's a shiny sheet of aluminum that's about 0.2mm thick. At home, it is mainly used for food storage. For cooking, it can be used to wrap food and prevent it from losing its moisture.
Parchment Paper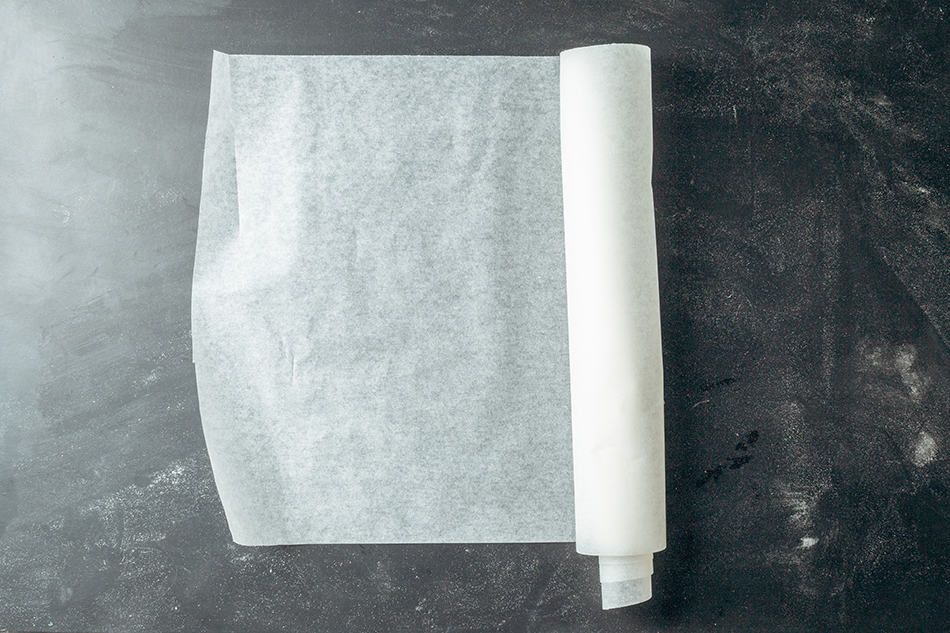 Baking paper or parchment paper provides a non-stick and heat-resistant surface for baking. This grease-proof paper is widely used in baking and cooking. Among its uses include sifting dry ingredients and lining a cake pan to prevent the cake from sticking.