To prepare and present exotic and delicious dishes, the ingredients used in preparing a dish have to be of the highest quality. It is very obvious that the efforts, skills, and quality of the ingredients used in the preparation of a delicacy need to be top-notch to attain excellence. But there is another important factor in cooking that many chefs and cooks tend to overlook. This important factor is the quality of cutlery, especially the kitchen knives.
In this article, I'll go into detail about many types of kitchen knives.
Types of Kitchen Knives
Every kitchen knife serves a different purpose, so let's learn about the different types of kitchen knives you want to invest in for your catering services or for your household. Below is a detailed and helpful guide for you to understand different types of kitchen knives and their particular uses in a kitchen
Stamped Knife
In today's world, knives are manufactured by forging two or more metals, or they have the composition of only one metal. Different kitchen knives require a different type of composition to suit their particular use.
A stamped knife is a type of kitchen knife manufactured from a single coil of steel, which is then bent into the shape of a knife with the help of resilient and strong stamping equipment.
After the steel is stamped into the required knife shape, a handle is made to suit the blade length, width, and overall configuration of it. Later, the knife undergoes the processes of hardening, sharpening, and polishing to provide a sharp edge, ease of use, and a leveled finish.
As mentioned earlier, stamped knives are manufactured by stamping a thin coil of steel. As steel has a lighter composition than other metals used for making knives, a stamped knife is very thin and light compared to other knives.
The manufacturing and service cost required for making a stamped knife is less compared to other types of knives, making them very affordable to buy. A stamped knife is composed of only one coil of steel and requires very little manufacturing time.
So, they are easily available in abundance at local cutlery stores. But since the stamped knives are made of a thin coil of steel and are very lightweight, they require constant maintenance to preserve their sharpness and finishing.
Different cutlery and knife manufacturers have made efforts to get rid of this single anomaly. Manufacturers have invented new methods and designs to provide a better finish and sharpness to a stamped knife while maintaining its quality and durability.
Chefs and cooks from various parts of the world prefer better-quality stamped knives over other types since they are lightweight and offer ease of use.
Forged knife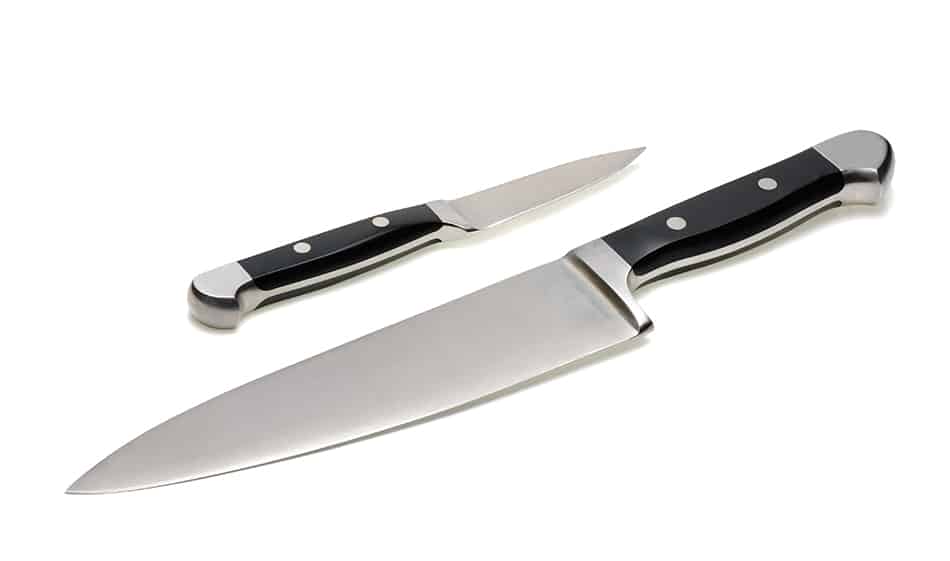 A stamped knife is manufactured by stamping a thin coil of steel into the shape of a knife. Similarly, a forged knife is manufactured by forging steel into the shape of a knife with the help of resilient and strong forging equipment. A handle is then produced and attached to the knife's rear end, which is then sent for sharpening and hardening to get the required shine and finish.
Forging is very different from stamping. In stamping, a coil of metal is stamped to its very limit in order to make it light and easy to use. But in forging, a coil of metal is forged to its very limit in order to gain maximum rigidity and hardness.
In a forged knife, the tang and blade are made of the same forged metal. A tang is the bottom-most part of the blade that directly connects the blade to the handle of the knife. The tang is unsharpened and is crucial for maintaining the balance and weight of the forged knife.
As forged knives have strong and hard composition, their manufacturing and service cost is very high. So, they are not available at reasonable prices in cutlery and local stores. But one of the biggest positives of having a forged knife is that it does not require frequent maintenance.
Since it is very hard and sharp, a forged knife is very durable and can function productively for many years. It is used in kitchens by chefs and cooks as well as mechanics and technicians in their garages and workshops worldwide. Its hard and durable composition ensures a smooth and fast cutting process without consuming a huge chunk of time.
Chef Knife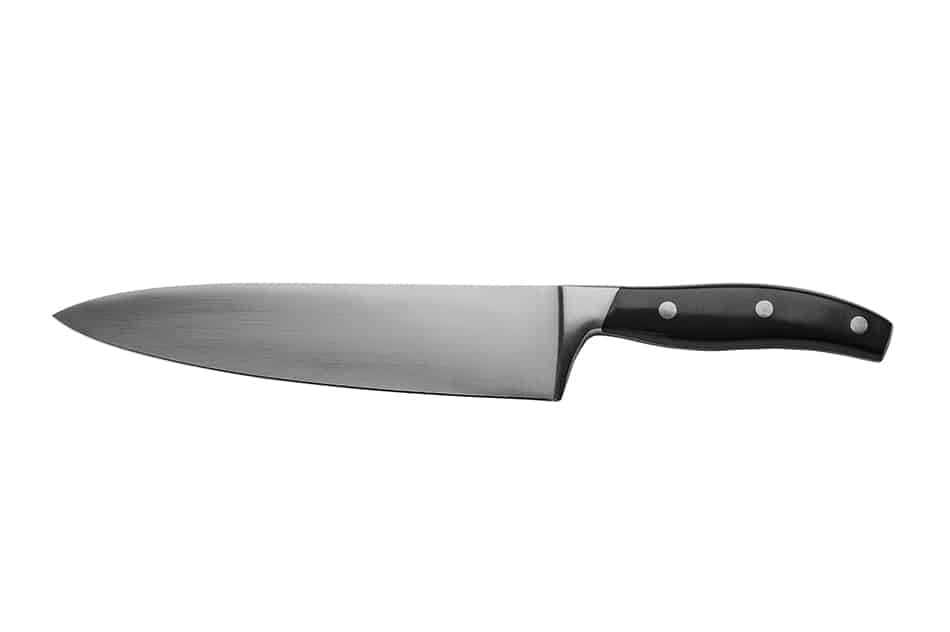 A chef knife, which is also known as a chef's or a cook's knife, is a kitchen knife that has a long and broad blade with a very fine and straight edge. The knife's blade is not evenly sorted since it is very wide near the heel of the knife, which gives it a pointed tip.
The heel of a knife is near the bottom-most edge of the blade, and it is the farthest from the tip of the knife. The heel is essential and is highly utilized by chefs and cooks in cutting denser and thicker food products.
A chef knife has a sharp curve blade and a thick heel that allows chefs and cooks to cut multiple fruits and vegetables on a chopping board with ease and without consuming a lot of time. A chef knife is intricately designed to assist chefs and cooks in chopping and mincing.
In premium hotels and restaurants, chef knives are an integral part of cutlery to ensure fine chopping and garnishing. They are also used for cutting denser food materials with ease, which makes them one of the most useful kitchen knives.
Utility Knife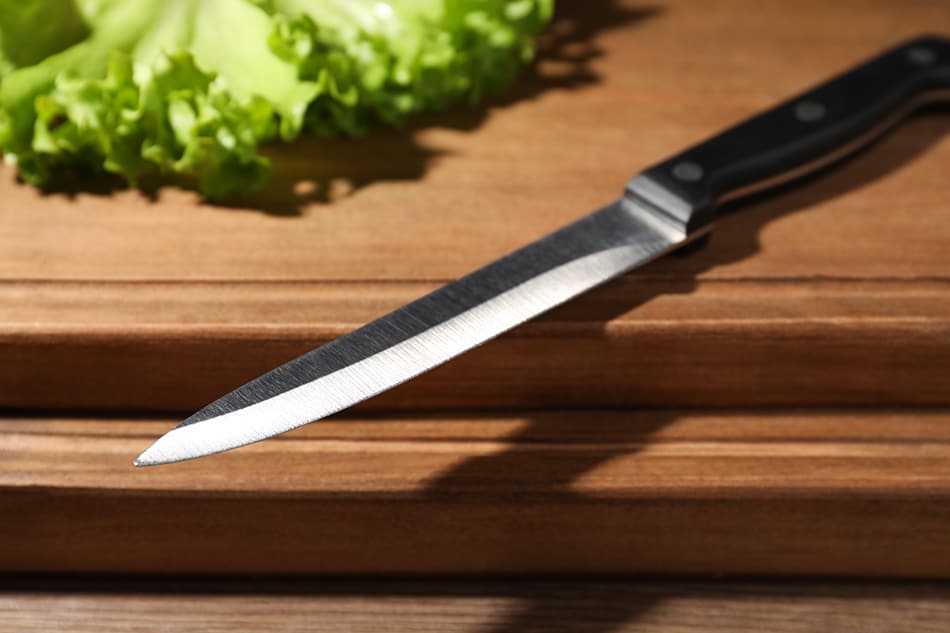 Newbies often mistake a utility knife for a chef knife. Though they have similar shapes, a utility knife is smaller and slimmer compared to a chef knife. Most of the utility knives in the market have a very sharp tip that is forged through the spine of the knife in order to enable easy and smooth cutting.
The spine is opposite to its cutting edge. It is blunt and thick to provide more strength to the sharp edge. The spine maintains the overall balance and weight of the knife.
A utility knife is used to maintain precision and accuracy in a kitchen. It is generally used on smaller food products to ensure an even and integrated chopping and dicing process. Thus, it can be said that it is better to use a utility knife instead of a chef's knife for cutting smaller food components with precision.
Paring Knife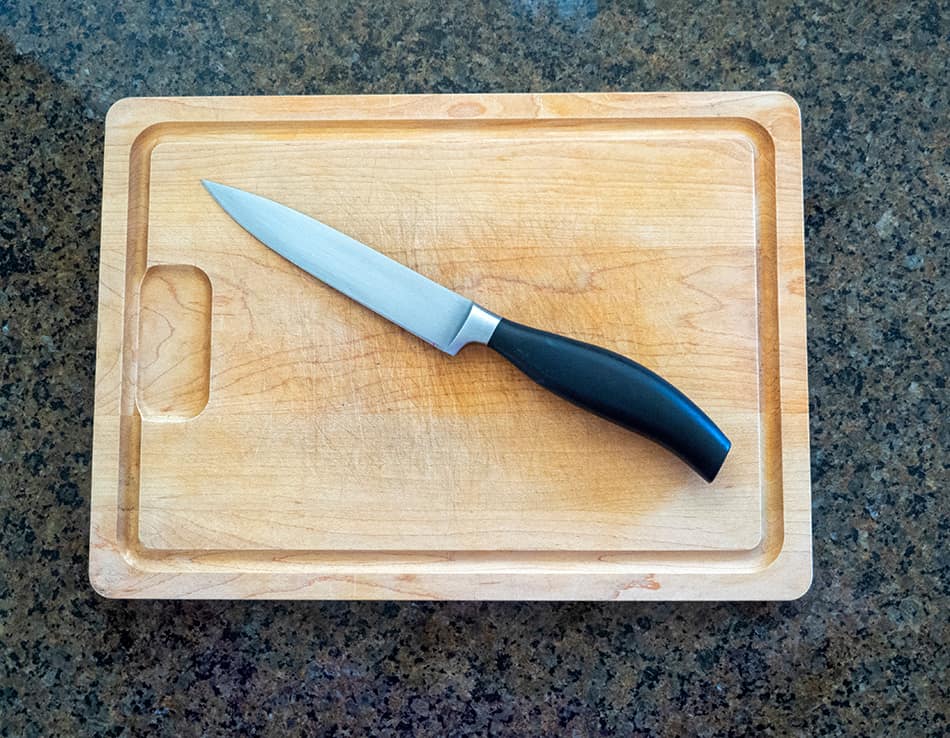 Compared to utility and chef knives, a paring knife has a very slim and short blade with a pointed sharp tip. It falls under the stamped knife category, which makes it light and easy to use to ensure a smooth and easy cutting process.
In the majority of hotels and restaurants, a paring knife is generally used for chopping different fruits and vegetables. But, the applications of a paring knife are not limited to that. It is also used for completing various other kitchen tasks.
Even though the size of a paring knife is small and its composition is slim, it is still capable of cutting hard food products such as sweet potatoes and onions with ease. Skilled cooks and chefs can even cut meat and fish intricately by using a paring knife.
Bread Knife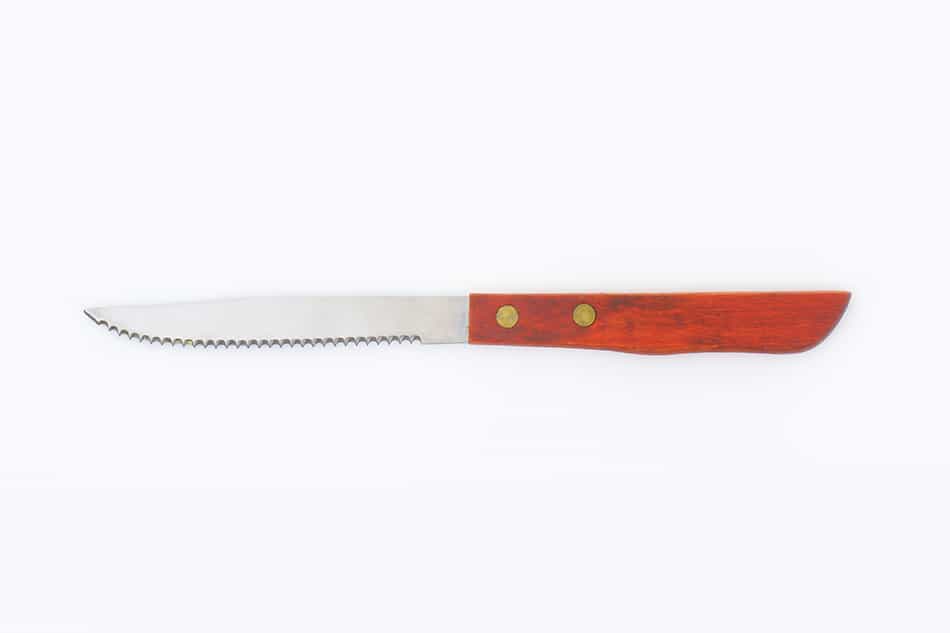 A bread knife has one of the most unique and intricate designs out of all the kitchen knives. A bread knife is specifically designed to use on soft and delicate food products. The blade is long and sharp with a pointed tip. The composition of the knife is serrated or saw-like.
This serrated knife is very useful in cutting through different types of hard and soft loaves of bread with ease. Different types of bread, bagels, and bread rolls are cut through efficiently by the grooved edge of the bread knife to ensure that the smooth and tidy shape of the bread is not damaged.
Spongy and fermented food products can also be cut with the help of a bread knife. Different types of cakes and pastries are delicately cut by a bread knife so that they do not lose their intricate composition.
Carving Knife
Cutting different types of meat requires skill and a proper type of kitchen knife. A carving knife is a type of kitchen knife that is generally used for cutting meat. A carving knife has a smaller handle and a longer blade with a sharp edge and tip.
It is also known as a slicing knife since it is very slim and long and cuts through different meats and veggies with ease while also maintain precision and uniformity.
A carving knife is used in various places that deal with meat. From poultry farms to premium restaurants, a carving knife is a very important kitchen component. Different types of meat, such as pork, beef, and poultry, can be minced and chopped into fine and uniform pieces using one.
Apart from meat, they are also used for chopping thick vegetables and fruits. Highly skilled chefs and cooks use carving knives for smoothly cutting cakes and pastries.
Butcher Knife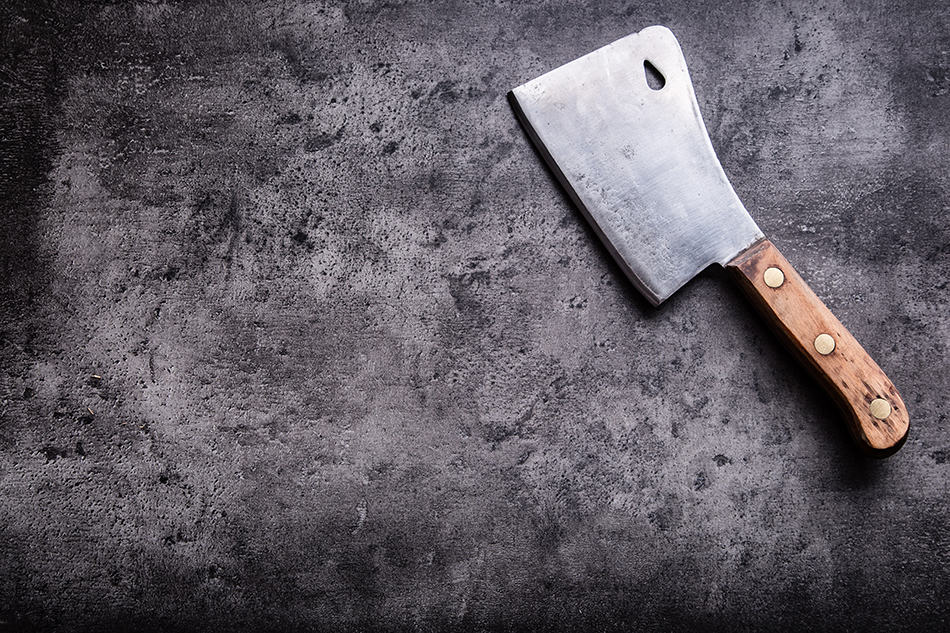 A butcher knife, also called a cleaver, is a kitchen knife with the biggest blade and the most unique design. A butcher knife has a thin, flat, and quadratic shaped blade with high levels of hardness and sharpness.
Butcher knives are the only type of kitchen knives that come in various shapes and designs, depending on their uses. While the butcher knives are broad and big, they are not convenient to store on a knife shelf. Hence, the majority of butcher knives have a small hole at one of their ends so that they can be hung when not in use.
As the name suggests, the butcher knife is used to chop and mince raw meat into fine and uniform pieces on a cutting board before cooking.
Being broad and hard in design, it is the best kitchen knife for cutting raw meat through bones. Sometimes, garlic and potatoes get too hard as they lose their moisture and starch and become difficult to cut with normal kitchen knives. In this scenario, a butcher knife is the best option to chop those hard potatoes and garlic smoothly on a chopping board.
Boning Knife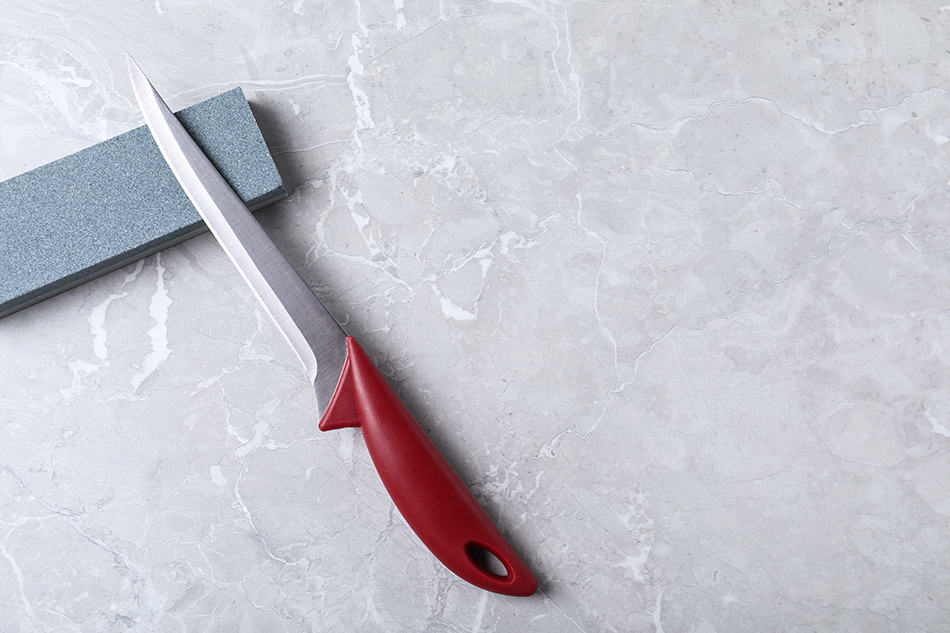 A boning knife is the slimmest and smallest kitchen knife used for cutting meat. Despite its small and slim composition, a boning knife is very hard and rigid and has a very sharp tip. Generally, it is only six inches long and is lightweight, but many other knives are preferred for cutting through different types of meat.
Due to its rigid and short composition, a boning knife is the best at cutting meat bones and other rough parts of meat. Since it has a very sharp and slim tip, the meat bones can be easily cut without damaging the composition of nearby flesh.
Because a boning knife can through meat cartilage, it is widely used in butcher shops. For de-boning and mincing meat in the finest and most uniform portions, a boning knife is preferred over a cleaver because it is small and provides more flexibility.
Filleting Knife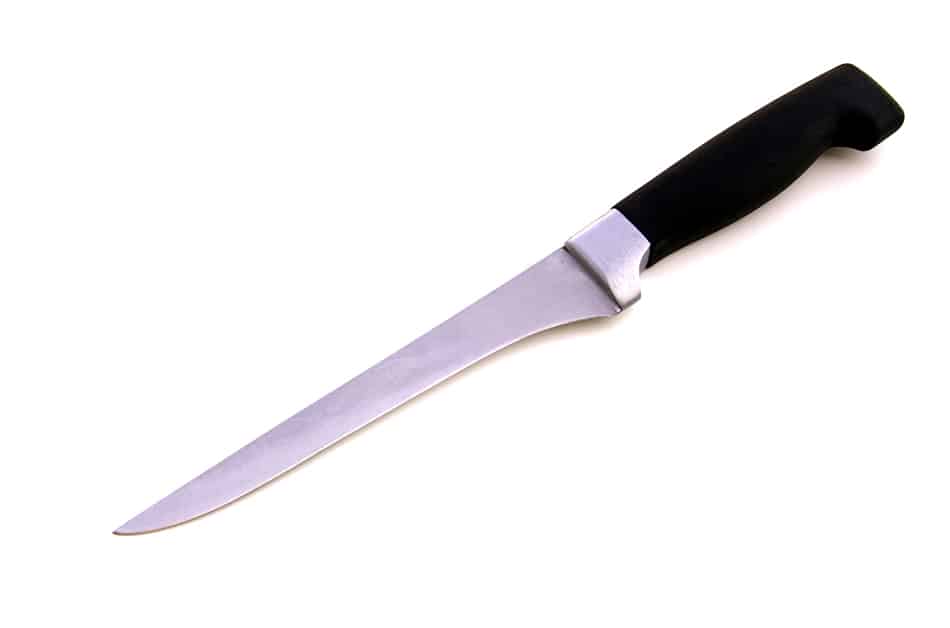 Up to now, we have discussed different knives used for cutting and mincing vegetables, fruits, and meat. But, some specialty knives are used for dealing with seafood. One such knife is the filleting knife, also called a fillet knife.
A filleting knife with a thin sharp blade is used for cutting through all types of fish smoothly and efficiently. Due to its small, slim, and sharp composition, it is very useful at cutting through flesh and removing unnecessary cavities and bones. Though it looks similar to a boning knife, a filleting knife is more efficient as it is thinner and more flexible.
The application of a filleting knife is similar to that of a boning knife. It is used for carefully mincing the flesh near the meat bones. Filleting knives are used to create intricate and uniform fillets. So, it is necessary to cut the fish horizontally and not vertically to mince all the meat around the backbone of the fish.
Salmon Knife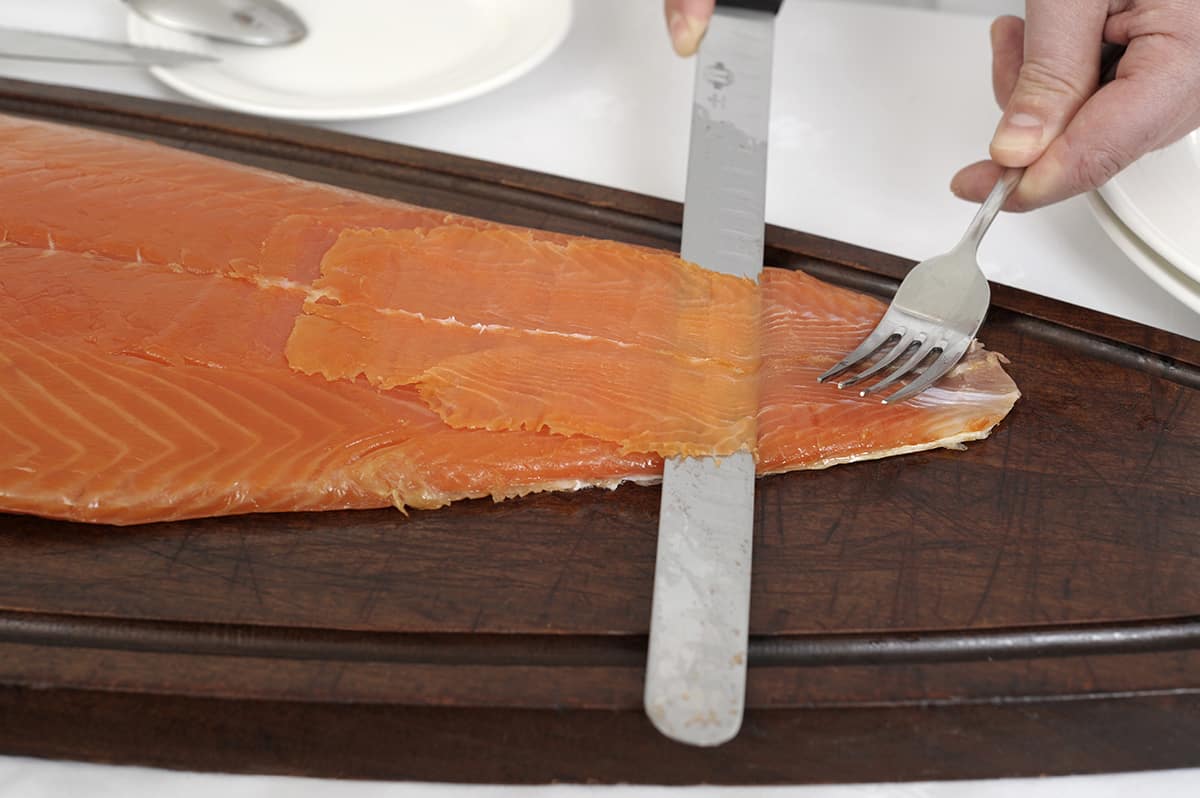 Among all the different types of kitchen knives, a salmon knife has the most unique design in terms of its length and composition. It is very long with dual-edge and high flexibility and is mainly used for filleting big fish. As the salmon knife is very slim and thin, it is widely used in premium hotels by chefs and cooks for cutting big fish in uniform and intricate pieces.
As the name suggests, a salmon knife is very useful for filleting big fish like salmon. Due to the sleek and thin design of the salmon knife, chefs prefer them for creating tidy and neat fillets as they can cut through the skin of the fish without disturbing its overall composition.
Many salmon knives are manufactured with various indentations across their blades that are necessary to pull off the raw skin of the fish after they are cut.
Santoku Knife
The santoku knives originated in Japan a long time ago and are widely used across the globe in today's world. Its literal translation refers to three uses that are cutting, mincing, and dicing. These knives are long with dents on the blade to prevent the flesh from sticking on its surface. The overall rigid composition of the blade and accurate placement of its handle pave the way for efficient cutting.
This vibrant and rigid composition of the santoku knife makes it very helpful and beneficial for cutting fish. Cutting raw fish with this knife is very easy and efficient because its denting blade avoids flesh from sticking to the blade. Due to the width and thickness of the blade, the knife is even used for delicate garnishing over the fish.
The santoku knife is also called the all-rounder knife when it comes to cutting fish and other seafood since it easily cuts through various other food products such as fruits and vegetables.
Nakiri Knife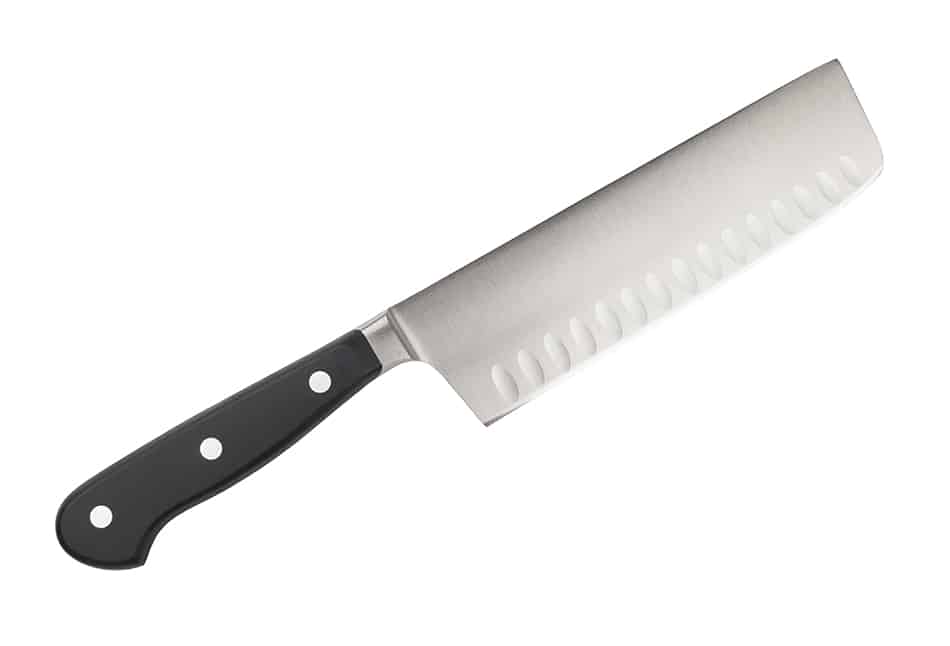 Along with the santoku knife, the nakiri knife also originated in Japan. Traditionally, these knives are called vegetable knives. It has a similar design to a cleaver but is smaller and thinner. The tip is very sharp, and the overall composition of the blade is broad and thick.
Due to their thickness, sharpness, and width, nakiri knives are very useful at chopping vegetables with precision on a chopping board. As its tip is very sharp and the blade has a hollow finish, vegetables and other hard food materials can be chopped quickly at once.
Harder and denser vegetables such as radishes, cauliflower, and lettuce can be cut easily into uniform pieces as well. Sharper edges and uniform finishing make nakiri knives very useful for chopping veggies into thinner sections for garnishing.
Peeling Knife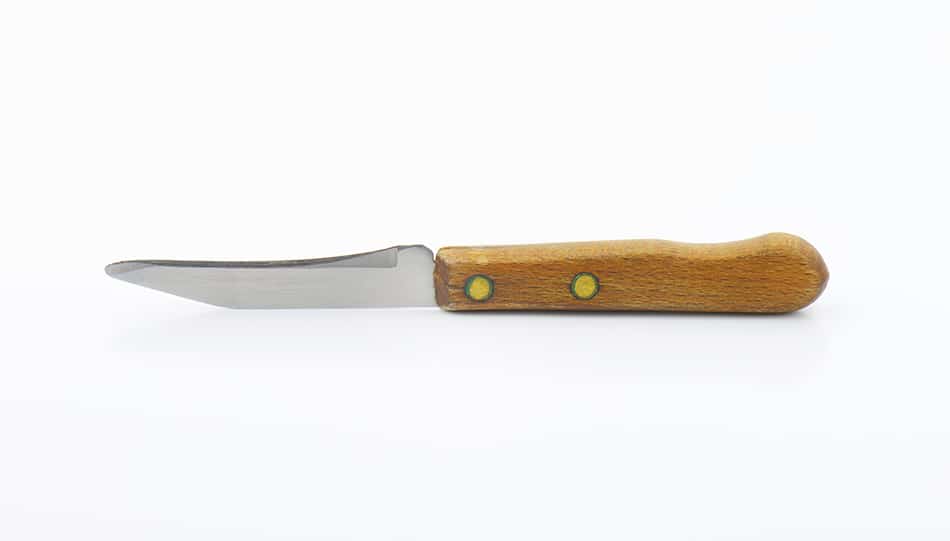 A peeling knife is one of the smallest kitchen knives. It has a small, slim, but rigid composition, making it easier to use and carry. A peeling knife has a curved blade with an extremely sharp tip.
As the name suggests, a peeling knife is used for peeling the skins of vegetables, skins, and fruits. Due to its rigid and strong composition, it cannot slip through the hands of the user, making the peeling process easier and faster.
Dinner Knife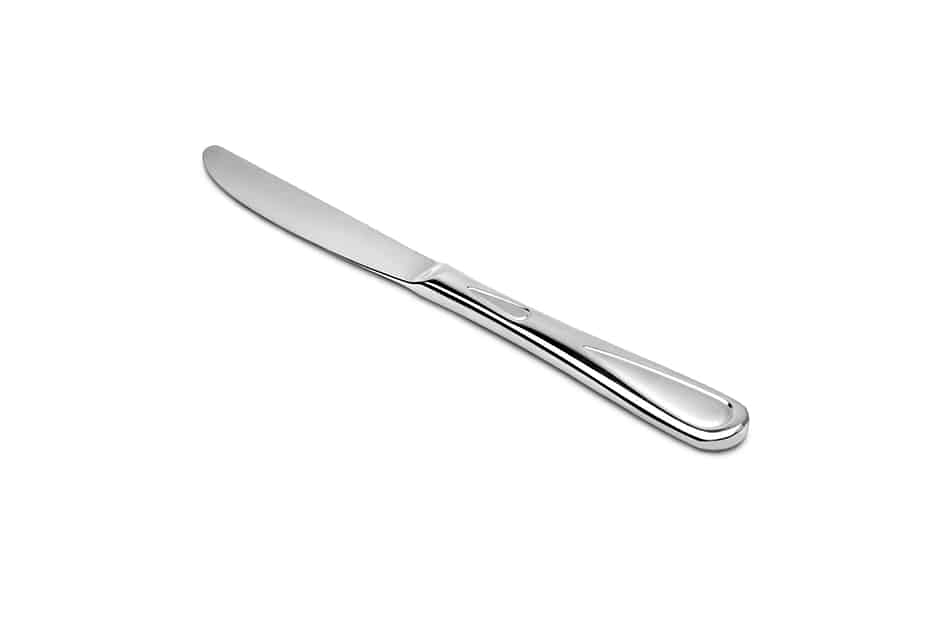 A dinner knife is the most common and widely used kitchen knife all over the world. A dinner knife can be seen across many households and is used frequently for breakfast, lunch, and dinner. The dinner knives have a different composition compared to other kitchen knives as they are generally made up of stainless steel and are small with a thicker edge.
Steak Knife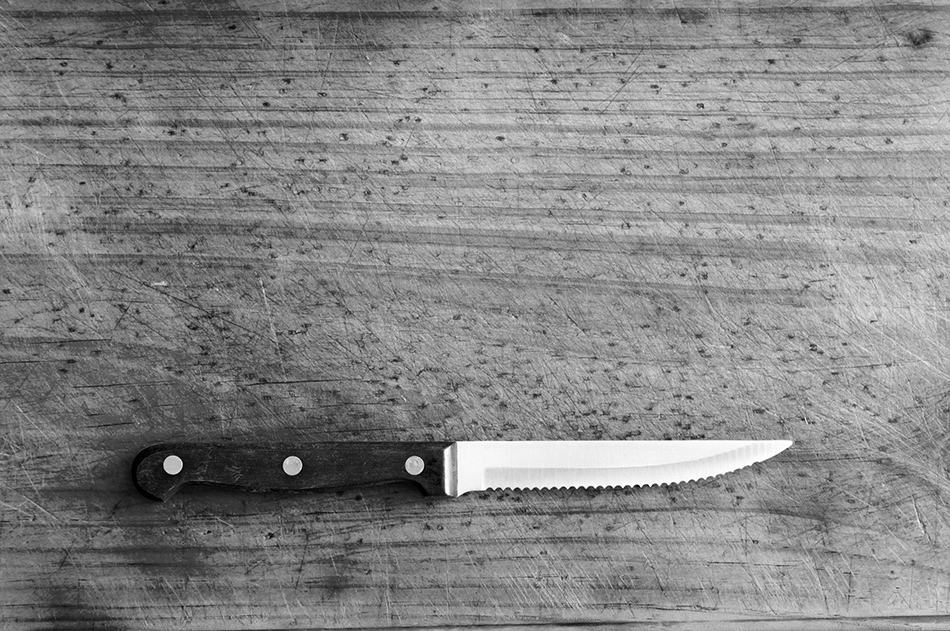 A steak knife is a type of dinner knife that is visible at dinner tables across the world. It has a thick edge but a sharp tip, which is useful for cutting through tougher food materials like meat and steak. Steak knives are commonly seen in hotels and restaurants that serve many meat-inclusive delicacies.
Butter Knife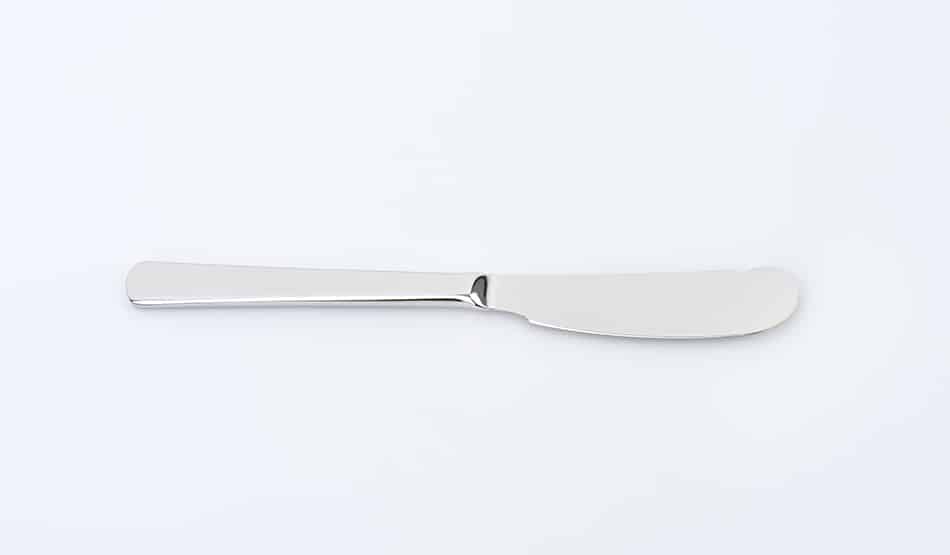 A butter knife is another type of dinner knife used in various households across the world for applying butter or cheese over various breads. These knives have a hollow edge and tilted tip so that they won't break the bread. Butter knives are very useful for buttering different types of breads, cookies, sandwiches, and biscuits.
Fish Knife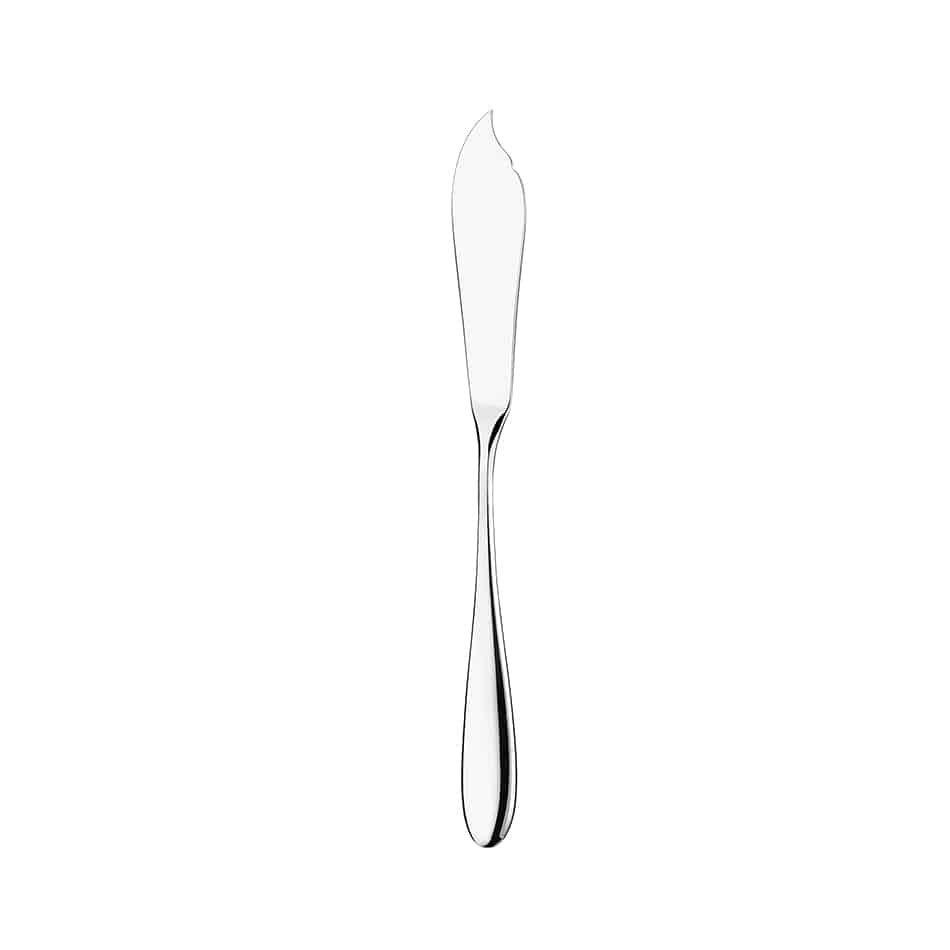 Even a small fish knife is a part of dinner knives. A fish knife at a dinner table has a thick and hollow edge that makes it easier to create fillets of fish meat at the dinner table. These fish knives can also be used for getting rid of unnecessary bones present inside a fish.
How to Sharpen Your Kitchen Knives
1: Know your knife
Study the shape of the knife. Think about how you use it and where it's likely to be dull.
2: Soak your honing stones
Soaking the stone prior to honing makes sure the surface area of the stone will not scratch or chip the blade even more. Soak them for a minimum of 15 minutes and up to 30 minutes prior to getting to work.
3: Discover your grip
Keeping a constant grip is the primary step to not hurting yourself. We suggest putting your thumb on the back of the blade, your forefinger on the heel, and keep three fingers twisted around the handle. Your off-hand will be utilized as the honing force.
4: Get the angle right
This is the hardest action for newbies. Every knife has a somewhat distinct angle, so you'll need to discover how to feel for that. To discover the angle, lay the knife down on the stone and put two fingers on its edge. With your fingers keeping the blade's edge on the stone, utilize your other hand to raise the knife up until you have actually discovered the shallowest angle that enables the edge to be flush with the stone. You're attempting to match the bevel's angle with the stone.
5: Start honing
When you have actually got the angle down, it's time to develop a brand-new edge. Keep the knife versus the stone with two fingers and pull the blade towards you, then press it away.
The honing action is on the downstroke (pulling the blade towards you), so alleviate pressure on the knife on the upstroke. And you require to hone the whole blade, so move your fingers somewhat down the blade with every downstroke; if you're not using pressure to a point on the blade, it's not honing.
6: Keep the stones damp
To prevent harming a knife, sprinkle your honing stone with water continuously prior to and after a round of honing. An indication you remain in good condition: gray sediment developing in the water on top of the stone after a couple of swipes of the blade.
7: Finish the blade
Completing a knife takes place similar to the preliminary honing, the only distinction being the stone utilized and the pressure you apply to the blade. Instead of pressing on the blade against the stone, use just the pressure of the weight of your hand.
8: Paper cut test
It might be cliché; however, slicing through a sheet of paper is still the most convenient method to examine your work after honing. If you move through the paper smoothly, it's sharp.