When you think of ways to decorate your dining room, a mirror isn't the first item that comes to mind. But did you know mirrors can make a big aesthetic impact on your dining room, so it's important to select the right design according to your room's style.
Mirrors are a classy way to make a statement in your dining space. They will not only make the room feel larger but also bring a hint of sparkle and charm to your space.
To effortlessly elevate the visual interest of your dining room, we've put together some beautiful dining room mirror ideas that are both functional and stylish.
Mirror Ideas for Dining Room
Use an Arc Mirror for Modern Dining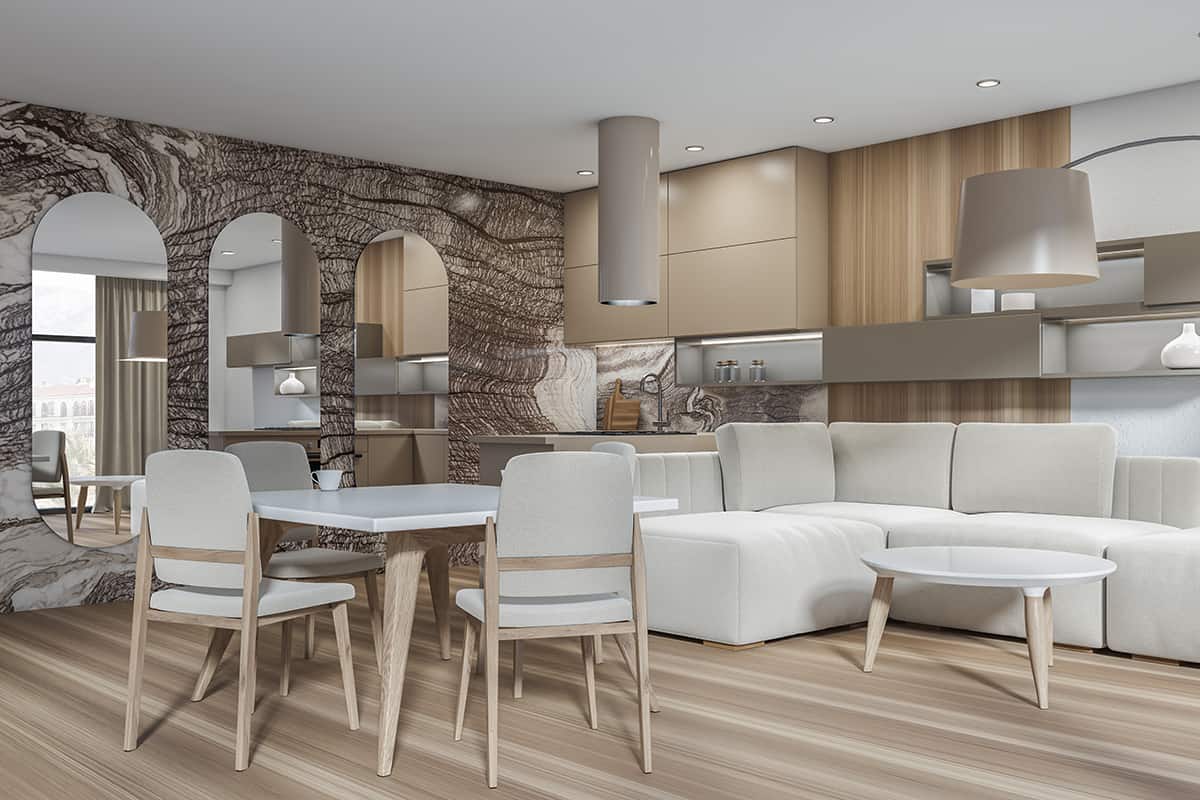 There is no denying the elegant and stylish design of arc mirrors. No matter where you place them and how many you prefer to hang on the wall, these functional mirrors are a unique art decor.
We think they make a particularly beautiful addition to a modern living room. These rimless oval mirrors make a beautiful contrast with other shaped furniture items, so if you love the idea of bringing extra depth to your dining space, consider arc or oval-shaped mirrors as shown in this neutral room.
Hang a Series of Mirrors on the Same Wall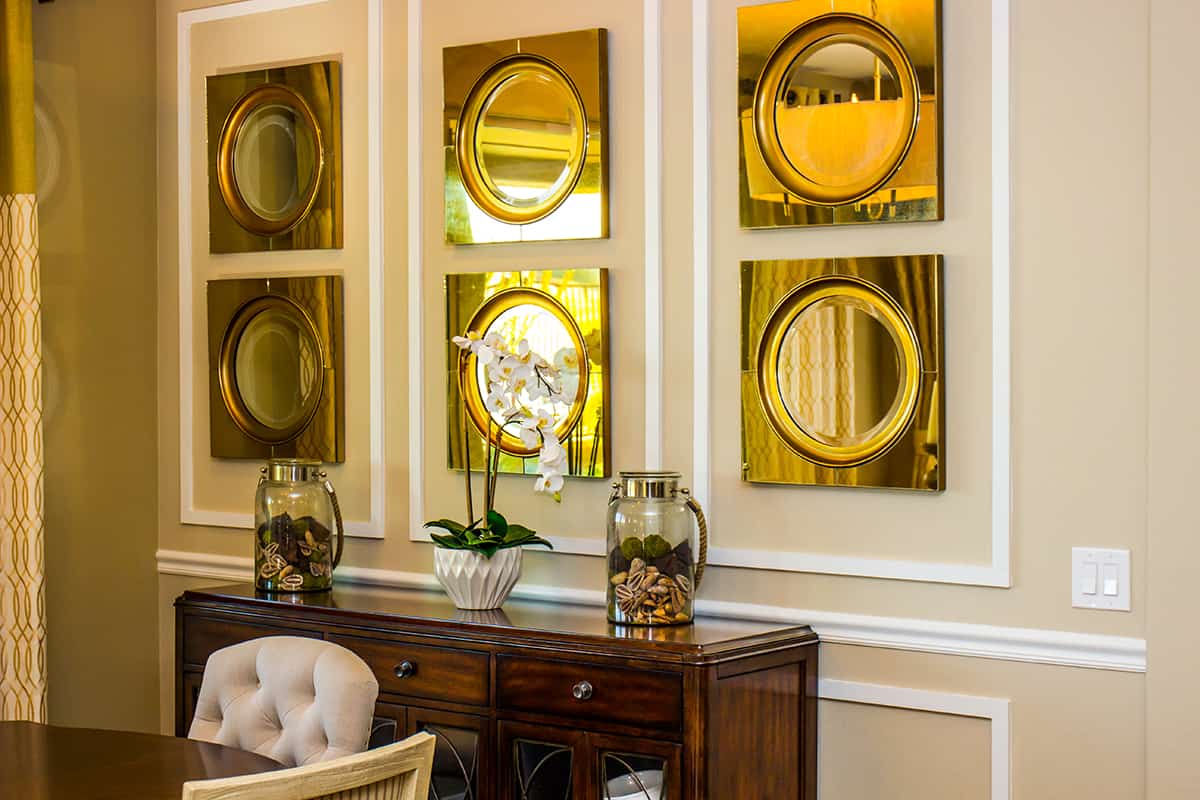 If you like the idea of small mirrors in groups, but still don't want to see your reflection whilst dining with your family, then consider hanging a series of small, round-shaped mirrors for reflective light or just wall decor.
There are so many mirror styles and types available that you're bound to find the right ones for personalizing your dining space. Just be sure to select the same design for all of them in order to keep it cohesive as per this example.
Go Glam with a Silver-Framed Mirror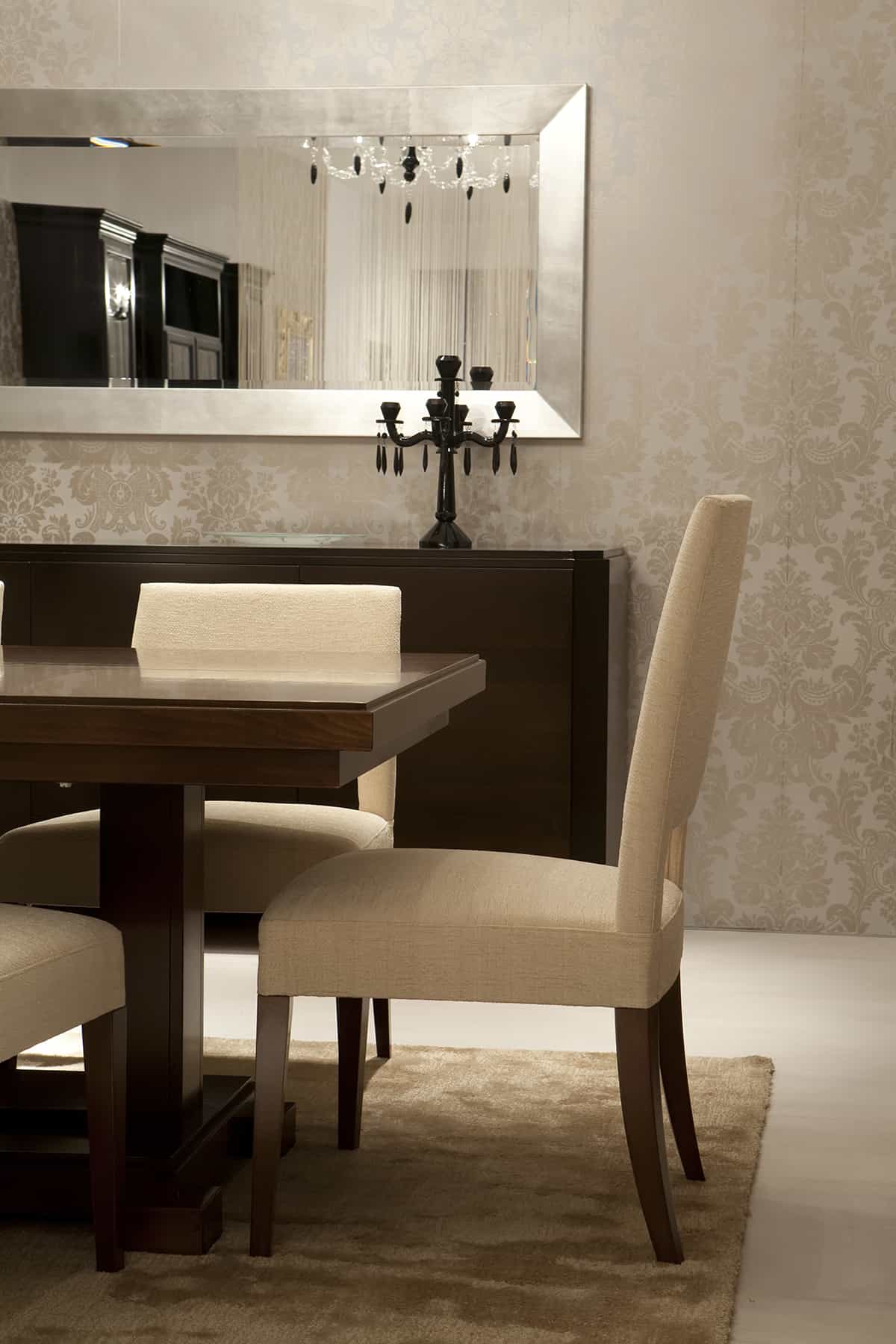 If you like the idea of small mirrors in groups, but still don't want to see your reflection whilst dining with your family, then consider hanging a series of small, round mirrors for plenty of reflective light or just as decorative features.
There are so many styles available that you're bound to find the right ones for personalizing your dining space. Just be sure to select the same design for all of them in order to keep it cohesive as per this example.
Surround the Mirror with Artwork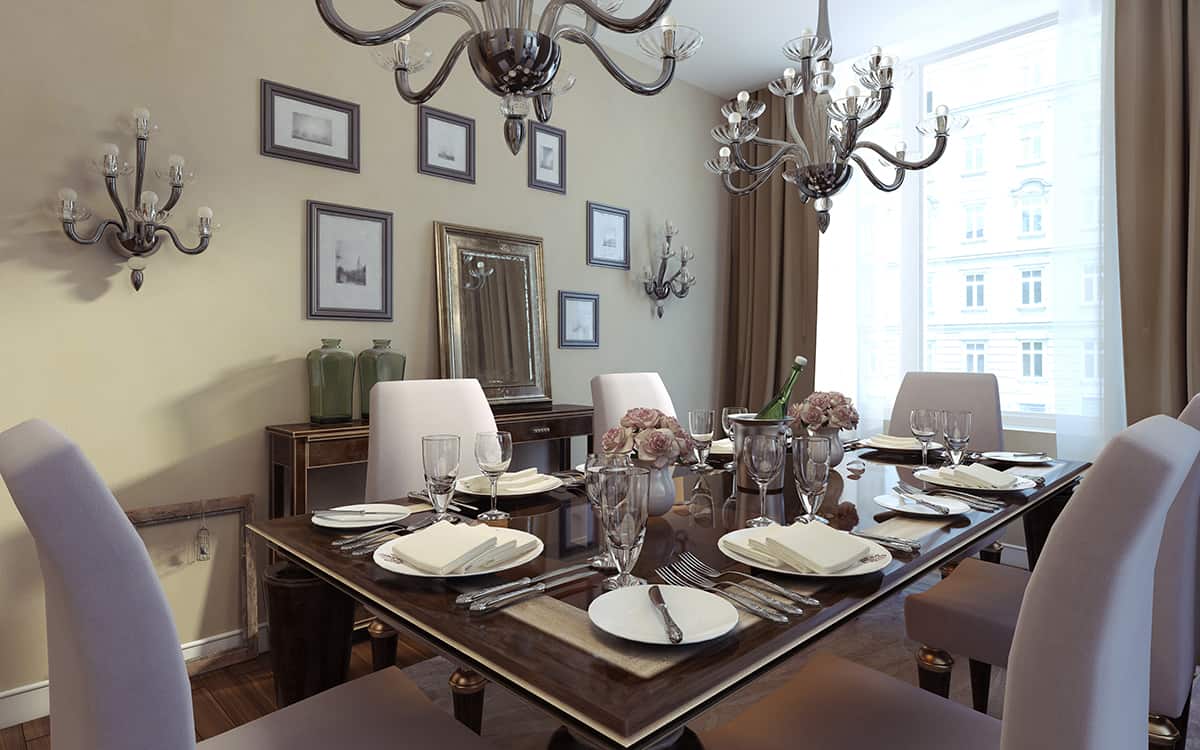 A dining room with an exquisite gallery wall can make the space feel retro, but where do you place a mirror to blend it in with the artwork? This is no easy task as you must ensure the mirror doesn't look out of place on the wall.
To incorporate a mirror into your art gallery wall, we suggest either hanging it in the center of the pictures or leaning it on the mantel as shown here. In the latter case, the mirror on the mantel will add balance to the wall and you can still keep the artwork as the focal point.
This arrangement is not only visually pleasing, but it also works in both formal and casual dining rooms. It allows you to enjoy your gallery wall without overcrowding the space with too many artworks or paintings. Just make sure you select a matching frame for the mirror to look cohesive with the picture gallery.
Hang a Simple Mirror for a Minimal Design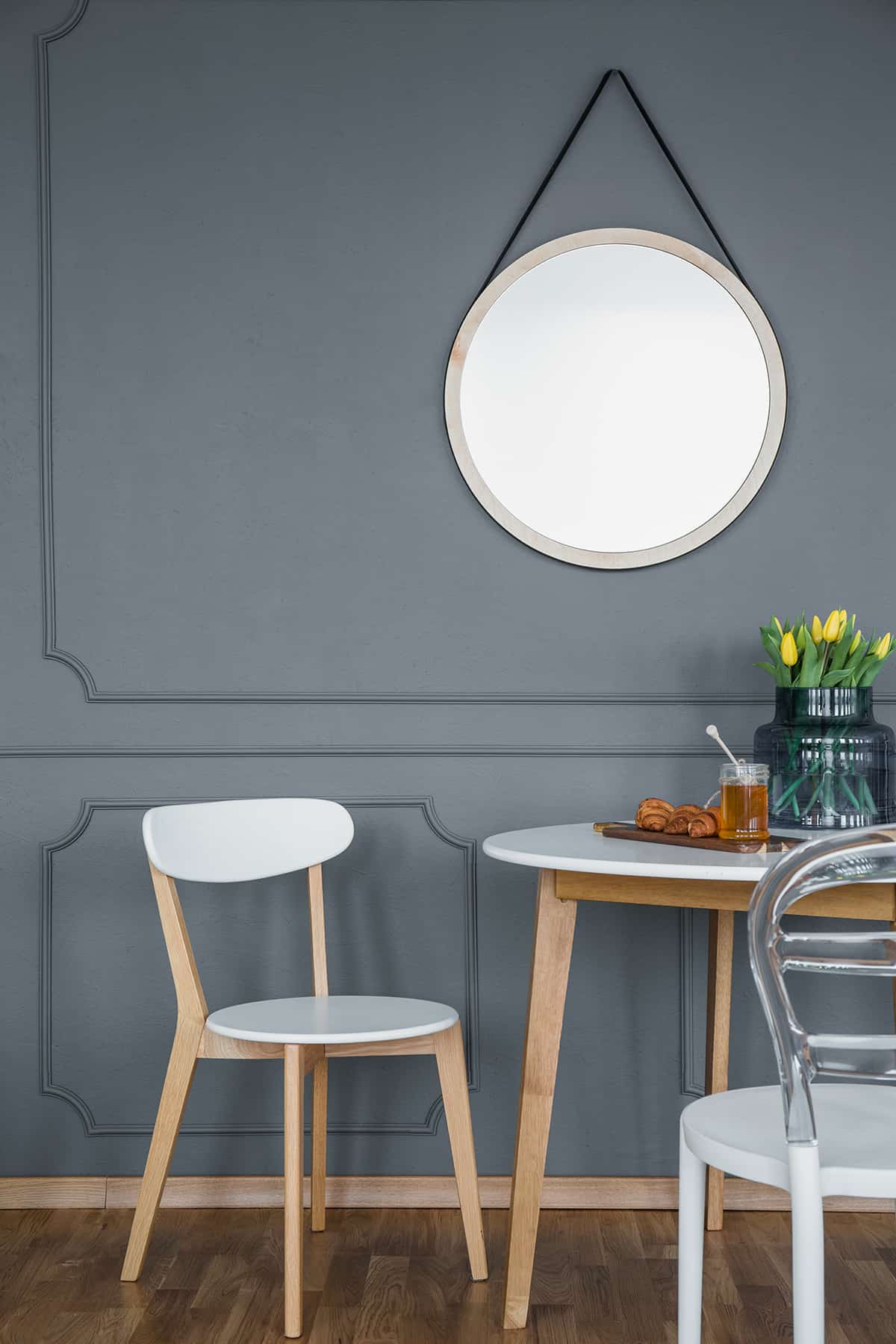 A simple, minimalist mirror is sometimes all it takes to enhance your dining room. The mirror can work as a single feature on the wall or be paired with other minimalist decor items.
But it's all about where you place the mirror as it should ideally light up your dining room. See this example of a minimalist mirror on a dark blue wall. The placement of this mirror has brought a minimal yet retro edge to the dining space, don't you think?
An Accent Mirror as the Focal Point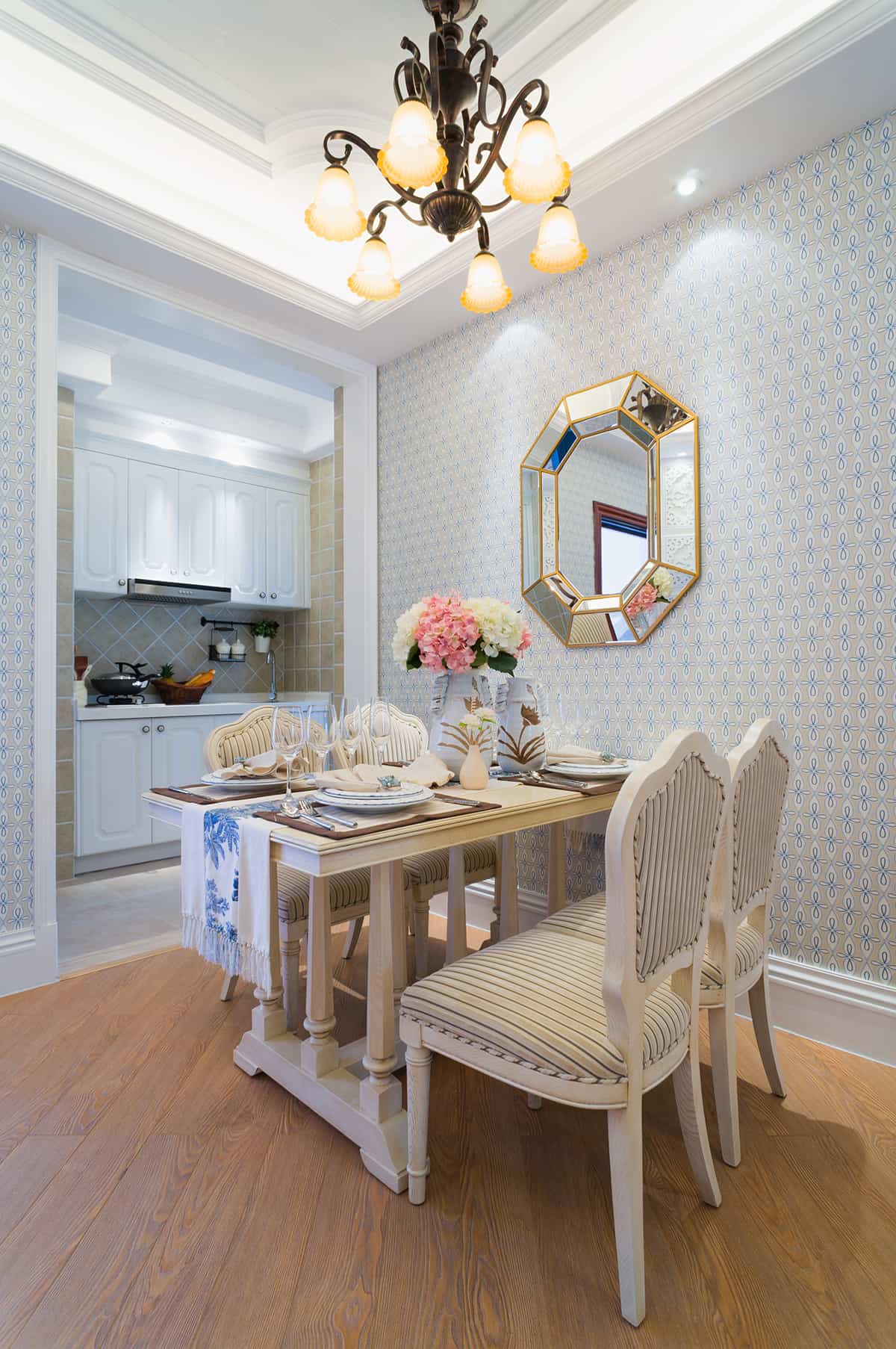 If minimalism isn't your thing, and you want to spruce up your bland dining room with a decorative wall item, then how about an accent mirror?
This idea will tie the room together and serve as a standalone focal feature. In dining rooms with limited space, an accent mirror is a great choice, but how do you know what an accent mirror should look like? An angular or geometric design is one such example for a modern dining room.
This classic decorative item doubles as a practical and unique piece, which goes perfectly with luxury-style interiors.
The accent mirror in this image oozes luxury thanks to its charming hexagonal design. It stands out beautifully as the focal point of this dining room whilst blending in with the rest of the furniture.
Have a Full-Length Mirror for an Opulent Look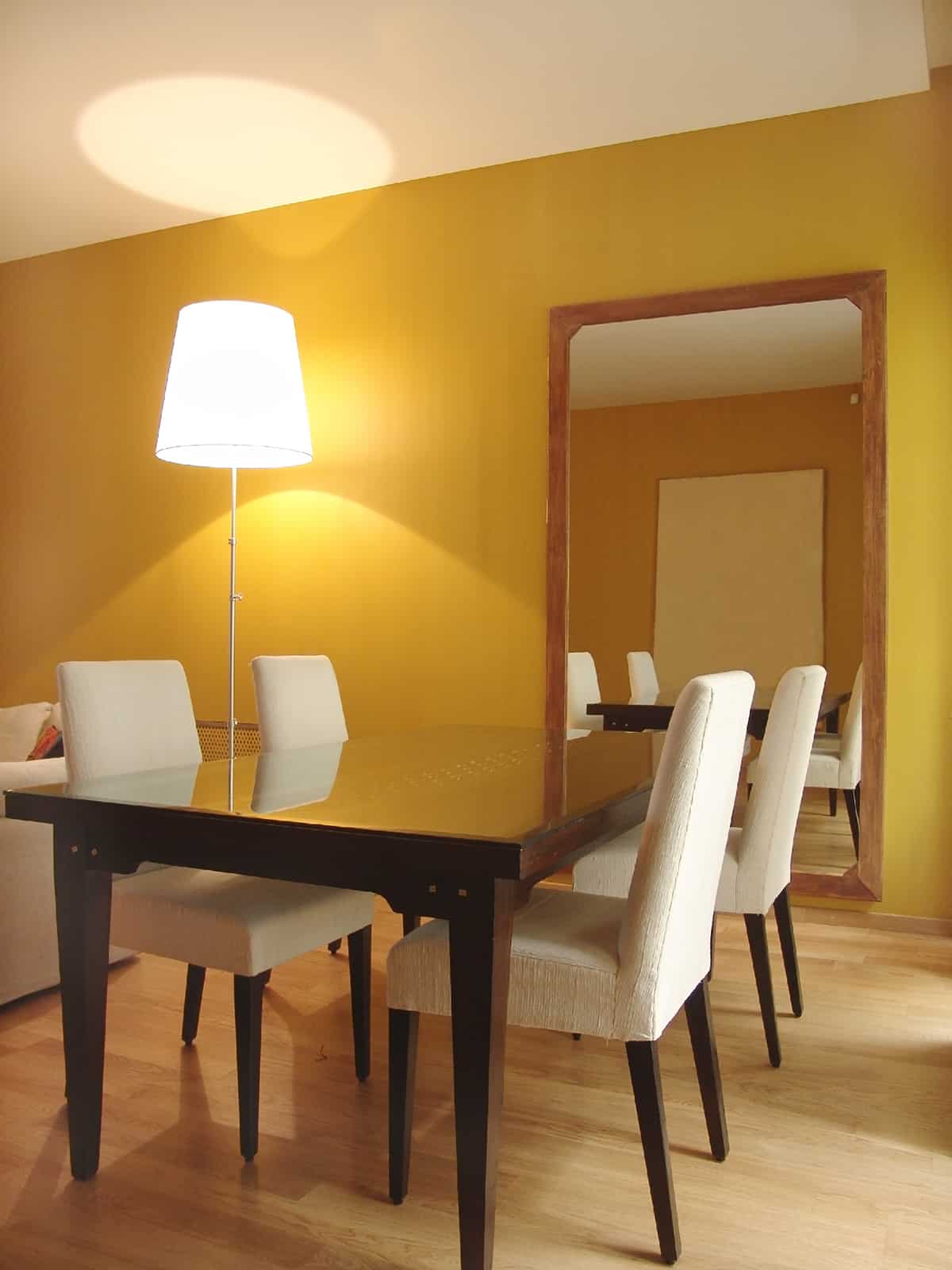 Full-length mirrors have a certain flair to them, so in luxurious surroundings like a formal dining room, opting for such a mirror can be the perfect choice.
A tall rimmed mirror not only enhances the visual interest, but it also brings a touch of opulence to your table. A full-length mirror makes the room appear more spacious because of its reflection and elevation, thus providing your dining room with a chic appearance.
When choosing such a mirror, go for a simple and large piece as per the one shown in this example. It makes the room appear larger and keeps the focus on the table.
A Rustic Wood-Framed Mirror for a Farmhouse Look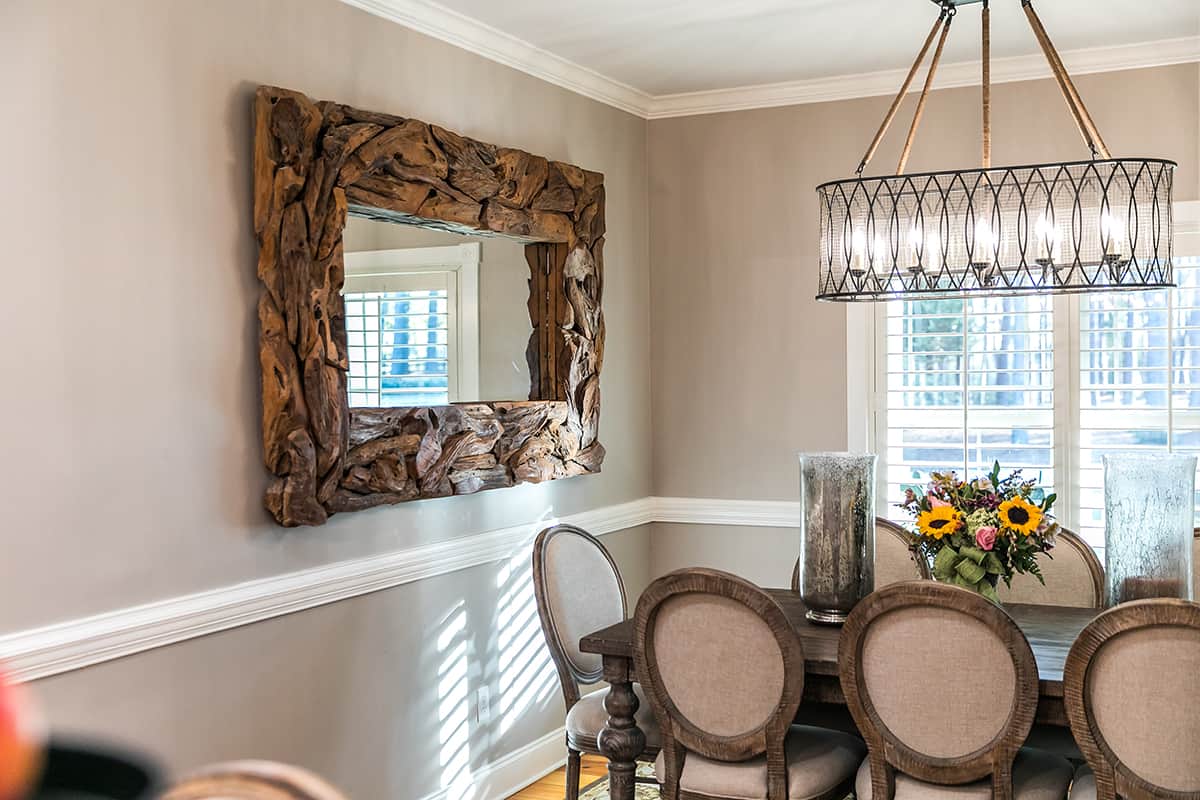 There is something warm and homely about the look of natural wood, which is why many homeowners prefer using it in their homes. Wooden decor is often associated with rustic or farmhouse style, and if you like the idea of cottage comfort in your dining room, then consider a driftwood-framed mirror. It makes a beautiful wall feature, especially when paired with wooden dining furniture.
To prove how rustic such a mirror will look in your farmhouse-style dining room, see the example here. A wooden-framed mirror is undeniably a valuable asset that every traditional home should have thanks to its warm and homely charm.
Choose a Gold-Framed Mirror for a Dash of Luxury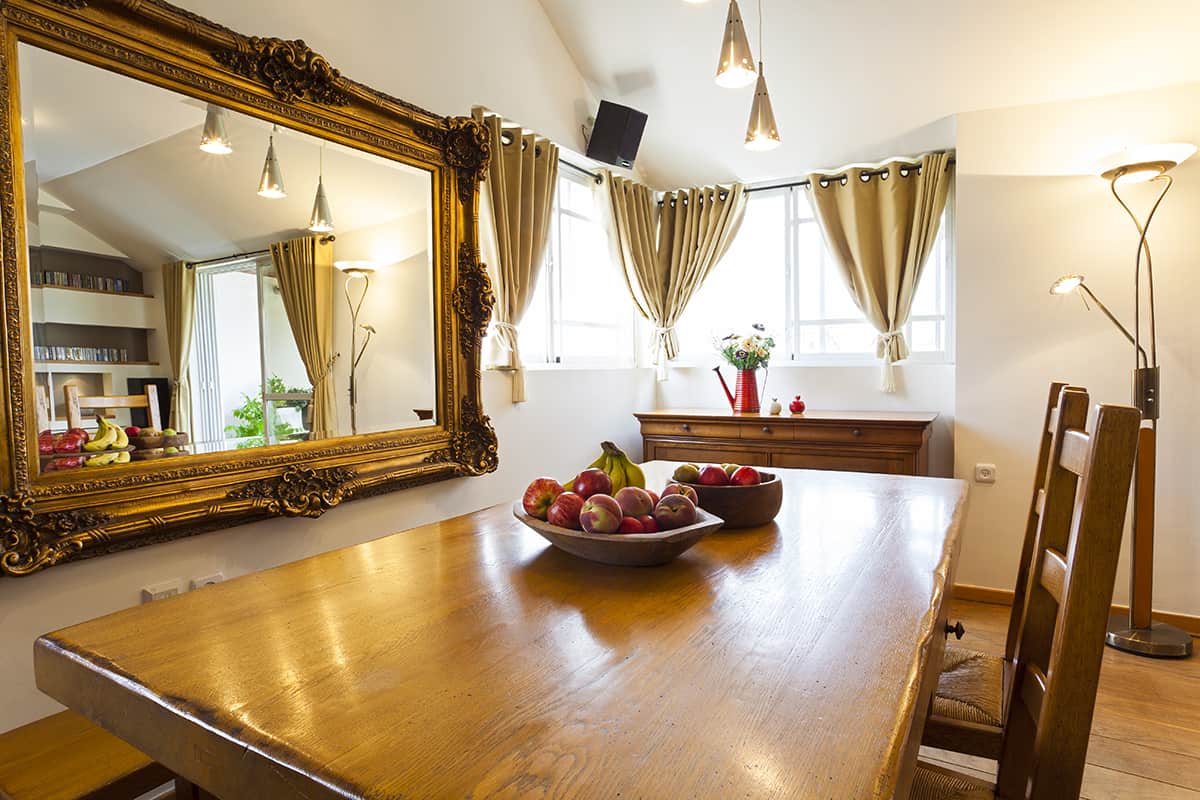 For ultimate luxury, a formal dining room without a gold-framed mirror just wouldn't be complete. Gold oozes opulence and that's exactly what many homeowners strive for when picking a decorative item for their dining rooms.
A large, ornate gold mirror brings a special kind of elegance to this classic dining room. The curtains and furniture complement the gold mirror perfectly and make it stand out on the wall.
Bring a Ray of Sunshine to Your Dining Space with a Sunburst Mirror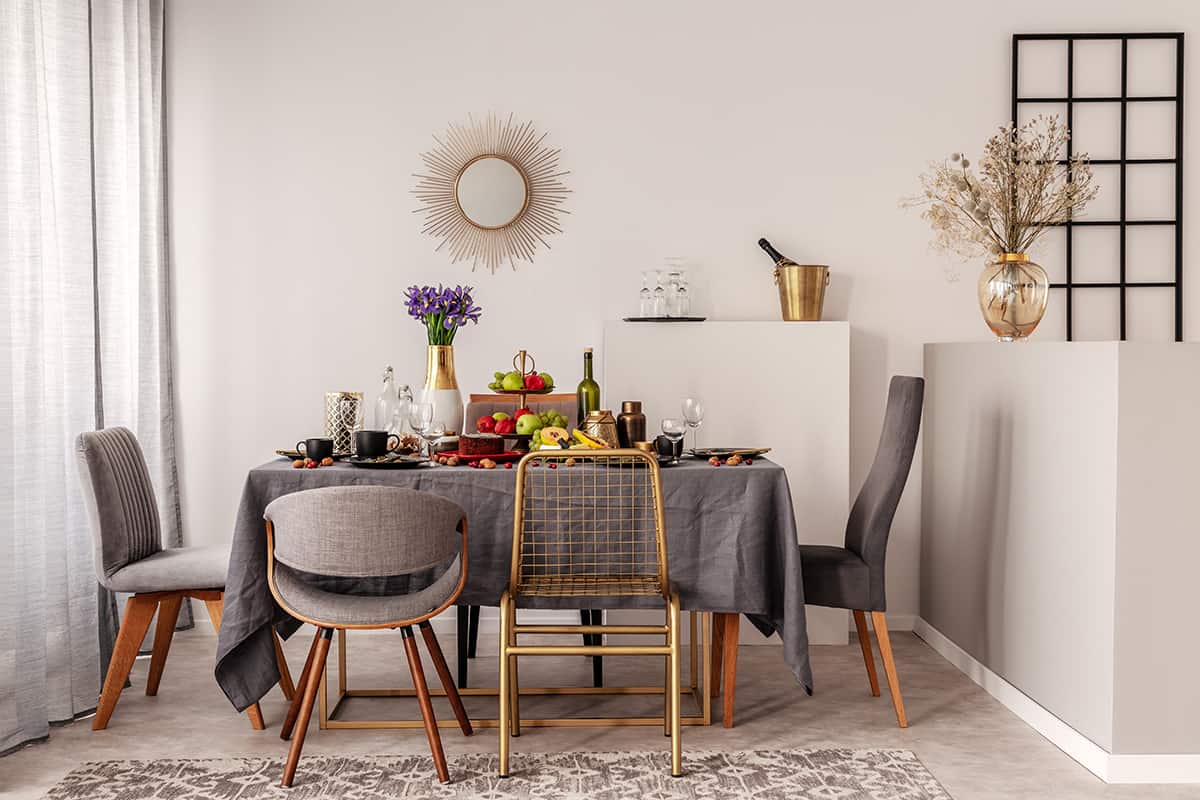 For casual-style dining rooms, a small sunburst mirror can bring so much fun to the space. A trendy gold mirror replicating the sun rays paired with other gold accessories is perfect for a small dining room as shown here.
Although the sunburst mirror takes up a small amount of space on the wall, it still makes a big statement!
Hang the Mirror Close to the Window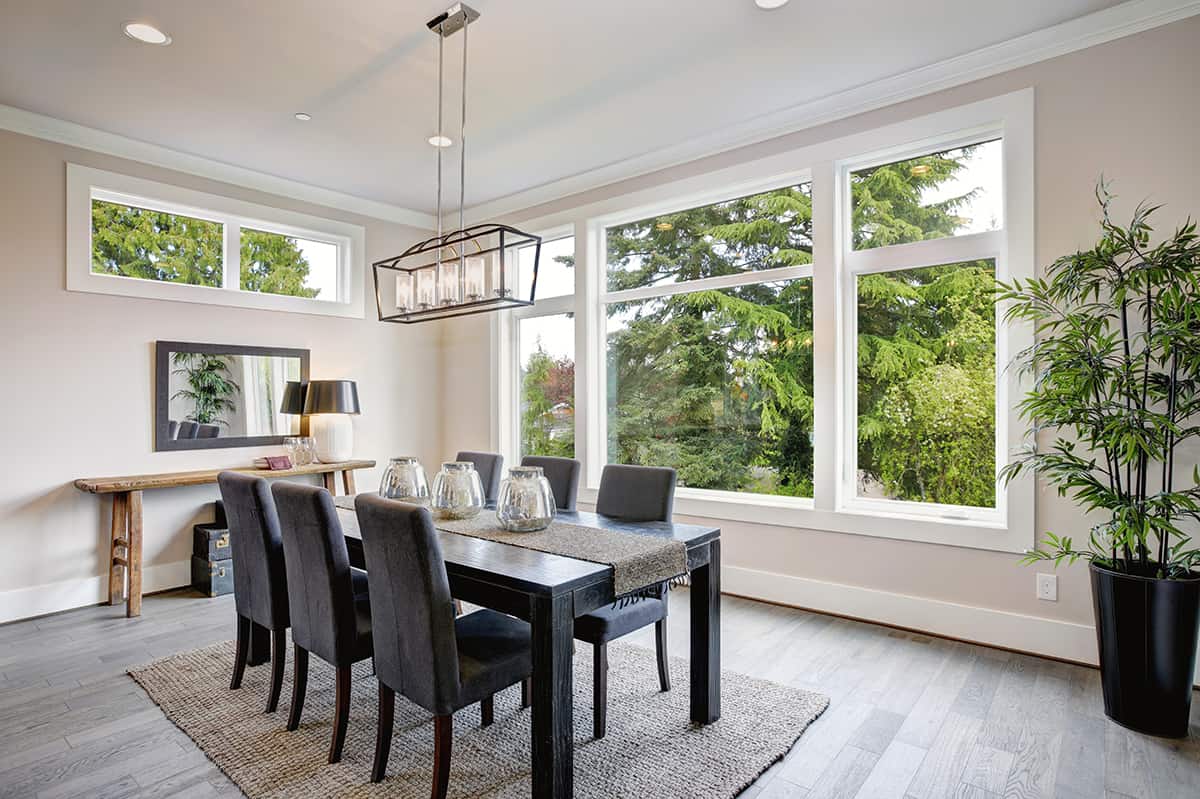 Hanging your mirror close to the window is an effective way of bringing more natural light into your dining room. Not only does the mirror make the room appear more spacious, but it also evokes a sense of welcome.
A mirror close to the window with some decorative items above the table or retro lighting are a great way to increase the inviting ambiance of your dining room.
Alternatively, Hang it on the Wall Behind the Dining Table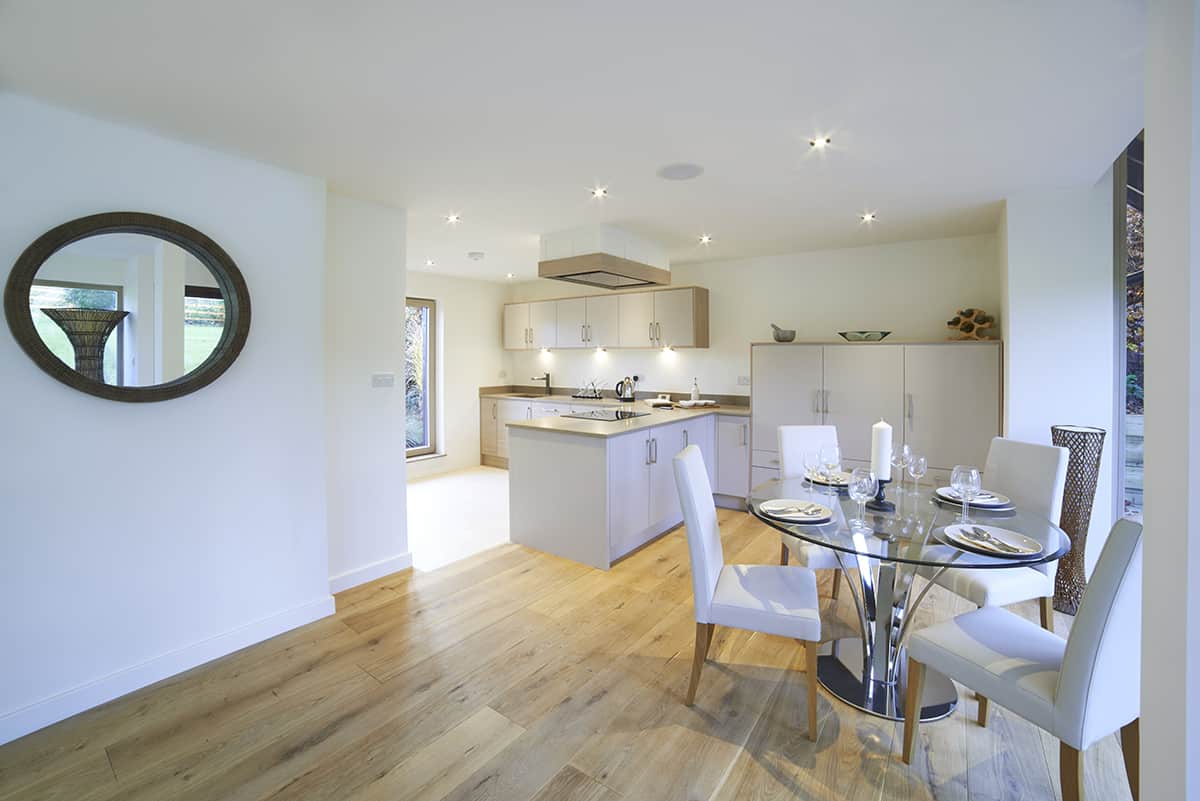 If your dining room lacks windows, you can still hang an interesting mirror on the wall close to the dining table. In such instances, it's best to keep your room neutral by opting for white walls in order to make the mirror stand out.
Use pendant or recessed lights to create a beautiful atmosphere, with the mirror as the most attractive piece of the room.
In Closing
A dining room can be decorated with glitzy or farmhouse mirrors to bring a touch of character to your space. Hanging a mirror in your dining room can make a huge impact on the overall look and feel of your room, so it's important to pick the right style mirror that goes with the rest of the decor.
If you're struggling to find a suitable mirror for your dining room, our ideas should help you decide on the right design style. We picked our selection based on space enhancement, functionality, visual interest and the impact it can make on the room.