If you love playing cards with your family or friends, consider adding a card table to your home's furniture. But the question that pops to mind is, do you have enough space to accommodate a card table? Playing card tables come in set sizes as the players must be able to comfortably reach the middle of the table without straining their arms.
So what is the standard card table dimension? Here is a quick answer. You can read also the whole post to understand the specific dimensions.
The dimensions of the card table mostly vary based on the table shapes. Specifically, a standard round-shaped card table measures about 48 inches to 60 inches in diameter. For a square card table, the dimension can be on average from 34 inches by 34 inches and up to 38 inches by 38 inches in diameter. Meanwhile, dimensions for Rectangular Card Table Dimension is from 36 inches by 24 inches and up to 48 inches by 92 inches in diameter. Finally, for an Oval Card Table and Octagonal Card Table, the dimensions are usually about 48 inches by 32 inches, and 48 inches by 48 inches respectively.
Playing Card Table Sizes According to Table Shapes
Round Card Table Dimension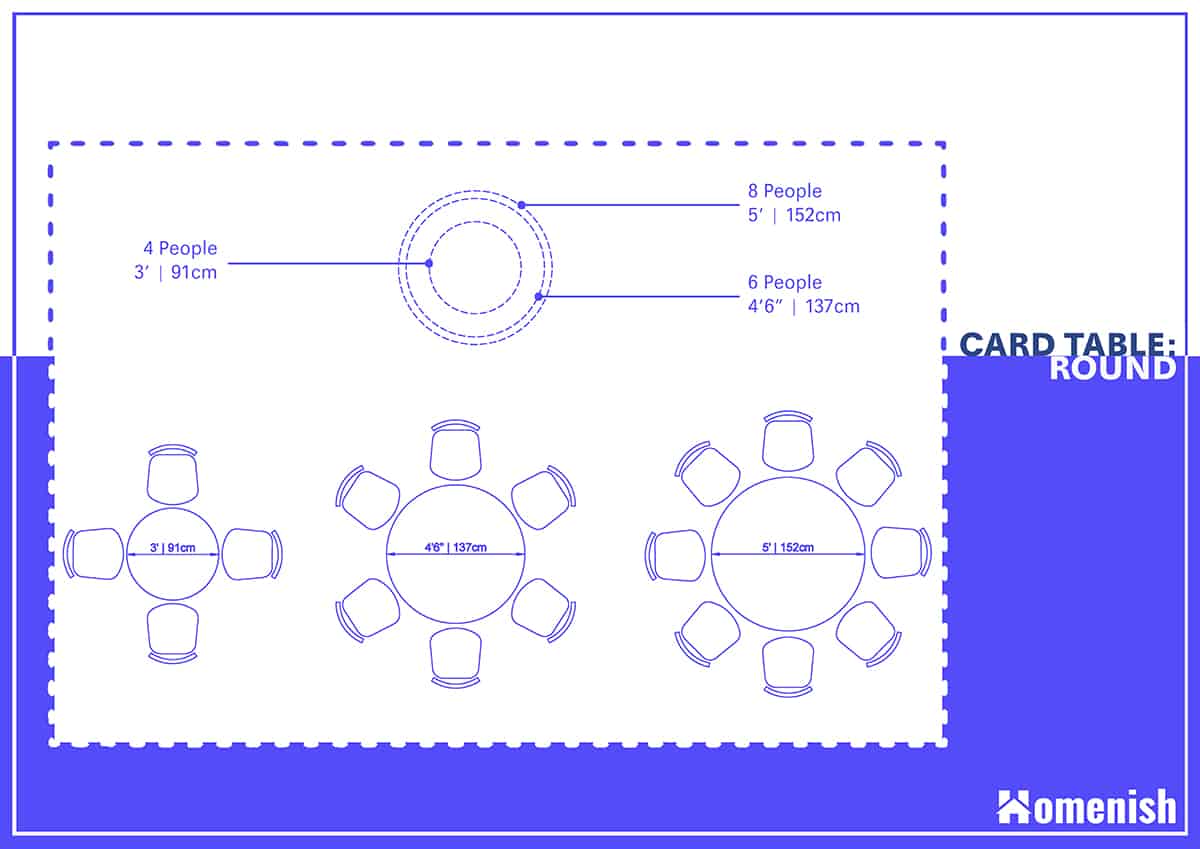 A standard round-shaped card table measures about 48 inches to 60 inches in diameter. The height of these tables is anywhere between 28 and 30 inches, which can easily fit a standard-height chair.
Since the shape of the table is round, 4 to 6 people can comfortably sit around a 48-inch round table while 6 – 8 people can easily fit into a 60-inch one. This type of card table is ideal for rooms with limited space as it allows enough people to sit around it without taking up too much room, like square tables.
Round card tables are generally made from wood with a felt covering and a wide wooden pedestal base. Some designs are foldable so you can make them even smaller if only 2 or 3 people will be sitting at the table. If you're considering this type of card table, you should choose slim design chairs to fit as many people around the table as possible.
Square Card Table Dimension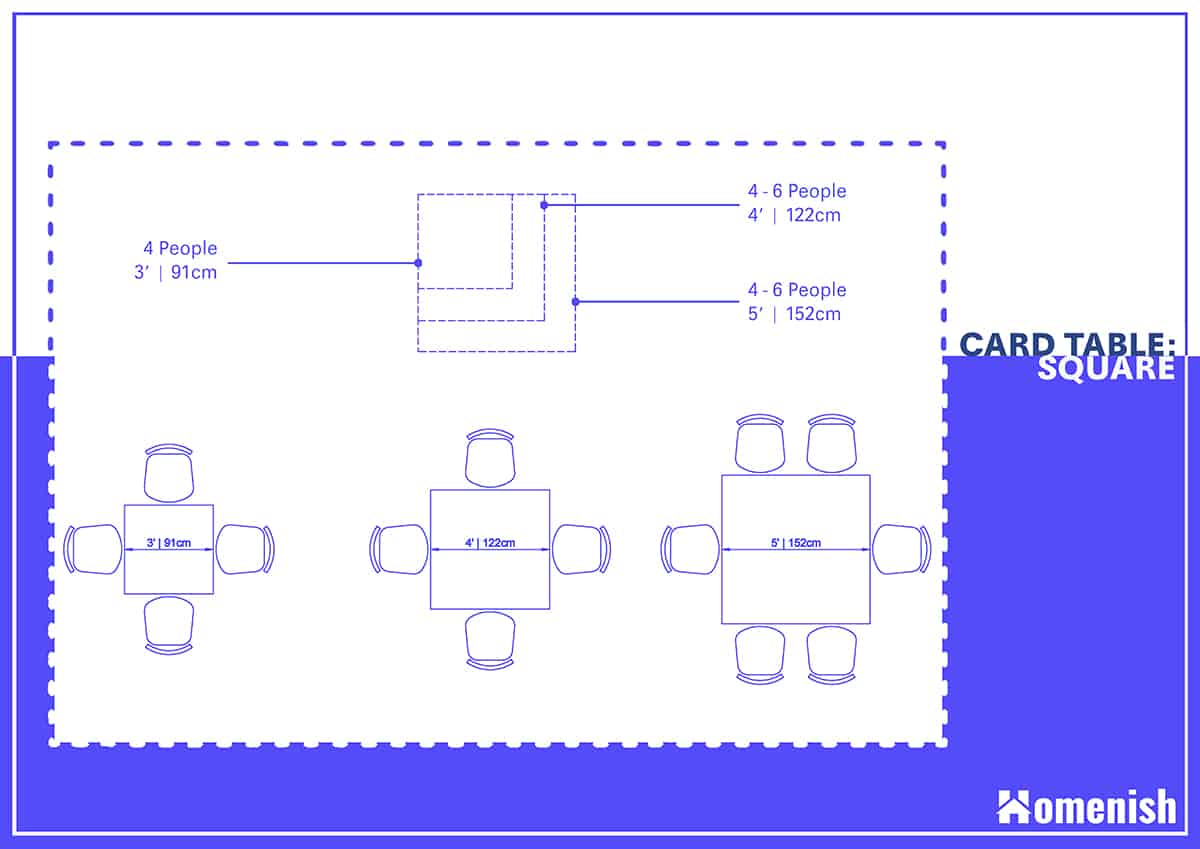 Square-shaped card tables aren't to everyone's preference because of their poking corners. Most standard-size square tables measure about 29 inches in height and are 3 feet by 3 feet wide. The surface of these tables can be on average from 34 inches by 34 inches and up to 38 inches by 38 inches in diameter.
These playing card tables are very popular among four-people players so if you have a family of four, you'll find such tables the perfect size and large enough to fit your space. Most square-shaped card tables are made from high-quality plastic, with the table legs made from metal. Perhaps the biggest advantage of these tables is their ability to hold more than 350 pounds of weight thanks to their sturdy shape.
Rectangular Card Table Dimension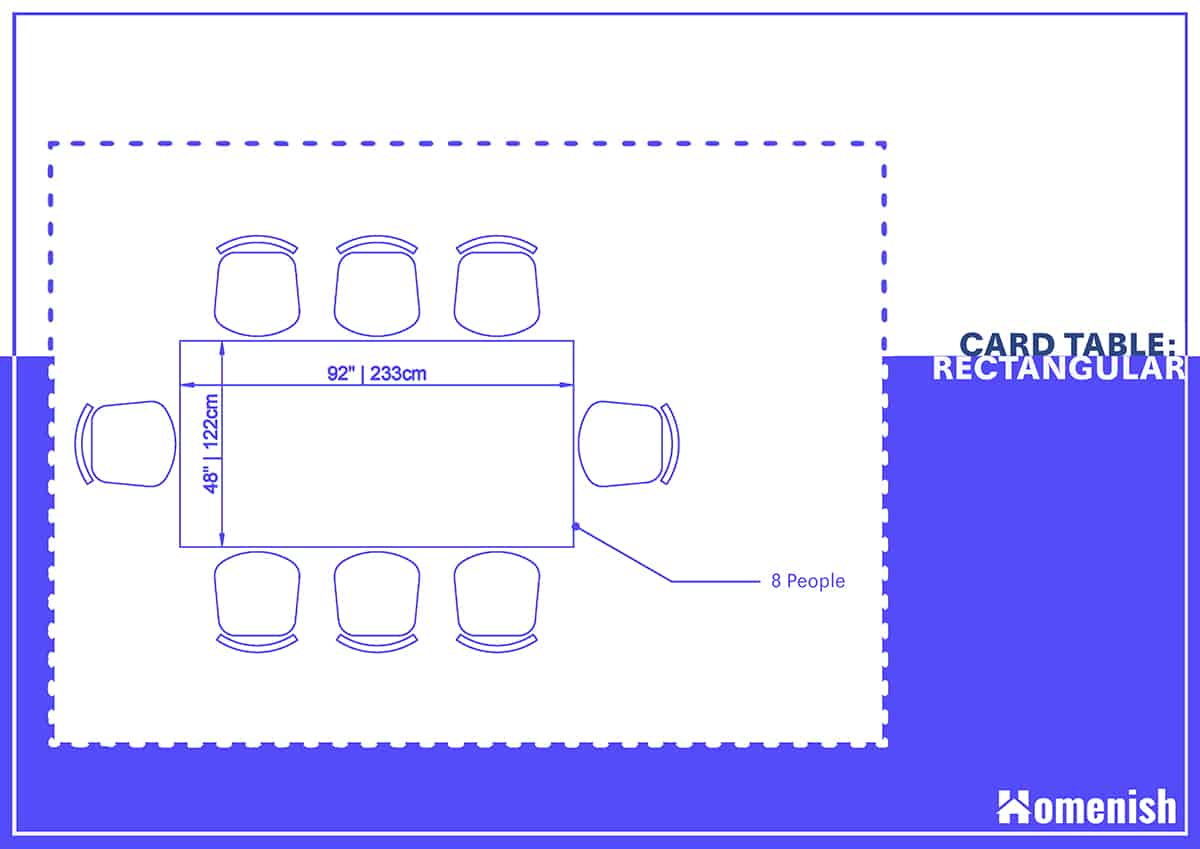 Rectangle-shaped card tables are similar to square card tables, except in length. The length of rectangular card tables is longer than the width of square card tables, but these tables can still fit in most average-sized rooms.
Rectangular card tables can seat more people than square tables. In fact, they can accommodate up to 8 people at a time. These tables are normally made from plastic tabletop with metal legs. Their dimension is anywhere from 36 inches by 24 inches and up to 48 inches by 92 inches in diameter.
Oval Card Table Dimension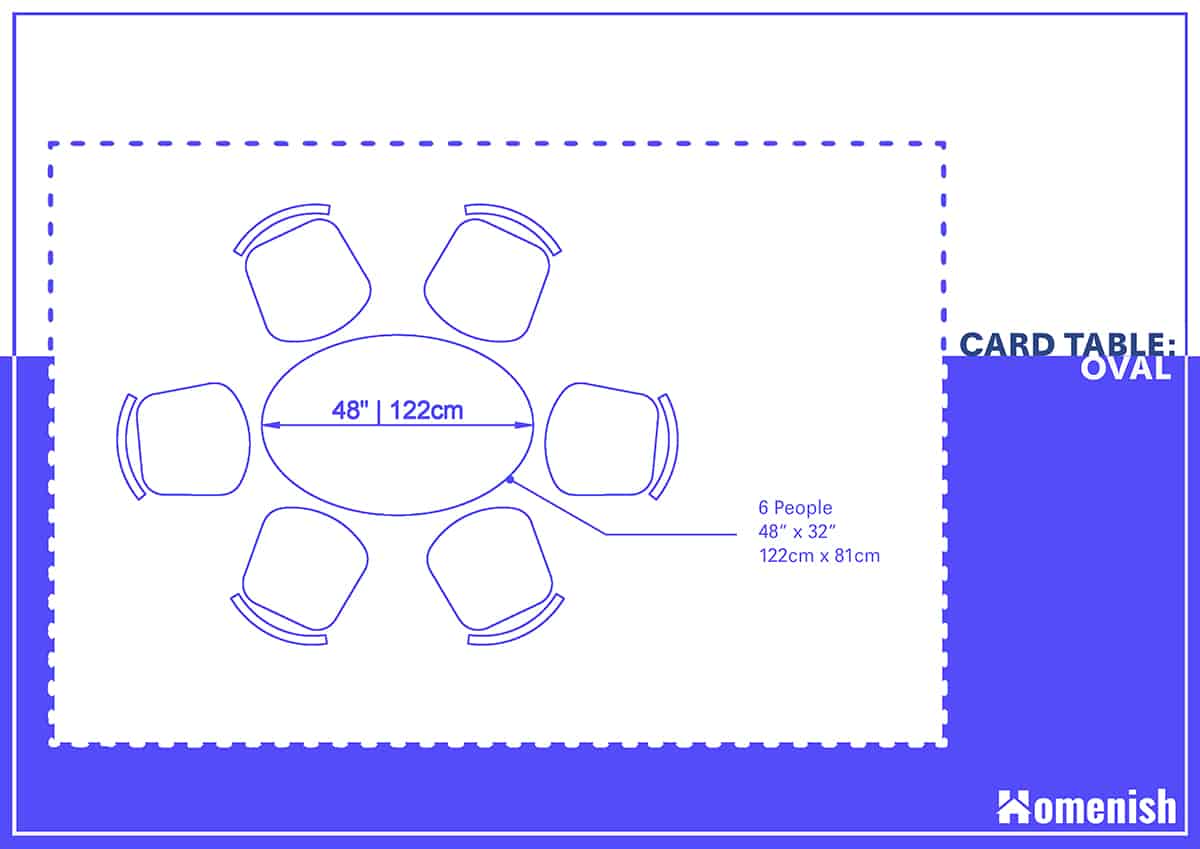 Oval card tables can be foldable like their round counterparts and designed to seat up to 10 players. Some smaller versions, however, can comfortably seat 6 people.
These oval card table models can vary from 36 inches to 60 inches in diameter. But 48 inches in diameter (length) (48 inches long x 30 inches wide) tends to be the standard size for an oval card table and can fit 6 people.
Octagonal Card Table Dimension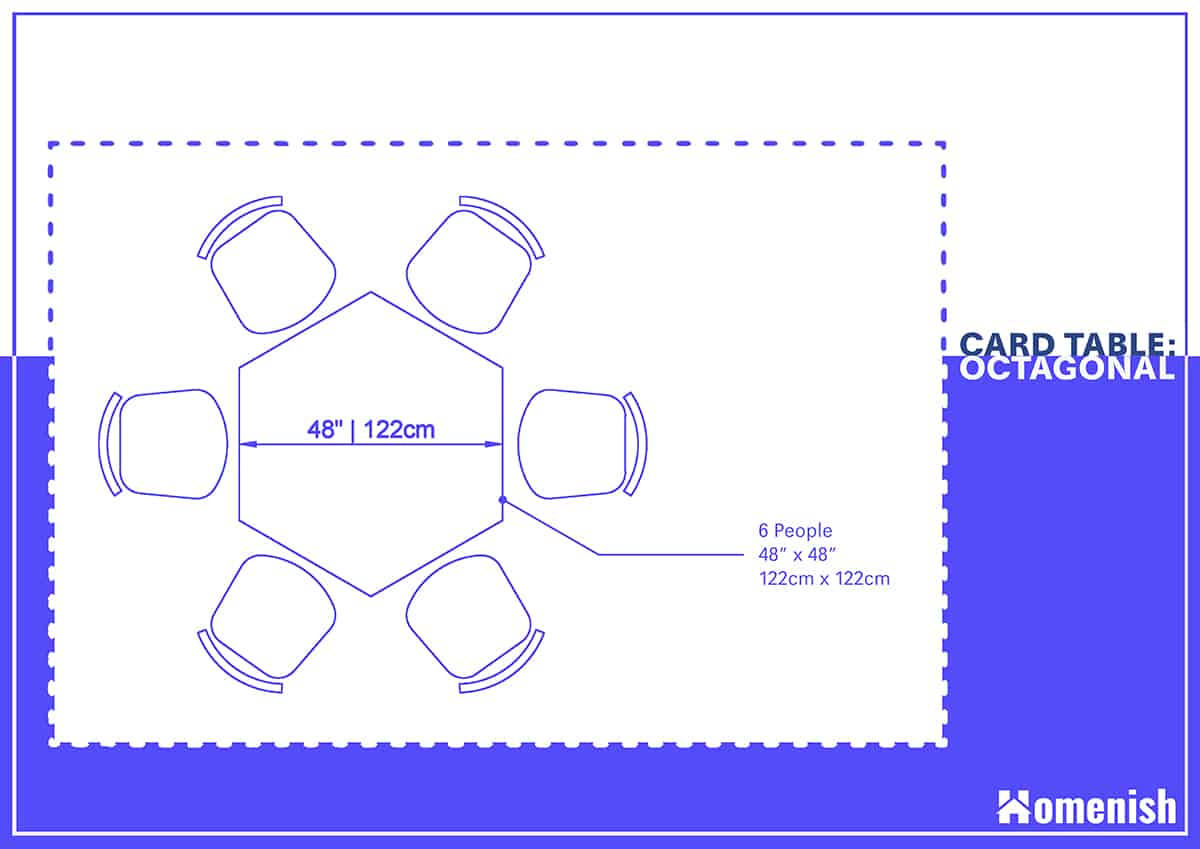 Octagonal card tables have grown in popularity in recent years. These tables are typically used for playing poker and can seat between 4 and 6 people. There are also bigger versions that can hold up to 8 people.
The table's compact size means you can easily fit it in a small room. The standard size of an octagon-shaped card table is 48 inches by 48 inches by 30 inches for foldable models. The tabletop of these tables is the same size as the width but you can find slightly bigger models that are around 50 inches wide.
Octagon tables are usually wood veneered with plastic railing and steel legs.
How Much Space is Needed for a Card Table?
To allow for adequate seating and movement, you need to ideally allow at least 3 feet of clearance space around a poker table. For instance, if you have a compact room, it's best to opt for an octagon or round-shaped card table as this will fit best in small spaces. If your room is rectangular, go for an oval-shaped table in order to allow enough movement space around the table.
Important tip: when selecting a card table, make sure you check the total dimensions of the table including any railings. Some suppliers will only provide the actual dimensions of the tabletop and not the armrest, racetrack, or any other protruding design. In this case, it's best to add a further 4 inches to the length and width of the card table.
This is especially advised if you're buying your table online. Always contact the manufacturer before making a purchase to get the exact specifications.
So what about the chairs? Every card table needs chairs. When placing your chairs around the table, remember to always leave adequate elbow room between each player as they will need to get in and out of their chairs or maneuver.
To save space, consider getting foldable chairs for your card-playing buddies. Just make sure the chairs are sturdy and of course, comfortable. For those who want to invest in heavy-duty seating, wooden dining chairs will do the job nicely.
What is the Standard Size of a Foldable Card Table?
A foldable playing card table is a portable fixture that provides extra seating when needed. The typical dimension of such tables is 34 inches by 34 inches, and the most common shape is square or round. When you're not playing a card game around the table, an attractively designed table cover will provide a decorative touch to your card table.