Lego is arguably the most popular children's in existence, and in fact, in 2015, the Lego Group became the largest toy company in the world based on revenue. As awesome as Lego is, you might want to learn about alternatives to Lego to encourage diversity of possibilities in your children's toy collection. You may also want to try engaging children in creative play who may have gotten bored with Lego or who aren't old enough to enjoy it yet, by introducing Lego alternatives.
Benefits of Lego and Similar Toys
Creativity
Lego, as well as Lego alternatives and other building toys, are excellent for developing a child's creativity. By building their own structures, children can bring to life images from their own imagination, and they are allowed to experiment with different ideas and options.
Concentration
Playing with building toys helps children to focus and develop their concentration skills. Children can get lost for hours in building their own creations, and this is great practice for them to focus on one activity at a time. As well as nurturing their concentration and focus, these toys also teach them patience and perseverance because it can take many tries to get their building project just right.
Problem Solving
Lego and Lego alternatives teach children the art of problem-solving. By working on building structures, they are learning about spatial awareness, shapes, patterns, and mathematics. They also learn that if something doesn't fit, they can try turning it a different way or trying a different piece.
Supports Physical Development
Playing with building toys is great for building strength in fingers and improving dexterity. Using building blocks has been linked to helping a child hold a pencil and being generally useful for developing fine motor skills. The child will learn to control their pressure when holding different pieces, as well as different ways to hold pieces to ensure they fit together properly.
Considerations for Lego Alternatives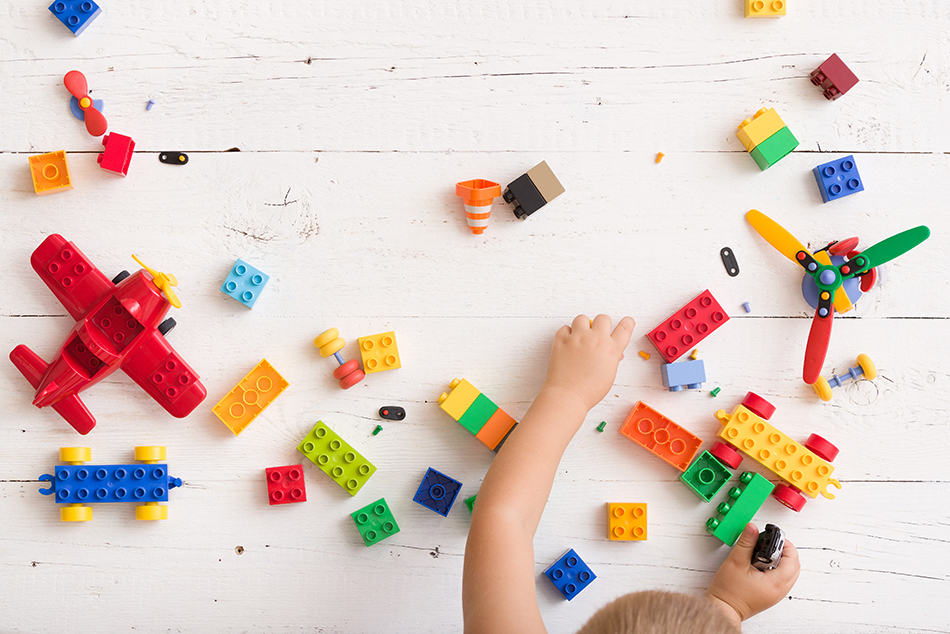 Price
When looking to purchase an alternative to Lego, one of the main things most parents will be looking at is the price. Lego is known to be quite expensive, so if your children love Lego types of toys, then you might be keen to find a cheaper alternative to get more bang for your buck.
Some lesser known brands are almost identical to Lego and are compatible to use with the existing Lego you already have, but without the Lego branding, they have a more reasonable price tag.
There are also many types of building toys similar to Lego that you can find for a more budget-friendly price, and these options might be worth exploring with your children. While the price is a major consideration for most parents when buying toys, don't get so hooked on the price that you end up buying a low-quality toy because this will be a big waste of money if it doesn't last well and doesn't get played with.
Pieces Included
When choosing a building toy for your child, it's important to pay attention to the size of pieces included in a pack. Some toys will depict large buildings made from their pieces, but very often, to create a structure of that size, you would need to purchase several sets. Carefully research the pieces included in a set to ensure you and your children aren't disappointed when they open the box. The number of pieces included is also important to help you understand if the toy is good value. You could even break down the price per piece to really get to grips with whether the toy represents value for money.
Developmentally Appropriate
When buying a Lego alternative, take notice of the recommended age guidelines. Some chunkier Lego alternatives are aimed at toddlers and preschoolers, while some more complex Lego-style toys will be aimed at older kids or teenagers. You'll want to ensure the toy appropriately reflects the developmental stage your child is at.
A toy that is too basic will not hold a child's attention for long, and they will soon get bored with it, while a toy that is too advanced for them might be overwhelming, and they will be put off from playing with it if it seems too technical or difficult. Toys with very small pieces should not be given to young children because this presents a safety hazard.
Quality
The quality of a toy is a very important consideration, and it is a good idea to aim for a good balance of a toy that is both good quality but also affordable. Beware of Lego alternatives that seem so well priced that they are too good to be true-these are often Lego imitations that may not connect together properly and in the long run will be a waste of money as they will end up in the bin.
Choose toys that seem sturdy and long-lasting, especially if you have younger children, because a high-quality toy will last for years and can be passed down through the family. Purchasing high-quality toys will prevent children from being disappointed and ensure that you aren't spending money on a toy that doesn't last.
Creativity
If you want to buy Lego alternatives to encourage creativity, then you'll want to pay attention to the type of set you are buying. Some building sets are intended to make a specific model, for example, a train or a castle. While these can be great at teaching children to follow instructions, they don't encourage creativity. To help develop your child's creativity, buy a building set with a multitude of pieces that can be used to make a wide array of structures and creations.
Alternatives to Lego
There are many reasons why you might be looking for a Lego alternative. Often, parents or caregivers find Lego to be out of their budget, and so are looking for similar toys to allow their children to develop their creativity without the big price tag. Or, if your kids love Lego, you might be looking for an alternative toy with a similar premise to offer more variety in their building.
Your children might have exhausted their Lego toys, and you're on the lookout for a Lego alternative to refresh their toy box. Whatever your reason is for searching for a Lego alternative, you'll be pleased to know there are many great options available. Some of the best Lego alternatives include:
K'Nex

K'Nex was first introduced in North America in 1992 and has since become a staple in educational and build-based toys. K'Nex sets consist of a selection of interlocking rods and connectors and can also include other components such as gears, wheels, and bricks. The bricks are compatible for use with Lego, but these are not standard in K'Nex sets, and most of the K'Nex sets are made up of plastic rods.
Sets can be used to build anything from roller coasters to helicopters, and some can even include motorized components. Standard K'Nex is aimed at children aged between 7-11, though Kids K'Nex is also available that consists of chunkier pieces suitable for preschoolers. There are also more advanced K'Nex sets available for teens and pre-teens.
While all types of K'Nex are considered to be educational toys, they also do a school range that is specifically targeted at developing children's geometric skills, and these are used throughout schools to aid in learning. K'Nex are high-quality toys and are a trusted brand with a good reputation. Their toys can be expensive to buy but offer good value for money as they will last a long time and can be passed down to other children or will retain value to sell on when your child has finished with them.
Meccano

Unlike many toys for children, Meccano is predominantly made up of metal pieces. It uses metal plates, strips, gears, and axles, among other things, with just a few plastic components. These pieces can be screwed and bolted together, making for enjoyable and educational building activity. With Meccano, children can build cranes, trains, and even robots.
Some sets include electronic parts, enabling the structures built with Meccano to really be brought to life. These sets are aimed at older children, typically ages 8 and up, though Meccano Junior toys are available for younger children. Meccano was invented in England in 1898 and has since gained popularity with children all over the world.
If you remember using Meccano as a child, it can be a joy to now share this love with your children. Meccano toys range in price depending on size but are generally a similar price to comparable sized Lego sets. While they are not a budget option, they are high quality and long-lasting toy that can provide many hours of enjoyment.
Nanoblock
Nanoblocks are the same concept as Lego, but the blocks are much smaller. This has advantages and disadvantages, depending on what you are looking for. The smaller blocks mean that you can build more detailed structures and that your finished build won't take up as much space to display. Even deconstructed, this toy is more compact and can be stored away more easily than large tubs of Lego.
The smaller blocks are more complicated to use and build with, and therefore present more of a challenge to older children, or even teenagers and adults, providing a great opportunity for continued learning amongst older generations. The small blocks do, however, make them unsuitable for younger children, and also means they are not compatible for use with Lego.
Nanoblocks are made by a Japanese company, and they are relatively new to the market, being released in 2008. Nanoblock sets consist of 11 types of blocks and can be used to build anything from models of motorcycles to elaborate castles. Nanoblocks are quite pricey, but they are of high quality. Be careful not to buy cheap knock-offs as these will not click together as well and make for frustrating building.
Kre-O
Kre-O toys are manufactured by a South Korean toy company and marketed by Hasbro. The name 'Kre-O' comes from the Latin word 'creo' that translates to 'I create' in English. These toys use blocks much like Lego, and they are compatible with Lego so that your children can have fun mixing and exploring options with various different sets. Kre-O sets are themed construction sets, with themes including GI Joe, Dungeons & Dragons, Transformers, Trolls, Battleship, and Star Trek. These sets are a great way to encourage educational development in children who are fans of these themes, though sets that are designed to be constructed in a certain way can limit creativity.
Kre-O is priced similarly to Lego and is of good quality that will last. It hasn't been as popular as similar building toys, and as a result, the production of Kre-O has been halted, and many stores have stopped selling them.
Magnetic Tiles
Magnetic tiles or magnetic blocks have been rapidly gaining in popularity in recent years. They are fairly large plastic shapes with magnetic alloys on each side. These magnets attract to those on other blocks so that any number of different structures can be created. Some sets also incorporate wheels and stands to aid in the creation of specific models.
These toys are great for all ages; their large size means they are safe for small children to play with safely-they are too big to fit into a child's mouth, and they have no sharp edges. They are also popular amongst older children, and even many adults find them quite therapeutic to play with.
One of the better-known brands of magnetic tile toys is Magformers, which are headquartered in Michigan. Magformer magnetic tiles are quite expensive, but their quality is outstanding. There are many imitations of these tiles on the market for low prices, but typically their magnets are not as strong, and they are frustrating to build with as they don't hold in place.
Mega Bloks
Mega Bloks are made by a Canadian construction toy company, which is owned by Mattel. These blocks are big and colorful, like an enlarged version of Lego for smaller children. Preschoolers will find these blocks easy to grab and learn dexterity skills when they try to click them together.
Mega Bloks toys are made from plastic that is quite durable, and they are large enough that they are safe for small children to chew on without any risk of them being swallowed. These toys are a great introduction to building toys for toddlers and are a less expensive version of Legos Duplo. They are a good quality toy at a reasonable price.
ZOOB
ZOOB toys consist of plastic pieces that have a ball on one end and a socket on the other. There are just five different types of pieces in ZOOB sets, but these can be connected in as many as 20 different ways, providing many options for children to construct their ideas. You can also get moving pieces for ZOOB kits so that once your child has completed building their structure, they can then use it as a toy to play with.
ZOOB kits are recommended for children ranging from age 5 up to 15 years. These brightly colored modeling toys encourage STEM principles and provide open-ended learning opportunities for children. They are a similar price to Lego, are high quality and durable, and offer a great alternative to brick building toys.
Lincoln Logs
This construction toy is iconic in America and will hold dear memories for many parents that they can now share with their children. Lincoln Logs consist of small log-shaped pieces that have notches in them, allowing them to be slotted together to build cabins and other log style structures. Some sets also include additional building materials such as chimneys and doors or animals to go along with the sets allowing them to be imaginatively played with once construction is complete.
These sets were originally made from redwood, but during the 1970s switched over to plastic. The company soon reverted to wooden pieces, and this remains the case today. These are a nice, wholesome toy for children to play with but are best suited to younger children as the building opportunities are much more limited than those provided by other construction toys, and this will likely cause older children to become bored with Lincoln Logs quite quickly.
Tinkertoys
Tinkertoys were created in the early 1900s, just a few years after the release of Meccano. These construction toys were initially wooden, consisting of wooden spools with multiple holes in, through that long wooden rods could be threaded to create structures. In later years, Tinkertoys also became available in plastic models, with rods and connectors.
These toys are of high quality, with pieces that hold together well. They are aimed at children of school age and older. Despite their simple premise, these toys hold an endless amount of opportunities for children to create and explore, making them a hit even with teens. Tinkertoys do include many small pieces, so they aren't ideal for preschoolers.