From deep shades of navy and turquoise to admiral and azure, blue is a versatile color that's growing in popularity for home exteriors. For blue houses with a deck, finding the right wood stain color to pair with your home can be quite challenging. But when chosen well, a blue house with an attractive deck color can transform your outdoor space and add visual interest.
Selecting the ideal deck colors for a blue house depends on a variety of factors, such as your home's surrounding color palette and the building's architectural features. To help you coordinate the best wood stain color that goes with blue homes, take a look at this helpful guide now.
Deck Colors that Work with a Blue House
Gray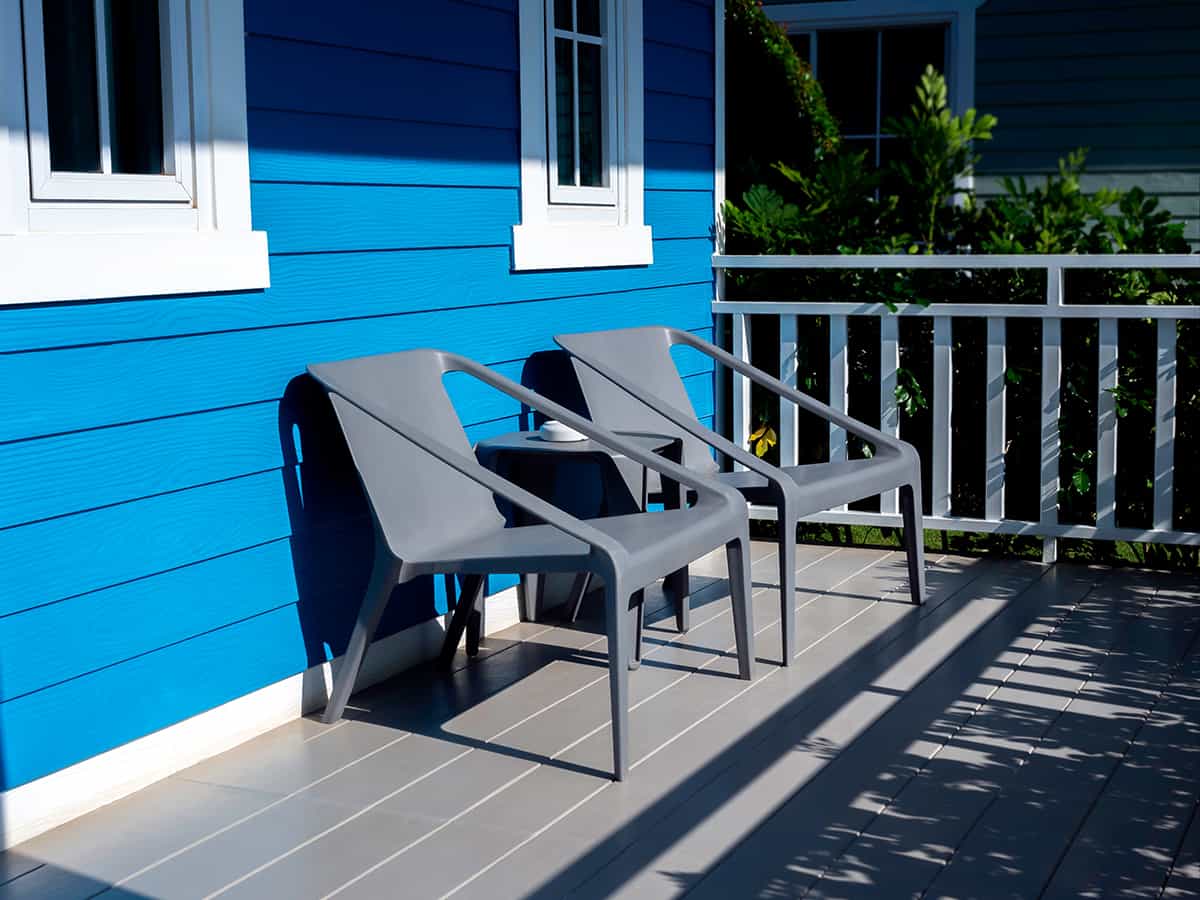 If you're into a contemporary look for your blue house, then consider slate gray stain color for the deck. The first coat of paint should be lighter than the second application so start with slate gray and use a slightly darker shade of gray for the second coating. This neutral stain color goes beautifully with a light blue and dark blue exterior.
What we love about gray deck floors is the ease of application when you're repainting your deck. Since gray is a trending color right now, it makes sense to opt for this color on your wooden deck for added curb appeal.
Black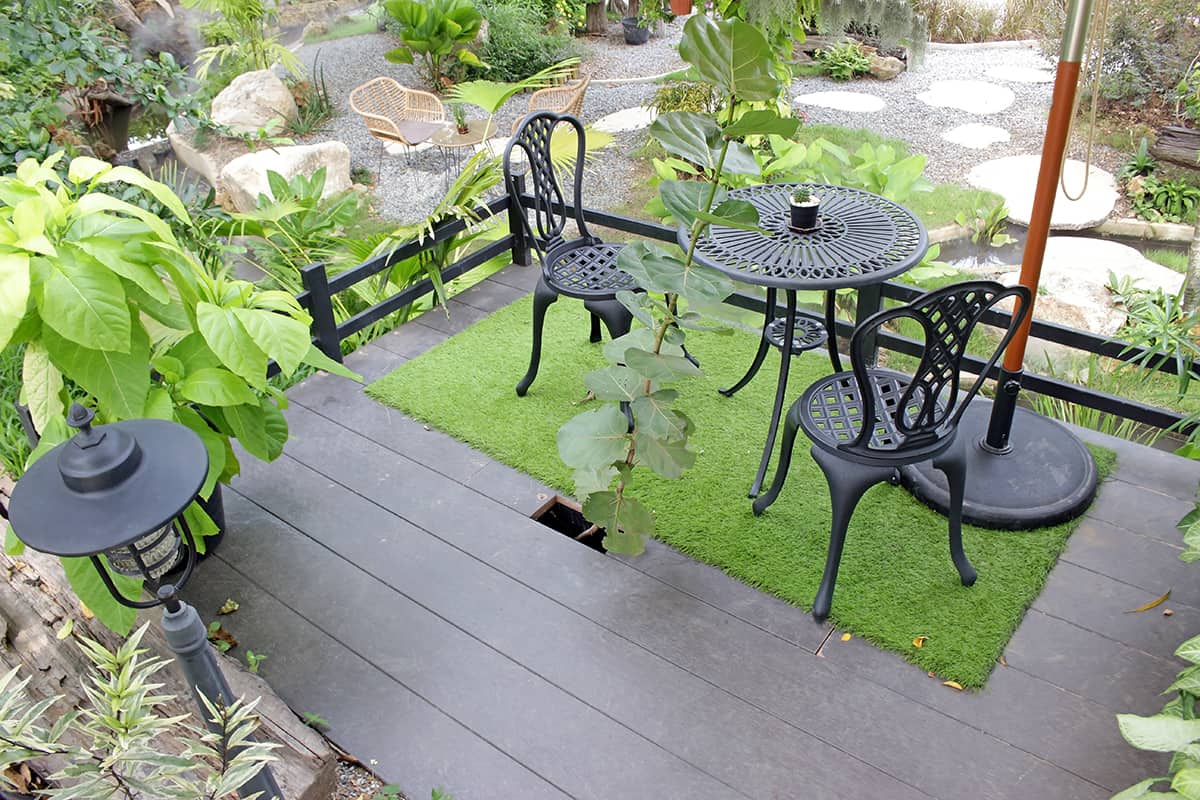 For those who wish to go bolder than gray, we recommend black as an attractive deck color for a blue house. This striking hue allows you to make a powerful statement, plus it brings a strong contrast to your outdoor design scheme.
A black deck floor with dark brown rails are the perfect pairing with a blue exterior as the backdrop. Make sure you include outdoor furnishings in blue or white in order to complement the strong black color. All these combinations work well with a dark blue or grayish-blue house.
What we particularly love about black decks is the practicality of this color. It is not only easy to maintain, but it also reduces glare and soaks up heat. A black deck is in fact ideal in cooler climates as the dark color keeps the patio area warmer.
Blue
Another striking and practical deck color for a blue house is a matching blue shade. This is a monochromatic design, depending on whether you choose the same shade of blue for the deck as the house exterior.
Our advice is to slightly vary the shades by choosing a shade lighter or darker than your home's exterior. This will give your outdoor space some visual interest. Add a neutral stain color for the railing to bring contrast.
If you go with dark blue decking, your outdoor space will get a Mediterranean feel about it. Dark blue is not just characterful, but it also hides stains and dirt better than gray decking. On the flip side, if you opt for light blue decking, this stain color emits a relaxing and tranquil vibe in your outdoor space.
Brick Red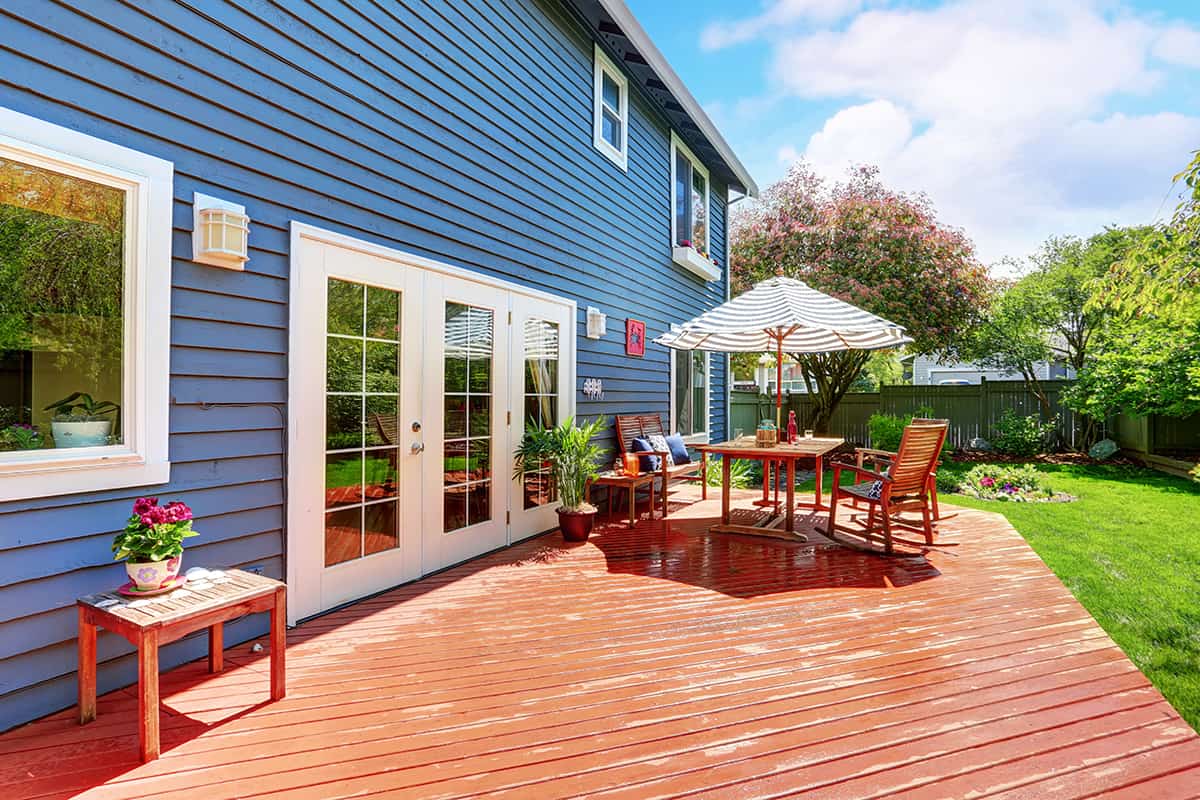 Pairing a blue house with brick red decking gives a visually stunning color palette. This combo gives your home a touch of elegance. Red brick wooden decking draws the eye to the patio area of the house, and it can work well with most shades of blue, from turquoise and indigo to berry and teal.
Rich shades of red go with both light and dark blue. You can choose brick red or cherry red as the most energizing stain color options for wooden decking. These shades provide the perfect backdrop for green landscaping or colorful flowers near the deck. Deep shades of red go with both light and dark blue exteriors.
Mahogany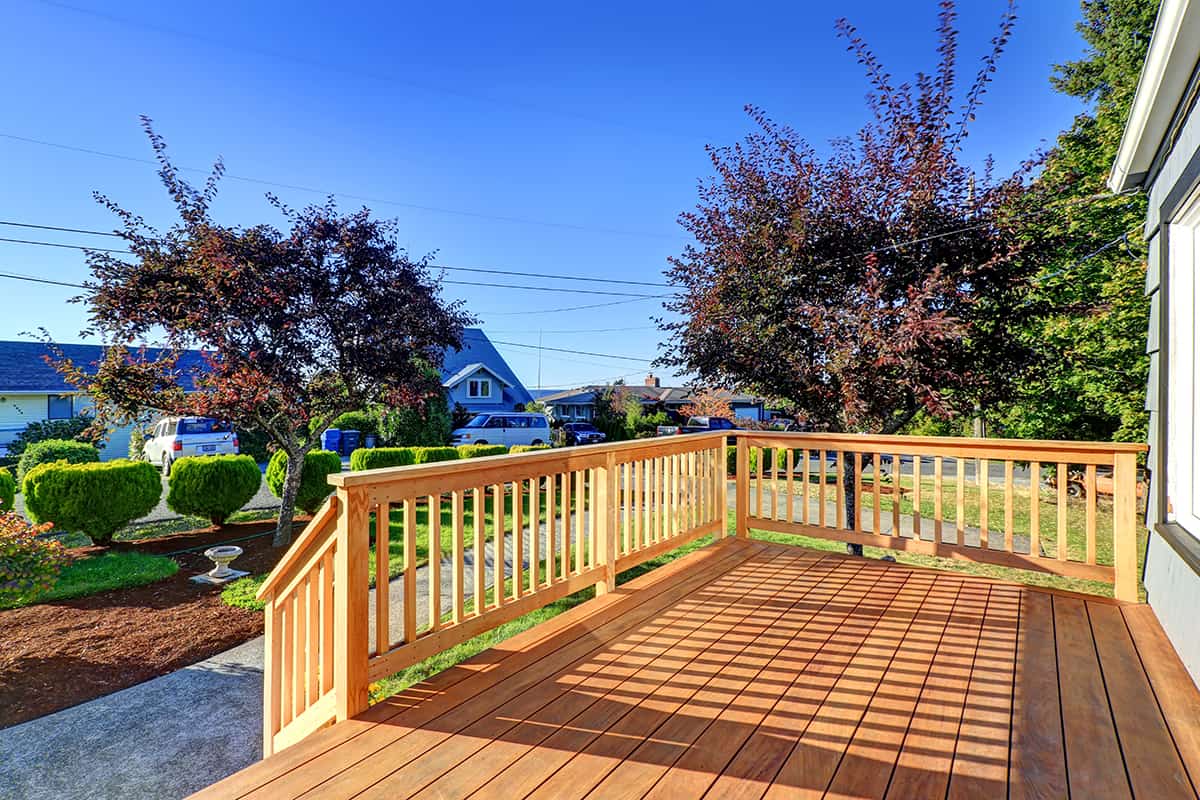 Another attractive deck stain color for a blue house is mahogany. This wooden deck color provides total contrast with a light blue house. In fact, most Cape Cod homes feature a light blue exterior paired with mahogany decking as their classic color pairing.
Mahogany consists of a semi-dark purple dye, which is matched to the pigment of the hardwood deck. The closest color it is associated with is reddish brown.
Chocolate Brown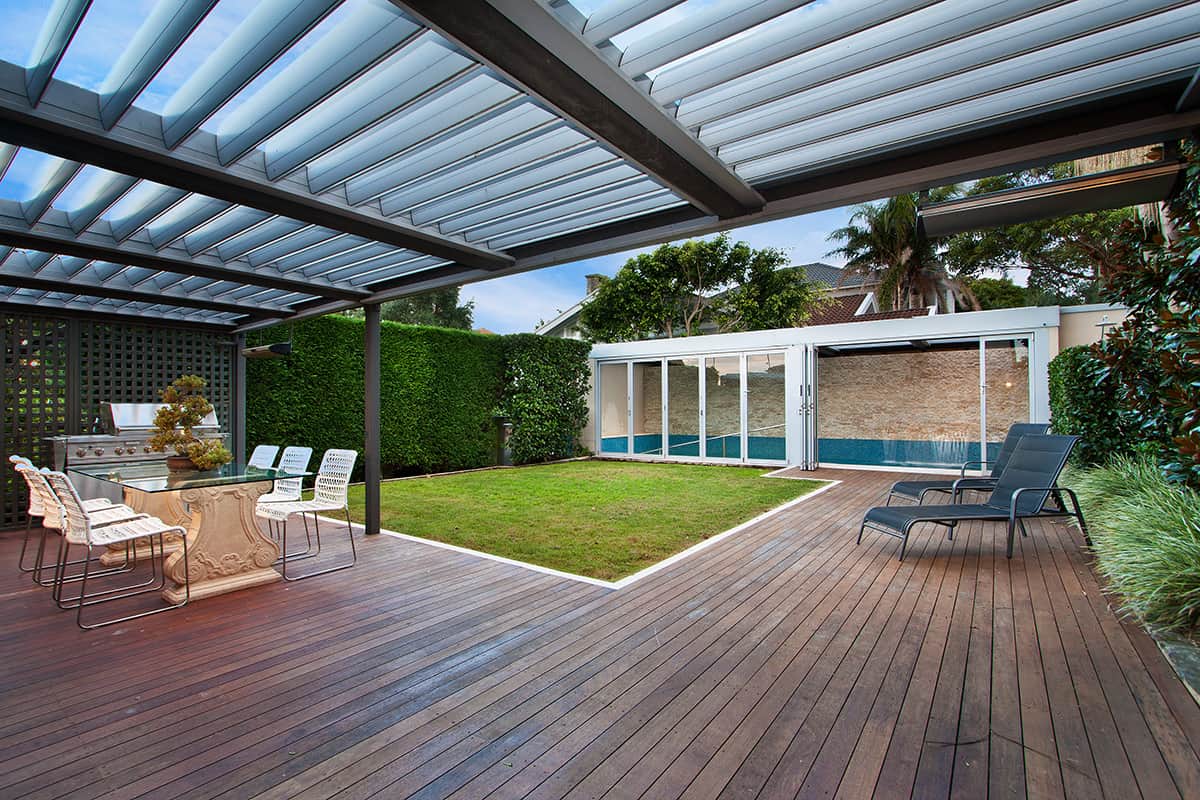 For a warmer wood look than mahogany, how about a dark chocolate brown stain? You can paint your deck flooring this earthy, warm color as it mimics the look of natural wood.
Dark brown paired with light blue provides a down-to-earth and tranquil feel, even though brown is a warm color and blue is cool. The two colors are unsurprisingly popular for traditional homes. But in addition, dark brown does a great job of hiding dirt and stains, thus making it ideal for high-traffic use decks.
Greige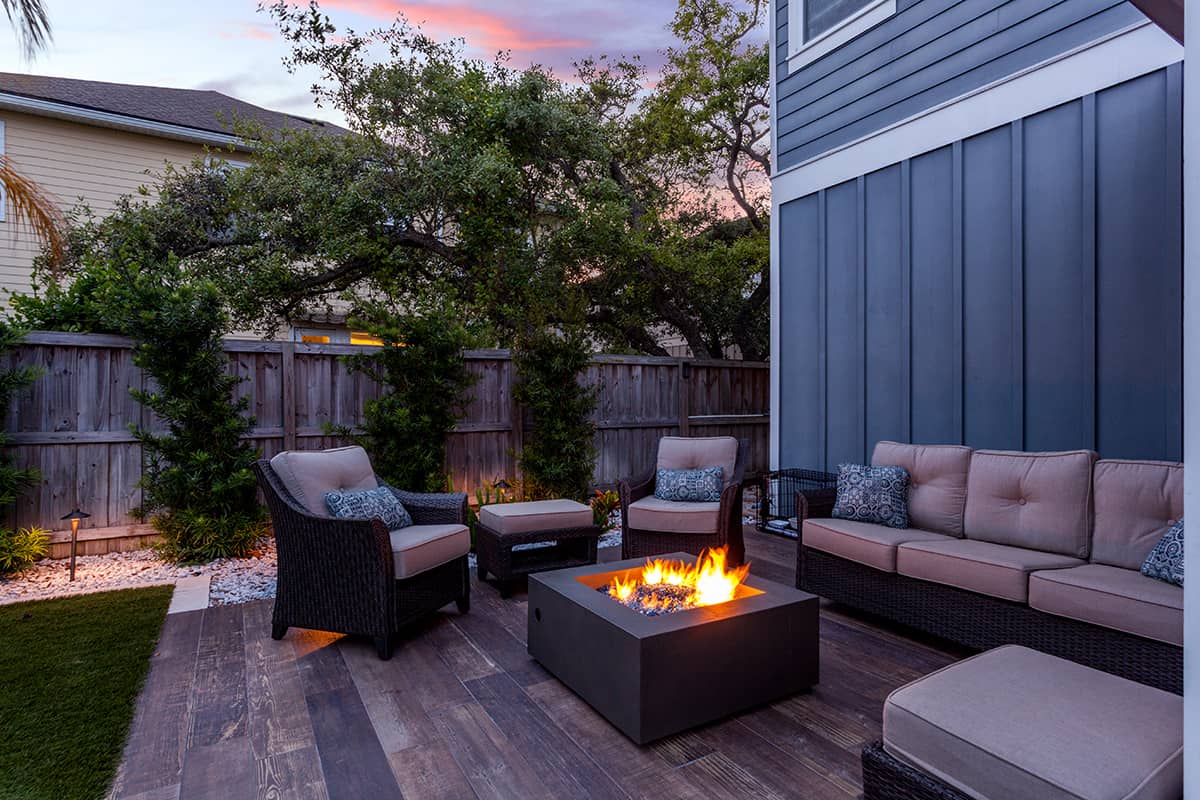 A new, trending color is a blend of gray with beige: greige. This deck stain color is slowly gaining popularity because of its versatility when it comes to pairing it with other warm and cool colors.
Greige is ideal for those who can't decide between gray and beige but at the same time want a neutral stain color for their blue home's decking. This color is especially great with light blue homes. That said, if you have a dark blue home, there is no reason why you couldn't pair it with a greige decking. Greige is a muted hue that does a pretty good job of hiding dirt marks.
Tips for Choosing the Best Deck Color for a Blue House
Pick the Most Durable Stain Color
When choosing your deck stain color, be sure to buy the most durable and high-quality stain, as it needs to withstand the elements. Bear in mind that no stain is permanent so you'll need to restain the deck floor and railings every six months to a year. Regular cleaning is also necessary with periodic upkeep of the wooden deck.
Pair the Color with the Surrounding Landscape in Mind
The surrounding landscape of your blue house can influence the stain color you choose for your deck. Most landscapes are green, which complements red or brown. You may even opt for a more neutral hue like gray or beige to make your outdoor space more inviting.
But it's not just the surrounding landscape that should complement the deck's stain color; the decorative features of your blue home's exterior should connect directly with the overall color scheme by creating balance.
Get a Sample of the Stain Color First
Before choosing a stain color for your deck, take a sample first and test it on a small area. View the sample from different angles at different times of the day to get a feel for the tone. Some merchants even allow you to sample the stain color using an online tool. Keep in mind that wood decking has grains or patterns that influence how a particular color looks.
There is also the stain finish you need to think about carefully. A lighter finish, for example, must be reapplied more often than a darker tone. It is always advisable to apply a transparent stain as an undercoat before painting your wooden deck.
A base coating allows the wood's natural hue to show through, while the finish paint adds more color to it. For a more consistent finish, go for a semi-transparent stain color.
Consider the Amount of Traffic Your Deck is Likely to See
Our final tip is to take into account the amount of foot traffic your wooden deck is likely to receive. Does it get muddy often? If your wooden deck sees high traffic, it's highly likely that dirt will build up on the flooring. Therefore, it's best to avoid light stain colors as they show mud and dirt more than darker hues.
On the other hand, if your wooden deck doesn't get much foot traffic, you can always opt for lighter stain colors.
What is the Best Color for Deck Railing?
It's not just the deck flooring color you need to think about. The railing is an important part of the deck, which needs to complement and blend in with the floor. Whether you prefer a monochromatic look or a contrasting color to the floor, your deck railing should work with your home's exterior and interior color palette.
Choose a visually pleasing color for the railing, as you'll be looking at it often from your windows. As the deck railing serves as a backdrop to your home's outdoor environment, dark brown stain works best with light brown or mahogany flooring. On the flip side, if your deck floor is dark brown or red, lighter rail colors, such as greige or gray, will blend better with the surroundings.