Crown molding is a traditional interior design concept that adds visual appeal to any room. But aside from its aesthetic purpose, crown molding helps raise the ceiling by giving the impression of height. This architectural beauty frames the adjoining walls and ceilings in order to make the room appear larger and more elegant.
If you want to make a luxurious statement in your home, then consider the following crown molding color ideas to enhance your space:
Popular Colors for Crown Molding
White on White Walls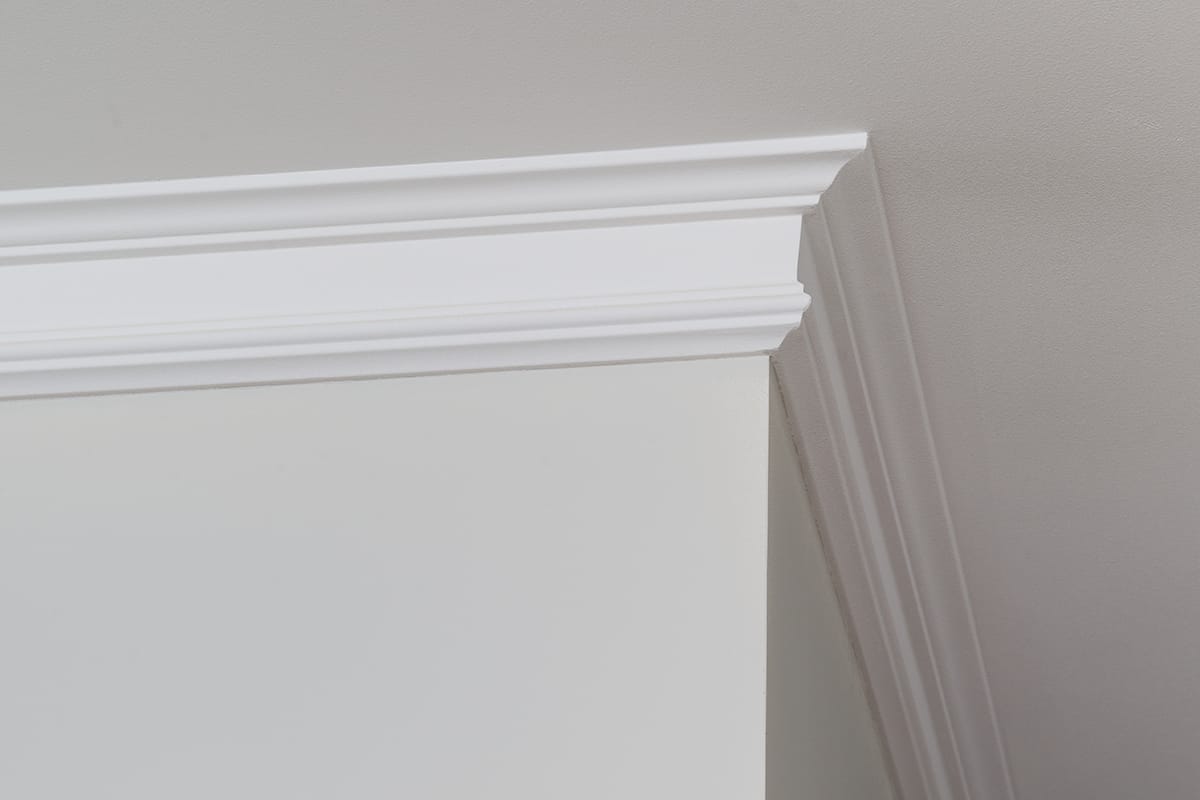 White is the most common crown molding color choice. It is in fact the safest color option to use as white goes with everything. If you're not keen on crisp white paint color, but still want to match it to your white walls, then opt for off-white or cream instead. Any of these combinations will work perfectly with white walls.
White on Blue walls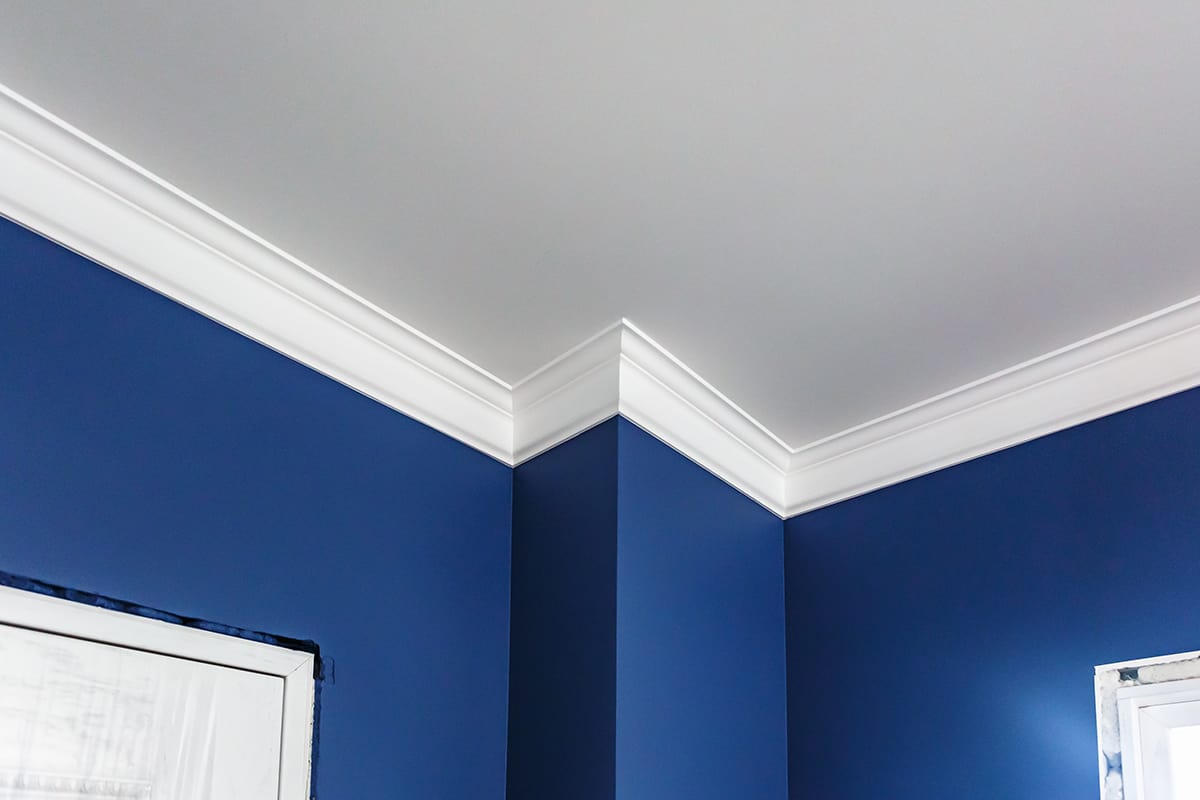 For bold-colored walls like blue, we still recommend using white crown molding as an eye-catching contrast. And as for the baseboards, keep the molding in white as a beautiful frame from the ceiling to the floor. This color combo works best in master bedrooms that have blue walls.
Blue on White Walls
Any shade of blue for the crown molding makes a popular choice in a modern interior. When paired with white walls, you can make your blue molding stand out in your bedroom or living room. This popular trend is especially favored in coastal-themed homes. We especially like light blue crown molding as it's a subtle choice for white walls.
White on Grey Walls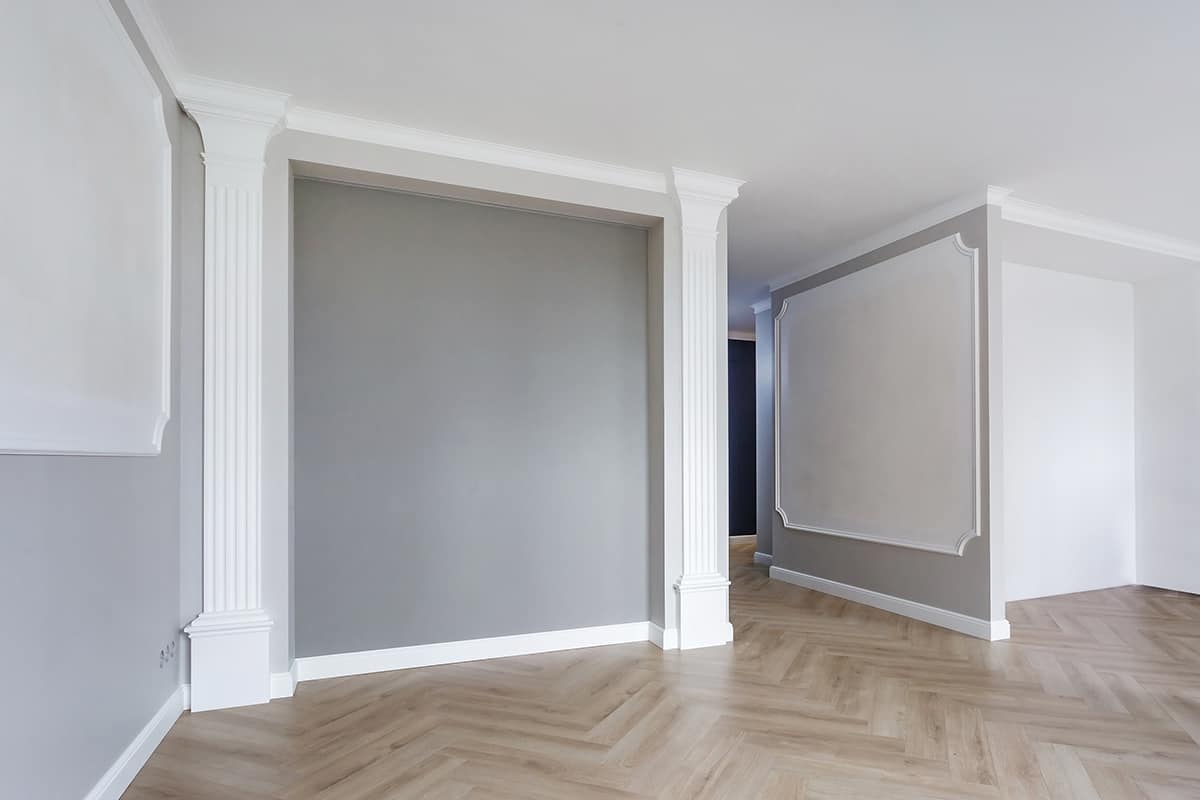 In living rooms with dark grey walls, white crown molding often works best over other colors. Since both are neutrals, pairing your grey walls with white crown molding creates a simple yet visually pleasing look. This works especially in formal living rooms and dining rooms as the focus is kept on crown molding.
To prove how beautiful white molding works next to grey, just take a look at this example of an elegant yet simple room. The white molding does a great job of framing the walls from the ceiling to the floor.
Grey on Brown walls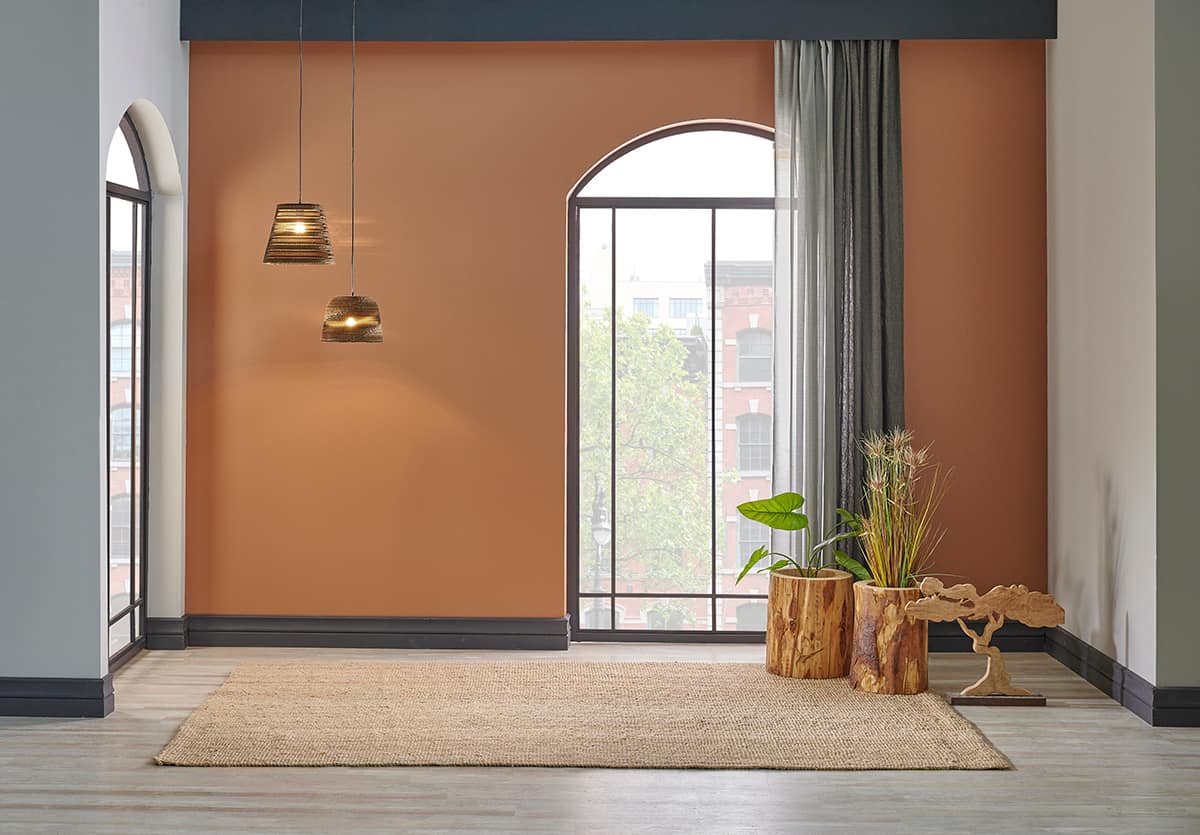 While we're on the subject of neutral colors, grey is a great color for crown molding as it goes well with brown walls. However, you must balance the two colors by either painting your crown molding in light grey, so it highlights the dark brown walls or paint the crown molding dark grey if your walls are light brown.
This will help keep the eye on the crown molding. This color combo is a blend of cool and warm tones that work in both bedrooms and living rooms.
Black on White Walls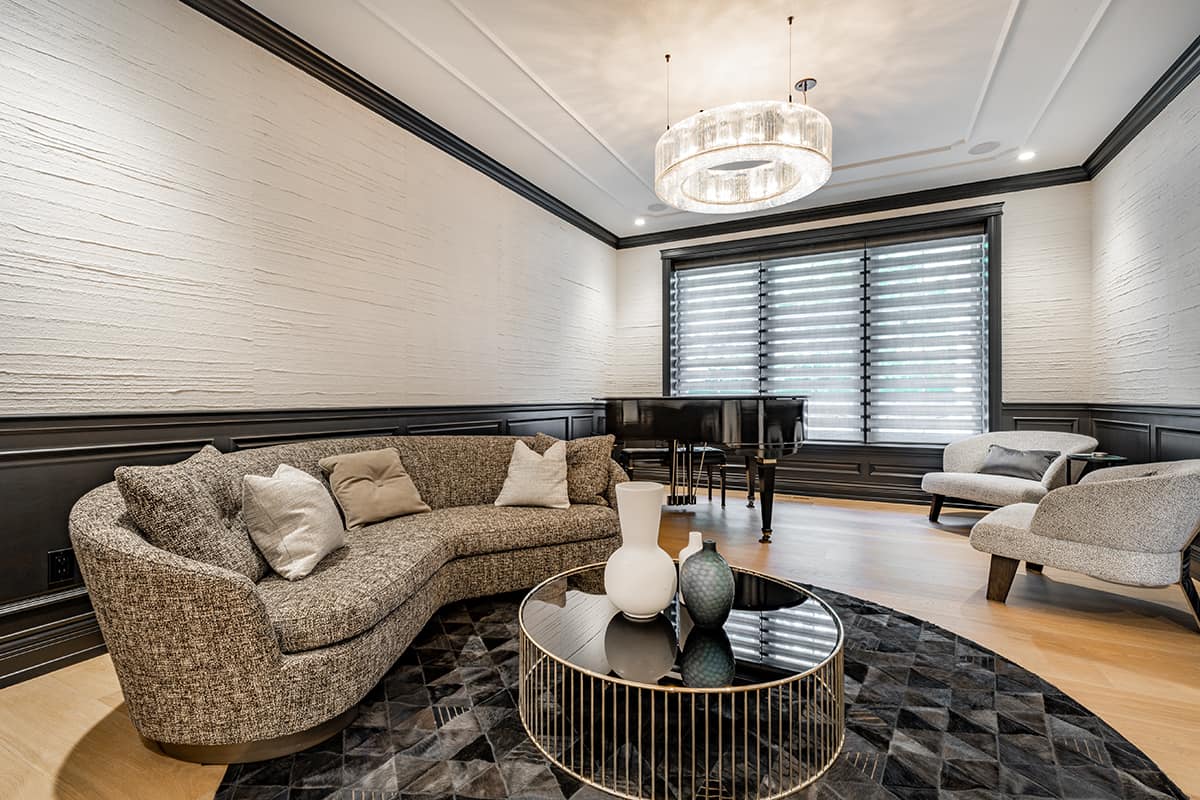 In older homes, the pairing of black and white creates a rustic and attractive design. This elegant color combination creates a cohesive look, especially when paired with black and white furniture or decor. Since white is a neutral paint color for the walls, the black crown molding and baseboards will help highlight the rest of the interior and evoke a warm atmosphere.
When black crown molding is used strategically, it can make a traditional living room sophisticated.
In this elegant living room, the grey furniture works in harmony with the white textured walls, black crown molding and baseboards.
Natural Wood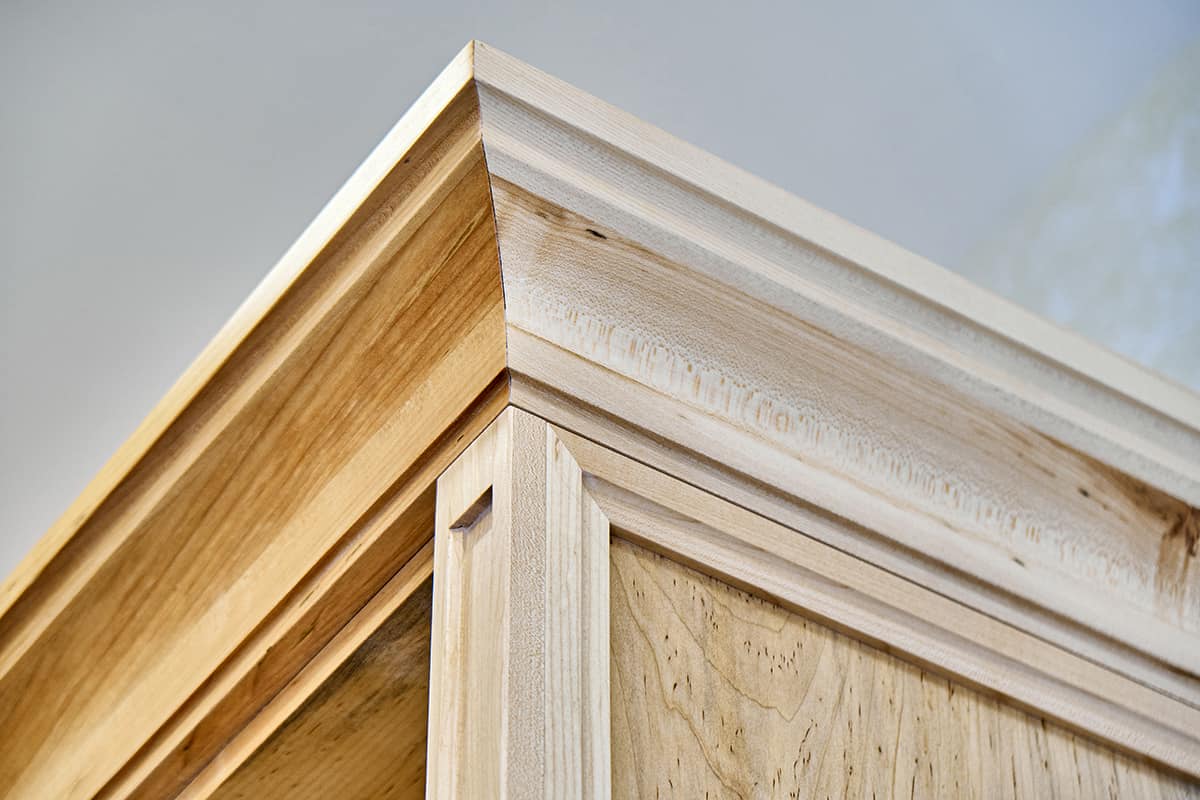 While natural wood crown molding isn't as commonly used as white, it can still provide a unique aesthetic in traditional interiors. The best thing about wood crown molding is that you don't need to make any special preparations before installation. All you need to do is choose the stain color based on the rest of the decor.
Medium to dark stains tend to be heavier on the eye, while golden or light-colored stain colors brighten up the room. Once you've selected the color for the wood crown molding, measure the area and install.
For white walls, unstained wood crown molding is often the preferred choice as it helps keep your space feeling fresh and airy. For darker walls, stain your wood molding in light colors as they are equally pleasant to look at. This idea is perfect for rustic-style interiors.
Is Crown Molding Still Popular Today?
While it's true that crown molding is mostly associated with traditional interiors in stately homes, it has actually never gone out of style. This architectural feature not only adds value to a home but it also has the power to create a striking visual statement.
If you like the idea of an upscale interior but don't live in an older house, you can still use crown molding in any room in your modern home as it's an architectural detail with definition. This distinctive wall and ceiling feature is easy to install and comes in pre-existing shapes, hence the reason so many homeowners still prefer to use crown molding in their homes.
Should Crown Molding Color Match Throughout the Interior?
The color of your crown molding doesn't have to match throughout your rooms, but there are some exceptions. While you may choose different paint colors throughout your house, the size and style of your molding should still be the same in all your rooms. That said, some people might not be keen on using different crown molding colors for each room, as this may create an incohesive look.
Can I Install Crown Molding in All My Rooms?
Crown molding is an aesthetic addition to the walls. In living rooms where we spend a lot of our time to entertain guests and watch TV, it makes sense to invest in this architectural feature. Crown molding is often used to separate the walls from the ceiling so you may choose to install them in every room of your house or just in the living room and dining room for a formal look. Either way is fine as long as the style and size of the crown molding remain the same throughout the rooms.
Some people don't want the unnecessary expense of installing crown molding in their bedrooms as these areas aren't seen by guests. However, if you want to create a luxurious looking bedroom, these wall features will achieve the desired result. It is not necessary to put them in your children's bedrooms, but you might want to add them to your master and guest bedrooms as an elegant feature.
Bathrooms and laundry rooms are the other areas that aren't commonly seen by visitors so you can skip the crown molding for those rooms.
Should Crown Molding Be Darker Or Lighter Than My Walls?
Crown molding is most often a lighter color than the walls as the aim is to draw attention to this structural feature. That said, you may paint the molding the same color as your walls in order to create a balanced look from the floor to the ceiling. The most common color to paint the crown molding is white, as this neutral shade helps make the room appear bigger.
By using a lighter crown molding color than the walls, you are free to paint your walls any bold color you like. However, if you want to bring the focus to other features of your home, such as the fireplace or wall decor, you may choose to paint the crown molding a darker color than the walls.
Try a stark color like black for the crown molding and white for the walls to create a sense of depth. In older homes, dark mahogany or brown color for the crown molding brings out the ornate details of the architectural feature.
So the answer to the question of whether crown molding is darker or lighter than your walls depends on whether you want the crown molding to stand out as the center of attention or highlight the other features of your room instead.
Should Crown Molding Color Match the Baseboards?
To create a unique aesthetic, many homeowners choose to match the color of crown molding to the baseboards. As you may have realized by now, white is a popular trim color for both baseboards and crown molding, but you may even go for black for a stark visual effect.
The important thing is to make sure the crown molding color complements the baseboards, even if you don't paint them in a neutral color. Don't be afraid to try brighter tones and let accent hues stand out on their own. For example, a yellow baseboard will go perfectly well with brown or beige crown molding as all these color options have warm undertones.
So should crown molding color match the baseboards? Not at all! You can pair any bold or neutral color for your crown molding and baseboards based on your interior's style and layout.