Crown molding is the decorative feature you will notice around the upper edge of walls in a room, which covers the joint between wall and ceiling. This is a great addition to rooms if you want to create a feeling of grandeur, luxury, and architectural elegance.
The size of crown molding you should use in a room will depend on the height of the walls, and the total room size, along with the atmosphere you want to generate in that room.
Crown molding, which is too wide, can make a room look dwarfed and will create odd proportions in the space. Equally, crown molding, which is too narrow, can look meager and insubstantial in a large room or a room with tall ceilings and can create an unsatisfactory impression.
Here we will look at appropriate sizes of crown molding in various types of rooms with different ceiling heights to help you achieve balance and suitable proportions.
Find below the straightforward answer.
For the ceiling height of 8 inches in height, the crown molding sizes are between 2.5 and 6″.
For the ceiling from 8 to 9 inches in height, the sizes of crown molding should be from 3 inches to 7.5 inches
For the ceiling of 10 inches and above in height, the crown molding sizes should be 4 – 24″ for a casual room and 7.5 to 24″ for a formal room respectively.
You can also find a great diagram here that sums up the most important details about crown molding sizes.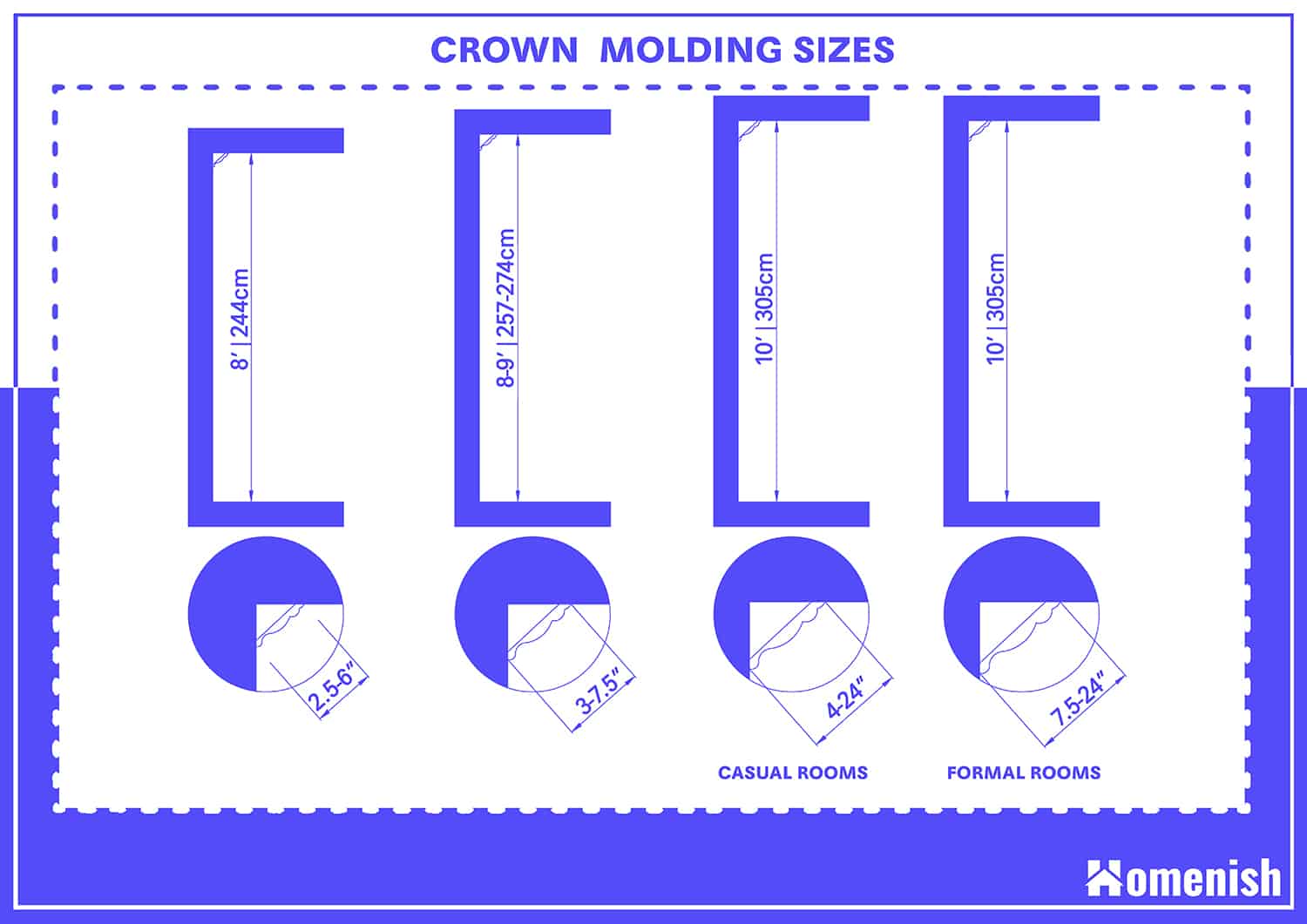 Eight Foot Ceilings
The standard ceiling height in most residential properties is eight feet. If your room has a ceiling height of eight feet or less, then you will want to install a narrow crown molding so that it remains in proportion with the height of the walls. The size range for crown molding on walls of eight feet high is two and a half inches to six inches.
The square footage of the room and the formality of the room will help you to decide whether your crown molding should be towards the lower or higher end of this range. A large room will be well suited to a wider crown molding, while a smaller room could be overwhelmed by it. Consider the purpose of the room and the feeling you want to elicit. A grand dining room would benefit from crown molding at the wider end of the range to give it a more luxurious feel, while a casual living room may be better suited to a thinner and more subtle crown molding.
Nine Foot Ceilings
Rooms with taller ceilings of nine feet in height should have crown molding fitted, which ranges between three inches and seven and a half inches in width. Once again, the room size and the level of formality you want to achieve will impact which end of the scale you lean towards. In formal settings, you can also add picture molding to build up the layers of crown molding, creating a cornice.
Some ceilings in custom or non-standard homes will have a ceiling height of between nine and ten feet. In this instance, you should round up the height of your ceiling to the nearest foot but keep it to one end of the scale. For example, if your ceiling height is 9 foot and four inches, round this figure down to nine feet and keep within the range of three to seven and a half inches wide for your molding, but as the ceiling exceeds nine feet, you should veer towards the higher end of that range and opt for crown molding closer to seven and a half inches than three inches.
The reverse would be true if the ceiling measured closer to ten feet. In that case, round up to ten feet and stick to the lower end of the width range recommended for that ceiling height.
Ten Foot Ceilings
If a room has a ceiling height of ten feet or more, then it will need crown molding with a minimal width of four inches, up to a maximum of 24 inches. The size of the room is a less important deciding factor in choosing crown molding for rooms with very high ceilings because the height of the walls is such that they can bear very wide molding without looking out of proportion. The purpose and use of the room is a more important consideration.
For informal spaces with very tall ceilings, the crown molding should be a minimum of four inches, while for more formal rooms, it would need to be at least nine inches wide to make an impact. In a room where you really want to make a dramatic statement of opulence and splendor, for example, in a ballroom or formal living room, then crown molding and picture molding are used together to create a maximum width of 24 inches would be appropriate.
Why You Should Have Crown Molding
Crown molding comes in various profiles, from elaborately detailed designs to plain or flat designs. The style you choose should be in keeping with the interior decor style of your room and the overall style of your property. Traditional homes or houses with an old, antique style will be best suited to more ornate profiles, while more modern homes look best with simple crown molding. Some minimalist-style homes may prefer not to have crown molding at all.
Custom crown molding can be made to match original crown molding, which exists in other rooms in your home if you want to restore your property to its former glory. This type of crown molding will be made from plaster. Standard crown molding, which you can buy in lengths from DIY stores, will be made from solid wood, fiberboard, or polyurethane. It can be nailed or glued to the wall and ceiling and painted in a color of your choice.
The benefit of crown molding is that it adds architectural style to a room and can adjust the entire tone of the space. Crown molding also offers a practical solution to hide the joins between a wall and ceiling. If you have a white ceiling and have painted your walls in a bright or dark color, then it is likely you have some imperfections around the ceiling where your paintbrush smeared paint where it wasn't supposed to go, or paint seeped through your decorator's tape.
A great solution to hide this and get a more professional finish is to paint your crown molding before you install it and then fix it in place. This will result in clean lines and a pristine, perfect finish you can be proud of without having to hire professional decorators.