Installing crown molding gives any room in your home an elegant touch. But this option is often quite expensive and takes time to install. This is why many homeowners are now turning to crown molding alternatives to give their interiors an updated look. Crown molding is, after all, a little outdated now, but there are plenty of alternatives to recreate the same look as crown molding. Most are cheaper, quicker to install, and require very little equipment.
If you're looking for affordable crown molding alternatives, you've come to the right place. We will delve into this topic by explaining what crown molding is, its drawbacks, the best substitutes, and some frequently asked questions at the end of the article.
What is Crown Molding?
The term molding is generally used for any type of trim inside a home. When we talk about ceiling molding, however, the term crown molding becomes relevant here. Crown molding is a type of cornice created from decorative molding. This molding is installed on the intersections of the interior walls. It is also used on pilasters, cabinets, and windows.
The main reason for crown molding trims is to cover gaps and defects caused by different building materials. This was the original purpose of crown molding, as it provides a clean look where the space between the ceiling and walls meets. If done correctly, crown molding draws the eye to the trims around the ceiling and makes it appear higher than it actually is.
Why look for Crown Molding Alternatives?
A well-built house must look finished. The lack of crown molding or decorative trims can make an expensive home look rather poorly designed or incomplete. But there is no denying the high expense of crown molding installation. Not all homeowners can afford to add these elements to their homes, especially when you take into account the cost of the materials and the labor expertise.
Plaster crown trims, for example, are costly and made to order. They are heavy in weight and can easily crack. This DIY-unfriendly crown molding needs to be installed on the back of fresh plaster, thus making it very difficult to apply.
There is also wood molding that poses its own drawbacks. Cutting and installing this decorative trim requires skilled carpenters. The material can also swell or shrink during temperature fluctuations. Unlike plaster, even the most elaborately designed wood crown trims are impossible to create from a single board piece. These crowns need to be assembled in different layers in a monolithic decoration design.
Another problem with wood crown molding is that if you use real wood, it can get very expensive. When you buy 10-foot long boards, by the time you've cut them to size, you'll end up with a lot of waste.
The crown molding size and its alternatives need to be calculated properly based on the room height. If the trim isn't sized correctly and disproportionate to a wall's height, it can have a negative effect. For instance, if it's too small, the room will feel heavy from the top. If the crown molding is too large, it can make the room feel closed in by bringing the ceiling down.
Most homeowners who are on a tight budget or don't want to stay in the same property for too long can't invest such exuberant amounts into installing crown molding. There is also the possibility of personal tastes changing over time. This is why crown molding alternatives are a better option, as they retain the elegance of your home without the added expense.
7 Crown Molding Alternatives
1. Picture Molding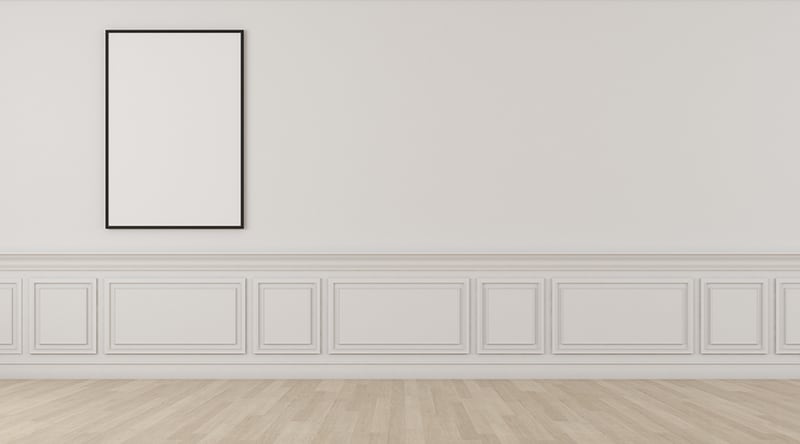 The look of crown molding can easily be mimicked by using picture molding. This thin, wooden molding is normally used to divide a wall through a two-toned look. Picture molding is cheaper than crown molding, and to create the same look as crown molding, you simply paint the picture molding white before attaching it to where the wall meets the ceiling.
The installation can be done using small nails. Once you've secured the first line of picture molding to the wall intersection, secure another strip around 3 inches below before painting the gap between the two strips white for a finished look.
You can buy strips of picture molding from most hardware and home improvement stores. This crown molding alternative will create a more finished look to your rooms. Picture molding will suit all budgets and looks exactly like high-end crown molding.
When it comes to installing this molding, you don't have to worry about making a mistake during the installation as all you need to do is paint the molding as well as the wall section prior to installation. This will make the task a whole lot easier!
2. Caulk and Paint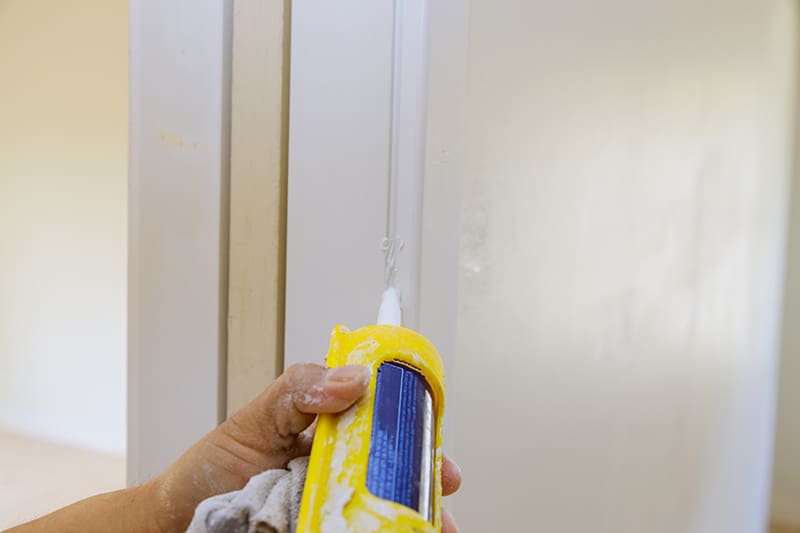 Instead of installing crown molding, consider painting the stop strip of your wall. Simply caulk the gap, smooth it and then paint it. This is by far the most inexpensive method of giving your room an elegant look without spending much money.
To go one step further, you may choose to stick thin accent strips after painting the edges of the top walls. To do this, you must measure the strip's length and use a tap or make a line to get the accent strip as straight as possible before painting over it.
One word of advice is not to go overboard with the accent strip and pick colors that match or complement the walls or your room's overall decor. In case you're unsure of the best paint colors, most paint stores have color guides to help you plan your upgrading project.
3. Polyurethane Molding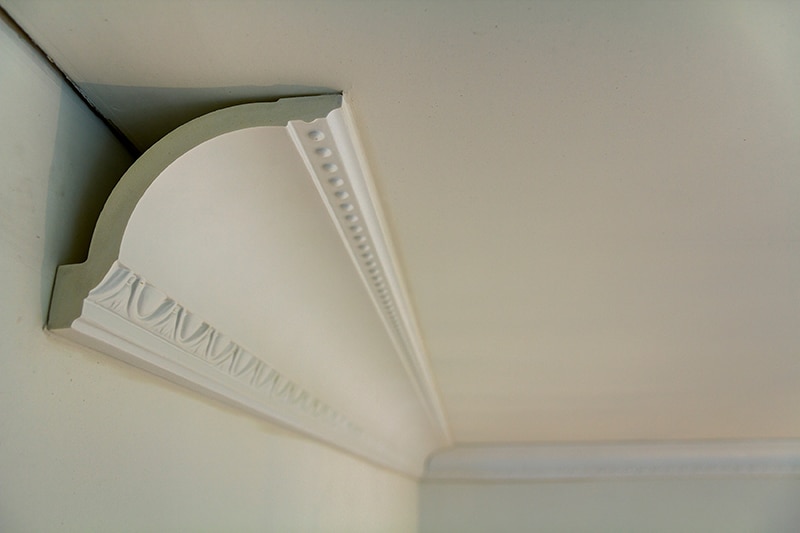 Another inexpensive crown molding substitute that boasts the same visual quality is in the form of polyurethane foam strips. These molding strips look very similar to wood and are available in different designs. If you want to give your look a little character – but without breaking the bank, you can always opt for this crown molding alternative.
Polyurethane foam strips can easily be installed without any professional help. Simply install the clips on the wall before cutting the strips to the desired length. After installing the strips, you may paint them if you wish. Your room will be complete without much effort on your part!
4. Wallpaper Borders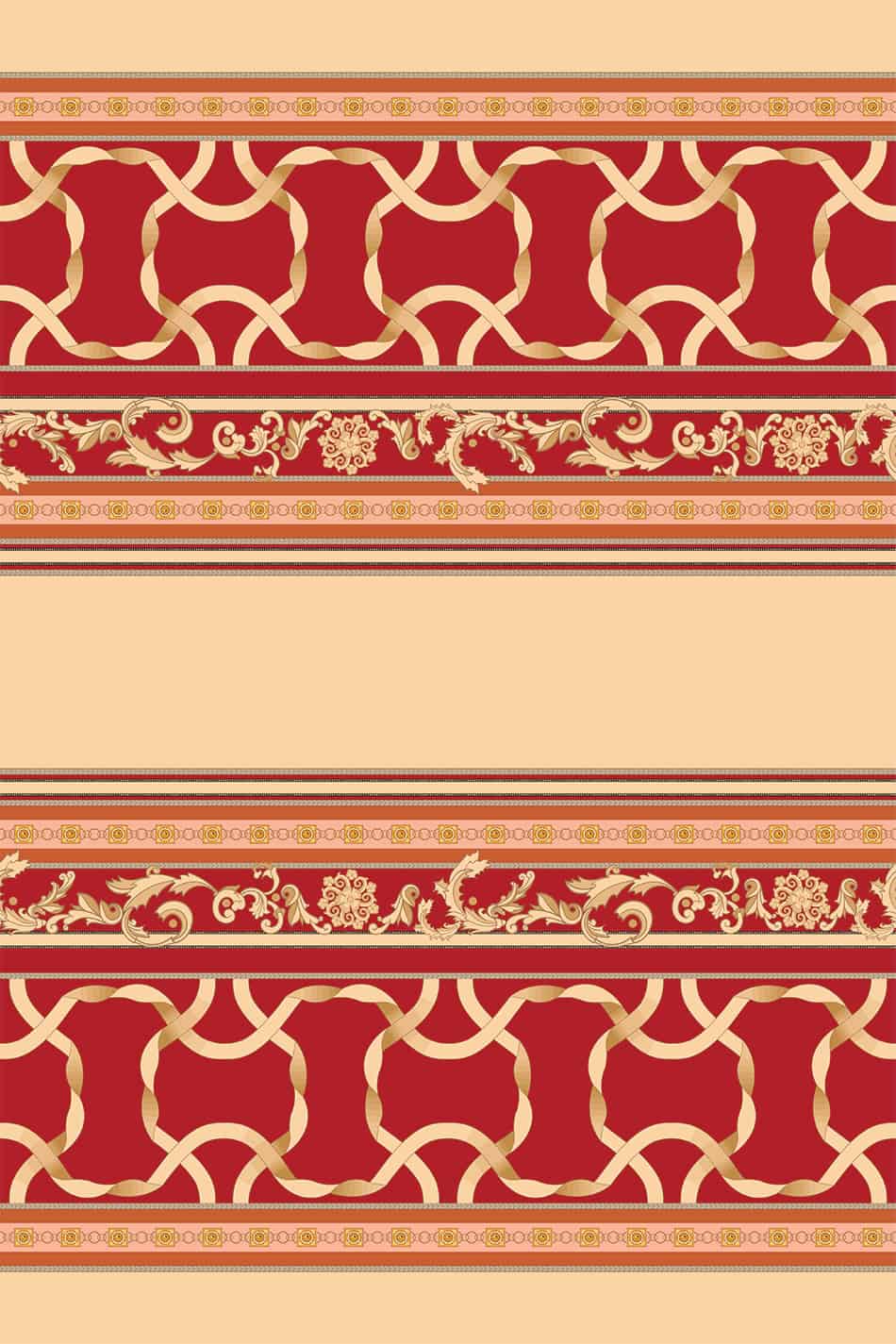 Wallpaper borders are extremely easy to install and hassle-free crown molding alternatives. No need to spend long hours installing these borders like you would with the traditional crown molding. These borders look just as equally attractive plus you can purchase wallpapers that match your wall color.
These crown molding alternatives can be used on both painted and wallpapered walls; just be sure to match the pattern or color to your existing decor.
5. MDF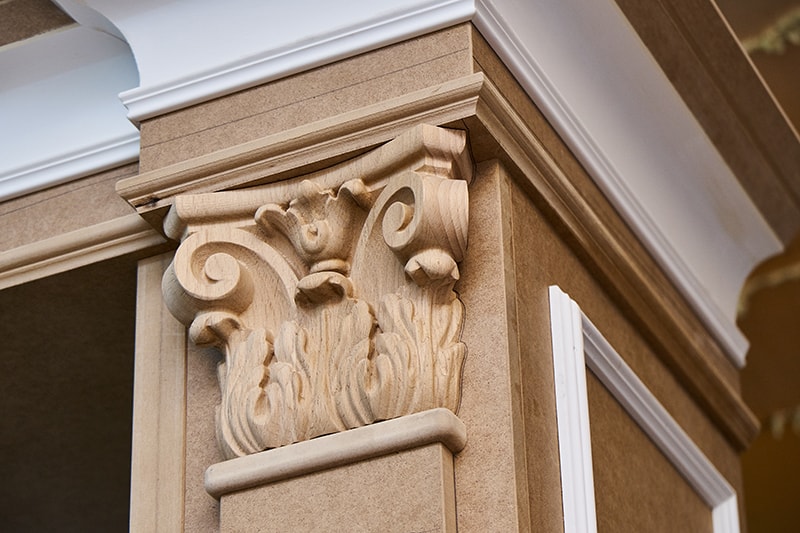 Medium density fiberboard or MDF is a composite wood product that's highly popular as an inexpensive alternative to wooden kitchen cabinets, closets, and even tables. It is, therefore, not surprising to see MDF appearing as a better alternative to crown molding.
Rather than installing expensive wood molding, you can opt for the next best thing in the form of MDF. This material is made of wax, sawdust, and resin that are mixed together at very high temperatures and turned into strong panels.
MDF is highly versatile and can be made into any shape to match a room's interior design. It is also very easy to paint. In terms of weight, medium-density fiberboard is much more practical than wood crown molding since the panels are much lighter. This means you can install them without much physical effort and in the quickest possible time.
The only downside to MDF is its susceptibility to scratches. However, as a crown molding alternative, you won't need to worry about this issue once you've installed the panels on your top wall.
6. Peel and Stick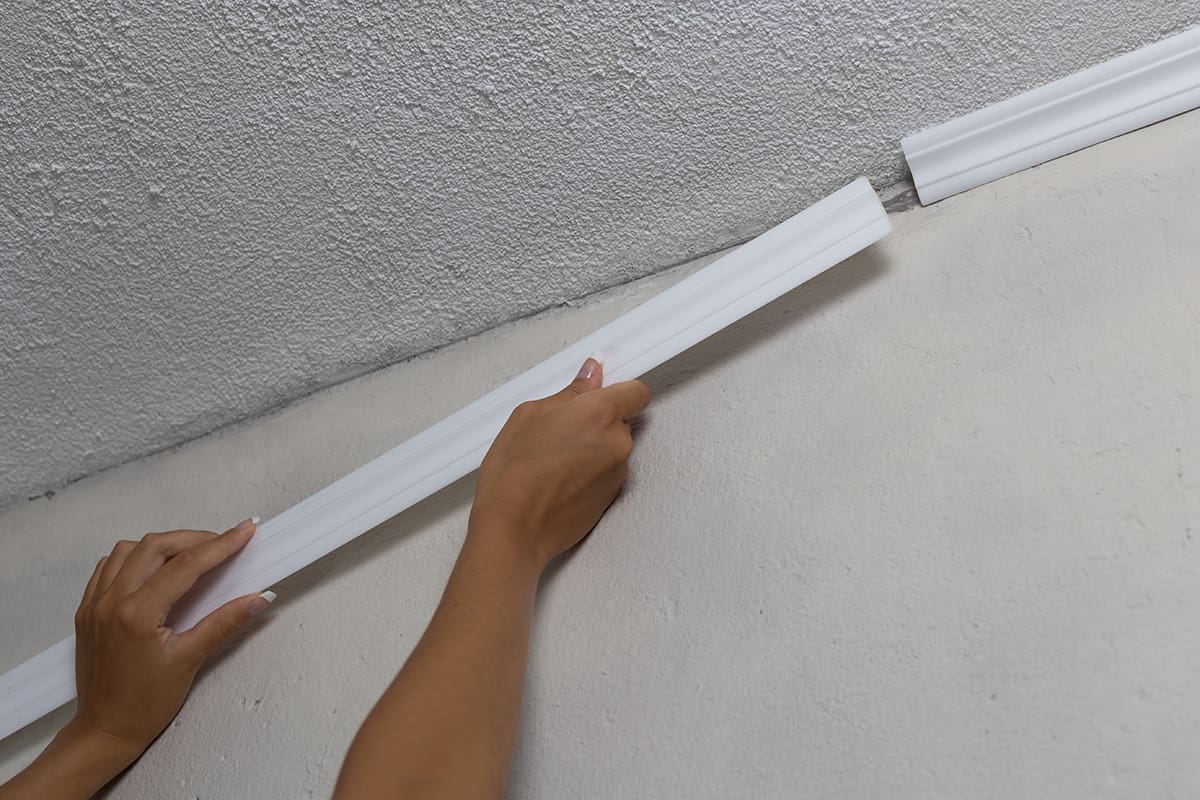 Peel and stick is one of the most popular crown molding alternatives that are seen in both modern and traditional homes. Many homeowners prefer this method as it's easier to work with and much cheaper.
Peel and stick is also referred to as faux molding and consists of an adhesive strip at the back of the material with a thin plastic cast at the front. These strips are designed to look just like the real option.
To use peel and stick, simply peel off the plastic-wrapped material from the product, measure the walls' length and stick the product to the wall. It's as easy as that!
With peel and stick, you also have the option of cutting down the frame to fit the trimmed edges. The frame can be cut using scissors. This crown molding alternative is the quickest and most cost-effective method to make your house look elegant and upscaled.
The only drawback to peel and stick crown molding is that the product isn't very sturdy or robust as cheap materials are used to produce it. Over time, the adhesive that holds the product to the walls may lose its strength.
To overcome this problem, you can improve the quality of the adhesive by adding a stronger glue. Just make sure you don't use hot glue as this can melt the molding. A good option is to look for a peel-and-stick product made from polyurethane, which is a more durable material and mimics the look of wood.
7. Rubber Molding
Another cheap alternative to traditional crown molding is rubber molding as it's a very lightweight and flexible material. This DIY-friendly option is ideal for rooms that aren't rectangular-shaped like circular ceilings or doors. But before you consider using this crown molding alternative in your home, make sure you use a strong adhesive that's suitable for rubber.
During the installation process, be careful not to scratch or break the rubber molding. It is, after all, very fragile. Keep in mind that rubber molding isn't very sturdy, so don't expect it to be of top-notch quality. Once you've installed it on your walls though, it will work just fine as a temporary solution.
FAQs
What are the uses of crown molding alternatives?
Crown molding alternatives are extremely versatile and can be included in any interior design. Some of the surprising uses for crown molding alternatives include:
Upgrading baseboards and casings near windows and doors: aside from installing these alternatives as decorative trims on the top corners of walls, you can also cover the gaps in your flooring and protect it from moisture or dust by using this option. Another critical use for these alternatives is in casing areas near the doors and windows. The unsightly space that runs along the window or door's frame length can easily be transformed by installing cheap crown molding alternatives, such as MDF strips.
How do I install crown molding alternatives?
With a few simple tools, including laser level, nail tacks, glue, paint and paintbrushes, you will be able to install faux crown molding. Some alternatives like stick and peel or MDF strips come as ready to use kits so you won't need to buy any separate installation tools.
All you have to do is simply clip or stick the crown molding alternative to the desired area then paint over it if you wish. For peel and stick, just cut the strip to fit the length of the wall and glue it using an adhesive or glue gun. Some other alternatives only require nail tacks with a hammer.
Conclusion
Crown molding alternatives are hassle-free and easy-to-install options that save you time and effort. Whether you choose wallpaper borders, picture molding, or any other substitute, you won't require the help of a professional to install any of these alternatives. Wallpaper borders, for example, come as ready-to-use kits, so you simply stick them along your wall intersections.
These borders can even be painted to match the color of your walls. Similarly, picture molding is readily available in most hardware stores, and installing it only takes an hour or two.
In general, any of our suggested list of alternatives to crown molding will save you time and money while retaining the aesthetic appeal of your interiors.