The walls of your home office are blank canvases that crave creativity. This space needs to function as a motivating and productive room where you can think clearly and focus on your tasks. This room also has the potential to show off your personal sense of style, which is why you must think carefully about your wall decor.
To help you create a better work environment for focus and motivation, we've compiled a number of unique wall decor ideas for home office with some great products you can buy online.
1. Stick Inspiring Quotes On Your Walls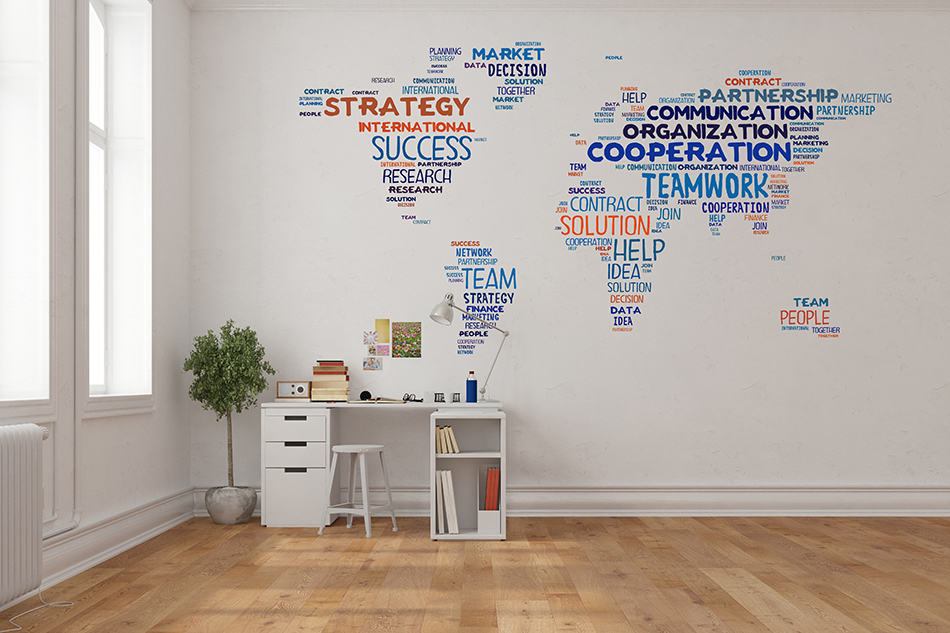 Wall quotes or decals are the best methods of decorating your home office walls. You can get as creative as you want here with images of your role models or quotes. These decorative stickers don't cost much and you can change them as often as you like to give your office wall a new look. Adhesive wall quotes can be as bold or simple as you like. The main idea is to give your workspace a professional and inspiring look using a motivational statement as shown in this example. It is sure to grab the attention of your visitors!
2. Display Clocks in Different Time Zones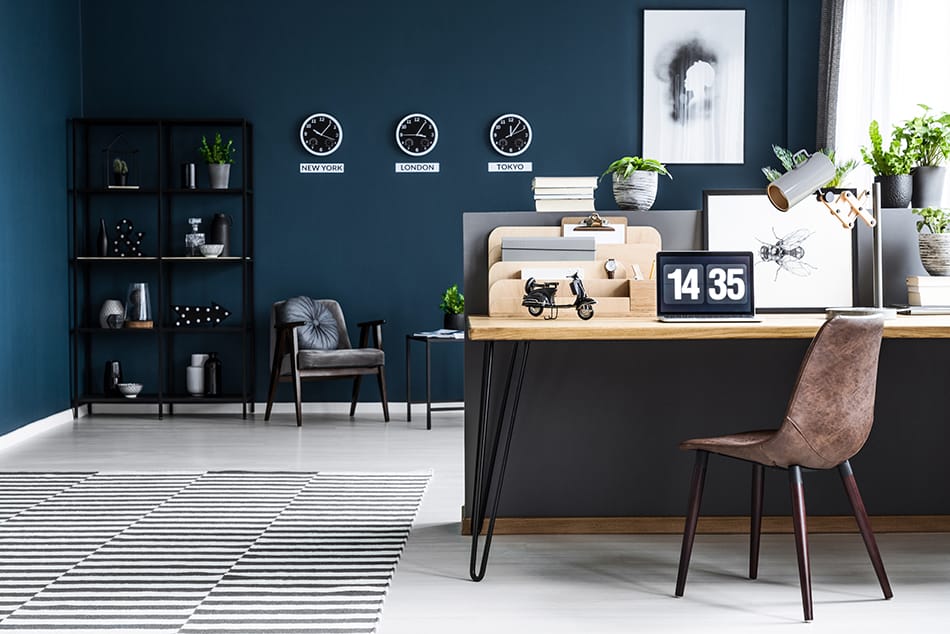 Clocks are a must in every home office. But why not go a step further and display multiple clocks in different time zones. This modern solution will give your wall an attractive and smart look for a better organization at your home office. See how classy the home office in this image looks with its 3 matching clocks showing international time zones. This idea works perfectly for global businessmen and women.
3. Use Functional Floating Shelves
Floating shelves are ideal for those who love minimalism in their home office. Shelves are highly functional in the office and space can be used for placing your files, books, plants, or just about anything else you want! Shelves aren't just decorative pieces in home offices; they also provide more space for those who don't have enough storage room on their desks. These shelves are easy to set up and can even be decorated with small, accent sculptures, photo frames, or whatever else that keeps you motivated.
To give you a great example of functional floating shelves, take a look at these attractively designed 4 square intersecting shelves that will suit almost every decor. You can mount them on the wall above your desk and display your collectibles, photos, or other decorative items. These floating shelves from Greenco come with all the necessary installation hardware so mounting them will only take a few minutes.
4. Go For Colorful or Patterned Wallpaper

Colorful and vibrant wallpaper can drastically transform the overall feel of a living room, bedroom or kitchen. So why can't that room be the office? Most people tend to overlook office wallpaper design. Patterned wallpaper can have a significant impact on your energy and mood. By adding an attractive design to your office, you can reduce the stressful atmosphere of your workplace, not to mention brighten up your workspace.
To increase the beauty of your office wall and give it a finishing touch, consider this chic and sophisticated gold leopard peel and stick wallpaper from the brand RoomMates. The modern pattern of this wallpaper gives a clean look to your office wall and is ideal for DIY enthusiasts. Simply peel the wallpaper and stick it to the wall. It is easily removable and completely safe for walls without leaving a sticky residue on the wall.
5. Have Fun With A Blackboard Wall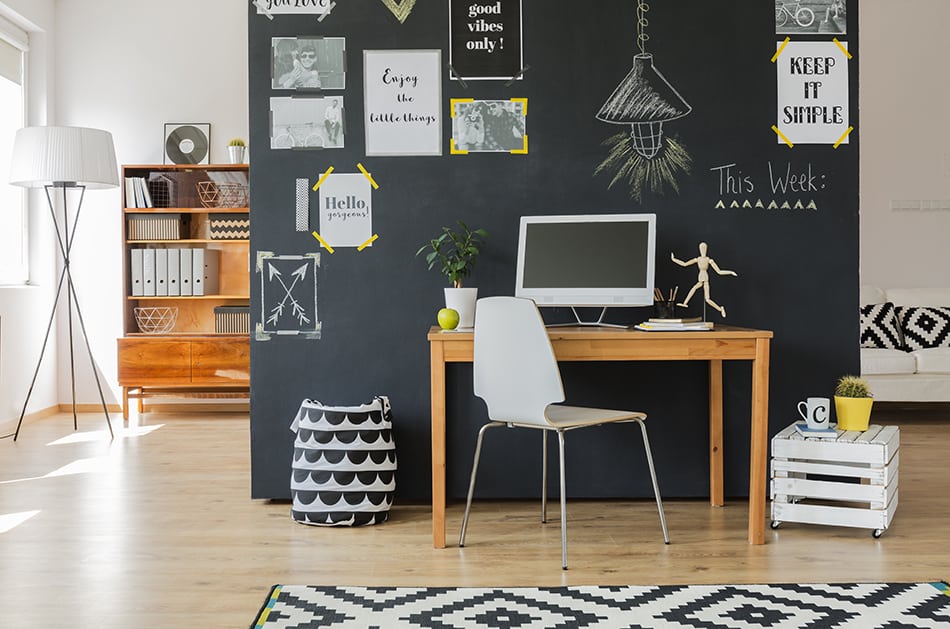 A blackboard is a universal idea for bringing positivity into any space. You can use your creativity and write inspiring notes, share your thoughts, or just hang some photos of your recent holiday. By using a blackboard to draw your ideas and reflect on your thoughts, you'll relax and be able to focus on your work better. All you need is white chalk to scribble or draw on the board! Another idea is to use the blackboard as a gallery wall of art. Just refrain from putting holes on the board when you want to hang your items. A better option is to attach some ledges to the blackboard.
6. Get Creative With A Practical Memo Board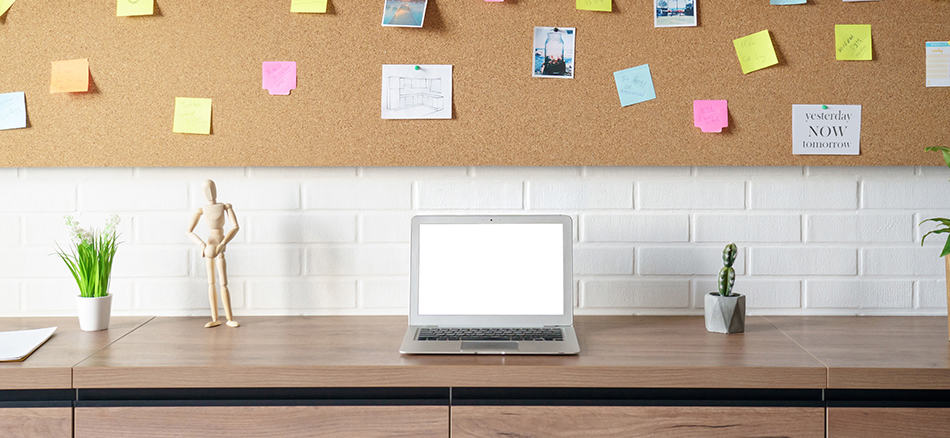 A peg or memo board is one of the most popular ideas for a home office. Although it's not considered as wall decor, a peg board is nevertheless very practical and functional. Our previous idea was a chalkboard, but as an alternative, why not go for a cork wall to leave memos, attach magnets and notes on. A new trend is to attach metal grids and clip your memos on. This is a more modern method of attaching your notes without covering the whole wall with a cork peg board.
If you want to make your memo board look decorative, a great solution would be to add your favorite wall art pieces or drawings. The best thing about these boards is they allow you to hang tons of baskets and hooks without drilling into the wall.
Another beautiful touch is to include a large round mirror in the middle of the memo board with some strings of lights. Keep reading as we'll be showing you how to brighten up and personalize your office wall using attractive lights…
7. Brighten Up Your Workplace With A String of Lights
For those who burn the midnight oil, why not transform your workspace into your own personal party with string lights. After all, the aim is to inject some happiness into your daily tasks and get you motivated – even at night. A string of cool lights will give your workspace that party vibe and is bound to lift your mood.
These energy-efficient string lights are made from high-quality copper wire that is flexible and very durable. The sparkling lights feature mini LED bulbs that will brighten up the darkest corners of your home office walls without heating up – even after 14 hours of continuous working!
8. Include Your Family Photos On Metal Grids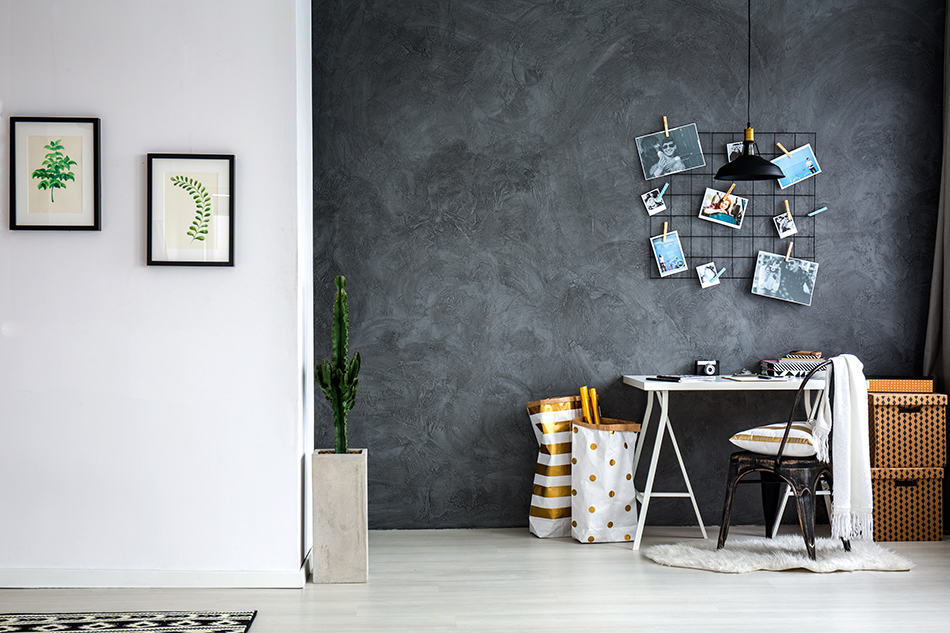 A string of lights wouldn't look complete without your family or pet photos pegged to the wires. Or you can get artistic and display your printed canvas or acrylic works of art on metal grids. Just make sure the portraits vary in size as shown in this image. By displaying your family photos in an interesting manner, you'll create a modern design on your home office wall.
9. Show Off Your Favorite Books on Cool Shelves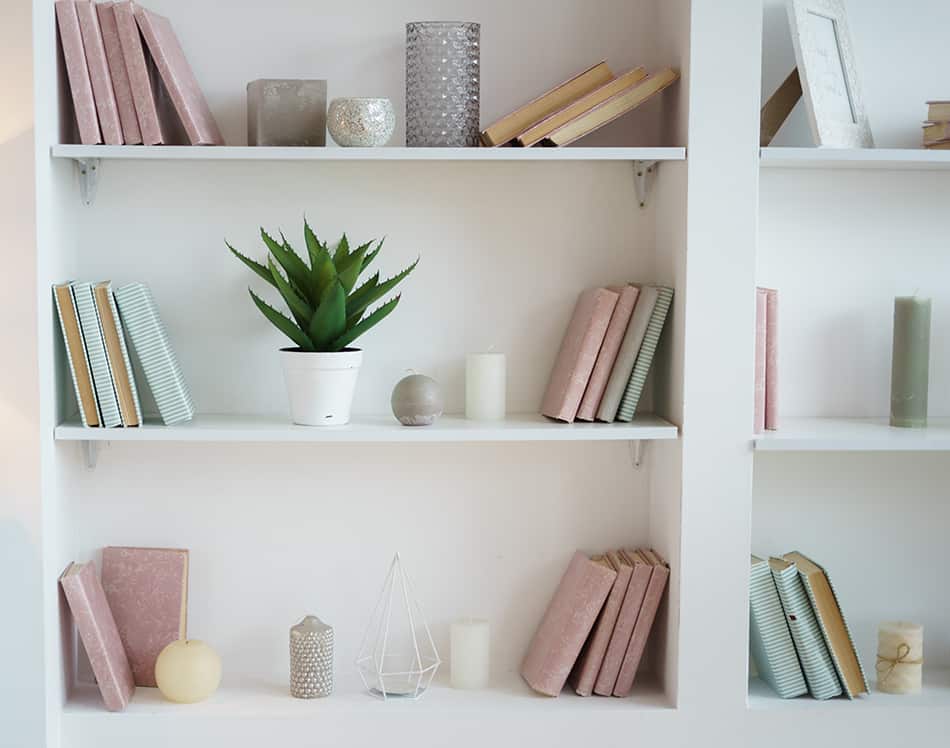 Bookcases adorned with your favorite books will turn your home office's accent wall into a work of art itself. You can enhance the look of your bookshelves by choosing brightly colored book covers as shown here. For a contemporary visual appeal, all you need to do is decide on a certain color scheme to bring out your bookshelves.
10. Use Natural Prints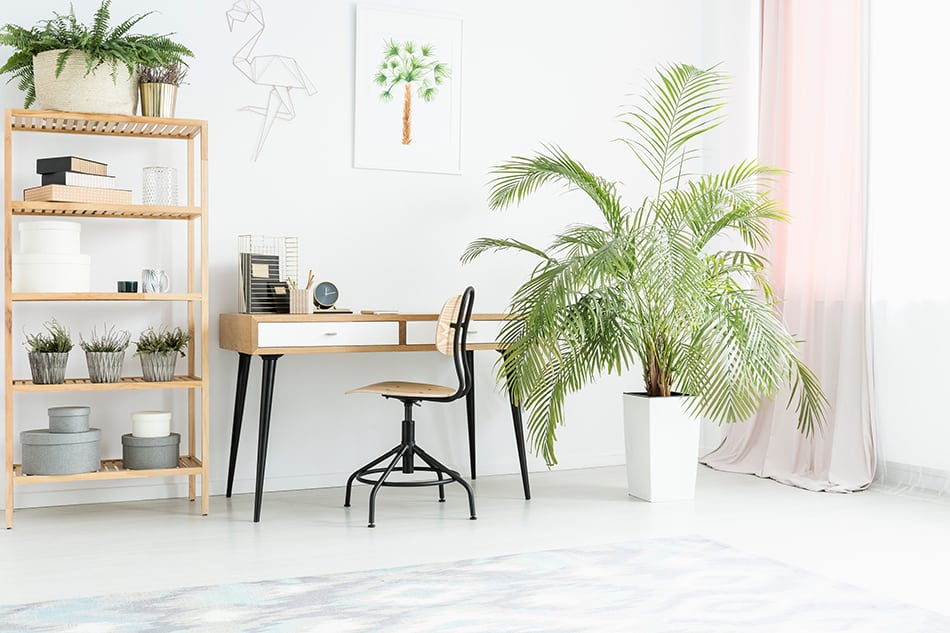 Office wall decor should incorporate therapeutic elements, such as plant prints. To bring nature into your work space, you can simply place potted indoor plants around your desk. But not everyone has time to care for real plants. A simpler alternative would be to find a couple of plant or flower prints and hang them on the wall above your work desk. This will make the room feel more serene plus you can change the prints according to the season.
11. Hang Real Plants on Grid Walls
We all know how plants can add a vibrant touch to any office space. Real plants purify the air and help you feel more relaxed. But instead of placing them on your desk or shelf, try hanging them on grid walls. This is the most stylish way of decorating an empty office wall space. And if you are too busy to care for indoor plants, consider opting for low-maintenance ones like succulents. These types of plants don't require regular watering and will look beautiful when displayed on hanging pots.
Here is a set of 3 ceramic wall-hanging succulent planters that will bring a touch of green vibrance to your home office walls. The planters are only 5 inches so you can easily place multiple ones in creative arrangements.
12. Add Crafts With Macrame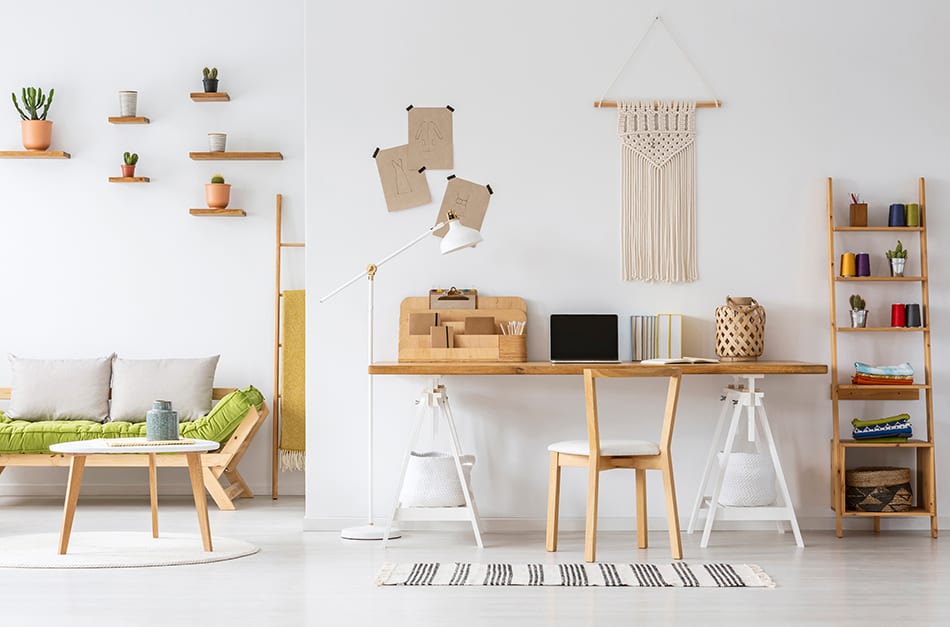 To create a crafty feel in your office, consider making your own macrame wall art! This is one of the most fun and decorative ways to inject some personality into your wall space. When used in combination with other accent wall decors like floating shelves, hanging plants, or memo boards, neutral-color woven wall hangings will give your office wall an elegant and traditional look.