If you are updating or renovating your bathroom and the bathroom size is just too small for all the fancy shower features you love to have installed, a corner shower might be just the perfect solution for you. Corner showers can be used in any kind of bathroom, but they're especially great for small bathrooms because they save a lot of space when used to replace a traditional bathtub.
Corner showers are also perfect for people who always take showers but never take a bath. You can take out your bath and install a shower, creating a lot more space to move around.
A corner shower typically has boundaries on every side, and it's easy to set them up on any corner of the bathroom alongside their utilities, no matter how small the corner. If you're looking for a size guide to the corner shower, here it is.
You can easily find corner showers in 34 x 34″, 36 x 36″, 38 x 38″, and 42 x 42″ on the market. For spacious areas, the recommended choice is 42″ adnd their typical height is 72″.
Corner Shower Dimensions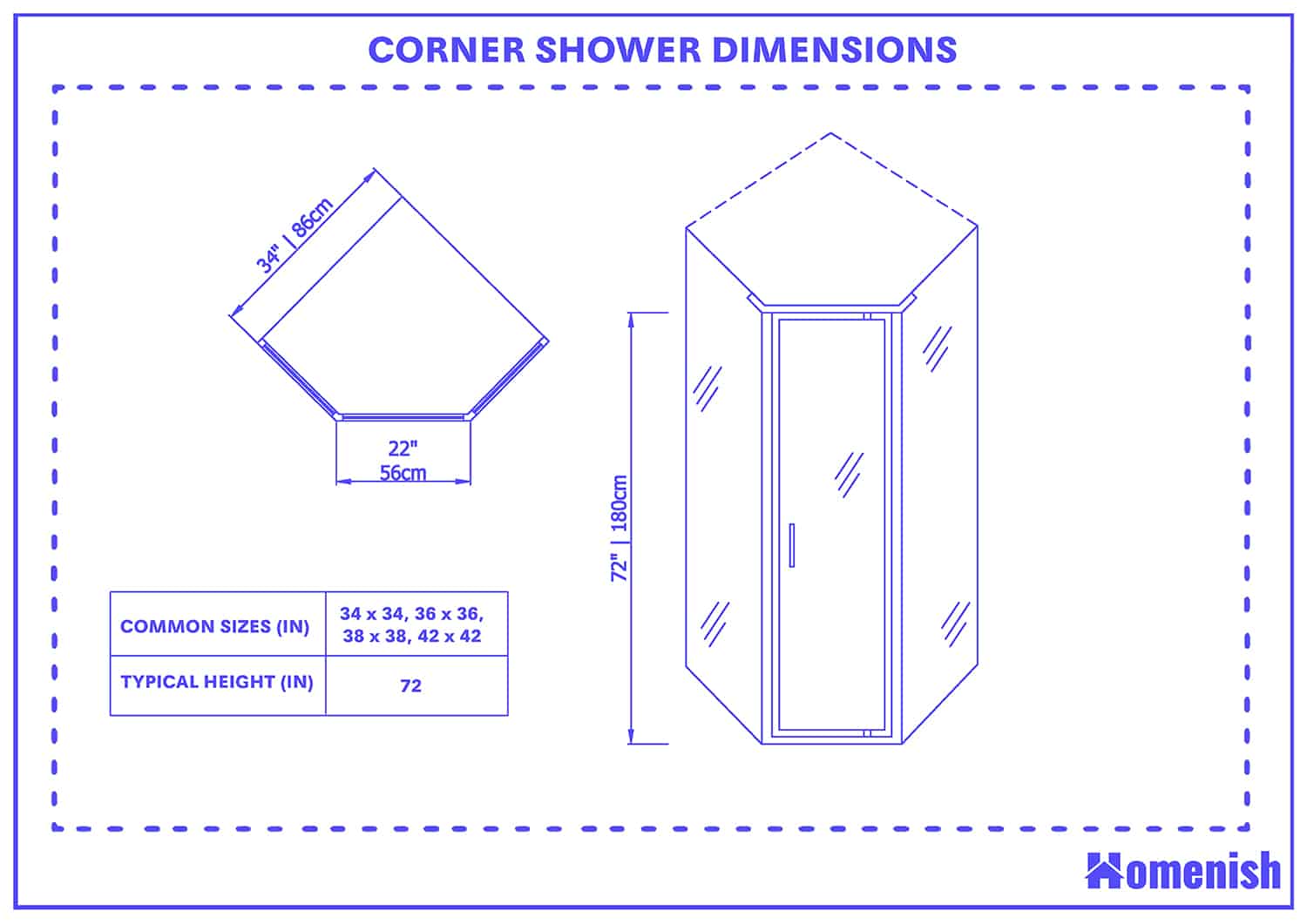 Corner showers come in different dimensions. You'll find them in sizes 34x 34" 36 x 36″, 38 by 38″, and 42 by 42″
For utmost comfort, you should try to get 42″ showers so that you'll have enough space to move around freely inside the shower. The typical height of a corner shower is 72″, which is also the common shower door height you can find on the market.
How Easy Is It to Install Corners Showers?
Corner showers come with a series of straightforward steps that make them very easy to install. If you follow these steps, it will take no time to have your shower up and running. Corner showers are set up along two walls; their bases are either curved in front or come out at an angle in front.
A lot of times, corner showers are also available as a one-piece, but these are typically only installed in newer buildings before the buildings are completed.
Once the house has been set up, one-piece showers would be too large to fit. However, in finished homes, you can also have multi-unit corner showers that typically comprise a base and two wall panels. It takes less than 24 hours to install these.
Corner Shower Installation and Maintenance Tips
Avoid getting corner showers that are too small, as it might be uncomfortable to take a shower in such a small space. To be completely safe, avoid showers smaller than 24×24 inches if possible.
Ensure that your shower pans have flanges to avoid any leaks. Also, make sure that your shower pans are level.
Always clean the shower glass with a squeegee to keep them sparkly at all times.
Brace the shower glass so that they're firm so that the top of the glass is secured and doesn't move back and forth when touched.
How Easy Is It to Clean a Glass Corner Shower?
Glass corners are so sleek and easy to wash, which makes them a popular option among corner shower lovers. To have your shower looking new at all times, always clean it with a squeegee; this takes dried soap suds off the walls and keeps it looking new at all times.
How Do You Clean an Acrylic Corner Shower?
If your corner shower is bordered on the sides by acrylic, try cleaning it with soap and a soft foam sponge. Avoid using abrasive towels as they will scratch and ruin your acrylic surface.
Better still, follow the cleaning instructions given by the corner shower manufacturers. You'll most probably find these instructions attached to the corner shower when delivered. You can also clean the acrylic with a squeegee after every bath; this way, they look good as new at all times.
What Is the Best Way to Seal a Corner Shower Tub?
Sometimes corner shower tubs leak if they are not installed with the right turned-up flanges at the edges.
If you find that your tub is leaking, check that it has a flange correctly set up on each of the edges that connect the corner shower to the wall. Don't try to use caulk to seal a leaking tub.
What Is the Best Corner Shower Size to Purchase?
It's pretty uncomfortable to have your feet and elbows constantly bump into the glass when trying to get a shower. So, get one that's 42 inches on each leg that protrudes out from the corner of the wall where the shower is installed.
A 36" corner shower is still pretty comfortable, but try to avoid corner showers that go as small as 22" on the parts that project out of the wall, as you'll have to squeeze yourself into these kinds of showers, and that would be uncomfortable.
You can also go for luxurious corner showers; you can get one that's as big as 48 x 48". You can even get one larger than 48 X 48" corner showers if you need an abundance of space in the shower.
Adding a Bench to a Corner Shower?
A lot of people love to customize their corner shows and include a place to sit and relax. With a shower bench, not only can you sit and take a shower if you ever need to, but you can also place your feet on the bench to give it a good scrub without having to bend over.
This is especially beneficial to heavily pregnant women or people with limited mobility. It's also a great spot for anyone to sit and shave their legs with very little stress.
The shower bench dimensions should fit the shower corner space. Typically, it is between 10 and 20 inches in width, 17 inches in height, and 14 to 15 in depth.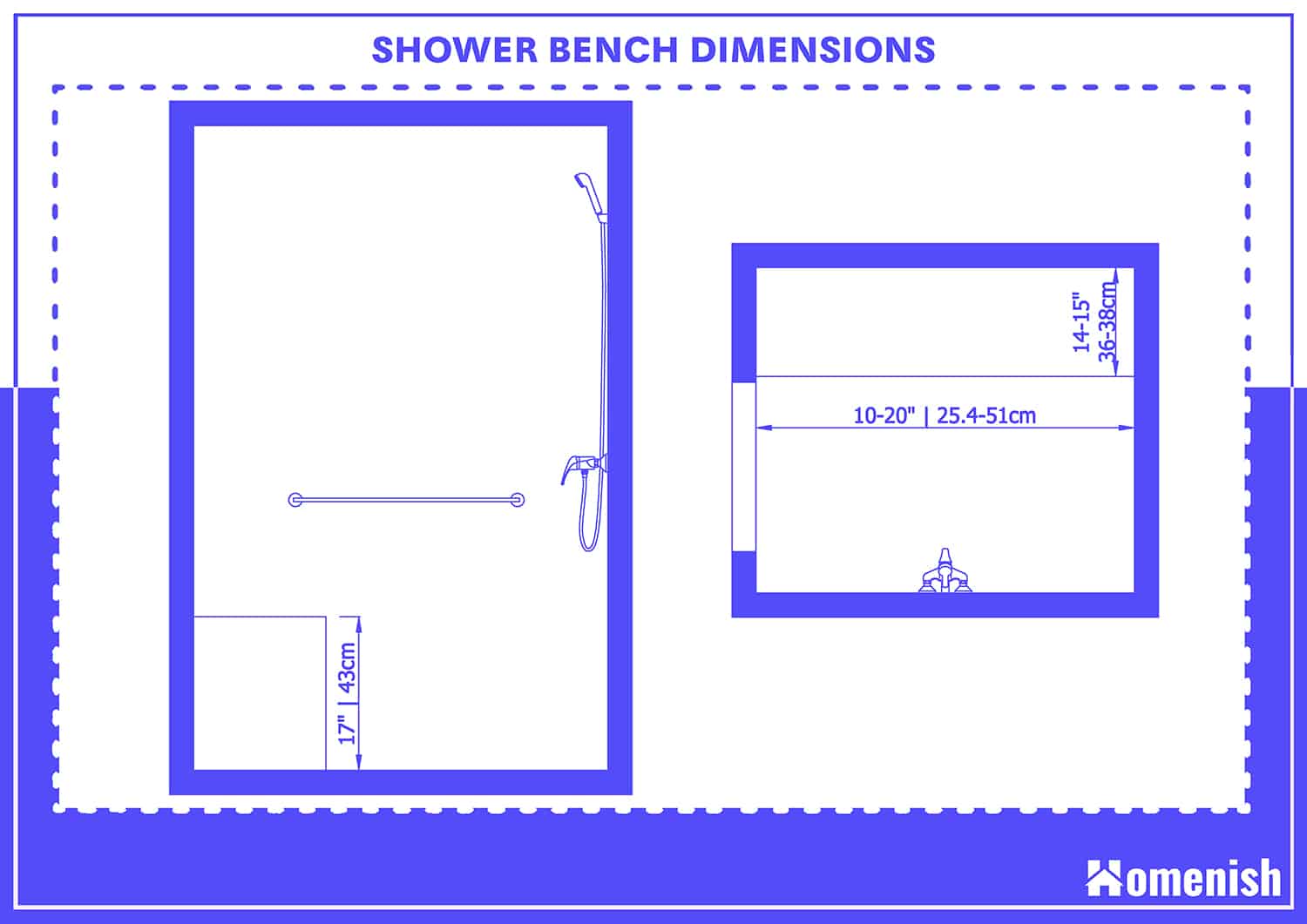 Installing Shelves to a Corner Shower?
You can adapt your corner shower to suit almost any style of your choice. Some corner showers come with built-in shelves. However, if yours is lacking shelves, you may want to install them so that you can store your bathroom supplies there, rather than leave them lying on the bench or floor.
When choosing the material for your corner basket, you can choose one made from stainless steel, as stainless steel would not rust even if water is poured on it every day.