There's something special about bunk beds. Whether it's the comfort of sharing a room with a sibling or turning it into your personal fort, double-decker beds are a thing of joy when you're a child.
Now, with the growing popularity of adult bunk beds, we can carry some of that joy into adulthood, too. Read on to get an idea of the dimensions of different bunk beds and other things you need to consider before buying one.
Single Bunk Bed Dimensions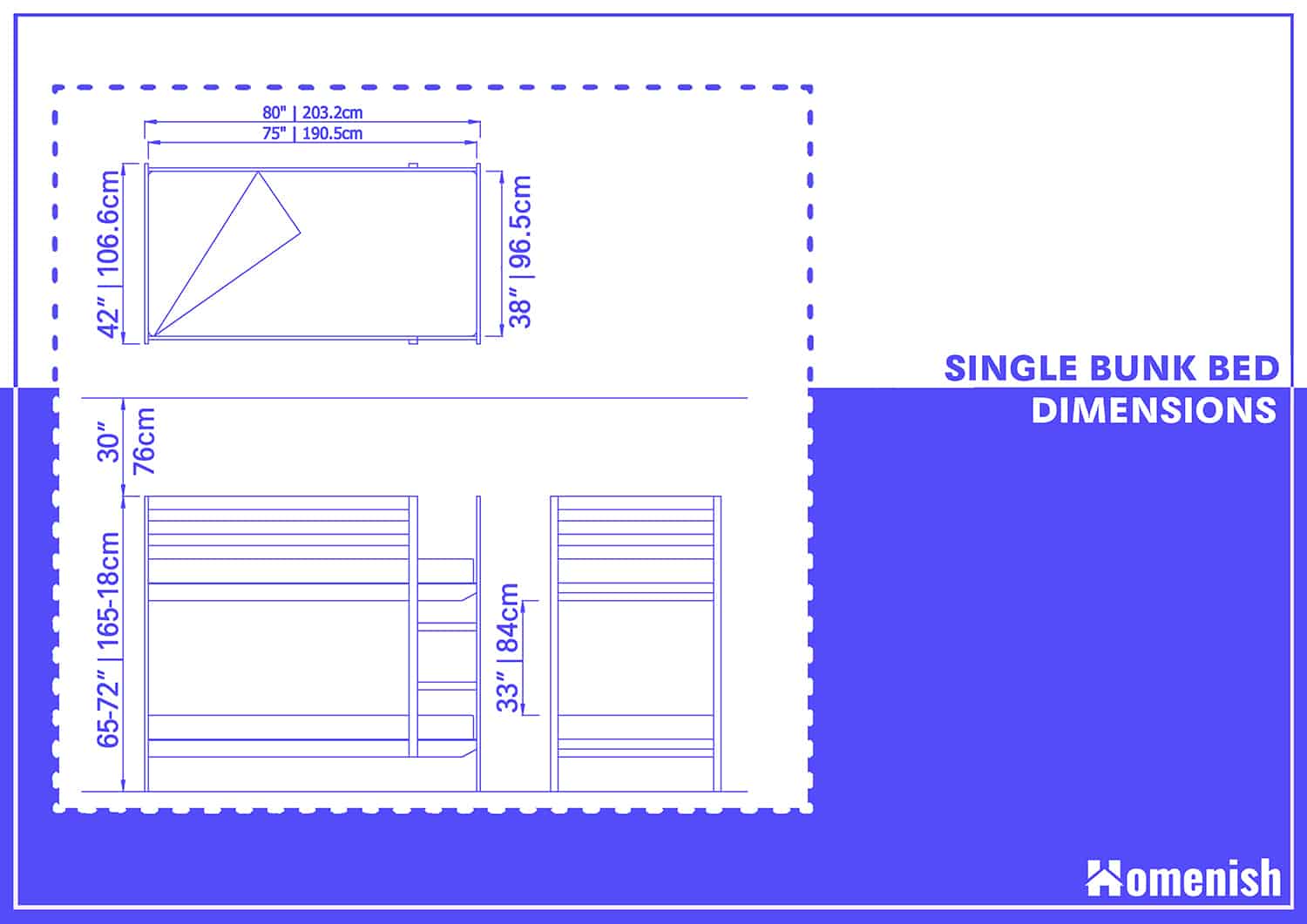 When you think of a bunk bed, the image that immediately comes to mind is usually one single-sized bed positioned over another. This makes sense because the single bunk bed is the classic configuration and the one that's most commonly bought.
The single-over-single layout has two bunk beds parallel to one another, but you can also find single bunk beds where the bottom bed lies at a 90-degree angle to the top bunk. The advantage of choosing the classic layout is that it takes up less room. In contrast, the angled configuration takes up about as much space as having two separate single beds.
Single bunk bed frames are 65 to 72 inches high from the floor to the top of the bunk. The frame is 42 inches wide and 80 inches in length. Therefore, a single mattress measuring 75 x 38 inches with a depth of 8 to 12 inches can fit in this frame.
Extra-long bunk beds are also available, which support mattresses with the same width and depth as a standard mattress but a slightly longer length of 82 inches.
Single Bunk Bed Clearance Space
Make sure to leave at least 30 inches from the top bunk bed to the ceiling so that the person sleeping on top doesn't bump their head when getting up.
Also, bear in mind that there will be an occupant in the bottom bunk, too, and you'll need to ensure that they also have enough space to get up safely or sit up comfortably. Look for a bunk bed with at least 33 inches of clearance between the top and bottom bunks. Some oversized bunk beds require more headroom, which means that the overall height of your bunk bed frame is taller.
What's The Appropriate Age For Bunk Beds?
Single bunk beds are considered to be safe for children from around age 6 and up. However, suppose you have two young children and are not comfortable with having one of them sleeping on the upper bunk. In that case, a shorty bunk bed could be a better option.
Shorty bunks are the same width and length as a standard single-on-single. The only difference is that the shorty is 61.5 inches tall, so the distance to the floor is not as far as on a classic bunk bed.
As a result, the shorty should give you better peace of mind. It's also a great way to help children feel at ease with sleeping on stacked beds, which will be helpful if you decide to buy a standard bunk bed a few years later.
An alternative to getting a shorty is to go for a bunk bed that you can also have as two individual beds. Then, you can keep the beds separated until you feel the kids are ready to use it as a bunk bed.
Full Bunk Bed Dimensions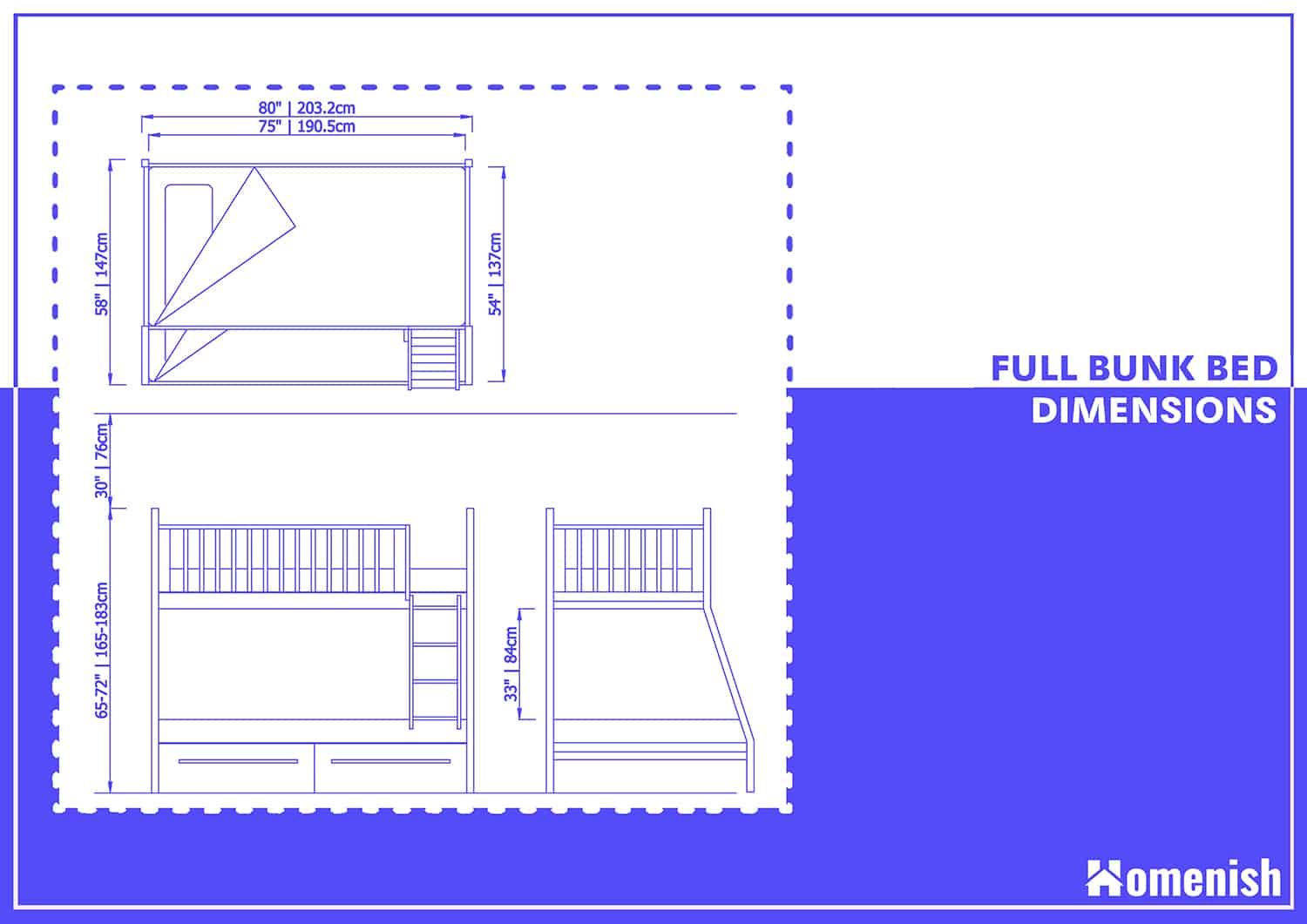 Full bunk beds are a good choice for teenagers. The mattress on these beds, which uses the full-sized bed, is wider than the classic single, so occupants can stretch out as they wish.
A full bunk bed measures 80 inches in length and 58 inches wide. This can easily accommodate the full mattress size of 75″ x 54″. They are the same height as a standard bunk bed.
Queen and King Bunk Bed Dimensions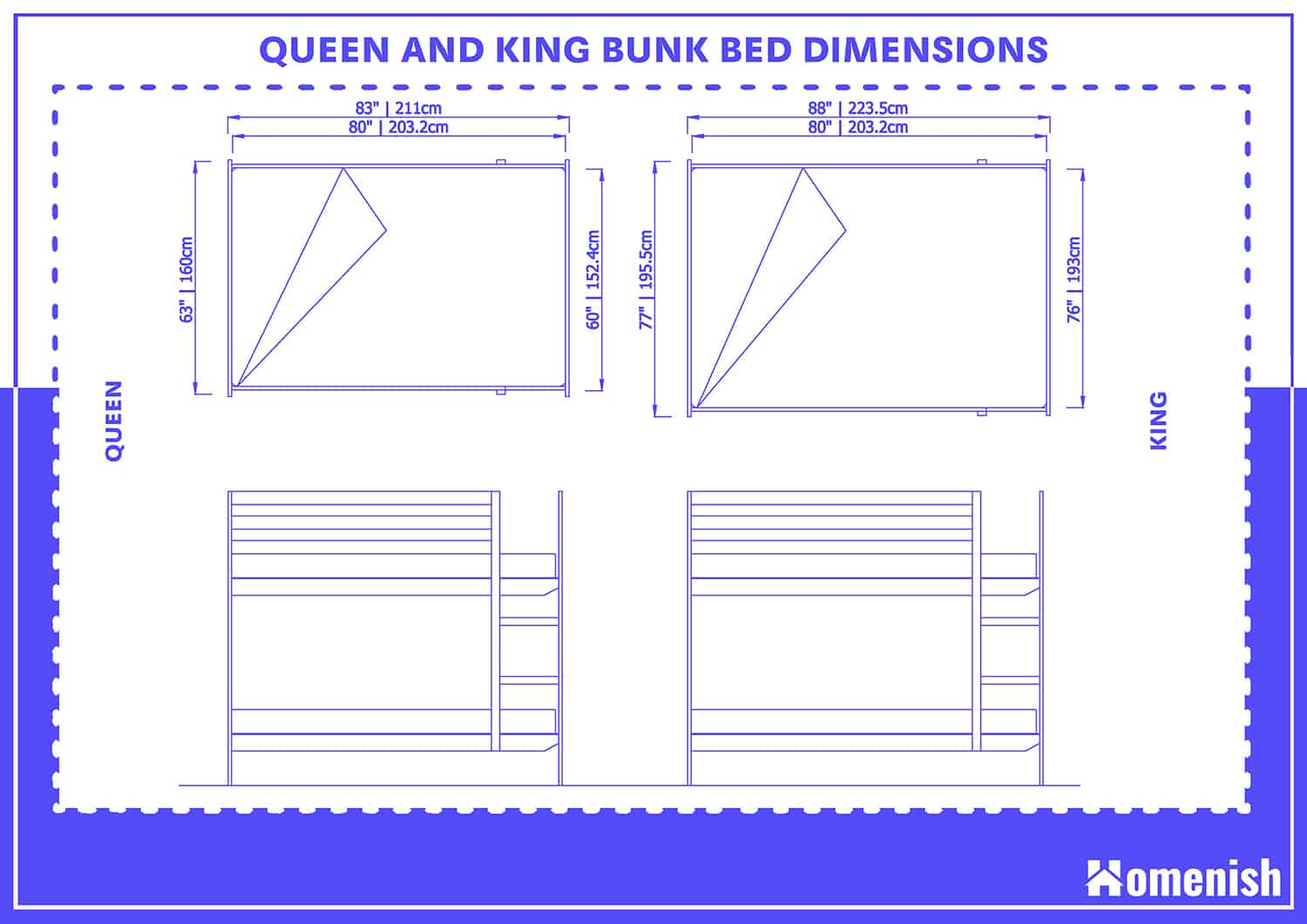 A queen mattress is 80″ by 60″. Hence, a queen-over-queen bunk bed should be 83 inches long and 63 inches wide. Each bed offers more than enough room for one adult. But queen-sized beds are now the most popular bed size for people sharing with a partner, so it's more likely that two adults will sleep in the bed. Luckily, each adult will have an ample 30 inches of space to themselves.
While not very common, king-over-king stacked beds do exist. They offer about 6 inches more sleeping space for each person than a queen bed, at 77 inches wide. They are also longer, with a length of approximately 88 inches.
In addition to the standard 72-inch high stacked bed, manufacturers also offer a wider variety of heights for large-size bunk beds. But more elevation comes at a price.
You'll need more clearance space between the top bunk and ceiling. So, measure your room carefully if you're planning to buy a bunk bed that's taller than 72 inches to ensure that you'll have a minimum of 41 inches of space between the top bunk and the ceiling.
Large Bunk Beds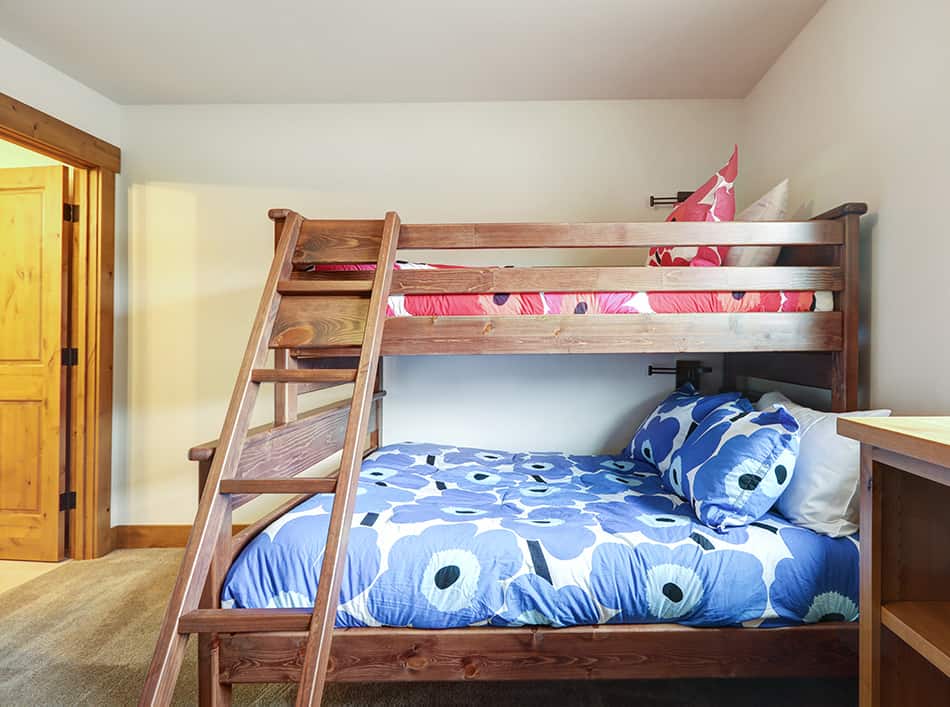 Although bunk beds are a great sleeping solution for children, larger bunk bed types that adults can use are becoming increasingly popular.
When looking for a large bunk bed, the main concern is that they can safely support two or more adults in the structure. For this reason, a proper adult bunk bed will have a high weight capacity – as high as 2000 pounds for some models. Adult bunk beds also need to be sturdy and very well-constructed from solid materials like hardwood or aluminum.
Queen and king-sized bunk beds are ideal space-savers in vacation homes & cabins. They are great anywhere you want to house a group of people but don't have enough bedrooms for everyone.
If you're a B&B owner, large bunk beds will do more than save you space. They'll also help increase your profitability because you" can accommodate an entire family or group of people traveling together in one room instead of multiple rooms.
In Conclusion
The ones covered here are just an indication of the bunk bed options on the market today. Many more variations are available, such as combo units with built-in storage underneath or attached to the frame.
But hopefully, you have a good starting point to help you find a bunk bed solution that works for you and your family.