Usually, headboards are included in a bed frame; thus, most people never thought about the size of their headboards. However, if you're going to construct a bed or you want a custom-made bed frame, you need to know the different headboard dimensions.
Typically, the headboard has the same width as your bed frame, but it can be wider, depending on various factors. To help you determine the right headboard for your bed, here are the various headboard dimensions.
Standard Headboard Dimensions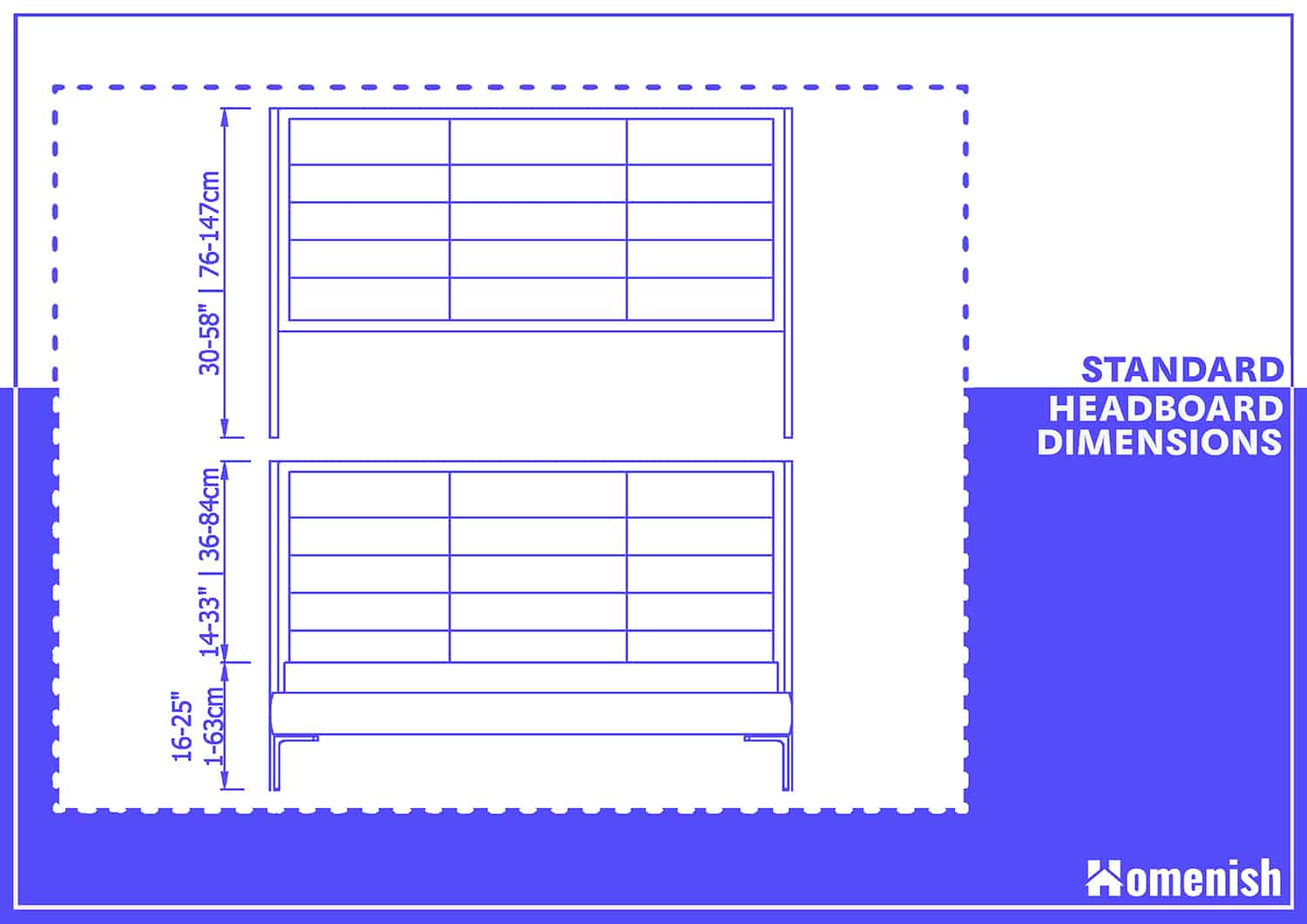 Most headboards can fit a standard-sized bed frame and mattress. To be specific, the average size of a headboard is the same as the width of the bed frame, but it can be three inches wider. For its height, it is usually higher than the mattress by about 14 to 33 inches. Aside from that, an average mattress has a height of about 16 to 25 inches; thus, a standard headboard will have a height of around 30 to 58 inches from the floor.
Keep in mind that the size of the headboard will vary depending on the size of the bed. So, here are the different bed sizes, along with their headboard dimensions. You can find this size chart in handy.
Headboard Dimensions For Common Beds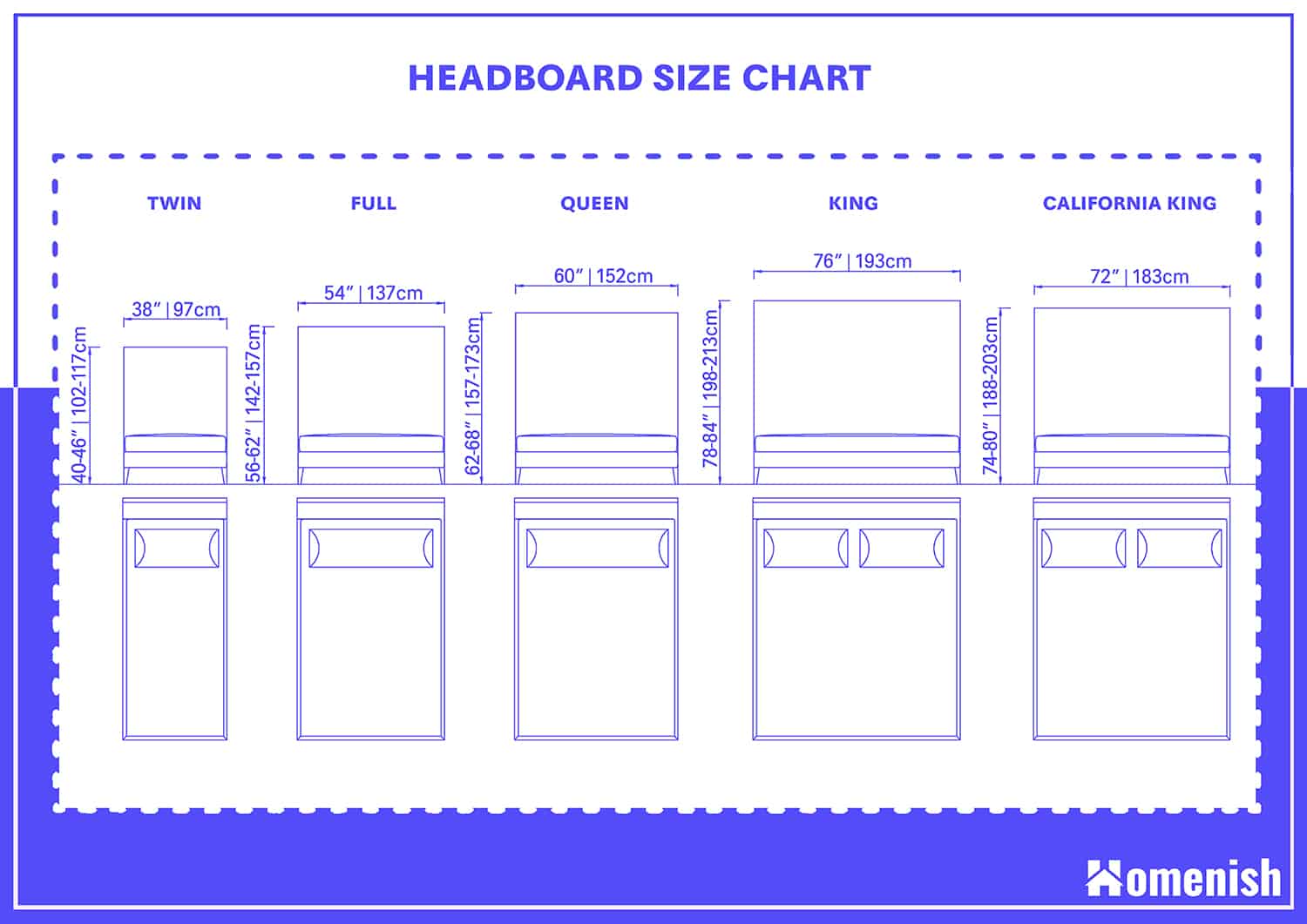 Twin and Twin XL Headboard
A twin and twin XL bed have the same width but different lengths. As such, they have similar headboard dimensions. Typically, a twin mattress has a width of about 38 inches, so its bed frame will be about 40 to 43 inches wide. For its headboard, it will have a width of about 40 to 46 inches.
Because a twin XL bed is longer than a twin bed by about five inches, its headboard will have to be higher. That way, the bed will look proportionate.
Full (Double) Headboard
A full-sized mattress has a width of about 54 inches; thus, its headboard width will be around 56 to 62 inches.
Queen Headboard
For queen-sized mattresses, they have a width of 60 inches. As such, their headboard will be about 62 to 68 inches wide.
King Headboard
A king-sized mattress is the widest type of mattress, with a width of about 76 inches. Thus, its headboard will have a width of around 78 to 84 inches.
California King Headboard
Compared to a king-sized mattress, a California king mattress is narrower by about four inches. As such, its headboard will have a width of about 74 to 80 inches. Additionally, a California king mattress is also longer than a king-sized mattress; thus, it will have a taller headboard for a proportionate look.
Standard Headboard Heights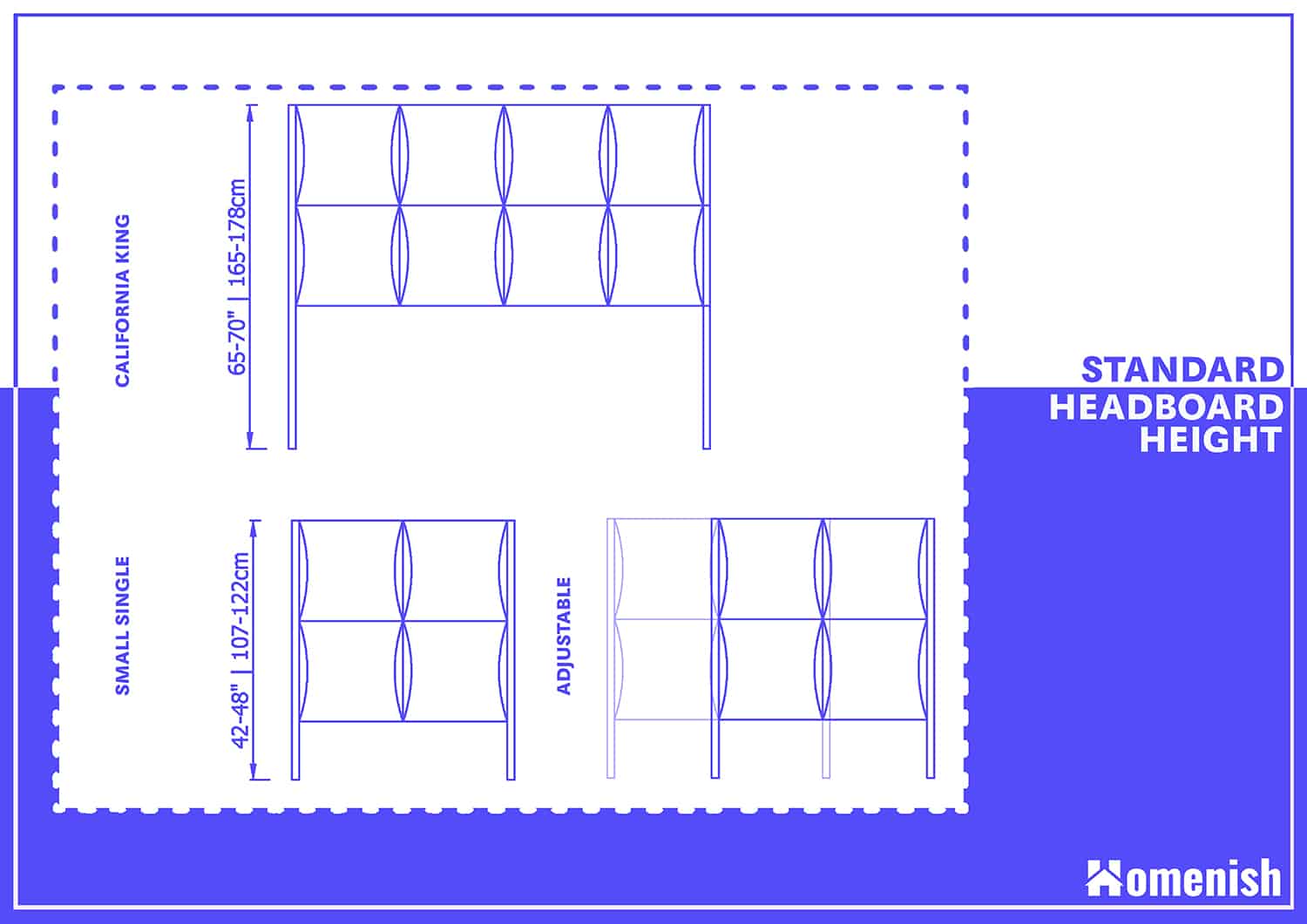 Keep in mind that there is no standard measurement for headboard height. As a general rule, the headboard should be shorter than your bed frame's length.
Tall Headboards
Typically, a tall headboard is used for a king or California king mattress. Because they have a height of about 65 to 70 inches, they can cover the entire length of your wall. For this reason, this type of headboard is best placed in bedrooms with high ceilings.
Low or Short Headboards
A low or short headboard is often used for small beds, and it can make your bedroom look more spacious. Additionally, this type of headboard is a good choice if you want to hang a portrait or any wall decor above your bed.
Adjustable Headboards
An adjustable headboard has metallic legs that can be adjusted to your desired height. Because of this feature, this type of headboard is a great option if you are unsure of the headboard height that is best suited for your bed. Aside from that, it can also come in handy if you have changed the thickness of your mattress. With this headboard, you don't have to buy a new one that will complement your new mattress.
Different Types of Headboards
Wood Headboard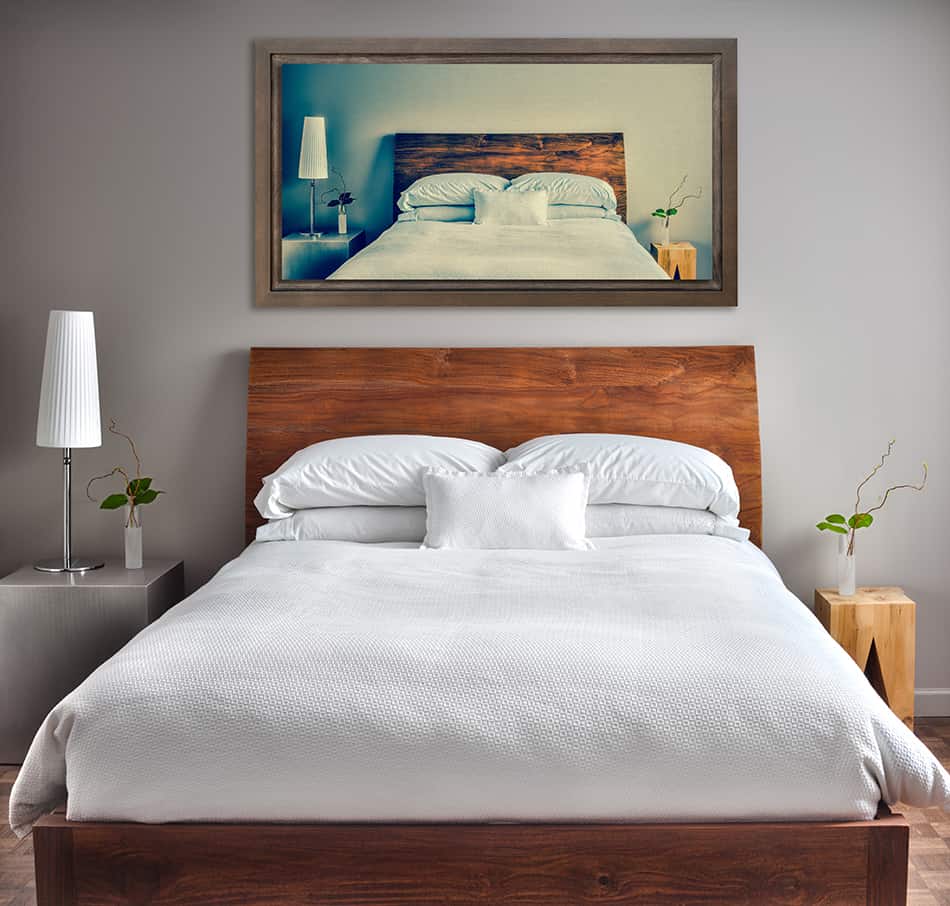 Wood is a popular material for making furniture. Most of the time, homeowners prefer wooden headboards because of their natural beauty. Plus, they can blend well with contemporary and classic decor.
Usually, wooden headboards are made with various types of wood, such as oak, pine, and maple. Plywood can also be used if you're on a tight budget; however, this type of wood is less durable compared to its counterparts.
Metal Headboard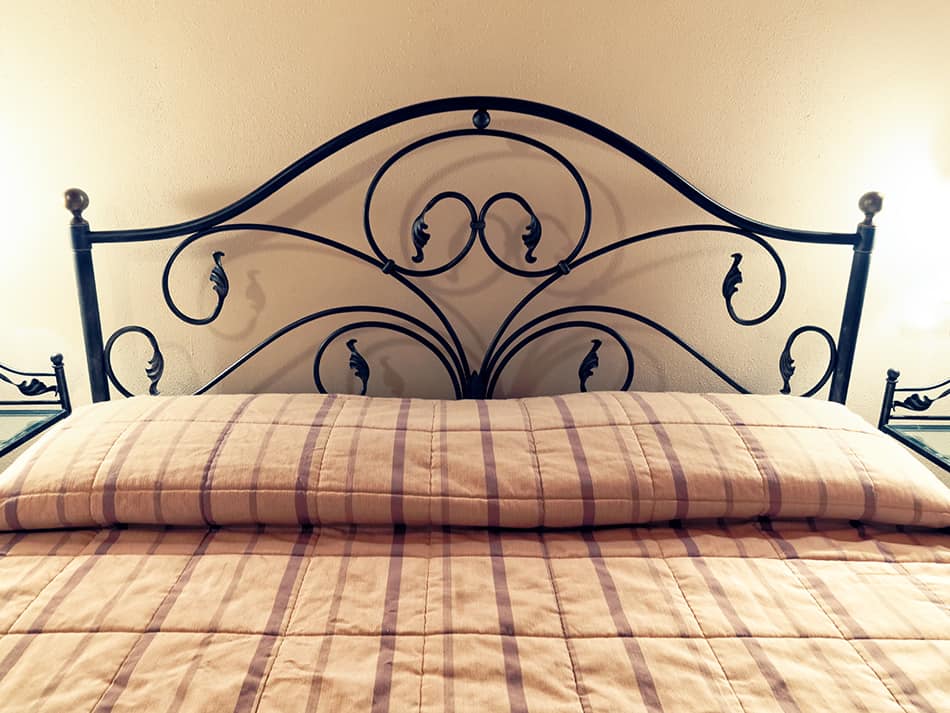 Compared to wood, metal headboards are more affordable. Aside from that, they can also pair well with minimalist, modern, and vintage designs. For these reasons, a lot of homeowners opt for this type of headboard material.
Metal headboards can be made with brass, stainless steel, wrought iron, or brushed aluminum. Additionally, they are available in various colors, including nickel, gold, white, brown, and silver. Lastly, this type of headboard is used in platform and bunk beds. They can also be used in four-poster beds.
Upholstered Headboard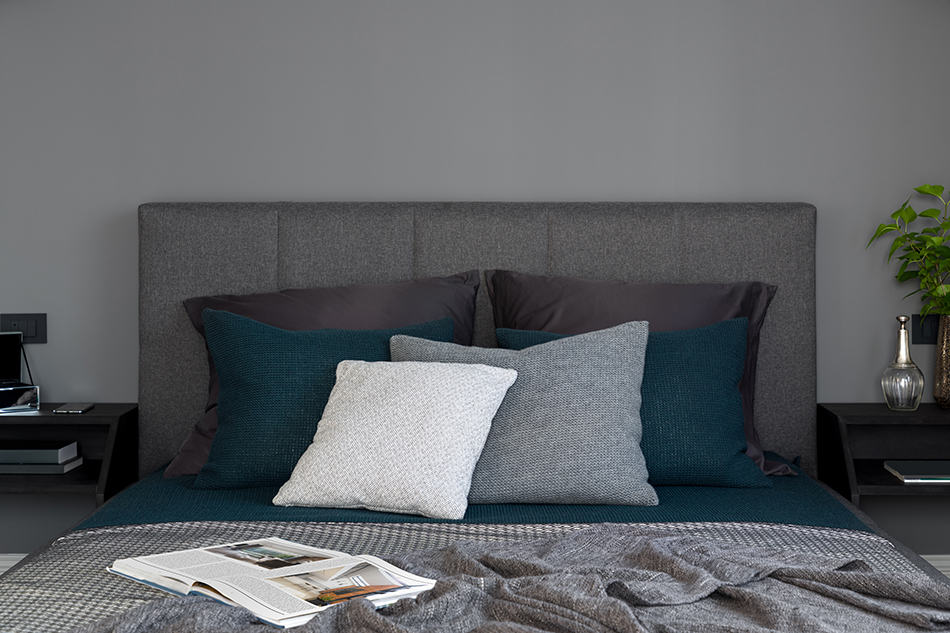 An upholstered headboard is the most comfortable type of headboard because of its soft padding. Because of this feature, it is recommended for active sleepers. That way, the soft padding can protect them in case their heads hit the headboard while sleeping.
The soft padding of an upholstered headboard can be made of polyester, leather, linen, or cotton. Its price will depend on the quality of the materials. Also, this type of headboard is available in a variety of colors; thus, it is a popular choice for a kid's bedroom. Finally, it is usually thicker compared to metal or wooden headboards.
Storage Headboard
A storage headboard is typically made of wood. A unique feature of this headboard is that it has a storage space where you can place your alarm clock, books, and other bedroom essentials. Aside from that, it is the thickest type of headboard. For this reason, it is best suited for large bedrooms. Lastly, storage headboards are often used with bunk and platform beds.
What Size of Headboard Should You Get?
When buying a headboard, you should always consider your mattress size. The headboard should perfectly fit with your mattress. In general, a headboard will be about two to four inches wider than your mattress. The headboard height can be around 14 to 58 inches depending on the size of your bed frame.