If you work from home but don't have a dedicated home office, or your children need a quiet spot to complete homework, then you have probably considered adding a desk to a bedroom.
Here we look at possible bedroom layouts which incorporate desks, which can be used as inspiration in your own home.
Care Facility Bedroom with a Desk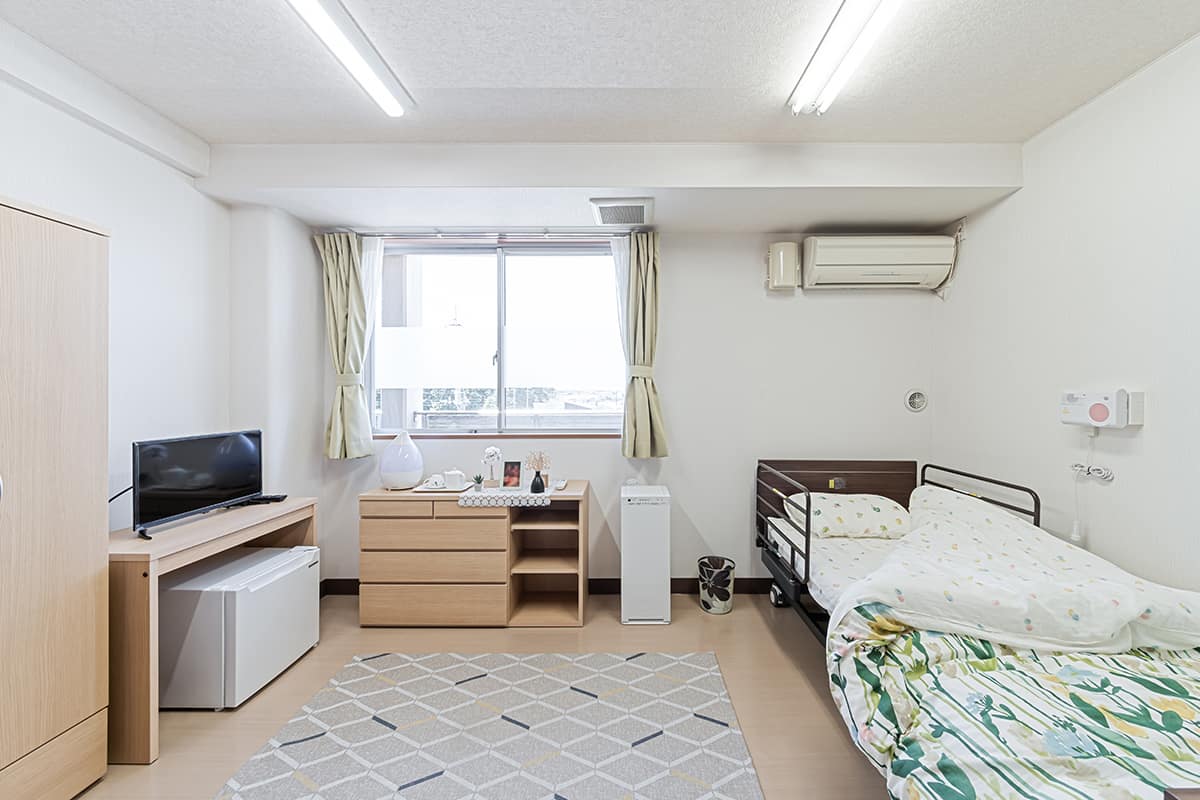 This layout features a twin bed and a desk, along with a freestanding closet and a chest of drawers. As a bedroom in a care facility, the bedroom first and foremost needs to be functional and comfortable.
This requirement has been met by placing all of the furniture around the edge of the room to allow plenty of space for movement in the middle of the room. The free area has been defined by a floor rug, which helps to draw attention to this vacant space.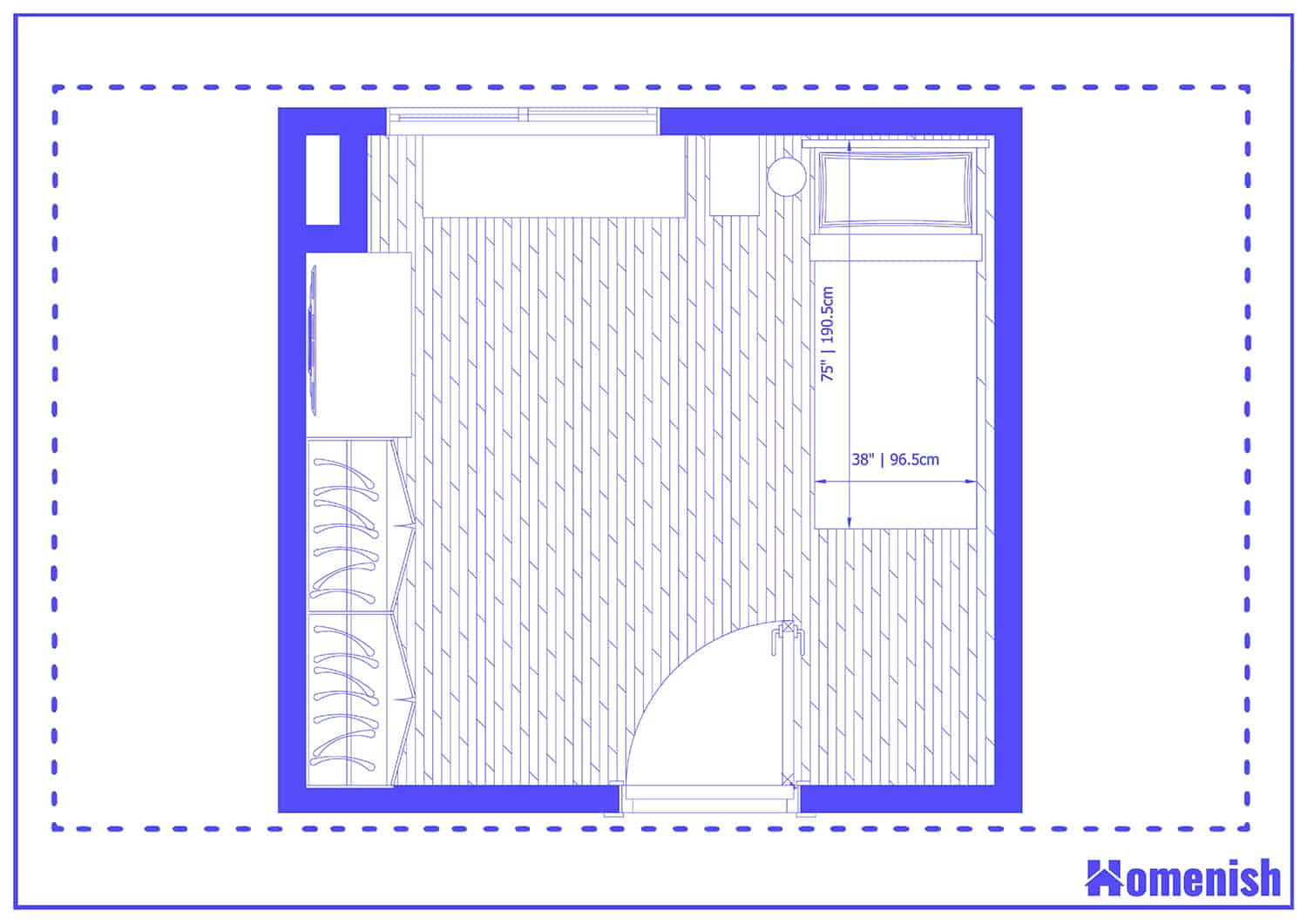 Master Suite and Office
This master bedroom also serves the function of a home office thanks to the hutch, which has a fold-down shelf used as a desk. This is a great way to add a desk to a bedroom because it folds away so you can forget it is there when you want to relax, and the folding aspect also means that it will take up less space when it is not being used.
The layout of this bedroom sees the queen bed on the opposite wall to the desk, providing physical distance between the two and allowing for a mental distance so that you don't feel work is intruding on your mind when you are in bed.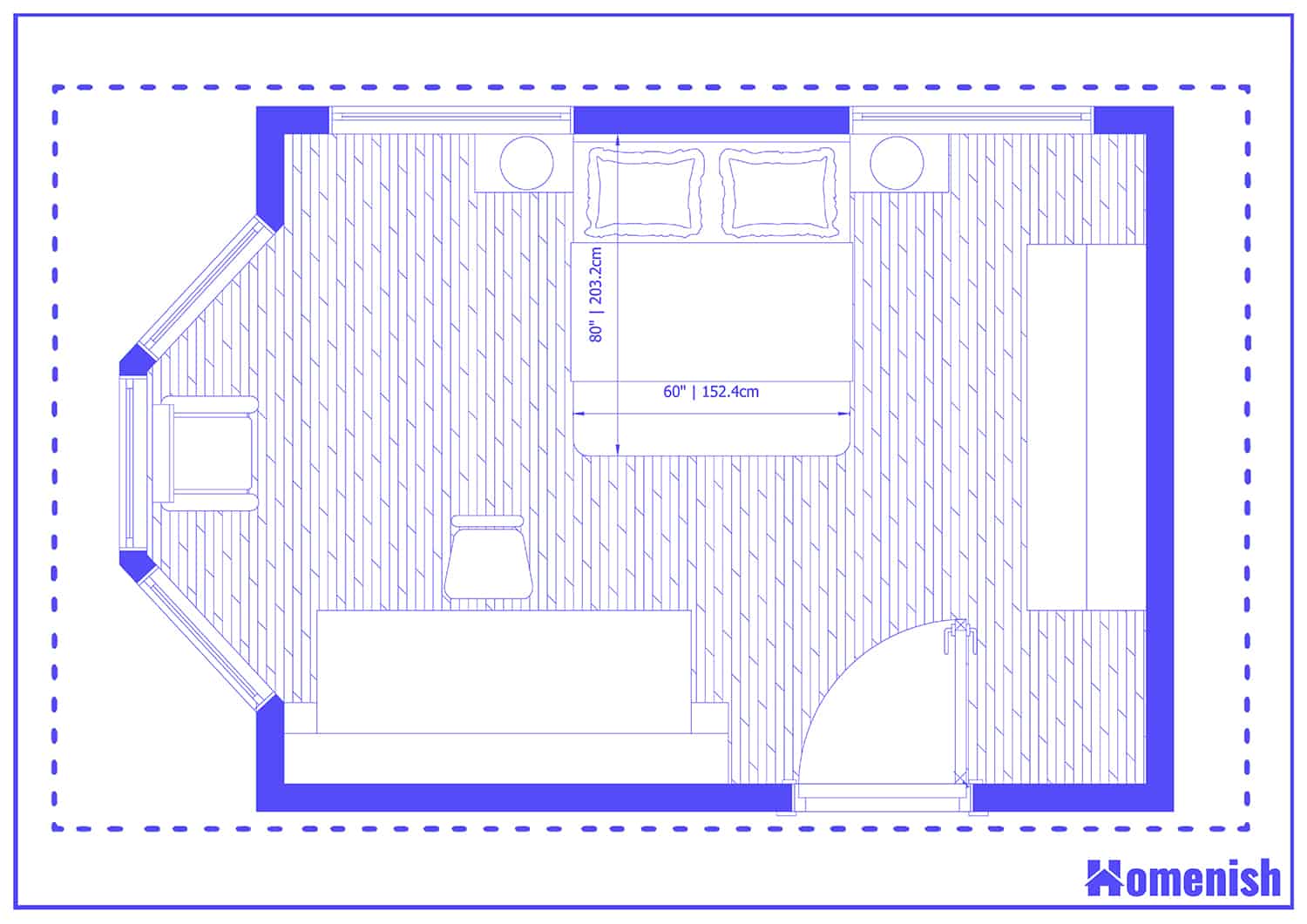 Children's Bedroom with Work Area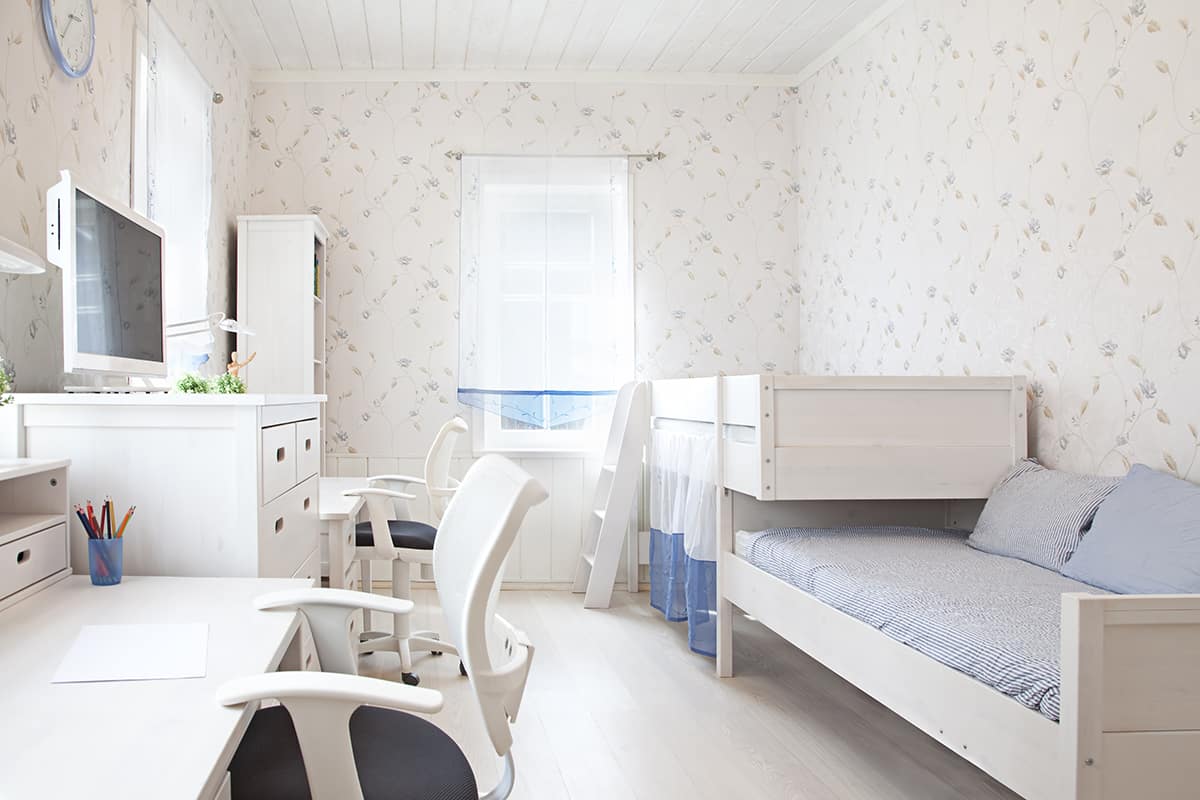 It is useful to have a desk in a children's bedroom because it provides them with a space where they can do crafting, coloring, or computing, as well as a dedicated spot for them to complete homework.
Fitting multiple pieces of furniture into a child's bedroom can be a challenge, which is why it is useful to invest in space-saving equipment such as the raised twin bed and daybed, which doubles as a sofa in this bedroom layout.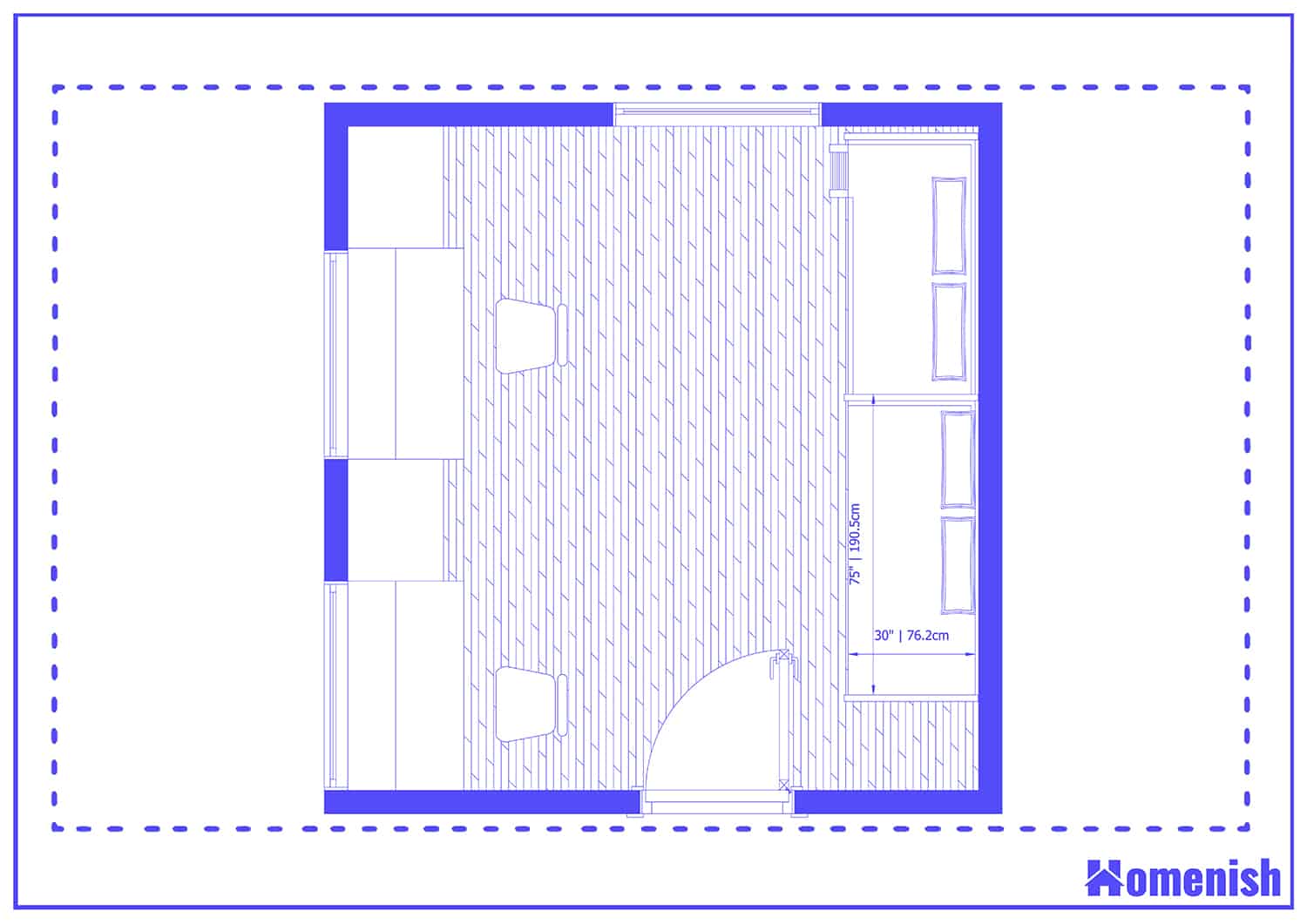 Loft Bedroom with Desk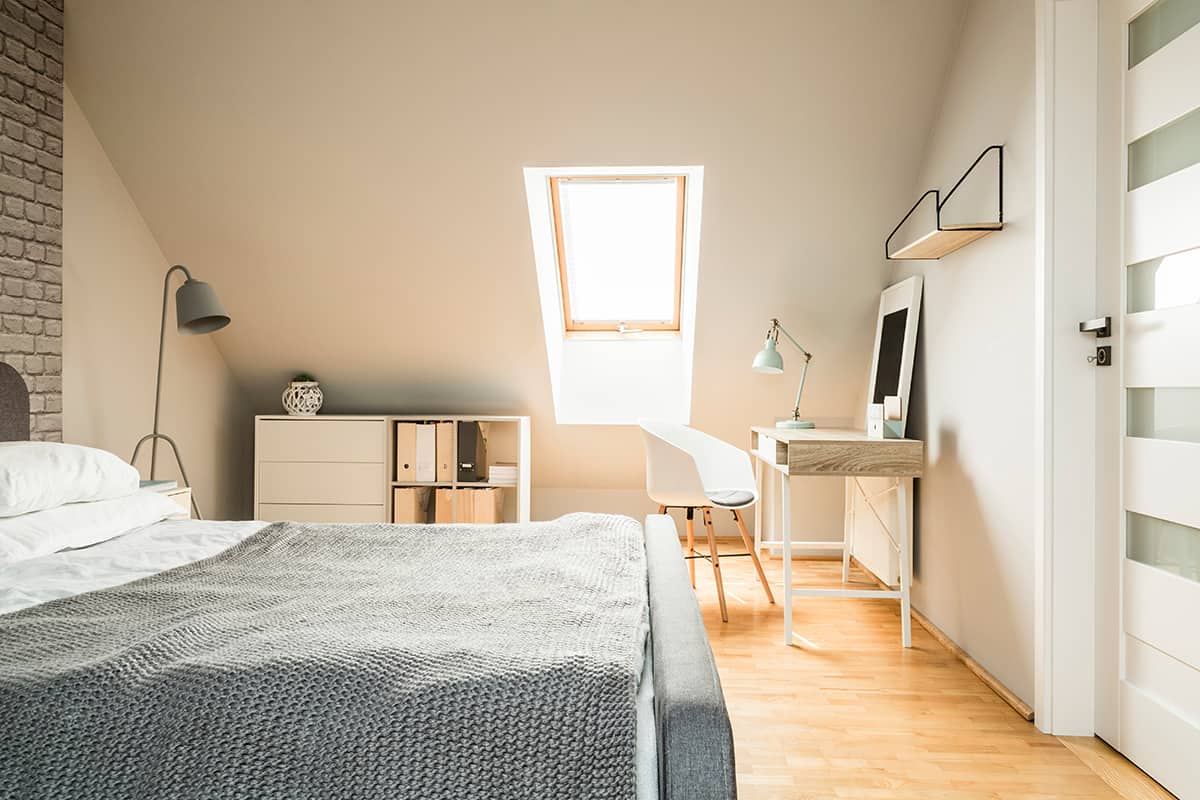 This loft-style bedroom has been built into the eaves of the house and therefore features sloping ceilings, which can make a space feel smaller. To combat this, the room has utilized a simple desk and chair, which both have slender legs, allowing the eye to see underneath them, and ensuring more floor space is visible.
This helps the room to feel bigger and not overcrowded. The layout benefits from the bed being away from the sloped ceiling to ensure the user has adequate headspace, and the desk is underneath the Velux window so that natural light can be enjoyed while working. There are other bedroom floors plans to fit such small areas like ' 12 Best 12 by 10 Feet Bedroom Layout Ideas' , ' 9 Best 10×10 Bedroom Layouts For Small Rooms (with 9 Floor Plans).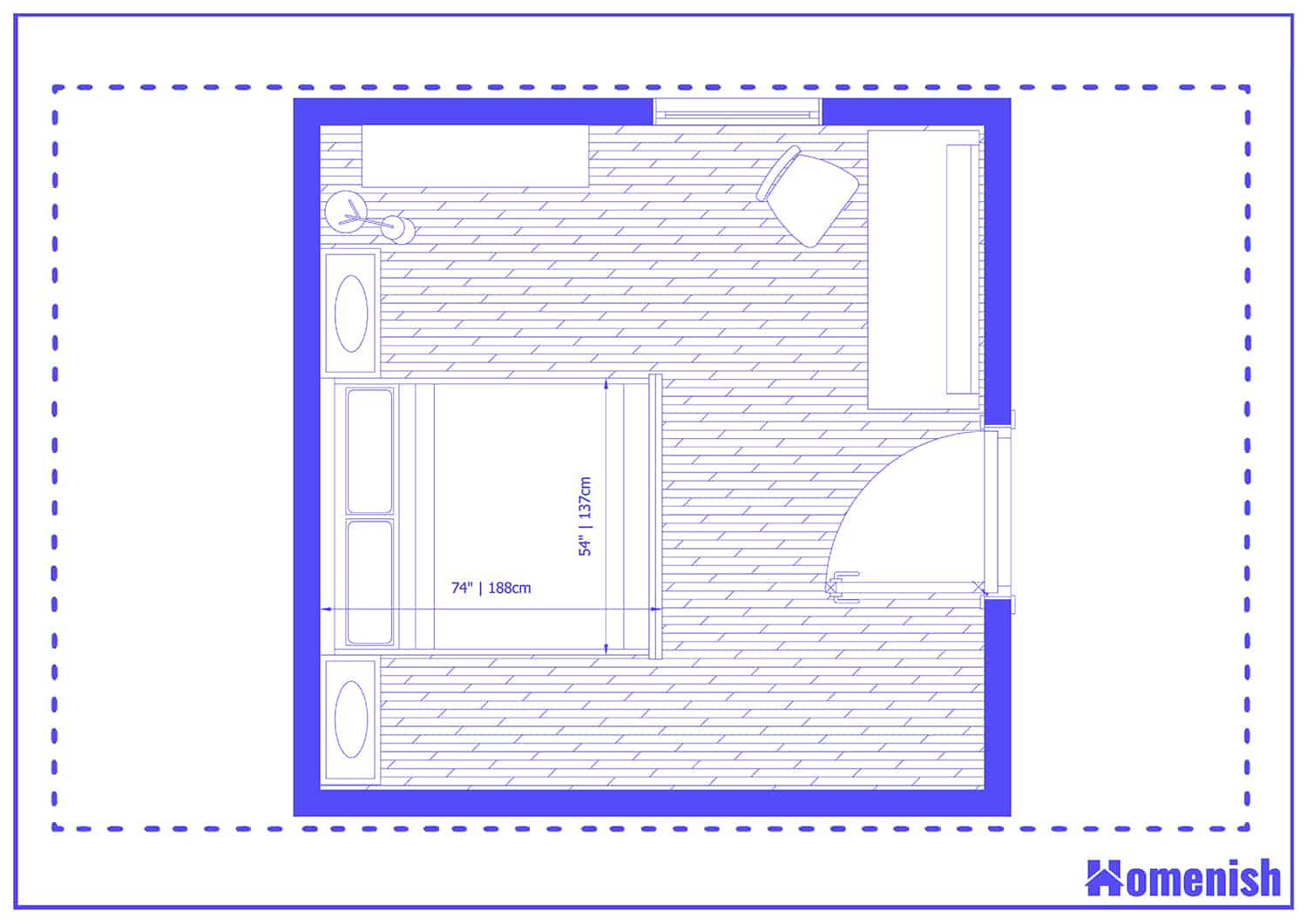 Modern Gray Bedroom with Fitted Desk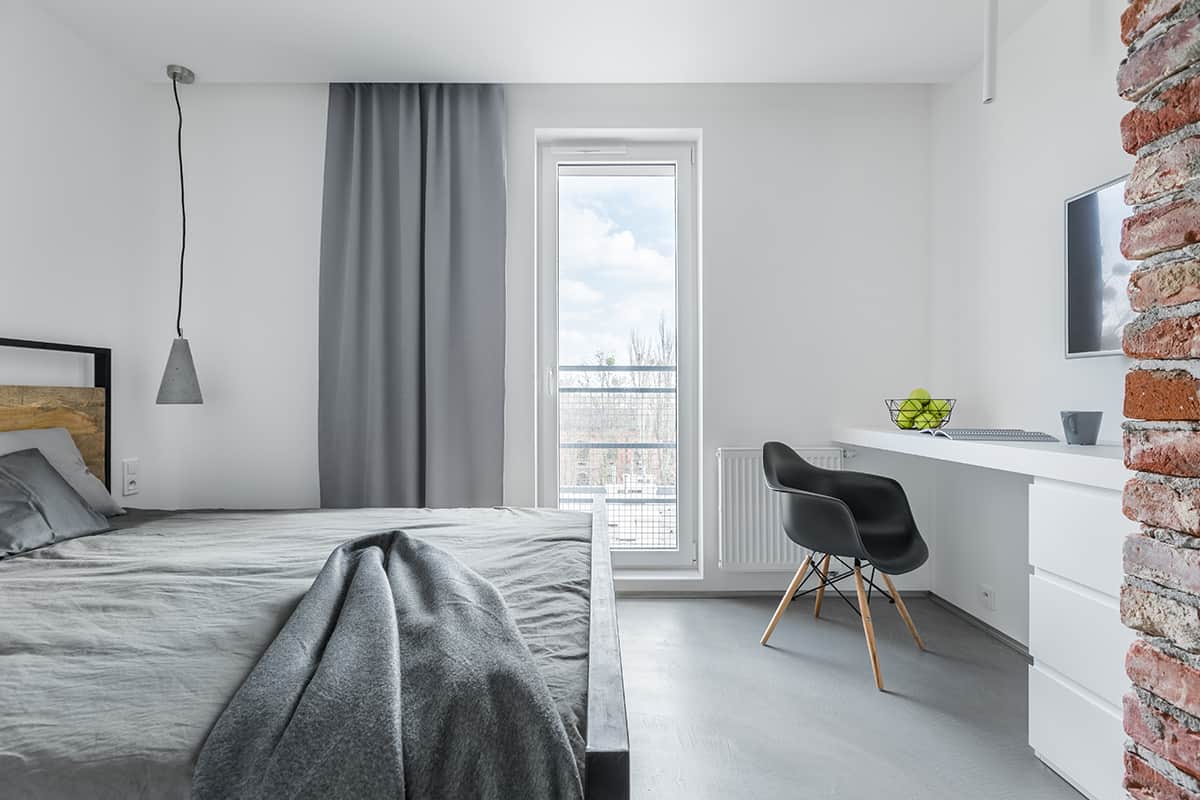 This casual and contemporary bedroom enjoys a minimalist style, thanks to the lack of furniture and clean lines. Rather than using a freestanding desk, this bedroom features a fitted desk that has been specifically built into the room. This contributes to the uncluttered look of the room and further emphasizes the sleek and modern style.
The desk has been painted in a pale color similar to the walls so that it blends in without looking flat. Having a built-in desk like this is great because you can customize it to meet your personal requirements. This desk is long enough so that two people can use it at once.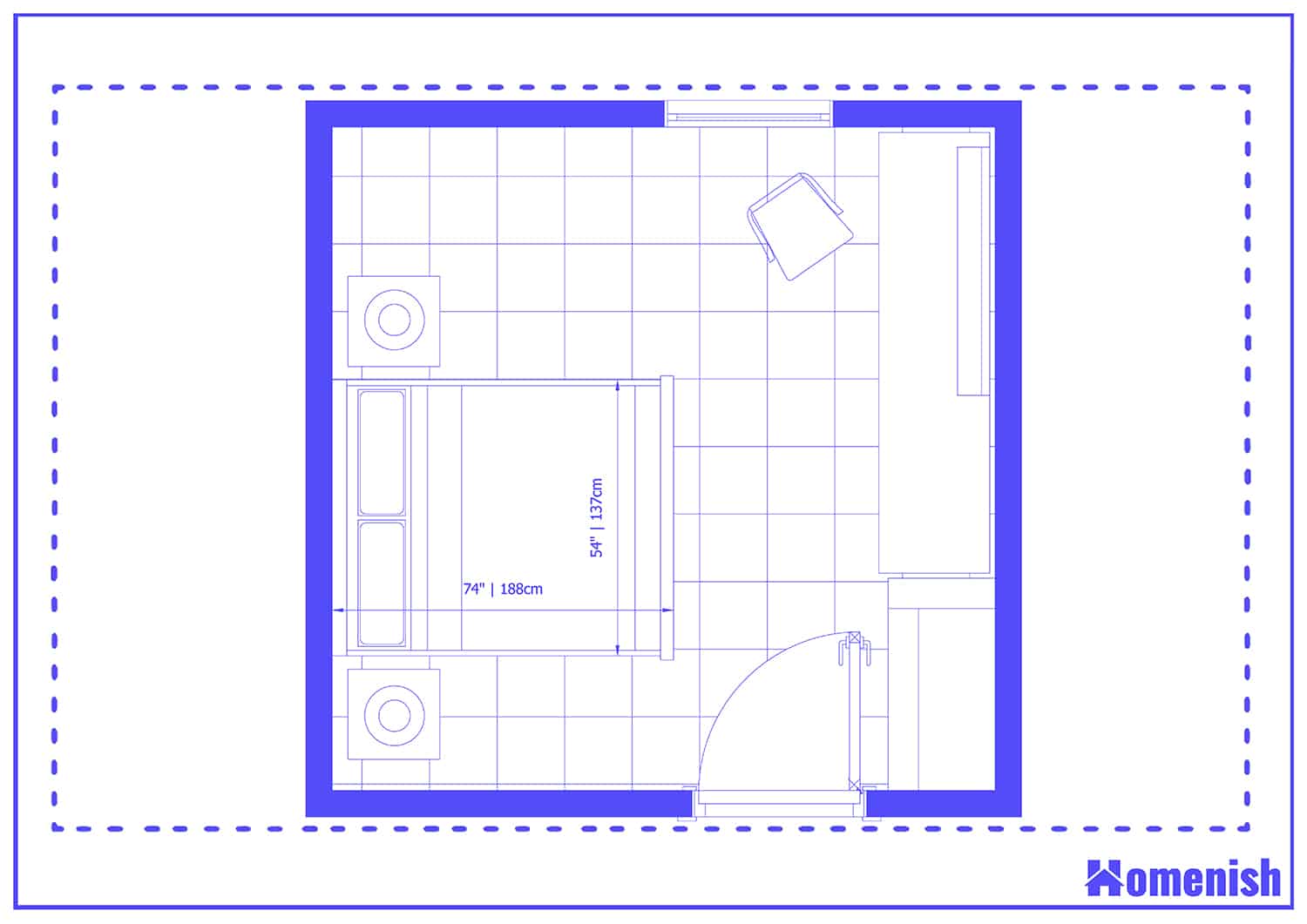 Queen Bedroom and Side Desk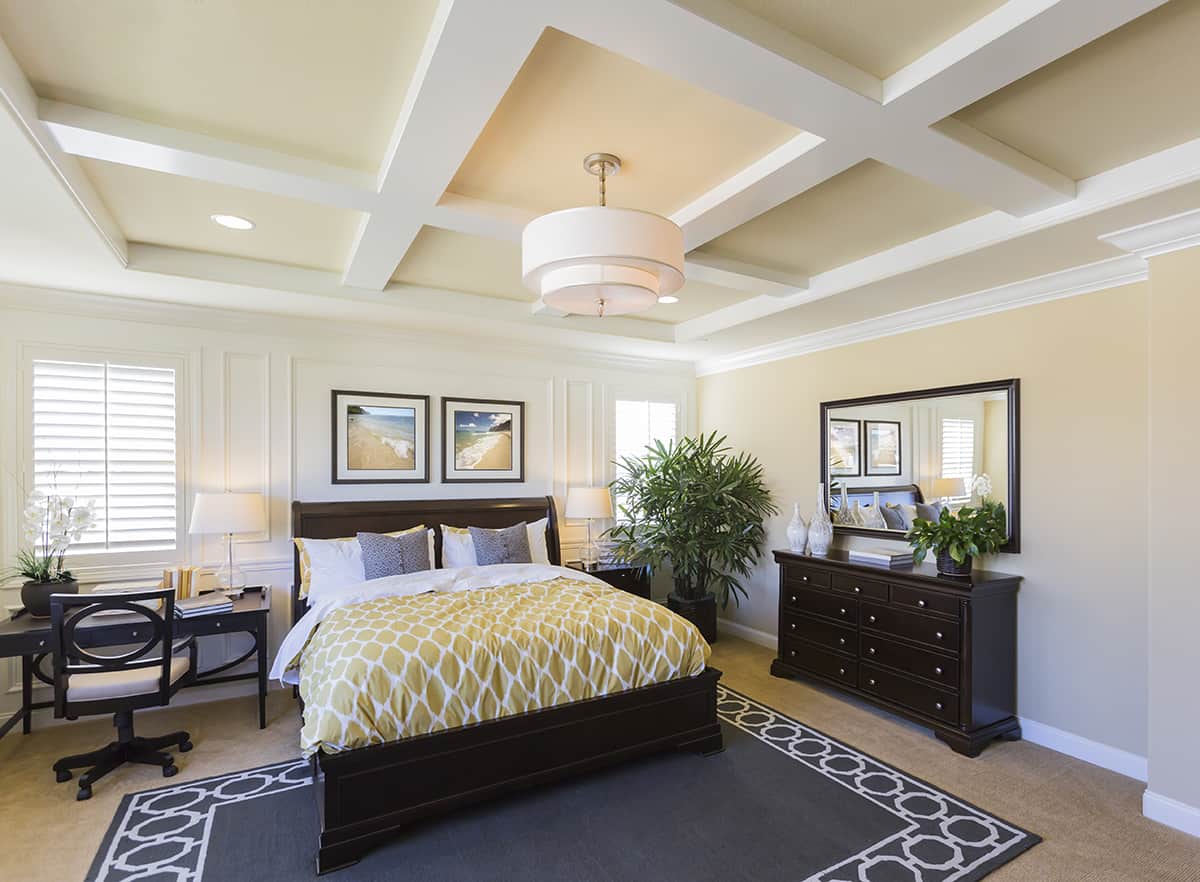 This bedroom features a queen bed with a desk positioned next to the head of the bed. This is a clever way to lay out the furniture in a bedroom because it means the desk doubles up as a nightstand, allowing you to reduce the amount of furniture in a room and free up some floor space.
The desk is able to hold a lamp and also provides a surface for keeping a book, phone, or drink just as a nightstand would, while also functioning as a working desk during the day. The bedroom layout is not symmetrical as is traditional because of the desk being used in place of a nightstand on one side of the bed. This can actually make a bedroom look less formal and more practical.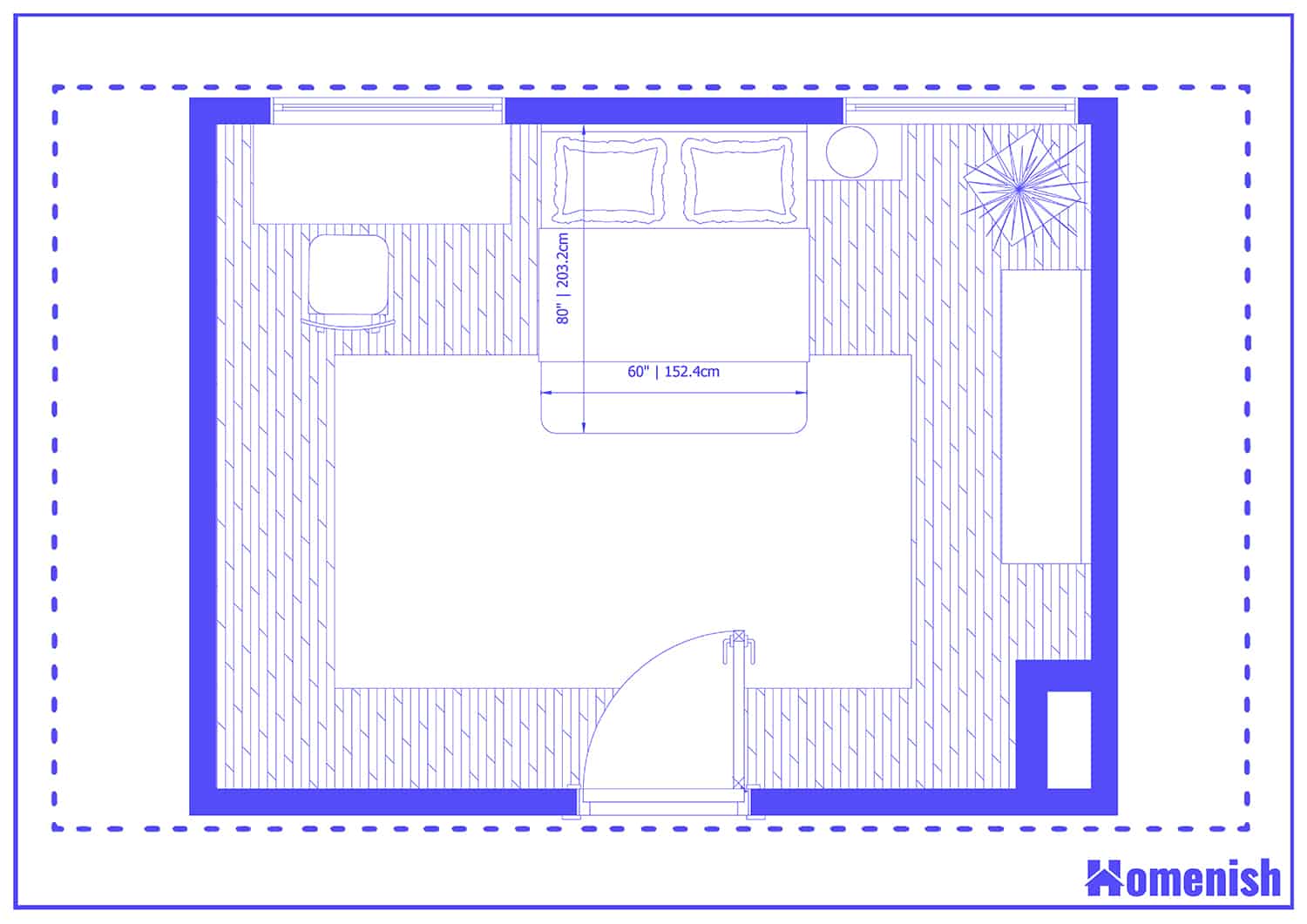 Luxury Bedroom with Desk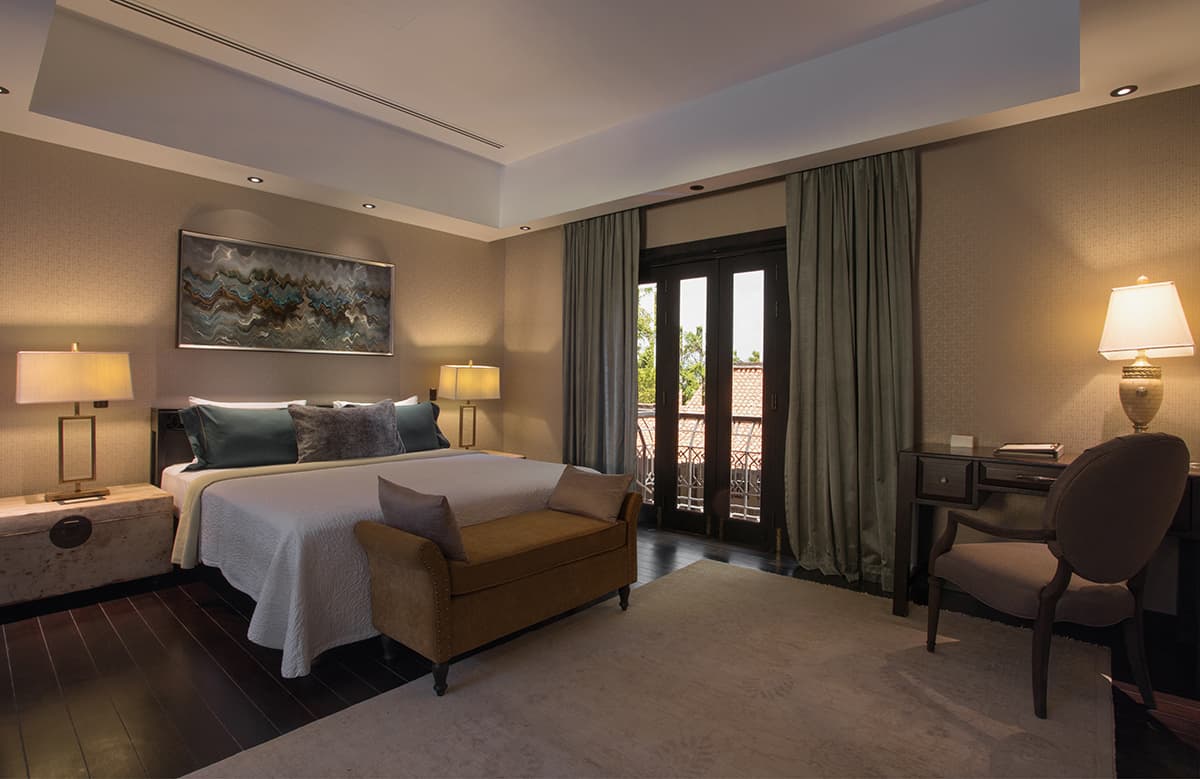 This luxury bedroom features a plush bed with large matching nightstands on either side. It benefits from plenty of natural light due to bi-folding doors, but a more intimate feel has been achieved thanks to heavy drapes and muted neutral colors. The desk has been tucked into a corner of the room and is the same color as the wall, which helps to camouflage it.
This is a great technique if you don't want your bedroom to feel like an office because of the presence of a desk. The desk is equipped with a lamp to improve light and sight when working, due to the fact that the desk is not positioned in front of any windows.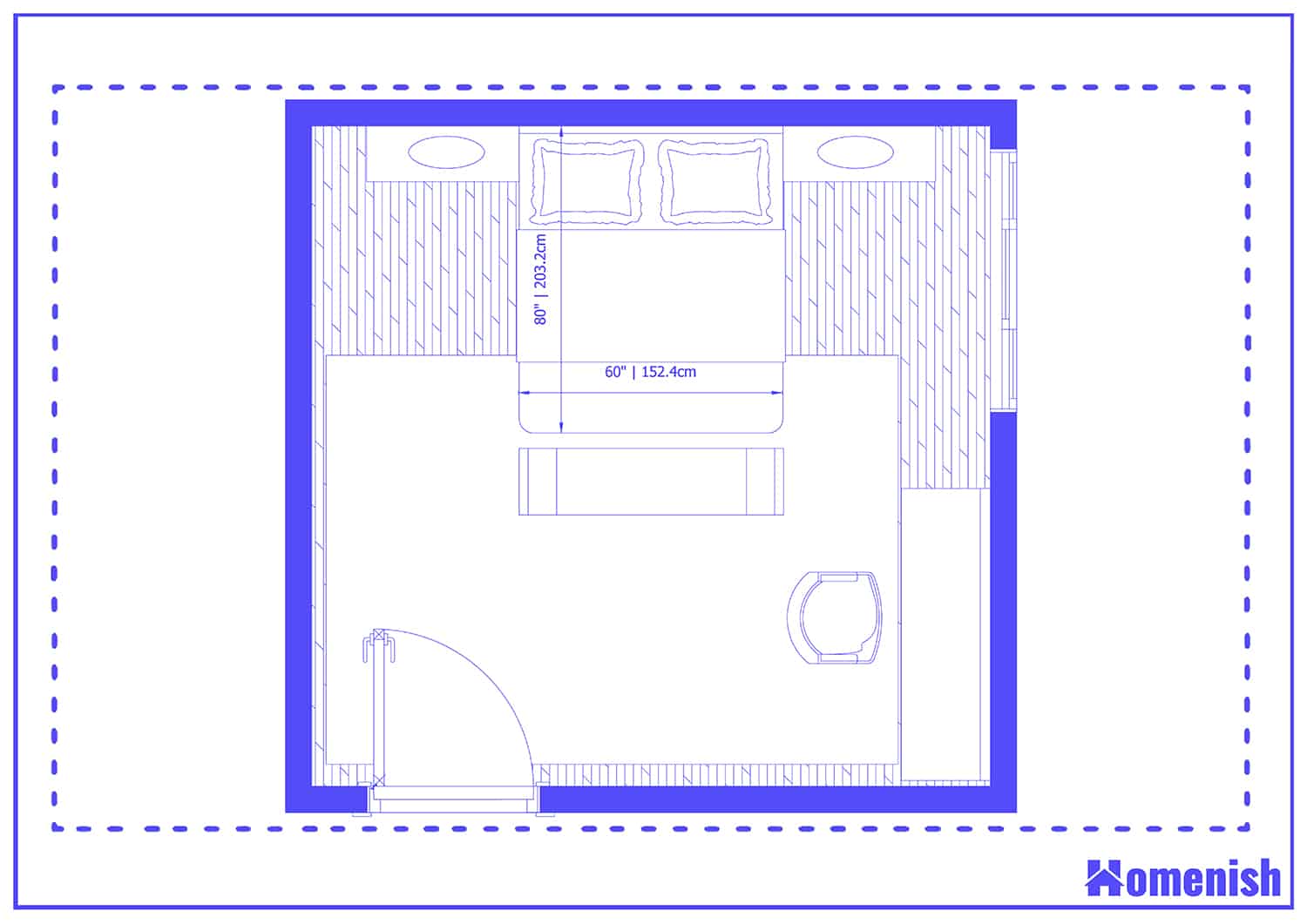 Teenage Bedroom and Workspace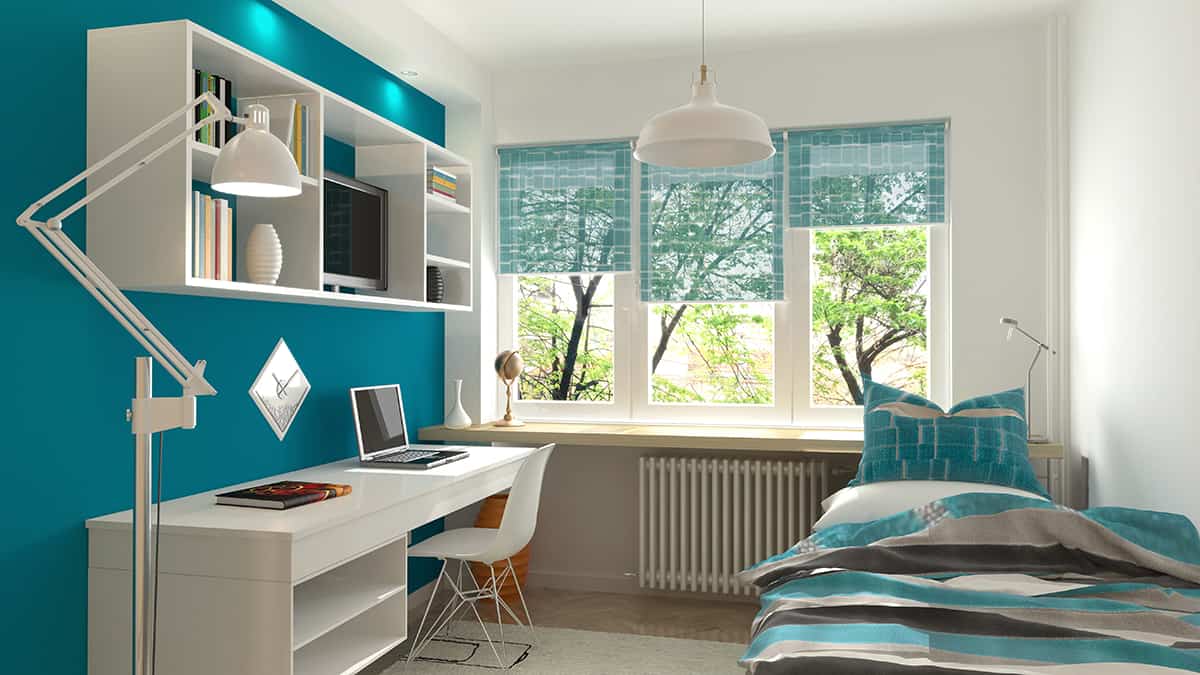 A teenager's bedroom functions differently from that of an adult's bedroom because while adults use their bedroom predominantly at night, a teenager will spend many daytime hours in their room. This means that it doesn't need to be seen as a relaxing haven for sleep like an adult's bedroom, but instead, it can be a chill-out zone and a functional working space for teens to work on projects and enjoy their free time.
This bedroom layout achieves that by equally dividing the space between a twin bed and a desk area. Above the desk, a shelving and entertainment unit has been installed on the wall for increased storage and a convenient place for a TV so that it can be watched while in bed.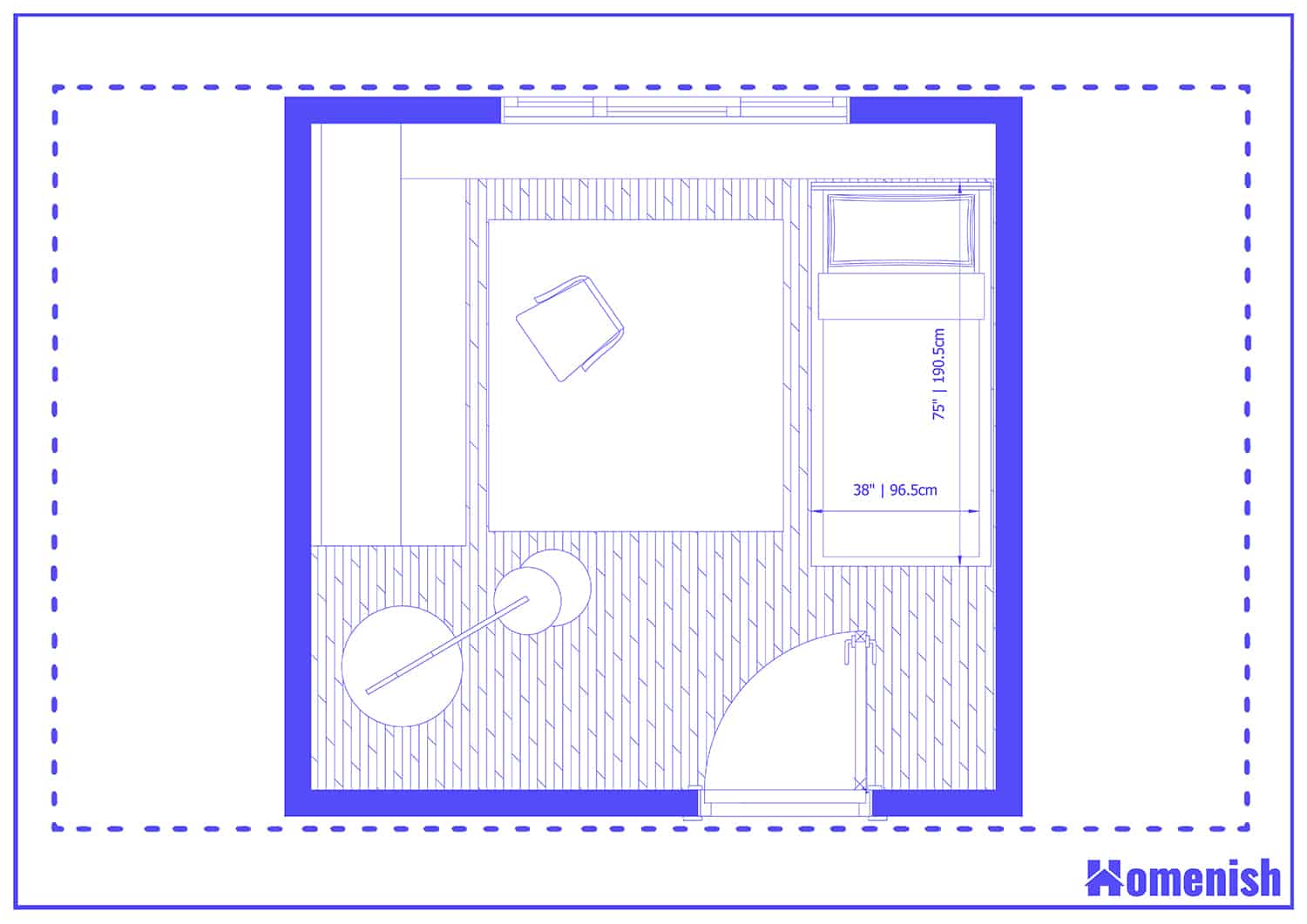 Bright Bedroom with Desk and Storage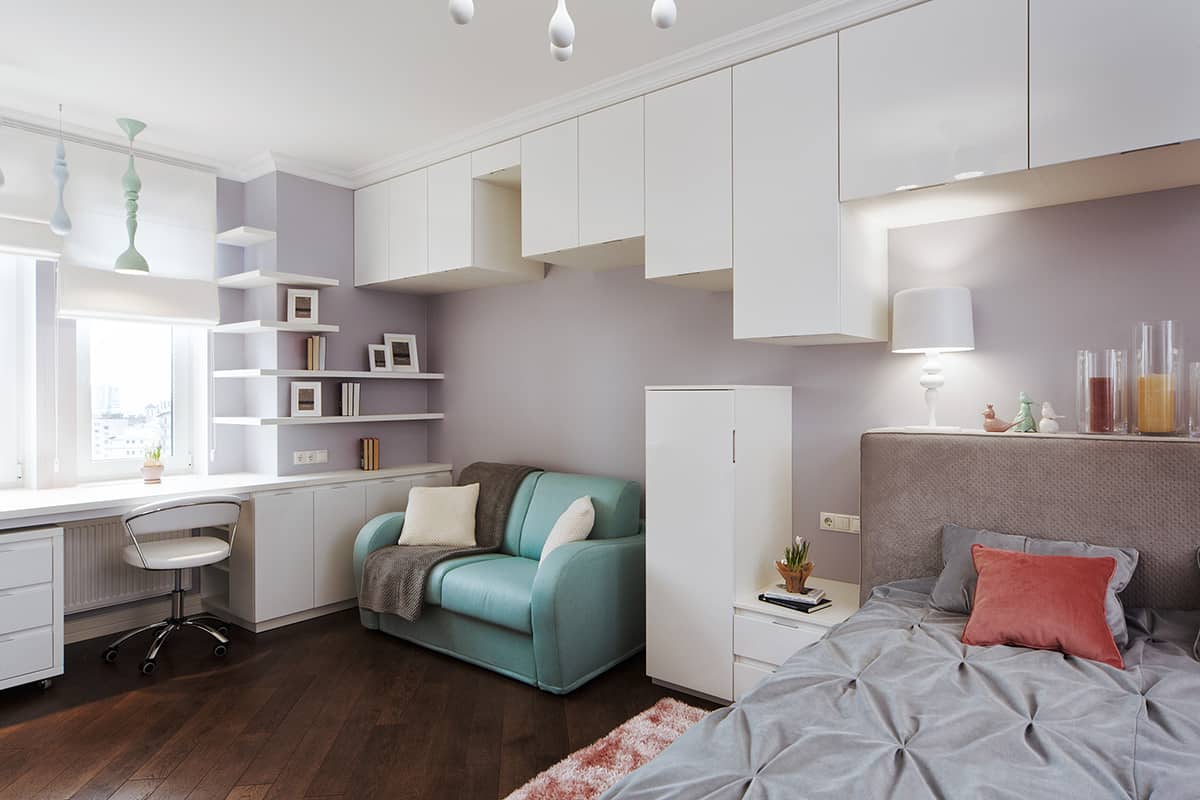 This bedroom has almost every wall surface utilized with furniture and storage, creating a customized cozy room for working, playing, and relaxing.
The bed and sofa are surrounded by wall cabinets which make them feel enclosed and comfortable, while the desk has been positioned in front of a window so that it benefits from plenty of natural light.
Although this bedroom seems to have a large proportion of furniture, it enables the space to be free of clutter because any stationery, toys, clothes, or additional items are able to be stored away out of sight.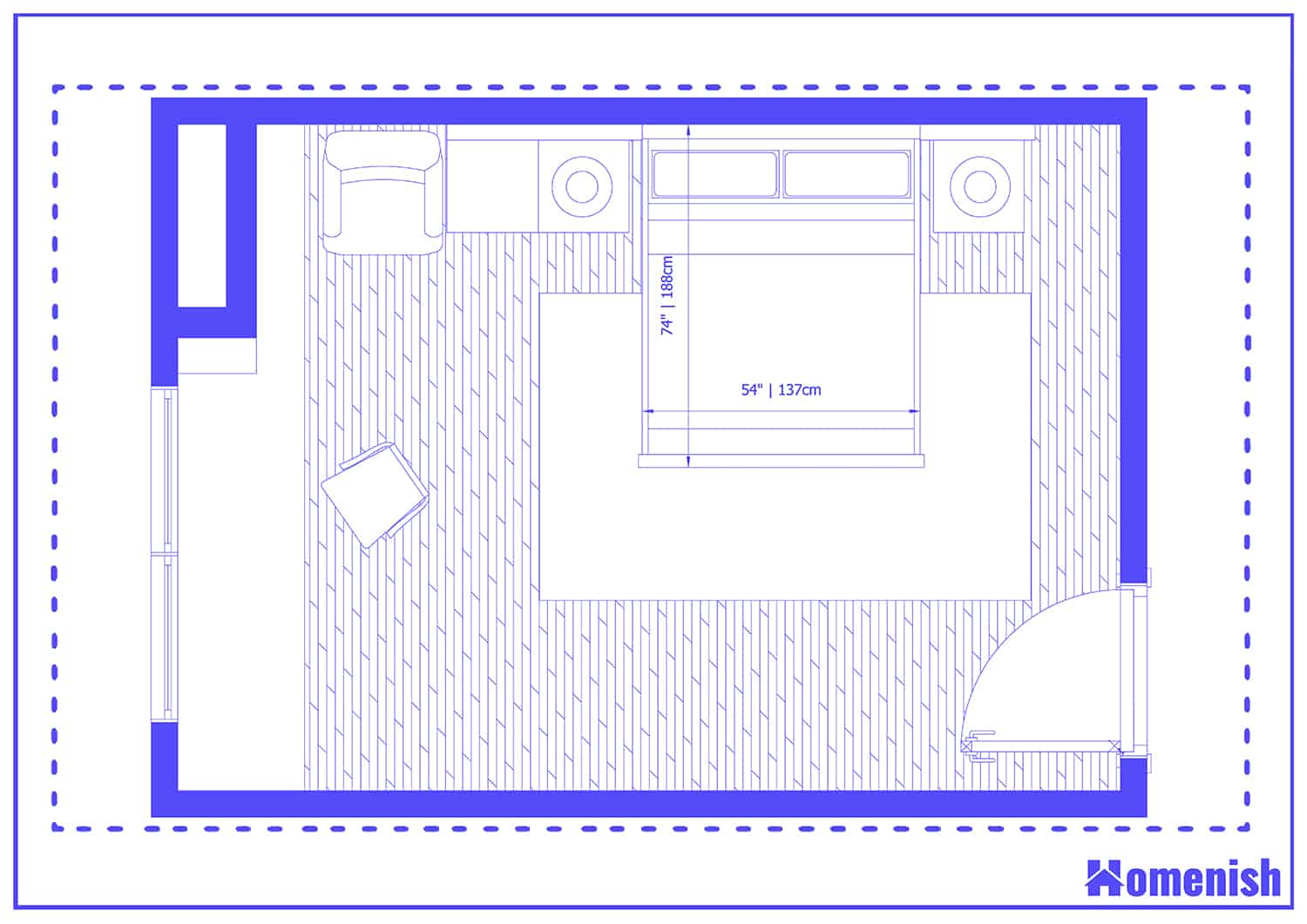 Simple Storage Bedroom Layout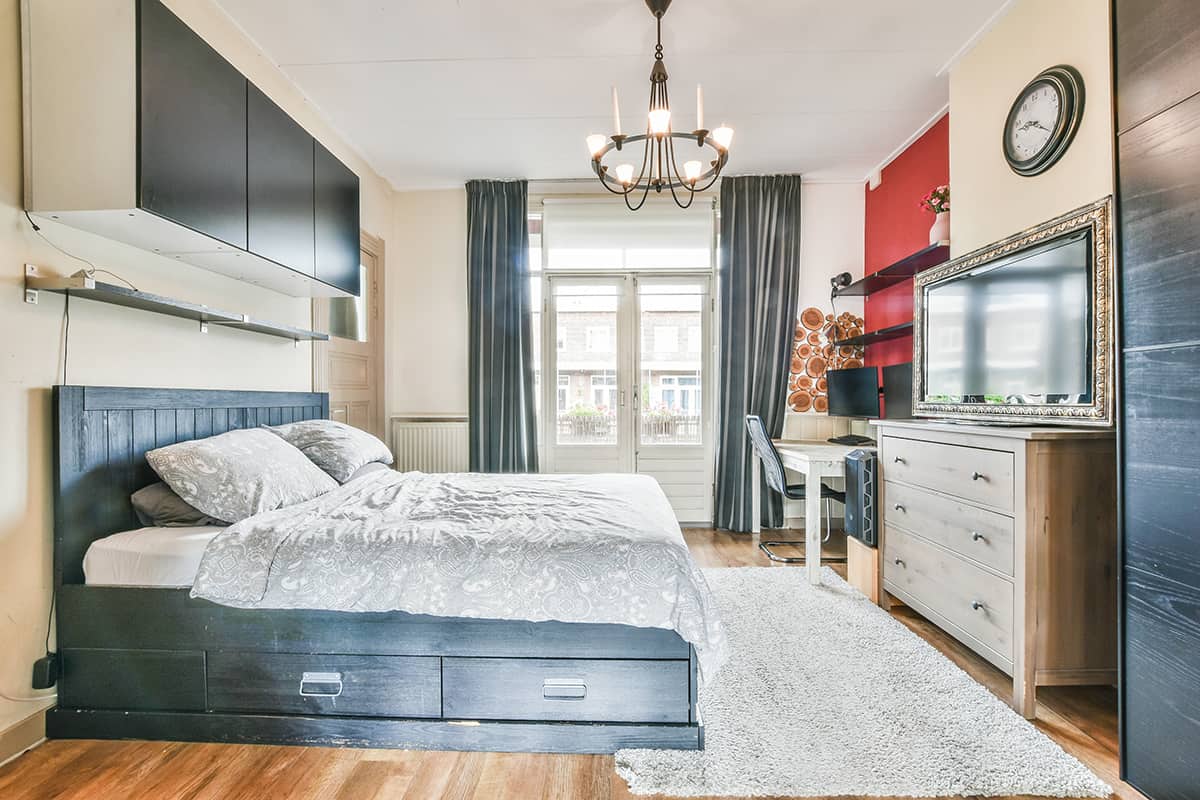 This bedroom features plenty of storage options while still maintaining a simple and clean look. The large bed has chunky drawers in the base for storage, which creates usable space in an area that is usually lost beneath the mattress. There are overhead cabinets fitted on the wall above the bed, as well as a chest of drawers at the foot of the bed.
The desk has been tucked into the corner of the room, which helps to keep a divide between the relaxing area and the working area in the space. The desk is positioned near to a window which means the user can benefit from natural light during the day, improving vision while working and cutting down on electricity bills for artificial lighting.