If you have a twelve-foot by ten-foot bedroom and don't know how to design and arrange furniture in your bedroom, use these layouts as inspiration to create your dream bedroom in your own home.
Minimalist Urban Layout
This bedroom features a queen-sized bed flanked by a nightstand on either side. The TV has been fixed to the wall at one side, which saves on floor space, and an occasional chair sits beneath it, which could be used to hang clothes over or to rest on while getting ready.
As the room is dominated by the bed, the remaining space has been made to feel more open and airy with the use of simple furniture in minimalist designs.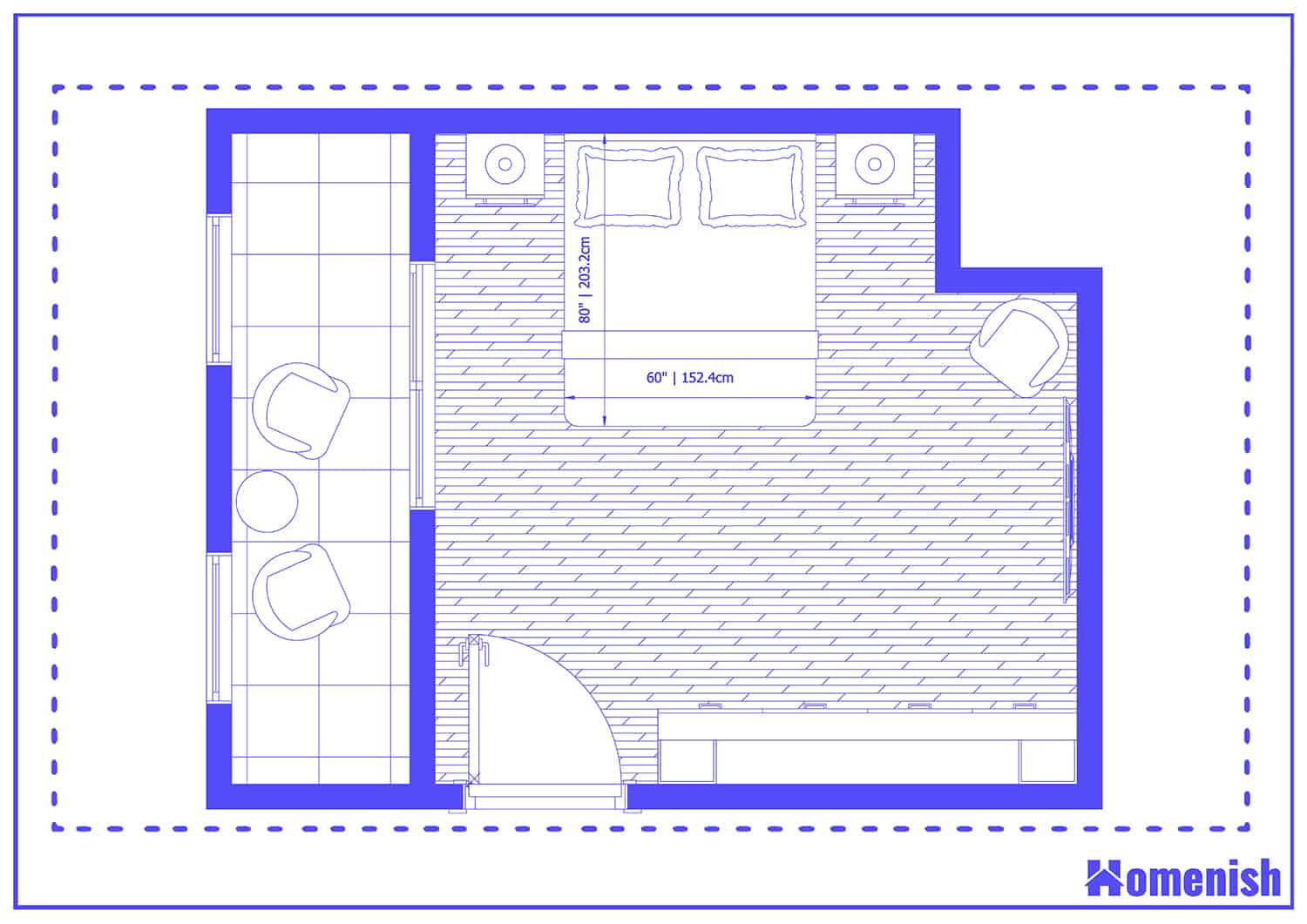 Bedroom Office Layout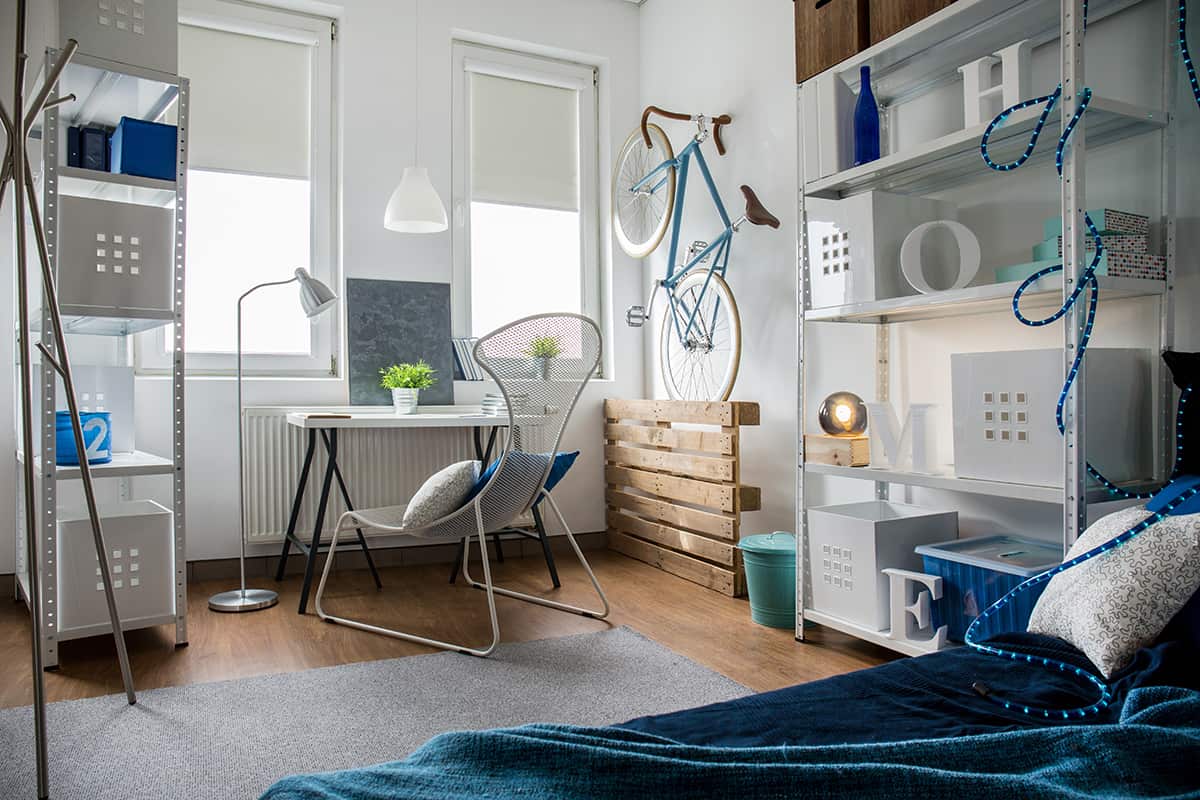 This 12 foot by 10-foot bedroom doubles up as a home office. It features a twin bed, a desk, and plenty of shelving space to accommodate storage needs. Despite being of a relatively small size, this bedroom packs in a lot of furniture while still feeling spacious.
This is achieved by clever storage such as the bicycle hanging high on the wall, and furniture which is not solid, so the eyeline is not blocked.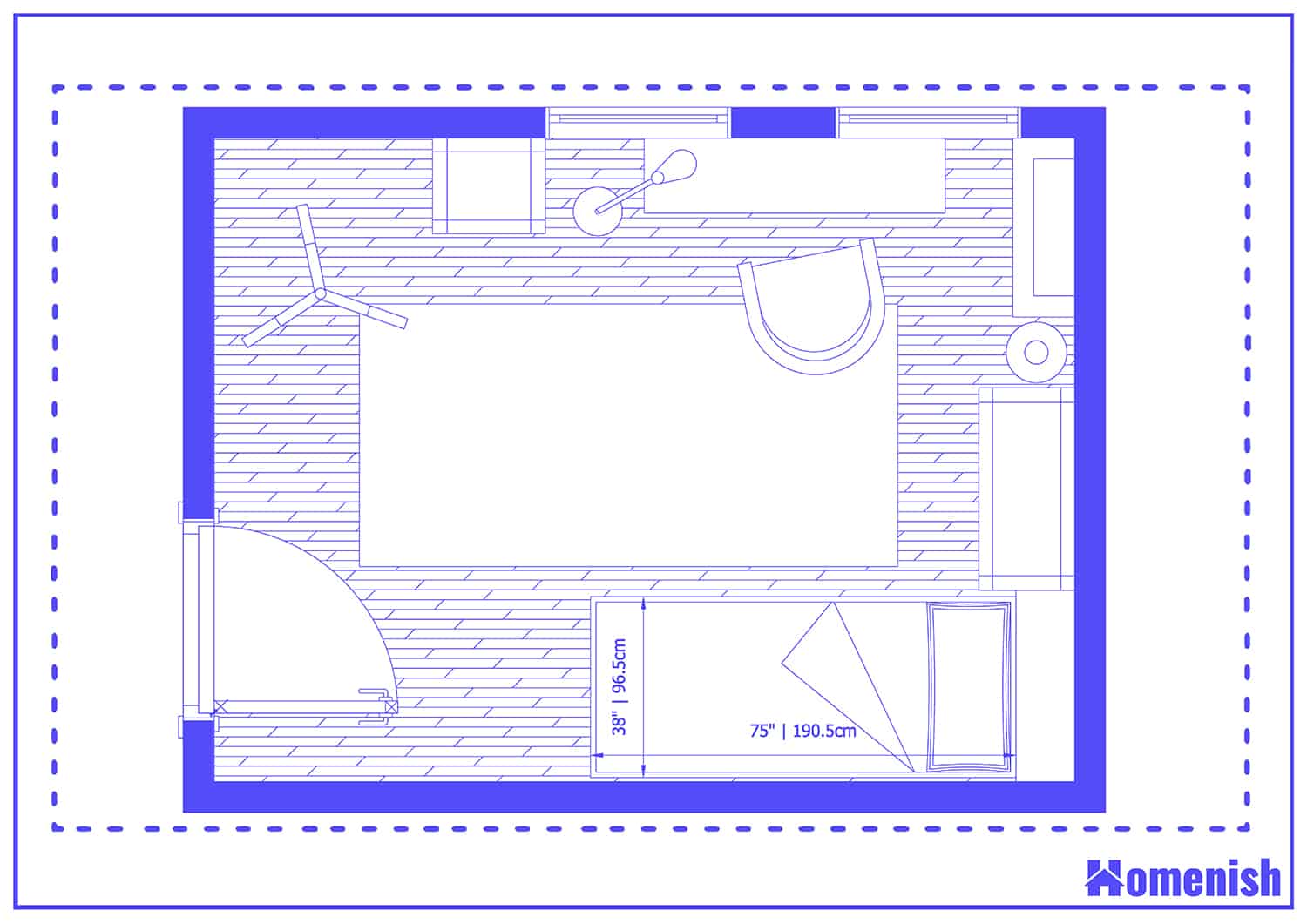 Vaulted Ceiling Bedroom Layout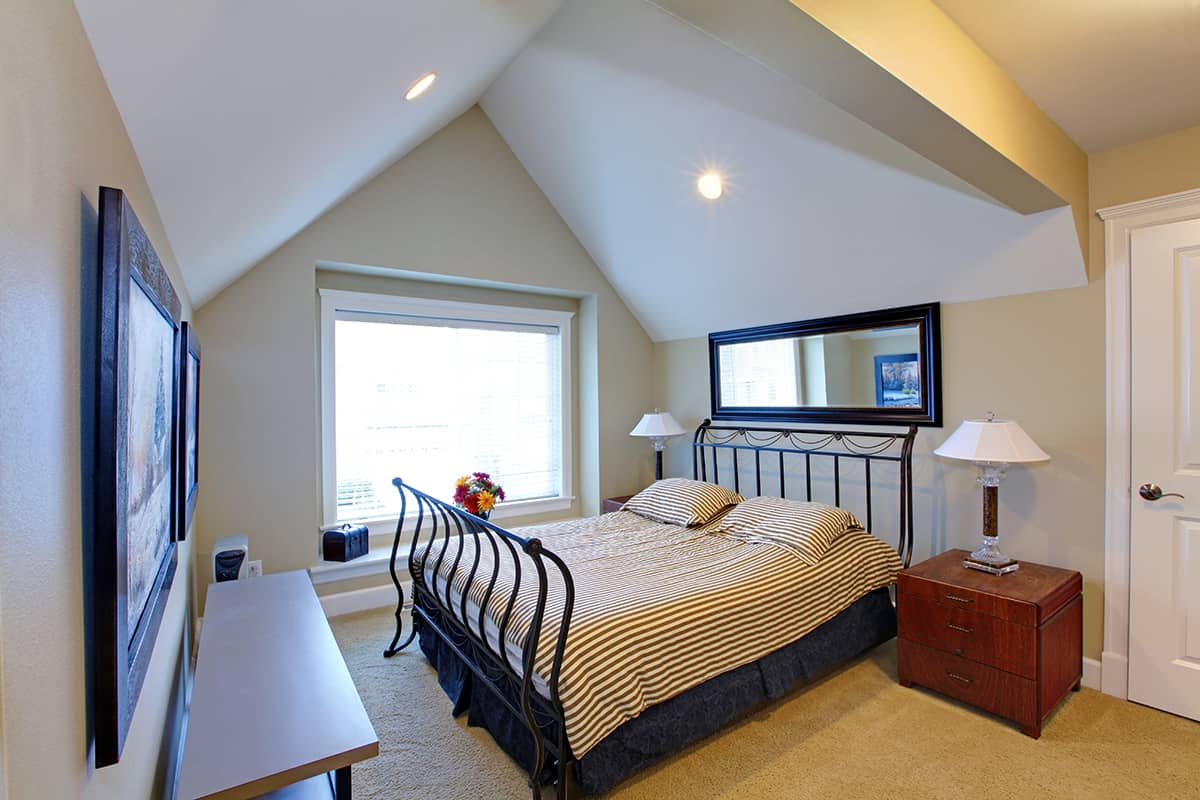 Small bedrooms with vaulted ceilings can be made to feel especially confined due to the imposing ceiling, however clever use of light and furniture has allowed this room to feel open and spacious.
The positioning of a large mirror above the bed reflects light coming in from the window and makes the room feel bigger than it really is. The room accommodates a full-size bed alongside two chunky nightstands, with matching lamps on either side for a symmetrical look.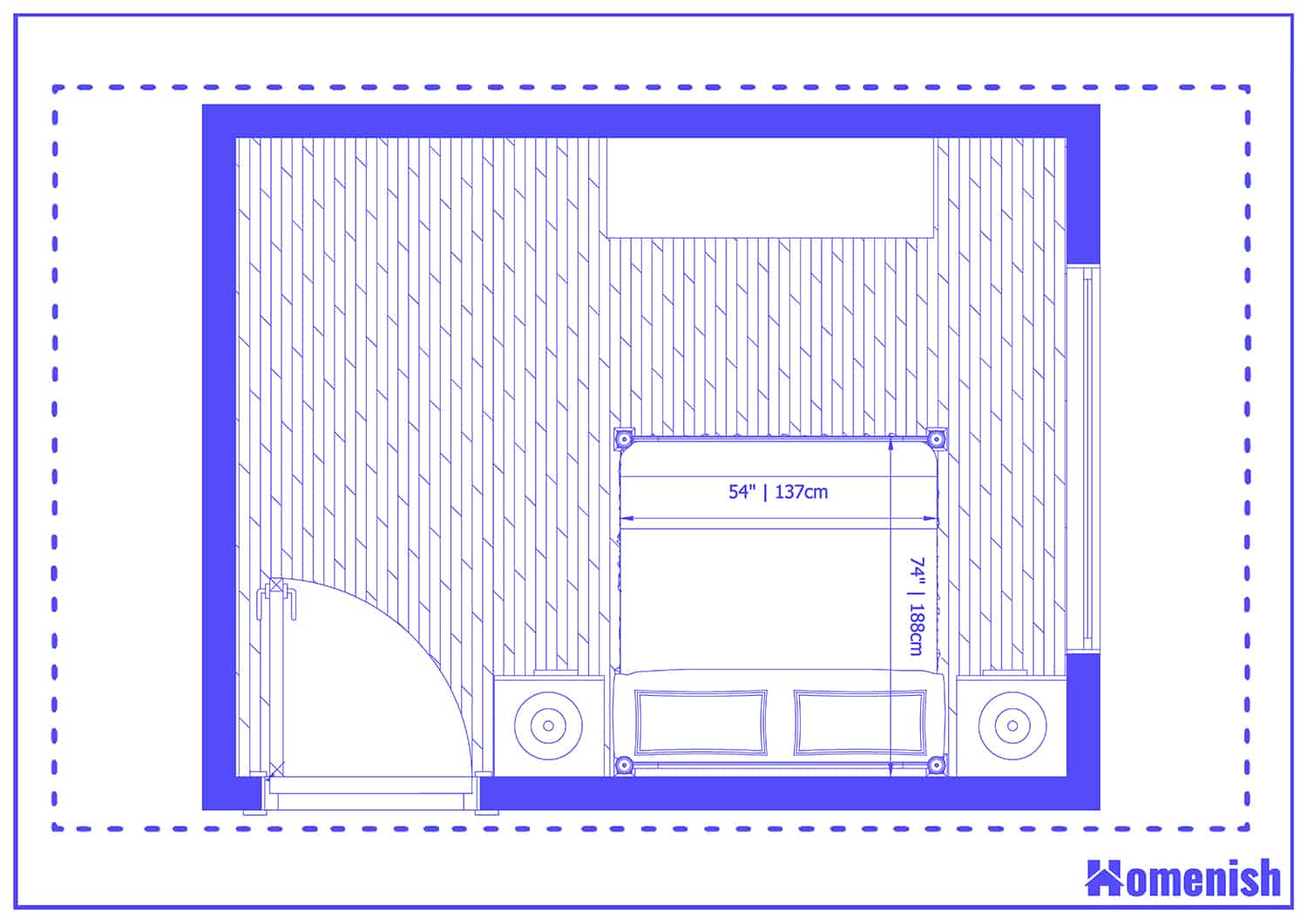 Simple Cozy Layout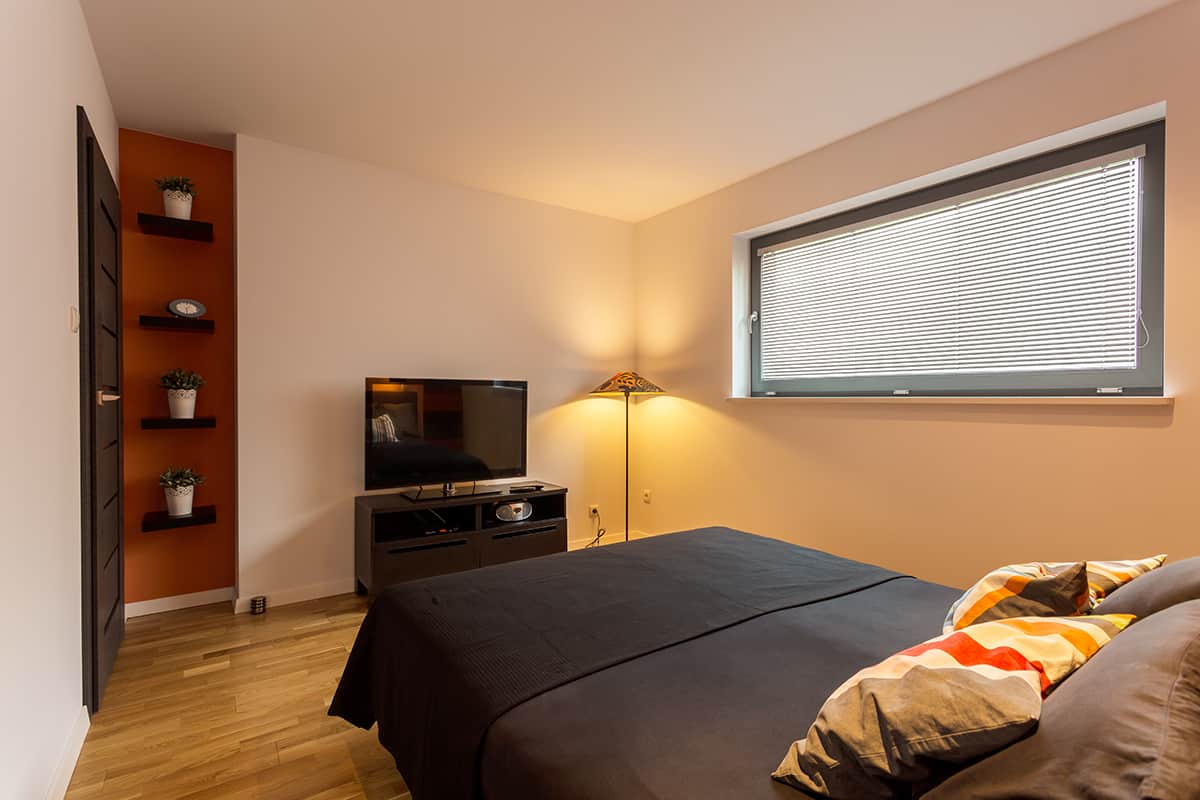 This 12 by 10-foot bedroom features a full-size bed facing a TV stand with cupboards for extra storage. There is a distinct lack of other furniture, which makes the room feel bigger and leaves plenty of floor space available.
The room is made to feel cozy using warm tones, and the addition of small shelves on the wall to display plants creates interest and depth in the room.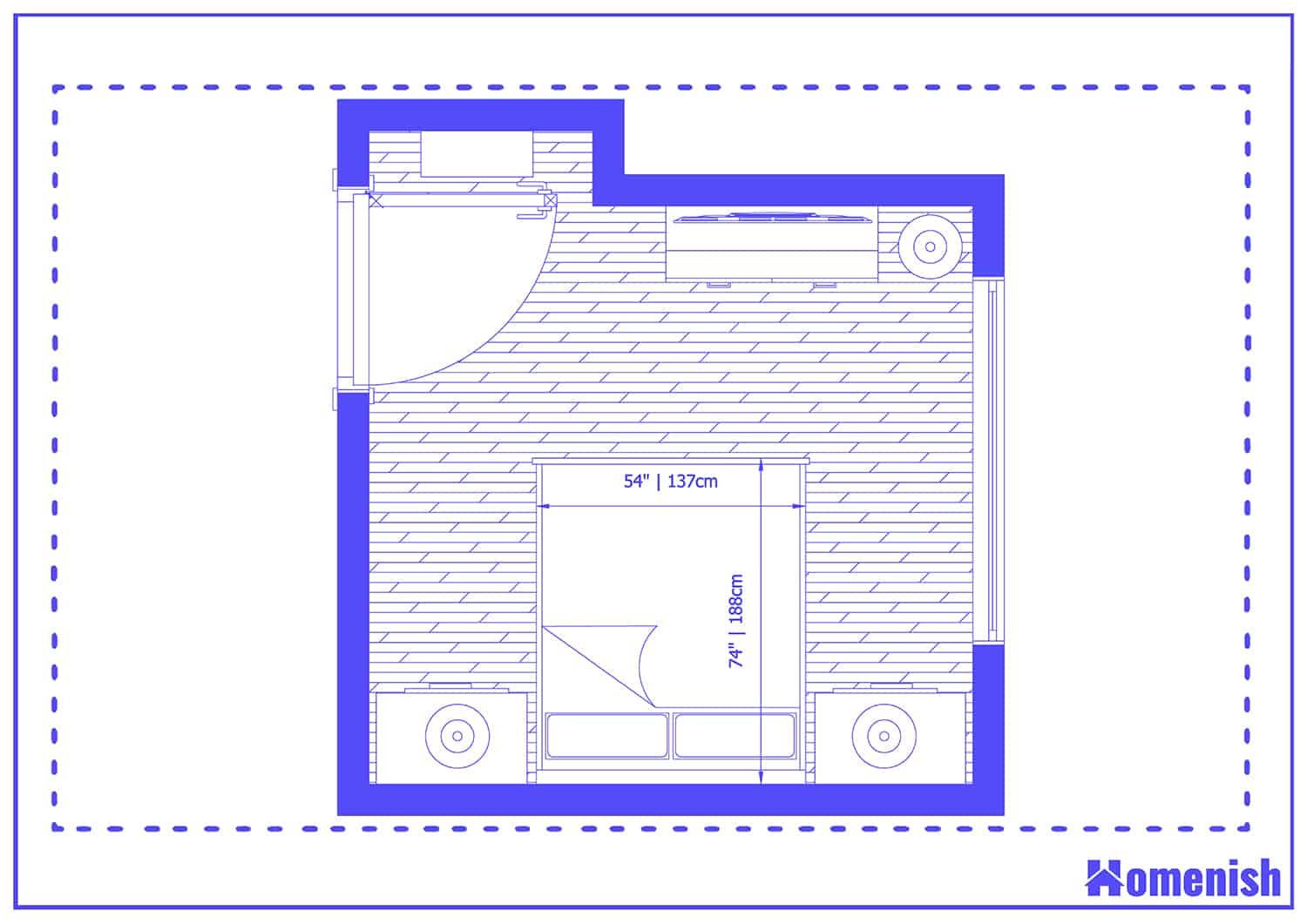 Casual Homely Layout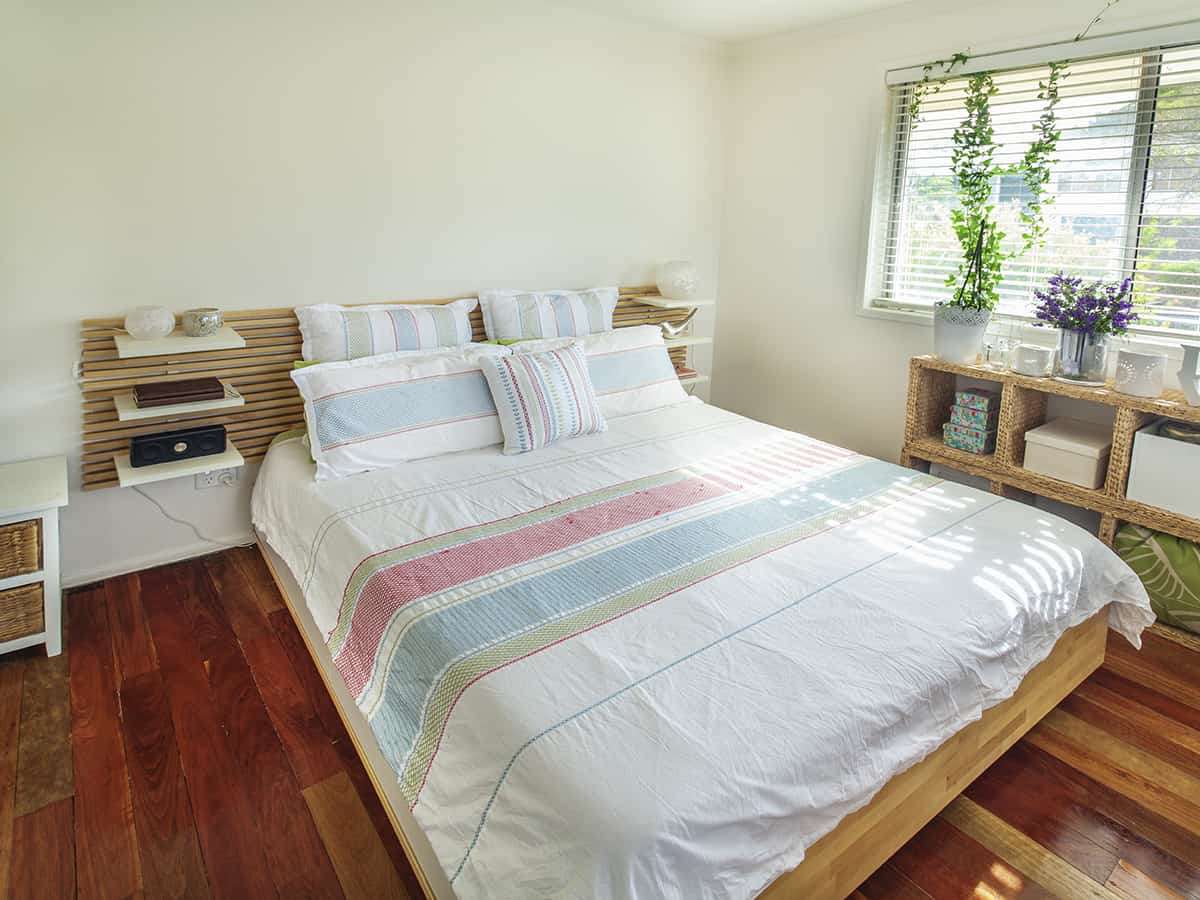 This bedroom features a queen-size bed and several pieces of storage furniture. A custom headboard has been created behind the head of the bed made from slats of wood, which also double as storage shelves for books or other small items.
These shelves can be used instead of nightstands, eliminating the need for additional furniture, which takes up floor space. Various wooden tones make this small bedroom feel homely and inviting, while the use of houseplants gives it a fresh and casual feel.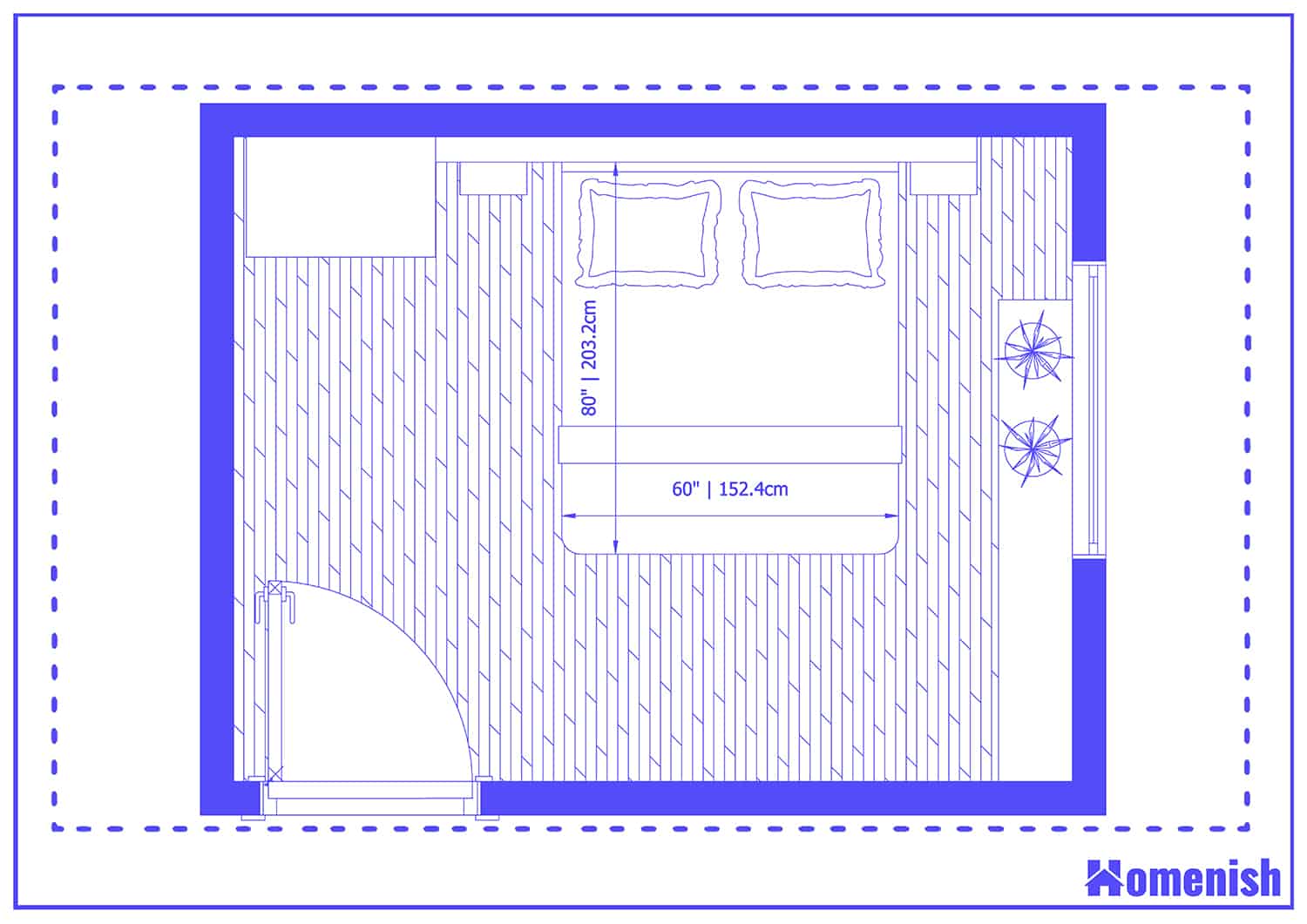 Children's Bedroom Layout
This 12′ by 10′ bedroom is both stylish and functional. It uses bunk beds to create two sleeping spaces for children while only taking up the floor space of a single twin bed.
The furniture has had to be arranged at either side of the room in order to not block the large window at one end of the room, but this works well for leaving empty floor space for children to play.
Lots of storage along with a work or gaming space has been created by filling one wall with shelving, drawers, and a desk. This allows kids to have everything they need in their bedroom while also maintaining a neat and clutter-free space.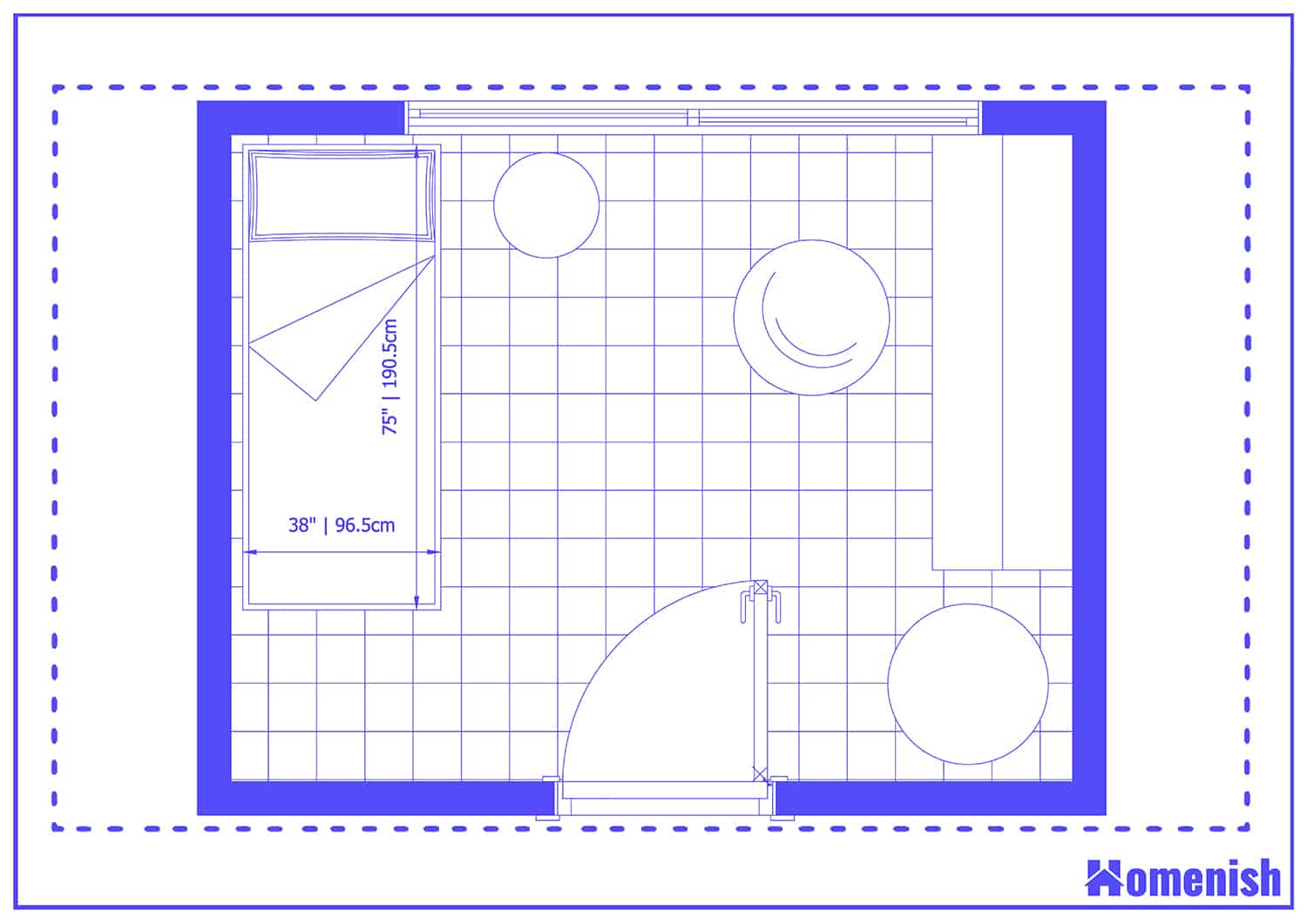 Bedroom and Nursery Layout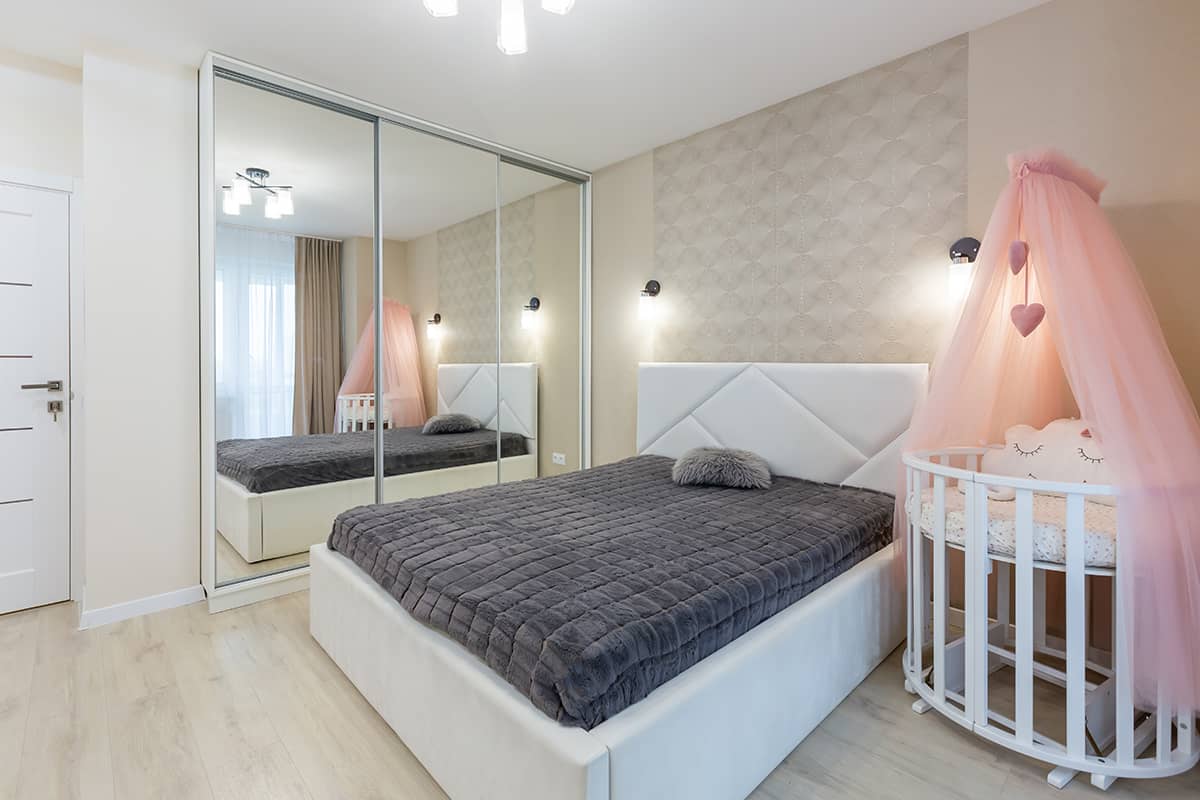 This bedroom accommodates both a queen bed and a small crib for a new baby. The bed has been positioned against one wall, with the crib next to it nestled in a corner.
The mirrored wardrobe doors make the space feel bigger than it really is and add additional light and depth, as well as provide storage for clothing. The use of light colors and the decision to remove other furniture from the room allow it to feel relaxing and spacious.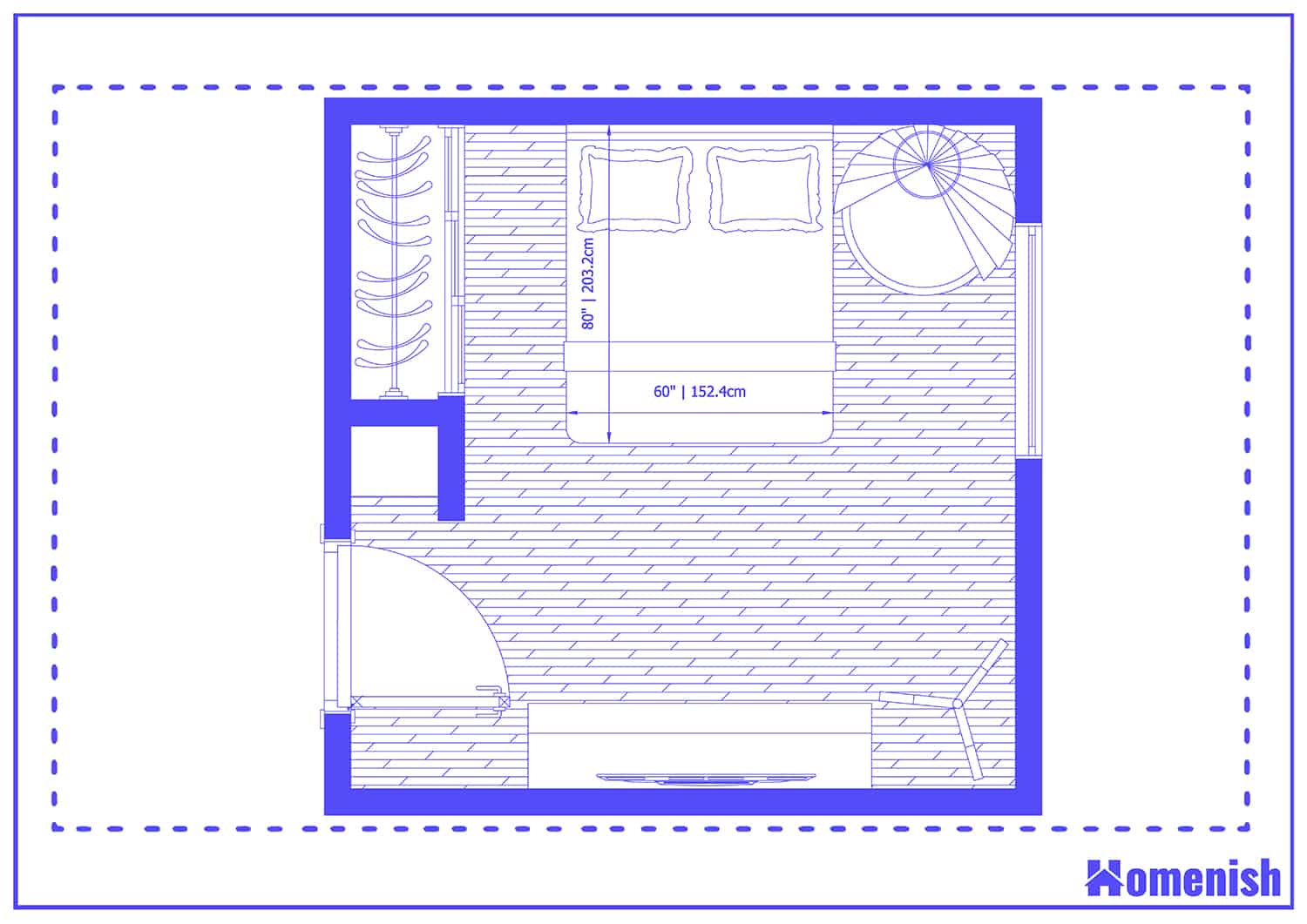 Corner Bed Layout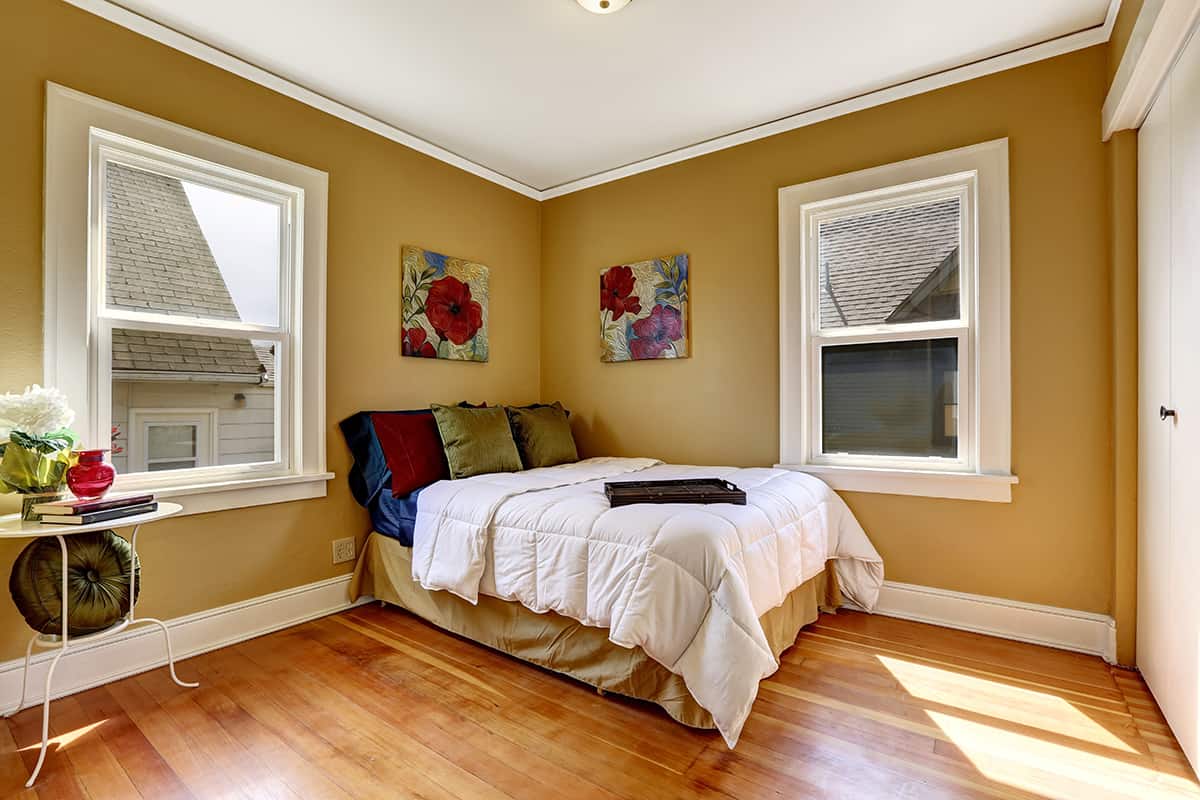 For the layout of this bedroom, the full-sized bed has been pushed into a corner. This creates a more consolidated floorspace in the center of the room, rather than having the floorspace broken up into segments around the edge of a bed in the middle of the room.
This layout works well for an individual because if two people were using the bed, then one would have to climb over the other to get in and out of bed. It's a great solution if you need floor space to play or exercise.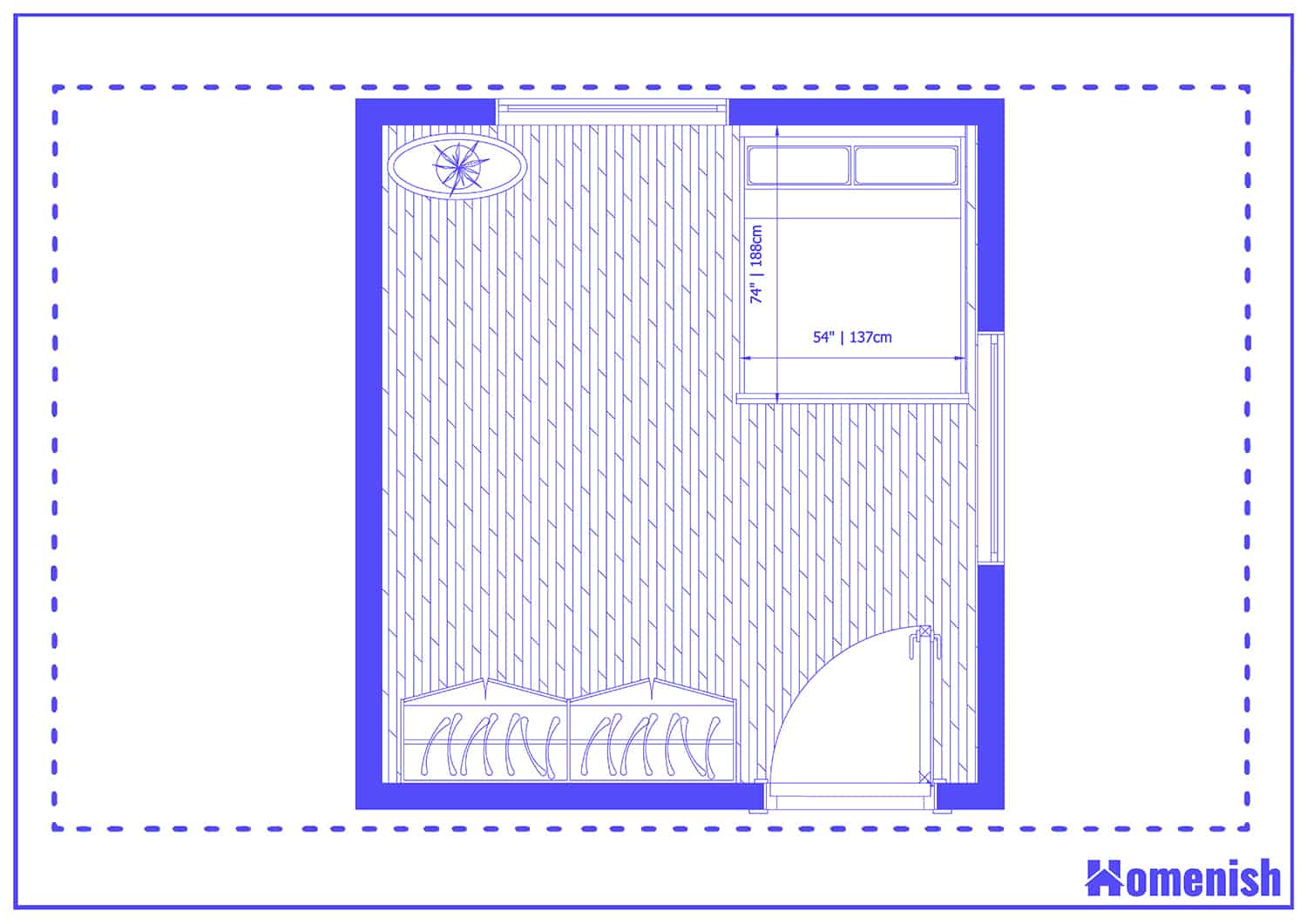 Classic Chic Bedroom Layout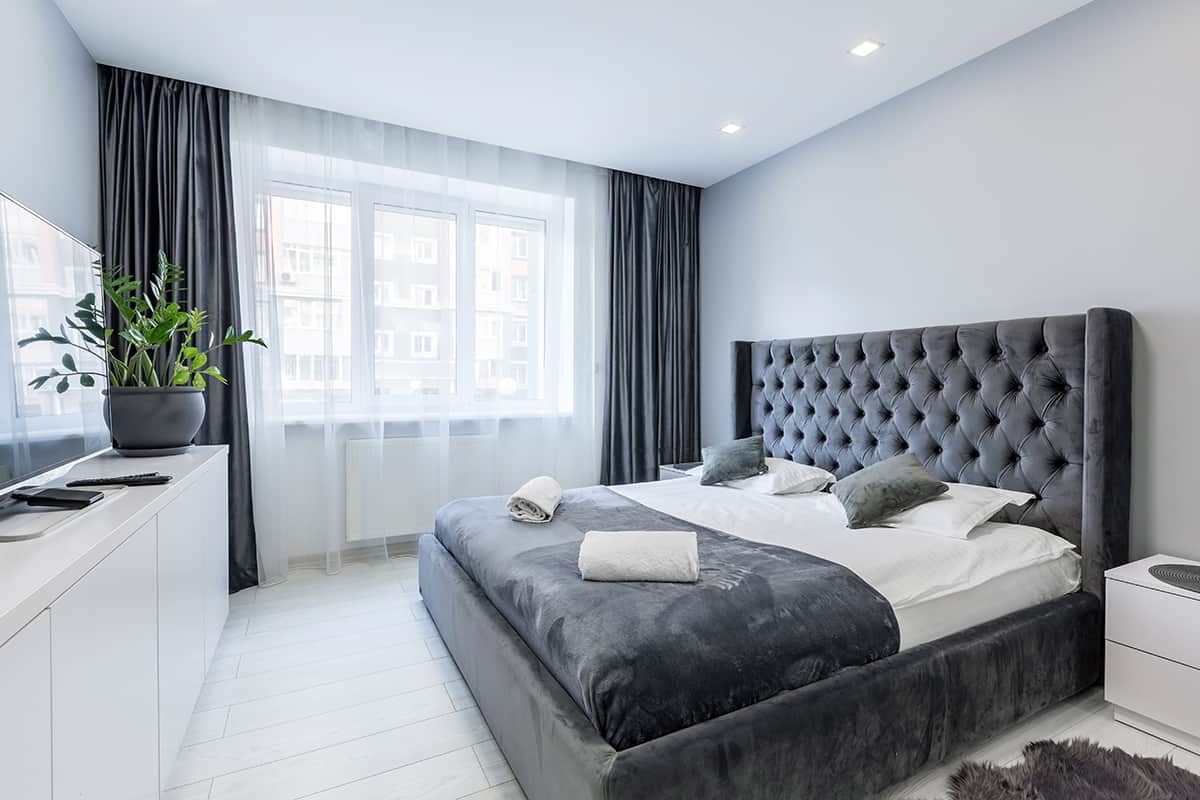 This 12 foot by 10-foot bedroom is dominated by a plush queen bed. Fitted furniture has been installed for a sleek look which maximizes storage possibilities.
The fitted furniture is white with a gloss finish, which helps to reflect light and create the illusion of a larger, more open space. The use of pale decor contrasted against dark gray creates interest and adds a luxury hotel vibe.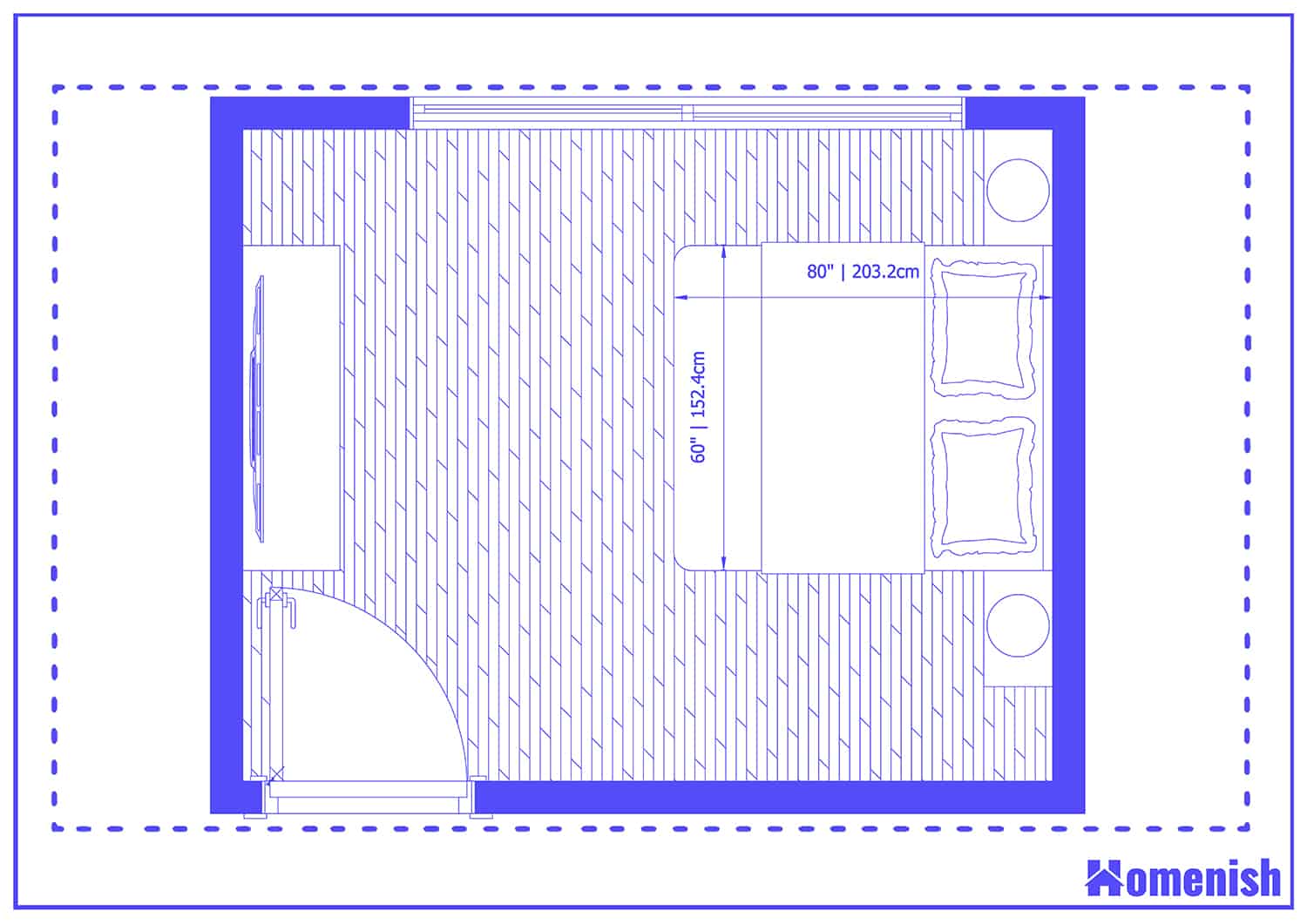 Terrace Bedroom Layout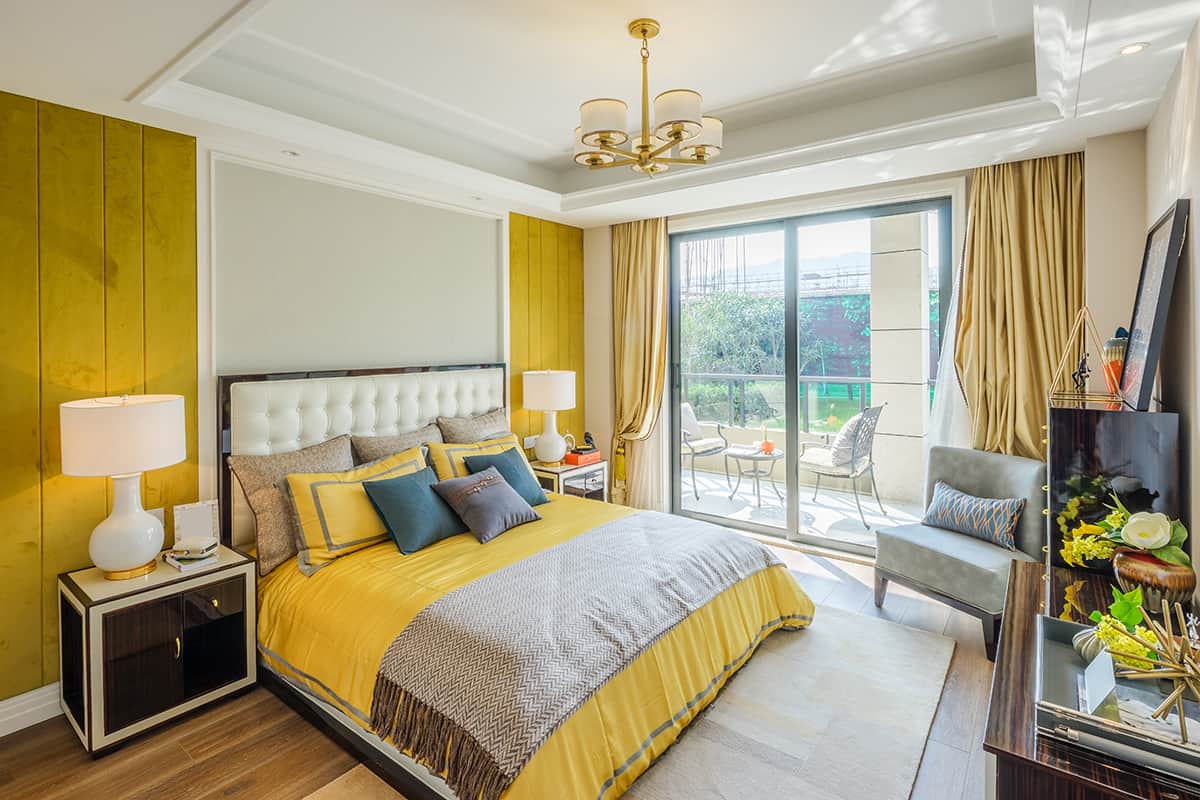 This bedroom backs onto the outdoor terrace, which is accessed via French doors. These glass doors flood the room with light, making the room feel bright and airy.
The full-sized bed is bordered by chunky nightstands and a matching unit on the opposite wall for extra storage. The addition of an occasional chair provides a nice spot to sit and enjoy the view or read a book.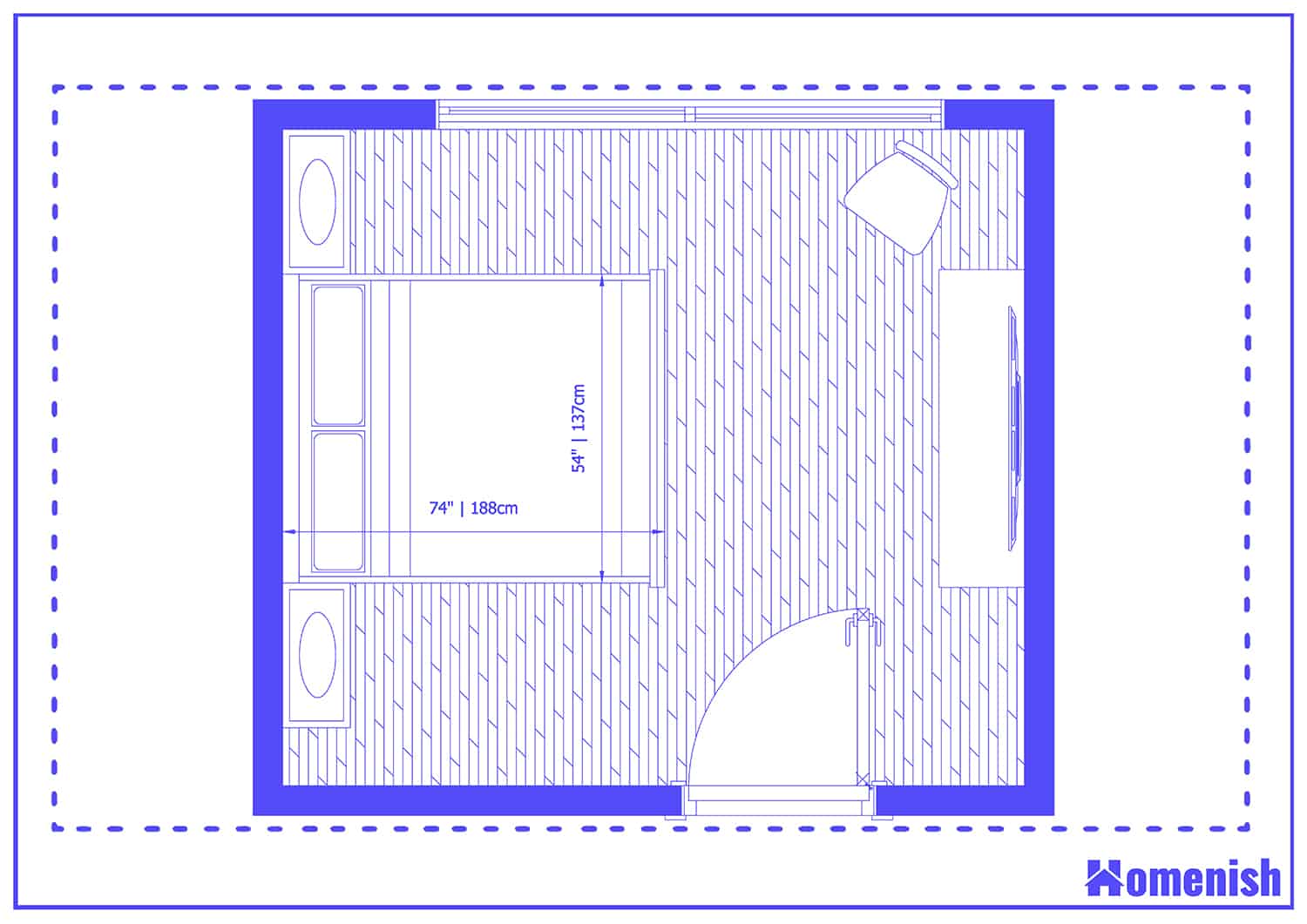 Farmhouse Style Bedroom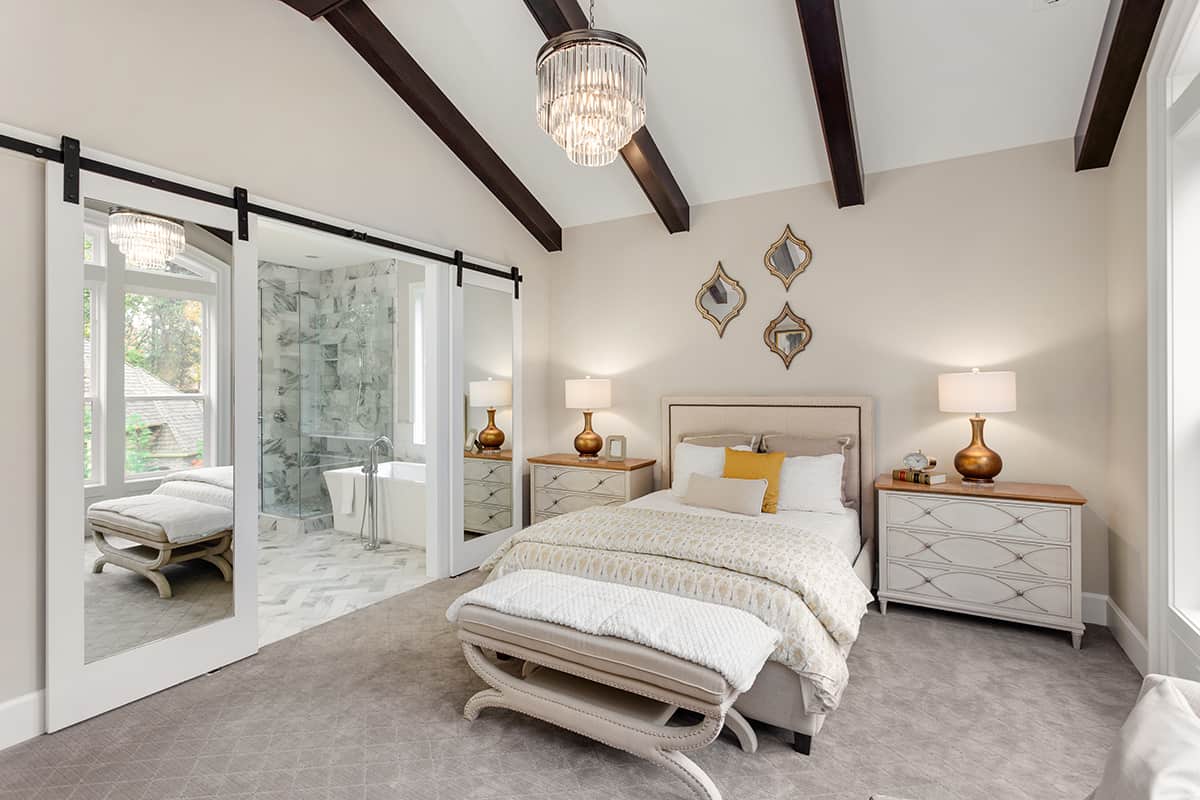 This bedroom features a full-size bed which is flanked by a chest of drawers on either side. This is a clever way to combine both storage and a nightstand without using several pieces of furniture and taking up floor space.
The sliding barn doors are mirrored to create depth and more light in the room.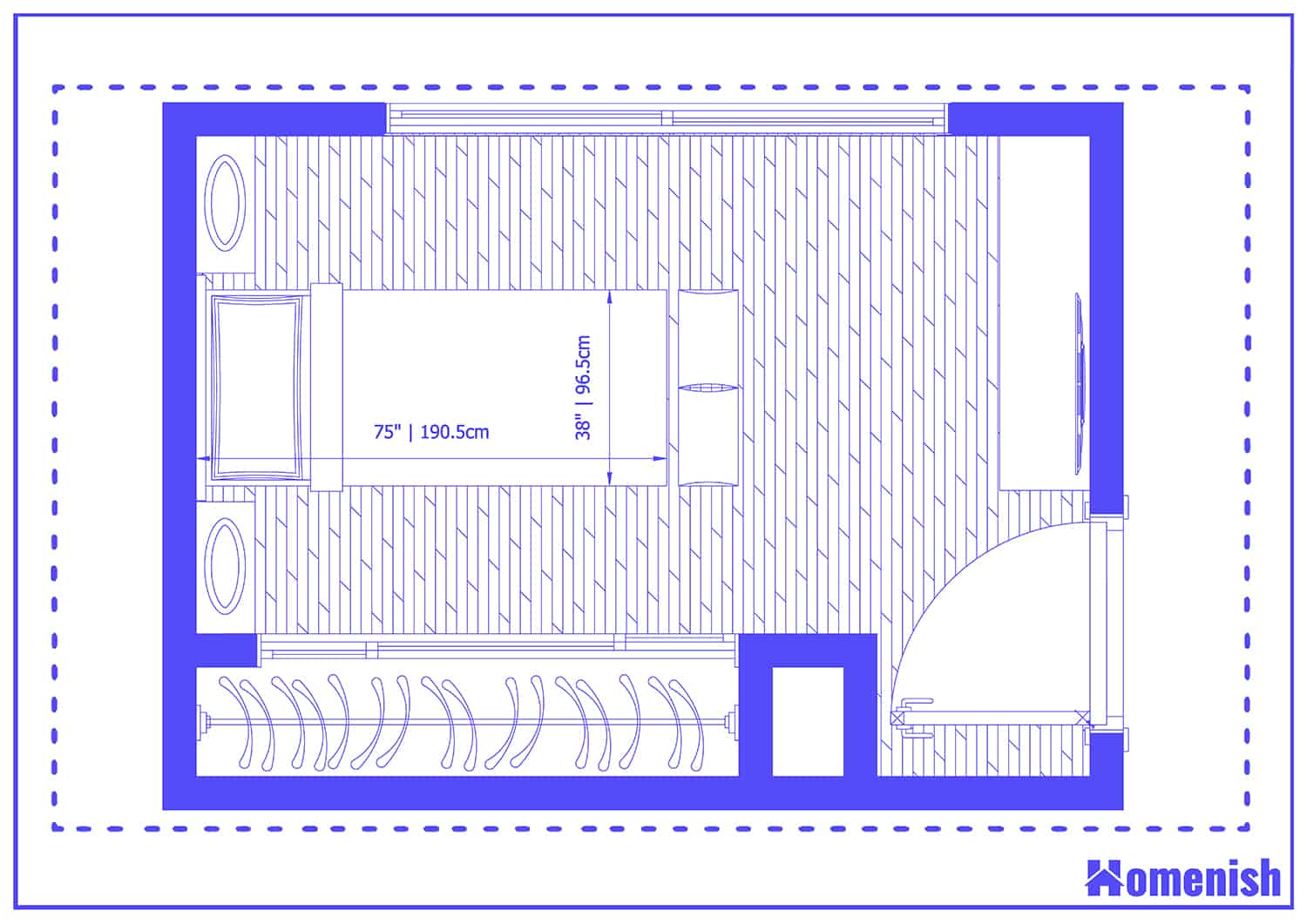 Simple Queen Bed Layout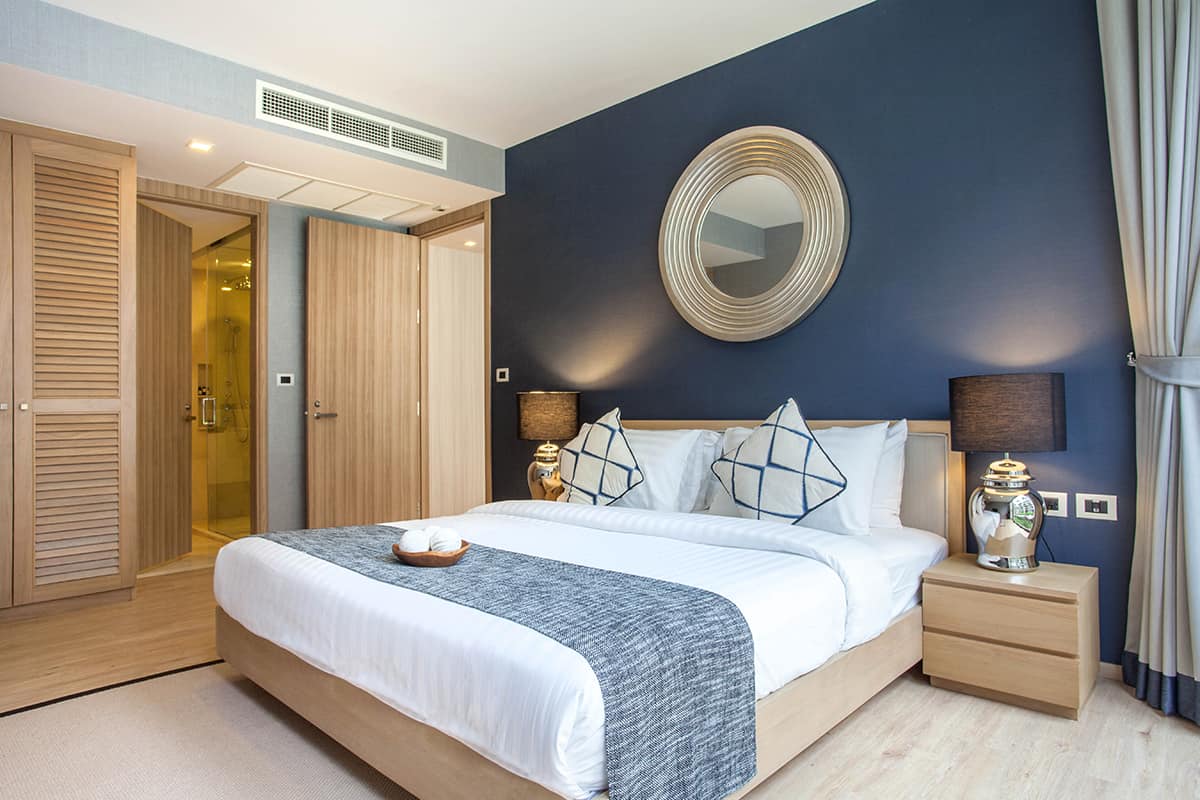 This 12 by 10-foot bedroom features a queen bed with a nightstand on either side to accommodate large lamps, with drawers for storage to keep clutter to a minimum.
Light wood ensures the space feels bright yet luxurious and inviting, while a feature wall brings focus to the bed.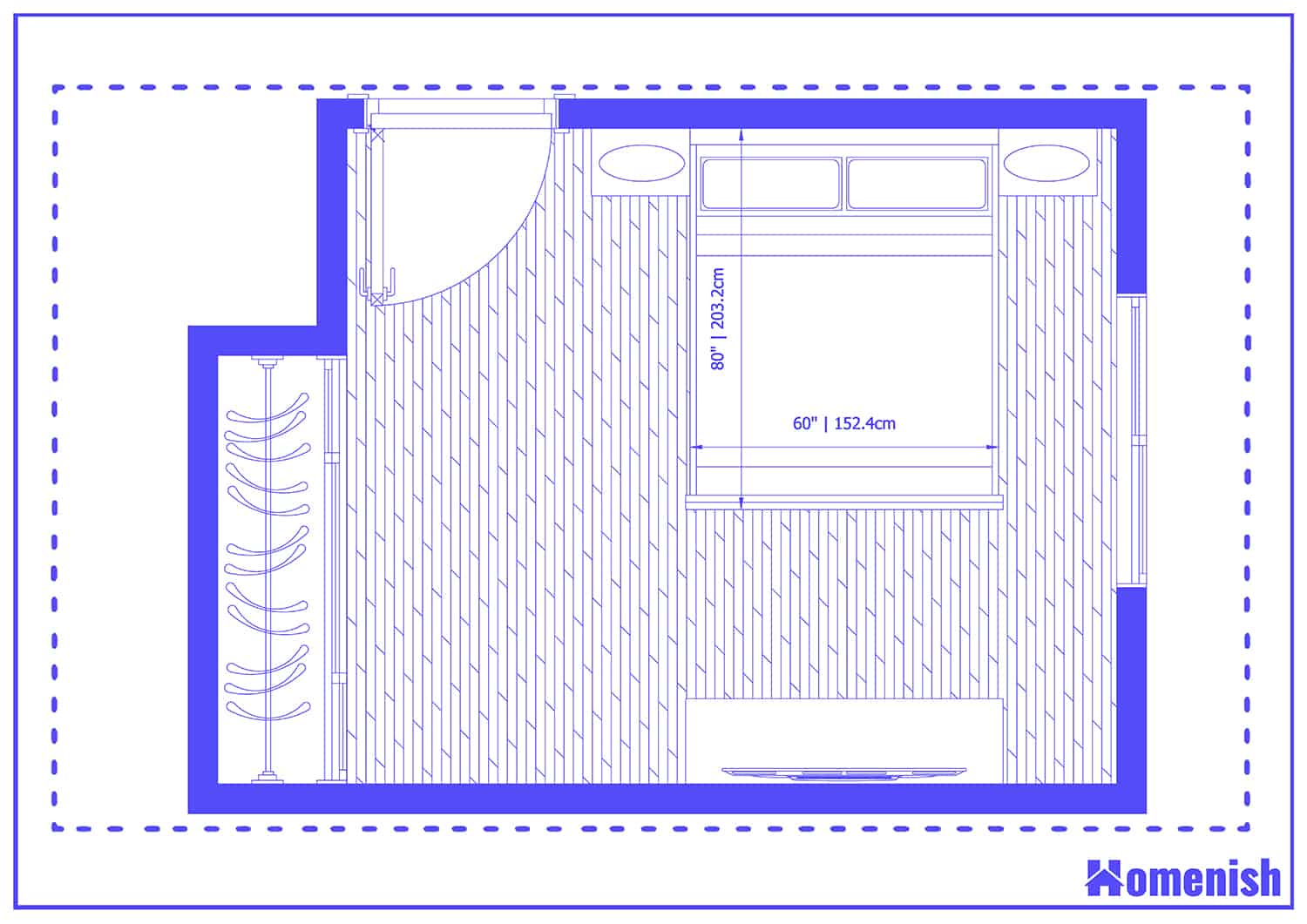 If you have a smaller but square bedroom, some 10′ x 10′ bedroom layouts will be more suited.