Wall tiles are among the most popular materials for wall coverings in bathrooms, but they are by no means the only option. If you want to renovate your bathroom, then there are other alternatives to consider besides tile.
Here we investigate other wall decor possibilities and assess which are the best bathroom wall materials that are not tile.
Pros and Cons of Tiled Bathroom Walls
If you can't decide whether to install wall tiles or an alternative wall material in your bathroom, considering the pros and cons can help you come to a decision that is best for you and your home.
Pros
Huge variety of choice
One of the great things about choosing wall tiles for a bathroom is that the styles, colors, and patterns are almost endless. Ceramic tiles are the most commonly chosen type of wall tile for a bathroom but you could also opt for porcelain or a natural stone such as slate, terracotta, or granite. The extensive choice of tiles available means that you can achieve any number of looks.
Easy to keep clean
Most types of tiles are easy to keep clean, although this will depend on the type of tile you choose. Ceramic tiles and porcelain tiles have a glazed surface that can be wiped down with a bathroom cleaning spray, or rinsed with water.
Broad price range
The price of wall tiles can differ dramatically depending on the type of tile material you choose, and the style. This is great if you need to stick to a specific budget because you should be able to find some basic tiles for a low cost.
Strong and durable
Tiles are ideal for bathrooms because they are strong and hard-wearing. This means that they can last for many years without showing any signs of wear or tear, so you won't need to think about renovating your bathroom again for quite some time.
Cons
Maintenance sometimes required
Some tiles need continual maintenance, for example, natural stone tiles which are porous and therefore should be treated with a sealer on an annual basis. If you want a low-maintenance solution, you could opt for a glazed tile that won't need to be sealed or an alternative wall covering such as PVC panels.
Professional installation
If you are trying to renovate the bathroom yourself to keep costs down, then one of the main drawbacks of tiles is that you will likely need a professional tiler to install them. Tiles need to be properly applied with a waterproof membrane underneath them, followed by the appropriate tile adhesive and grout between each tile.
Tiling is a skill that can take years to develop, so for a good finish don't attempt this yourself. If you would prefer to do a DIY bathroom renovation, choose a more user-friendly wall material that is easier to apply, such as wood paneling, or wallpaper.
Difficult to change
Once installed, wall tiles are a permanent fixture in the home. If you aren't convinced about the style you achieve with wall tiles, then it would be better to choose a wall covering you could change more easily, such as paint or wallpaper.
Potentially expensive
If you are trying to improve the look of your bathroom on a budget, then tiles may not be the best solution. Although you can find tiles for low prices, tiling a wall generally isn't the least expensive way to cover it. Paint, wallpaper, or wood paneling will usually work out to be more cost-effective.
Alternatives to Wall Tiles
If you've weighed up the pros and cons and decided that you want to explore alternatives to wall tiles, look no further than this comprehensive list.
Wood paneling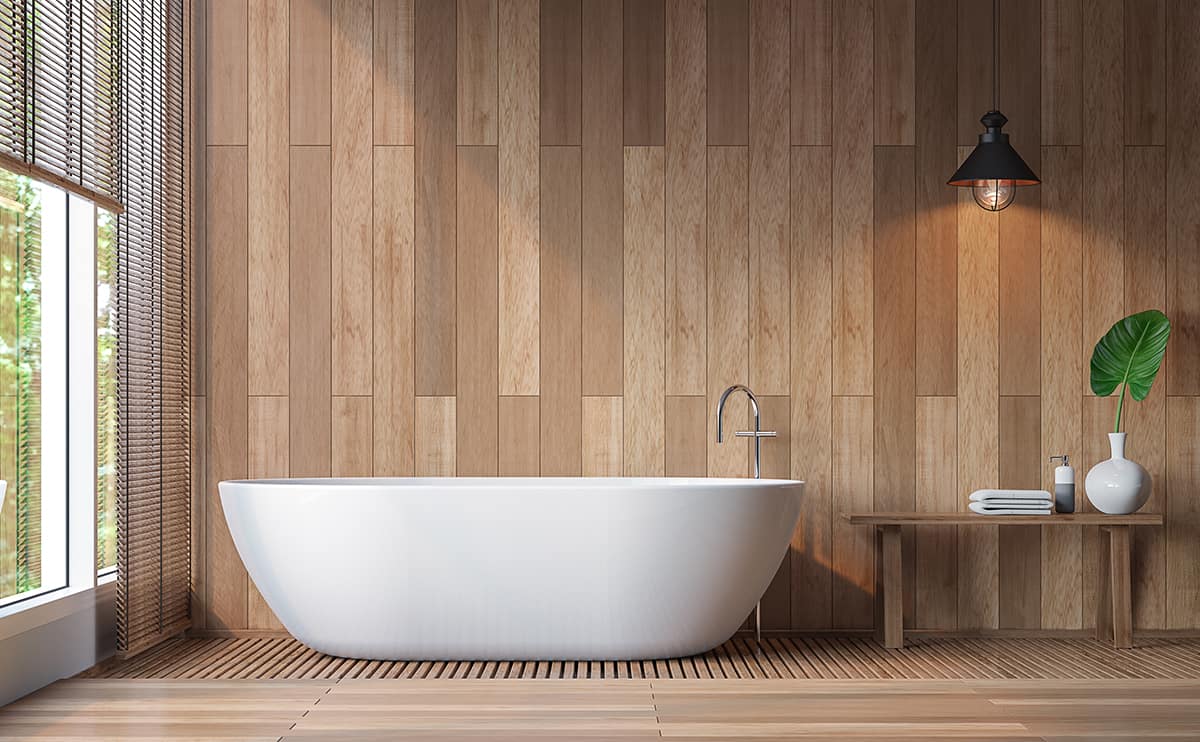 Wood paneling was once considered to be old-fashioned, and throughout the last few decades, homeowners have been removing dated wooden paneling in an attempt to modernize their homes. However, wood paneling is now coming back into style in a big way.
If you are fortunate enough to have original paneling in your bathroom, don't go to the effort of pulling it down and installing something new; instead, freshen up the look by painting it in a color more suited to your current taste. There are so many different styles you can achieve with wood paneling and a variety of products you can use to suit any budget.
For a traditional, Victorian look that creates a sense of regality and grandeur, use wooden paneling on only the lower half of the walls. You can use genuine wooden panels, or to create a wood panel effect on a budget, use a fibreboard like MDF cut into strips and nailed or glued to the walls.
Once painted, this will look like real wood, but you will have saved hundreds of dollars. Alternatively, if you prefer a rustic look, you can use reclaimed wood from pallets to create wall paneling. Some interior designers have even used laminate or hardwood flooring planks on walls since these will lock together seamlessly.
Wallpaper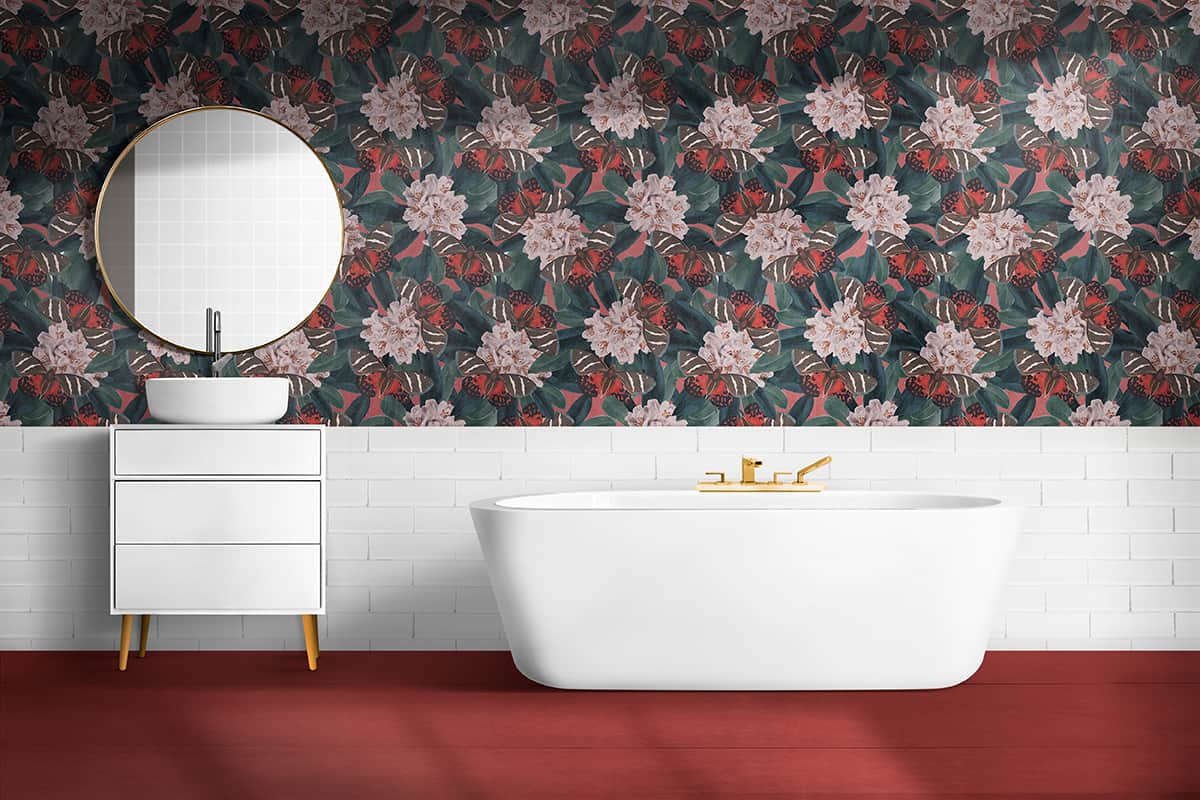 Wallpaper might not be an obvious choice for a bathroom because of the issue of moisture. However, most types of wallpapers nowadays are specifically designed to be moisture resistant and therefore are ideal for use in bathrooms.
You should avoid using wallpaper on a wall next to a bath or shower where it could get wet, but it's a great choice for a feature wall in a bathroom when positioned appropriately.
Brick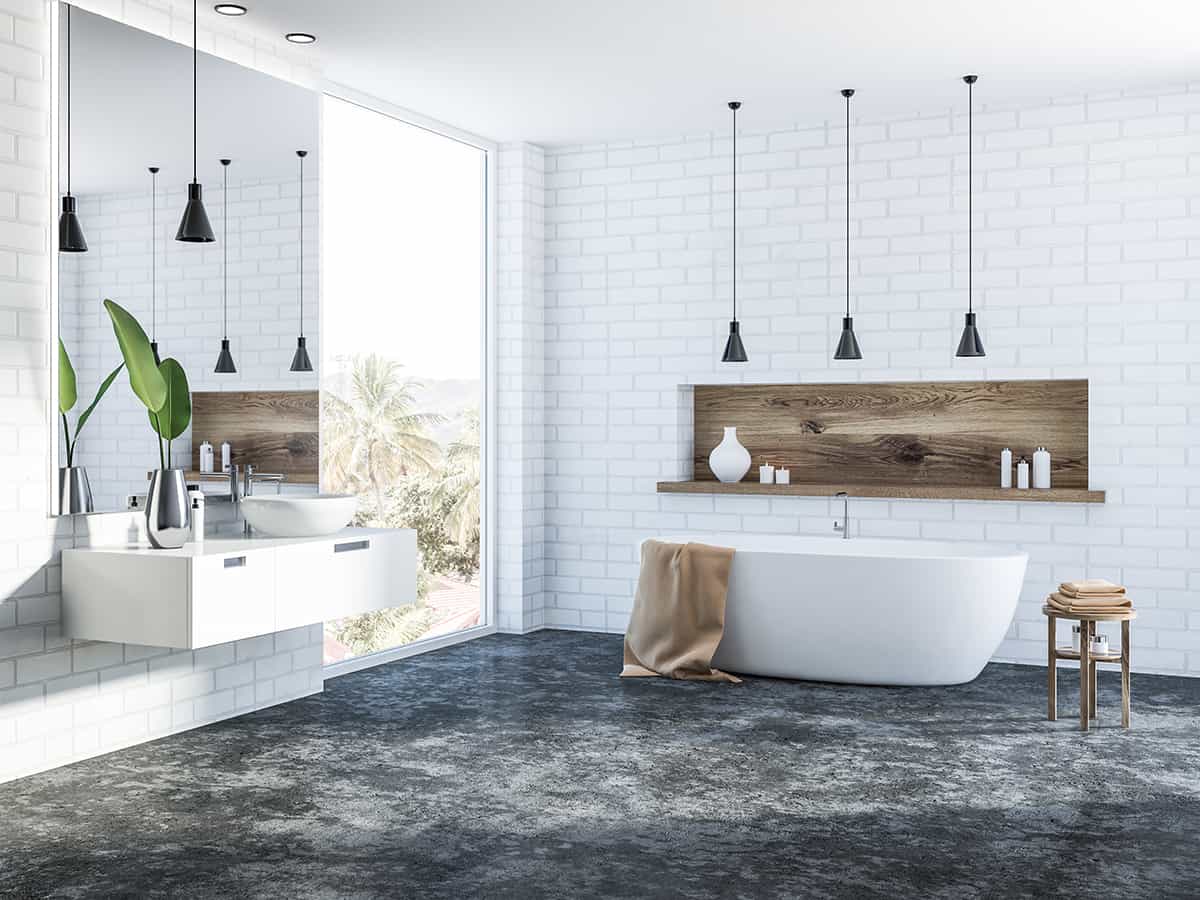 If you have exposed brick walls in your bathroom, then don't be tempted to cover them with tile or paneling.
Instead, make a feature of the bricks for a rustic or industrial-style space. Bricks are porous and therefore not ideal for a bathroom; however, they can be sealed or painted with waterproof paint to prevent them from absorbing moisture.
Laminated panels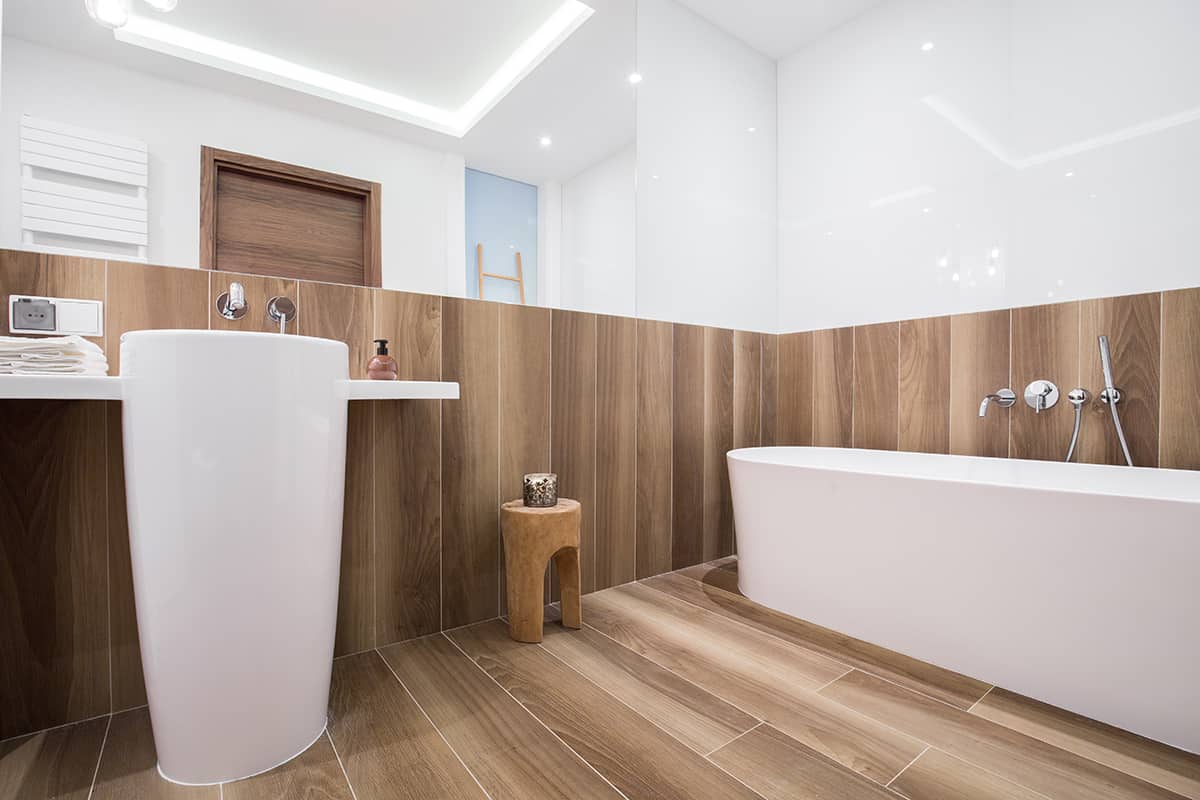 Laminated panels are a popular choice for modern bathroom renovations because they are low cost, easy to keep clean, and can be installed in the space of a day for a dramatic makeover. Laminated panels are cut to the size of your bathroom walls so that no grout is required, and the only joining seams will be at the corners of the room where your walls meet.
This gives a smooth and sleek look that appeals to many people. Laminated panels come in a variety of colors to suit various color schemes. They are very low maintenance which makes them a popular choice among busy families and the elderly.
Paint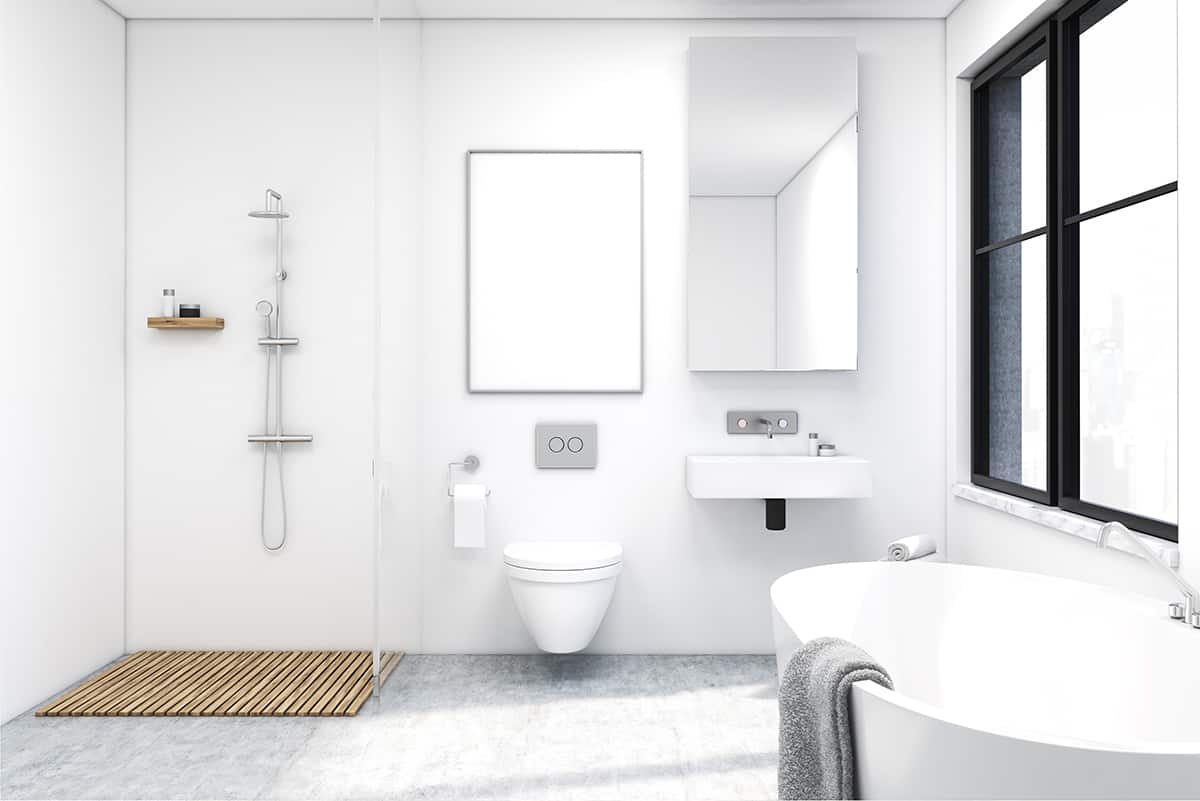 Paint is an often overlooked wall material in a bathroom, but it is by far the most simple and cost-effective. In a bathroom, choose a paint specifically designed to be used in high-moisture spaces, as it will have a slight sheen that means it can be wiped clean and will not allow moisture to absorb into the wall.
If you like to change the look of your home quite frequently, then paint is a wise choice because it is easy to cover over.
Glass
Glass panels have become a popular splashback alternative to tiles in kitchens, and they are now also on the rise in bathrooms. Glass panels look slick and clean, and they are easier to wipe down than tiles because they don't require grout. Glass panels can be cut to size so you won't see any visible joins, for a seamless look.
They come in a variety of styles, for example, colored glass, etched glass, marbled glass, and even glass with murals printed behind them.
Stainless steel
Stainless steel is a material you might expect to see in a commercial kitchen more so than in a residential bathroom however it makes a lot of sense in terms of practicality, and it works great with industrial-style interiors. Use sheets of stainless steel instead of tiles on bathroom walls, and enjoy a unique look with a low-maintenance cleaning schedule.
Stone slabs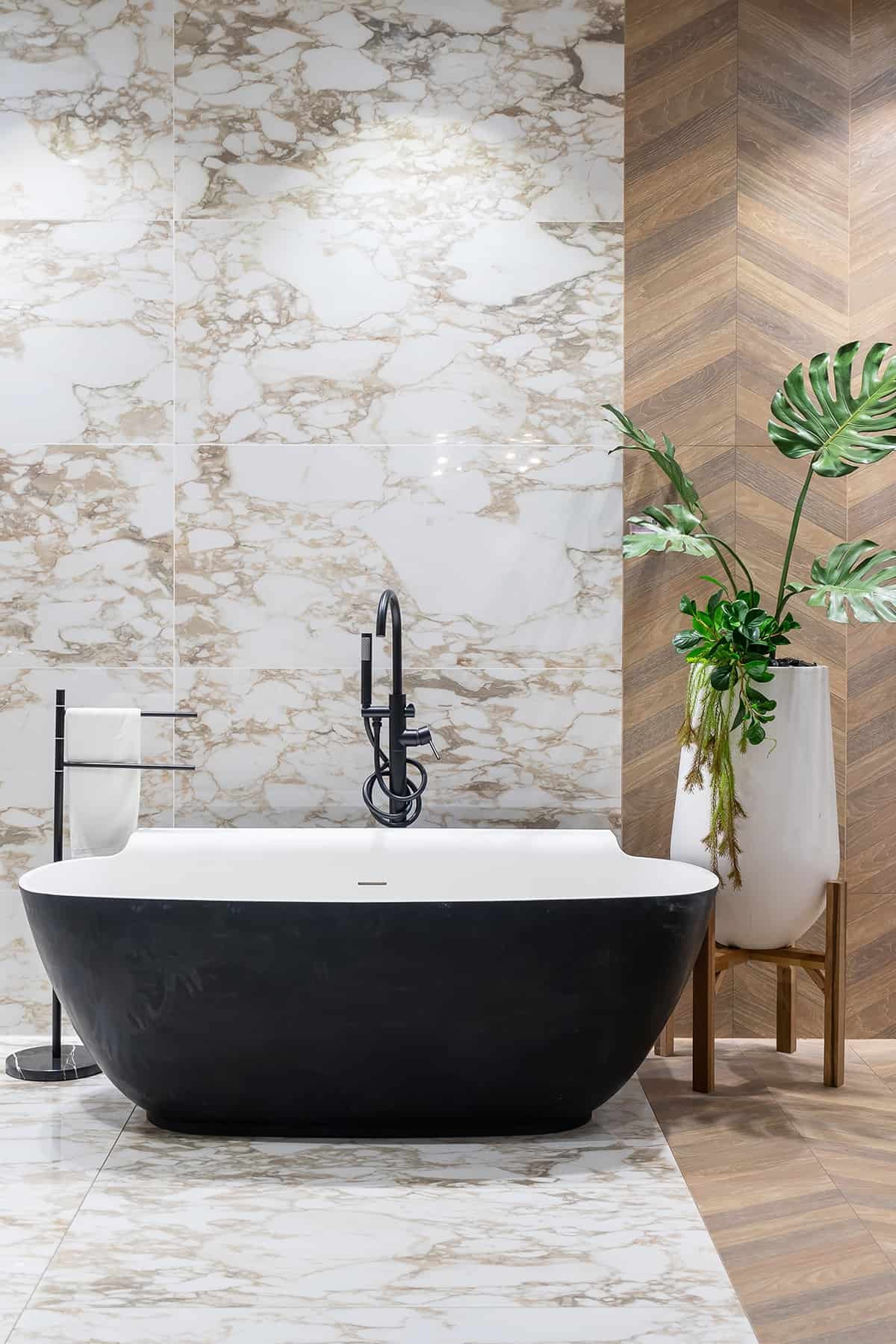 Stone slabs, much like those used for countertops and splashbacks, can be used across large portions of the wall in the bathroom. You could cover all of the walls entirely in marble or granite or surround your shower cubicle with sheets of quartz. This is going to be an expensive alternative to tile, but the result will truly be something to behold.
Do Bathroom Walls Need to be Waterproof?
The answer to this question is dependent upon the setup of the bathroom itself. The walls inside your shower absolutely need to be waterproof to prevent the growth of mold and mildew, and it is wise to choose a waterproof surface for the walls around your bath.
However, the upper portions of the wall are less likely to be splashed, and therefore they don't need to be fully waterproof, but instead should be moisture resistant. Bathrooms are humid rooms, and the building of moisture in the air can lead to issues with mold growth. To prevent this, ensure there is good ventilation in your bathroom, and choose a wall material that is waterproof, sealed, or resistant to moisture absorption.