When you have a gray bathroom, adding the right towel colors can visually enhance your existing space. Bolder colors can create visual interest, whilst neutral ones will bring a subtle contrast. Your color choice of bath towels can evoke a different mood depending on the gray bathroom's intensity as well as your preference.
To make your neutral bathroom more unique and visually interesting, you might want to find out what color towels go with a gray bathroom. Here we have compiled a few ideas to elevate your bathroom's look:
Towel Colors that Work with a Gray Bathroom
Soft Pink for a Feminine Vibe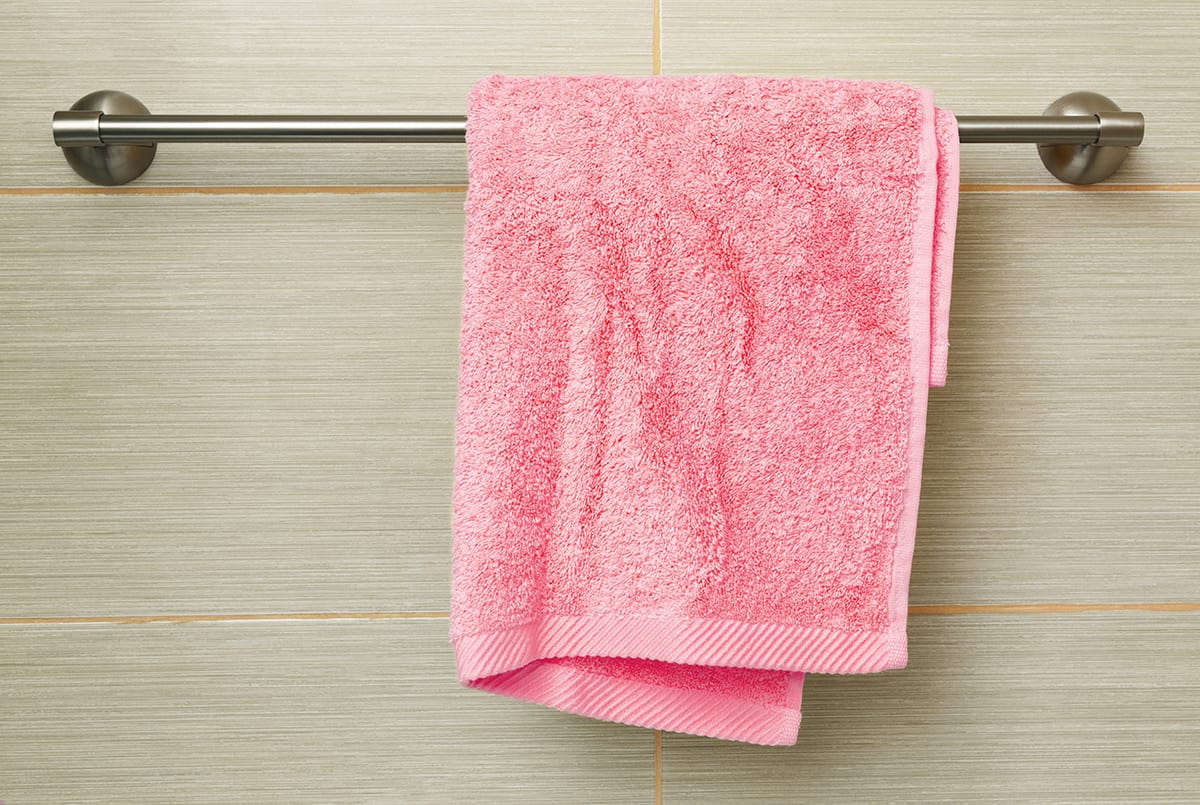 Soft and bright colors are highly popular in neutral bathrooms. These include corals and pale pink shades. However, some pinks can make your gray bathroom visually stark or too heavy.
For a softer look, opt for muted or pale pink shades. Seafoam pink, for example, can tone-down the gray tiled bathroom without looking too plain. There is also light coral to give your gray bathroom a more feminine vibe. With this towel color, you can add some metallic accents for an elegant touch.
Dark Blue for Masculinity
We've mentioned soft pink towels for a feminine touch, but how about dark blue for a masculine vibe? Those who prefer a more serious look for their gray bathroom should consider dark blue or navy. This color can make the gray bathroom appear more modern or retro.
Dark blue is a no-nonsense towel color for a clean, neutral bathroom. It fits well into masculine spaces, so you can add your personality by incorporating this towel color into your gray bathroom.
Bright Blues for a Coastal Vibe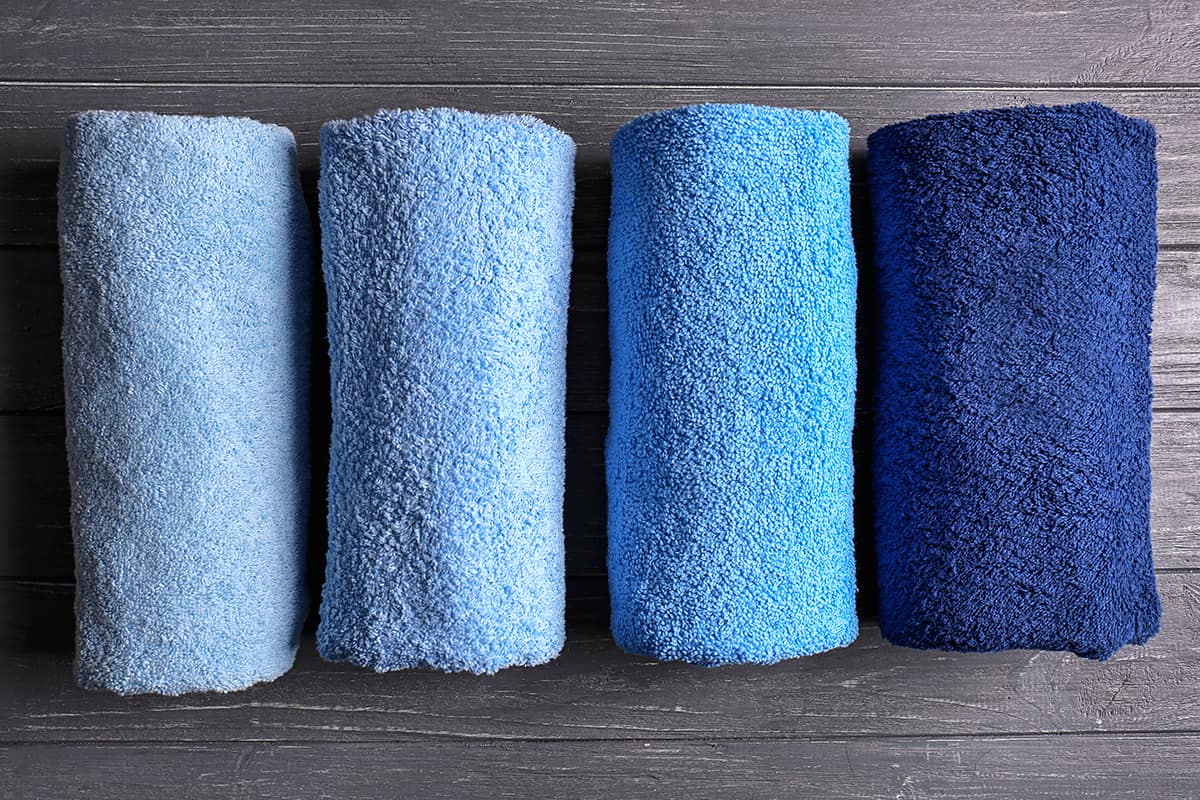 Beach-themed colors are easy on the eye, plus they go with most other neutral hues. Blue shades like turquoise, aqua and coral blue are reminiscent of the ocean and tropical islands. If you like a beachy vibe, then you'll love bright blue towels in your gray bathroom.
Bright blue towels add refreshing energy to neutral spaces. Include different shades of blue for the shower curtain and floor mat to complete the maritime theme. Don't be afraid to experiment with nautical designs in the same blue shades as your towels.
Patterned Towels for a Textured Look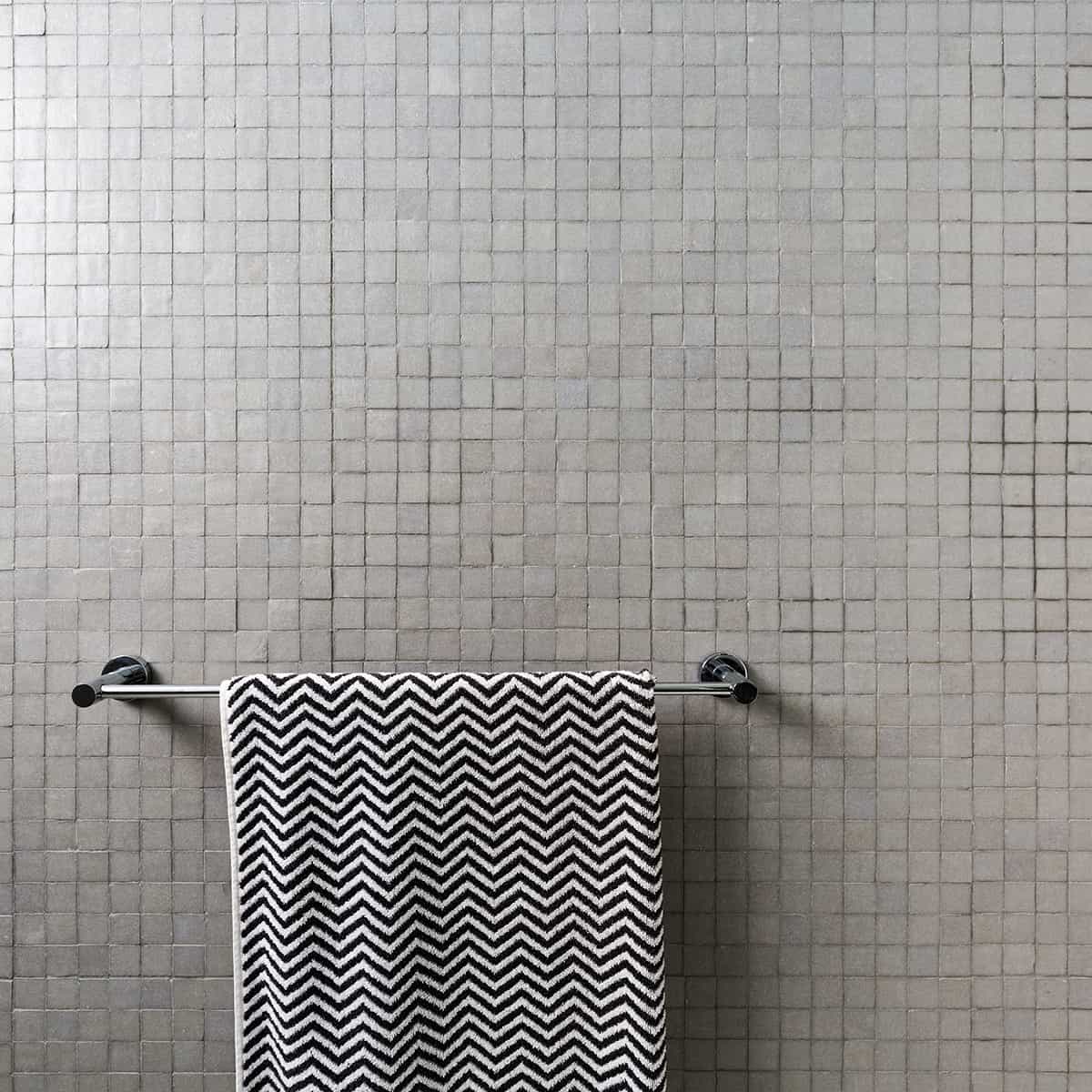 Patterned towels bring a burst of energy to a gray bathroom. By using printed towel fabrics, your gray bathroom will look balanced out and not visually overwhelming. Just go easy on the patterns so as to avoid making your space look too busy.
Geometric shapes are the most popular as they give a retro vibe to the space, but you can also opt for animal or nature-inspired designs.
White or Light Gray for a Minimalist Look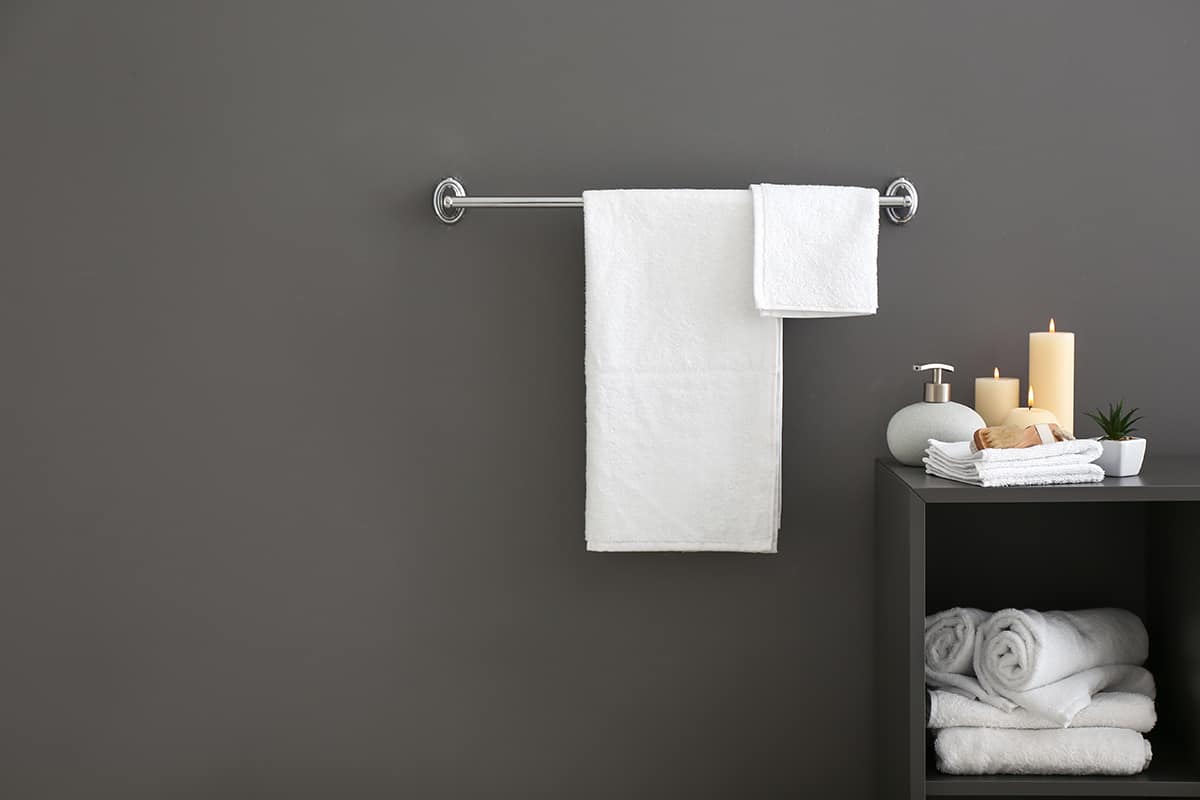 If you're going for a minimalist look, opt for neutral towel colors like light gray or bright white. For a little twist, you may even choose cream or beige in order to avoid plainness. Alternatively, go for fluffy white towels for extra coziness.
A minimalist look doesn't have to be bland, as you can still add personality to your gray-tiled bathroom by using a mix of white, gray, and beige towels. Neutral towel colors work especially well in dark gray bathrooms like the one shown here. Whether you opt for a selection of neutral towel colors or stick to plain white, your dark gray bathroom will be visually enhanced.
Earthy Hues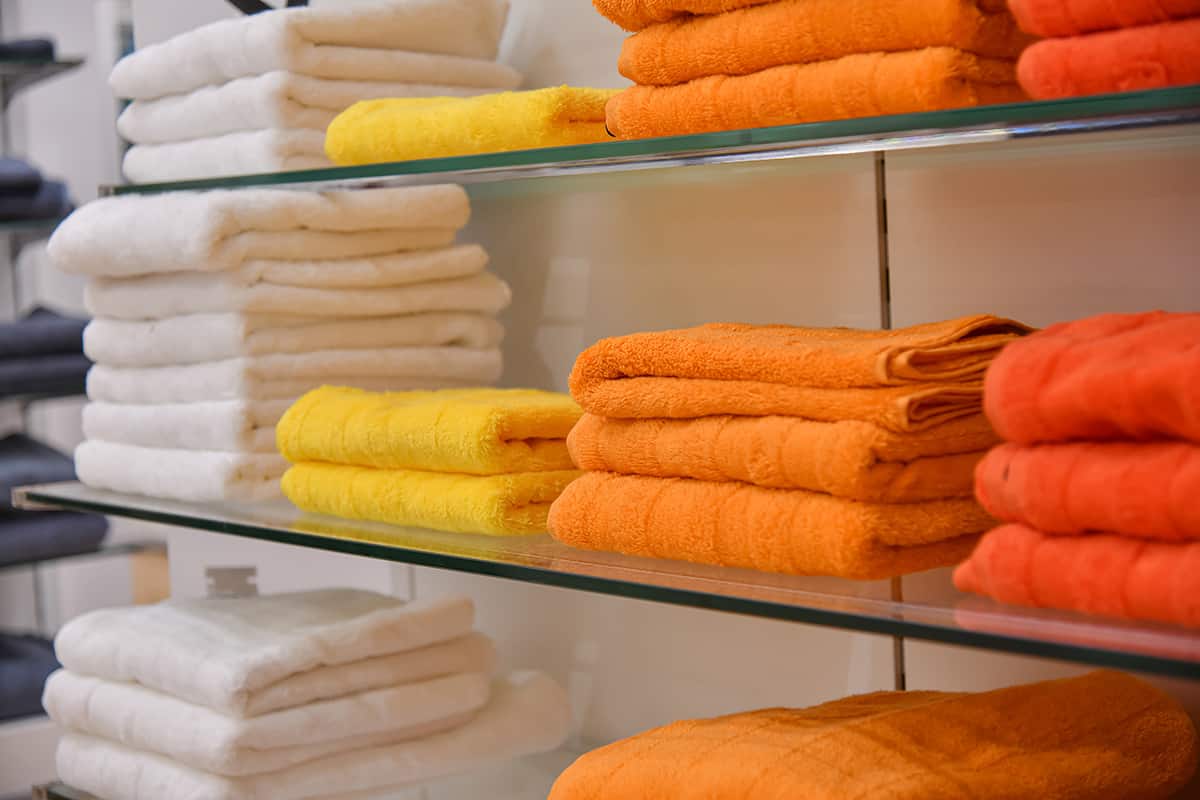 Earthy hues like browns, oranges, and yellows create a cozy feel in your gray bathroom. But you don't have to limit these colors to your towels. Use them for the shower curtain and accents to make your gray-tiled bathroom more appealing.
Since gray is a blank canvas, using a selection of earthy towel colors can bring a personal twist to the space. In fact, your neutral bathroom can stand out thanks to these beautiful, earthy colors.
Black for a Stylish Flair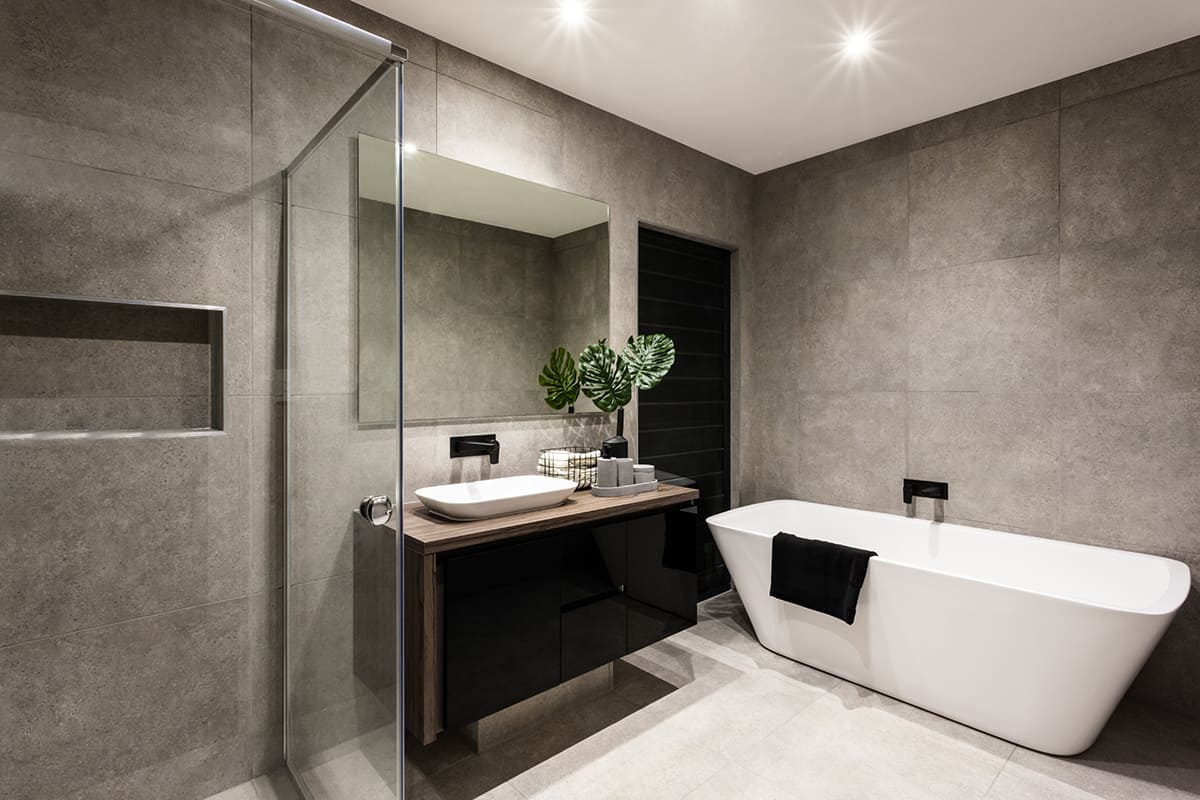 As a welcome break from bright white, why not consider rich black towels for a timeless and stylish look? Black towels look amazing in light gray bathrooms. Not only do they maintain their elegant appeal, but they also bring a modern vibe to your space.
However, if you're not keen on going all-black for the towels, mix and match them with white ones for a unique look. Both black and white towels go beautifully with gray, so you won't need to worry about a color mismatch.
Perhaps the only downside to black towels is their difficulty in cleaning as you don't see the stain or dirt marks on them. That said, black towels are a better choice than white as they hide long-term stains well. This means you can use your expensive black towels for longer, even when they are stained.
Fiery Red to Draw the Eye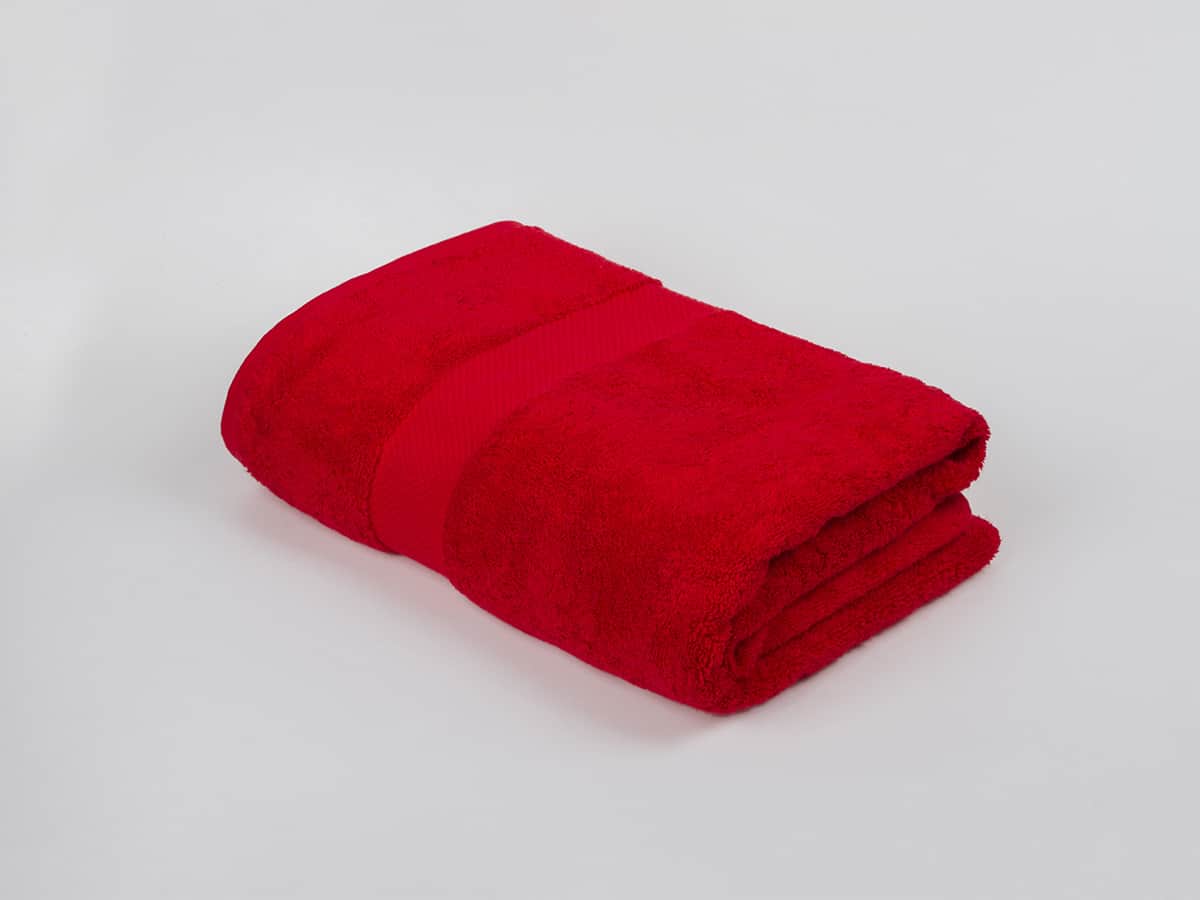 If you're after something more striking than black, make a statement by opting for fiery red towels. This color stands out in a gray bathroom and is most recommended with neutral color schemes.
Red towels instantly draw the eye without being overwhelming. But if you think they're too bright, mix and match them with gray or black towels. The idea is to add a pop of color to your neutral bathroom space in order to make it more appealing. Red is a bold color that adds excitement to the bathroom. In Fact, no other color is quite as sophisticated and striking as a fiery shade of red!
Bright Green for an Outdoorsy Feel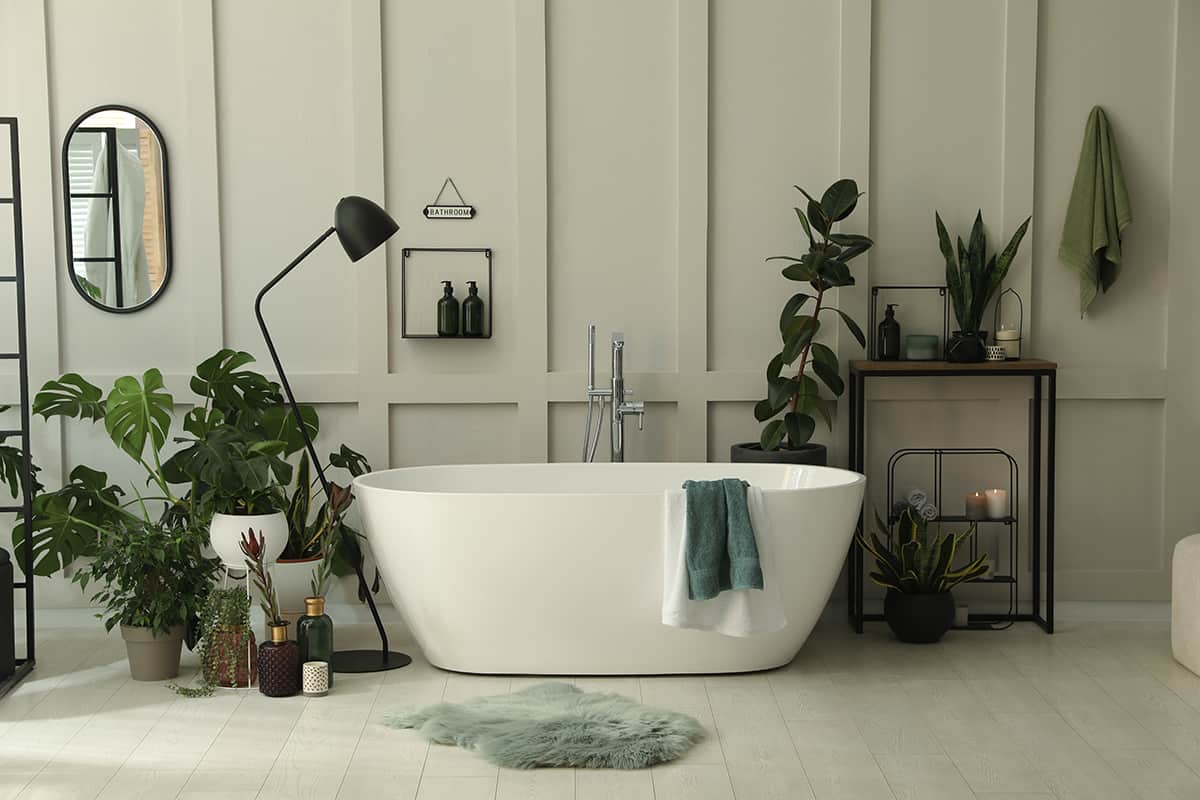 Not many people think of green as a typical color for their towels. What's more unusual about this color is that you don't tend to see it in gray bathrooms. But since there are many shades of green towels you can choose from, your gray bathroom can get an outdoorsy feel when you select a bright shade of green.
A mid-toned green, for example, can evoke a sense of calmness and positivity in your gray bathroom. Green is a lively color no matter which shade you choose. From olive and emerald to lime and mint, your gray bathroom can look beautiful with this towel color.
What is the Best Towel Color for a Gray Bathroom?
Anyone will tell you that white is the most preferred towel color for a gray bathroom. This neutral color goes with anything as it gives a sophisticated vibe to the bathroom. Since white towels don't fade like their colored counterparts, they make an excellent choice. Furthermore, unlike darker color towels, you can easily see any marks or stains on white towels.
So if you're wondering what the best towel color for a gray bathroom is, white is the obvious answer. That said, light gray, orange, and yellow also make a popular choice for gray bathrooms.
Should All My Towel Colors Match?
No. There is no need to pick a single color for your gray bathroom towels. It is perfectly fine to choose towels in two or more colors, as long as they go with the rest of the decor. By having an arrangement of different towel colors, you will add visual interest to your gray bathroom. But the trick is, how do you determine which colors work together? Here are some tips to consider:
Experiment with your options: to add variety to your selection of towel colors, choose them based on the season you're in. For example, floral or bright colors are ideal for spring and summer, whilst yellows and oranges are for the fall season, and neutral or darker colors are better suited for winter.
Pay attention to your existing decor: aside from the season colors, you need to consider your gray bathroom's decor colors and elements before picking your towel set's color. You might want to select the same color to match your gray tiles or a contrasting one to make it stand out. Alternatively, you can mix and match two or three colors from the same family as well as different-sized towels to coordinate with your neutral bathroom. For example, if you have face towels, bath towels, and hand towels, you can add extra depth to your bathroom by selecting a dark shade for the larger towels and toning it down for the smaller towels.
Stay away from extreme bold colors or heavy patterns: color coordination doesn't mean you must go to the extremes. While soft or plain towel colors can make your bathroom appear lifeless, having too many vibrant patterns or bright colors can make your space look too busy. Less is always more, so don't go overboard when selecting your towel colors.