Picnic tables are designed to be an outdoor version of a dining table. Picnic benches are most typically rectangular in shape and have benches fitted along the lengths of the table for people to sit at.
They are called picnic tables because, most commonly, they are used as a comfortable place to sit while enjoying a picnic, rather than using a picnic blanket and sitting on the ground.
However, they are not just limited to use with picnics and can be found in pub or restaurant gardens for cooked meals to be served outside or in home backyards as a place to hang out or enjoy family grills. Let's go over the standard dimensions of picnic tables.
Here are the straightforward dimensions of a picnic table if you need one.
6-seater picnic tables: The 6-seater tables are measured 72 inches in length, 29 inches in width, and 30 inches in height from the ground. The benches which are fixed to the table should be the same length as the table at 72 inches. Bench height is between 16 – 18 inches. The footprint will be 72 inches by 60 inches or six feet by five feet.
8-seater picnic tables: The 8-seater tables are 96 inches in length and 29 inches in width, and 30 inches in height from the ground. Again the benches are the same length as the table at 96 inches and are 16- 18 inches in height.
Picnic Table Dimensions
6-Seater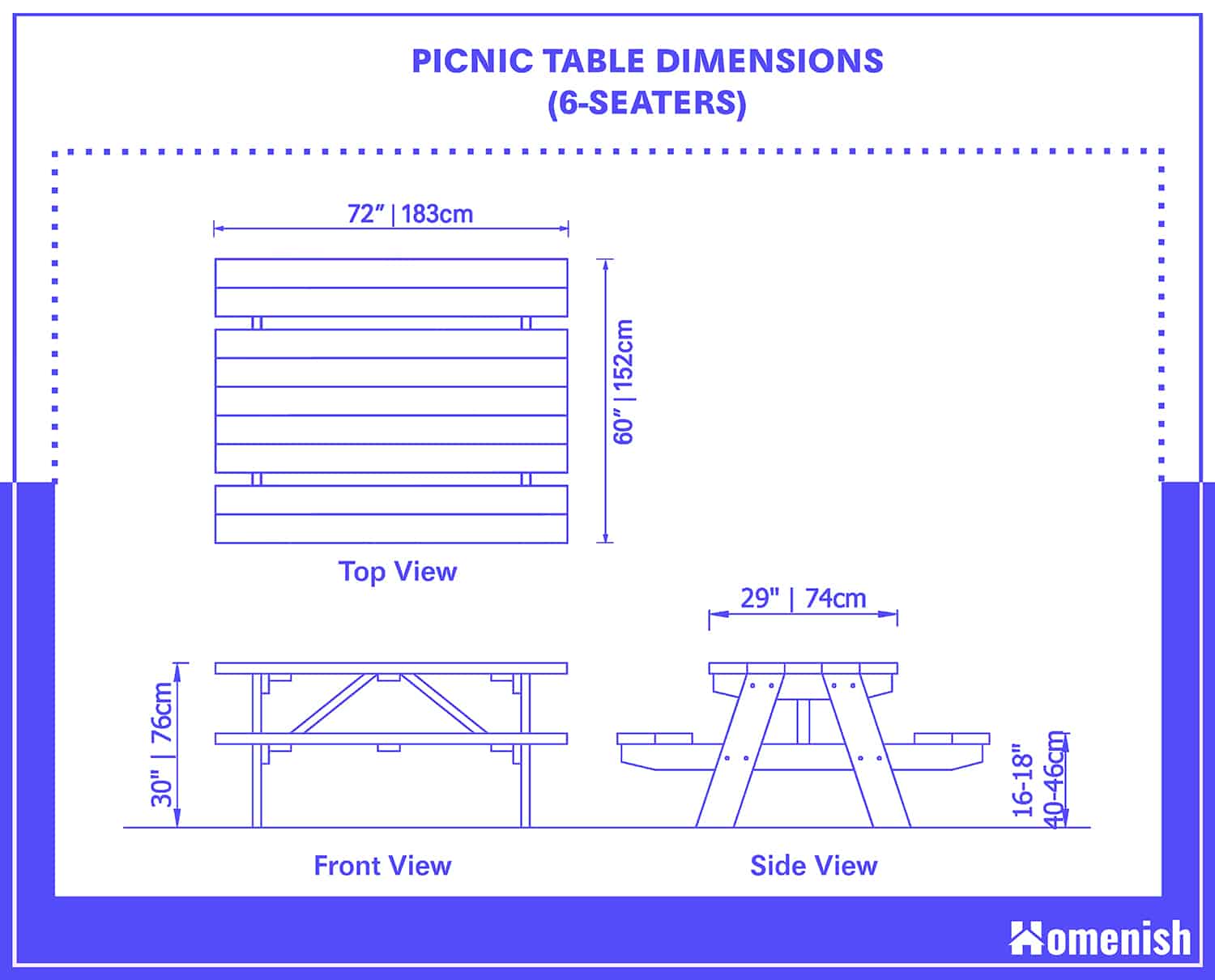 This is the most popular size of a picnic table and is the one that most people encounter when they find picnic tables at the beach, on a woodland walk, in public parks, or in restaurant garden dining spaces.
This size of picnic table has a rectangular tabletop that measures 72 inches in length and 29 inches in width. The benches fixed to the table will measure the same length as the table, 72 inches or six feet. This means that the picnic tables can be used to seat six people, with three people on either side, therefore allowing each person two feet of personal space.
The table can also be used to seat four people, who would have three feet of personal space each. This table will have a standard height from the ground of 30 inches, while the benches will be fixed at a height of between 16 and 18 inches.
This gives each person a little over one foot of space between the bench and the tabletop. If you are designing an area where you want to position picnic tables, you'll also need to be aware of the floor space they take up, including the benches.
The footprint of a standard 6-seater picnic table will be 72 inches by 60 inches or six feet by five feet. The width of this measurement is larger than the tabletop width because the benches will be fixed at an angle which means they are not directly under the tabletop.
This size of picnic table is the most popular because it works well for parties of four or six, which would fit the majority of families or groups of friends. You could even squeeze in an extra two people on the benches if some of your party are children.
8-Seater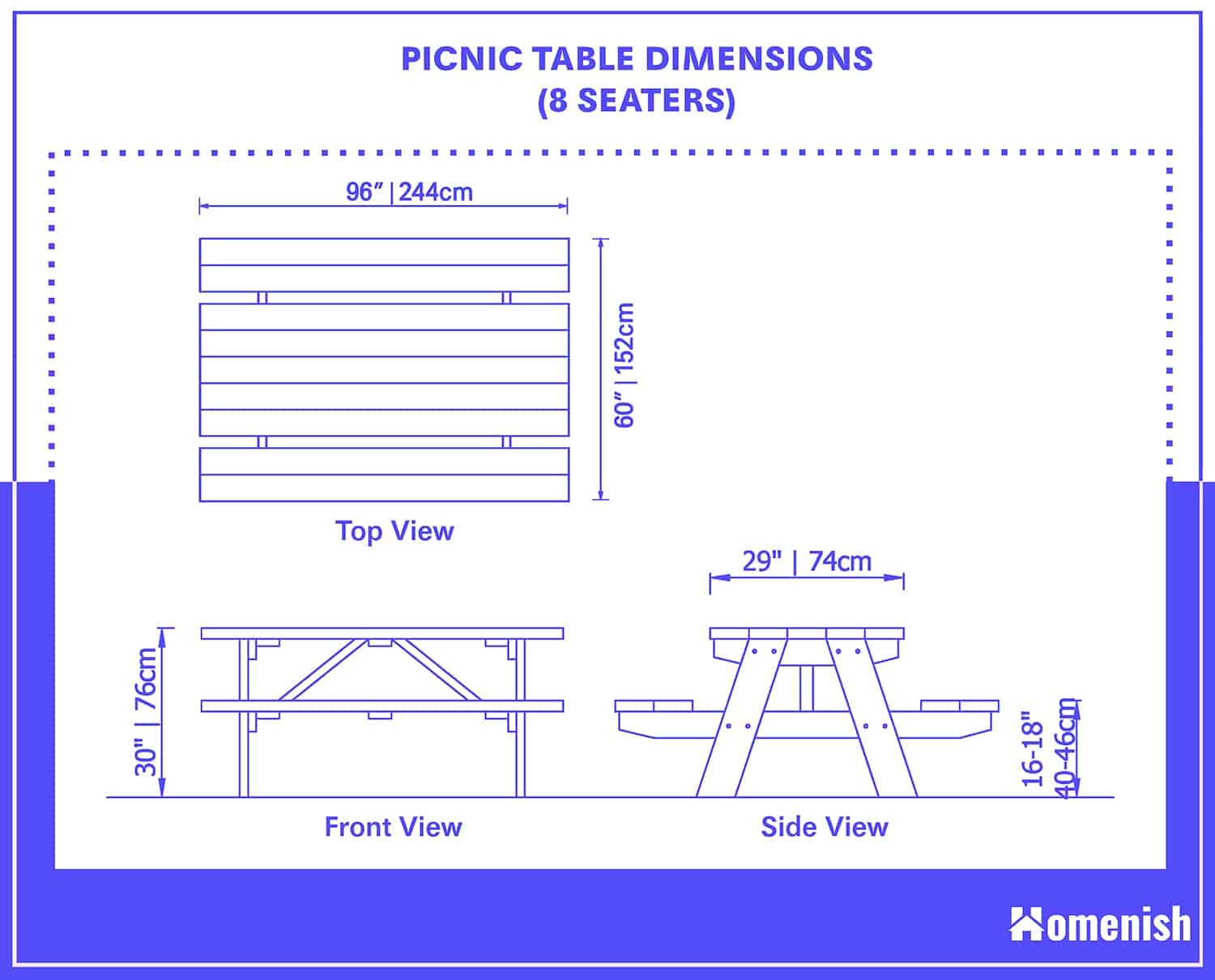 This is the larger size of a picnic table, and though it is not as popular as the six-seater, it is still considered to be a standard picnic table size. This table will seat eight people, with four on either side.
It will have the same dimensions as a six-seater table, with the exception of the length of the tabletop and benches, which will be eight feet long instead of six feet long. This ensures that each person seated at the table will still have two feet of personal space.
This size of the table is less popular than the six-seater because groups of eight people are less common, and therefore it is a waste of space in most instances. However, if you have a large family or frequently entertain large groups of guests in your backyard, then this is a great size picnic table for socializing.
Pros and Cons of Picnic Tables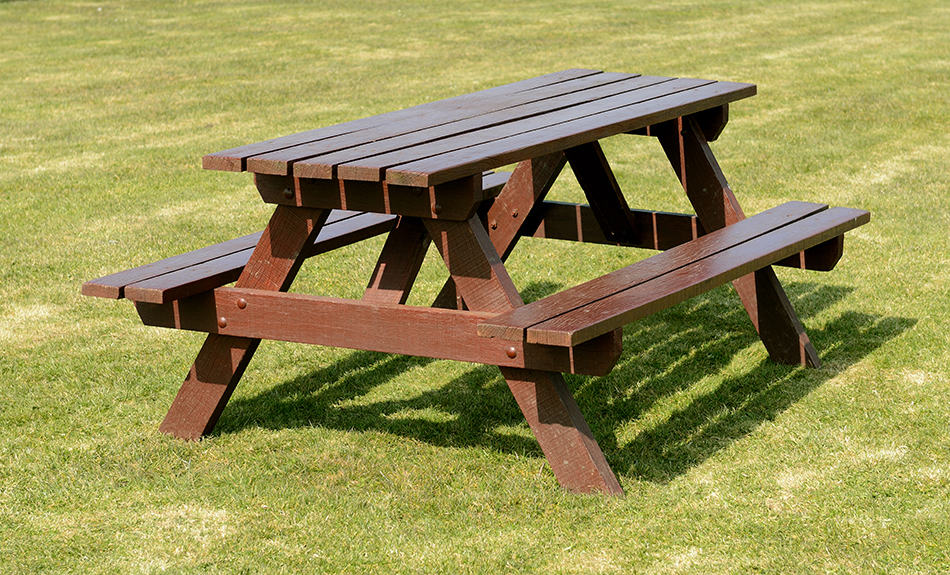 Pros:
Inexpensive
Picnic tables are made from timber and are inexpensive compared to other outdoor dining options, such as metal, rattan, or glass furniture. This means they are more affordable for most families who want to purchase outside dining furniture.
Sturdy
Being made from solid wood, picnic tables tend to be strong and sturdy. This means they are hardwearing and aren't likely to break if a child jumps on the table or you drop something heavy on it. Being sturdy also means you can expect the table to last a long time.
Can Hold Parasol
Most picnic benches have a cutout circle in the center of the tabletop where you can insert a parasol umbrella for shade, making them a safe place to take a break from the sun.
Customizable
You can change the look of your picnic table easily by painting it with outdoor wood paint or stain. You could change the color each year or coordinate it with the colors in your garden.
Can Seat the Whole Family
As an outdoor dining table, picnic tables can seat many people to gather around and have meals. You can slide along the bench to make more space, unlike individual chairs, which are obviously one person per chair.
Secure Seating
The benches of a picnic table are fixed to the table itself. This means you don't need to worry about anyone tipping chairs backward, or have loose chairs getting in the way on your patio.
Cons:
Maintenance
Picnic tables are left outside all year round, and being made from wood means they are not waterproof and are susceptible to rot. To prevent this, you will need to treat your picnic table every year with a stain or paint to protect it. You could also get a cover to put over your picnic table during wet weather, but even so, you should still protect the wood with a brush-on treatment.
Heavy
Picnic tables are very heavy, which can make them difficult to move if you want to rearrange your backyard.
Uncomfortable
The bench on a picnic table is wooden and flat, which doesn't make for the most comfortable seat. You could pad the bench out by putting cushions along it, but with nowhere to tie them to, they are likely to keep falling off.
Standard picnic table benches also don't have backrests, so they are not ideal for spending a lot of time at and instead are usually just somewhere to sit while you eat your meal. If you like more of a lounging vibe while you're eating outside, then you'll want to opt for outdoor seats which have back support.