There's no denying that a deck can make your home more inviting and beautiful. By definition, a deck is an open platform extending from a house. Deck anatomy doesn't include a roof. A well-built deck can increase the value of your property because it provides another living space to your home.
The higher resale value of a home with a deck is just one of the advantages of having this open platform in your place. It is said that a wooden deck has an average return on investment of 72%, which is higher than other indoor renovations. A deck also works well on uneven terrain, meaning if your house is found in a rocky area, you can still install a deck.
A deck is also good for a view, as it can give you a better view of your home surroundings. It is also easy to customize a deck by staining or painting it. And if you live in a warm climate country or state, you would benefit from having a wooden deck because it absorbs less heat from the sun.
Downsides to Deck
However, there are also downsides to using a deck. For most homeowners, the biggest issue they have with a deck is the cost. The price of a deck would depend on the materials used, but you can expect to spend around $30 per square foot of a deck with high-end materials.
The deck is also not built to last for many years because the wood will rot over time. And you'll have to consider the maintenance costs because decks need to be stained, washed, and sealed every other year.
That said, you might be looking for a practical alternative to a wooden deck. Continue reading to know which deck alternative you should consider for your home.
Best Alternatives to Deck
Composite Deck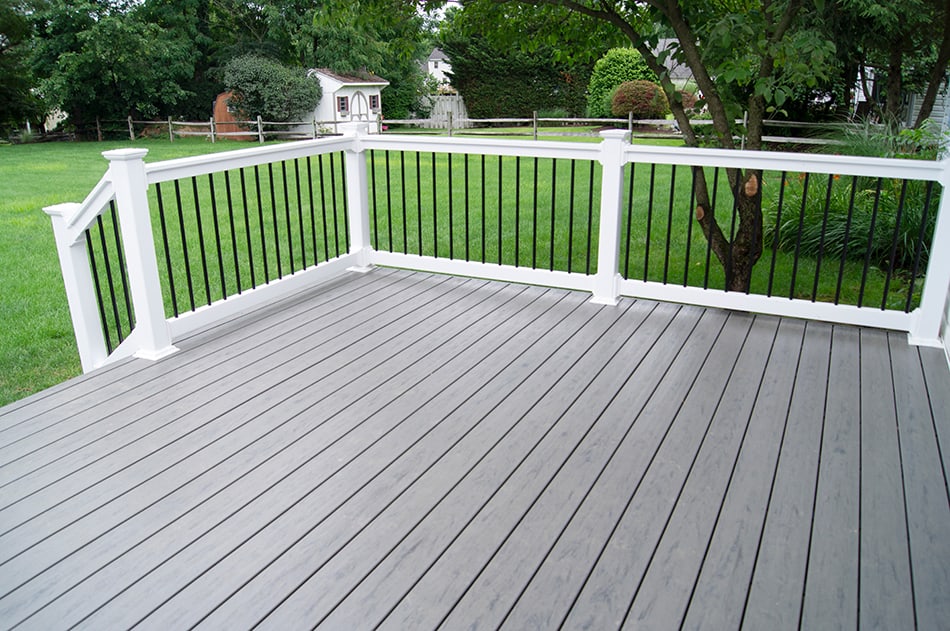 This may be the most popular alternative to a wooden deck. A composite deck, after all, is a strong and durable choice for a deck. Made of recycled plastic and wood fibers, composite brings a lot of advantages.
It is resistant to slips and UV rays. It is also virtually indestructible. Sure, you will have to pay more for a composite deck, but you will surely get your money's worth if and when you opt for a composite deck.
If you're concerned about the environment, you should seriously consider composite decking instead of a wooden deck. Composited decking is made from recycled materials. Aside from being an eco-friendly choice, it is also highly durable. It can last for at least 25 years, which is a lot longer compared to a wood deck, which can only last for 12 years.
You will also appreciate composite decking being low-maintenance. You don't have to repaint or stain it every summer, which means a lot of savings for you in the long run. It is also slip-resistant, giving you peace of mind, especially during wet weather.
Natural Stone or Porcelain Deck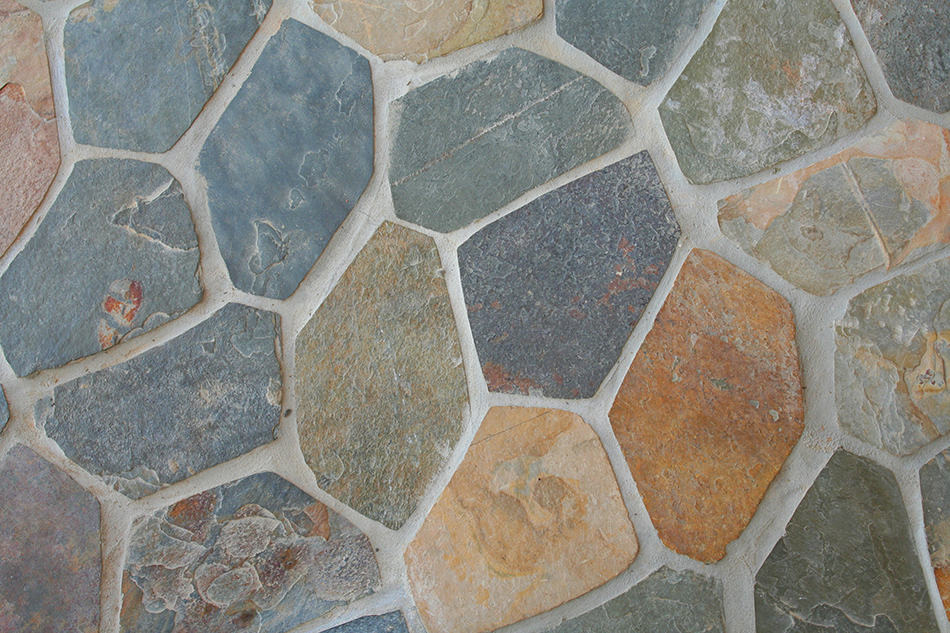 If budget is the least of your concerns, then natural stone and porcelain are highly recommended. You may be paying more for these materials, but you can be assured of the great looks of your deck for many years to come. When laid, natural limestone or bluestone would look magnificent and give your home an elegant touch.
Unlike other man-made deck alternatives, natural stone requires sitting on a solid base. This would mean lots of heavy excavation and groundwork. It's also not recommended for a DIY, but if you insist, you must be experienced at handling the material.
Natural stone is heavy, difficult to maneuver, and cut. And even after installing natural stone for the deck, there is still the chance of weeds growing between the stones. You would also have to deal with an uneven surface, which makes it risky for people who are unsteady on their feet.
But let's face it, natural stone decking would make your place look elegant for many years to come.
PVC Decking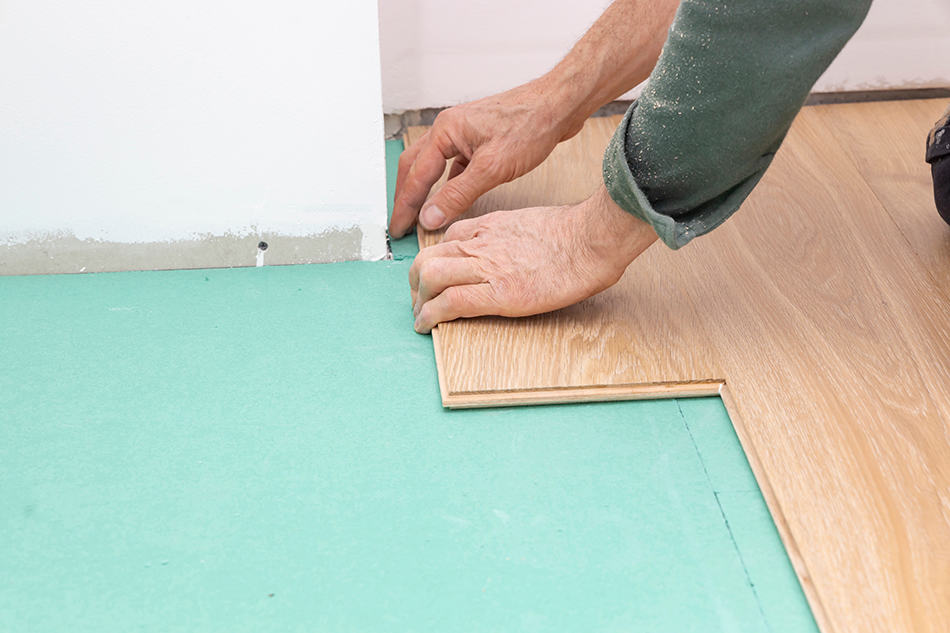 Like composite decking, PVC decking has become a popular alternative to a wooden deck. Many homeowners find this kind of decking strong and easy to install. It's not a shocker that many DIY enthusiasts install it on their own.
PVC decking is crafted from PVC, making it capable of withstanding the elements. It can also resist bugs and rot. But compared with composite decking, PVC decking can stay cooler during the summer months. This means you can spend more time on a PVC deck than a wooden deck. PVC decking is also low-maintenance and easy to clean. You don't have to stain, sand, or paint it, unlike wood.
There are also some disadvantages to PVC decking that may have you thinking twice about installing one in your home. PVC decking would fade over time, especially when it is directly exposed to the sun.
It can also become brittle. And compared with wood, it is not as long-lasting. You should decide whether PVC decking is a more practical or reasonable solution to your home than wood decking.
Vinyl Decking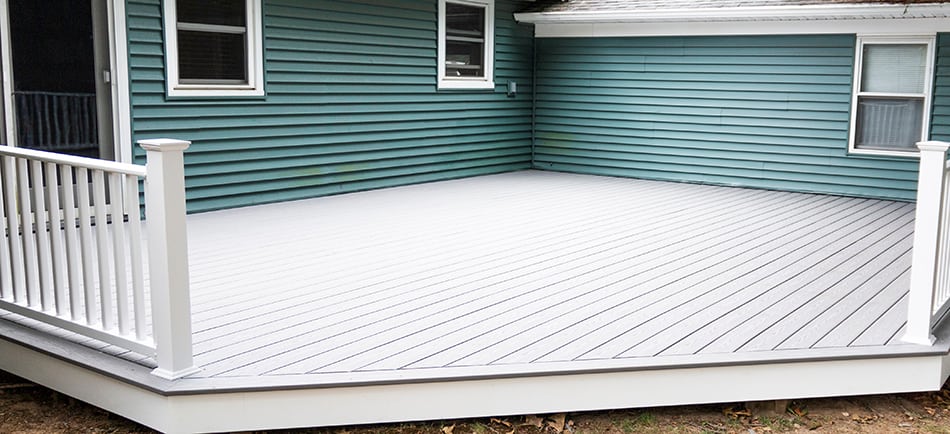 If you're after a material that's low-cost, low-maintenance, and easy to customize, then vinyl is what you are looking for.
Durable, wear, and water-resistant, vinyl is constructed from hollow or solid pieces of PVC. It, however, can be made to resemble the look of natural wood, particularly the solid pieces.
A distinct advantage of vinyl decking is that you can customize its color. You can practically install made-to-order vinyl decks in any color, which would be perfect for that dream home that you have in mind. Another advantage of the vinyl deck is durability, as vinyl is stable. Maintenance should also not be a concern as you can simply spray it. There's no need to paint or stain it, unlike a wooden deck.
In terms of price, vinyl decking is cheaper, whether it is hollow or solid form. It is a more affordable option than wood and even aluminum decking.
Aluminum Decking
Aluminum decking may be a slightly costly alternative to the wooden deck, but you can get more out of it because of its durability and ease of maintenance.
Aluminum decking is durable. Like the other materials in this list, it is resistant to infestation and rot. It can also resist scratches which means it can retain its appearance for many years. Most decks made of this material are backed by a minimum 20-year warranty, which can give you an idea as to the durability of the material.
Aluminum is also an ideal material for a deck because it dissipates heat. Therefore, a deck made of aluminum won't hold heat even during the summer season. Suffice to say, it can cool off faster than a wooden deck. And aluminum can hold up to weather for many years to come.
The main issue people have with aluminum is that it isn't as aesthetically pleasing as wood decking. Other homeowners are also turned off by the price. You can expect to pay around $15 per square foot of aluminum decking.
Installation may require you to seek professional assistance, which means additional costs on your end. Another disadvantage is that when struck, aluminum decking creates a 'ping' sound which can be a bit annoying. And finally, it can be hard to find aluminum decking in some markets.
Poured Concrete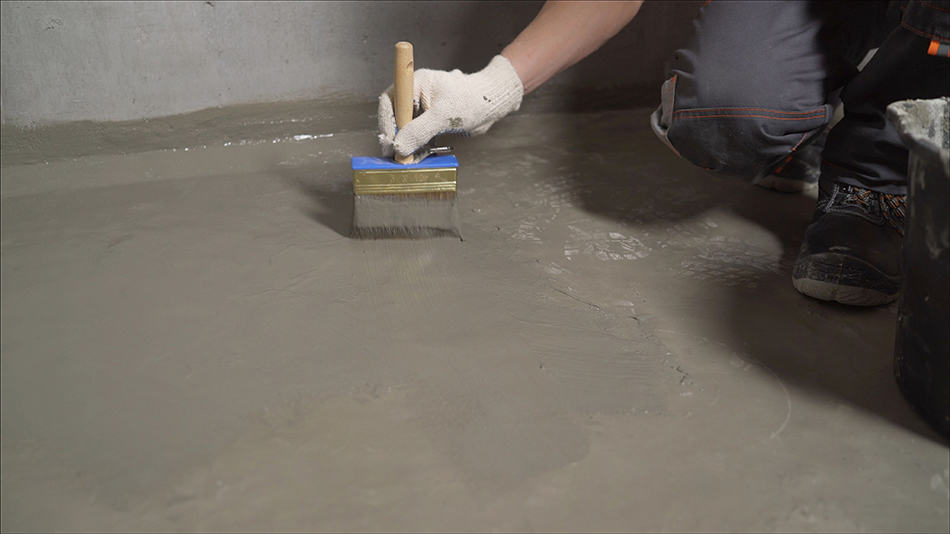 You can also consider using poured concrete instead of a wooden deck. This is a super low-cost option that you may want to explore. Making a patio from poured concrete won't likely increase the resale value of your property, but it's a lot cheaper than installing a wooden deck in your home.
You can even do this on your own if you know how to mix cement to form a deck. Doing it yourself also means you have the flexibility to create a patio of any size and shape. But make sure to get the mix right because concrete is notorious for cracking.
Aside from the chances of a concrete patio cracking, there are also downsides to opting for poured concrete. It isn't easy to maintain it as you would have to regularly wash it to retain its cleanliness. And it isn't durable as well as a concrete patio is unlikely to last for many years.
Bamboo Decking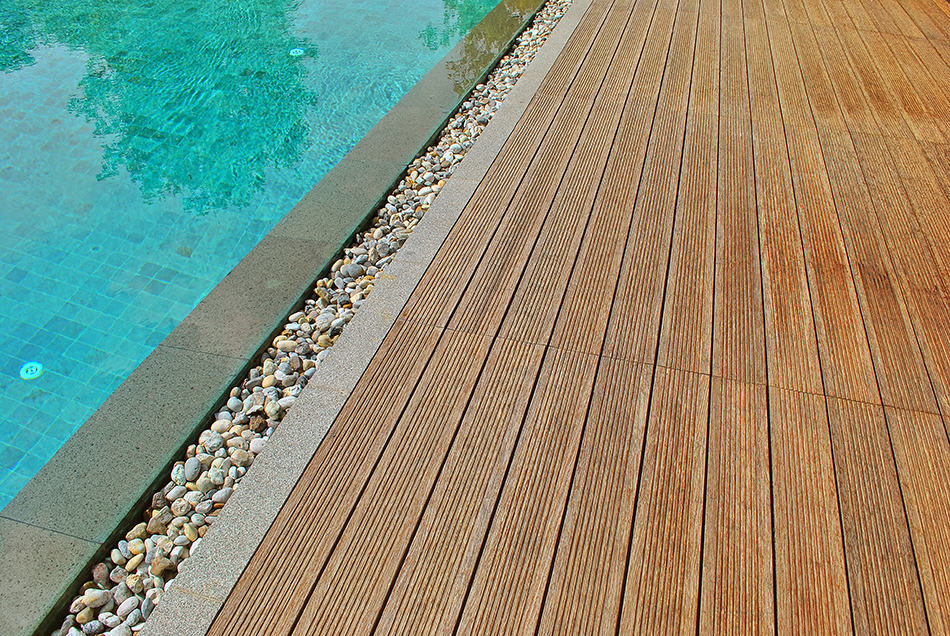 Similar to composite decking, bamboo decking is an eco-friendly alternative to the deck. Bamboo, after all, is a renewable material. The pulp of bamboo, known for its ability to withstand moisture, is used not only in decks but in other materials such as pillows and quilts.
There are two kinds of bamboo used for decking and flooding—solid bamboo and strand woven. The former is the material that's best suited for outdoor decks. It is made from solid, long bamboo. This is usually laminated with glue under high pressure. It's more stable and won't split or break apart, making it ideal for use outdoors.
Despite those qualities, there are also many disadvantages or cons of bamboo decking. Bamboo is not resistant to mildew, so this may not be the best material if your place gets more than its fair share of rain. It is also fairly expensive compared with the other materials discussed in this list. Bamboo's finish will eventually fade, and you need to regularly clean it to maintain its good looks.
Rubber Paver Tiles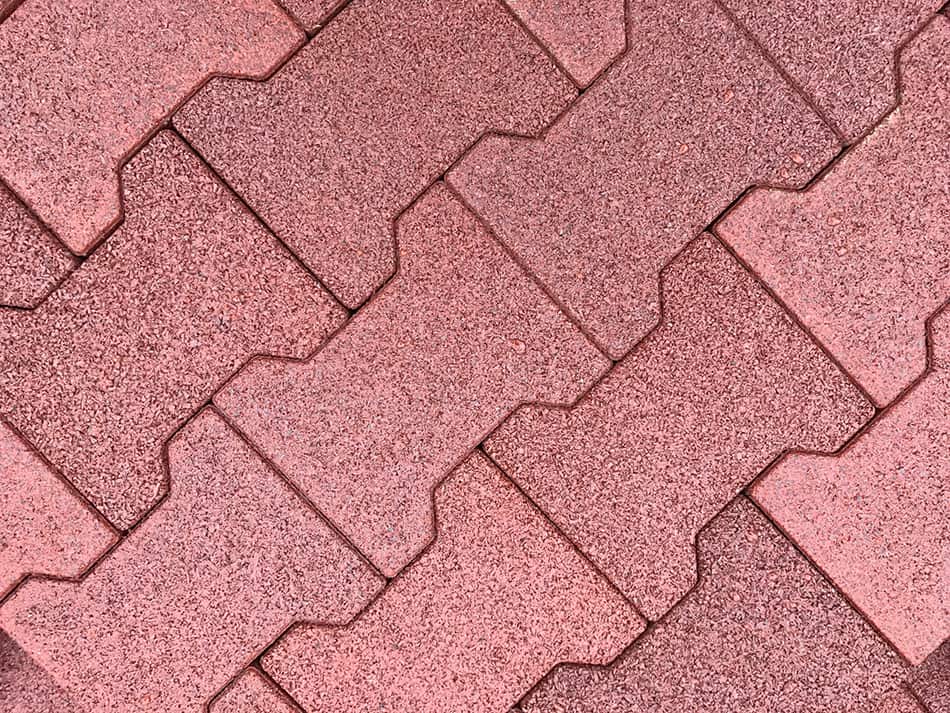 Rubber paver tiles are slip-resistant and can keep you and your family safe. These are durable and wear-resistant deck alternatives that you might just want to consider.
A rubber paver is made from a micro-porous granular material. It is durable and wear-resistant. As a tile material, it comes with superior elasticity. This allows it to provide a cushion for your feet when you step on a rubber paver tile. Since it is water-resistant, it will not cause slips even when it's raining hard.
A rubber paver tile also comes with an interlocking design, meaning you can install it without an adhesive. And because installation is easy, you can do it on your own and without professional help.
If your concern is the appearance of a rubber paver tile, don't worry, as many models come in an attractive and eye-catching appearance. Some can look like real bricks or tiles. Maintenance is minimal, too, because the rubber paver tile won't chip nor crack.
Aside from decks, rubber paver tiles are used in patio floors, walkways, aisles, rooftops, and playgrounds.
Artificial Grass Tiles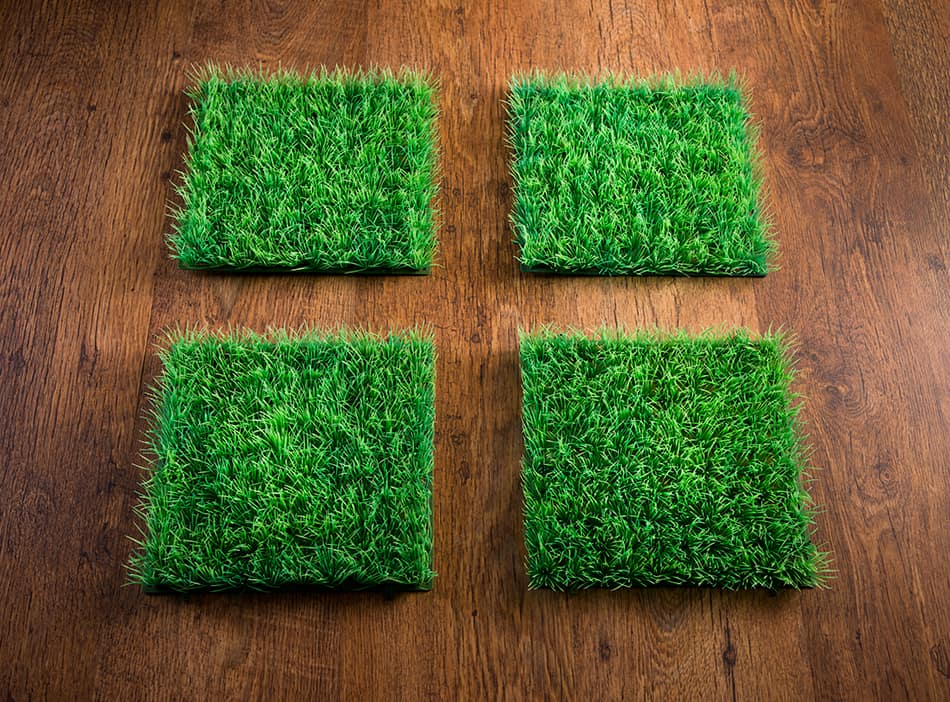 Artificial grass tiles are not only used in landscaping projects, but they can also be an alternative to the deck. This deck alternative is easy to clean and requires minimal maintenance. And artificial grass tiles can make your living space outdoors even more inviting!
One of the biggest advantages of using artificial grass tile is the convenience of installation. You can install it yourself. You can also cut it to size. Because of this quality, you can even remove an artificial grass tile and move it to another place in case you want to mix things up.
Artificial grass tile works well for small patios and balconies, especially in buildings. It can give your outdoor living space the look of natural grass. And since it's artificial, you don't have to water it at all.
But you should also be aware that artificial grass tile has its downsides as well. It's not durable as exposed edges may wear easily if not properly sealed. And this is not the best solution for a deck or open space that's more than 20 square feet.
Conclusion
After reading this article, you are now likely convinced that a wooden deck is not the only option you have for your outdoor living space. There are many alternatives to a deck that you may consider. Evaluate the materials as well as your requirements and budget so that you can opt for the best alternative to a deck for use in your home.