Wood paneling was once the height of sophistication and a very popular design feature across North America. With the passing of time, many people have fallen out of love with their wood paneling, but it is still a common characteristic in many homes.
Plenty of people choose to paint their wood paneling to help it blend in with the rest of the room and to modernize it, but this is a time-consuming job, and it's also very permanent. Once you've painted your wood paneling, you can never go back to the natural wood, so you need to be sure it's what you want. For those who would prefer to decorate their wood paneling without painting it, there are a number of creative ways you can update the look of your room without making permanent or costly changes.
To decorate a room with wood paneling, you have two choices; highlight the wood paneling or distract from the wood paneling.
By highlighting the wood paneling, you would use the wood as a base and design your room around it, drawing attention to all the best features of the wood, such as its warm tone and natural beauty. There are ways you can do this, which will make the room look modern and stylish while still honoring your wood paneling.
If you're not a fan of the wood paneling and don't want to bring any more attention to it, there are many ways you can distract from the wood paneling without needing to paint it.
Highlight the Wood Paneling
Theme Your Room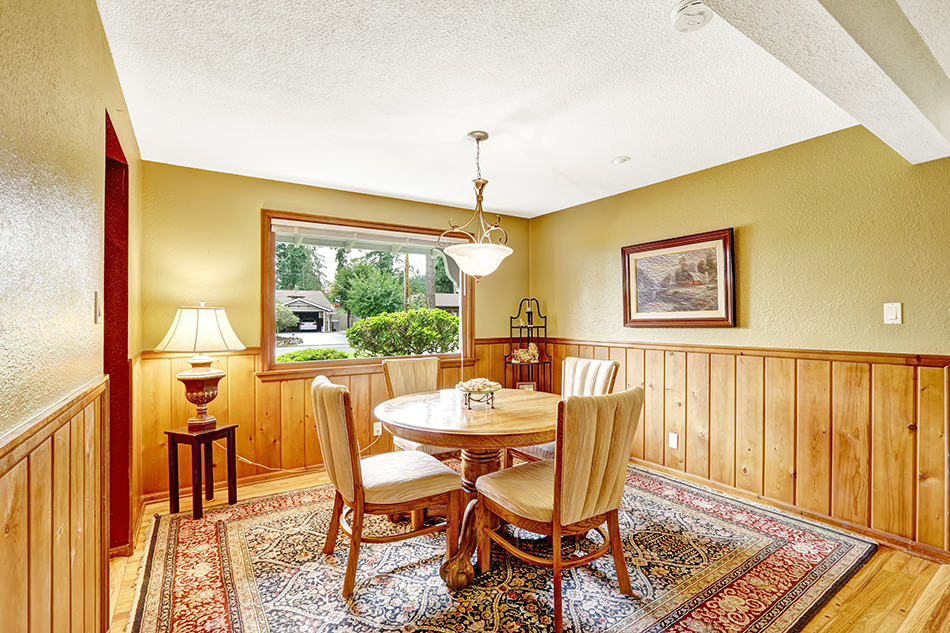 Depending on the type of wood paneling you have, you can use it as inspiration to create a particular type of interior style.
-Mid-colored wood paneling is synonymous with ski lodges and cozy cabins. You can create this woodland lodge interior theme by using the existing wood paneling as a base and drawing on traditional cabin decor. By using wood paneling as a focus and building on this type of design, your space will look intentional and stylish.
To bring a log cabin theme into your home, use natural wooden furniture which is chunky and unfinished to give it a rustic feel. Use warm colors such as red, brown, and orange on soft furnishings, with knitted throws and fleeces. Faux animal fur is also a good way to highlight the cabin feel, with fur rugs or cushion covers. Plaid is a pattern often associated with log homes, so you can also incorporate this into your soft furnishings. Low lighting is also key in this type of interior style, as ski lodges are typically quite dark and atmospheric.
-Dark wood paneling is more appropriate for formal, stately interior styles. To achieve this type of style, choose large and heavy furniture in a tone that matches the wood paneling. The finish should be sleek, ornate, and could even have a high gloss finish. Use neutral colors in soft furnishings, such as beige and coffee hues. The fabric should be sumptuous but not casual; high-quality cotton or velvet would work well. Gold accents on ornaments and decorative items such as clocks or lamps will help to encourage a feeling of prestige. Piles of books and an aged-looking globe will add an authentic feel.
-Pale or faded wood paneling can work really well in a coastal interior decor theme. This style is casual and comfortable, with plenty of soft canvas furnishings in shades of blue, white, and beige. Furniture should be simple and could match the shade of the wood paneling or be whitewashed. Hang nautical-themed ornamental pieces on the wood paneling to accent it, such as a porthole mirror or artwork featuring boats.
Use Complementary Colors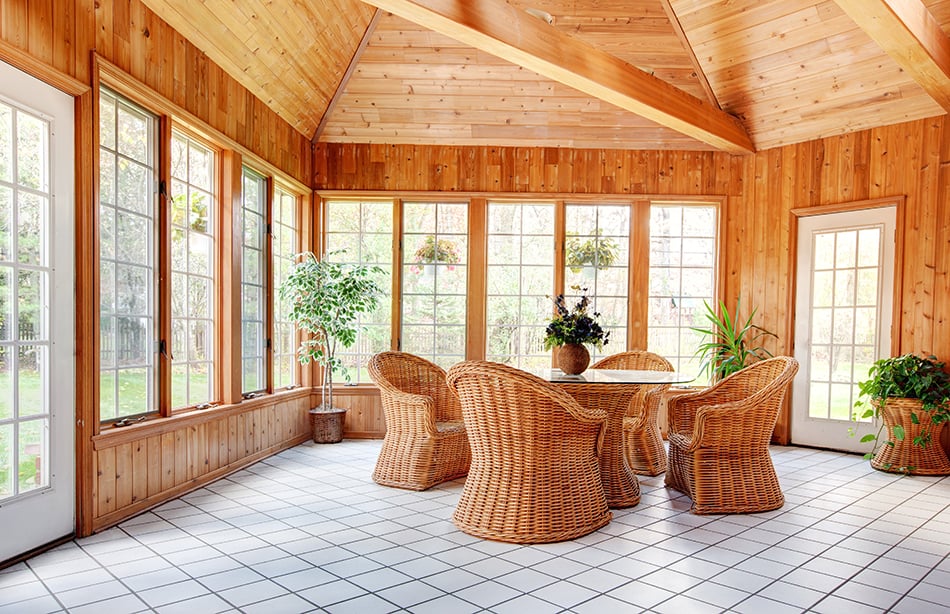 By using colors that complement your wood paneling, you will help it to blend into the interior design and show it in its best light. Wood paneling tends to have warm golden, orange, or brown hues, so stick with a warm color palette to help draw out these tones. Opt for furniture in a similar type of wood, and choose cushions and throws in bold shades of orange and mustard to highlight the wood paneling and make it appear to be an intentional part of the design of the room.
Use Warm Lighting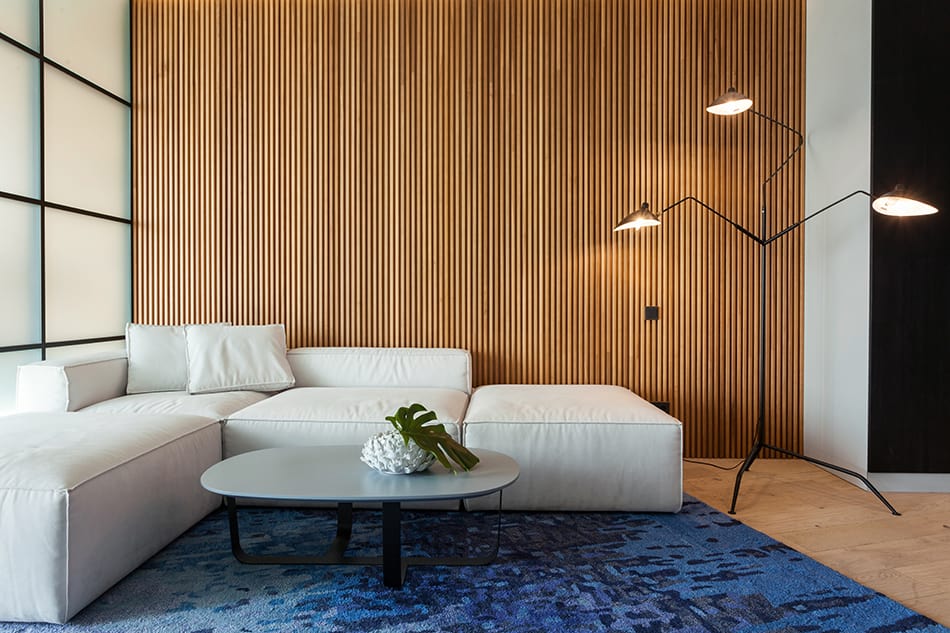 To help accentuate the warmth of the wood paneling, you can use warm lighting in the form of yellow or orange light bulbs. These types of bulbs, unlike white light bulbs, give off a golden glow that is subtle and cozy. You can add table lamps to side tables to create spots of warm light around the room or install wall sconces on the wood paneling itself in order to light up and highlight the natural grain of the wood.
Distract from the Wood Paneling
Divert Attention to a Focal Point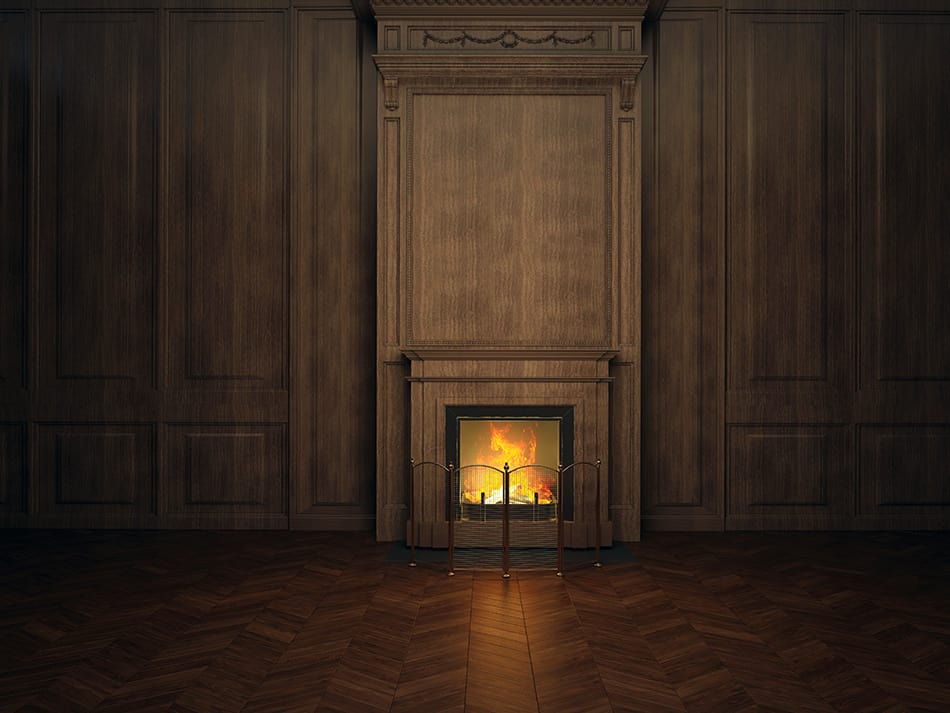 One way to draw the eye away from the wood paneling is to create a focal point in the room which demands attention. You may already have a focal point that you can liven up to make it a standout feature, such as a fireplace. Paint your fireplace in a bold color, or decorate it with brightly colored ornaments and photo frames.
Another good focal point is a large picture window, especially if you have a great view. To encourage this is the focal point to draw attention away from the wood paneling, frame the window with dramatic full-length drapes in a color which contrasts the wood paneling, such as emerald green or turquoise.
Use Bold Colors and Patterns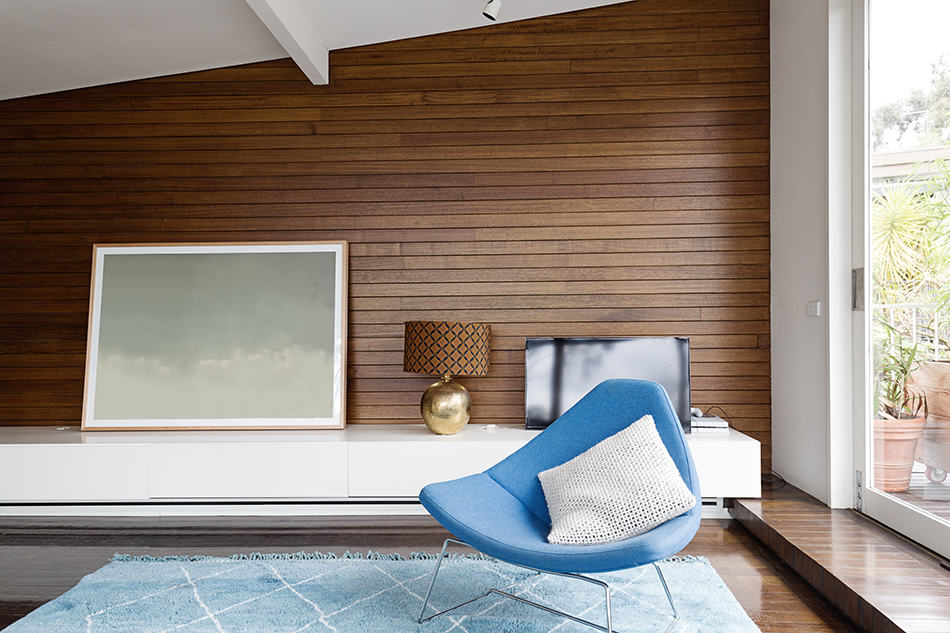 One of the easiest ways to distract from wood paneling is by simply choosing a bold and bright color palette for the rest of the room. If you are completely renovating your room, you could select a brightly colored sofa, such as a blue velvet sofa, and then pick this color out in other furnishings, for example, with a blue rug, a variety of blue plant pots, or blue photo frames. If you're on a tighter budget, bring bold colors into the room in the form of soft furnishings.
You can completely overhaul the look of a room by choosing a selection of contrasting pillow covers and throws at a relatively low cost. Choose at least two different bright colors which contrast each other, such as pink and green, and dot your new items around the room to tie the colors together. The new colors will become the standout features of the room and distract from the wood paneling.
Create a Collage Wall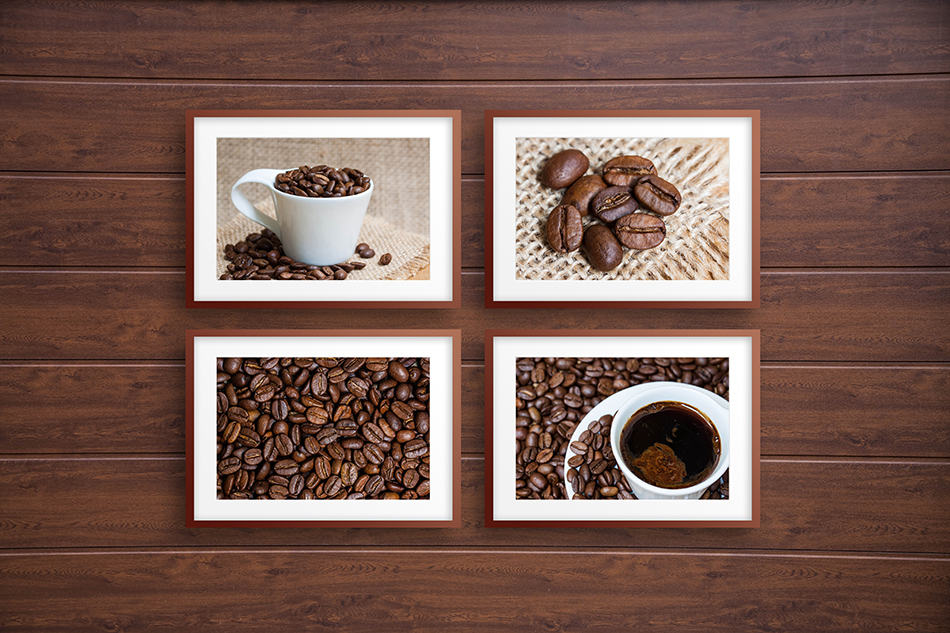 Collage walls have become a very popular interior design feature in recent years, and they are a great way to both cover up a wood-paneled wall as well as distract from it. To create a collage wall, you'll need a selection of photo frames in various sizes. Fix the frames to the wood-paneled wall in an arrangement that looks random and non-uniform, but balance out the sizes of the frames so that there aren't too many of the same sized frames close together.
A collage wall can be used to display all of your favorite family photos, or you could choose a theme, such as your wedding, and only use photos from that one occasion. You can also use prints of artwork on your collage wall if you don't want to use photos or even use a mix of the two. The collage wall makes a strong feature that takes attention away from the wood paneling and also helps to break up some of the wood, so it isn't as overwhelming.
Install Shelving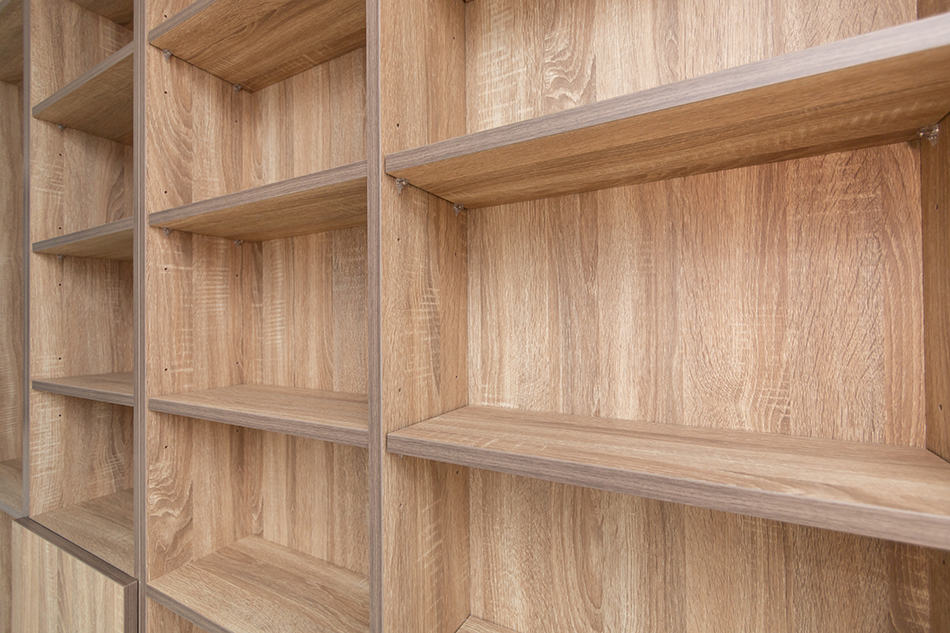 A brilliant way to hide wood paneling is to install some shelves. You could cover an entire wall with made-to-measure shelves with the wood paneling as the backdrop. This would make the paneling look as though it's a part of the custom-built shelving, and you can break up the solid wood by covering your shelves in books, plant pots, photo frames, and ornaments. Alternatively, if you don't want to take on such a big project, you could install one or two floating shelves on the wood paneling and put decorative objects on them. This would help to distract from the paneling and again help to create a break in the wood, so it isn't so overpowering.
Use Contrasting Colors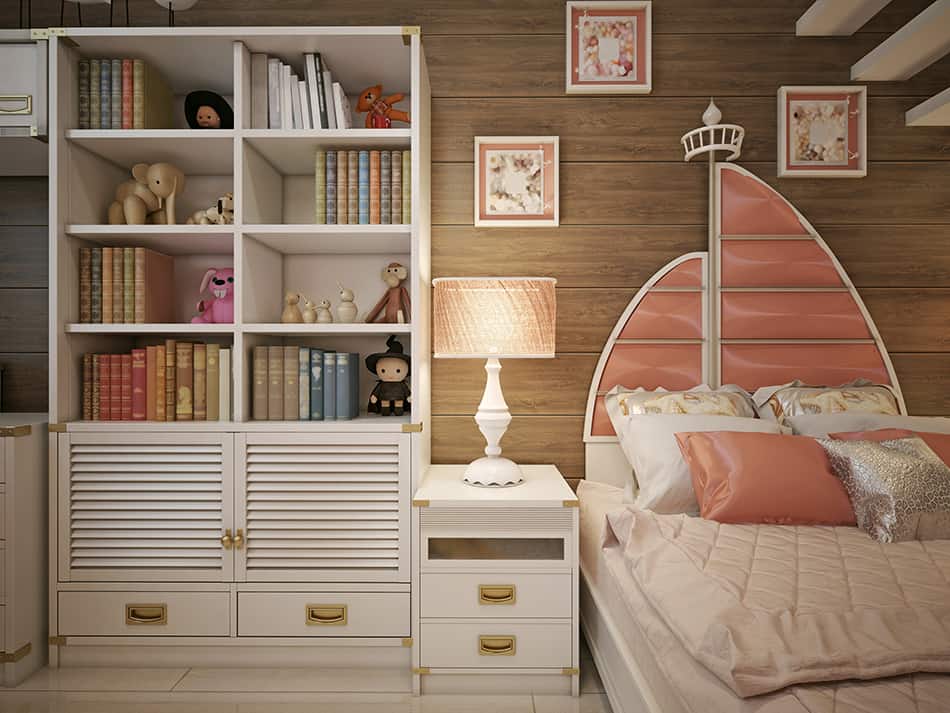 If warm and rich colors highlight wood paneling, then cold colors will distract from wood paneling. You'll want to choose a color that contrasts your wood paneling, and this depends on the dominant tone of your wood. Yellow-toned wood paneling should opt for purple as a contrasting color. Orange-toned wood paneling will work well with blue as a contrasting color, and red-toned wood paneling can be used with green as a contrasting color. Once you've picked your contrasting color, you should make a statement with it, whether that be in the form of painting a feature wall, covering your sofas in contrasting throws, or buying furniture in that color.